Helicopter tours in Nepal are the best alternative for people wanting to experience the adventure of the Himalayas, the colors of cultures and religions, and the natural beauty of Nepal, yet are unable due to various circumstances. The tour cost of Helicopter tours is pretty fair as the experience you will be having in those landscapes and mountains, flying above the free-flowing rivers, between the alleys of hills, and the adventure you feel through those rides.
The helicopter service has been introduced in Nepal in 1997 A.D. The tours have been in operation over the different trekking and mountaineering regions of Nepal. The helicopter tour can be done at any time of the year you want but you preferably want to climb during Spring and autumn, it's the perfect time of the year to witness the clearest views of nature. These tours could be a family vacation or an adventurous ride.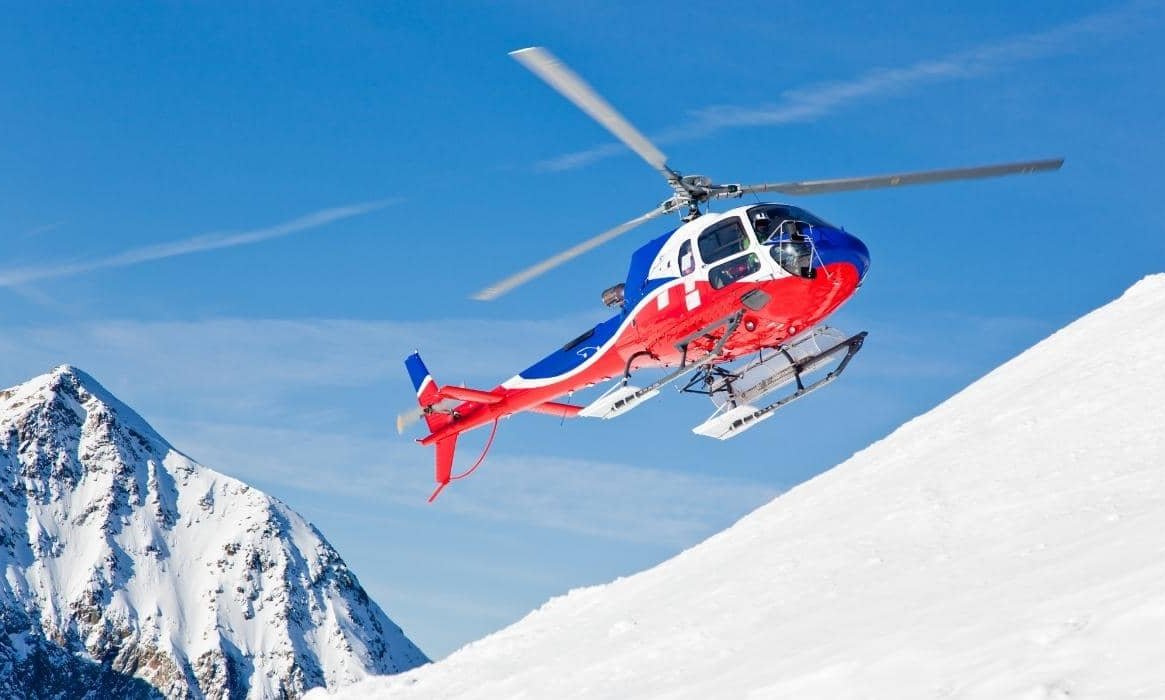 There are numerous destinations around Nepal that are quite popular for Helicopter tours. These destinations include top peaks base camps, holy sites, pilgrimage destinations, high-altitude freshwater lakes, and ponds. Mt. Everest Kalapatthar, Annapurna Base Camp, Langtang, and Gosaikunda are some of the popular destinations done through a helicopter tour. There are personalized helicopter tours available according to the destinations of your choice.
Also Read Helicopter Tour in Nepal 2023, 2024.
What is the best time for a Helicopter tour in Nepal?
The major time of the year when there is the clearest and calmful weather is during the period of Spring and Autumn respectively. March-May and Sep-Oct are the best months of the year either to do helicopter tours or any other kinds of adventurous activities. Sometimes the helicopter ride may not go as planned due to weather conditions, however, most of the flights are carried out in the mornings which makes the possibility of cancellation very rare yet possible.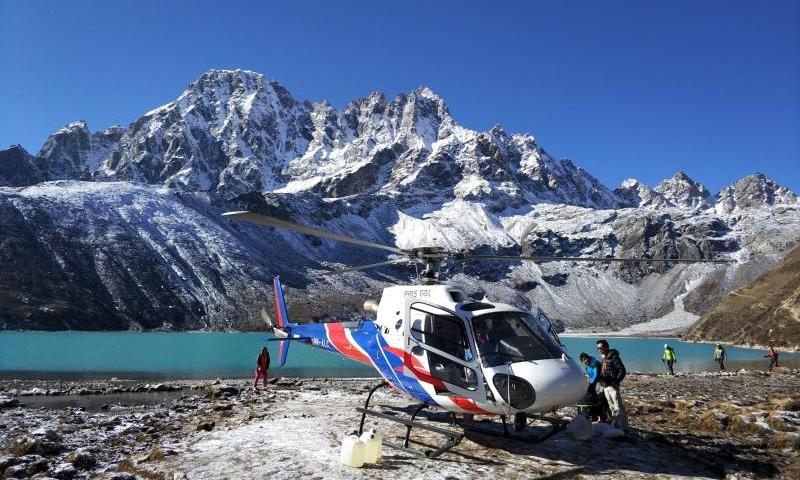 Also, Read Best Time to Visit Nepal.
Why choose a Helicopter tour?
Helicopter tours have been a prominent means of travel. The geography of Nepal makes the Helicopter tour the safest and more adventurous to travel in the Himalayan areas of Nepal. In the case of the most popular destinations in Nepal, are located far and remote from the currently available mode of transportation. The only way to reach such places would be either by trekking or by Helicopter. For people with time constraints and other circumstances that do not let them trek, this is the perfect way to explore and look up all the adventures that nature has to offer. The most prominent thing is time efficiency besides it is also been used for rescue operations that have saved the lives of many.
Top Helicopter Tour in Nepal with Cost
Langtang Helicopter Tour Cost
| | |
| --- | --- |
| Tour duration | 2 hrs |
| Maximum Elevations | 3800m |
| Best Time | Spring and Autumn |
| Total Cost | USD 3000 (5 pax)/ USD 800 for 1 pax (Sharing basis) |
| Route | Kathmandu/ Langtang/ Kyanjin Gompa/ Kathmandu |
Langtang an isolated valley situated west of the capital of Kathmandu Valley is the nearest trekking/ helicopter tour destination with a lot to offer in terms of flora and fauna. The helicopter tour will pass through alleyways of huge hills and landscapes. The cost for this helicopter tour comes to around USD 3000 for the group size of 5 persons. The cost of the helicopter tour ensures your full insurance, permits as well as flooding and lodgings if mentioned. This is the nearest possible trekking destination that can be done via a Helicopter tour.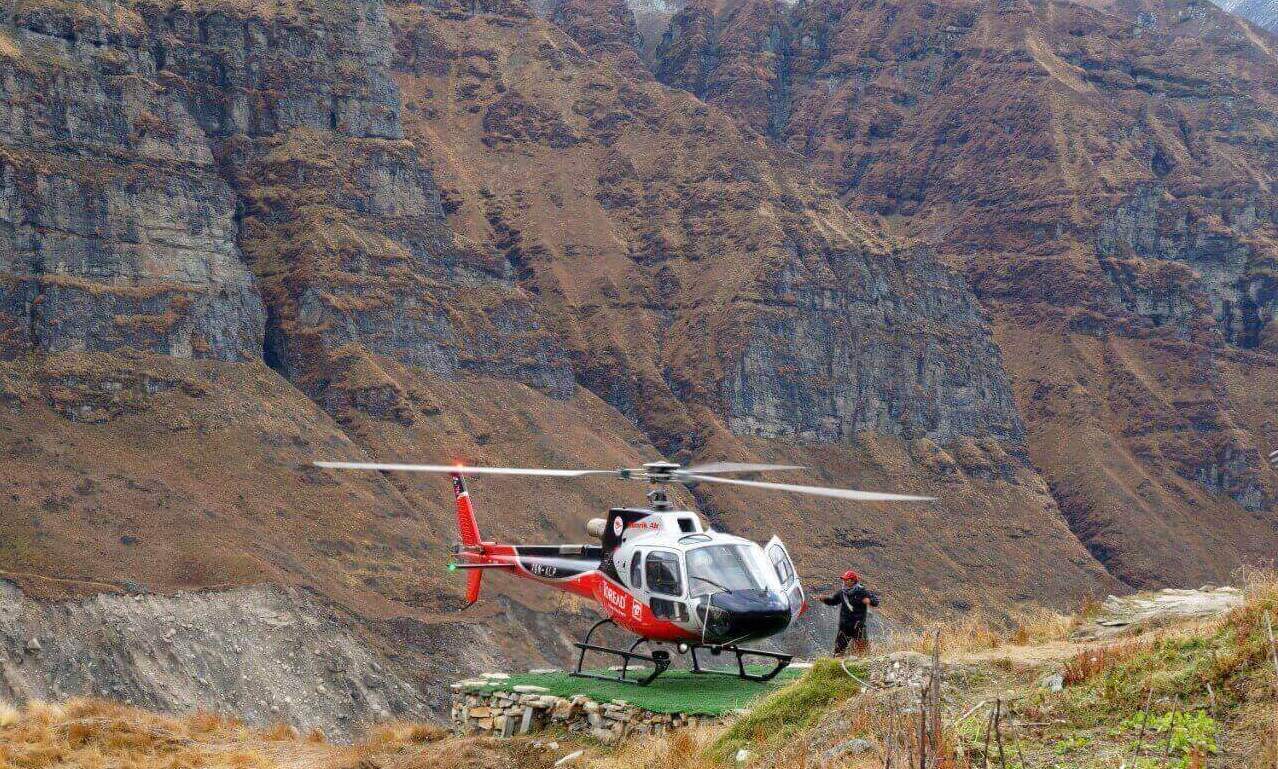 The cost of a helicopter tour to Langtang can be different if you charter the helicopter and wish to visit multiple destinations at once on the helicopter tour. Gosaikunda resides near the Langtang Valley and is a popular pilgrimage destination in itself. If you wish to visit both destinations at once then a personalized helicopter tour can be forwarded. This results in saving on Helicopter tour costs as it can be done in a single ride as the distance between two top destinations remains extremely near on a helicopter ride.
Annapurna Base Camp Helicopter Tour cost
| | |
| --- | --- |
| Tour duration | 2/4 hrs via Pokhara/Ktm |
| Maximum Elevations | 4130m |
| Best Time | Spring and Autumn |
| Total Cost | USD 3500 (5 pax)/ USD 800 for 1 pax (Sharing basis) |
| Route | Pokhara/ABC/Pokhara, Kathmandu/ Manang/ ABC/ Kathmandu, |
Annapurna base camp is a popular destination statically after Everest Base Camp. Standing at an altitude of 8091m the world's tenth-highest mountain is situated at Annapurna Range having subsidiaries namely Annapurna II, III, IV, and Annapurna South.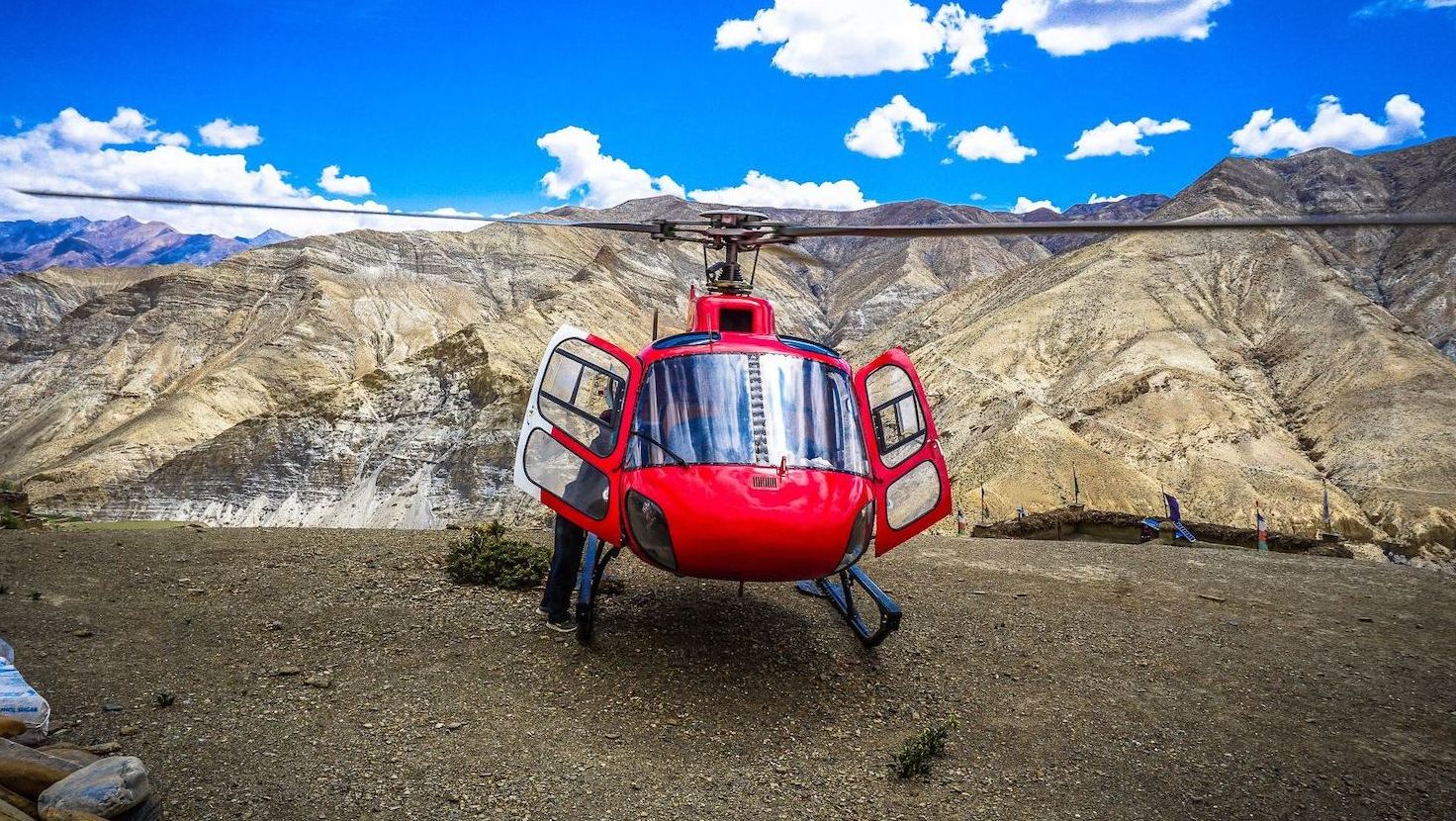 The helicopter tour towards the camp is the best alternative to exploring diverse geography, cultures, religions & flora, and fauna. The cost includes the permit required to enter the Annapurna Conservation Area, special permits for international tourists, and necessary insurance and documentation costs. The costs are on a shared basis, if you wish to book a helicopter for your personalized tours it can also be done. LHN has been providing the service of chartered helicopter tours in different regions of Nepal.
For more information about, Annapurna Helicopter Tour, please click here.
Everest base camp with Kalapthar Helicopter Tour cost
| | |
| --- | --- |
| Tour duration | 4 hrs |
| Maximum Elevations | 5364m |
| Best Time | Spring and Autumn |
| Total Cost | USD 4500 (5 pax)/ USD 1000 for 1 pax (Sharing Basis) |
| Route | Kathmandu/ Lukla/ EBC, Kalapatthar/ Lukla/ Kathmandu |
Every traveler's dream would be to reach the top of the world however it takes years of preparation to do it, the closet thing to do is to fly out to the highest point of elevation from where you can see the spectacular views of the top of the world "Mt.Everest". Kalapatthar is the closest point to where Everest feels like just a hand away, The gigantic resides just in front of Kalpatthar and near the gateway to the Everest, Everest Base camp. The tour cost to Everest is very reasonable compared to what the ride offers you with majestic views of the Himalayan range, an adventurous ride towards Lukla, all types of costs related to documentation, permits, and insurance respectively.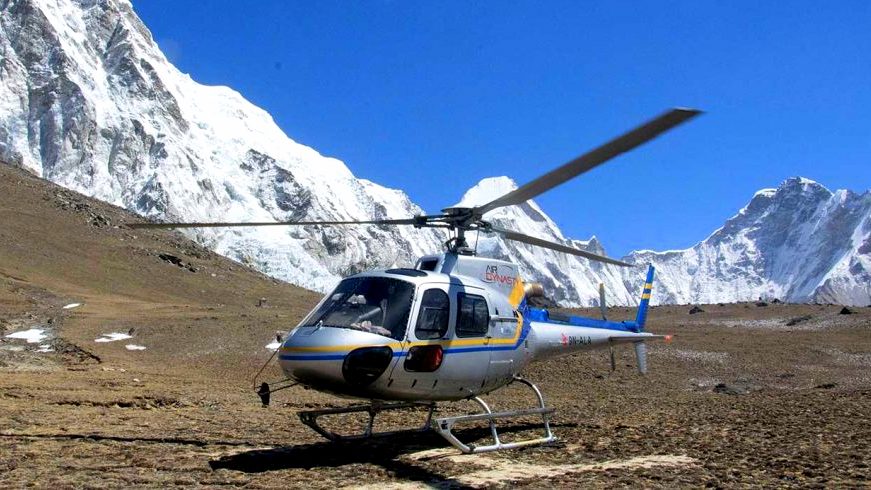 Gosaikunda Helicopterter Tour cost
| | |
| --- | --- |
| Tour duration | 3 hrs |
| Maximum Elevations | 4380m |
| Best Time | Spring and Autumn |
| Total Cost | USD 450 for 1 pax |
| Route | Kathmandu/ Gosaikunda/ Kathmandu |
An oligotrophic lake situated at an elevation of 4380m is a very significant destination for domestic and international tourists due to the religious importance it holds behind. It is considered the top pilgrimage destination nearest to the capital of Nepal, Kathmandu. This is the perfect Helicopter tour with possibly low-cost yet high adventure and experiences.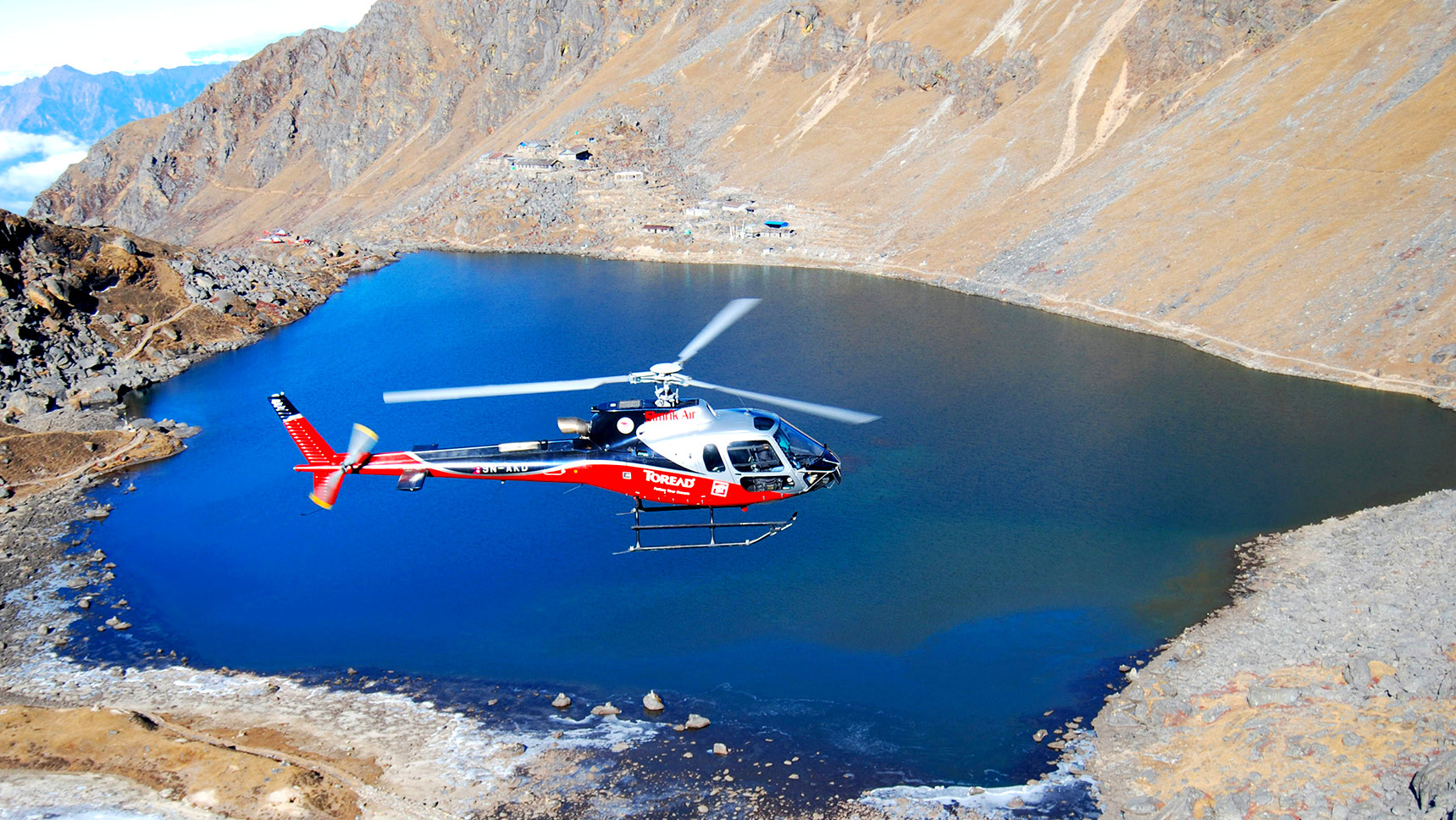 The Gosainkunda Lake is believed to be the Holy lake when Lord Shiva drank water to save himself from the poisonous water he drank from the sea. The cost goes significantly down in group rides as it stands nearest to the valley. The tour costs also include insurance and permits as well as food if mentioned on the package.
For more information about, Langtang Helicopter Tour, please click here.
Mardi Himal Helicopter Tour cost
| | |
| --- | --- |
| Tour duration | 1 hrs via Pokhara |
| Maximum Elevations | 4500m |
| Best Time | Spring and Autumn |
| Total Cost | USD 200 for 1 pax |
| Route | Pokhara/Mardi base camp/ Pokhara |
Mardi Himal is a peak residing right below Mt.Fishtail aka Machhapuchre. It has been a quite known destination to locals and foreigners. Its outstanding trekking trails fly above the dense forest, observing various flora and fauna, local cultures, and rituals. The cost of this Helicopter includes insurance and permits. The cost will vary according to the location to fly from your preference which can be done from the capital of Kathmandu or anywhere from the nook and corner of Nepal.
Upper Mustang Helicopter Tour cost
| | |
| --- | --- |
| Tour duration | 1 day |
| Maximum Elevations | 3840m |
| Best Time | Spring and Autumn |
| Total Cost | USD 1500 for 1 pax |
| Route | Pokhara/Upper Mustang/ Pokhara |
The forbidden kingdom of Nepal, the land behind the Himalayas is the secret valley of Nepal administered by the locals themselves. Upper Mustang has been restricted Palace of Nepal and requires a special permit for entry. The cost of this includes special permit costs, insurance, and documentation charges. You can see the traditional caves inside the rocks, monuments, and monasteries of ancient times.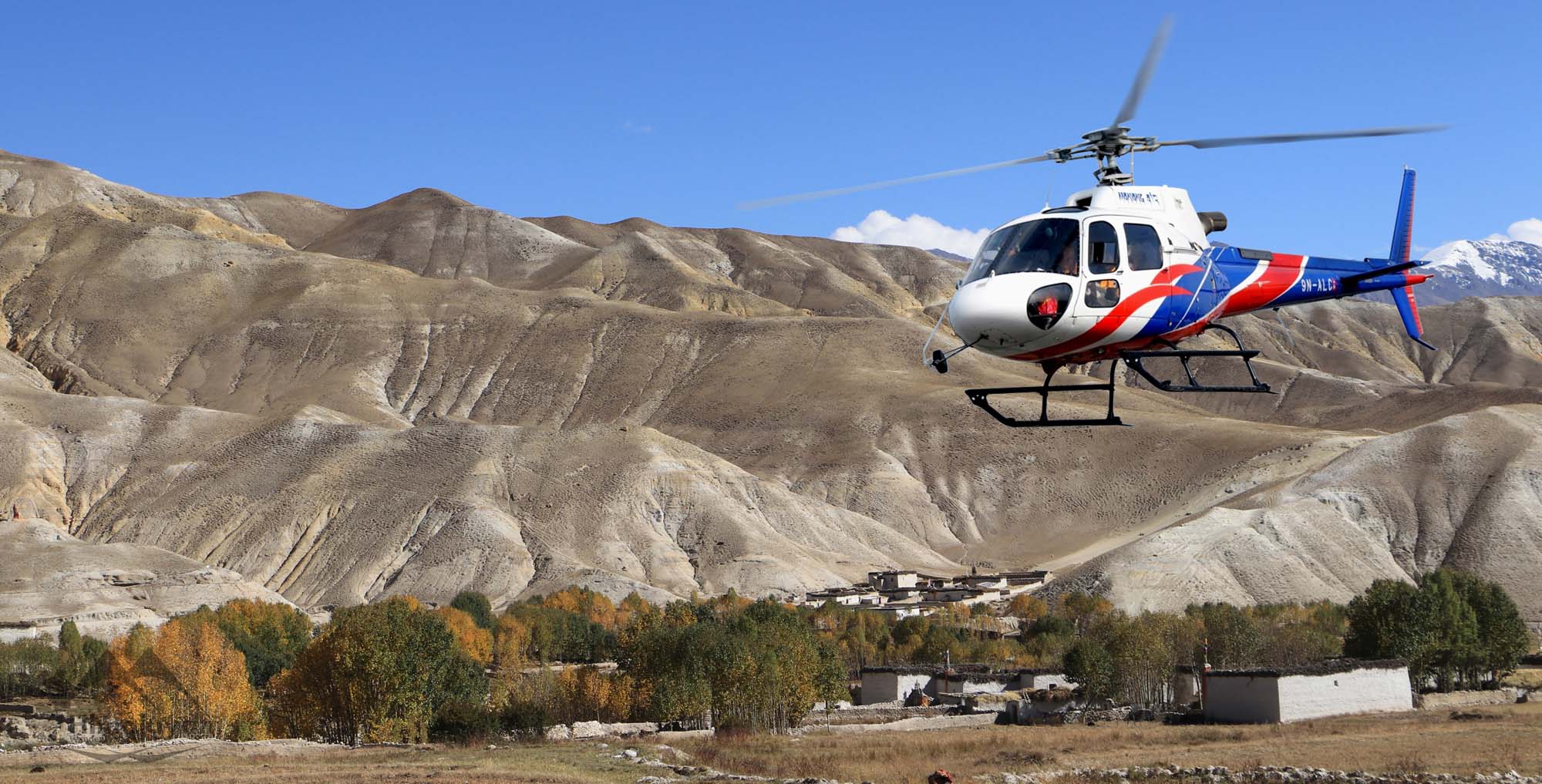 This location is unspoiled compared to other locations, giving you the impression that you've traveled back in time as everything around you exudes an untainted beauty of nature.
For more information about, Upper Mustang Helicopter Tour, please click here.
See Everest by Plane: 1 hour Flight: Book now
See Everest by Helicopter with Landing: 4-Hour flight (USD 899 per person/ USD 4000 up to 5 people): Book Now
For a complete guide on the Helicopter tour in Nepal, please click here.
If you need any further information, please contact us, Email: at [email protected], Phone: at +977- 985 100 5129 (WhatsApp)