Nepal, the world's second-wealthiest water country, has abundant natural water resources all around the country. Around Kathmandu, there are numerous hidden aquatic paradises. Some are well-known tourist attractions, while others were only recently found. There are many large and beautiful rivers, lakes, streams, cascades, and other natural features in Nepal that attract visitors from all over the world. However, gorgeous waterfalls are also one of the main reasons that travelers visit Nepal's various destinations. Aside from mountain ranges, secluded locations, temples, and wildlife, visitors will undoubtedly appreciate the water paradise.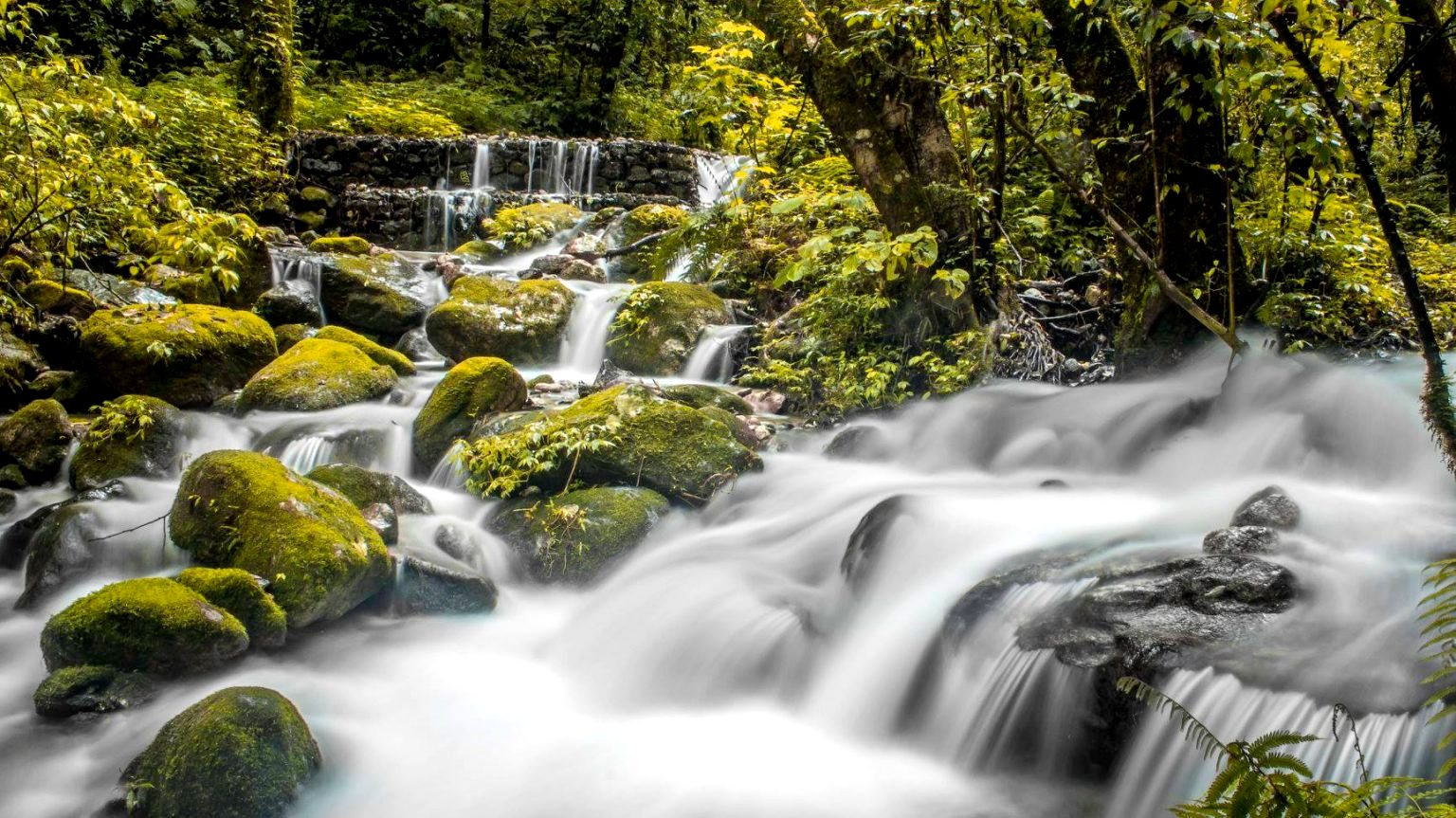 Monsoon is one of the best times to chase all the water paradise, which typically runs from June to September, can be a great time to explore hidden waterfalls around Kathmandu. The increased rainfall during this period ensures that the waterfalls are at their fullest and most spectacular. There are numerous hidden waterfalls in the Kathmandu Valley that you should explore.
Highlights of the Hidden waterfalls Around Kathmandu Valley
Here are the highlights of hidden waterfalls around Kathmandu summarized in bullet points:
Serene beauty is surrounded by lush greenery and scenic landscapes.
A tranquil escape from the city's hustle and bustle.
Refreshing experience with increased water flow during the monsoon season.
Adventure opportunities with short hikes or treks to reach the waterfalls.
Cultural significance near ancient towns, villages, or religious sites.
Lesser crowds compared to popular tourist destinations.
Photographic opportunities with stunning natural scenery.
Remember to prioritize safety and respect the environment while visiting.
These highlights capture the essence of exploring the hidden waterfalls around Kathmandu, offering a peaceful and refreshing experience in the lap of nature.
Hidden Waterfalls Around Kathmandu
The following are some of the water paradises around Kathmandu that you must visit:
Jhor Waterfall
Jhor Waterfall is indeed a popular water sport destination in the Kathmandu valley. Located in Tokha, Mahankal, it is well-known among the local residents and tourists alike. The waterfall is fed by water from Shivapuri National Park, which is situated on the border of Kathmandu and Nuwakot districts, making it a picturesque location with lush greenery and natural beauty.
One of the unique features of Jhor Waterfall is the Baundeshwor Temple, which is located within the Baundeshwor Cave. This temple is believed to have been naturally formed by the forces of nature and has a long history, making it an interesting site for visitors to explore and learn about.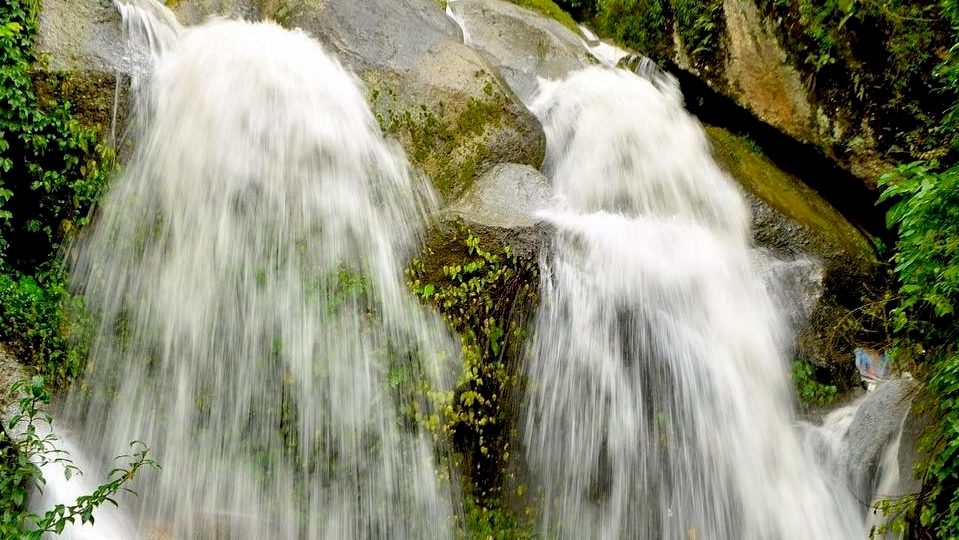 Aside from the temple, Jhor Waterfall is also a popular picnic spot where visitors can spend quality time with their loved ones. It offers a serene and peaceful atmosphere, away from the hustle and bustle of the city, with fields, forests, and greenery surrounding the area. Visitors can reach the waterfall by driving their own car, hiking, or biking, as the surrounding area offers various options for exploration.
As the area around Jhor Waterfall is continuously expanding, there are plenty of opportunities for visitors to choose from. Whether you're looking for a refreshing dip in the waterfall, a peaceful moment at the temple, or a fun picnic with loved ones, Jhor Waterfall is a popular tourist attraction in the Kathmandu valley that offers a refreshing escape into nature.
Simba Falls
Simba Falls is a hidden gem located in Manikhel Village, a rural and traditional village in Nepal's Lalitpur district. It is approximately 40 kilometers from Kathmandu, the capital city of Nepal, and is situated at an elevation of nearly 2,000 meters. Manikhel Village is predominantly inhabited by the Tamang community, known for its warm hospitality and politeness.
Simba Falls is a collection of more than 5 small waterfalls, which the Tamang people refer to as "Simba Waterfall," meaning "beautiful waterfall" in their language. The water in the falls is always cool, and the location can be reached by walking for 45 minutes to an hour from the last transportation stop. The journey to the waterfall is a scenic one, surrounded by lush greenery and a peaceful environment.
Nature lovers and those seeking tranquility will instantly fall in love with Simba Falls. The serene setting, with its pure waterfall and pristine flora, has a calming effect that can help you forget your worries and sorrows, leaving you feeling refreshed and content. The unspoiled beauty of Simba Falls and its surroundings make it a perfect getaway for those seeking solace in nature's wonders.
Visiting Simba Falls in Manikhel Village offers a unique opportunity to explore an unseen water paradise, away from the hustle and bustle of city life. It's a place where you can immerse yourself in the beauty of nature, experience the warmth of the local community, and create unforgettable memories in a serene and green setting.
Sundarijal Waterfall
Sundarijal, also known as "Beautiful Water," is a popular water paradise located 17 kilometers northeast of the Kathmandu Valley in Nepal. It serves as a gateway to the renowned Shivapuri National Park and is a popular destination for day hiking, swimming, waterfall viewing, picnics, and cycling, particularly among adults and teenagers.
One of the main attractions of Sundarijal is its beautiful waterfalls, where visitors can enjoy swimming and canyoning. However, canyoning should be done with an expert guide, as it can be dangerous without proper knowledge and equipment. The area is also known for its pristine spring water, including the Baghdwar, which is considered the beginning point of the Bagmati River.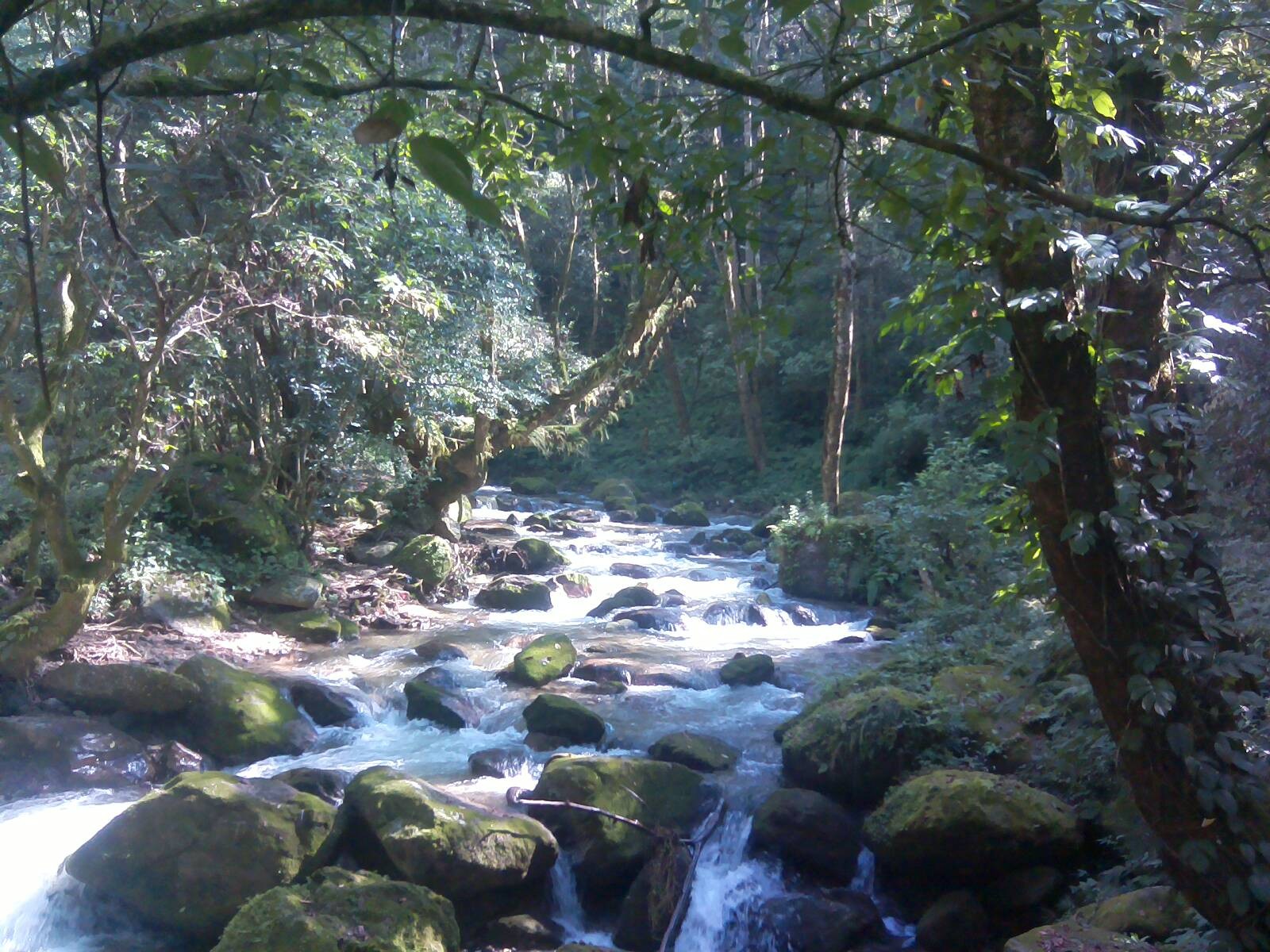 In addition to the natural beauty, Sundarijal is also a religious site, with a temple dedicated to the goddess of beauty, Sundari Mai. It is believed that washing one's face with the water from this place can bestow beauty. Many visitors, including religious pilgrims, come to Sundarijal to experience the spiritual significance of the place.
Sundarijal is a must-visit destination while in Kathmandu, offering a combination of natural beauty, adventure activities, cultural significance, and religious importance. Whether it's hiking, swimming, canyoning, or simply enjoying the serene atmosphere, Sundarijal is a perfect spot to unwind and appreciate the beauty of nature.
Kageshwori Jarana
Kageshwori is an important Hindu holy site located 25 kilometers northeast of Kathmandu, the capital of Nepal. The name "Kageshwori" is derived from the combination of two words: "Kag," which refers to the crow, and "Ishwori," which refers to God or Lord. Crows are considered sacred in this place because they are believed to be messengers of the gods, and their presence represents misery and mourning.
At the Kageshwori temple, there is a crow statue, and believers often offer food to the crows as a form of worship. During the festival of Tihar, which is also known as the festival of lights in Nepal, many people visit this temple to pay homage to the crows and seek their blessings.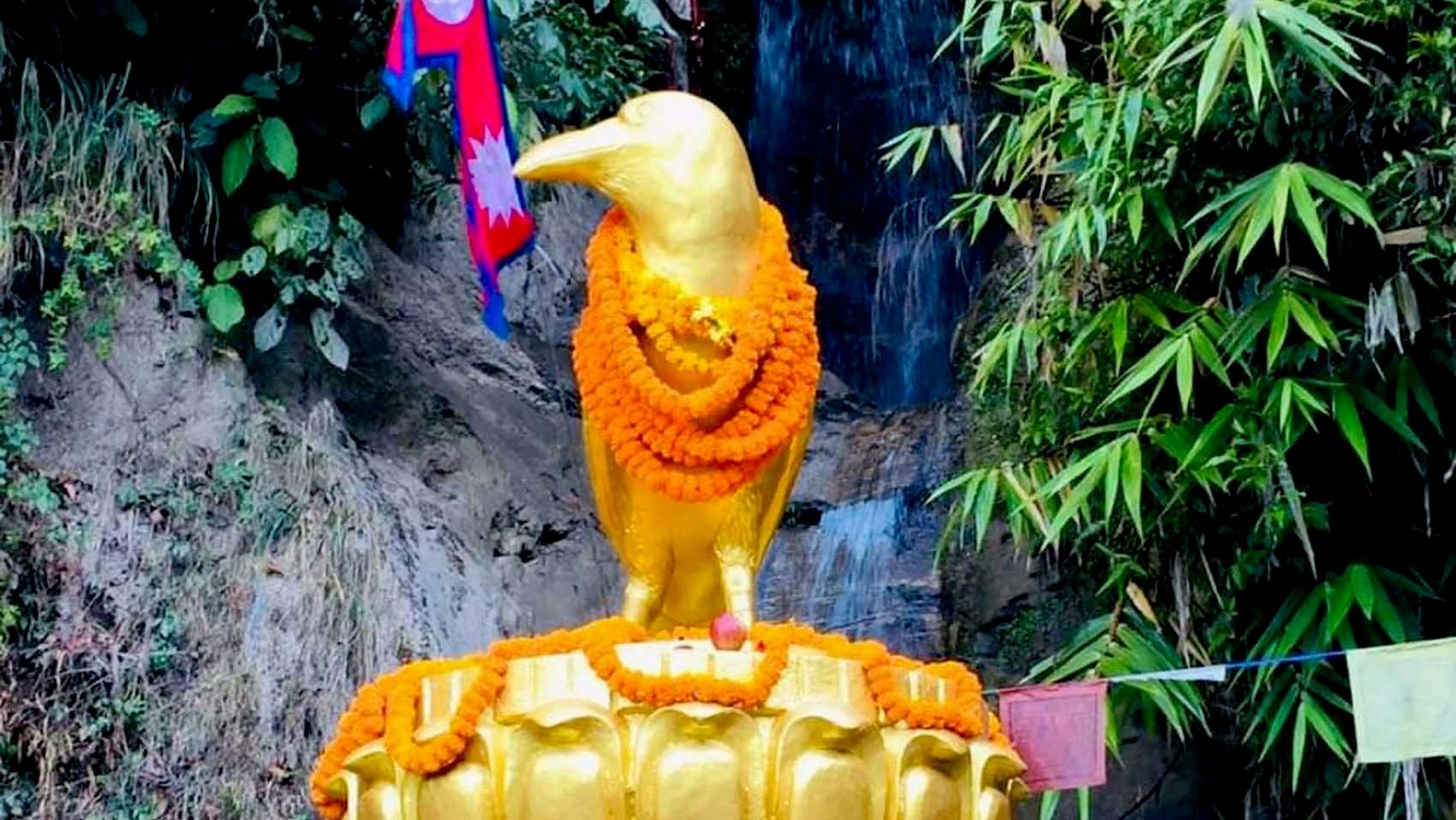 In addition to the religious significance, Kageshwori is also home to a beautiful waterfall called "Kageshwori Jharana" that is not well-known to the general public but is stunning and eye-catching. The waterfall is located near the Shiva temple in Kageshwori, and visitors can enjoy its beauty in the serene and natural surroundings of the area.
A journey to Kageshwori Jharana can be a rewarding experience, as it offers a blend of spiritual, serene, and natural elements. The holy atmosphere of the temple, combined with the beauty of the waterfall, makes it a unique and picturesque destination for those seeking a peaceful and spiritually uplifting experience.
Please, click here for more information about lakes in Nepal.
Bishnudwar Waterfall
Bishnudwar is the source of the Bishnumati River, which is one of the important rivers in Kathmandu, Nepal. The name "Bishnumati" translates to "Lord Bishnu's Beloved," indicating the religious significance of the river for both Hindus and Buddhists.
Bishnudwar is located on Shivapuri hill, and it can be reached by taking a short walk from Budhanilkantha, which is a famous Hindu pilgrimage site in Kathmandu. The entrance to Shivapuri National Park, which is a protected area and a popular destination for hiking and nature lovers, can be reached after a half-hour walk from Budhanilkantha, and a small fee must be paid at the entrance gate to access the national park.
As you pass through the gate of Shivapuri National Park, you will be surrounded by the lush greenery of nature, and the scent of the forest will greet you. The sound of a waterfall can be heard as you approach Bishnudwar, and the atmosphere becomes damp and refreshing. Bishnudwar is nestled in a cave-like environment, where the river emerges in the form of a spectacular waterfall, and there are hollow wet caves all around.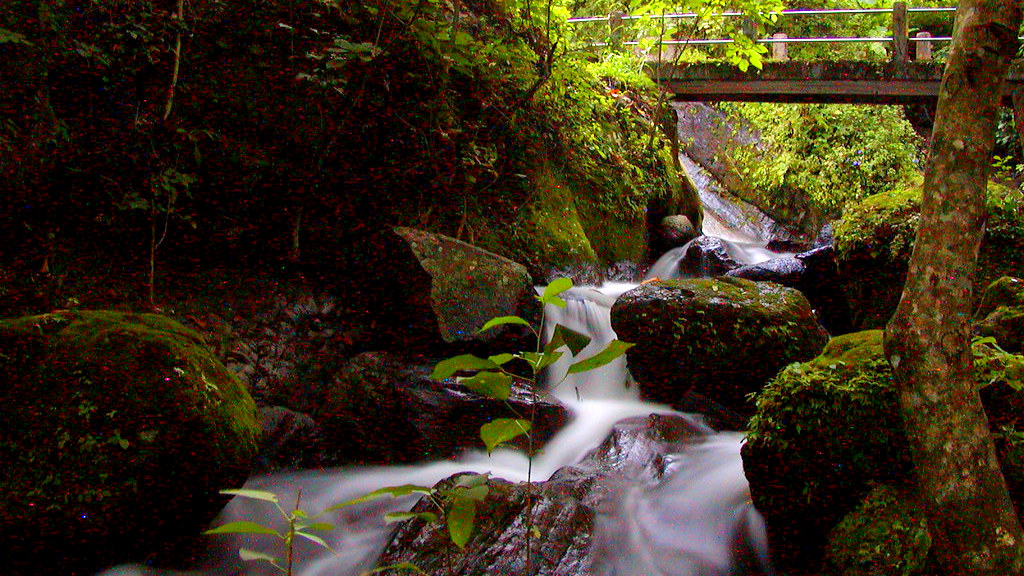 The scenery around Bishnudwar is breathtaking, with the stunning waterfall and the surrounding natural beauty. Visitors can enjoy playing in the water and spend time soaking in the serenity of the place, making their visit to Bishnudwar a memorable experience. The combination of the religious significance, natural beauty, and serene ambiance makes Bishnudwar a unique and special destination for visitors to Kathmandu.
Nagarkot waterfall
Nagarkot, located just 25 kilometers away from Kathmandu city in Nepal, is a nature lover's paradise. Although the road to Nagarkot may be rocky and bumpy, the journey is worth it as you are rewarded with pristine natural beauty upon arrival.
The fresh air, lush green hills, chirping birds, and cascading waterfalls in Nagarkot create a sense of joy and tranquility. Even during the monsoon season, the valley view from Jalpa Devi temple is breathtaking. A short hike from this location leads to a stunning waterfall, which is a hidden gem waiting to be discovered.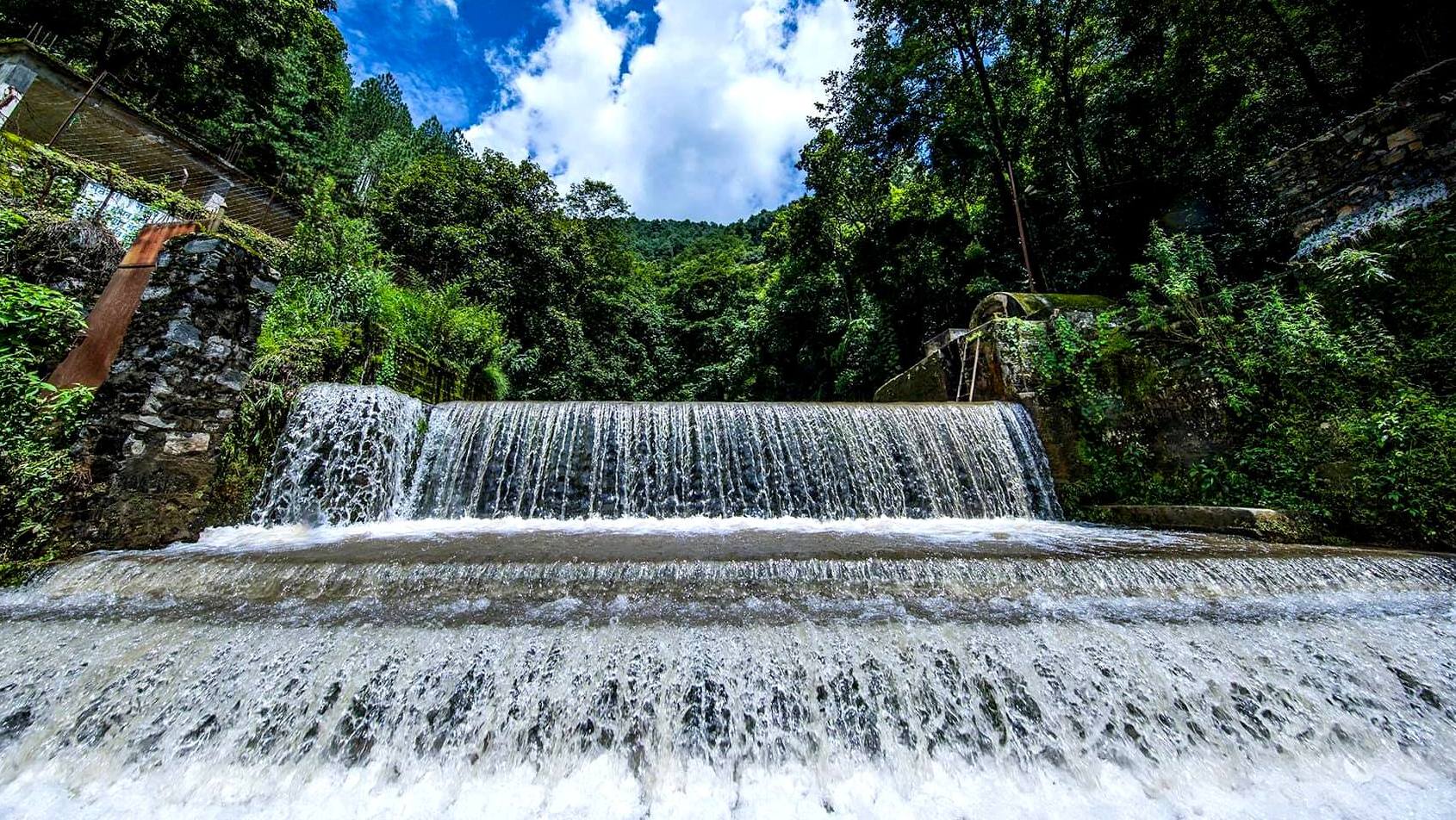 The waterfall in Nagarkot is truly mesmerizing. It feels like you have the entire place to yourself, and the sight of the water cascading down is a feast for the eyes. The cool water and the serene ambiance of the waterfall are perfect for calming and resting the mind. And this place is also known for its dense forests and rich vegetation, which adds to the overall charm of the place. The combination of the lush greenery, stunning waterfall, and peaceful surroundings make a visit to Nagarkot a worthwhile and memorable experience.
If you are in Kathmandu, a visit to Nagarkot is a must. The beauty of this place, with its natural wonders and tranquil ambiance, is sure to leave a lasting impression and create cherished memories.
Also Read: Best Rafting Tours in Nepal.
Tindhara Waterfall
Tindhare Jharna, also known as Bahubali Jharna, is a well-known waterfall located in Kaphal Danda, Roshi Rural Municipality of Kavre district in Nepal's Bagmati Province. This stunning waterfall is approximately 300 meters high and is situated at an elevation of 1800 meters. It gained popularity during the COVID-19 pandemic in 2020 when a photo of the waterfall went viral on social media, drawing comparisons to the waterfall seen in the hit Bollywood film "Bahubali."
The journey from Kathmandu to Kafal Danda, where Tindhare Jharna is located, takes approximately 3.5 hours, and the trek to the waterfall takes around 45 minutes. The waterfall is about 45 kilometers away from Dhulikhel. The breathtaking view of the hills covered in lush greenery, deep forests, and majestic mountains along with the peaceful and serene environment is enough to make you forget any exhaustion from the journey.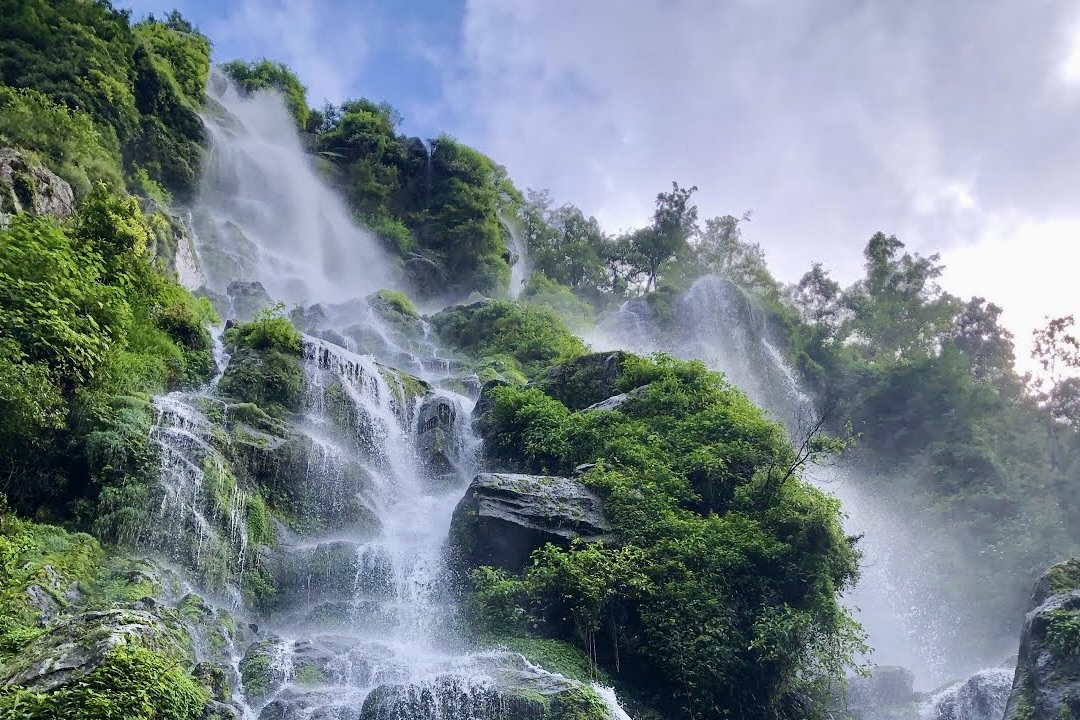 The sight and sound of water cascading down the stones of Tindhare Jharna create a sense of awe and tranquility. The location is a haven for water enthusiasts and those who wish to appreciate the pristine and cold water of the waterfalls in the Kathmandu Valley. It's a perfect place to unwind, relax, and immerse yourself in the beauty of nature.
Visiting Tindhare Jharna is a wonderful experience that allows you to escape from the hustle and bustle of daily life and appreciate the natural wonders of Nepal. The beauty and serenity of this waterfall are sure to leave a lasting impression and create cherished memories for nature lovers and adventure seekers alike.
Things to consider while visiting Hidden Waterfalls Around Kathmandu
When planning to visit hidden waterfalls around Kathmandu, there are a few important things to consider. Here are some key factors to keep in mind:
Accessibility: Determine the accessibility of the waterfall you plan to visit. Some waterfalls may require a short hike or trek, while others may be easily accessible by road. Consider your fitness level and choose a waterfall that suits your capabilities.
Weather Conditions: Check the weather forecast before your visit. Rainfall and weather conditions can affect the accessibility and safety of the trails leading to the waterfalls. Be prepared for changing weather and carry appropriate rain gear and footwear.
Safety Precautions: Ensure your safety by taking necessary precautions. Pay attention to warning signs, follow designated paths, and avoid venturing into restricted or dangerous areas. Be cautious of slippery rocks and steep terrain near waterfalls, especially during the monsoon season when water flow can be strong.
Local Guidance: Seek local guidance and information. Consult with local tourism offices, travel agencies, or experienced guides who can provide up-to-date details about the hidden waterfalls. They can advise on the best routes, safety measures, and any specific considerations for each waterfall.
Physical Preparedness: Consider your physical fitness level and any specific requirements for the hike or trek to the waterfalls. Carry essential supplies such as water, snacks, and a first aid kit. Wear comfortable and sturdy footwear suitable for hiking or walking on uneven terrain.
Environmental Respect: Respect the natural environment and leave no trace. Avoid littering and dispose of waste responsibly. Follow any guidelines or regulations set by local authorities to preserve the pristine beauty of the waterfalls and their surroundings.
Photography and Equipment: If you plan to take photographs, ensure your camera or smartphone is fully charged and carry any necessary equipment such as tripods or waterproof casings. Capture the beauty of the waterfalls while also being mindful of your surroundings and safety.
By considering these factors, you can ensure a safe and enjoyable experience while exploring the hidden waterfalls around Kathmandu. Embrace the beauty of nature, respect the environment, and create lasting memories of your visit.
Please, click here for the various tours & trekking packages in Nepal.
If you need any further information, please contact us, Email: [email protected], Phone: +977- 985 100 5129 (WhatsApp)