Welcome, trekking enthusiasts, to an in-depth guide to one of the most iconic, adventurous, and rewarding journeys on Earth – the Everest Base Camp Trek.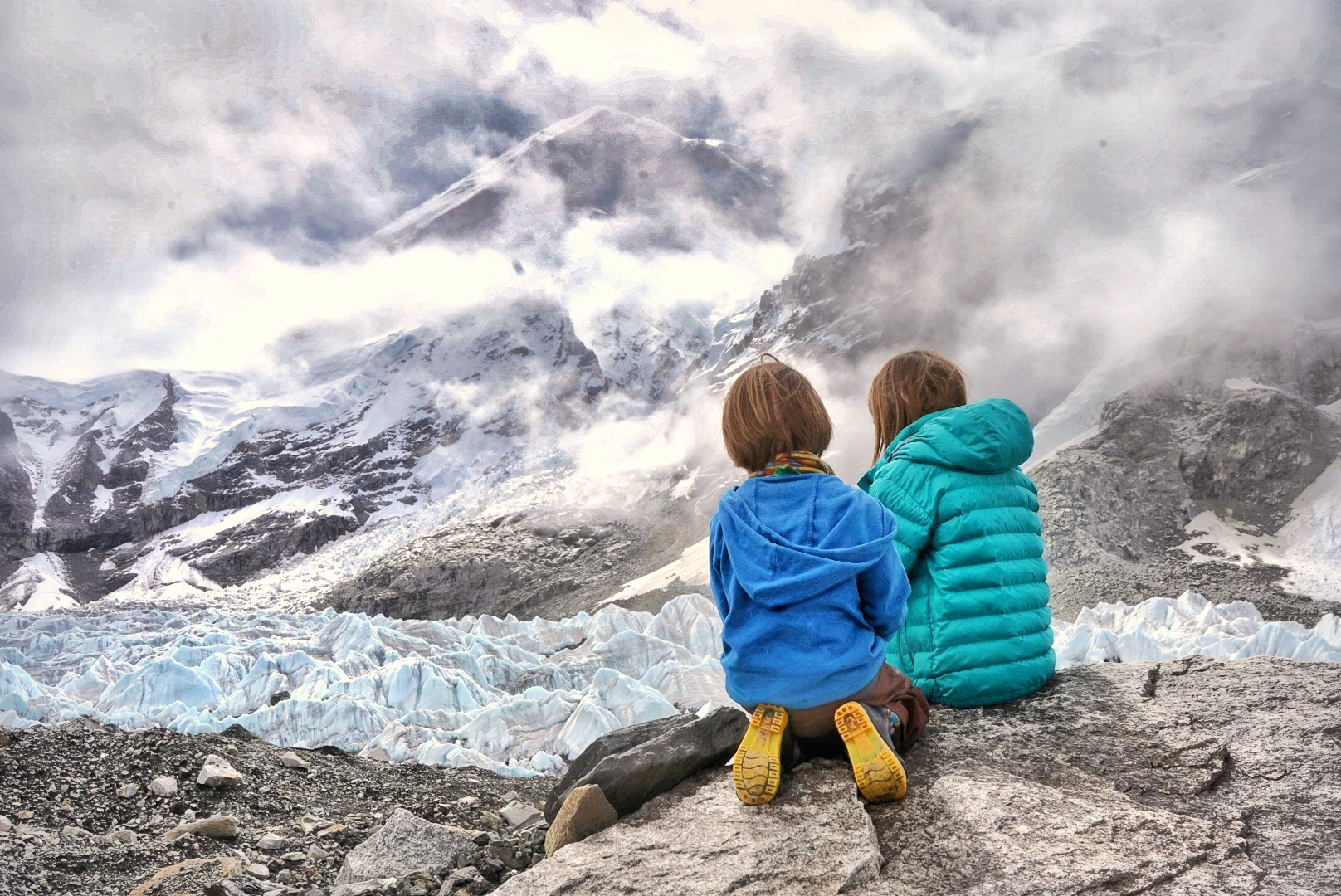 The Everest Base Camp Trek, a journey into the heart of the Himalayas, is a bucket-list item for many avid hikers and adventurers around the world. Embarking on this trek takes you through breathtaking landscapes, exposes you to a rich cultural heritage, and challenges your physical limits. If this sounds like your kind of adventure, then this guide is for you. Let's dive in!
Planning and Preparation
Best Time to Everest Base Camp Trek
The best times to embark on an Everest Base Camp Trek are during the pre-monsoon (Spring) and post-monsoon (Autumn) seasons.
Spring (February to May): This is a very popular time for the Everest Base Camp trek. As the winter chill subsides, temperatures become milder and days longer. The skies are generally clear, providing awe-inspiring views of the majestic Everest. This period is also fantastic for witnessing the spectacular bloom of rhododendrons, adding a vibrant splash of color to the landscape.
Autumn (September to December): Post-monsoon, the skies remain mostly clear, and the dust and haze are washed away by the monsoon rains, making this a great time for trekking. The autumn season offers crystal-clear views of the surrounding mountains. The weather remains stable and the daytime temperatures, although colder than spring, are still quite comfortable for trekking.
In both seasons, it's essential to remember that night-time temperatures can drop below freezing, especially as you gain altitude, so adequate preparation and equipment are necessary.
It's advisable to avoid the monsoon season (June to August) due to heavy rains, potential flight delays, and landslides. The winter season (December to February) is also challenging due to extremely cold temperatures, heavy snowfall, and high chances of passes being closed, although it does offer quieter trails and unique beauty.
Fitness Level for Everest Base Camp Trek
Trekking to Everest Base Camp (EBC) is a challenging endeavor, requiring a decent level of physical fitness and mental preparation. It doesn't require any technical mountaineering skills, but it does demand endurance and the ability to hike for several hours a day over hilly terrain at high altitudes. Here are some fitness aspects you should consider:
1. Cardiovascular Fitness: You should be able to handle several hours of walking daily. Begin training at least three months before the trek, focusing on activities like jogging, cycling, swimming, or any other cardio exercises.
2. Strength Training: This trek can put stress on your body, particularly your legs, hips, and core. Regular strength workouts focusing on these areas can be beneficial. Exercises such as squats, lunges, and planks can help build strength and stamina.
3. Hiking Experience: While not necessary, previous hiking experience at high altitudes can be beneficial. If possible, spend some time hiking in hilly areas with a loaded backpack to simulate trekking conditions.
4. Acclimatization: Acclimatization is a crucial part of the trek. The EBC trek goes above 5000 meters, where the risk of altitude sickness is high. Proper acclimatization helps your body adapt to lower oxygen levels.
5. Flexibility and Balance: Yoga and stretching can help improve balance and flexibility, making it easier to traverse the rocky and often uneven terrain of the trails.
6. Mental Stamina: Mental preparation is just as crucial as physical. A positive mindset and the ability to persevere even when the trek gets tough are essential.
Before beginning any fitness program, remember to consult with a healthcare professional, especially if you have any pre-existing health conditions. The EBC trek is physically demanding, but with proper preparation and a steady pace, it's achievable for most people with a good fitness level.
Altitude Sickness on Everest Base Camp Trek
Altitude sickness, also known as Acute Mountain Sickness (AMS), is a significant concern when trekking at high altitudes such as Everest Base Camp. AMS is caused by rapid exposure to low amounts of oxygen at high elevations and can occur in some people as low as 2,500 meters above sea level.
Symptoms of AMS can include:
Headaches
Dizziness
Nausea or vomiting
Shortness of breath
Rapid heartbeat
Loss of appetite
Difficulty sleeping
Fatigue
It's crucial to remember that anyone can get altitude sickness, regardless of their fitness level or previous experience at high altitudes.
To prevent and manage AMS on the Everest Base Camp Trek, keep the following in mind:
Acclimatization: This is the most critical factor in preventing AMS. The standard EBC trek itinerary incorporates acclimatization days, where you climb to a higher altitude during the day and descend to sleep. This "climb high, sleep low" approach helps your body get used to the thin air.
Hydrate: Drink plenty of water throughout the trek and avoid alcohol and caffeine, as they can exacerbate dehydration and AMS symptoms.
Pace Yourself: It's not a race to get to the Base Camp. Maintaining a slow and steady pace is essential for your body to adapt to the altitude.
Know the Symptoms: Be aware of the symptoms of AMS and do not ignore them. If you start feeling unwell, let your guide or trekking companions know.
Descend if Necessary: If your symptoms are severe or getting worse, the best remedy is to descend as quickly and safely as possible.
Consult a Doctor: Before embarking on the trek, speak to your doctor about AMS. They may recommend medications like Acetazolamide (Diamox) to help prevent and treat symptoms.
Remember, while reaching Everest Base Camp is an incredible achievement, your health and safety are most important. There's no way to predict who will get altitude sickness, so take your time, listen to your body, and enjoy the journey.
Equipment for Everest Base Camp Trek
Adequate gear is a crucial factor in the success and enjoyment of your Everest Base Camp (EBC) trek.
Here's a comprehensive list of what you'll need:
1. Clothing:
Base Layers: Thermal underwear and long-sleeved tops to keep you warm.
Trekking Shirts: Both short and long-sleeved, preferably made of moisture-wicking material.
Trekking Trousers: Convertible to shorts can be handy. Also, pack thermal trekking pants for colder days.
Fleece Jacket or Pullover: For additional warmth under your down jacket.
Insulated Jacket: A down jacket is essential for freezing nights.
Waterproof Jacket and Pants: To protect you from wind, rain, and snow.
Undergarments: Enough for the duration of the trek.
2. Footwear:
Trekking Boots: Ensure they are comfortable, waterproof, and broken in before your trek.
Trekking Socks: Woolen or thermal socks are best.
Sandals or Shoes: Useful for evenings in the teahouses when you want to remove your boots.
3. Head and Hand Gear:
Beanie or Headband: To keep your head and ears warm.
Sun Protection Hat or Cap: To protect against the intense sun.
Buff or Neck Band: Versatile for heat and cold protection.
Gloves: Both light inner gloves and heavier outer gloves are recommended.
4. Other Essential Gear:
Backpack: A 60-70L backpack for those hiring a porter, or 40-50L if you plan to carry your own gear. Waterproof covers are also useful.
Sleeping Bag: Teahouses provide blankets, but a good four-season sleeping bag is necessary as it can get very cold at night.
Trekking Poles: They can reduce the impact on your knees and are especially useful for steep descents.
Water Purification Tablets or SteriPen: To purify drinking water along the trail.
Headlamp: Essential for early morning starts and power cuts in teahouses.
Sunglasses: High UV protection sunglasses are crucial to prevent snow blindness.
Sunscreen and Lip Balm: With high SPF, as the sun can be harsh at high altitudes.
Water Bottle or Hydration Bladder: To keep hydrated throughout the trek.
5. Medical Supplies:
First Aid Kit: Include bandages, antiseptic wipes, and blister plasters.
Painkillers: Ibuprofen, aspirin, or paracetamol.
Diamox: For altitude sickness (consult your doctor before use).
Personal Prescription Medication: If required.
6. Additional Items:
Camera: With extra batteries.
Power Bank: Electricity can be scarce and expensive in teahouses.
Snacks: Energy bars, trail mix, or your favorite comfort food.
Travel Towel: Quick-drying is best.
Toiletries: Travel-sized are more convenient.
This list might seem exhaustive, but remember it's crucial to be well-prepared for the Everest Base Camp trek. The weather can be unpredictable, and having the right gear will make the difference between a comfortable and a challenging trek. Remember to pack light, layer your clothing, and enjoy the adventure!
The Route
The classic EBC trek begins with a flight from Kathmandu to Lukla. The trek then continues to Namche Bazaar, Tengboche, Dingboche, Lobuche, Gorak Shep, and finally to Everest Base Camp and Kala Patthar.
Lukla: This small town serves as the starting point for most EBC treks. The Lukla airport is renowned for its exciting and dramatic landings.
Namche Bazaar: Known as the gateway to the high Himalayas, this bustling Sherpa town is great for acclimatization, with plenty of guesthouses, bakeries, and even an internet cafe.
Tengboche: Home to the famous Tengboche Monastery, this village provides stunning panoramic views of the Himalayan giants, including Everest.
Dingboche: Another essential spot for acclimatization, offering side treks with outstanding views of Ama Dablam.
Lobuche: This village lies near the foot of the Khumbu Glacier. From here, you're just a day away from your destination.
Gorak Shep: The last settlement before EBC, Gorak Shep is the launchpad for the final leg of the trek to both EBC and Kala Patthar.
Everest Base Camp and Kala Patthar: Standing at Everest Base Camp is an unforgettable experience. However, remember that the best views of Everest are from the summit of Kala Patthar.
Accommodation and Food
During your Everest Base Camp (EBC) trek, you'll predominantly be staying in teahouses, experiencing Nepalese hospitality and simple comforts amidst the stunning Himalayan landscape.
Accommodation
Teahouses are basic guesthouses found along popular trekking routes in Nepal. They're family-run establishments, providing a warm bed and home-cooked meals. Here's what to expect:
Rooms: You'll typically find twin-sharing rooms with basic furnishings – usually two beds with a small table in between. Solo travelers may need to share a room with another trekker of the same gender.
Bedding: Teahouses provide blankets, but they may not be warm enough during colder months or at higher altitudes. Carry a four-season sleeping bag for comfort.
Washrooms: Lower down the trail, teahouses may have attached bathrooms, but as you move higher, expect shared facilities. Running water can be rare, and hot showers, if available, usually cost extra.
Electricity and Wi-Fi: Electricity is available but often unreliable. Charging devices usually come at a fee. Wi-Fi might be available in some teahouses, but it's typically slow and paid.
Food
One of the delightful experiences of the EBC trek is the chance to enjoy traditional Nepalese food and simple Western meals. Here's what's usually on the menu:
Breakfast: Choices often include toast, eggs, pancakes, porridge, and local Tibetan bread. Tea or coffee is also served.
Lunch and Dinner: The most common meal is 'Dal Bhat' - a traditional Nepalese dish that includes rice, lentil soup, and curried vegetables. It's replenishing and served in generous quantities. Other options often include pasta, noodles, dumplings (momos), and pizza.
Snacks: Biscuits, chocolate bars, and other packaged snacks can usually be purchased from teahouses or local shops. It's also a good idea to pack high-energy snacks from home.
Drinks: Always drink treated water to avoid waterborne diseases. You can refill your bottle at teahouses and treat the water using purification tablets or a SteriPen. Other beverages available include tea, coffee, soft drinks, and sometimes a local rice wine called 'Chang'.
Remember, at higher altitudes, your body requires more calories, so it's essential to eat well and stay hydrated. The trek might be physically demanding, but the warm hospitality of the teahouses and the comforting food can offer an oasis of calm amidst your adventure.
Hiring a Guide or Porter
When planning your Everest Base Camp (EBC) trek, one of the critical decisions you'll need to make is whether to hire a guide, a porter, or both.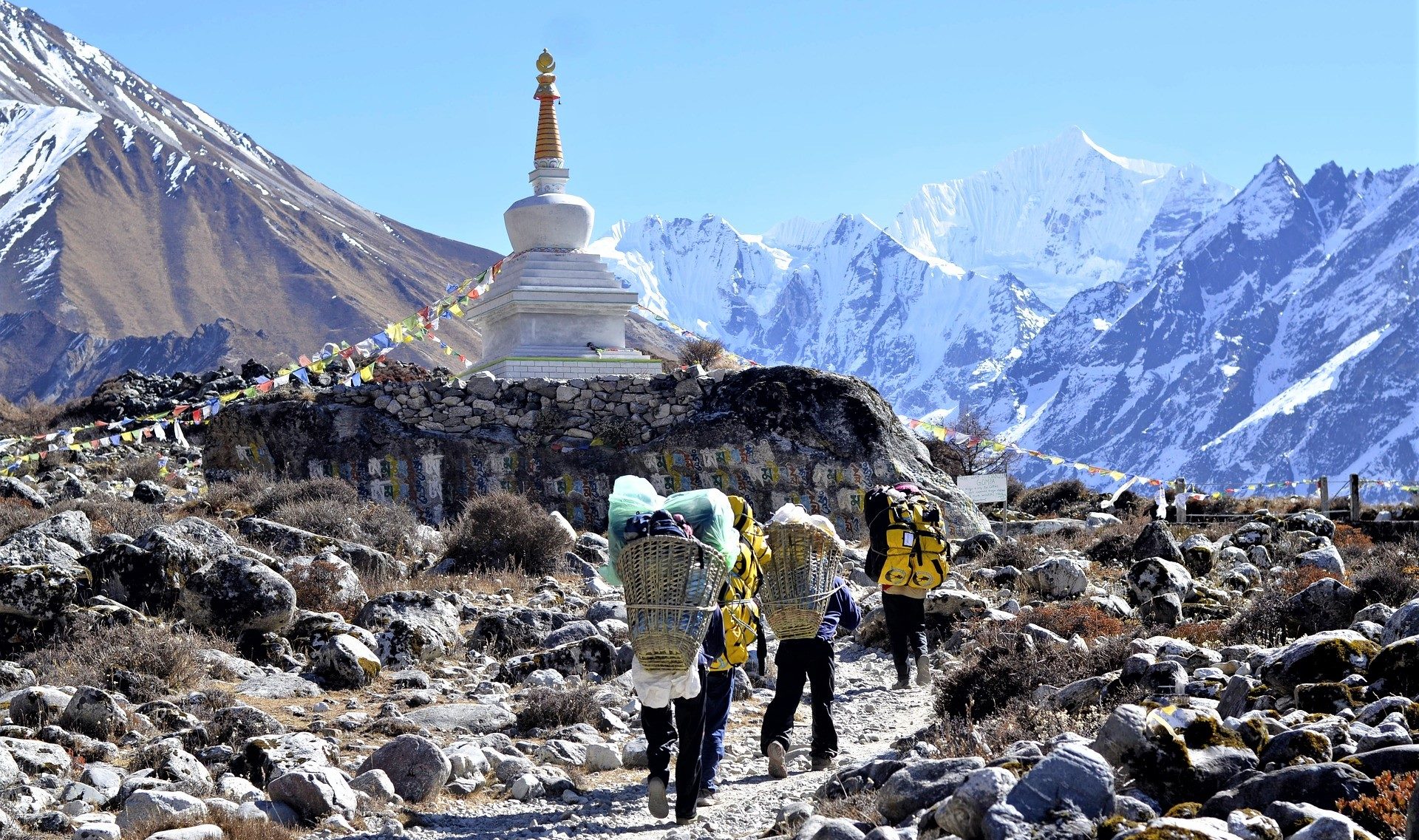 Here's some guidance on each option:
1. Hiring a Guide:
A guide can provide significant advantages:
Route Knowledge: A local guide knows the terrain, trail, and shortcuts, reducing the chances of you getting lost.
Communication: They can communicate in Nepali, making interactions with locals easier.
Emergency Handling: In case of emergencies or sickness, they can arrange for rescue or medical assistance.
Local Insights: Guides can share interesting facts and stories about the places and culture along the trail.
If you're a first-time trekker or not very experienced in high altitude and challenging terrains, a guide is highly recommended.
2. Hiring a Porter:
A porter's primary job is to carry a heavy load. Here's why you might want one:
Ease of Trek: With a porter, you'll carry only a daypack with your essentials. The reduced weight makes the trek less physically demanding.
Support Local Economy: Hiring a porter is a great way to support the local economy.
Companionship: Many porters are also excellent companions and can share stories about local culture and life in the mountains.
3. Hiring a Guide-Porter:
A guide-porter is a more economical option that combines the roles of both. They can navigate the trail, provide useful information, and carry a limited weight (usually up to 15 kg).
Cost:
The cost of hiring a guide is around $25-30 per day, a porter about $15-20 per day, and a guide porter about $20-25 per day. These prices include their salary, food, accommodation, and insurance but can vary based on the season and their experience. Always agree on the terms and costs before the trek.
Remember, if you choose to hire a guide or porter, it's essential to treat them ethically. Ensure they have proper clothing and equipment, don't overload them, and respect their rights as per the guidelines of the International Porter Protection Group (IPPG).
Having a guide or porter along doesn't lessen the achievement of reaching EBC. Instead, it can make your trek more enjoyable, safe, and insightful.
Cost of Everest Base Camp Trek
The cost of the Everest Base Camp (EBC) trek can vary greatly depending on a range of factors such as the length of your trek, whether you go with a tour company or independently, the level of comfort you prefer, and extra expenses like tips, souvenirs, or unforeseen costs.
Tour Package: These range from $8,00 to $3,000 for 12-16 days. This usually includes guide and porter services, accommodation, meals, permits, round-trip flights from Kathmandu to Lukla, and sometimes gear rentals. It's a hassle-free way to trek, but it's usually the costliest option.
Independent Trek: If you choose to go independently (i.e., arranging everything yourself), costs can significantly reduce. Here's a breakdown:
Round-trip flight from Kathmandu to Lukla: Around $350
Permits (TIMS Card & Sagarmatha National Park Permit): Around $50
Guide: $25-30 per day
Porter: $15-20 per day
Accommodation: Free to $5 per night (but you're expected to eat meals at the teahouses where you stay)
Meals and Drinks: $20-30 per day
Miscellaneous (like charging devices, hot showers, Wi-Fi, snacks): $5-10 per day
Adding up these costs, an independent trek might cost around $800-$1200, but this can still vary based on your personal spending habits and how many extra comforts you want.
Additional Costs: Besides these, remember to account for:
Gear (backpack, clothing, boots, sleeping bag, etc.): Varies widely, could be $200-$500+ if you don't already have these.
Travel insurance: Varies, but ensure it covers high-altitude trekking and emergency evacuation.
Visa for Nepal: a 30-day visa on arrival for most nationalities is $50.
Tipping: It's customary to tip your guide and porter at the end of the trek, generally around 10-15% of their total fee.
Extra days: Weather and health issues can sometimes prolong your trek, so it's good to budget for a few extra days.
Please note, these are rough estimations and the actual cost can vary. It's recommended to do your own research closer to the date of your trek for more accurate and up-to-date pricing.
Best trek operator for Everest Base Camp Trek
Luxury Holidays Nepal is indeed a reputable tour operator in Nepal, known for its various trekking and tour packages, including the Everest Base Camp (EBC) Trek.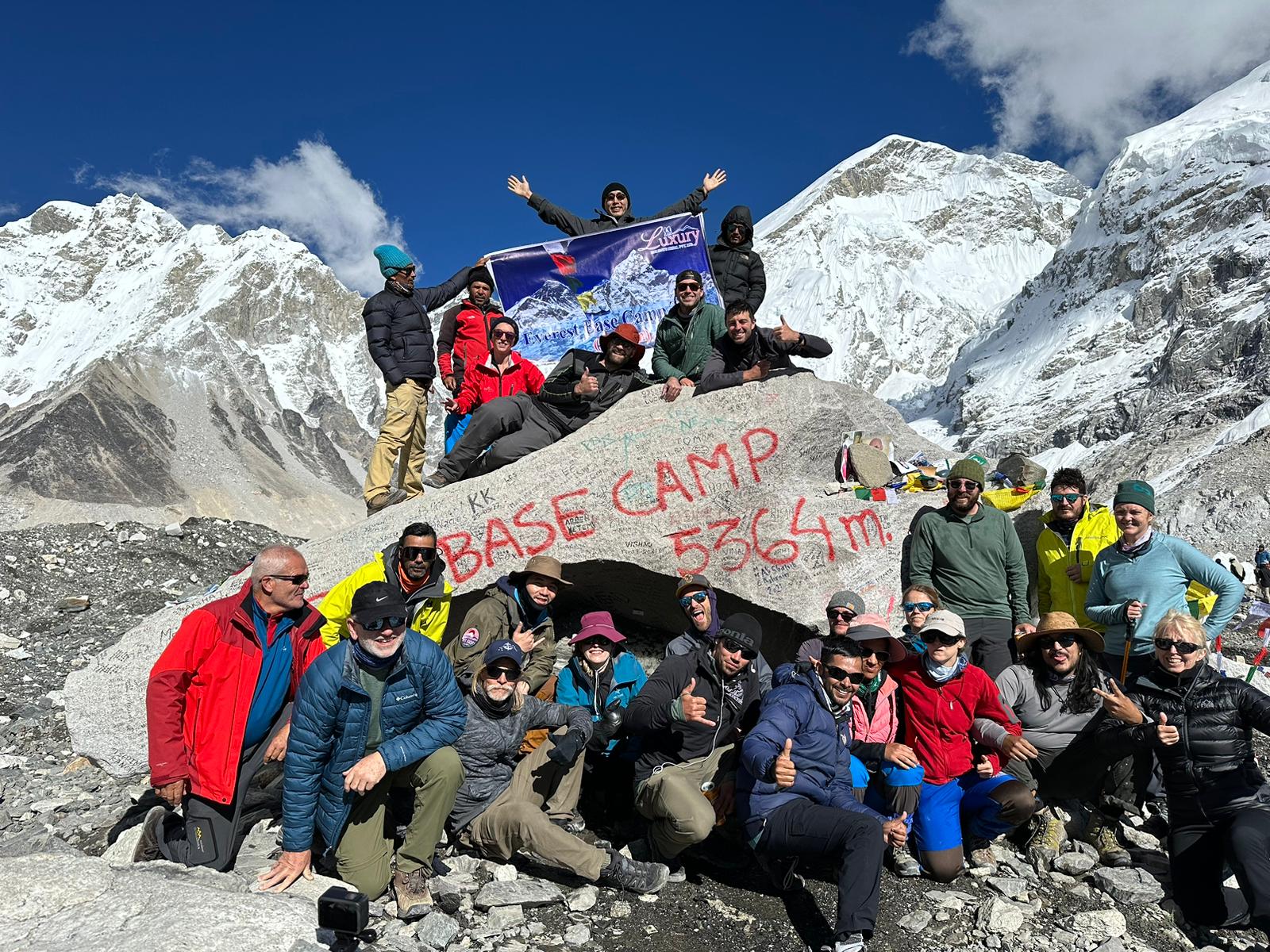 1. Comprehensive Packages: Luxury Holidays Nepal typically offers all-inclusive packages, covering accommodation, meals, permits, flights from Kathmandu to Lukla, guide and porter services, and transportation within Kathmandu. This comprehensive approach simplifies the planning process for trekkers.
2. Experienced Guides: The company employs knowledgeable and professional guides who are adept at leading treks in the Everest region. They are trained in first aid and high altitude sickness response, ensuring the safety and well-being of trekkers.
3. Excellent Client Service: They are known for their high level of customer service, from the initial inquiry to the completion of the trek. The company focuses on the needs and satisfaction of the clients, providing personalized service.
4. Customizable Itineraries: Luxury Holidays Nepal understands that each trekker has unique needs and preferences. Therefore, they are usually flexible in adjusting and customizing the itinerary according to the requirements of the trekkers.
5. Positive Reviews: The company has received numerous positive reviews from past clients praising the team's professionalism, the quality of accommodations, and the overall organization of the treks.
However, while Luxury Holidays Nepal might be a great choice, it's important to remember that 'best' can be subjective and depends on individual needs, preferences, and expectations.
Permits for the Everest Base Camp Trek
Trekkers' Information Management Systems (TIMS) Card:
This is a basic permit required by all trekkers in Nepal. The TIMS Card is a way of tracking trekkers in the region and ensuring their safety. The TIMS Card can be obtained in Kathmandu at the Nepal Tourism Board Office or in Pokhara at the Nepal Tourism Board Service Center.
Sagarmatha National Park Permit:
Since Mount Everest lies within the boundaries of Sagarmatha National Park, trekkers are also required to obtain an entry permit for the park. It can be obtained in Kathmandu at the Nepal Tourism Board Office or at the park entrance in Monjo.
You should carry your passport and several passport-sized photos as they might be needed for the permits. Also, always carry your permits with you during the trek as there are several checkpoints along the route where you may be asked to show them.
Please note that the costs and procedures for these permits might change, so it's recommended to check the most recent information when you plan your trek. If you're trekking with a guide or a tour company, they will typically arrange all necessary permits for you.
Prior trekking experience to do the Everest Base Camp Trek
Trekking to the Everest Base Camp (EBC) is a challenging adventure due to its high altitude, remote location, and demanding terrain. While prior trekking experience is not mandatory, it can be incredibly beneficial for several reasons:
1. Physical Preparation: If you've done similar long-distance treks before, your body is likely better prepared for the physical demands of the EBC trek. You'll be trekking for multiple days, usually 5-7 hours per day, which can be taxing if you're not used to such sustained physical activity.
2. Mental Preparation: Prior trekking experience can also prepare you mentally. Multi-day treks require resilience, patience, and the ability to cope with discomfort and unexpected situations. Having previously faced and overcome such challenges can boost your confidence and mental strength.
3. Acclimatization Experience: If your previous treks involved high altitude, you'll have valuable experience with acclimatization. Understanding how your body responds to reduced oxygen levels can help you manage your pace and recognize early symptoms of altitude sickness on the EBC trek.
4. Gear Knowledge: Prior experience can help you understand the importance of good quality trekking gear and how to use it effectively. This knowledge will be useful when preparing and packing for the EBC trek.
If you're new to trekking, it's recommended to start with shorter and less demanding treks to build up your strength, stamina, and experience. Engaging in regular cardiovascular exercises like running, cycling, or swimming is also beneficial.
Regardless of your experience level, it's crucial to remember that everyone responds differently to high altitudes, and a slow and steady pace is key to a successful EBC trek. Always listen to your body, stay hydrated, and give yourself enough time to acclimatize to the high altitude.
If you're unsure about your readiness, consider consulting with a doctor or a professional trekking guide to help assess your fitness level and offer advice on how to prepare for the trek.
How safe is the Everest Base Camp Trek
The Everest Base Camp (EBC) trek, like any high-altitude trek, comes with inherent risks, but it is generally considered safe, especially when precautions are taken. Thousands of people successfully complete the trek each year. Here are some factors to consider in terms of safety:
1. Altitude Sickness:
The risk of altitude sickness, or Acute Mountain Sickness (AMS), is significant on the EBC trek. It can affect anyone, regardless of fitness or age. Symptoms include headaches, nausea, dizziness, and shortness of breath. To mitigate this risk, a proper acclimatization schedule should be followed, allowing your body time to adjust to the thin air. If severe symptoms develop, descending to a lower altitude is the best course of action.
2. Trail Safety:
The trail to EBC is well-trodden and clearly marked, reducing the risk of getting lost. However, the terrain can be rough and steep at times, and the weather can change rapidly. Wearing good-quality hiking boots for grip and stability, and using trekking poles for balance, can help prevent slips and falls.
3. Health and Fitness:
The trek is physically demanding, and a good fitness level is required. Prior to the trek, regular exercise and training can help prepare your body for the strain. Also, it's important to stay hydrated and well-fed during the trek.
4. Guide or Porter:
Hiring a guide or porter can greatly enhance safety. They are experienced in the route and can recognize early symptoms of altitude sickness. In case of emergencies, they can help arrange for rescue or medical help.
5. Travel Insurance:
It's essential to have travel insurance that covers high-altitude trekking and emergency evacuation. In case of severe injury or illness, helicopter evacuations are available, but they can be very costly without insurance.
6. Weather Conditions:
The weather in the Everest region can be unpredictable and can change rapidly. Avoid trekking during the monsoon season when the trails can be slippery and the views obscured by clouds.
7. Hygiene and Sanitation:
To avoid stomach problems, always drink treated or boiled water, and ensure that the food you eat is freshly cooked and served hot.
8. Lukla Flight:
The flight between Kathmandu and Lukla is considered one of the most dangerous in the world due to the challenging weather conditions and the short, steep runway at Lukla airport. However, safety standards have improved over the years, and flights are generally only operated in suitable weather conditions.
While there are risks involved, they can be minimized with proper preparation, responsible decision-making, and an awareness of the challenges posed by the trek. It's always wise to listen to your body, never rush, and seek expert advice when needed.
Luxury Everest Base Camp Trek
The Luxury Everest Base Camp Trek is an upgraded version of the classic Everest Base Camp trek, designed to offer more comfort and convenience while still providing the adventurous spirit of a high-altitude trek.

If you're looking for a more comfortable trekking experience, here are some features typically found in a Luxury Everest Base Camp Trek:
1. Comfortable Accommodations: Unlike the classic trek where you stay in basic teahouses, the luxury trek includes accommodations in high-quality lodges and luxury hotels with more comfortable beds, en-suite bathrooms, and even heated rooms. These include establishments like Yeti Mountain Home lodges and Hotel Everest View, reputed to have the highest-placed hotel in the world.
2. Gourmet Meals: On a luxury trek, you will enjoy a wider variety of meals, often including a mix of local and international cuisines. You might also have access to a broader selection of snacks and beverages.
3. Smaller Groups: Luxury treks often have smaller group sizes, offering a more personalized experience.
4. Extra Services: Some packages may include additional services like Wi-Fi, charging facilities, hot showers, or laundry services without any extra cost.
5. Private Transport: Depending on the package, you might have a helicopter flight replacing the often stressful flight to Lukla. The helicopter flight not only provides a thrilling experience but also offers stunning aerial views of the landscape.
6. Experienced Guides: Luxury treks often come with highly experienced guides who are knowledgeable about the region's geography, culture, and history, adding valuable context to your journey.
7. Extra Days for Exploration: Some luxury itineraries include extra days in beautiful locations like Namche Bazaar to relax and soak in the surroundings.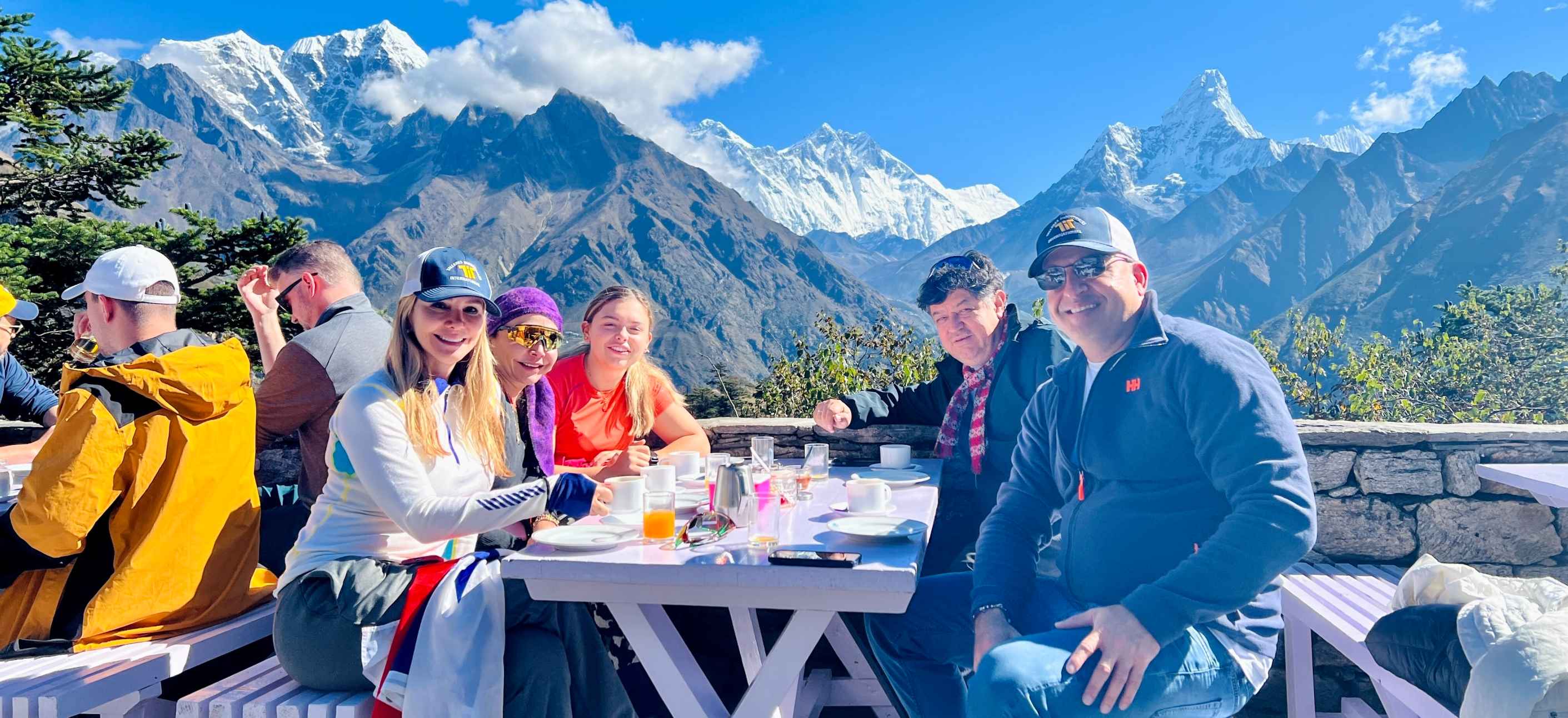 While a luxury Everest Base Camp Trek offers a higher degree of comfort, it's important to remember that you'll still be trekking in a remote, high-altitude environment. Challenges such as changing weather conditions, rugged terrain, and the risk of altitude sickness remain the same. So, it's essential to be well-prepared, stay fit, and acclimatize properly.
Keep in mind that 'luxury' treks come with a significantly higher price tag due to the enhanced level of services and accommodations. But if comfort and convenience are your priorities, and the budget is not a constraint, a Luxury Everest Base Camp Trek can indeed be a once-in-a-lifetime experience.
Everest Base Camp Helicopter Trek
The Everest Base Camp (EBC) Helicopter Trek is a perfect blend of adventure and luxury that allows trekkers to experience the thrill of the classic EBC trek, complemented by a spectacular helicopter ride. This trek is a fantastic option for those who are short on time or wish to avoid the strenuous return journey.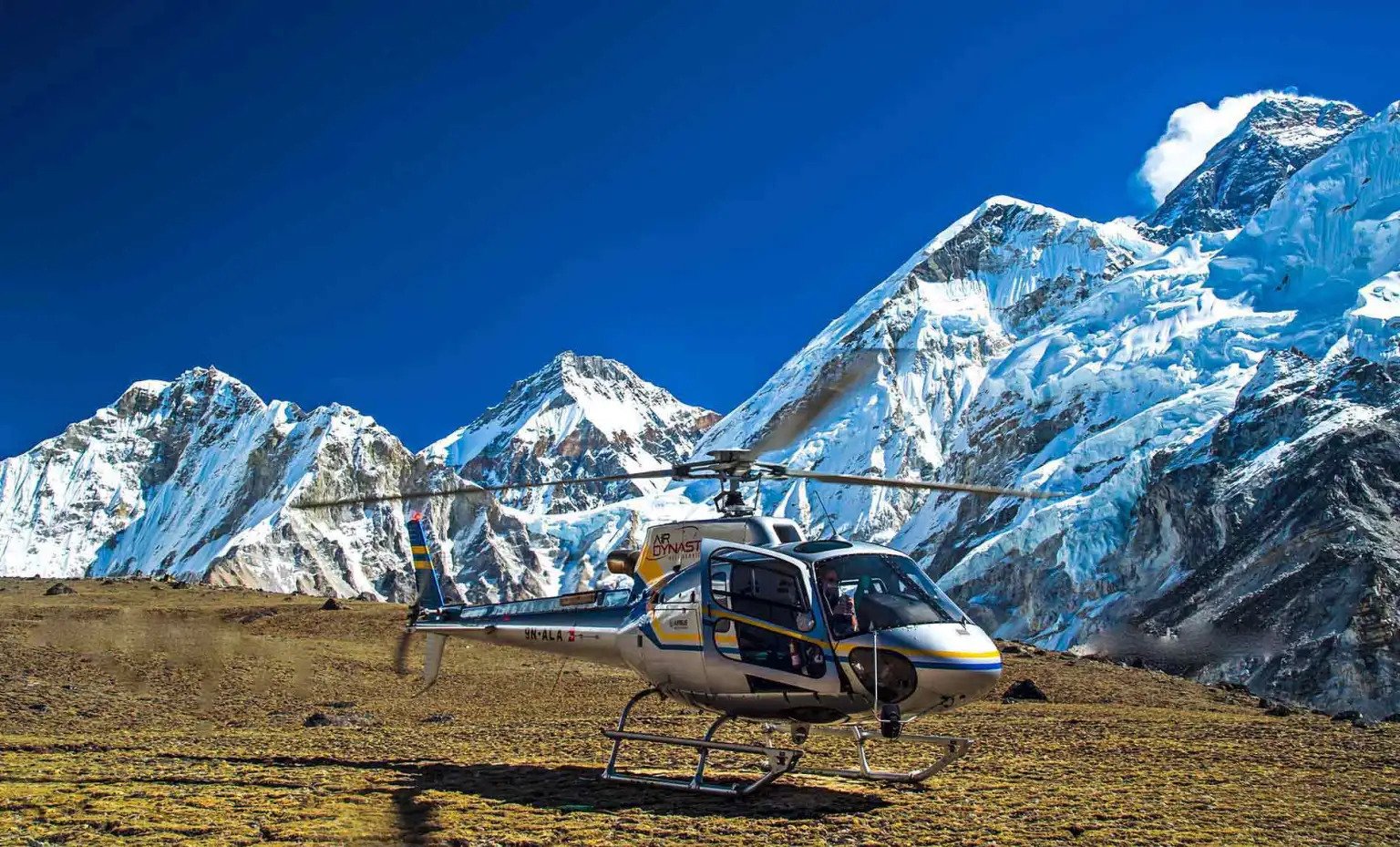 Here's how it typically works:
Trek to EBC: You'll start your journey by flying from Kathmandu to Lukla, the gateway to the Everest region. From Lukla, you will trek through scenic landscapes, visiting iconic Sherpa villages like Namche Bazaar and Tengboche, and gradually ascend towards Everest Base Camp. This part of the journey usually follows the traditional EBC trek route and lasts for about 8-9 days, allowing for proper acclimatization.
Helicopter Ride Back: After reaching the Everest Base Camp and/or Kala Patthar (a viewpoint popular for its panoramic views of Everest and surrounding peaks), you'll be picked up by a helicopter for your return journey. This exhilarating helicopter ride offers stunning aerial views of the Everest region, a truly unforgettable experience. The helicopter will typically take you to Kathmandu, with a possible stop at Lukla to refuel.
The EBC Helicopter Trek offers a few key benefits:
1. Time Efficient: The helicopter return saves several days of trekking, making it an excellent option for those with limited time.
2. Less Strenuous: By avoiding the return trek, you'll conserve energy and potentially reduce the risk of injury or altitude sickness.
3. Incredible Views: The helicopter ride provides a unique perspective of the Himalayas that very few get to experience.
4. Comfort and Convenience: The helicopter journey provides a level of comfort and convenience not found in traditional trekking.
Keep in mind that while the helicopter trek offers these advantages, it also comes at a higher cost due to the helicopter ride. Weather can also be a critical factor. Helicopters can only fly in suitable weather conditions, so a backup plan is essential in case of delays due to weather.
As always, ensure your travel insurance covers helicopter evacuation and high-altitude trekking. A reputable trekking company will prioritize safety and should have contingency plans in place for any unexpected situations.
Important notes for Everest Base Camp Trek
Trekking to Everest Base Camp is an adventure of a lifetime. However, it's a challenging journey that requires careful planning and preparation. Here are some important notes to consider:
1. Acclimatization: Ascending too quickly can lead to Acute Mountain Sickness (AMS). Ensure your itinerary includes acclimatization days to allow your body to adapt to the high altitude.
2. Travel Insurance: Ensure you have comprehensive travel insurance that covers high-altitude trekking and emergency evacuation.
3. Hire a Guide: While the EBC trek can be done independently, a professional guide can significantly enhance your experience. They can help navigate the trail, manage logistics, and provide assistance in case of emergencies.
4. Physical Fitness: The EBC trek is physically demanding. Regular cardio exercises and strength training for several months before your trek can significantly enhance your fitness and endurance levels.
5. Pack Wisely: Your packing list should include warm clothing in layers, sturdy hiking boots, sun protection, a good-quality sleeping bag, water purification tablets, and personal medical supplies.
6. Stay Hydrated and Eat Well: Drink plenty of water to prevent dehydration, and consume a balanced diet to maintain your energy levels.
7. Listen to Your Body: Understand the symptoms of altitude sickness. If you feel unwell, communicate it to your guide or team members. Never ignore your symptoms.
8. Respect Local Culture: The Everest region is culturally rich, and most locals follow Tibetan Buddhism. Respect local customs, traditions, and religious sentiments.
9. Environmental Responsibility: Leave no trace. Carry a trash bag with you and bring back your waste. Protect the environment by not littering, not disturbing wildlife, and not picking plants or flowers.
10. Safety First: Avoid trekking alone, especially in the off-season when trails can be quiet. Stick to the established routes, and don't rush - remember that 'slow and steady' is the key to high-altitude trekking.
11. Weather Check: Weather in the mountains can be unpredictable. Always check the weather forecast before starting the day's trek.
12. Communication: Network coverage can be sporadic or non-existent in the Everest region. Consider renting a satellite phone for emergencies.
Remember, every individual reacts differently to altitude and the challenges of a long trek. Preparing well, respecting the mountain, and taking care of your health are the keys to a successful Everest Base Camp trek.
Frequently Asked Questions for Everest Base Camp Trek
1. How long does the Everest Base Camp Trek take?
The classic Everest Base Camp Trek typically takes about 12-14 days, including acclimatization days. The duration can vary depending on the specific itinerary and your pace.
2. What is the distance of the Everest Base Camp Trek?
The round-trip trek from Lukla to Everest Base Camp and back is approximately 130 kilometers or 80 miles.
3. How difficult is the Everest Base Camp Trek?
The EBC trek is considered moderately difficult. The challenge lies not so much in the terrain, which is mostly non-technical, but in the high altitude and the length of the trek.
4. Do I need a guide for the trek?
While it is possible to trek independently, hiring a guide can significantly enhance your trekking experience. A guide can help with route navigation, provide valuable insights into the local culture and environment, and assist in case of emergencies.
5. Is travel insurance necessary for the EBC Trek?
Yes, it's crucial to have travel insurance that covers high-altitude trekking and emergency evacuation. Medical services and evacuations in the Everest region can be extremely expensive.
6. What is the highest altitude reached on the trek?
The highest point reached on the EBC Trek is Kala Patthar, at an altitude of 5,643 meters (18,513 feet). The Everest Base Camp itself is at an altitude of 5,364 meters (17,598 feet).
7. What should I pack for the EBC Trek?
Essentials include warm clothing in layers, sturdy hiking boots, sun protection (hat, sunglasses, sunscreen), a good-quality sleeping bag, water purification tablets or a water filter, and personal medical supplies.
8. Can I get altitude sickness on the trek?
Yes, the risk of altitude sickness is significant on the EBC trek. It's essential to familiarize yourself with the symptoms of altitude sickness and to follow a sensible acclimatization schedule.
9. How are the food and accommodation facilities on the trek?
On the classic EBC trek, you will typically stay in teahouses - basic lodges offering meals and accommodation. The food is usually simple but nutritious, and the accommodation, while basic, is generally clean and comfortable.
10. How do I prepare for the EBC Trek?
Regular cardiovascular exercise (like running, cycling, or swimming) for several months before your trek can help prepare your body for the physical demands of the trek. High-altitude training, if possible, can also be beneficial.
Everest Region Trekking Packages
Everest Heli Trek with Kalapathher Landing
Gokyo Lakes and Everest Base Camp Trek
Everest Base Camp Heli Trek - 9 Days
VVIP Everest Base Camp Luxury Trek
Everest Base Camp and Gokyo Lakes Luxury Helicopter Trek
Luxury Everest Base Camp Trek - 14 Days
If you need any further information, please contact us, Email: at [email protected], Phone: at +977- 985 100 5129 (WhatsApp)