The trek to Everest Base Camp (EBC) is a dream journey for many adventure enthusiasts worldwide. Nestled in the lap of the world's highest peak, Mount Everest, the trek offers a unique blend of awe-inspiring nature, physical challenge, and a chance to experience the rich local Sherpa culture. One frequently asked question by many enthusiastic trekkers planning our Everest Base Camp trek is, "How long does it take to complete the Everest Base Camp Trek?"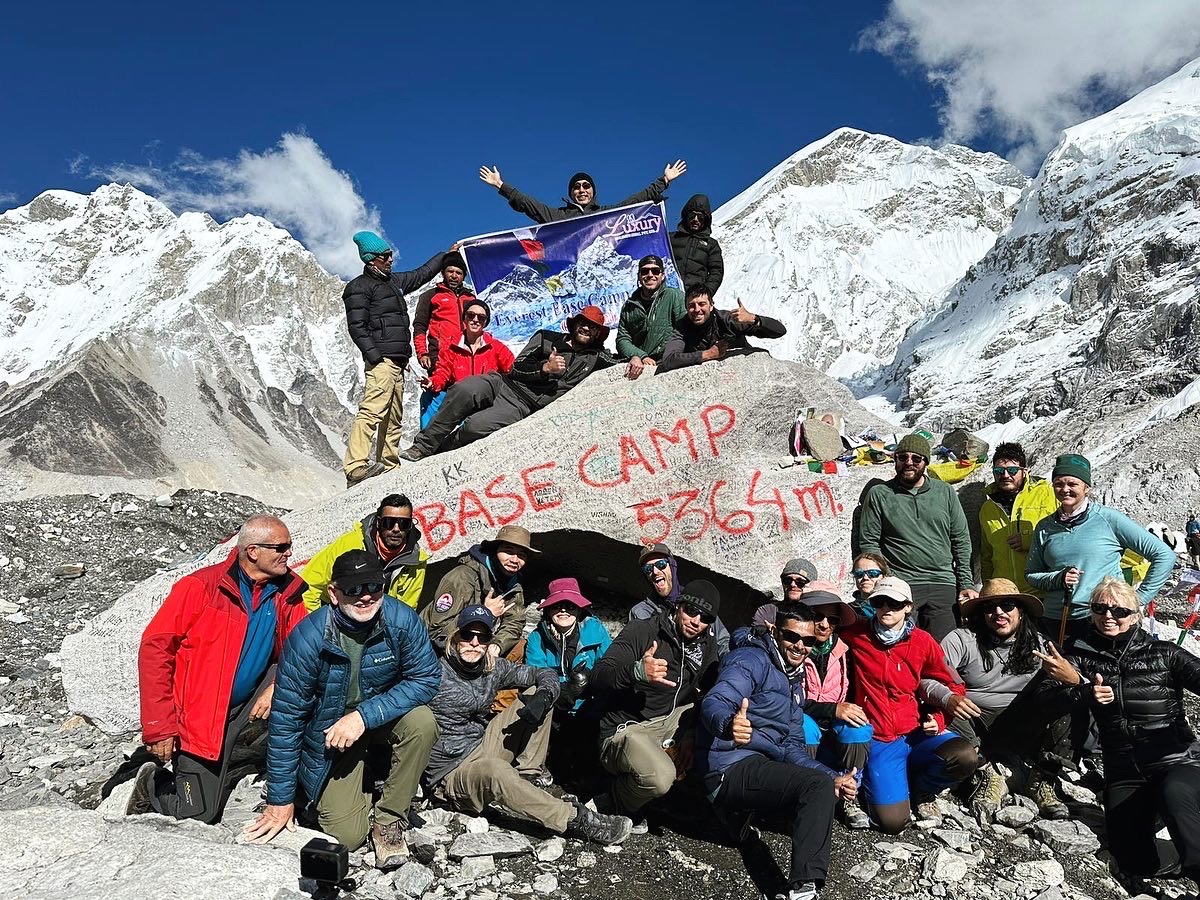 The straightforward answer is around 12 to 14 days, starting from Kathmandu and ending back in the same city. However, this duration can vary significantly based on various factors such as individual fitness level, acclimatization rate, chosen route, weather conditions, and any unforeseen circumstances.
In this blog post, we delve into the details of the Everest Base Camp trek duration, the factors affecting it, and tips on how you can prepare for the journey.
Standard Everest Base Camp Trek Itinerary
The standard Everest Base Camp (EBC) Trek itinerary typically spans 12 to 14 days. This duration includes not only the trek itself but also acclimatization days crucial for a safe and successful journey. Here's a general breakdown of the standard EBC Trek schedule:
Day 1 - Arrival in Kathmandu:
Your journey begins with your arrival in Kathmandu, Nepal's capital and cultural hub.
Day 2 - Kathmandu to Lukla flight, trek to Phakding:
On the second day, you take an early morning flight to Lukla, famously known for its Tenzing-Hillary Airport. This thrilling flight provides a bird's eye view of the stunning landscapes of Nepal. From Lukla, you commence your trek and reach Phakding.
Day 3 - Phakding to Namche Bazaar:
The trail from Phakding takes you through pine forests along the Dudh Koshi River to the bustling Sherpa town of Namche Bazaar.
Day 4 - Acclimatization Day in Namche Bazaar:
This day is set aside for acclimatization to prepare your body for the higher altitudes to come.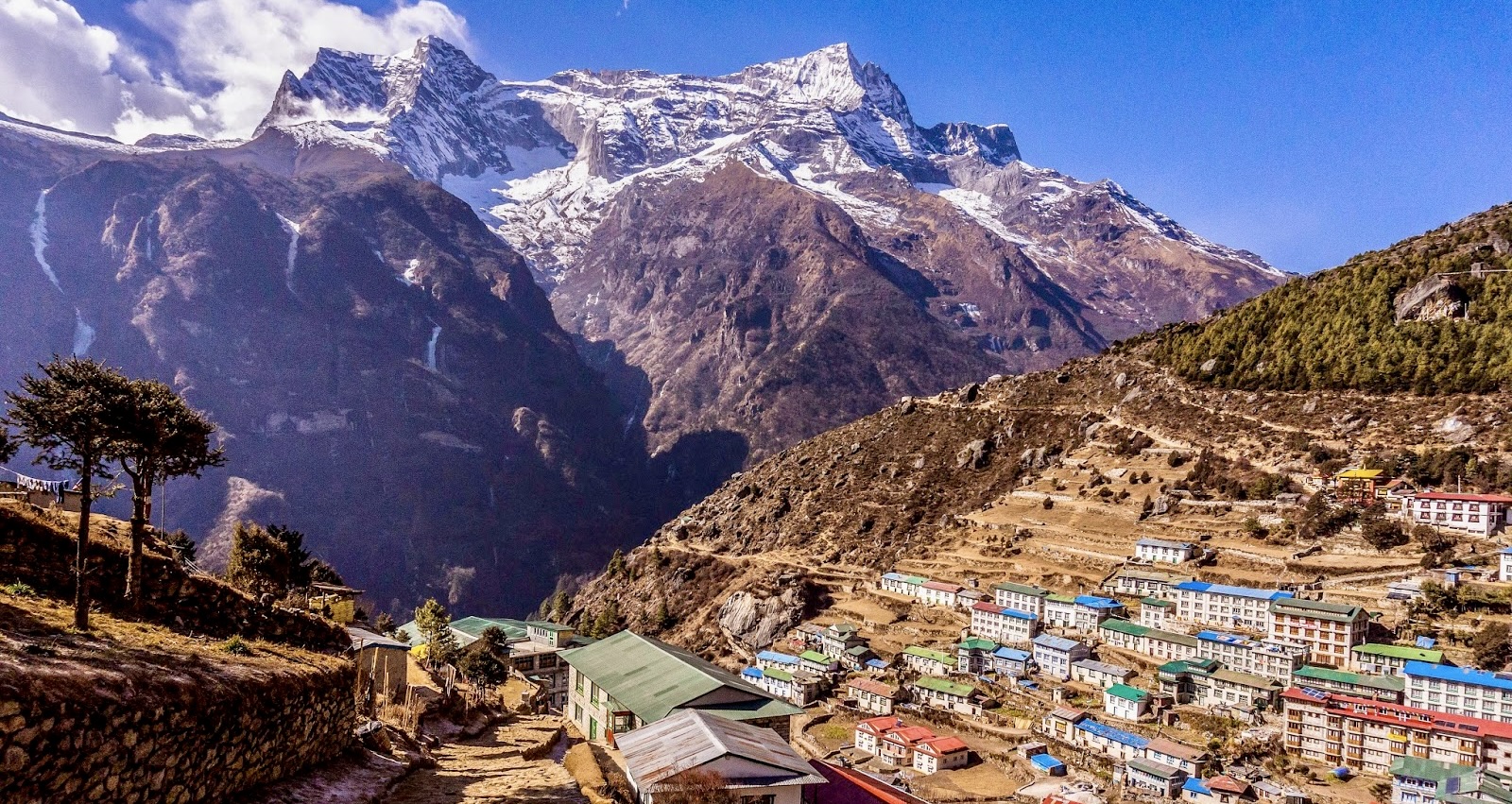 Day 5 - Namche Bazaar to Tengboche:
From Namche Bazaar, the path ascends to Tengboche, home to the largest Buddhist Monastery in the Khumbu region.
Day 6 - Tengboche to Dingboche:
The journey continues through lush forests and Sherpa villages to reach Dingboche.
Day 7 - Acclimatization Day in Dingboche:
Another day is reserved for acclimatization in Dingboche, where you can explore the beautiful village and its surroundings.
Day 8 - Dingboche to Lobuche:
The route from Dingboche to Lobuche provides spectacular views of the Everest Himalayan range.
Day 9 - Lobuche to Gorak Shep to Everest Base Camp and back to Gorak Shep:
This is a big day! You'll trek to Gorak Shep, then hike to Everest Base Camp, and return to Gorak Shep for the night.
Day 10 - Gorak Shep to Kala Patthar, then to Pheriche:
You'll start early to hike up Kala Patthar for a sunrise view of Mt. Everest, then descend to Pheriche.
Day 11 - Pheriche to Namche Bazaar:
Descending along the same path, you return to the vibrant town of Namche Bazaar.
Day 12 - Namche Bazaar to Lukla:
On the twelfth day, you trek back to Lukla, retracing your steps along the Dudh Kosi River.
Day 13 - Lukla to Kathmandu:
You'll fly back to Kathmandu from Lukla, bringing an end to the trekking part of your adventure.
Day 14 - Departure or Explore Kathmandu:
This day is reserved for departure or for exploring Kathmandu city and its UNESCO World Heritage Sites.
Factors Influencing the Trek Duration
Several factors can influence the duration of the Everest Base Camp Trek. It's essential to consider these factors when planning your adventure.
Acclimatization: Acclimatization is a significant factor that determines the duration of the EBC trek. As you ascend, your body needs time to adjust to the lower oxygen levels. To prevent altitude sickness, trekking itineraries typically include rest days for acclimatization. Ignoring these rest days can lead to health issues and can prolong your journey or even cut it short.
Physical Fitness: Your overall fitness level will significantly impact the duration of the trek. Those who are physically fit will have an easier time adjusting to the strenuous nature of the trek, thus completing it in a shorter timeframe. However, even if you're in great shape, it's important not to rush and give your body time to adjust to the altitude.
Chosen Route: The route you choose for the EBC trek also plays a role in determining the trek's duration. Some routes are shorter but steeper, while others may be longer but offer a more gradual ascent. You may also choose to visit other places of interest, like the Gokyo Lakes, which can add to the overall duration of your journey.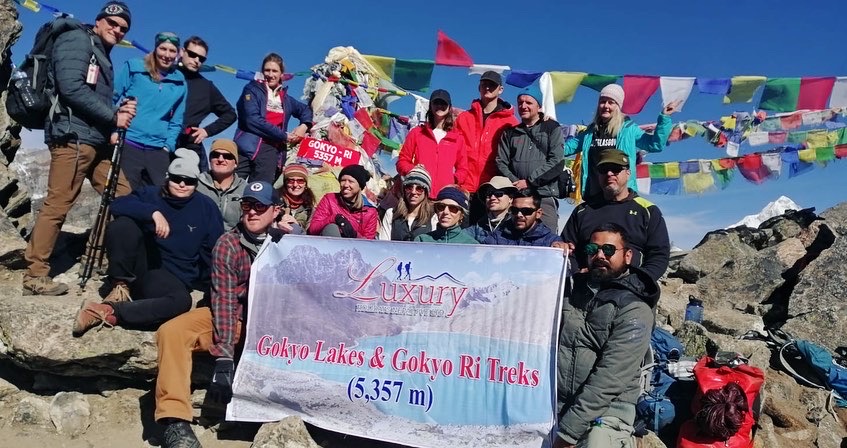 Weather and Season: Weather can be unpredictable in the Everest region, and adverse weather conditions can sometimes lead to delays. For instance, flights to and from Lukla can be delayed or cancelled due to poor visibility. The trekking season you choose also impacts the duration. Spring (March-May) and Autumn (September-November) are considered the best seasons for the trek and might present fewer weather-related challenges.
Trekking Pace: The pace at which you trek can also affect the duration. It's recommended to trek at a slow and steady pace to allow for proper acclimatization. Trying to complete the trek quickly can lead to altitude sickness and can potentially increase the duration due to the need for recovery.
Unforeseen Circumstances: Lastly, unforeseen circumstances like personal health problems, injuries, or other emergencies can increase the duration of the trek. It's a good idea to factor in a few extra days in your schedule to accommodate any unexpected events.
Remember, while it might be tempting to try and complete the trek as quickly as possible, the journey is just as important as the destination. Take your time, enjoy the breathtaking landscapes, and immerse yourself in the local culture.
How to Prepare for the Trek?
The Everest Base Camp Trek is a demanding adventure that requires a good level of fitness, mental preparation, and appropriate packing. Here are some ways to prepare for the trek:
Physical Fitness: The trek demands a lot of walking over rough terrains at high altitudes. It's crucial to engage in regular physical exercise at least two to three months prior to the trek. Activities could include jogging, cycling, swimming, hiking, or even stair climbing. The goal is to build your stamina and endurance.
Mental Preparation: Trekking to Everest Base Camp is as much a mental challenge as it is a physical one. Mental endurance is crucial, especially when the trek gets tough due to extreme weather conditions, physical fatigue, or altitude sickness. Maintaining a positive mindset, being patient, and staying motivated can help you overcome these challenges. It's beneficial to read about other people's experiences, understand the difficulties, and set realistic expectations.
Acclimatization: To minimize the risk of altitude sickness, plan a trekking itinerary that allows your body ample time to acclimatize to the high altitude. Include adequate rest days in your schedule. When on the trek, follow the golden rule - "climb high, sleep low." This means you can climb a higher altitude during the day but come down to sleep at a lower altitude.
Healthy Diet and Hydration: Keeping your body well-nourished and hydrated can make a huge difference to your trekking experience. Try to maintain a balanced diet and drink plenty of water. Eating small, frequent meals can be more manageable than heavy meals. Avoid alcohol and caffeine as they can lead to dehydration.
Appropriate Gear and Clothing: Packing the right gear and clothing is key. Remember to pack warm clothing, a sturdy pair of trekking boots, rain gear, a hat, sunglasses, and sunblock for protection against the sun and wind. A reliable water bottle, sleeping bag, and first-aid kit are also essential.
Medical Check-Up: It's recommended to have a complete medical check-up before undertaking the trek. If you have any pre-existing medical conditions, consult with your doctor if it's safe for you to go on the trek.
Remember, preparation is key to the success of your Everest Base Camp Trek. Start your preparation early, take it seriously, and most importantly, enjoy the journey!
How Long Is The Everest Base Camp Trek?
The length of the Everest Base Camp Trek can vary significantly depending on the specific route chosen and the pace at which you trek. However, the traditional Everest Base Camp Trek typically takes about 12-14 days from Lukla to Everest Base Camp and back. Here's a brief breakdown:
Kathmandu to Lukla: This is typically a 45-minute flight.
Lukla to Phakding: This portion is about a 3-4 hour trek.
Phakding to Namche Bazaar: This part usually takes about 5-6 hours to trek.
Acclimatization at Namche Bazaar: You'll typically spend a day here to acclimatize, which can involve a short trek to a higher altitude before returning to Namche Bazaar to sleep.
Namche Bazaar to Tengboche: This is usually a 5-6 hour trek.
Tengboche to Dingboche: This portion is about a 5-6 hour trek.
Acclimatization at Dingboche: Another acclimatization day, with optional short treks to higher altitudes.
Dingboche to Lobuche: This is a 5-6 hour trek.
Lobuche to Gorakshep to Everest Base Camp, then back to Gorakshep: This is a long day, with about 7-8 hours of trekking in total.
Gorakshep to Kala Patthar, then to Pheriche: This portion is typically a 7-8 hour trek.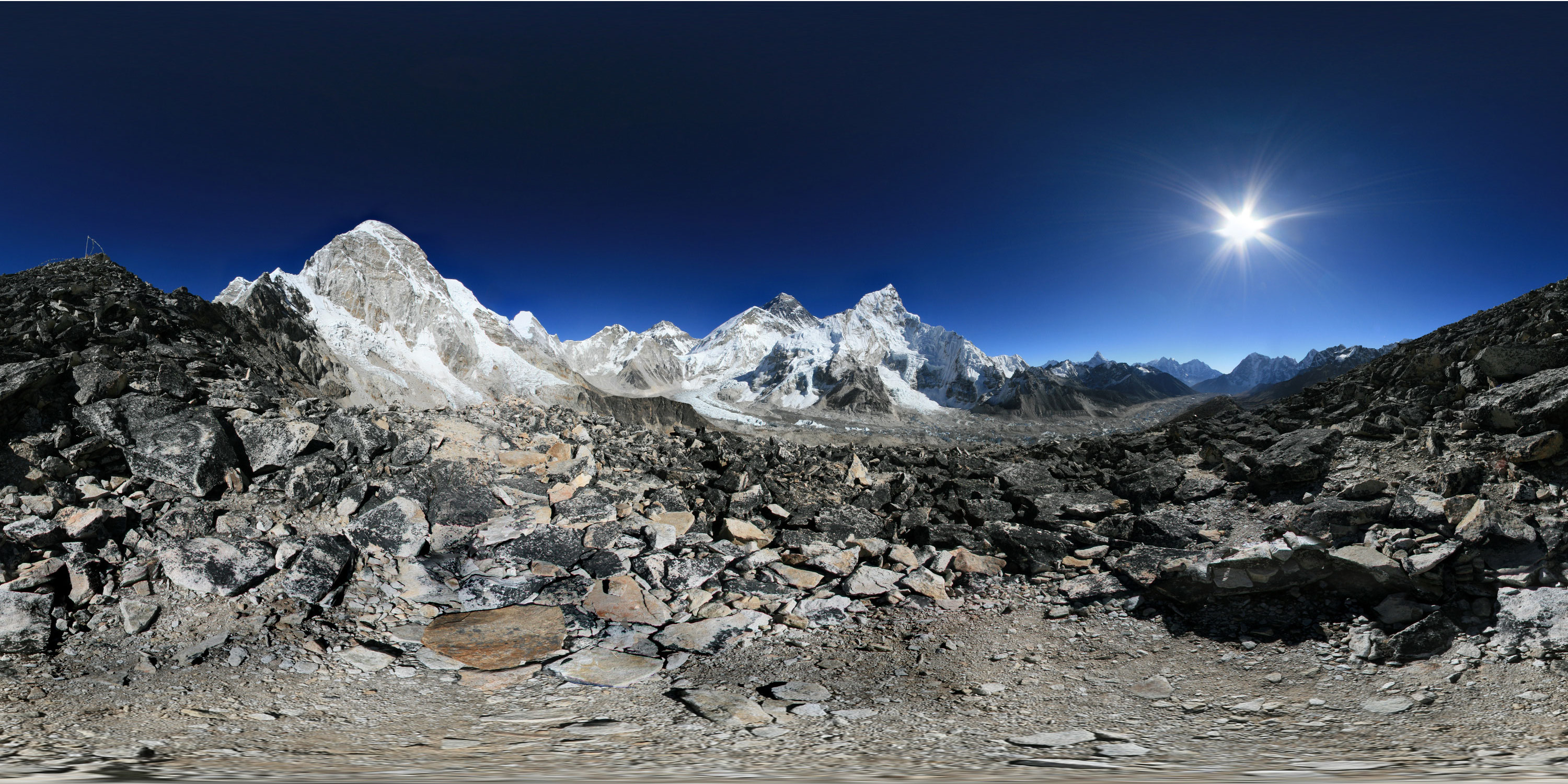 From here, it usually takes another 3 days to trek back to Lukla, following a slightly different path via Namche Bazaar.
It's important to remember that these times are approximate. The actual length of your trek can vary based on a variety of factors, including your fitness level, the weather conditions, and how well you adjust to the altitude.
What Is The Right Itinerary for the Mount Everest Base Camp Trek?
Planning the right itinerary for the Mount Everest Base Camp Trek is a crucial step in ensuring a successful and enjoyable trek. The itinerary should consider acclimatization days, trekking hours per day, and rest periods. Here is a suggested itinerary:
Day 1: Flight from Kathmandu to Lukla, then trek to Phakding (2,610m)
After landing in the bustling town of Lukla, you will start your trek towards Phakding, which is a fairly easy walk and a good start for the trek.
Day 2-3: Trek from Phakding to Namche Bazaar (3,440m)
The trek to Namche Bazaar is a bit strenuous. You'll cross the Dudh Koshi River and enter the Sagarmatha National Park. After reaching Namche Bazaar, take a rest day for acclimatization. During this day, you can explore the local Sherpa market or hike to Everest View Hotel for a panoramic view of Everest, Lhotse, and Ama Dablam.
Day 4: Trek from Namche Bazaar to Tengboche (3,860m)
The trail offers spectacular views of the Himalayas. Once you reach Tengboche, visit the famous Tengboche Monastery, the largest in the Khumbu region.
Day 5: Trek from Tengboche to Dingboche (4,410m)
The trek continues through lush forests, suspension bridges, and Sherpa villages to Dingboche, where you'll spend the night.
Day 6-7: Acclimatization Day in Dingboche
It's essential to spend another day here for acclimatization. You can take a hike to Nagarjun Hill for excellent views of Lobuche East, Lobuche West, Thamserku, Kangtega, and Taboche.
Day 8: Trek from Dingboche to Lobuche (4,940m)
This day involves a steep climb, and you'll pass by stone memorials for climbers who have perished on nearby summits.
Day 9: Trek from Lobuche to Gorak Shep (5,170m), then to Everest Base Camp (5,364m), and back to Gorak Shep
This is the most challenging yet rewarding day of the trek. After reaching EBC, you'll return to Gorak Shep for the night.
Day 10: Hike up to Kala Patthar (5,545m), then trek to Pheriche (4,371m)
Early in the morning, you'll hike to Kala Patthar, the best viewpoint to witness Mount Everest in all its glory. After this, you'll descend to Pheriche for the night.
Day 11-13: Trek back to Namche Bazaar and then to Lukla
You'll retrace your steps back to Namche Bazaar and then to Lukla, where you'll spend your last night in the Everest region.
Day 14: Flight from Lukla to Kathmandu
You'll take an early morning flight back to Kathmandu, marking the end of your trek.
This is a classic itinerary, but it can be customized based on your preferences, physical fitness, and weather conditions. Always remember to take the trek slowly and ensure proper acclimatization to enjoy your journey to the fullest.
What is the best time to trek to Everest Base Camp?
The best time to trek to Everest Base Camp is during the pre-monsoon (spring) season of March to May, and the post-monsoon (autumn) season of September to November. During these periods, the weather is mostly clear, providing trekkers with exceptional views of the mountains. The spring season also brings the bloom of the famous rhododendron flowers, adding a vibrant burst of color to the trekking trails. The autumn season is celebrated for its clear blue skies and stable weather conditions. Although trekking can be undertaken in the winter and monsoon seasons, it is generally more challenging due to harsh weather conditions, including cold temperatures, heavy snowfall, and frequent rain.
Temperatures & Weather while trekking to Everest Base Camp
Trekking to Everest Base Camp presents a wide range of temperatures, largely dependent on the altitude and time of year. In general, daytime temperatures can range from 10°C to 15°C during the spring and autumn seasons at lower altitudes, dropping to below zero as you ascend above 4,000 meters. Nighttime temperatures can drop significantly, often below freezing, even at lower altitudes.
The weather can be unpredictable in the mountains. Spring (March to May) offers clear skies and mild temperatures, making it a popular time for trekkers. The monsoon season (June to August) brings heavy rainfall and potential flight delays due to poor visibility, though the trails are much less crowded.
Autumn (September to November) is another favorable period with clear skies and moderate temperatures. Winter (December to February) is marked by cold temperatures, which can drop to -20°C at higher altitudes, and heavy snowfall which may close some trails. Always be prepared for sudden weather changes and pack appropriately for varying conditions.
What Permits Do I Need For The Everest Base Camp Trek?
For the Everest Base Camp Trek, you will need two main permits:
Sagarmatha National Park Entry Permit: This permit is necessary for entering and trekking in the Sagarmatha National Park, where Everest is located. You can obtain it in Kathmandu at the Tourism Board Office or at the entrance of the National Park in Monjo.
Khumbu Pasang Lhamu Rural Municipality Entrance Permit (Khumbu Permit): This permit replaced the previously required Trekkers' Information Management System (TIMS) card. You can obtain this permit in Lukla or in Kathmandu at the Nepal Tourism Board Office.
In addition to these, if your trek includes areas outside the traditional EBC trail, such as the Gokyo Lakes or other peaks, additional permits might be needed.
How Safe Is The Everest Base Camp Trek?
The Everest Base Camp Trek is considered safe for most physically fit individuals who properly acclimatize, stay hydrated, and maintain a steady pace. However, it's important to note that altitude sickness can affect anyone, regardless of their fitness level. Therefore, listening to your body and taking adequate rest is essential.
Trekking with an experienced guide is highly recommended as they understand the trail, weather patterns, and signs of altitude sickness. The trails are well-maintained and frequently used, and there are numerous teahouses and settlements where help can be sought if necessary.
That said, the Everest region is in a remote location, and healthcare facilities are basic. Helicopter evacuation is available, but it can be costly. Therefore, having comprehensive travel insurance that covers trekking at high altitudes and potential evacuation is essential for your safety.
Furthermore, like any outdoor activity, the trek comes with inherent risks such as injuries from slips, falls, or rockfalls. Preparing well, using quality trekking gear, and making safety-conscious decisions can help minimize these risks. Always remember, safety comes first, and reaching the base camp is optional, returning safely is mandatory.
Training for the Mount Everest Base Camp Trekking
Training for the Everest Base Camp Trek is an essential part of your preparation and significantly contributes to your overall trekking experience. The trek is physically demanding, with several days of challenging uphill and downhill trails, and being physically fit can help manage these demands.
Cardiovascular Training: Begin with cardiovascular exercises such as running, swimming, cycling, or any other aerobic activity that raises your heart rate. Start slowly and gradually increase the duration and intensity of your workouts. Aim for at least 30 minutes of cardiovascular exercise 4-5 days a week.
Strength Training: Strength training can help build the muscle endurance you'll need for the trek. Exercises should focus on the legs, core, and back. Include squats, lunges, calf raises, planks, and deadlifts in your routine. Aim for 2-3 days a week of strength training.
Hiking: The best training for trekking is trekking itself. Go for long hikes, preferably on hilly terrains. Use the backpack that you plan to carry on your trek, and gradually add weight to simulate the conditions of the EBC trek.
Flexibility and Balance: Incorporate stretching exercises into your training program to improve your flexibility and balance, which can help prevent injuries. Yoga is also an excellent way to improve both flexibility and balance.
Altitude Training: If possible, try to spend some time at high altitude before your trek. This isn't always feasible, but anything that helps you experience and understand your body's response to high altitude is beneficial.
Remember, mental preparation is just as important as physical preparation. Understanding the challenges, being prepared to face them, and having the mental strength to push through can often be the difference between success and failure.
Please consult your doctor before beginning any new exercise program. It's important to ensure that you are healthy enough for the physical demands of the Everest Base Camp Trek.
How Do I Diagnose AMS During My Everest Base Camp Trek?
Acute Mountain Sickness (AMS) is a serious concern for trekkers heading to high altitudes such as the Everest Base Camp. AMS happens when your body doesn't get enough oxygen due to the lower air pressure at high elevations.
Recognizing the symptoms of AMS is crucial for a successful and safe trek. Here are the key symptoms to watch out for:
Headache: A headache is one of the most common symptoms of AMS. This is not a regular headache, but one that persists and tends to worsen during the night and when you wake up.
Dizziness and Light-headedness: These can be signs of AMS, especially if they occur in conjunction with other symptoms.
Nausea or Vomiting: Some people with AMS experience feelings of nausea or may even vomit.
Fatigue or Weakness: A sudden decrease in your physical stamina, feeling overly tired or weak can indicate AMS.
Shortness of Breath: You might experience difficulty in breathing, especially with exertion.
Difficulty Sleeping: This symptom often accompanies AMS. Despite feeling extremely tired, you might have trouble sleeping.
Loss of Appetite: You may notice a decrease in hunger or general interest in food.
If you start experiencing any of these symptoms, it's important to notify your guide immediately and halt your ascent. The best remedy for AMS is to descend to a lower altitude as quickly as possible.
Preventing AMS is preferable to treating it. Here are some tips:
Acclimatize: Spend a few days at a lower altitude to get used to the thin air before you start climbing.
Ascend slowly: Don't rush your ascent. Climbing too high too quickly can trigger AMS.
Stay hydrated: Drink plenty of water and avoid alcohol.
Medication: Talk to your doctor about preventive medications such as Diamox (Acetazolamide).
Please remember, this advice is general in nature, and AMS can be life-threatening. Always seek professional medical advice and assistance if you suspect you are suffering from AMS.
How Do I Prevent Altitude Sickness During My EBC Trek?
Altitude sickness, also known as Acute Mountain Sickness (AMS), is a common concern for those embarking on high-altitude treks such as the Everest Base Camp (EBC) trek. Here are some strategies to help prevent altitude sickness:
Acclimatize Properly: The key to preventing altitude sickness is to give your body time to adjust to the decreased oxygen levels at high altitudes. A well-planned trekking itinerary should include acclimatization days where you stay at the same altitude or do a short high climb followed by descent for sleep.
Ascend Gradually: It's recommended not to ascend more than 300-500 meters per day once you're above 3,000 meters.
Stay Hydrated: Make sure you're drinking plenty of water throughout your trek, but avoid alcohol and caffeine as they can lead to dehydration.
Eat a High-Calorie Diet: Your body needs plenty of energy to adjust to the altitude, so it's essential to consume a high-calorie diet.
Rest Well: A good night's sleep helps your body recover from the day's trek and prepare for the next day.
Know the Symptoms: Understand the symptoms of altitude sickness and monitor yourself closely. If you start feeling unwell, tell your guide or trekking companions immediately.
Consider Medication: For some, medication such as acetazolamide (Diamox) can be used to prevent altitude sickness. Consult with your doctor before your trek to discuss whether this is a good option for you.
Physical Fitness: Being in good physical condition does not guarantee you won't get AMS, but it does allow your body to better cope with the strain of the low oxygen levels.
'Climb High, Sleep Low': If possible, try to climb higher during the day and then descend to sleep at a lower altitude. This practice can help your body acclimatize to the altitude.
Remember, the best treatment, if you start experiencing symptoms of AMS, is to descend immediately. Altitude sickness can be severe and potentially life-threatening, so always err on the side of caution.
What About The Flight From Kathmandu to Lukla for my Everest Base Camp Trek?
The flight from Kathmandu to Lukla is often considered as the first step and one of the most thrilling aspects of the Everest Base Camp Trek. The Tenzing-Hillary Airport in Lukla, perched at an altitude of 2860 meters (9380 feet), is widely regarded as one of the most challenging airports to land at in the world, due to its short runway and the surrounding high peaks.
Here's what you need to know about this flight:
Flight Duration: The flight duration is about 30-45 minutes. The views during the flight are incredible, so try to grab a window seat if you can.
Baggage Allowance: Generally, airlines allow 10-15kg per passenger, including both checked and hand baggage. It's important to pack light and only take what is absolutely necessary for the trek.
Flight Cancellations: Flights to and from Lukla are heavily dependent on weather conditions. Flights can be delayed or even cancelled if the weather in either Kathmandu or Lukla is poor. It's advisable to keep a couple of buffer days in your travel plans to accommodate any unexpected changes.
Flight Safety: Safety is a paramount concern for airlines operating on this route. While the flight might be thrilling due to the unique terrain, rest assured that pilots are well-experienced and trained specifically for these conditions.
Alternative Options: In case of extended bad weather, helicopter services might be available, albeit at a higher cost. Another option is to trek from Jiri to Lukla, which takes about 5-7 days but offers a more gradual acclimatization process.
Tickets: It's best to book your flights well in advance, especially during the peak trekking seasons (Spring: March-May and Autumn: September-November). However, be prepared for potential last-minute schedule changes due to weather conditions.
Overall, the flight from Kathmandu to Lukla is an exciting start to the Everest Base Camp trek and offers an exhilarating introduction to the majestic Himalayan landscape.
What To Pack for The Everest Base Camp Trek?
Packing for the Everest Base Camp (EBC) Trek requires careful thought. You want to be adequately prepared for varying weather conditions and terrain, while also considering weight limitations on flights to Lukla and the burden of carrying heavy backpacks during long trekking days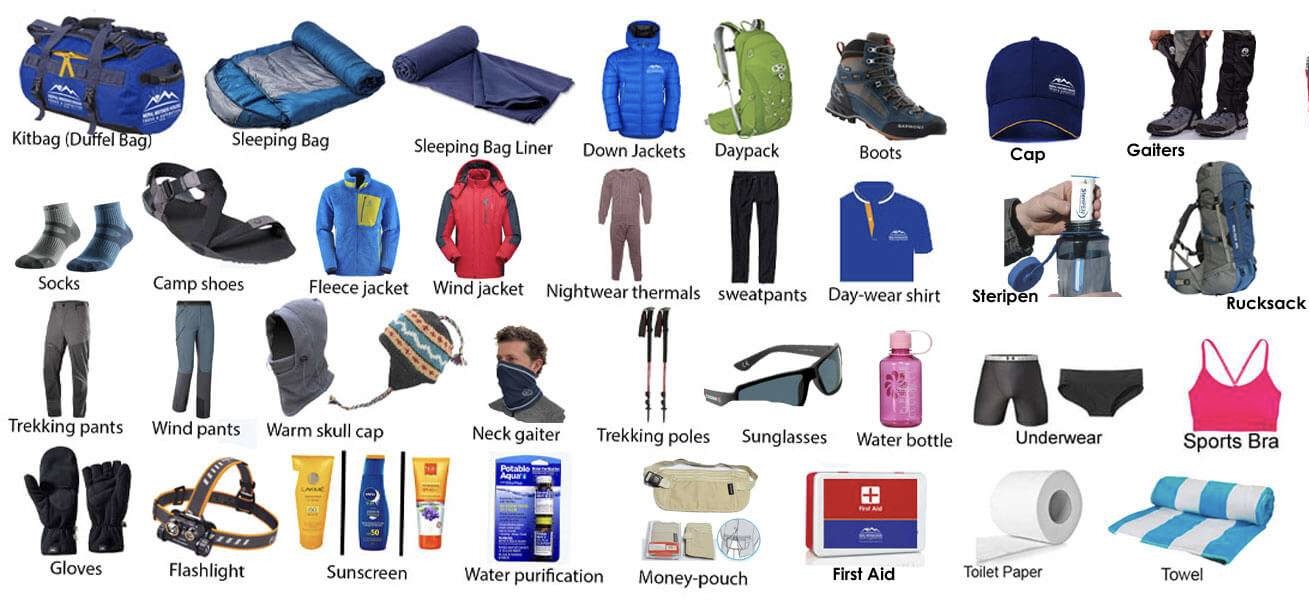 Here's a suggested packing list for the EBC trek:
Clothing:
Base Layers: Pack breathable, moisture-wicking base layers for both the upper and lower body.
Trekking Shirts: Lightweight, quick-drying trekking shirts (both long-sleeved and short-sleeved).
Trekking Trousers and Shorts: Choose comfortable, sturdy, and quick-drying options.
Fleece Jacket and Trousers: These provide essential insulation during colder parts of the trek.
Waterproof Jacket and Trousers: Necessary for wet weather and protection from wind.
Down Jacket: Essential for warmth in the evenings and at higher altitudes.
Underwear: Pack enough for the trek, considering you may not have many opportunities to wash them.
Trekking Boots: These should be waterproof, durable, and broken in prior to the trek.
Trekking Socks: Wool or synthetic socks are best. Pack enough pairs to last the trek, plus a few extras.
Gloves: Bring both lighter gloves for trekking and heavier, waterproof gloves for colder conditions.
Hat: A wide-brimmed hat for sun protection and a beanie for warmth in cold weather.
Bandanas or Buffs: Useful for warmth and dust protection.
Gear:
Backpack: A 30-40 liter backpack for daily use and a larger duffel bag or rucksack to be carried by porters.
Sleeping Bag: Rated for -10°C at the very least, considering the cold nights at high altitudes.
Trekking Poles: Helpful for balance and reducing strain on your knees.
Headlamp: Necessary for early morning starts or any nighttime activities.
Water Bottle or Hydration Bladder: Aim for a capacity of 2-3 liters.
Sunglasses: Make sure they have UV protection.
Quick-dry Towel: Useful for wiping sweat during the trek or after showers at teahouses.
Other Essentials:
Sunscreen and Lip Balm: High SPF is recommended due to stronger UV rays at high altitudes.
Personal First Aid Kit: Include band-aids, antiseptic wipes, moleskin, and any personal medication. Also consider including treatment for common ailments like diarrhea, altitude sickness, and colds.
Water Purification Tablets or a Water Filter: While bottled water is available, these options are more environmentally friendly.
Snacks: Energy bars, trail mix, and other high-energy snacks can supplement meals.
Wet Wipes/Baby Wipes: Useful for hygiene purposes, considering the lack of showering facilities.
Hand Sanitizer: Essential for maintaining hygiene during the trek.
Toilet Paper: Not all teahouses will have this available.
Camera: For capturing the spectacular scenery. Don't forget extra batteries or charging equipment.
Portable Charger: Essential for charging devices due to limited electricity in teahouses.
Book/Kindle: For entertainment during downtime.
Travel Documents: Include passport, necessary permits, and insurance details.
Remember, packing lists can vary depending on personal needs and the time of year of your trek.
Where do I get my insurance for the Everest Base Camp Trek?
Getting travel insurance is crucial for any trek, including the Everest Base Camp (EBC) Trek. The unpredictability of weather, risk of injuries, or even altitude sickness can make it a risky endeavor. Moreover, helicopter evacuation from high altitudes can be extremely expensive without proper insurance coverage.
You should look for an insurance policy that covers the following:
Emergency medical evacuation/repatriation: This is critical as you will be trekking at high altitudes where medical facilities are minimal and evacuation by helicopter can be costly.
High-altitude trekking: Ensure your insurance covers trekking up to an altitude of at least 6000m.
Trip cancellation: In case you need to cancel your trip due to unforeseen circumstances.
Loss/Theft of belongings: This covers any loss or theft of your personal items during the trek.
Insurance companies that are popular among trekkers include:
World Nomads: Known for its comprehensive coverage and flexibility, allowing you to buy or extend your policy online while you're traveling.
Travelex: They offer a variety of plans with different levels of coverage.
Allianz Global Assistance: This company offers both single-trip coverage and annual coverage for frequent travelers.
InsureMyTrip: A marketplace that lets you compare policies from different companies.
Remember to fully read and understand your policy before purchasing. It's essential that your policy covers all the specific risks associated with high-altitude trekking in the Everest region.
Luxury Everest Base Camp Trek
If you're planning an Everest Base Camp Trek, but also wish to experience it in comfort and luxury, Luxury Holidays Nepal Pvt. Ltd offers a bespoke trekking experience like no other. Our Luxury Everest Base Camp Trek spans 15 days and encompasses a blend of adventure and luxury in the rugged wilderness of the Himalayas.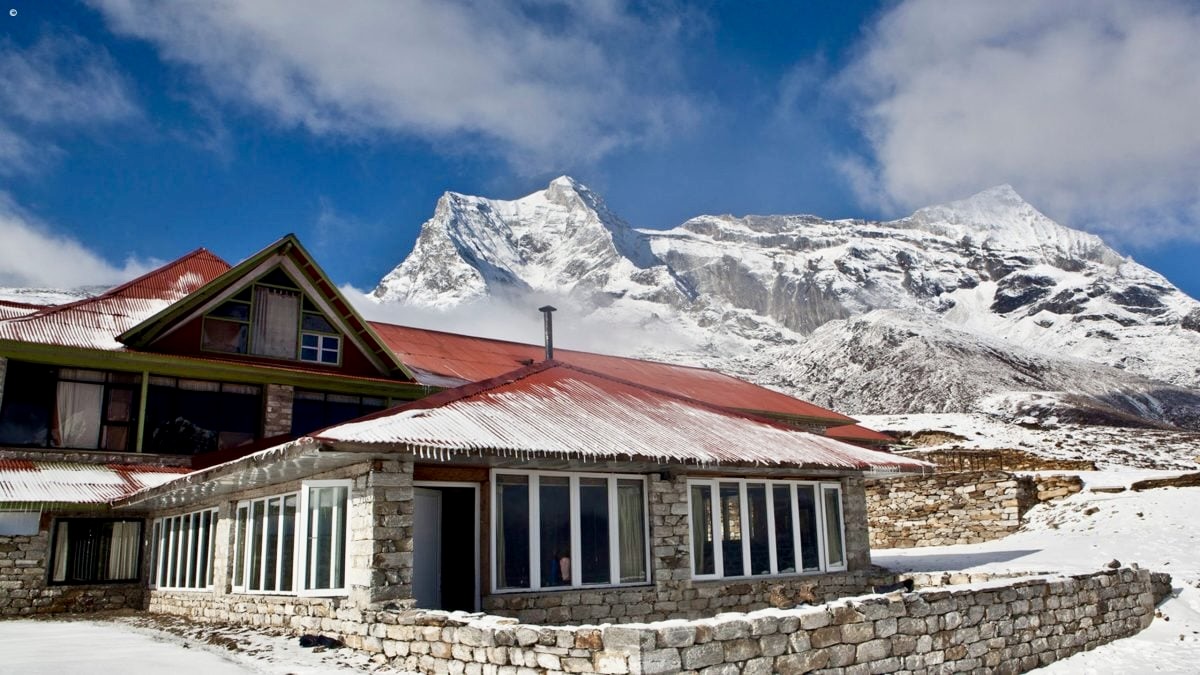 Unlike the standard trek, the Luxury Everest Base Camp Trek itinerary includes stays in high-end lodges and luxury hotels that provide exceptional service and amenities amidst the remote and beautiful landscapes of the Khumbu region. These include the Yeti Mountain Homes and the Hotel Everest View, known for its distinction as the highest-placed hotel in the world.
The itinerary maintains a comfortable pace, allowing you plenty of time to enjoy the journey and acclimatize properly to the high altitude. Each day's trek is carefully planned, ensuring you trek for 5-6 hours at a relaxed pace. While the trek's duration is slightly longer due to the added emphasis on comfort and rest, the experience is unparalleled.
Professional English-speaking guides accompany you throughout the journey, ensuring your safety and well-being. Also included in the package is a Kathmandu City tour and a thrilling helicopter flight back from Everest Base Camp to Lukla. This provides you with a bird's eye view of the majestic Everest and surrounding peaks, making your trek not only luxurious but also truly unforgettable.
So, if time is not a pressing concern and you wish to experience the Himalayas in comfort, the Luxury Everest Base Camp Trek is an excellent choice. Enjoy the thrill of the trek without compromising on comfort, and create memories that will last a lifetime.
Everest Heli Trek
For those who wish to experience the magic of Mount Everest but have time constraints or physical limitations, the Everest Heli Trek offers a remarkable alternative. This unique journey, designed by Luxury Holidays Nepal Pvt. Ltd, allows you to trek part of the route and then take a thrilling helicopter ride over the majestic Himalayas, drastically reducing the time required to complete the journey.
The standard Everest Heli Trek itinerary spans about 9 days, including the helicopter ride. You'll trek from Lukla to Namche Bazaar and then to Tengboche, each day walking for around 5-6 hours. These trekking days allow you to experience the incredible beauty of the Khumbu region, visit ancient monasteries, and immerse yourself in Sherpa culture.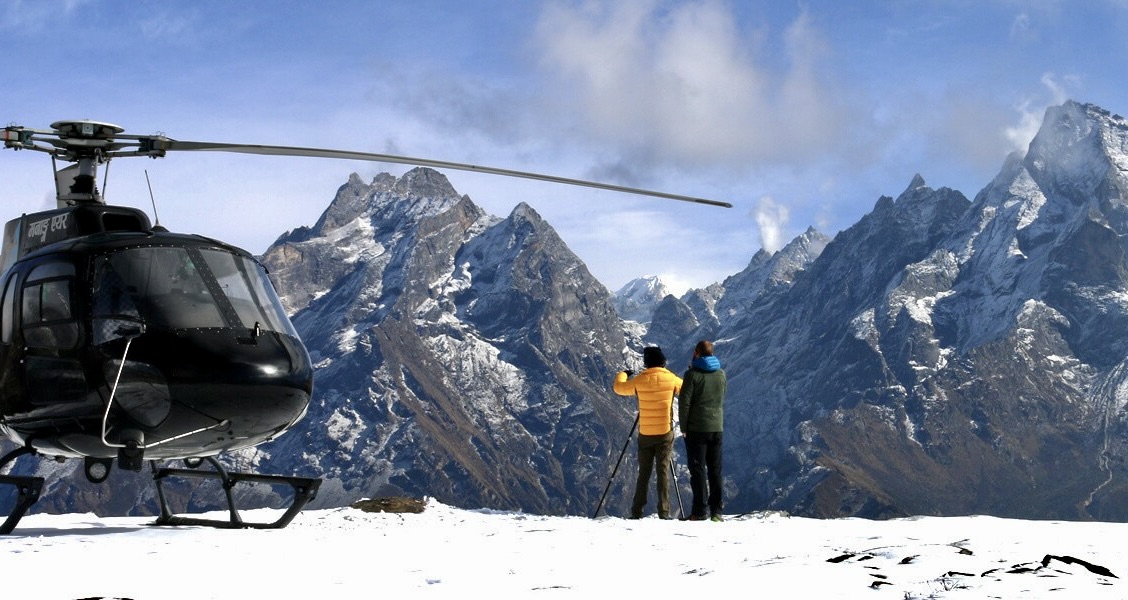 On the fifth day, you'll board a helicopter at Tengboche for an exhilarating flight over the Himalayas to Everest Base Camp. You'll witness panoramic views of the world's tallest peaks, including Mt. Everest, Lhotse, Nuptse, and more. The helicopter lands at Kala Patthar (5,550m), a famous viewpoint for a close-up view of Mt. Everest.
The helicopter then takes you back to Lukla, from where you fly back to Kathmandu the next day. Compared to the traditional Everest Base Camp Trek, the Everest Heli Trek significantly reduces the trek's duration while ensuring you still get to experience the splendor of Everest and its surroundings.
The Everest Heli Trek offers an unbeatable blend of adventure and comfort, making it an excellent choice for those seeking a shorter yet unforgettable experience in the Himalayas.
The Everest Base Camp Trek takes roughly 12-14 days from Kathmandu to Kathmandu, including acclimatization days. However, this duration can be influenced by several factors, such as weather conditions, your pace, and your body's response to high altitude. The key is to ensure you have adequate acclimatization days to safely adjust to the altitude.
While you may be enticed to complete the trek faster, remember that the journey is more important than the destination. The enchanting landscapes, the tranquil monasteries, and the vibrant Sherpa culture you encounter along the way are as valuable as reaching Everest Base Camp itself.
Ensure you train adequately before your trek. Maintain a good level of physical fitness, work on your stamina, and prepare yourself mentally for the journey. You can also opt for a shorter itinerary or a helicopter trek based on your preferences and fitness levels.
Remember, trekking to Everest Base Camp is not a race, but an unforgettable experience of a lifetime. Take your time, respect the mountains, and enjoy the journey to the fullest. Safe trekking!
FAQs How long does it take to complete the Everest Base Camp Trek?
Q: How long does the standard Everest Base Camp Trek take?
A: The standard Everest Base Camp Trek itinerary takes around 12-14 days from Kathmandu to Kathmandu. This includes time for necessary acclimatization to altitude.
Q: Can the Everest Base Camp Trek be completed faster than the standard time?
A: While some highly fit and acclimatized individuals can complete the trek faster, it's generally not recommended to rush the journey. Rapid ascent can lead to Acute Mountain Sickness (AMS). The standard itinerary is designed to allow proper acclimatization.
Q: Does the trek duration include travel time to and from Nepal?
A: No, the duration of the trek typically refers to the time from when you leave Kathmandu to when you return to Kathmandu. It does not include international travel time.
Q: How many hours do I need to trek each day?
A: On average, trekkers walk about 5-6 hours each day. However, the exact duration can vary depending on the day's terrain and altitude gain.
Q: Is there a way to make the Everest Base Camp Trek shorter?
A: Yes, you can choose to take a helicopter flight back to Lukla from Gorak Shep after reaching Everest Base Camp, which can save you several trekking days. Alternatively, you can opt for the Everest Base Camp Helicopter Trek, where you trek one way and fly back in a helicopter.
Q: What if I can't complete the trek within the planned duration?
A: Trekking is unpredictable, and sometimes trekkers may need more rest days for acclimatization or recovery from fatigue. It's always a good idea to plan a few extra buffer days in your travel itinerary.
Q: How can I train to complete the trek efficiently?
A: Regular cardio exercises like running, cycling, and swimming can improve your endurance. Hill training, strength training, and long-distance walking with a loaded backpack can also be beneficial. It's essential to start training several months before your trek.
Everest Region Trekking Packages
Everest Heli Trek with Kalapathher Landing
Gokyo Lakes and Everest Base Camp Trek
Everest Base Camp Heli Trek - 9 Days
VVIP Everest Base Camp Luxury Trek
Everest Base Camp and Gokyo Lakes Luxury Helicopter Trek
Luxury Everest Base Camp Trek - 14 Days
If you need any further information, please contact us, Email: at [email protected], Phone: at +977- 985 100 5129 (WhatsApp)