The Everest Three Pass Trek will take you through the three high altitude passes in the Everest Region known as Renjo La Pass (5465 m), Cho La Pass (5420 m) and Khongma La Pass (5535 m).You will be treated with some of the most breathtaking views of the Himalayas from each of these passes.
The three passes journey traverses through isolated communities, forests, and high-altitude valleys while providing breathtaking vistas of mountains, including Mount Everest (8,848.86 meters/29,029 feet). It is a well-liked substitute for the busier Everest Base Camp Trek and is appropriate for seasoned trekkers with a reasonable level of physical fitness.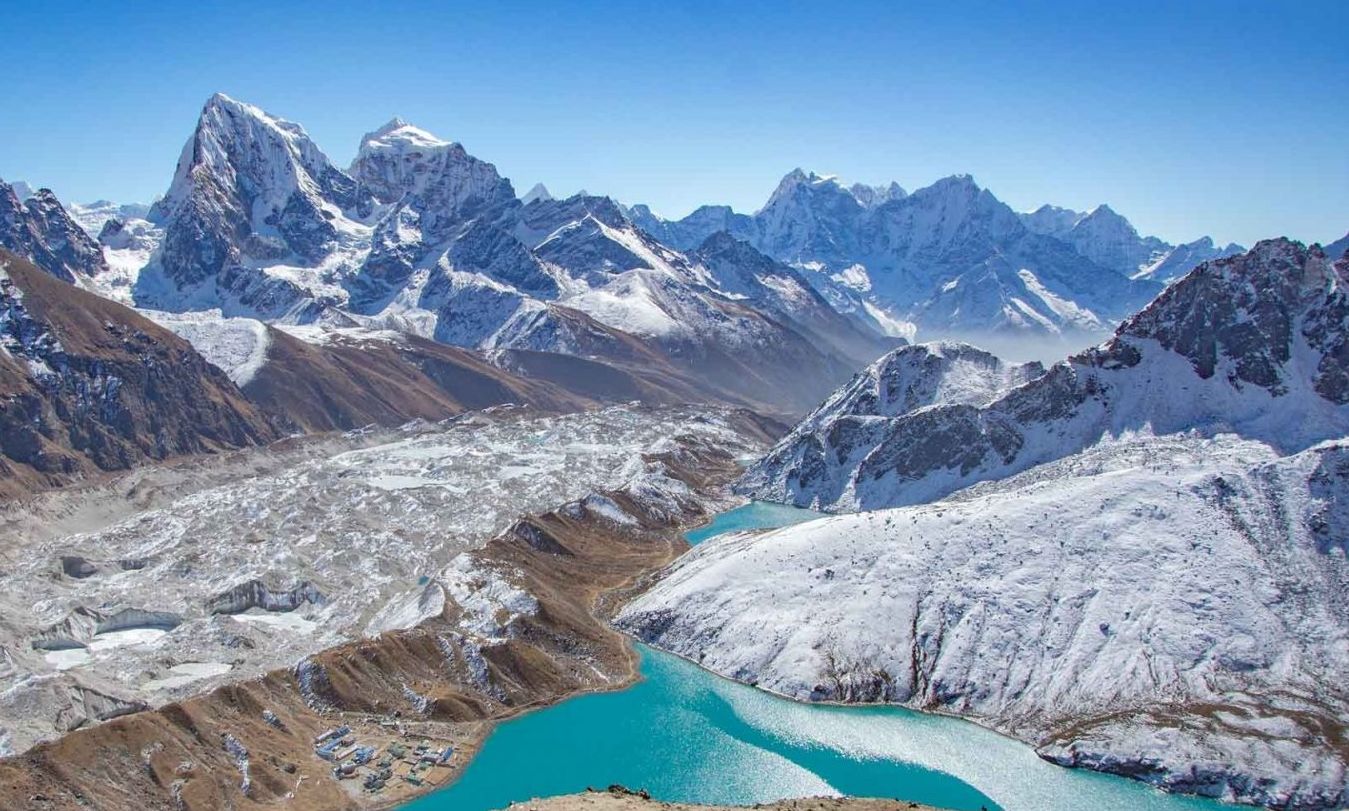 You are absolutely mesmerized by the panoramic view of the well-known Himalayas and the exotic Gokyo Valley throughout the year, but only for a specific amount of time. More breathtaking and magnificent sights can be seen on the Everest Three Passes Trek. It will create a special spot in your life that you won't be able to forget because of its beauty and certain thrills.
---
Renjo La Pass (5,340 meters/17,520 feet)
One of the most beautiful and serene parts of the Nepalese Everest Three Passes Trek is the Renjo La Pass, which rises to a height of 5,340 meters (17,520 feet). The pass, which connects the settlements of Thame and Gokyo, is situated in the Khumbu region. Trekkers can get a sense of the local culture and way of life as they pass through picturesque alpine meadows, woods, and little traditional towns on the trail.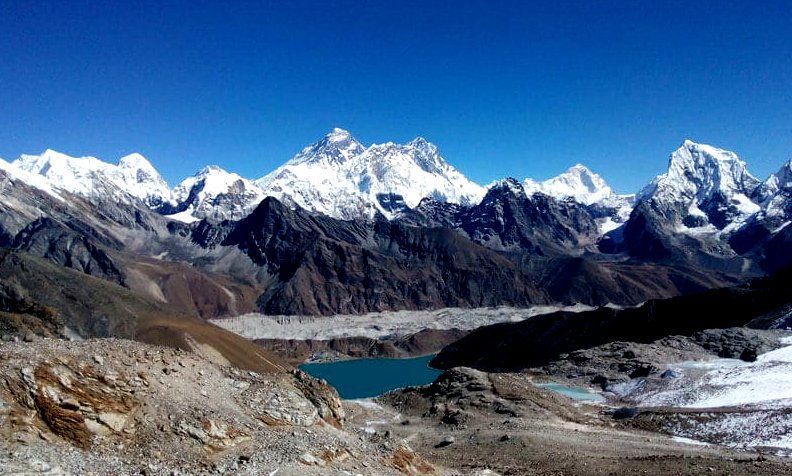 Trekkers are rewarded with breathtaking views of the surrounding peaks, including Mount Everest and the other giants of the Himalayas, at the top of the pass. Following this, the trail drops into the valley on the opposite side, offering a chance to explore the Khumbu region given the encounters with Sherpa traditions.
---
Cho la pass (5,420 meters/17,782 feet)
One of the three high mountain passes on the Nepali Everest Three Passes Trek is Cho La Pass (5,420 meters/17,782 ft). The pass, which can be found in the Khumbu region, connects the Gokyo Valley with the Everest Base Camp.
Cho la Pass gives trekkers breathtaking views of the neighboring peaks, including the impressive Mount Everest, and a demanding yet rewarding journey. Physically taxing but thrilling, the hike up the pass entails steep climbs as well as across a glacier.Trekkers are rewarded with a sense of accomplishment and a panoramic view of the Himalayas at the summit of Cho la pass. From there, the hiking trail descends into the valley on the opposite side, giving visitors the chance to learn more about the area's distinctive customs and culture.
---
Kongma la Pass (5,535 meters/18,159 feet)
On the Nepalese Everest Three Passes Excursion, the Kongma La Pass (5,535 meters/18,159 ft) is regarded as one of the three high mountain passes that is the most difficult and taxing. The pass connects the Chhukhung Valley with the Gorak Shep area and is situated in the Khumbu region close to the town of Namche Bazaar.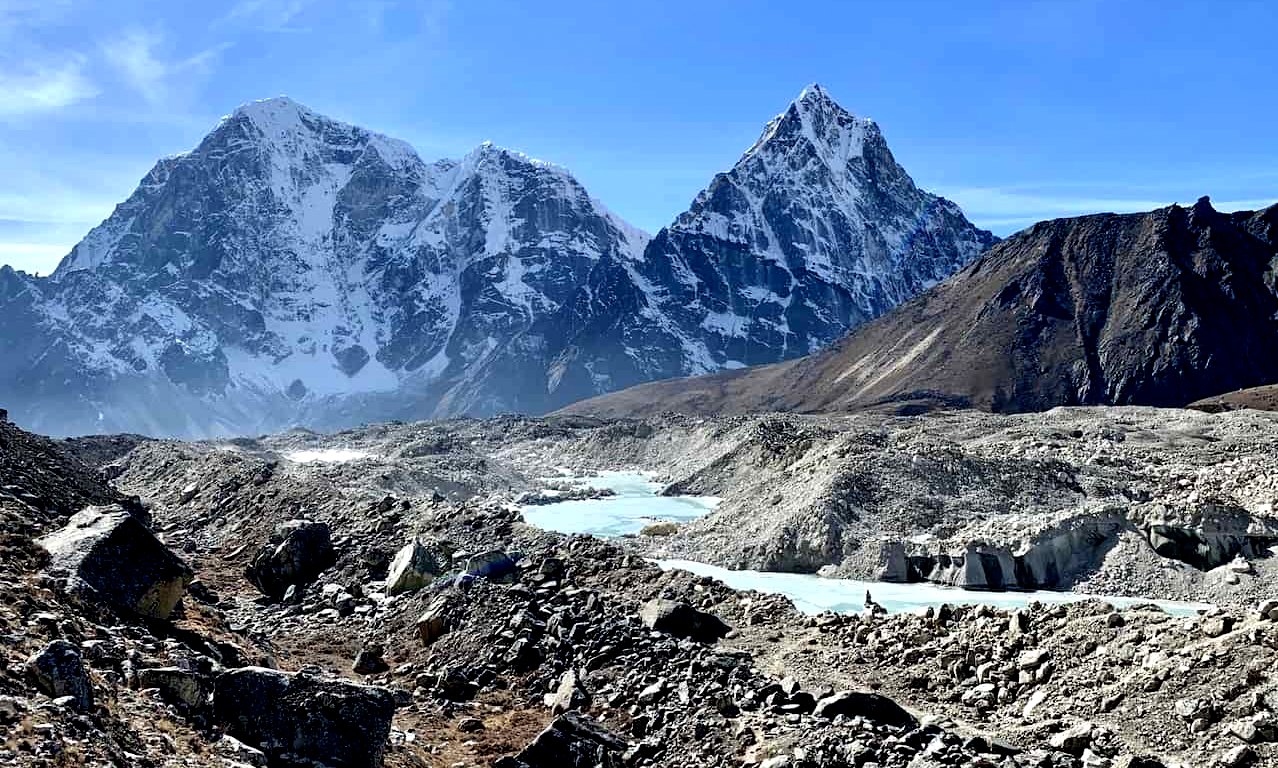 The Khong La Pass paths include rocky terrain, glacier crossings, and steep ascents and descents. Notwithstanding its difficulties, the pass provides stunning vistas of the nearby peaks, including the formidable Mount Everest. Trekkers are rewarded with a sense of accomplishment and a panoramic view of the Himalayas at the summit of Kong La pass.
---
Highlights of the Everest Three Pass Trek
The Everest Three Pass Trek is a captivating journey that encapsulates the very essence of the Himalayas. From mesmerizing landscapes to rich cultural immersion, here are the key highlights of this trek:
The Three Majestic Passes:
Kongma La (5,535 m): The highest of the three, offering a panoramic view of peaks and glaciers.
Cho La (5,420 m): A challenging pass, with its glacier crossings and views of Ama Dablam and Cholatse.
Renjo La (5,465 m): Provides some of the best views of Everest and other nearby peaks.
Gokyo Lakes: A cluster of six turquoise glacial lakes. The view from Gokyo Ri over these lakes, with Everest in the backdrop, is breathtaking.
Gokyo Ri (5,357 m): A vantage point that offers one of the best panoramic views of the Everest range, including Everest, Lhotse, and Cho Oyu.
Everest Base Camp (5,364 m): The base of the tallest mountain in the world is a dream destination for many. You also get a close view of the Khumbu Icefall.
Kala Patthar (5,643 m): Another prime vantage point, Kala Patthar offers arguably the best view of Mount Everest, especially during sunrise or sunset.
Sherpa Villages: Passing through villages like Namche Bazaar, Tengboche, and Dingboche, trekkers can immerse themselves in the rich Sherpa culture, visiting ancient monasteries and enjoying local hospitality.
Tengboche Monastery: The largest monastery in the Everest region, it's an important spiritual center for Sherpas. The backdrop of Ama Dablam from here is iconic.
Sagarmatha National Park: A UNESCO World Heritage Site, the park is home to various wildlife species, including the snow leopard, red panda, and Himalayan tahr.
Varied Flora and Fauna: As trekkers traverse through diverse landscapes, from forests to alpine meadows, they can witness a variety of plants, including rhododendron forests, and animals native to the region.
Cultural Experience: Interaction with the local Sherpa community, understanding their way of life, traditions, festivals, and rituals, adds depth to the trekking experience.
Stunning Mountain Views: Apart from Everest, trekkers are treated to splendid views of many other peaks like Lhotse, Nuptse, Ama Dablam, Thamserku, and Pumori.
Khumbu Glacier: The trek offers an up-close experience of the Khumbu glacier, one of the largest glaciers in Nepal.
With such a rich tapestry of experiences, the Everest Three Pass Trek, curated by Luxury Holiday Nepal, is undeniably a holistic Himalayan journey, combining adventure, culture, and nature's grandeur in a single expedition.
---
Best Time for the Everest Three High Pass Trek in Nepal.
The Everest Three Pass Trek is an enthralling experience, but its enjoyment is magnified when undertaken during the optimal seasons. Given the challenges and high-altitude terrains of this trek, timing is paramount to ensure safety and to fully relish the stunning views. Here's a breakdown of the best times to embark on this adventure:
Pre-Monsoon (Spring: March to May)
Pros: This is one of the most popular times for the Everest Three Pass Trek. The weather gradually warms up, and the higher regions remain snow-covered, offering pristine landscapes. Rhododendron forests bloom in vibrant colors, adding a splash of red and pink to the trails. Clear skies ensure uninterrupted views of the majestic Himalayas.
Cons: As it's peak season, some areas, especially the Everest Base Camp region, might get a bit crowded. However, the Three Pass Trek is generally less congested than the standard EBC route.
Post-Monsoon (Autumn: Late September to November)
Pros: Another ideal window for trekking, the post-monsoon period offers clear skies and crisp views of the mountains. The monsoon rains wash away the dust, leading to some of the best mountain vistas. The temperature is moderate, neither too cold in higher altitudes nor too warm in lower areas.
Cons: Like the pre-monsoon season, it's a favored time for trekkers, so expect to encounter more fellow adventurers on the trail.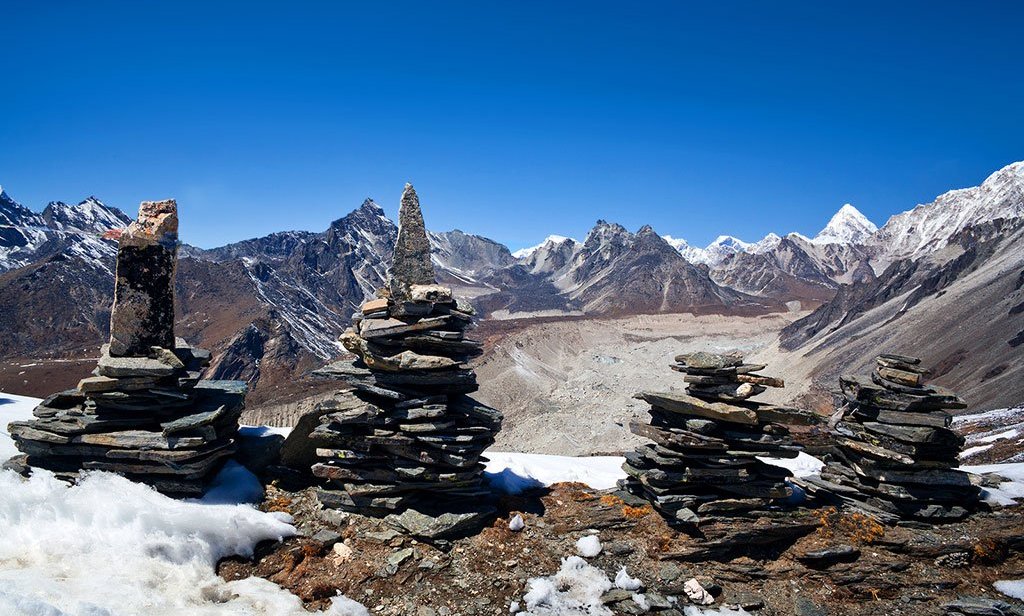 Times to be cautious:
Monsoon (June to early September)
The monsoon season brings heavy rainfall, which can lead to landslides in the lower regions and makes the trail slippery. The rain clouds might also obscure the mountain views. Leeches can be a minor nuisance during this period.
Winter (December to February)
This is a challenging time for the Everest Three Pass Trek due to the cold temperatures and heavy snowfall, especially at higher altitudes. Some passes might be blocked or become more challenging to traverse. However, for those who are well-prepared and seek solitude on the trails, winter offers a unique, serene experience with fewer trekkers around.
While the Everest Three Pass Trek is a rewarding experience year-round, the pre-monsoon and post-monsoon periods are widely considered the best times to capture the true essence of this trek, ensuring safety and breathtaking views. As always, it's essential to stay updated on weather conditions and seek advice from experts or local guides. If you're planning with Luxury Holiday Nepal, their seasoned experts can provide timely guidance on the best periods to embark on this trek.
---
Trekking Difficulties
The Everest region, with its majestic peaks and deep-rooted Sherpa culture, has always been a magnet for adventurers. Among its many treks, the Everest Three High Passes Trek stands out as one of the most challenging. Here's a comprehensive breakdown of the trek's intricacies:
Overall Difficulty: The Everest Three High Passes Trek is not for the faint-hearted. It is classified as a challenging trek, demanding significant physical strength, endurance, and mountaineering knowledge.
Chola Pass: The journey through Chola is especially challenging. At certain sections, the ground can be slippery, necessitating the use of crampons for safe navigation. Proper equipment and a seasoned guide can make this section more manageable.
Kongma La Pass: Sitting at a dizzying height of 5,535 m (18,159 ft), the Kongma La pass is strategically positioned between the villages of Chukhung and Lobuche. While trekkers typically tackle this pass on their return from the base camp, its elevation makes it the highest of the three passes, adding to its challenge.
Renjo La Pass: Renjo La graces the Khumbu Valley at an elevation of 5,340 meters (17,520 ft). Found on the eastern side of Lungden with Gokyo to its west, this pass is no less demanding than its counterparts. Its entry point can be particularly tricky, and winter months can make navigation even more daunting due to heavy snowfall and reduced visibility.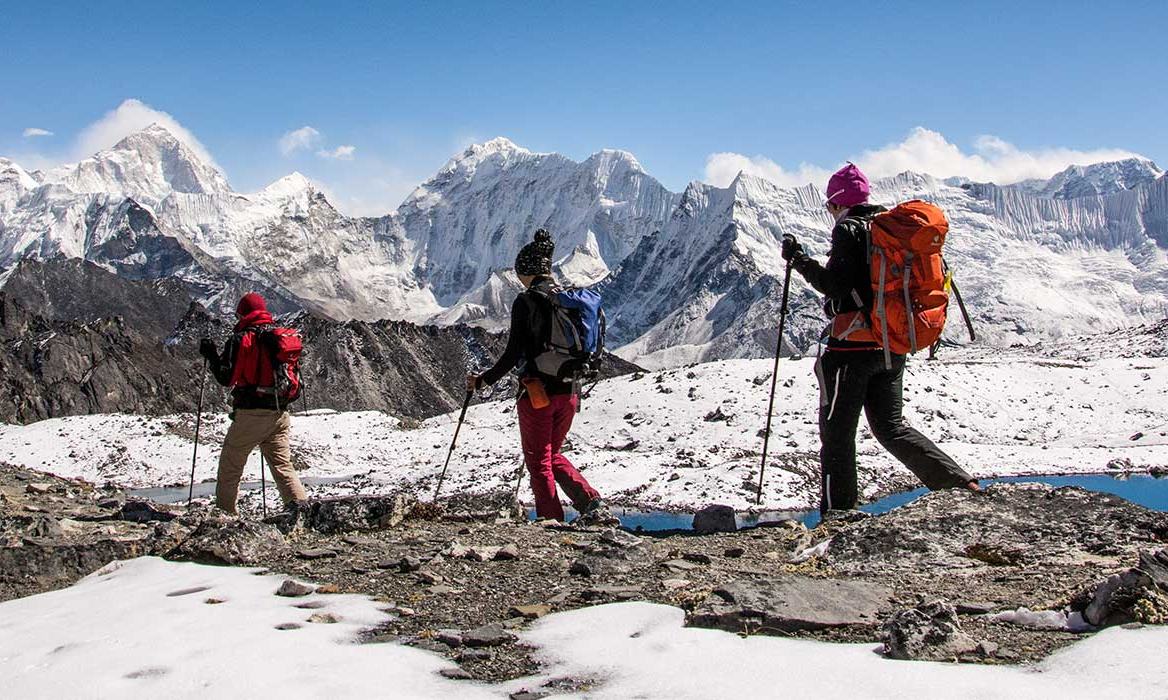 Altitude Concerns: One of the primary challenges of this trek is the altitude. As trekkers ascend, the air gets thinner, which can lead to altitude sickness. Proper acclimatization and being aware of symptoms are crucial.
Weather Challenges: The Himalayan weather is notoriously unpredictable. From sudden downpours to sharp drops in temperature, trekkers should be prepared for a variety of weather conditions. Proper gear, layered clothing, and weather forecasts can aid in this regard.
The Everest Three High Passes Trek is undeniably tough, it's also profoundly rewarding. With panoramic views of the Himalayas, encounters with vibrant Sherpa culture, and the sheer thrill of conquering challenging terrains, this trek is a dream come true for seasoned adventurers. Partnering with Luxury Holiday Nepal can ensure that trekkers have the support, knowledge, and resources to make this challenging journey a memorable success.
---
Everest Three Passes Trek Permits and Guidelines
A TIMS permit as well as a Sagarmatha National Park permit are required for the Everest Three Pass Trek. These permits will be organized by trekking organizations if you are traveling through them. But, if you want to travel independently, you must bring your TIMS permit from Kathmandu. On the first day of your walk, you will cross the village checkpoint of Monjo, from where you can get the Sagarmatha National Park Entry Permit.
Permits
TIMS (Trekkers' Information Management System) Card
TIMS cards are required for most trekking routes in Nepal, and they are used to help ensure the safety and security of trekkers by collecting data and providing support in case of emergencies. The specific type of TIMS card (green or blue) may depend on the trekking route and whether you are trekking independently or as part of a group. It's important to check the latest information from the relevant authorities before undertaking any trek in Nepal.
Sagarmatha National Park Entry Permit & Cost
Essential for trekking in the Everest region as the Three Passes Trek lies within this national park.
Can be obtained in Kathmandu or at the park entrance in Monjo.
It will cost foreign tourists 3,000 Nepali Rupees (about USD 25) per person.
It will cost SAARC nationality 1,500 Nepalese Rupees (about USD 13) per person.
Pasang Lhamu Rural Municipality Permit
This local permit has replaced the TIMS for trekkers in the Everest region.
Usually obtained in Lukla.
Guidelines
Stay Updated: Before your journey, ensure you are aware of the most recent permit requirements and costs, as they might change.
Hire a Registered Guide: While the Everest Three Passes Trek can technically be done independently, hiring a registered guide or porter-guide not only supports the local economy but ensures you have expert advice and assistance throughout the trek.
Eco-Friendly Trekking: Always carry out your trash, avoid using plastic bottles (carry a refillable one), and respect the natural environment. Use established campgrounds or lodges.
Respect Local Culture: Dress modestly, ask permission before taking photos, and always follow the local customs and traditions.
Health Precautions: Given the high altitude of the trek, always be vigilant about symptoms of AMS (Acute Mountain Sickness). It's vital to acclimatize properly and not ascend too rapidly.
Safety Measures: Always inform someone of your trekking plans and expected return date. Regularly check in with family or friends.
Travel Insurance: Ensure you have comprehensive travel insurance that covers high-altitude trekking and possible evacuations.
Stay on the Path: Especially in challenging sections or during bad weather, it's essential to stick to established trails to prevent accidents or getting lost.
Group Travel: Trekking in a group, even if small, is generally safer and more enjoyable. Consider joining a group or trekking with a companion.
Listen to Locals: Whether it's about weather conditions, trail difficulty, or local customs, always heed the advice of locals, as they have invaluable firsthand knowledge.
With the correct permits in hand and by adhering to these guidelines, trekkers can ensure a memorable, respectful, and hassle-free experience on the Everest Three Passes Trek. As always, when planning with Luxury Holiday Nepal, their team will likely facilitate the procurement of necessary permits and provide guidance on best practices for the trek.
---
Accommodation & Food during Everest Three Pass Trek
Nestled amidst the towering peaks of the Himalayas, the Everest region is the crown jewel of trekking destinations worldwide. A trek here offers not just unparalleled natural beauty but also an authentic taste of Sherpa culture and lifestyle. Here's a closer look at the accommodation and food scenario during the Everest Three Pass Trek.
Accommodation:
The Everest region is replete with accommodations ranging from traditional teahouses to upscale lodges, reflecting the region's deep-rooted trekking culture.
Teahouses/Guesthouses:
These are the backbone of Everest accommodation. Simple yet cozy, teahouses offer basic amenities, including single, double, or triple rooms. Most rooms have common bathrooms.
During peak trekking seasons, popular stops like Tengboche, Chhukung, Labuche, Gorak Shep, Dzongla, Thangnak, and Marlung might see teahouses filled to capacity. In such cases, travelers might share rooms or find accommodations akin to dormitories.
Securing a private room becomes challenging during peak times, emphasizing the communal spirit of trekking.
Homestays:
Some villages offer homestays, providing trekkers with an intimate glimpse into Sherpa life. It's a unique experience, bonding over shared meals and stories by the hearth.
Luxury Hotels:
For those seeking more comfort, places like Namche Bazaar, Lukla, and Phakding boast luxury hotels, complete with modern amenities. These lodges are perfect for trekkers looking to recover in style after challenging treks.
Remember, this is a trek in the remote Himalayas. While accommodations are comfortable, they might not match city standards. Trekkers usually need to carry essentials like towels and be prepared to pay a little extra for facilities like hot showers.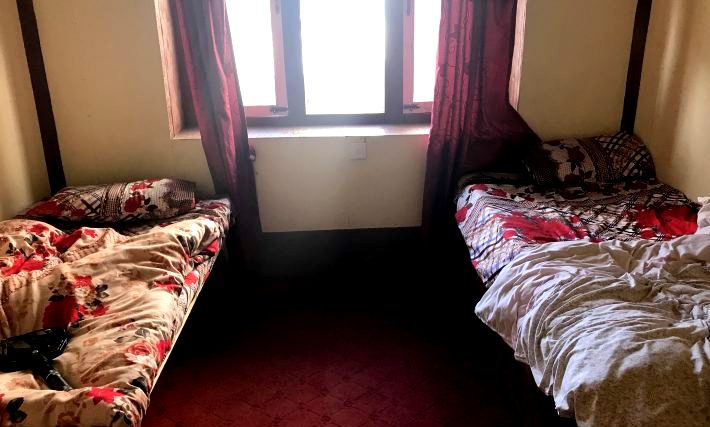 Food:
The trail offers a gastronomic journey, blending local flavors with some global dishes.
Breakfast:
Kickstart your day with a choice of bread, chapatis, eggs, porridge, and the intriguing fried Mars Bars. Pair it up with a cup of tea or coffee, and you're energized for the trek ahead.
Lunch & Dinner:
The staple is the hearty 'Dal Bhat' – a serving of rice and lentil soup accompanied by vegetable curries, pickles, greens, and papad (a crispy side dish). It's nutritious, filling, and often comes with the promise of free refills!
While the menu offers diverse dishes, relying on local cuisine ensures fresh ingredients, aiding digestion and energy levels at high altitudes.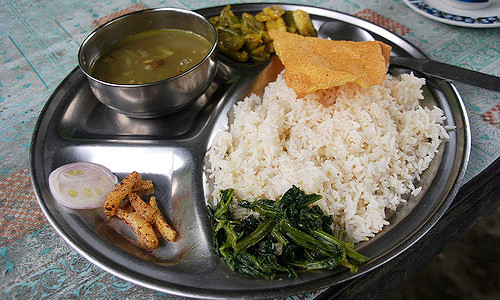 A Word of Caution:
High-altitude trekking demands a particular diet. While indulging in familiar Western dishes like pizzas or burgers might be tempting, it's wise to minimize their intake. Similarly, alcohol and smoking can adversely impact acclimatization and overall health during the trek.
Ensuring a proper diet and comfortable rest is pivotal for a successful trek. Partner with Luxury Holiday Nepal for a seamless trekking experience, ensuring that every meal and night spent in the Everest region is memorable and rejuvenating.
---
Facts to think about before beginning the Everest Three Passes Trek
Trekking the Everest Three Passes isn't just another adventure; it's a commitment, a passion-driven challenge that requires meticulous planning and preparation. For those intrepid spirits looking to conquer this majestic trail, Luxury Holiday Nepal offers a comprehensive guide on essential factors to keep in mind:
Physical Fitness: The serenity of the Himalayas often contrasts with the challenges of its rugged terrains. The trek is demanding, and it is imperative to be physically fit and prepared. It requires trekkers to endure extended hours of walking at high altitudes. Regular workouts, stamina-building exercises, and prior trekking experiences can be beneficial.
Altitude Sickness: As you ascend the mighty peaks, the altitude can play tricks on your body. Altitude sickness or Acute Mountain Sickness (AMS) is a genuine concern. Recognizing its symptoms early and ensuring proper acclimatization is essential. Taking it slow, staying hydrated, and consulting with guides can make the journey safer.
Weather and Season: The Everest region showcases different facets in different seasons. While late September to early December offers clear skies, late March to early June promises pleasant temperatures. However, it's essential to be wary of unpredictable weather patterns, monsoon downpours, and the biting cold of winter. Knowledge of these cycles ensures a safer trek.
Travel Insurance: The unpredictable nature of mountainous terrains makes having comprehensive travel insurance indispensable. It should cover potential issues like personal liability, unforeseen medical expenses, and emergency evacuations, ensuring a safety net during unforeseen circumstances.
Permits and Entry Fees: To maintain the sanctity and ecology of this treasured region, several permits like the TIMS card and the Sagarmatha National Park Permit are mandatory. It's advisable to procure these in advance and keep them accessible throughout the trek.
Equipment and Gear: As you traverse through diverse terrains, from lush forests to glacial paths, the right equipment can make all the difference. Ensure you have quality gear, from robust footwear and layered clothing to essential camping gear. Remember, the Himalayas are unforgiving, and your equipment is your primary line of defense.
Embarking on the Everest Three Passes Trek is an enriching experience, a blend of challenges and unparalleled beauty. With these considerations in mind, backed by the expertise of Luxury Holiday Nepal, every trekker can look forward to a journey that's as rewarding as it is exhilarating.
---
If you need any further information, please contact us, Email: [email protected], Phone: +977- 985 100 5129 (WhatsApp)