The best time for a helicopter tour to Everest is during the autumn and spring seasons. These seasons offer the clearest and most stable weather conditions in the region, which increases the chances of having an unobstructed view of the stunning mountain ranges and landscapes. During these seasons, the skies are generally clear, and visibility is at its best.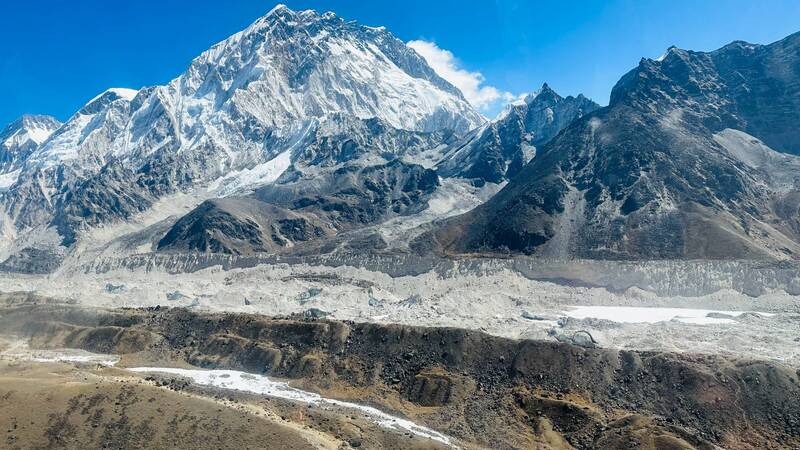 However, it's important to keep in mind that weather conditions in the high-altitude regions of Nepal can be unpredictable and change quickly, even during the best seasons. It's always best to check weather forecasts and conditions before booking your helicopter tour to ensure the best possible experience.
Additionally, it's worth noting that helicopter tours to Everest can be popular, and booking in advance is recommended to ensure availability. Taking a morning flight may also offer better chances of good weather conditions and clear views.
A helicopter tour to Everest can be a once-in-a-lifetime experience, offering unparalleled views of the world's highest mountain and the surrounding landscapes. Choosing the right time and season for your tour can greatly enhance your experience and increase your chances of having clear and unforgettable views.
(Please click here to know more about the month-wise Everest Landing Helicopter tour)
Best Season and Month For Everest Helicopter Tour
The best time for an Everest and Gokyo helicopter tour is during the two primary trekking seasons when the weather is stable and visibility is excellent. These seasons offer the most favorable conditions for flying and provide the best views of Mount Everest and its surrounding peaks.
However, it is essential to keep in mind that weather patterns can be unpredictable in mountainous regions, and even during these primary trekking seasons, there may be occasional storms or poor visibility days. Therefore, it is always advisable to keep some flexibility in your travel plans and consult with experienced tour operators who can advise you on the best time to take the tour based on current weather conditions.
Spring (March to May)
Spring is a popular time for helicopter tours in the Everest region, with clear skies and moderate temperatures. The higher altitudes may still have some snow from the winter months, creating a stunning contrast with the blooming rhododendrons and other wildflowers. The visibility during this season is excellent, offering unobstructed views of Everest and the neighboring peaks.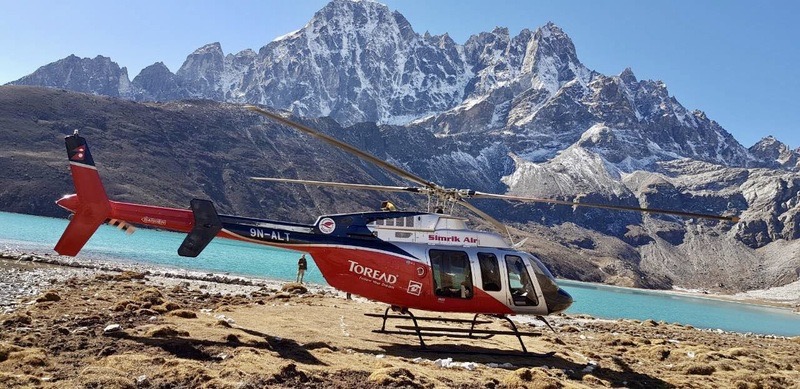 Autumn (September to November)
Autumn is another ideal time for an Everest helicopter tour. After the monsoon rains have cleared, the air is clean, and the skies are typically clear, providing excellent visibility for scenic flights. The weather is stable, with mild daytime temperatures and minimal chances of precipitation. The landscape is also vibrant, with colorful foliage covering the hillsides.
While spring and autumn are the best seasons for an Everest helicopter tour, it is still possible to take a tour during the winter (December to February) and summer/monsoon (June to August) seasons. However, these seasons come with some limitations:
Winter
The winter months can be very cold, especially at higher altitudes, and some areas may be inaccessible due to snow. However, on clear days, the views can be breathtaking, with snow-covered mountains and crisp blue skies. It is crucial to check the weather forecast and consult with us before booking a winter helicopter tour.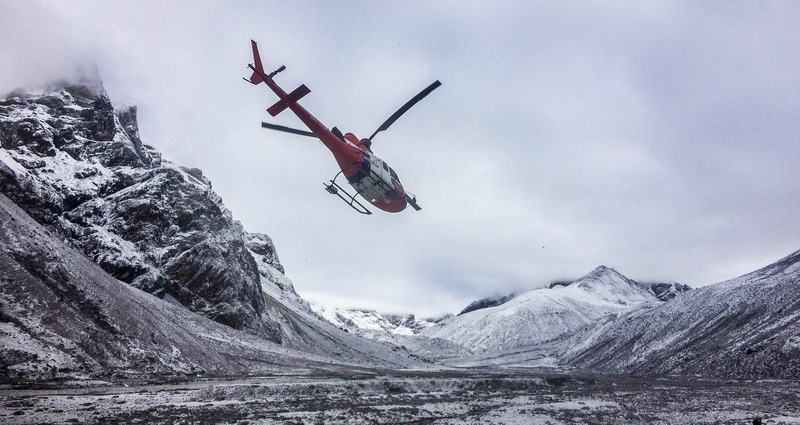 Summer/Monsoon
The summer months coincide with the monsoon season in Nepal, which can result in reduced visibility, cloudy skies, and flight delays or cancellations due to rain. However, there may still be some clear days during the early summer months (June and early July) when a helicopter tour is possible.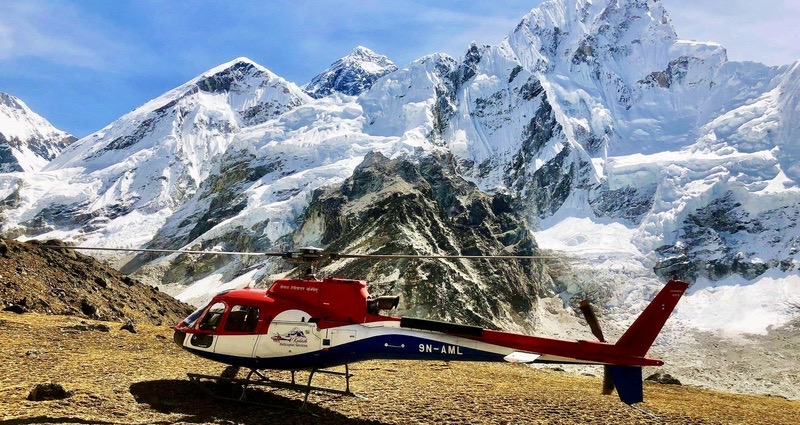 The best time for an Everest helicopter tour is during the spring (March to May) and autumn (September to November) seasons when the weather is stable, and visibility is optimal. However, with careful planning and flexibility, helicopter tours may still be possible during the winter and summer months.
Important Articles regarding Everest Landing Helicopter Tour
We Offer the Following Helicopter Tour Services in Everest Region
1. Everest Base Camp Landing Helicopter Tour - 5 Hours, Starting at USD 800 BOOK NOW
2. Lukla to Everest base camp & flight back to Kathmandu
3. Hotel Everest View to Everest base camp Heli back to Kathmandu
4. Namche Bazaar to Everest Base Camp Heli ride Back to Kathmandu
5. Gokyo and Everest Base Camp Landing Helicopter Tour - 6 Hours, starting at USD 1200 BOOK NOW
For the various Everest Helicopter tour packages and Everest Helicopter tour costs please, click here
Everest Heli Tour and Gokyo - Everest Base Camp Heli Tour are popular helicopter tours in the Everest Region.