Nepal is one of the world's largest Himalayan kingdoms, a remote, landlocked country in Southeast Asia. Nepal is a country with a beautiful Himalayan tapestry in the northern region, with eight of the world's ten tallest mountains, including Mount Everest, the world's highest peak. The country is home to a diversified ecosystem with topographical lands that house a wide range of flora and animal species. The country's wide biodiversity is a result of the country's distinct vegetation and wildlife. Trekking in Nepal is one of the most popular adventure sports, with various areas bursting with stunning trek qualities. Glaciers and Snowy Mountain peaks are part of Nepal's natural riches. Nepal's enormous glaciers and massive mountains are the sources of many beautiful rivers and lakes. Nepal is a fantastic resource for water reservoirs since it has acres of many blue Himalayan drinks of water tucked away in mountain crevasses. Many of Nepal's lakes are religiously significant, and tourists and pilgrims go to them from all over the world.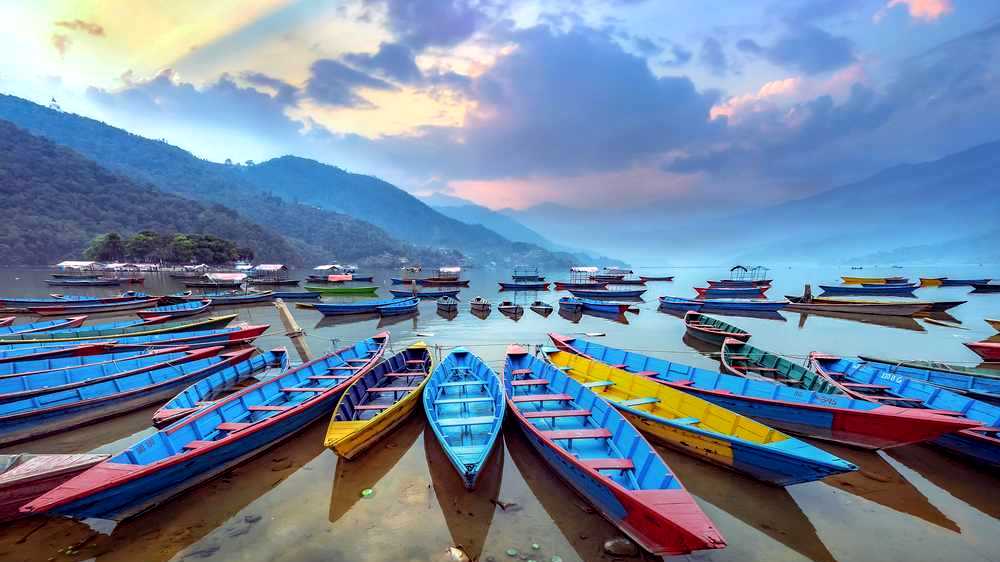 Nepal's sparkling lakes are the country's crown jewels, adding to the scenery's overall grandeur. With waters that reflect the adjacent mountains on their surface and lake tinctures that imitate rare stones like lapis-lazuli blue, Nepal's lakes are a natural phenomenon that performs the role of vital signees of the area.
Rara Lake
Rara, Nepal's deepest lake, is located at a height of 2990 meters above sea level and covers an area of 10.8 kilometers2. It flows into the Mugu Karnali River via the Nijar River, which is located in Jumla and Mugu districts. Rara's water has a high PH, and its freshwater extends for roughly 5 km in length and 3 km in width. It was designated a Ramsar site in 2007 and is located at a high altitude, surrounded by Rara National Park with pine, spruce, and juniper woodland.
It is also rich in floral and faunal diversity, including rare species. Three indigenous fish species and one endemic frog live in the lake. This lake is home to a variety of winter visitors, including aquatic fowl. The color of Rara lake changes three times a day, in a nutshell. It appears to be blue at times, brown at others, purple at others, and scarlet at others. When Rara's scene is combined with the shadows of the Sinje and Kanjirowa mountains, it becomes lovely.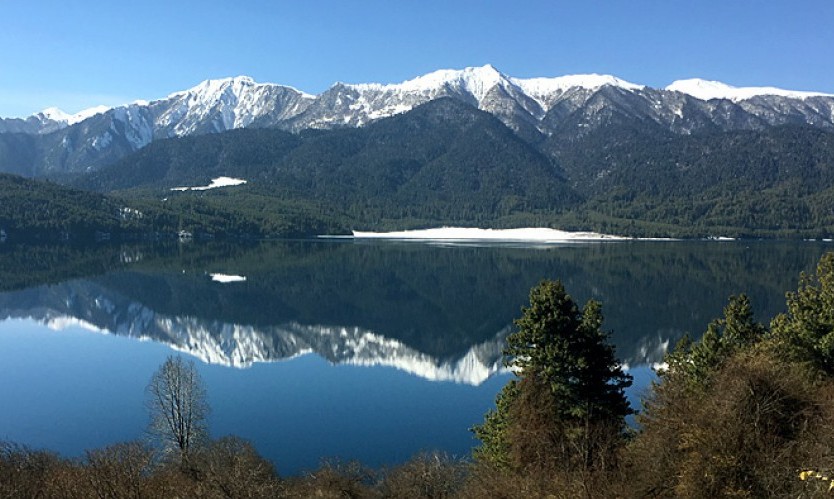 Rara, a place to think and relax, is quickly becoming a popular destination for tourists from all over the world. The number of tourists visiting Rara Lake in western Nepal has skyrocketed in recent years. Every traveler ponders while boating in clean waters, climbing to adjacent hills with unique views of spectacular mountains, and taking in the breathtaking scenery around the lake. Every trekker's awe is heightened by the views of the Himalayan peaks.
The months of September/October and April/May are ideal for visiting the lake. For trekkers, it is a well-known destination in Western Nepal with a difficult path. Because travelers visiting the lake may only travel by air, the adventure begins with a flight from Nepalgunj to Jumla, from whence it takes around 2 to 3 hours to walk to Rara.
Shey Phoksundo Lake
Phoksundo Lake is the most well-known tourist destination in Nepal, located in the Dolpa district at an elevation of 3,611.5 meters above sea level. It has a surface area of 494 hectares and a water volume of 409,000,000m3. It was classified as a Ramsar site in 2007 and is recognized for its beautiful turquoise color. It features 20 stupas in the southern belt and one gompa on the eastern part of the lake, both of which are used for annual prayers and worship. The lake is one of Nepal's most popular high-altitude and beautiful trek destinations.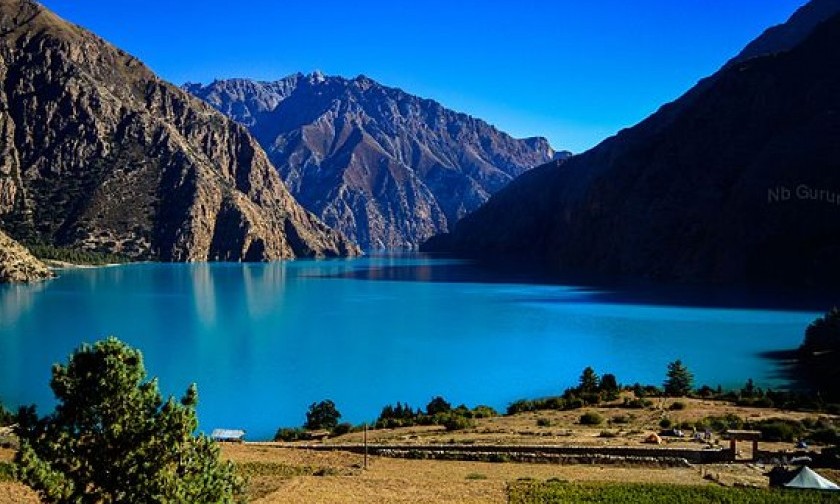 The dramatic pinnacle and location, in addition, are quite awe-inspiring tourist attractions for visitors from all over the world. It has a maximum depth of 145 meters and is classified as an oligotrophic lake. It's an encapsulation of natural beauty, surrounded by mountain-fed glaciers, and the fascinating grandeur of the overall scene makes every visitor feel pondered. The lake's origin is thought to be in the village of Ringmo, which is located on a 30,000-40,000-year-old landslide dam on the lake's southern end. There's also a waterfall just past the dam. Tibetan culture and languages have an impact on the people who live near the lake. Because of the favorable temperature and weather, the best months to visit Shey Phoksundo Lake are March to May and September to November.
Gokyo Lake
Gokyo Lakes are oligotrophic lakes situated in Sagarmatha National Park at an elevation of 4700-5000 meters above sea level. The Gokyo Lakes are made from a combination of 19 lakes, six of which are major lakes and are the highest freshwater lakes in the world. In 2007, these lakes were designated as a Ramsar Site. The Gokyo Lakes are in the Khumjung Village Development Committee in the Solukhumbu District in the Sagarmatha Zone of Nepal's northeastern region.
Here are the list of major lakes in Gokyo Lake:
Gokyo Cho: The largest and most prominent lake, known for its tranquil waters and stunning reflections of surrounding peaks, including Cho Oyu.
Gokyo Tsho: A serene lake with mesmerizing turquoise waters, offering a peaceful spot to rest and soak in the panoramic views.
Thonak Cho: Nestled amidst rocky terrain, this rugged lake exudes a sense of mystique, reflecting the towering peaks that surround it.
Thonak Tsho: Adjacent to Thonak Cho, this lake captivates with its emerald green waters and adds to the enchantment of the region.
Ngozumpa Cho: Situated close to the Ngozumpa Glacier, the longest glacier in the Himalayas, this lake showcases a unique blend of rugged beauty and glacial grandeur.
Tanjung Cho: Found at high altitude, this pristine lake nestled in the alpine terrain rewards trekkers with its ethereal beauty and sense of accomplishment.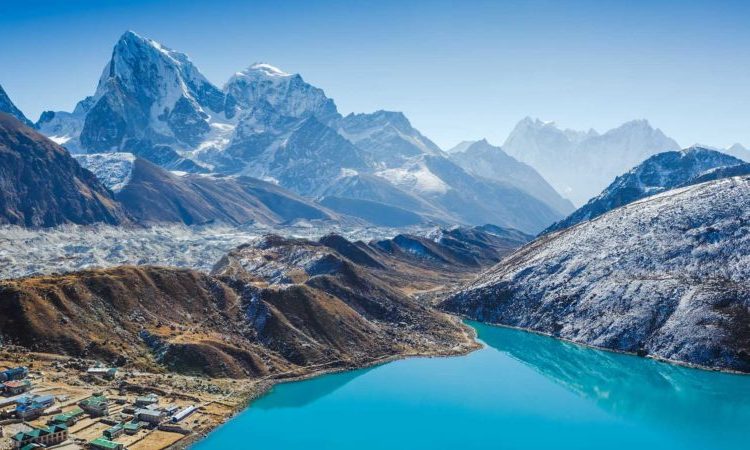 Both Hindus and Buddhists regard the Gokyo lake system as sacred. On the auspicious event of Janai Purnima, which falls in the month of August, a large crowd gathers in this area. It is thought to be the Hindu gods Shiva and Vishnu's temple, which is located near the lake's western end. This temple is revered as the abode of the 'Nag Devata.' Around 7000 tourists are believed to visit the lakes each year. The amazing and clean lakes of Nepal will undoubtedly add to your mind-blowing experience.
It is one of the most well-known tourist destinations. It offers a fantastic view of Mount Everest, Lhotse, Cho Oyu, and Makalu, as well as the Ngozumpa glacier, Nepal's largest glacier, at above 8000 meters. More importantly, it allows visitors to see the Sagarmatha National Park's endangered flora and fauna. The magnificent Gokyo Valley, panoramic views of Mount Everest and other peaks from Gokyo Ri (5357m), brilliant glacier lakes, and views of the vivid turquoise high-altitude lakes are the main attractions of the places, which will undoubtedly enchant every traveler.
Please, Click Here for Gokyo Lakes and Gokyo Ri Trek
Begnas Tal/ Lake
Begnas Lake is indeed the best tourist attraction in western Nepal, situated in the Pokhara Lekhnath Metropolis of Nepal's Kaski district. This is Nepal's third-largest lake, as well as the second-largest in the Pokhara Valley. It is situated outside of the hustle and bustle of city life.. It is peaceful, clean, and serene. In addition, it is home to a variety of species that have arrived in Nepal during the bird migratory season. This location's main draws include water sports, traditional Nepali western culture, and freshwater boating. It is one of Nepal's most incredible scenery.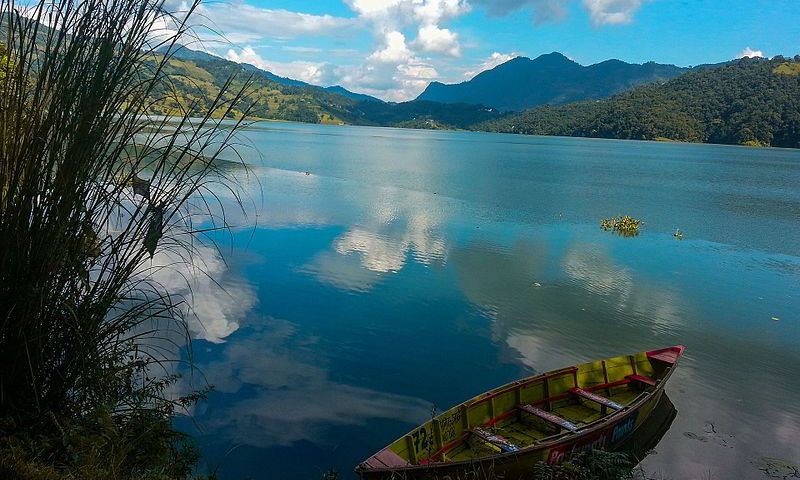 Begnas Lake provides nature's exquisite splendor. The main focus of Beganas Tal is the shadow of the surrounding hills on the crystal clear water. One can contemplate by looking at nature's clean and unspoiled beauty. Boating is a great way to see the gorgeous lake and its surrounding area.
Phewa Tal/Lake
Due to the sheer endless Himalayan ranges, religious locations, rivers, cultural history, unusual caverns, floras and fountains, and other factors, Pokhara has become one of Nepal's most famous tourist destinations. It's also known for being known as the "City of Nine Lakes." Phewa Lake is the largest lake in the Pokhara valley and the second largest lake in Nepal, among the nine lakes. Phewa Lake, formerly known as Badam Tal, is a 4.43km2 lake located in the south of the Pokhara valley. The lake's average depth is 8.6 meters, with a maximum depth of 19 meters. It stretches 4 kilometers from north to east. The lake's perimeter is around 443 hectares, and it is located at an altitude of 742 meters.

Phewa Lake has gained significance in Pokhara from a variety of views. It is a socially, economically, culturally, and ritually significant location. Phewa Lake is one of Pokhara's most valuable assets for the city's developing tourism industry. Tourists flock to Phewa Lake, which is Nepal's most popular tourist destination. It's a breathtakingly gorgeous and enchanted location known for adventurous and interesting activities. Boating is the lake is one of the main attractions at Phewa Lake. Boating in crystal clear water with only your hands allows for a more enjoyable experience.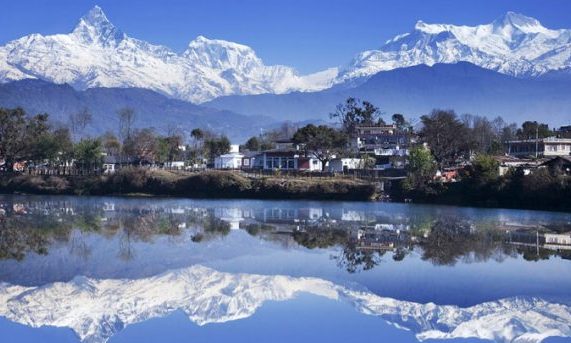 Furthermore, the Taal Barahi Temple, which is located in the heart of Phewa Lake, has enormous cultural value. Bird gazing and "Paragliding" are two more gorgeous aspects of Phewa Lake. Phewa Lake is one of the most popular paragliding destinations. Many paragliding flights take off from its location beside Phewa Lake, which is the lake's main attraction. Furthermore, it is well-known for a variety of lake-based fish dishes. Tourists flock here to sample the delectable fresh fish dishes. Many restaurants surround the lake, many of which specialize in fish dishes.
The lake has become a source of income for fishermen who have relied on fishing for a living for many years. Furthermore, the Annapurna range is only approximately 28 kilometers north of the lake, and the lake is known for its reflection of Mount Machhapuchhre and other Annapurna and Dhaulagiri mountain peaks on its surface.
Panch Pokhari Lake
Panch Pokhari, located at an altitude of 4,100 meters in the Sindhupalchowk district of Nepal, is undeniably one of the country's most stunning lakes. Comprising a series of five sacred lakes, it stands as the world's ninth-highest altitude wetland. Panch Pokhari holds immense religious significance for Hindus and attracts numerous pilgrims, especially during the Janai Purnima festival. The sight of five shimmering ponds surrounded by lush hills creates a mesmerizing and spiritually uplifting experience.
The five lakes of Panch Pokhari are as follows:
Panch Pokhari (First Lake): The largest and most prominent lake in the cluster, giving its name to the entire region.
Surya Pokhari (Second Lake): Also known as the "Lake of the Sun," it holds religious significance and is believed to have healing properties.
Naga Pokhari (Third Lake): Known as the "Lake of Serpents," it is associated with mythical serpents and has its own mystical charm.
Saraswati Pokhari (Fourth Lake): Dedicated to the Hindu goddess Saraswati, it holds spiritual importance and is considered sacred.
Bhairav Pokhari (Fifth Lake): Named after the fierce deity Bhairav, it is associated with power and protection, adding a touch of mysticism to the cluster of lakes.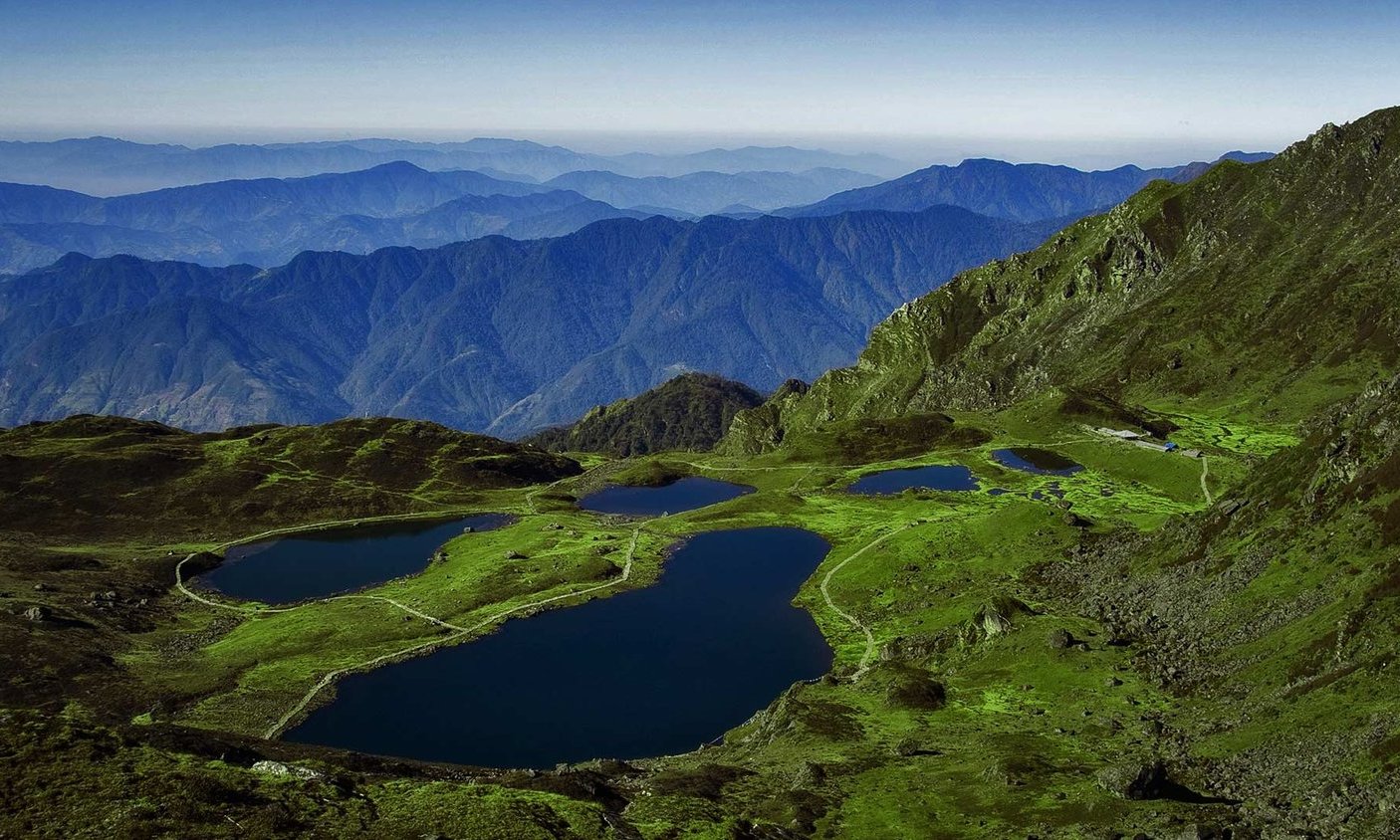 The journey to Panch Pokhari is easily accessible from Kathmandu and can be completed within a couple of days. While the trek to Panch Pokhari is not as popular among international visitors, it offers a less crowded and more serene trail for those seeking a peaceful and off-the-beaten-path experience. The route is relatively new, adding an element of adventure and discovery to the journey. Starting from Chautara, the trek passes through scenic landscapes, including Kami Kharka, Pauwa Bas, Hile Bhanjyang, and finally reaches the beautiful lake itself.
The best seasons to visit Panch Pokhari are autumn (September to November) and spring (March to May) when the weather is pleasant and the views are clear. The Panch Pokhari trek is considered relatively easy, and the entire journey can be completed comfortably within a week. The highest point of the trek reaches an elevation of 4,100 meters, offering breathtaking panoramic views of the surrounding mountains and landscapes.
For those seeking a unique and spiritually enriching experience, Panch Pokhari offers a picturesque and less-trodden path. With its natural beauty, cultural significance, and accessibility from Kathmandu, Panch Pokhari stands as a hidden gem waiting to be explored by nature lovers and adventure seekers.
Gosaikunda Lake
Gosaikunda is another gorgeous lake in the Langtang National Park, located in the Rasuwa district. It is 4,380 meters above sea level and covers an area of 4.0 square kilometers. It covers 1030 hectares and was designated as a Ramsar site in 2007. The lake is thought to be the source of the Trishuli River, a fast-flowing river known for rafting. It has been depicted as a Hindu sacred location. It is one of Nepal's most beautiful and religiously significant lakes.
Gosaikunda, widely known as the frozen lake, is a religiously significant site. Gosaikunda is the Hindu god Shiva's and Gauri's home, according to Hindu mythology. The origins of Gosaikunda are thought to be linked to Hindu writings including the Bhagavad Purana, Vishnu Purana, and the great sagas Ramayana and Mahabharata. Furthermore, the water of Gosaikunda is considered sacred, and it is thought that anyone who bathes in there can cleanse their spirit and mind. In addition, the devotee believes that God Shiva became inebriated as a result of his sadness over the death of his bride. As a result, he hits the rock with his Trishul (holy Trident), resulting in the formation of the Gosaikunda lake.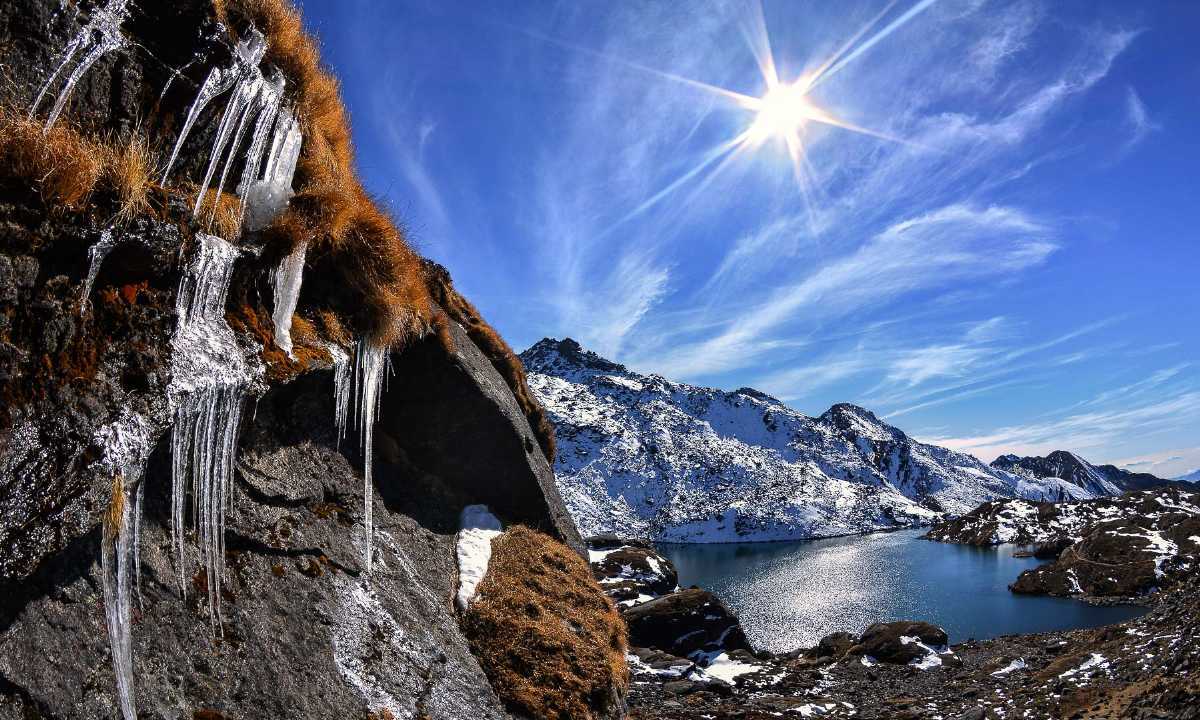 It is also one of the most popular trekking trails. This region allows visitors to discover the holy land, perfectly terraced land, Tamang ethnic group communities, unique wild animals, diverse flora and vegetation, and panoramic mountain vistas of Ganesh Himal, Manaslu, and other peaks. It provides a brief overview of the world's different natural and cultural landscapes. Gosaikunda is a destination that lets every traveler forget their aches and sorrows since it is surrounded by gorgeous, lush green woods of rhododendron, oak, pine, and birch. The hill is a little difficult to ascend, and trekkers may suffer from altitude sickness. The months of February to May, as well as late September to December, are ideal for walking around the lake.
Please, click here for the Gosaikunda Helicopter Tour.
Tilicho Lake
Tilicho Lake is one of the world's highest lakes, located at an elevation of 4,919 meters in the Manang district, around 55 kilometers from Pokhara's frantic pace. Tilicho, a well-known tourist site, is a glacier lake in the Himalayan Annapurna range. It's also a famous trekking destination. Trekking in this area follows the Annapurna Circuit trek, which takes an additional 3/ 4 days to reach Tilicho's base camp. Tilicho Lake offers an exciting excursion to the adventurer who enjoys pushing the boundaries of geography. It is home to some of Nepal's most beautiful lakes and one of the top trekking regions in the Himalayas.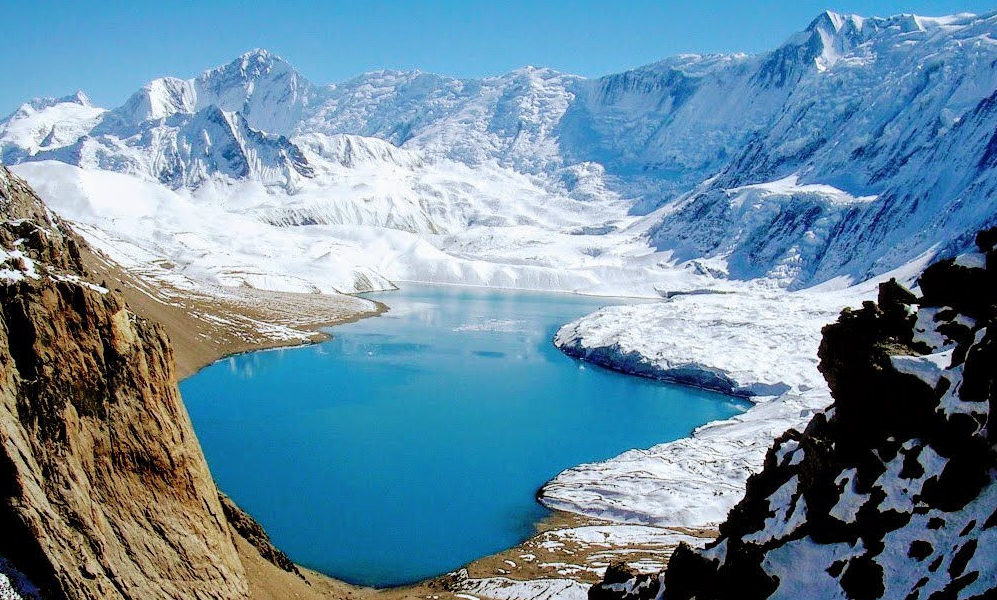 The Annapurna Circuit is preferred by the vast majority of people. People can also make their journey more fascinating by taking a different route from the north side. This trail is becoming more well-known among hikers these days. Every traveler is captivated by the world's best vistas, diversified culture, and nature, exquisite views of mountains such as Khangsar, Nilgiri, Tilicho, and Muktinath peaks, the finest deep valleys, and settlements of diverse communities.
Aside from its natural value, the lake also has a mythological significance. Tilicho Lake is the old Kak Bhusundi lake, according to Hindu mythology. The sage Kak Bhusundi is said to have been the first to give the Ramayana tale to Garuda, the king of the birds near the lake.
Imja Tsho Lake
Imja Tsho, a glacier lake in the Everest region at an elevation of 5,010 meters, got its name from the melting of Imja Glacier. It is one of Nepal's 21 glacial lakes. This lake was classified as potentially dangerous due to the possibility of a glacial outburst flood and Imja Tsho Lake is one of Nepal's most rapidly expanding glacier lakes.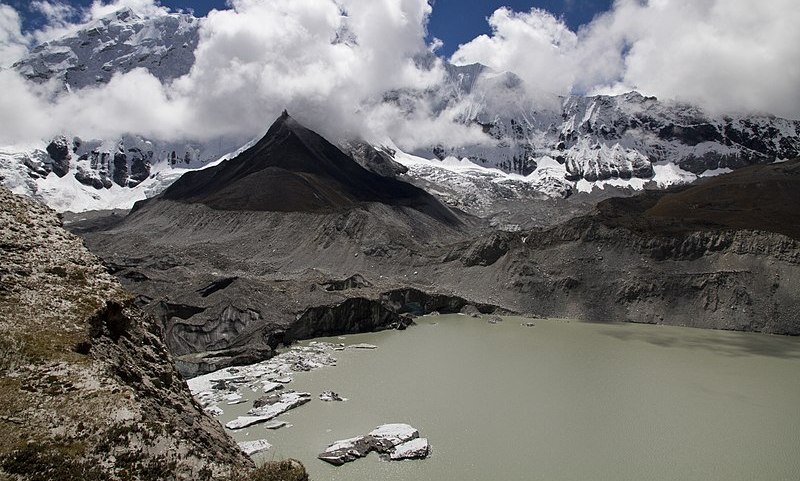 From Lukla, it is a 9-day trek to explore Imja Lake. The trail to Imja Tsho Lake is a classic Everest Base Camp Trek route. The trek's major sites include Namche Bazaar, Tengboche, Dingboche, and Chukhung hamlet. Explore magnificent Sherpa communities, take a walk through thick Rhododendron woods, learn about local culture, and live mountain life. Your journey to Tsho Lake will reward you with breathtaking vistas of some of the world's tallest peaks, including the best view of Mt. Everest.

Spring and fall, as everyone says, are the greatest times to trek through the Everest region's difficult terrains. Avoid traveling during the monsoon and winter seasons. Altitude Trekkers trekking to Imja Tsho Lake should be most concerned about becoming sick. This is a moderately difficult trek that is suitable for both novice and experienced trekkers.
Tsho Rolpo Lake
Tsho Rolpo, one of Nepal's largest glacial lakes, is located in the Dolakha district's Rolwaling valley. When glacial ice has melted, the Lake has grown dramatically in size during the previous 50 years. As a result, the Lake is on the verge of bursting through its shaky dam, endangering the lives of everyone living in its vicinity. Indeed, the Lake is both a severe threat to humanity and a lovely gift from Mother Nature. The lake is located in the Rolwaling valley, between the Everest and Langtang mountains, slightly south of Tibet's Gaurishanker range.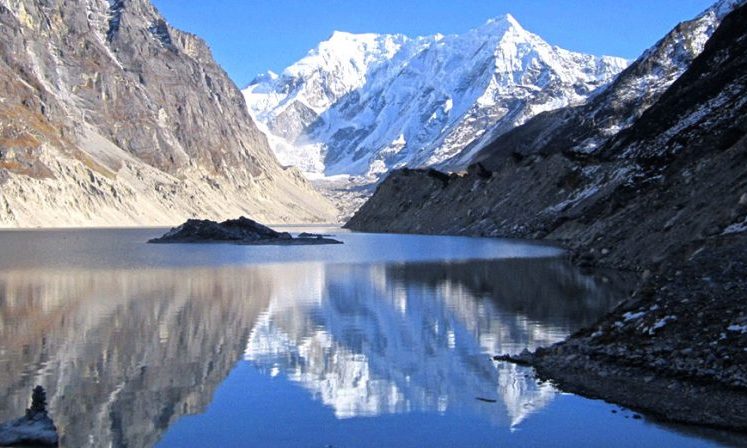 Travelers make their way to Tsho Rolpa Lake through alpine forests, dense glaciers, moraines, and hidden mountain communities in the high pastures. Sherpa ethnic groups have a considerable cultural presence in these places, providing travelers with a surreal rural mountain cultural experience. The Lake is rich in natural variety and offers breathtaking vistas of high-altitude peaks, giving visitors a true sense of venturing off the beaten path in Nepal.
These are some of Nepal's most beautiful lakes, all of which are well-known and hold records of their own. Some are the largest in the region, while others are renowned tourist attractions. Meanwhile, there are a plethora of lovely lakes that are largely unknown to the general public. Travelers will undoubtedly come across a few more unidentified lakes when traversing a route to any of the given lakes.
Please, Click Here for Trekking and Tour packages in Nepal.
If you need any further information, please contact us, Email: [email protected], Phone: +977- 985 100 5129 (WhatsApp)