The diverse landscape, rich culture, and natural beauty along giant snow-capped mountains make Nepal a paradise and adventurous destination in the world. Nepal is the home of the world's highest mountain (Everest- 8,848.86m) along with seven other peaks above eight-thousanders meters in the world. The virgin natural beauty, unique Sherpa culture, and traditional lifestyles are the major attractions of the Himalayan land of Nepal. Trekking in Nepal offers you an unforgettable lifetime experience. The trekking trail and the final destinations offer you magnificent views of the snow-capped mountains, valleys, lakes, Glaciers, and amazing landscapes.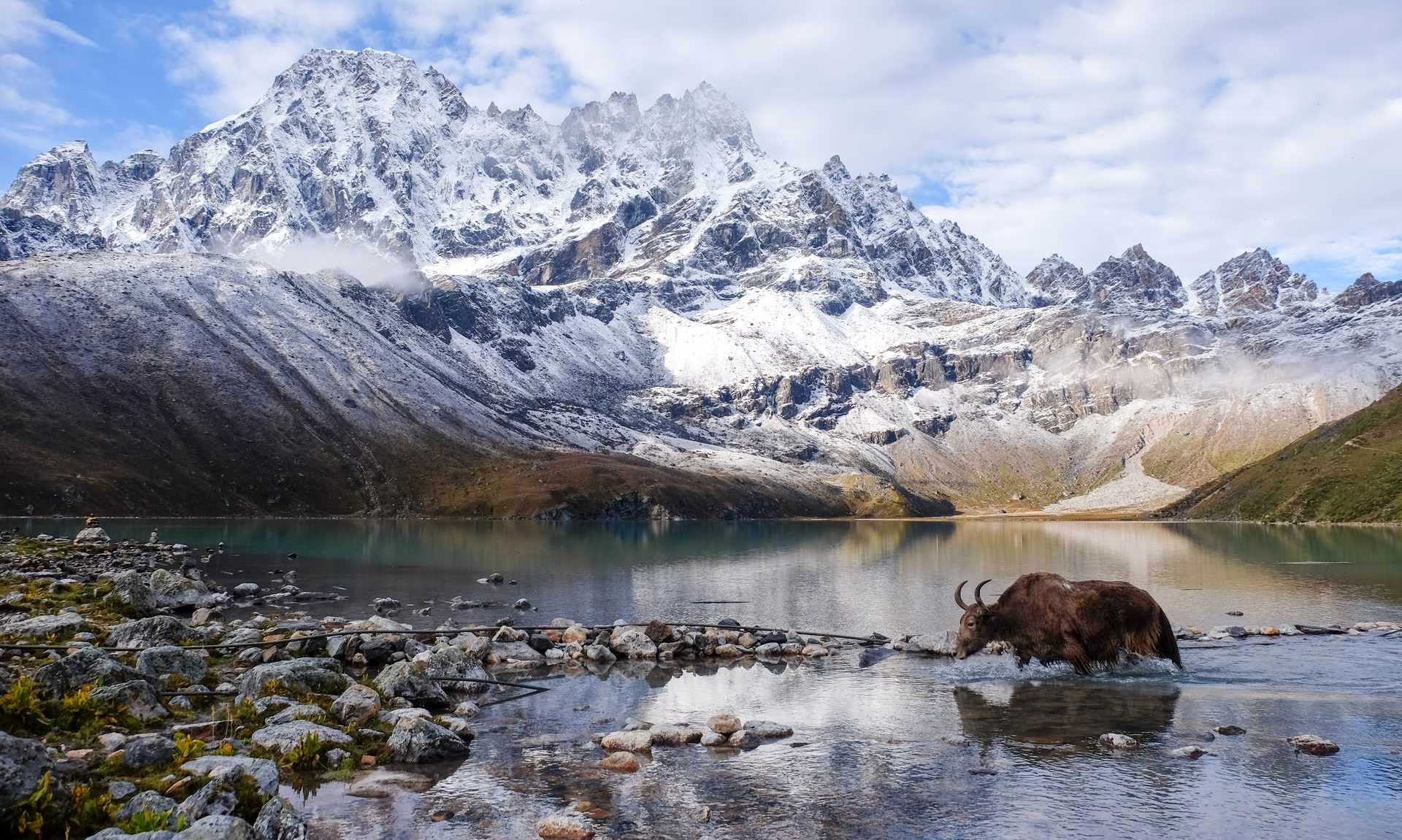 Gokyo valley is one of the most picturesque Himalayan destinations with the major highlights of Gokyo lakes and Gokyo Ri, which lies in the west of the famous Khumbu region, which is abundantly famous for the Everest Base Camp trek. Everest regions lead you through Sagarmatha National Park and offer different trekking trails and trekking destinations. People normally choose Gokyo and Everest Base Camp Trek in their Everest Region trekking. Exploring the most admired mountain, Everest, and its surrounding areas very closely is the dream of many peoples. The Trek to Gokyo Ri in Everest Region is full of adventurous and memorable moments for a lifetime.
How to reach Gokyo Lake?
There are various options to reach Gokyo Lake from Kathmandu, depending on the level of comfort and adventure you prefer. Here are a few options:
Classic Gokyo Lakes Trek: The most common way to reach Gokyo Lakes is via a trek from Lukla, which you reach by a short flight from Kathmandu. From Lukla, you trek to Namche Bazaar, a large Sherpa village that serves as a hub for Everest trekkers. After a day of acclimatization in Namche, you continue trekking to Dole, Machhermo, and finally Gokyo. This trek typically takes about a week from Lukla to Gokyo, depending on your pace and acclimatization needs.
Everest Base Camp via Gokyo Lakes Trek: Another option is to do a combined Everest Base Camp and Gokyo Lakes trek. This route diverges from the classic base camp route at Namche Bazaar, heading to Dole, Machhermo, and Gokyo, before crossing the Cho La pass and joining back with the base camp route at Lobuche.
Helicopter Tour: A helicopter tour to Gokyo Lake is another one of the best way to explore in Nepal, which offers a thrilling and convenient way to experience the breathtaking beauty of the region. Soaring above the Himalayan peaks, you'll enjoy panoramic views of the mountains, glaciers, and valleys. The helicopter will make a landing near Gokyo Lake, allowing you to explore and admire the turquoise waters in a short amount of time. It's a great option for those seeking a time-efficient and unforgettable adventure in the Gokyo region.
Horseback or Yak Riding: In some cases, it may be possible to arrange to ride a horse or yak along the trekking route. This would need to be arranged with a local guide or company. This is generally less common and would still require a degree of physical fitness.
Remember, high-altitude trekking is a serious endeavor and should be undertaken with proper preparation, including physical fitness, acclimatization to avoid altitude sickness, and potentially hiring a guide or joining a trekking group.
Gokyo Valley
Gokyo Valley lies on the western side of Mt.Everest. It is the home of Gokyo Lakes, the combination of five lakes in Sagarmatha National Park. Walking in the wilderness consisting of beautiful mountain settlements, rivers, falls, bridges, forests, monasteries, and colorful prayer flags, the journey from Lukla to Gokyo offers you an amazing experience. The trekking trail in this region offers you the amazing unspoiled beauty of nature. Gokyo, the small village in the Khumbu Region, has a lot to offer for travel enthusiasts and adventure seekers.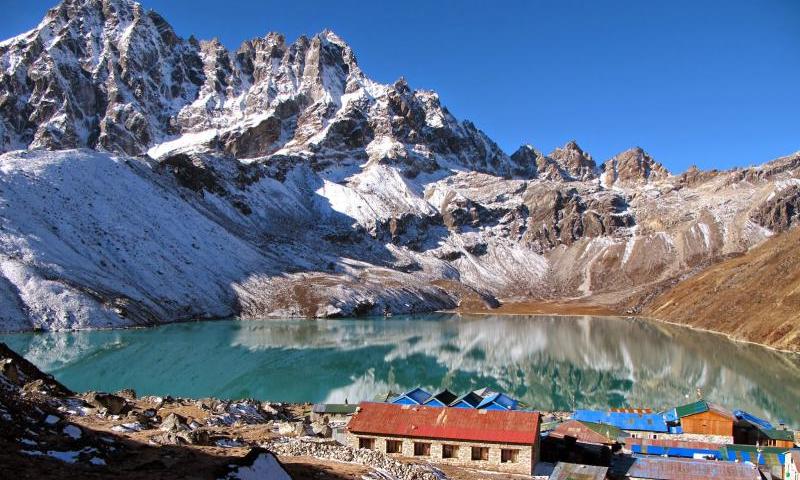 Major Highlights of Gokyo Lakes and Gokyo Valley
Special About Gokyo Lakes
Gokyo lakes inside the Sagarmatha National Park are a unique and amazing place to explore during the Everest Region Trek. Gokyo lakes and the associated wetlands of the area of 7,770 Hectares were designated as the Ramsar Site in 2007. They are also renowned as the world's highest freshwater lake system, located at an altitude between 4,700m to 5,000m above sea level. Gokyo Lakes is a combination of five oligotrophic freshwater lakes from where the Dudhkoshi River originates. The rapidly flowing Dudh Koshi river looks like milk in color which gives an amazing look.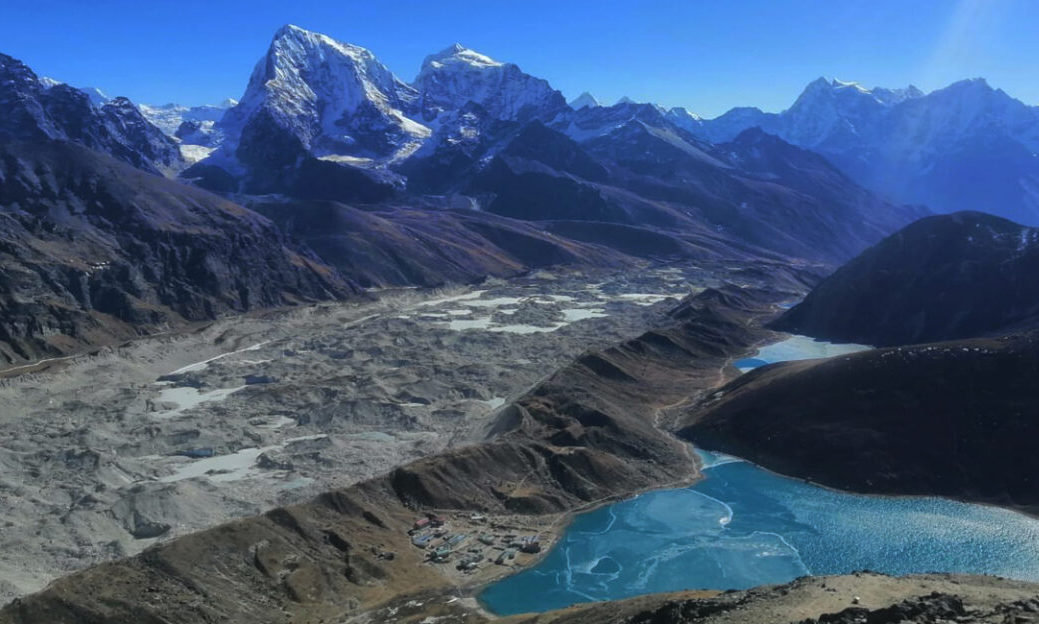 The wonderful five lakes comprise Gokyo Cho (Dudh Pokhari, the main lake with an area of 42.9ha), Thonak Cho (Largest among 5 Gokyo lakes, 65.07ha), Gyazumpa Cho ( 28ha), Tanjung Cho ( 16.95ha), Ngozumpa Cho (14.39ha). Besides these, many other lakes in this region are also part of the Gokyo Lake system. Gokyo Lake is also a sacred lake for many Hindus and Buddhist pilgrims. Lake regions are filled with the connection of Buddhist culture in different forms of stone walls, chortens, mani walls, prayer flags, and many more. You can explore the small temple on the side of Gokyo Lake dedicated to Lord Shiva and Vishnu. You can see many prayer flags in the Gokyo Valley. Gokyo Lake is filled with amazing weather and views, the perfect place to have an amazing photoshoot and unforgettable lifetime experience.
Where is Gokyo Ri/Gokyo Peak?
Gokyo Ri/Gokyo Peak, located at an elevation of 5,357m, is the highest point in Gokyo Valley Trek, Khumbu region. On the way to Gokyo Ri, you can explore the splendid views of 2 streams that lie at the North End of Gokyo Village. You have to ascend for about 2 hours to reach the Gokyo hilltop from Gokyo village. Gokyo Ri is located on the western side of the Largest Glacier in Nepal, Ngozumpa Glacier.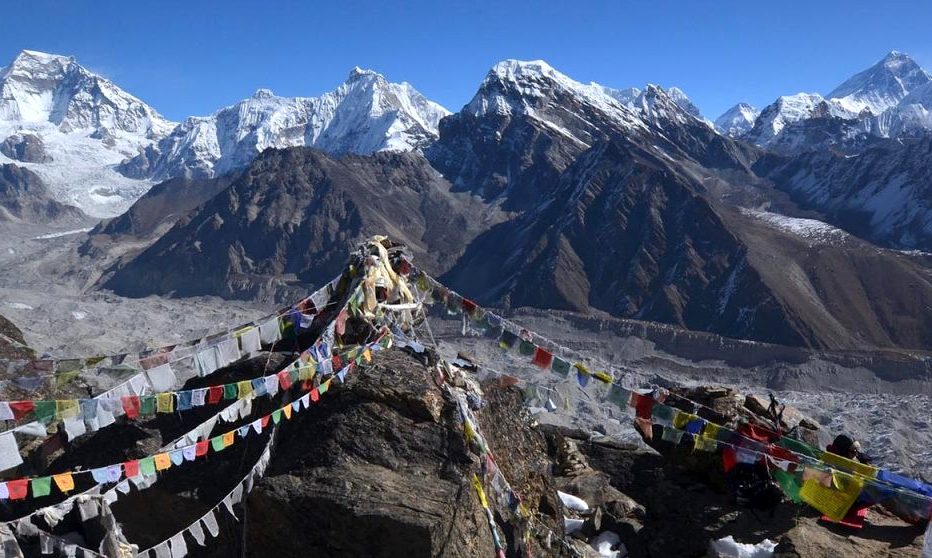 Gokyo Ri is one of the perfect viewpoints in the Khumbu region to see stunning 360-degree views of many high mountains, including the 4 highest mountains above 8000m, namely: Mt.Everest, Makalu, Lhotse, and Cho Oyu in Nepal. The amazing views of the Gokyo Lake system, Ngozumpa Glacier, and the surrounding hills. Both sunrise and sunset time, the Gokyo Ri rewards you with astonishing views.
Please, click here for Gokyo lake and Gokyo Ri Trek.
Explore UNESCO Heritage Site, Sagarmatha National Park
Sagarmatha National Park is named after the top of the World, Mount Everest, called Sagarmatha in Nepali. The wandering national park is the only national park in the world located at the highest altitude. Gokyo lakes lie in the Sagarmatha National Park, where you can explore the rich floral and faunal species, lakes, rivers, falls, mountains, and many more. You can explore the Himalayan Thar, red panda, Ghoral, Himalayan Black bear, Himalayan wolves, langur monkeys, leopards, and many more animal species. Bird species like Blood Pheasant, yellow-billed chough, Himalayan Monal, etc., can be seen inside the Sagarmatha National Park. The park occupies various species of plants like dwarf shrubs, lichens, and mosses.
Gokyo Cho Village: The Highest settlement in the world
During the Gokyo Ri trek, Everest Trek, you will have an amazing tour through the Gokyo Cho Village, the Sherpa Settlement. Gokyo Cho village lies at an altitude of 4,750m and is the highest-altitude settlement in the world. There are many guest houses with amazing ambiance and accommodations that also offer amazing Gokyo Valley views. The people of Gokyo Cho Village travel to lower regions like Namche Bazaar during winter. You will have a precious time exploring the diverse culture, religious harmony, and amazing hospitality of the people of the Gokyo Cho village.
Everest Base Camp from Gokyo Lakes
After an amazing tour and acclimatizing in Gokyo, you will walk for a couple of days and reach Everest Base Camp. On the way to Everest Base Camp trek from Gokyo, you can explore the Yak Grazing Land, the highest pass in the Khumbu region- Chola pass as you will take a walk through the glaciers and melted ice, trails filled with prayers flags, and you will walk through the beautiful Himalayan settlements.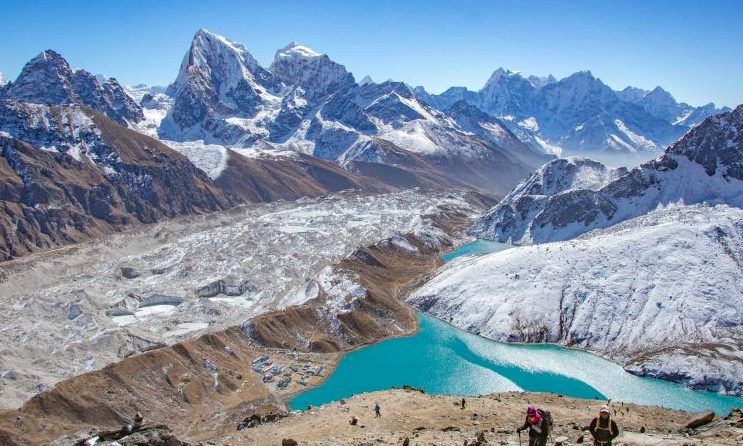 The more you ascend to Everest, the more you will see stunning and pleasant views of mountains and landscapes. The Everest trek is the dream of many travel enthusiasts and adventure lovers.
More Highlights of Gokyo Lakes, the Highest Freshwater Lake System in The World
One of the most picturesque Himalayan spots - Gokyo Valley

Observe a series of six turquoise and glacier-fed lakes from the coast.

The largest glacier in the Himalayas, Ngozumpa Glacier, is accessible by hiking.

The highest point of Gokyo Valley - Gokyo Ri/Gokyo peak

The Sagarmatha National Park

Avoid the Everest crowds, but take in the variety of stunning vistas.

To see breathtaking views of Everest, Lhotse, and Cho Oyu, climb Gokyo Ri (5,357 m).

Explore the Khumjung, a Sherpa hamlet that is home to a "genuine" yeti skull.

View the massive Ngozumpa Glacier from "Scoundrel's viewpoint," which is located close to the fifth lake. It is a wasteland of rock and ice.
Everest Region offers many exciting trekking and travel packages like Everest Base Camp via Gokyo Lake, Gokyo Lakes, and Gokyo Ri Trek, and many more amazing trails.
Best time to visit Gokyo Lake
Gokyo Lake in Nepal can be visited throughout the year, with each season offering a unique experience. In spring (March to May), you'll encounter pleasant weather, clear skies, and blooming flowers. Summer (June to August) brings warmer temperatures and occasional rainfall. Autumn (September to November) is considered the best time to visit, with stable weather, clear skies, and stunning foliage. Winter (December to February) offers a serene atmosphere with cold temperatures and occasional snowfall. Each season has its own charm, so it's important to consider your preferences and the activities you plan to undertake when choosing the best time to visit Gokyo Lake.
Here is some general information about the weather for each season:
Spring (March to May)
Spring is an ideal time to visit Gokyo Lake as the weather becomes pleasant and stable. During the daytime, temperatures range from 8°C to 17°C (46°F to 63°F). The days start to get longer, and the skies are generally clear, offering breathtaking views of the surrounding peaks and the turquoise Gokyo Lake. The region is adorned with blooming flowers, including colourful rhododendrons, adding vibrant colours to the landscape.
Summer/Monsoon (June to August)
The summer months bring warmer temperatures to the Gokyo region. During the day, temperatures range from 10°C to 15°C (50°F to 59°F), while at night, temperatures can drop to around 0°C to 5°C (32°F to 41°F). However, it's important to note that this season coincides with the monsoon season in Nepal. The region may experience cloudy skies, limited mountain views, and higher chances of rainfall.
Autumn (September to November)
Autumn is considered the best time to visit Gokyo Lake. The weather is generally stable with clear skies and mild temperatures. During the day, temperatures range from 5°C to 15°C (41°F to 59°F), while at night, temperatures can drop to around -5°C to 5°C (23°F to 41°F). The autumn season offers stunning views of the changing foliage as the leaves turn golden, creating a picturesque setting. The region experiences excellent visibility of the snow-capped mountains, making it a popular choice for trekkers and nature enthusiasts.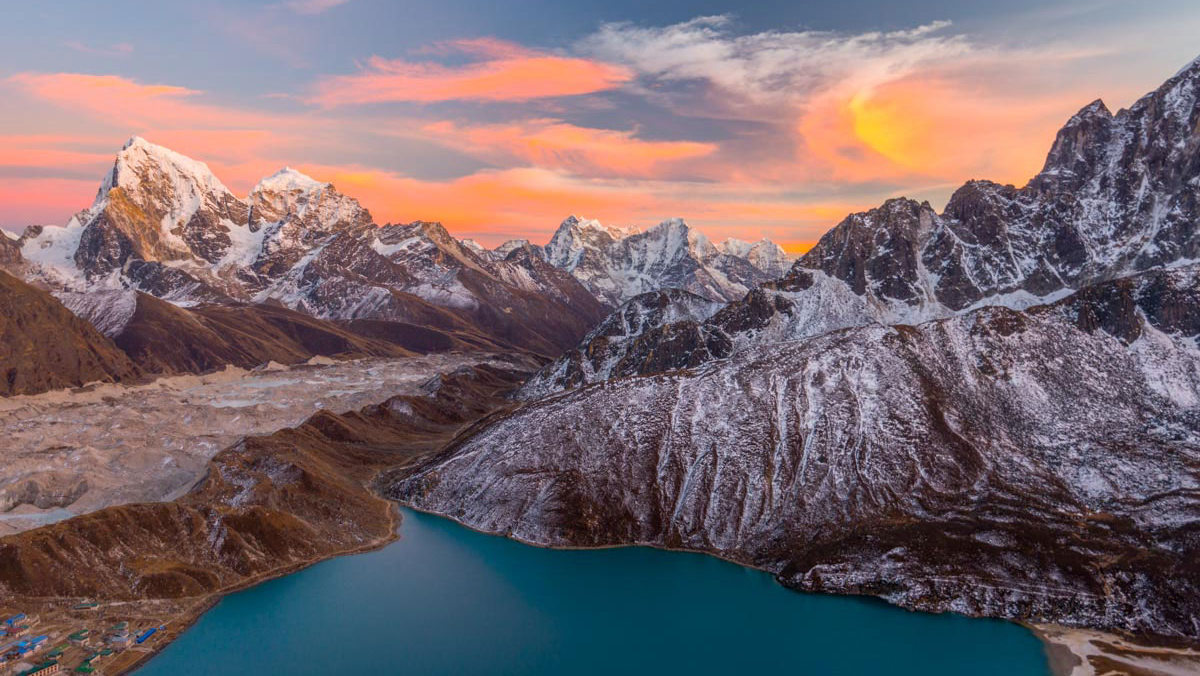 Winter (December to February)
Winter in the Gokyo region brings cold temperatures and occasional snowfall. Daytime temperatures range from -5°C to 5°C (23°F to 41°F), and at night, temperatures can drop significantly to -20°C to -10°C (-4°F to 14°F). The trails can be challenging during this season due to snow and freezing conditions. However, for those seeking a serene and tranquil experience, the winter landscape of Gokyo Lake can be incredibly beautiful.
It's important to note that temperatures can vary based on the altitude and specific weather conditions during your visit. Therefore, it's advisable to check the current weather forecast and consult with local guides for the most accurate and up-to-date information before planning your trip to Gokyo Lake.
Beside, this you can also take on the highest-altitude lake in the world Tilicho Lake Trek.
Also Read: 10 Must Visit Lakes in Nepal
If you need any further information, please contact us, Email: at [email protected], Phone: +977- 985 100 5129 (WhatsApp)