Trekking in the Annapurna Region is more than just a journey through trails and mountains; it's an exploration of the self amidst nature's grandeur. For countless adventurers, this region represents a dream, an aspiration that echoes the call of the wild, interwoven with cultural richness and geographical variety. Nestled within Nepal, a country renowned for its pristine beauty and towering peaks, the Annapurna Region stands out as a beacon for trekkers. The diversity it offers is unparalleled, spanning from the lush green foothills with their terraced fields to the rugged alpine terrains that seem to touch the sky.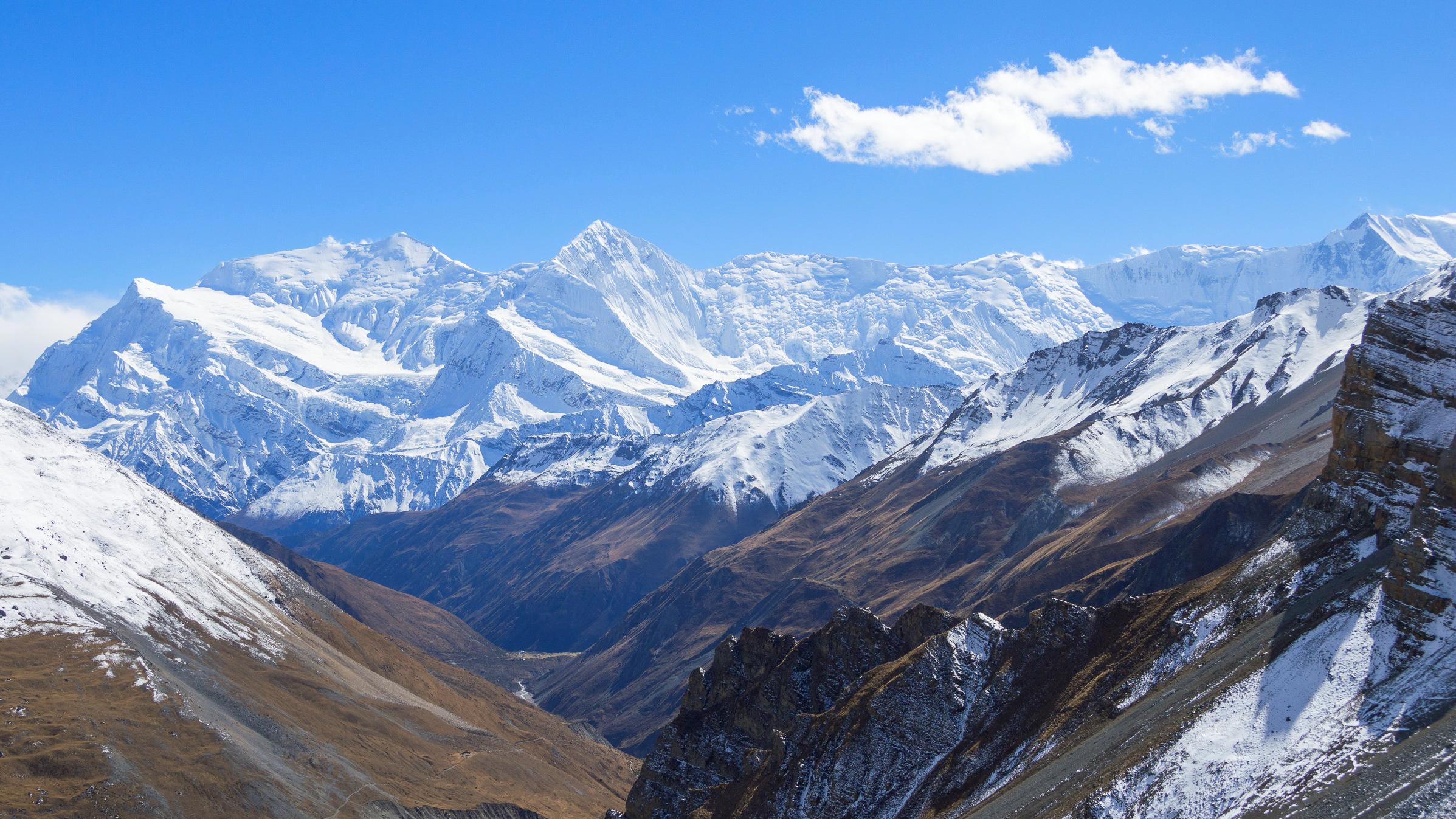 But it's not just the landscapes that pull trekkers; it's the myriad experiences. From witnessing the majestic sunrises over snow-capped peaks to mingling with the indigenous communities and partaking in their age-old traditions, every step in the Annapurna Region is a story waiting to be lived. It is this amalgamation of nature, culture, and adventure that has cemented its position as a premier trekking destination on the global map. Embarking on a trek here isn't just about conquering trails; it's about immersing oneself in an experience that resonates deeply with the soul, making it an undoubted bucket-list journey for many.
Here are the each of the compelling reasons to trek in the Annapurna Region:
Diverse Landscapes
The Annapurna Region is a showcase of nature's splendor, offering a stunning tapestry of landscapes within a relatively short trekking distance. Starting from the lush subtropical forests, to alpine meadows adorned with wildflowers. As one progresses further, the landscape dramatically transitions to the arid high desert terrain typical of the Trans-Himalayan region. This dynamic shift in topography within a single trekking expedition makes the Annapurna trail an ever-evolving visual delight. Let's delve a little deeper into some of the notable landscape features of the Annapurna trek:
Subtropical Forests:

At the beginning of many treks in the Annapurna Region, trekkers are greeted by dense subtropical forests. These forests are a haven for biodiversity, and if you're lucky, you might even spot some wildlife. The atmosphere in these forests is humid and the canopy often dense, offering a cool and shaded pathway for trekkers.

Terraced Rice Fields:

One of the hallmarks of Nepal's countryside is its terraced rice fields. These are not just agricultural landmarks but also a testament to the way locals have harmonized with their environment. The golden hues of the rice terraces during harvest season are particularly enchanting.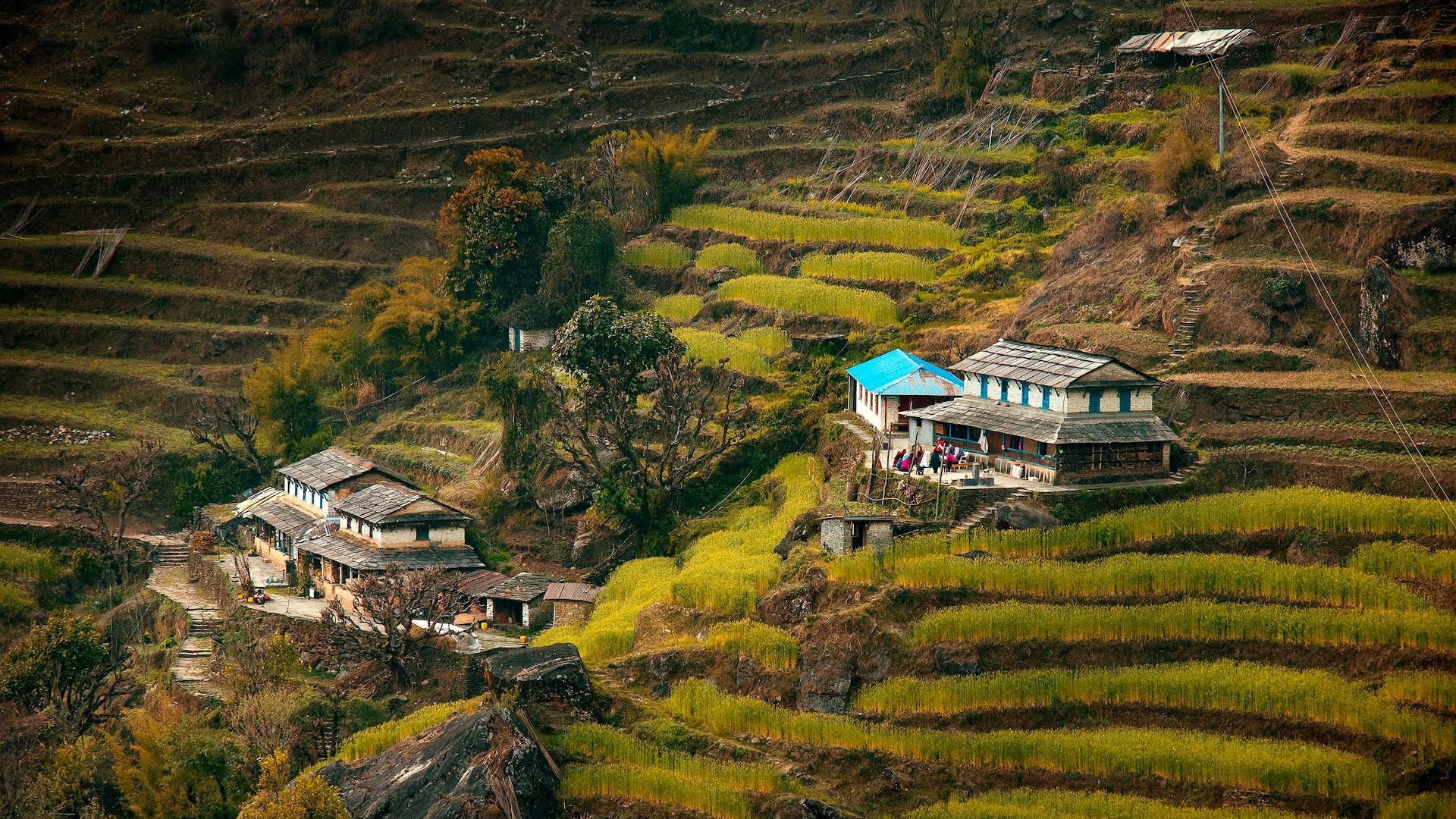 Rhododendron Forests:

As you ascend further, you'll be greeted by forests of rhododendron, the national flower of Nepal. In the springtime, these forests burst into a riot of colors, with different species of rhododendron blooming in whites, reds, pinks, and purples.

Alpine Meadows:

Beyond the tree line, the landscape opens up into sprawling alpine meadows. During the warmer months, these meadows are bedecked with wildflowers, offering a vibrant contrast against the backdrop of snow-clad peaks.

High Desert Terrain:

The northern parts of the Annapurna Region, closer to the Tibetan plateau, showcase a stark and rugged beauty. This arid landscape, characterized by its barrenness, deep gorges, and unique rock formations, gives trekkers a sense of the vastness and agelessness of the Himalayas.

Rivers and Waterfalls:

Throughout the trek, the thundering rivers, originating from the glacial melt of the Annapurna Massif, are constant companions. These rivers carve deep gorges and valleys, creating dramatic vistas and occasionally cascading down in spectacular waterfalls.
Stunning Panoramas
Annapurna Region is renowned for its awe-inspiring panoramas.These magnificent peaks stand as sentinels against the deep blue skies, providing a backdrop that remains etched in the memory of every visitor.
Annapurna Massif:

Comprising several peaks over 7,000 meters, the Annapurna Massif dominates the landscape. Annapurna I, standing at 8,091 meters, is the tenth highest peak in the world and is a particularly striking sight, especially when the first rays of dawn illuminate its snow-covered slopes.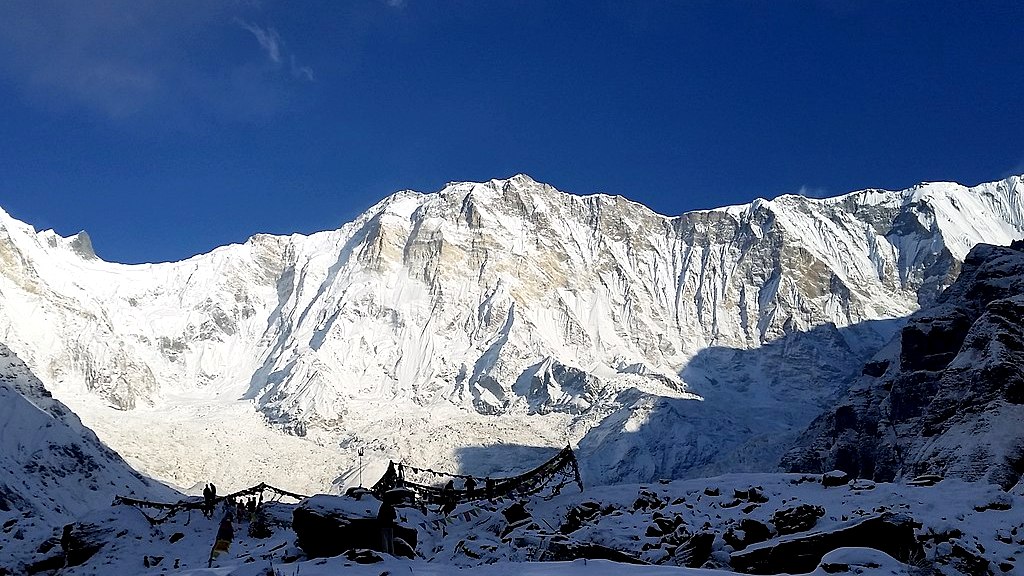 Dhaulagiri:

With an elevation of 8,167 meters, Dhaulagiri is the seventh highest mountain in the world. Its name means "White Mountain" in Sanskrit, an apt description for this gleaming giant. It's especially stunning when viewed from Poon Hill, a popular vantage point in the region.

Machapuchare (Fishtail Mountain):

Arguably one of the most iconic peaks of the Annapurna Range, Machapuchare stands at 6,993 meters and is revered by the local population. Its unique double summit resembles the tail of a fish, earning it its popular moniker. The mountain is considered sacred, and climbing to its summit is prohibited.

Vantage Points:

Locations such as Poon Hill, Annapurna Base Camp, and the various high passes offer trekkers unparalleled panoramic views. Poon Hill, in particular, is famous for its sunrise view, where the golden hues of dawn paint the peaks in ethereal shades of pink and orange.
Rich Cultural Experience
Beyond its natural beauty, the Annapurna Region is a melting pot of diverse cultures and traditions. As trekkers wind their way through the trails, they pass through quaint villages that are home to various ethnic communities of the region. Each village offers a glimpse into a unique way of life, shaped by centuries-old traditions. The warm hospitality of the locals, vibrant festivals, and the rhythmic beats of traditional dances create an immersive cultural tapestry that complements the natural allure of the region.
Gurungs:

Predominantly found in the lower to mid-hills of the Annapurna Region, the Gurungs have their own unique language, customs, and dress. They have a rich history of participating as Gurkha soldiers in the British and Indian armies. The traditional Gurung villages are a blend of beautifully carved wooden houses, intricately woven bamboo crafts, and vibrant cultural events. Their dance forms, like the 'Ghatu Dance', showcase stories from their folklore.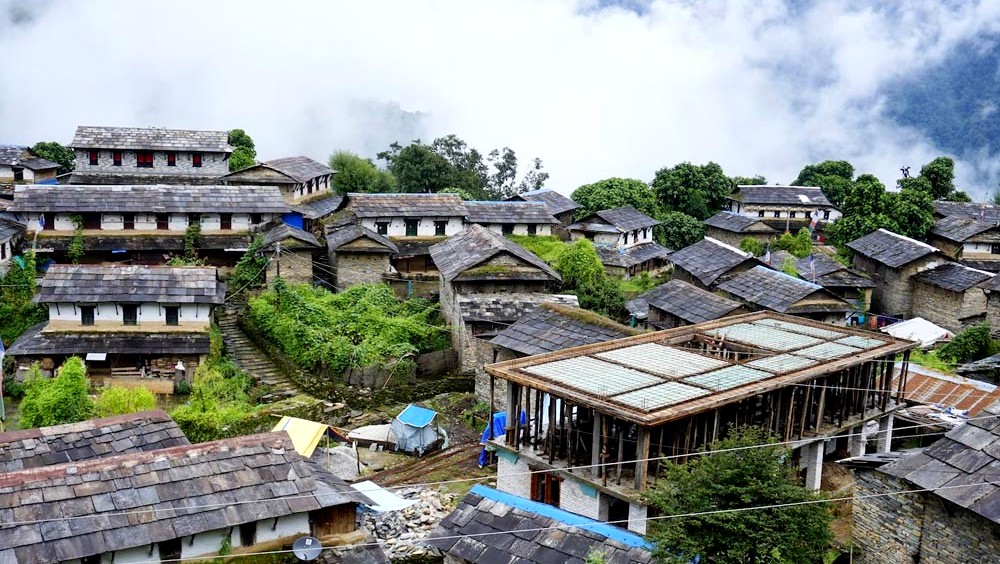 Thakalis:

Indigenous to the Thak Khola valley of Mustang, the Thakalis are renowned for their trade skills and culinary arts. Thakali kitchens, serving a delightful array of Nepali dishes, are quite famous throughout Nepal. The apple orchards in Thakali lands are a visual treat, and the apples from this region are particularly delicious.

Magars:

One of the largest ethnic groups in Nepal, the Magars are spread throughout the country but have a significant presence in the Annapurna Region. They have their distinct dialects, customs, and dances. The 'Kaura Dance' and 'Maruni Dance' are popular Magar folk dances that narrate tales of love, heroism, and adventures.

Mani Walls and Chortens:

Throughout the trek, one can find Mani walls (stone structures inscribed with Buddhist prayers) and chortens (stupas). These spiritual landmarks are reminders of the region's deep-rooted Buddhist beliefs.

Monasteries and Temples:

The region is dotted with ancient monasteries, especially as one moves towards the northern parts closer to Mustang. These places of worship, often adorned with colorful prayer flags fluttering in the wind, offer spiritual solace amidst the Himalayan wilderness.

Festivals:

Depending on the time of year, trekkers might have the chance to witness and participate in local festivals. Celebrations such as Tihar (Festival of Lights), Dashain (the longest and the most significant festival in Nepal), and local New Year festivities are vibrant affairs with traditional music, dance, and communal feasts.

Traditional Crafts:

The villages showcase local handicrafts, from intricately woven garments to handmade jewelry and pottery. These items, often available for purchase, make for cherished souvenirs.

Teahouse Culture:

The teahouses, which are essential stops for trekkers, offer not just food and shelter but also a glimpse into the lives of the local people. Conversations over a cup of traditional butter tea or local brew can provide insights into the culture, history, and challenges of living in these remote areas.
Variety of Trekking Routes
The Annapurna Region is renowned for its versatility in trekking routes, catering to adventurers of all experience levels. Novice trekkers or those with limited time can opt for the shorter Ghorepani Poon Hill trek, which provides stunning mountain views without the challenges of high-altitude trekking. On the other hand, seasoned trekkers might embark on the iconic Annapurna Circuit or journey to the Annapurna Base Camp, both offering a more strenuous and immersive Himalayan experience.
Ghorepani Poon Hill Trek
The Ghorepani Poon Hill Trek offers a captivating snapshot of Nepal's natural beauty in a compact package. As trekkers ascend through lush forests adorned with rhododendron blooms, they're treated to stunning vistas of the Annapurna and Dhaulagiri ranges. The pinnacle of this trek is the sunrise at Poon Hill, where the sun paints the snow-capped peaks in hues of gold and pink. The trail weaves through charming villages and terraced fields, immersing trekkers in local culture. With a relatively short duration and moderate altitude, the Ghorepani Poon Hill Trek is an ideal introduction to the Himalayas, promising a harmonious blend of nature, culture, and breathtaking panoramas.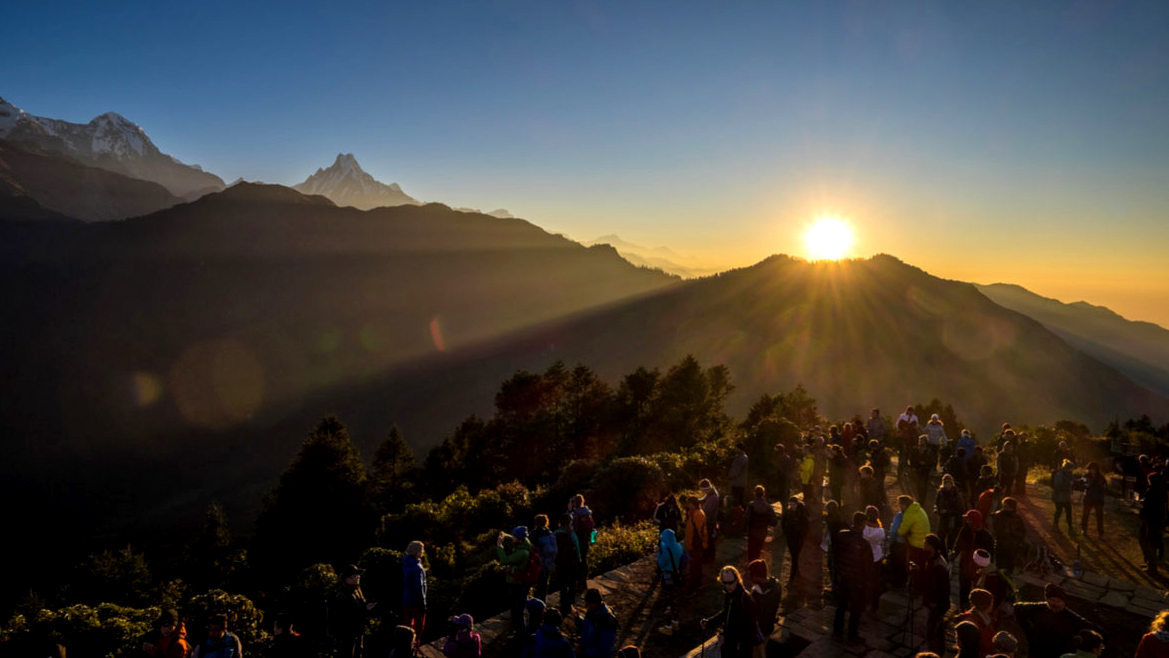 Starting point:

Birethanti, Nayapul, Phedi

Length:

40 to 50 km (25 to 30 miles)

Max altitude:

3,210 m (10,530 ft)

Duration:

Typically 4-6 days.

Best Season:

Spring and Autumn

Highlights:

Offers panoramic views from Poon Hill, especially during sunrise. The trail meanders through rhododendron forests, terraced fields, and traditional Gurung villages.

Difficulty:

Moderate. Suitable for beginners and families.
Annapurna Circuit Trek
The Annapurna Circuit Trek is a captivating journey around the mighty Annapurna Massif. Renowned globally, this trek offers a diverse tableau of landscapes, from the subtropical jungles at its base to the stark, high-altitude deserts of Manang. As trekkers circumnavigate the Annapurna range, they traverse Thorong La Pass, one of the world's highest passes, and experience the deep spirituality of Muktinath, a revered pilgrimage site. With a backdrop of soaring peaks, cultural encounters in age-old villages, and ever-changing terrain, the Annapurna Circuit is a testament to Nepal's trekking allure.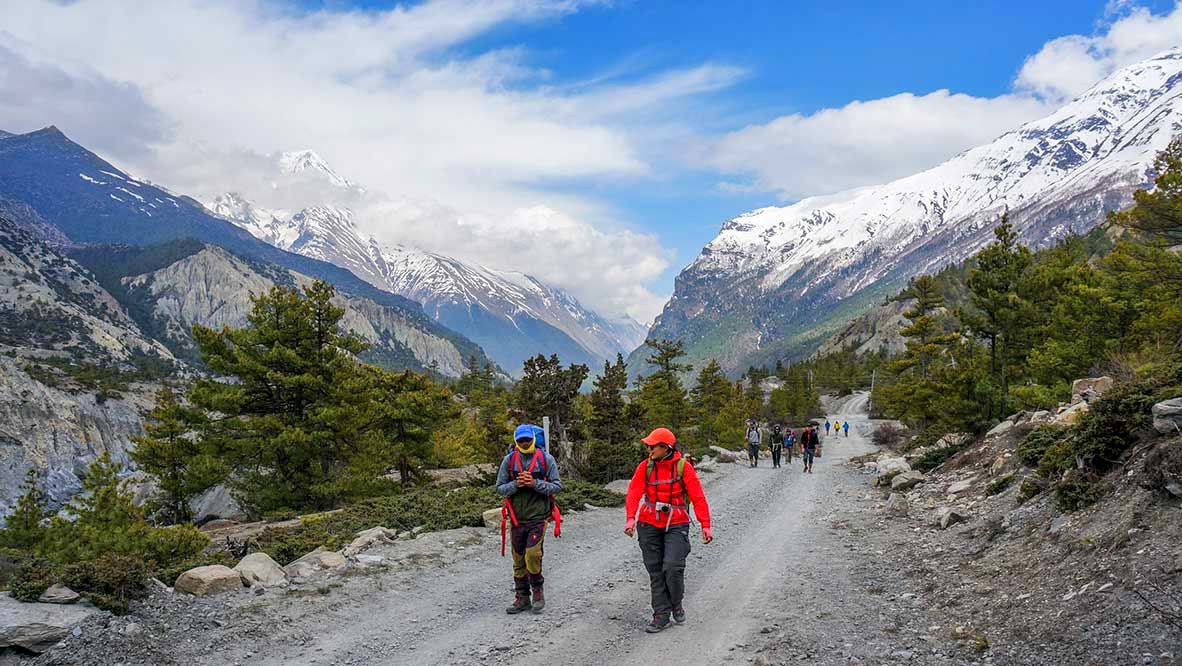 Starting point:

Besisahar

Length:

160 to 230 km (100 to 145 mi)

Max altitude:

5,416 m (17,769 ft)

Duration:

Approximately 10-21 days, depending on the chosen route and side trips.

Best Season:

Spring and Autumn

Highlights:

One of the most diverse treks globally, it circles the Annapurna Massif. Trekkers cross the Thorong La Pass (5,416 meters), visit the holy site of Muktinath, and can also explore the unique landscape of the Mustang region.

Difficulty:

Moderate to challenging, due to the length of the trek and crossing high-altitude passes.
Annapurna Base Camp (ABC) Trek
The Annapurna Base Camp Trek is a journey straight into the heart of the Himalayas. Meandering through terraced fields, bamboo groves, and alpine meadows, trekkers are drawn deeper into the Annapurna Sanctuary with each step. As the trail ascends, the majestic amphitheater of the Annapurna Massif unfolds, culminating in the breathtaking panorama at the base camp. Surrounded by iconic peaks, with the mighty Annapurna I towering above, the ABC Trek is an intimate rendezvous with the mountains, offering unparalleled views and a profound sense of achievement.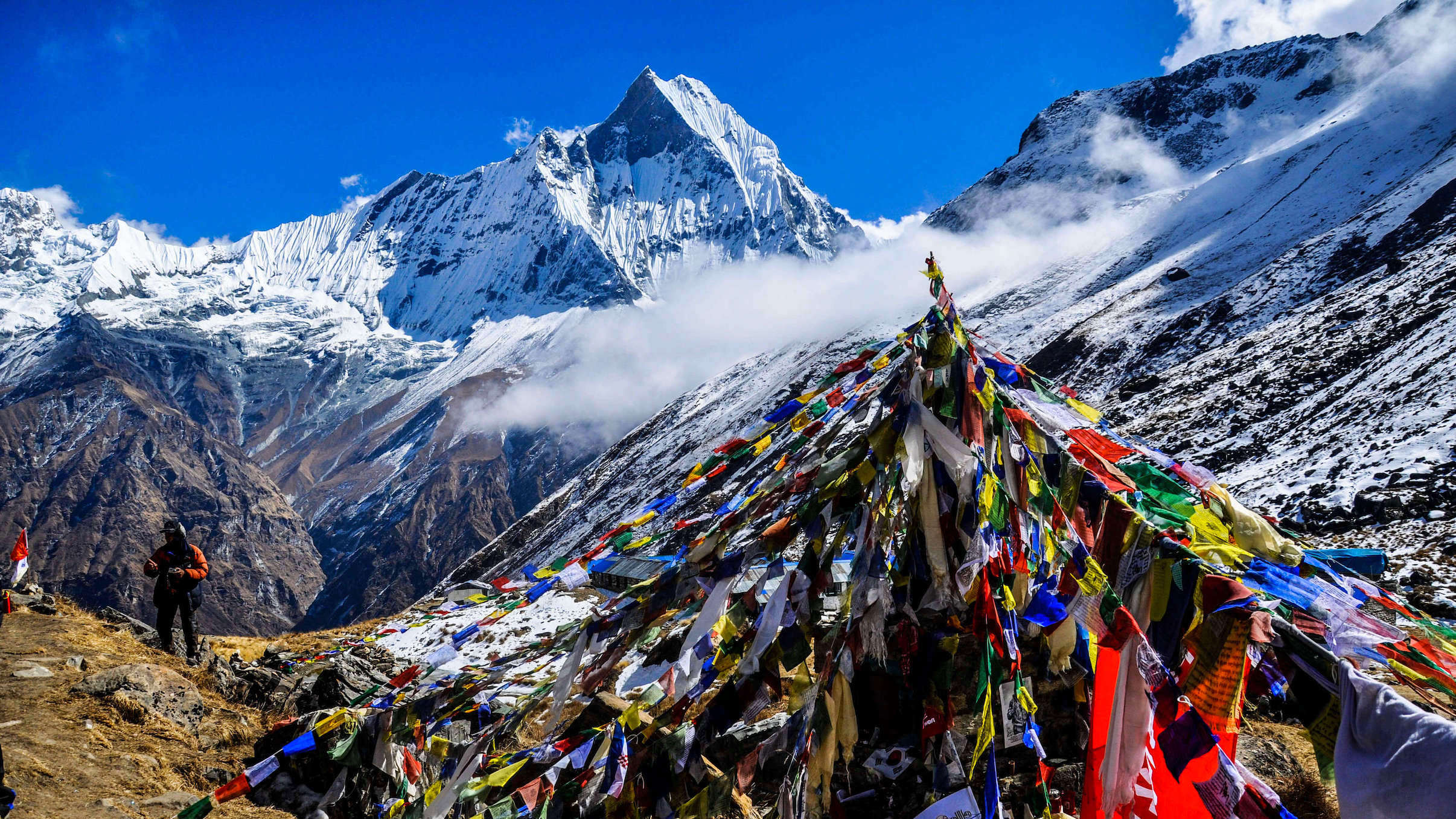 Starting point:

Nayapul

Length:

110 km (70 miles)

Max altitude:

4,130 m (13,550 ft)

Duration:

Typically 10-12 days.

Best Season:

Spring and Autumn

Highlights:

Leads to the base of Annapurna I, passing through Machapuchare Base Camp. It provides close-up views of several Himalayan giants and ventures into the Annapurna Sanctuary, a glacier basin surrounded by towering peaks.

Difficulty:

Moderate. It does reach higher altitudes but does not involve crossing high passes.
Jomsom Muktinath Trek
The Jomsom Muktinath Trek offers a unique blend of natural splendor and spiritual resonance. As trekkers navigate the rugged landscapes of the Kali Gandaki Valley, they're led to the sacred temple of Muktinath, a revered pilgrimage site for both Hindus and Buddhists. The journey weaves through the wind-swept town of Jomsom, with its dramatic backdrop of the Nilgiri peaks, and the ancient villages of Kagbeni and Marpha, showcasing the rich Tibetan-influenced culture of the region. Combining the stark beauty of the Trans-Himalayan desert with profound spiritual encounters, the Jomsom Muktinath Trek is a soulful expedition in the shadows of giants.
Starting point:

Nayapul

Length:

Covers a total distance of approximately 68 kilometers (42 miles) round-trip.

Max altitude:

An elevation of 3,800 meters (12,467 feet) at Muktinath Temple

Duration:

About 5-7 days if starting from Jomsom, but it's often a part of the Annapurna Circuit.

Best Season:

Spring and Autumn

Highlights:

Features the arid landscape of the Mustang region, the sacred temple of Muktinath, and apple orchards of Morpho.

Difficulty:

Moderate. The trail stays in the rain shadow, making it a good option during the monsoon.
Ghandruk Trek
Nestled in the embrace of the Annapurna Massif, the Ghandruk Trek is a delightful jaunt into Nepal's cultural and natural beauty. This short trek offers an intimate experience with the Gurung community, where traditions remain untouched by time. Winding through terraced farmlands and rhododendron forests, the trail leads to the picturesque village of Ghandruk. With its stone-paved lanes, traditional houses, and panoramic views of the Annapurna range, Ghandruk is both a visual and cultural treat. The trek serves as a perfect introduction to the Himalayan landscapes and the rich tapestry of Nepali village life.
Starting point:

Nayapul

Length:

Covers approximately 32 kilometers (20 miles) round-trip.

Max altitude:

About 2,010 meters (6,594 feet) in Ghandruk village.

Duration:

Around 3 to 5 days.

Best Season:

Spring and Autumn

Highlights:

A short trek that offers insights into the Gurung culture, with an opportunity to explore the Gurung museum in the village of Ghandruk. It also provides lovely mountain views.

Difficulty:

Easy to moderate, making it ideal for beginners or those short on time.
Nar Phu Valley Trek
Venturing off the beaten path, the Nar Phu Valley Trek unveils the secluded realms of Nar and Phu, ancient Tibetan villages tucked away in the remote corners of the Annapurna region. This trek is a journey back in time, where century-old monasteries, unique rock formations, and traditional yak herding practices paint a vivid portrait of life in the high Himalayas. As trekkers navigate through narrow canyons and over high mountain passes, they are rewarded with sweeping vistas of the Annapurna and Dhaulagiri ranges. A harmonious blend of raw nature and undiluted culture, the Nar Phu Valley Trek offers an unparalleled Himalayan experience, far removed from the trodden trails.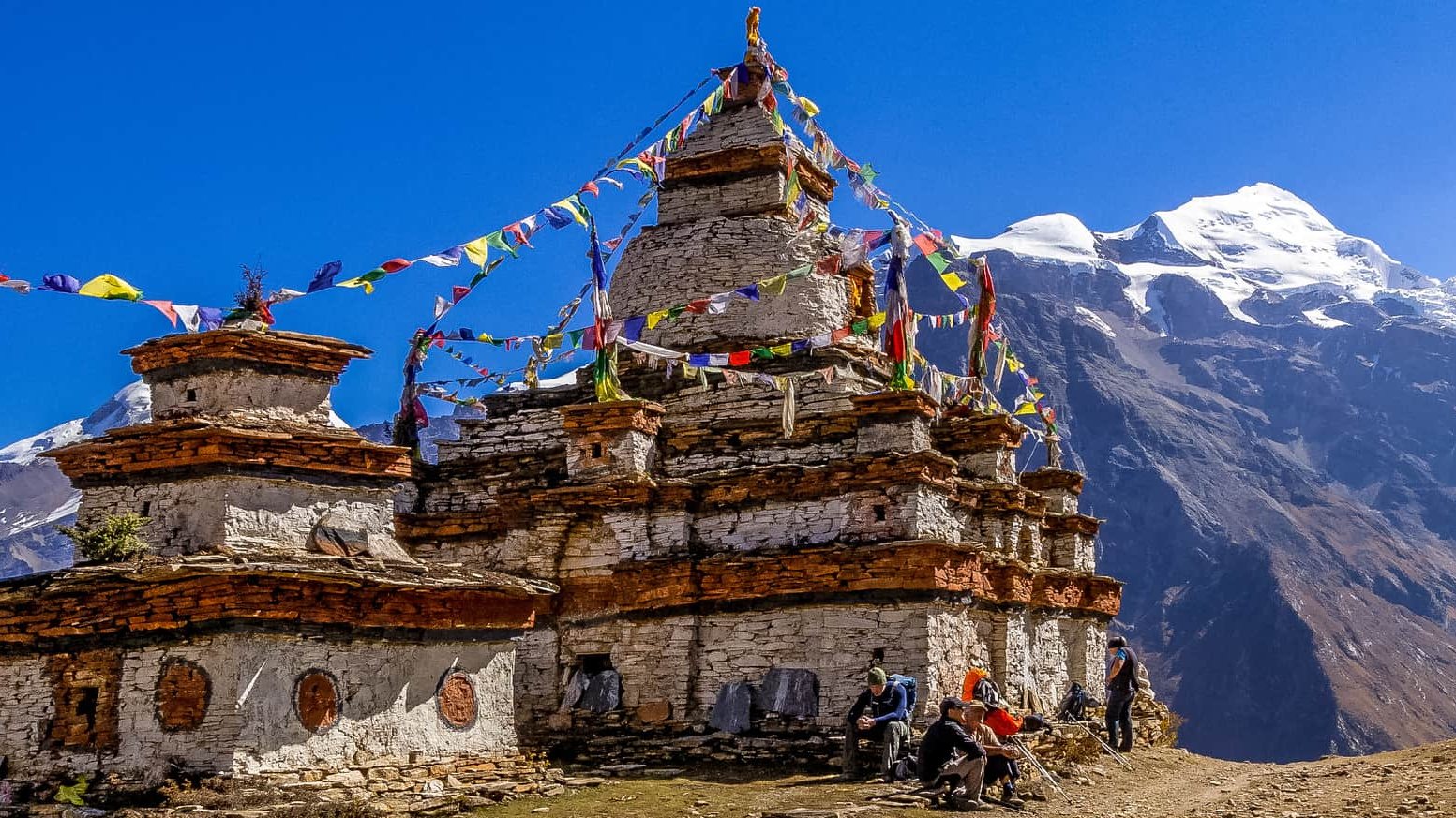 Starting point:

The trek begins from Jagat village in the Manang District

Length:

Covers around 75-80 kilometers (46-50 miles)

Max altitude:

Reaches 5,240 meters (17,192 feet) at Kang La Pass

Duration:

Around 9-12 days.

Best Season:

Spring and Autumn

Highlights:

A remote trail leading to the ancient Tibetan villages of Nar and Phu. It offers a mix of raw Himalayan nature and ancient Buddhist culture.

Difficulty:

Challenging, due to its remote nature and lesser-developed trails.
Tilicho Lake Trek
Woven into the tapestry of the Annapurna Circuit lies the Tilicho Lake Trek, a detour leading adventurers to one of the highest lakes in the world. Set amidst the grandeur of towering peaks and stark landscapes, Tilicho Lake emerges as a turquoise jewel against the raw beauty of its alpine surroundings. The journey is as mesmerizing as the destination, with trails crossing through ancient villages, across rugged terrains, and beneath the shadow of the Great Barrier. As the thin mountain air fills the lungs and the pristine waters of the lake greet the eyes, trekkers on the Tilicho Lake Trek are rewarded with an unparalleled sense of accomplishment and wonder.
Starting point:

Besisahar or Chamje

Length:

160 to 230 km (100 to 145 mi)

Max altitude:

5,416 m (17,769 ft)

Duration:

18 days for only Tilicho Lake solo trek and Can add 3-4 days to the standard Annapurna Circuit.

Best Season:

Spring, Autumn and can be done at winter as well

Highlights:

Leads to Tilicho Lake, one of the highest lakes globally. The azure waters set against the backdrop of snowy peaks is a sight to behold.

Difficulty:

Challenging due to the high altitude and rough terrains leading to the lake.
These are just some of the primary trekking options in the Annapurna Region. There are numerous other trails, side trips, and variations, ensuring that every trekker, whether a seasoned mountaineer or a casual hiker, finds their ideal Himalayan adventure.
Biodiversity
Nestled within the Annapurna Conservation Area, the region is a biodiversity hotspot. As trekkers ascend through varying altitudinal zones, they witness a changing array of flora and fauna. From dense forests home to pheasants and langurs to alpine zones where blue sheep roam and the elusive snow leopard prowls, the region is a testament to the rich biodiversity of the Himalayas.
Flora
Subtropical Forests: At lower altitudes, trekkers pass through forests of oak, bamboo, and rhododendron. These forests bloom beautifully, especially during spring when rhododendron trees adorn themselves with vibrant flowers.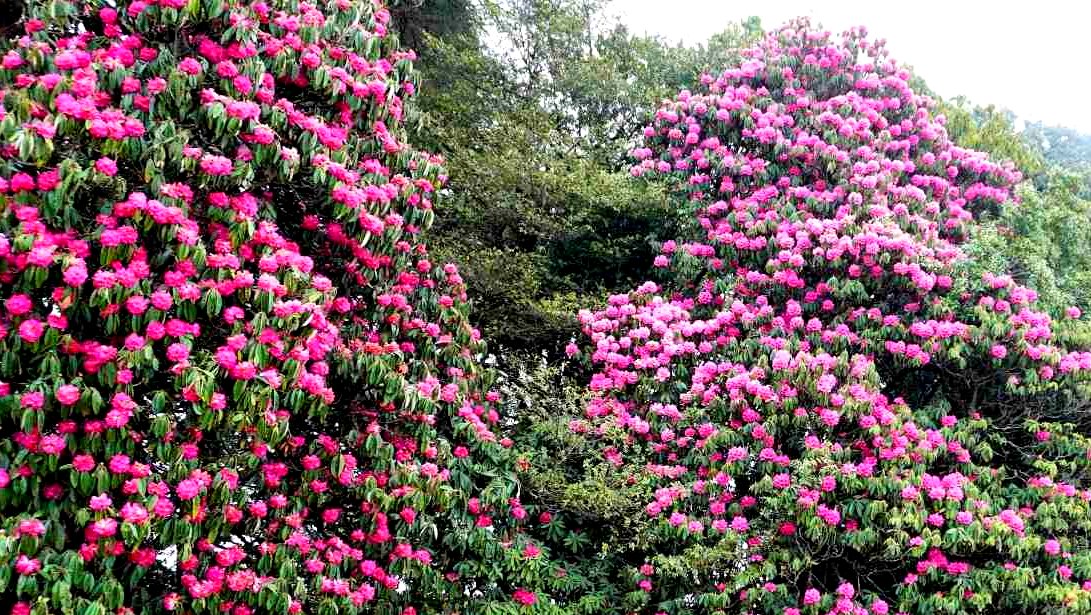 Temperate Forests: Moving higher, pine and cedar forests begin to appear. Alongside, there are various medicinal plants and herbs indigenous to the region.
Alpine Meadows and Scrubs: Above the treeline, the landscape changes to alpine meadows, which burst into a plethora of wildflowers in the summer months. These meadows gradually give way to shrubs and mosses as one moves closer to the snow line.
Fauna
Mammals: The dense forests are home to various mammalian species such as the Himalayan tahr, musk deer, and the endangered red panda. As one moves higher, blue sheep (bharal) and Himalayan marmots can be spotted on rocky terrains. The elusive snow leopard, a symbol of Himalayan wilderness, also resides in these higher altitudes, though sightings are rare.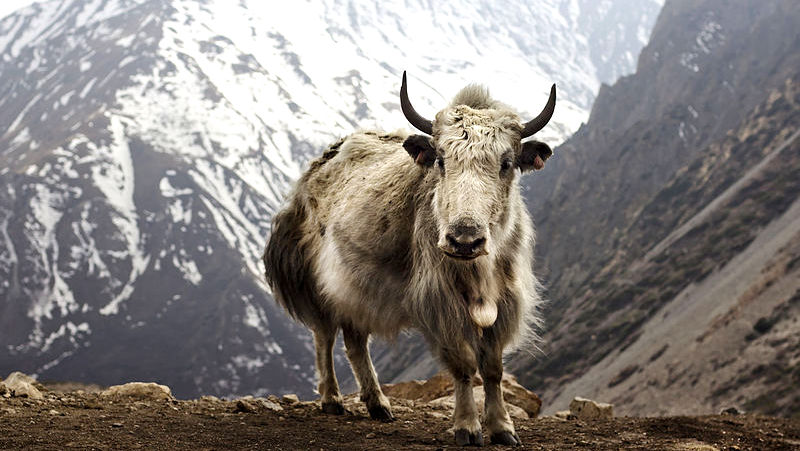 Birds: The region is a haven for bird watchers. With over 400 bird species, including the vibrant Danphe (Himalayan Monal) – Nepal's national bird, white-capped river chat, and various species of pheasants and eagles.
Reptiles and Amphibians: Though less commonly sighted compared to mammals and birds, the Annapurna Region houses various reptiles and amphibians, adapted to the cooler Himalayan climate.
Conservation Initiatives
The Annapurna Conservation Area Project (ACAP) was established to ensure the conservation of the region's biodiversity while promoting sustainable tourism and uplifting the socio-economic conditions of local communities. As a result, there's a delicate balance between nature conservation and human activities, ensuring that both can thrive harmoniously.

Local communities play a crucial role in conservation. They participate actively in various conservation activities, such as afforestation, wildlife monitoring, and sustainable farming practices.
Ecosystem Dynamics: The Annapurna Conservation Area's unique feature is its wide range of climatic zones, from subtropical to alpine, within a short geographical span. This results in diverse habitats that support a wide range of species, some of which are endemic to the region.
The Annapurna Region is not just a trekker's paradise but also a living laboratory for nature enthusiasts, conservationists, and biologists. The interplay of altitude, climate, and ecology offers a fascinating insight into the resilience and adaptability of life in one of the planet's most challenging terrains.
Accessibility
Proximity to Pokhara
Gateway to the Annapurna:

Pokhara, often referred to as the "Gateway to the Annapurna Region", serves as the starting point for most treks in the area. This proximity is a boon, as trekkers can enjoy the city's amenities before embarking on their Himalayan journey.

A Tourist Hub:

Over the years, Pokhara has evolved into a bustling tourist city with a plethora of lodging options, restaurants, travel agencies, and stores catering to trekking and outdoor activities. This makes last-minute preparations, like gear rental or purchase, very convenient.
Transportation
Flights:

Multiple daily flights operate between Kathmandu's Tribhuvan International Airport and Pokhara's domestic airport. The flight duration is about 30 minutes, offering stunning aerial views of the Himalayan range.

Roadways:

A scenic 6 to 8-hour drive connects Kathmandu and Pokhara. The Prithvi Highway, while winding and occasionally challenging, provides captivating views of the Trishuli River, terraced fields, and quaint villages. For those wanting a more luxurious experience, tourist buses with amenities like Wi-Fi and air conditioning are available.

Local Transportation:

Once in Pokhara, it's relatively easy to get to specific trailheads using local taxis, buses, or even renting a motorcycle for more adventurous souls.
Flexibility
The accessibility also allows for flexibility in planning. If trekkers are short on time, they can quickly get to the starting point without spending days in transportation. It also means that trekkers can spontaneously decide to take on a trek without extensive pre-planning.
Safety and Health
Given its proximity to a major city, the Annapurna Region has better infrastructure in case of emergencies. Should trekkers require medical attention, Pokhara has various health facilities. Furthermore, being close to a city means more accessible communication, making it easier to arrange for evacuations, if necessary.
Post-trek Activities
After completing their trek, adventurers have the luxury to relax and recuperate in Pokhara. Whether it's enjoying a boat ride in the serene Phewa Lake, visiting the iconic Peace Pagoda, paragliding, or simply relaxing at a café with a lakeside view, there's plenty to do.
Safety and Infrastructure
Teahouses & Lodges
Ubiquitous Presence:

One of the hallmarks of the Annapurna Region is the abundance of teahouses. These establishments provide shelter, food, and basic amenities to trekkers, ensuring they don't have to carry tents or large amounts of food.

Cultural Interaction:

Staying in these teahouses gives trekkers an intimate look into the lives of locals. It's an opportunity to understand their way of life, customs, and traditions. Moreover, the income from these teahouses supports the local economy directly.
Trail Quality
Well-marked Paths:

Most trails in the Annapurna Region are clearly marked. Signposts at key junctions and well-trodden paths make it relatively straightforward for trekkers to find their way.

Maintenance:

Regular maintenance by local communities and conservation authorities ensures that trails are in good condition and that any potential hazards, like landslides, are addressed promptly.
Health and Altitude
Lower Risk:

While the Annapurna Region has high-altitude areas, the risk of altitude sickness is generally lower compared to other trekking regions like the Everest Base Camp. This is because many popular treks, like the Ghorepani Poon Hill trek, remain below the critical altitude sickness threshold.

Health Posts:

Several villages along popular routes have health posts or clinics specializing in trekking-related ailments, including altitude sickness. These are staffed by professionals trained in mountain medicine.
Communication
Mobile Connectivity:

Over the years, mobile network coverage has improved considerably in the Annapurna Region. While there might be spots with weak signals, major villages and popular trekking routes generally have decent connectivity.

Internet Access:

Many tea houses offer Wi-Fi services, albeit with varying speeds. Some teahouses may charge a small fee for internet access.
Safety Measures
Rescue Services:

In case of emergencies, there are established protocols for evacuations, often involving helicopters. Travel insurance that covers trekking and emergency evacuations is highly recommended.

Guides and Porters:

Hiring a local guide or porter not only provides employment to the locals but also enhances safety. These professionals are familiar with the terrain, weather conditions, and potential risks.
Conservation Efforts
Annapurna Conservation Area Project (ACAP):

ACAP plays a vital role in maintaining trails, promoting sustainable tourism practices, and ensuring the safety and comfort of trekkers.
Water & Sanitation
Safe Drinking Water:

To reduce the environmental impact of plastic bottles, many villages have safe drinking water stations where trekkers can refill their bottles for a small fee.

Sanitation:

With the increasing number of trekkers, efforts have been made to improve sanitation facilities. Most teahouses now have toilets, and there's an ongoing push towards more sustainable waste management practices.
Hot Springs: Nature's Spa in the Annapurna Region
In the heart of the rugged Annapurna Region, where the grandeur of the mountains meets the tranquility of nature, lies a hidden gem that promises to rejuvenate both body and soul. The hot springs scattered across this awe-inspiring landscape offer a unique opportunity for trekkers to indulge in nature's spa. Amidst the pristine beauty of the Himalayas, these warm mineral-rich waters provide a soothing sanctuary, a place where tired muscles find solace and weary minds are calmed. Imagine immersing yourself in these therapeutic pools, the warmth enveloping you, as the sound of nearby rivers and the twinkling stars above create a sensory symphony of relaxation. After a day's trek through challenging terrain, these hot springs become an oasis of comfort, a natural remedy that blends seamlessly with the surroundings, offering not just physical relief, but a holistic retreat that amplifies the profound beauty of the Annapurna landscape.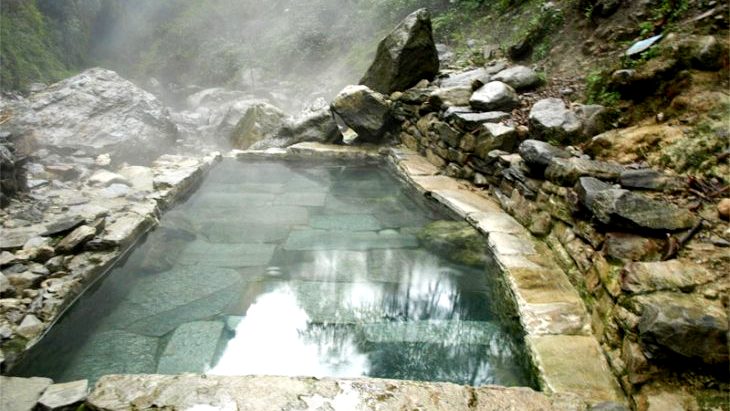 Local Cuisine
As the trails wind through the captivating landscapes of the Annapurna Region, another sensory adventure unfolds—one that delights the palate. Local cuisine in this region is a testament to the blending of diverse cultures and the harmonious coexistence of traditions. At the heart of every trekker's meal is "Dal Bhat," a balanced harmony of rice, lentil soup, vegetables, and pickles that not only nourishes but also connects with the essence of Nepali sustenance. Along the journey, trekkers encounter tantalizing momos, delicate dumplings filled with an array of fillings, perfect for sharing stories during tea breaks.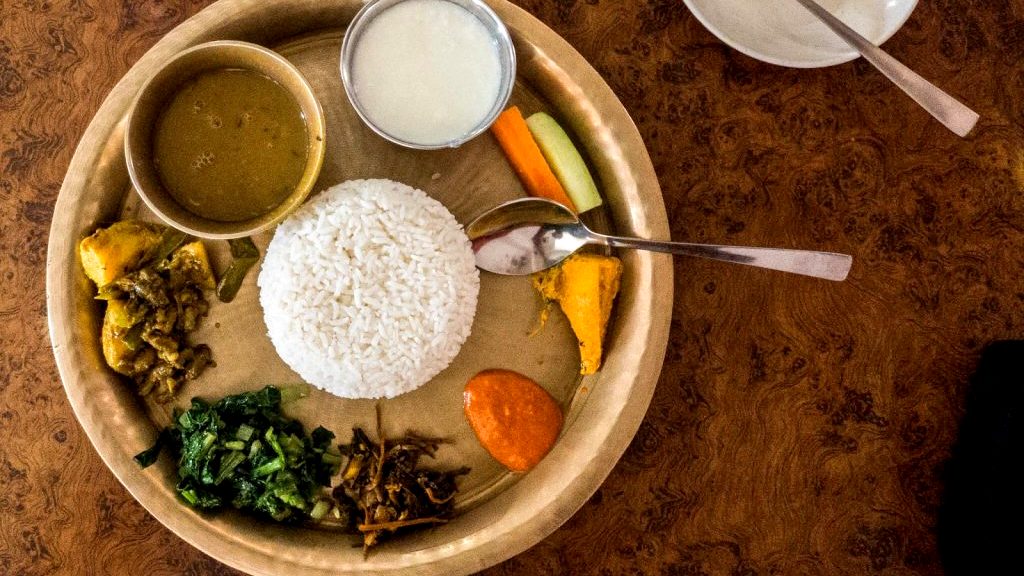 The aroma of gundruk, fermented greens, mingles with the hearty flavors of buckwheat-based dhido, reminding trekkers that nourishment is an art passed down through generations. Amidst the heights, thukpa and Sherpa stew warm both body and spirit, while sweet indulgences like sel roti and yomari bring a touch of festivity to the trails. For a sip of authenticity, raksi, a millet-based beverage, and the iconic butter tea offer insights into local culture and warmth on chilly evenings. Culinary exploration in the Annapurna Region is more than sustenance; it's a flavorful journey that unites the trekking experience with the richness of a land that nourishes both adventurers and epicures alike.
Sustainable Tourism
In the heart of the Annapurna Region, sustainable tourism practices harmoniously blend adventure with responsibility. The Annapurna Conservation Area Project (ACAP) limits trekker numbers, promotes eco-friendly accommodations, and ensures entrance fees contribute to conservation. From minimizing plastic waste and embracing reusable practices to preserving wood resources through solar heaters, sustainability is woven into every aspect. Trekkers learn local customs, support the community through local employment, and savor locally sourced produce, while Leave No Trace principles guide their journey. Community-based tourism empowers villages, and wildlife conservation efforts educate trekkers about the region's rich biodiversity. This comprehensive approach preserves the grandeur of the Himalayas while fostering an authentic and mutually respectful interaction between trekkers and the land they explore.
Here are some of the best trekking packages in Annapurna Region in Nepal.
If you need any further information, please contact us, Email: at [email protected], Phone: at +977- 985 100 5129 (WhatsApp)