Nestled amidst the towering peaks of the Himalayas, the Annapurna Base Camp Trek is one of the most sought-after adventures in the world. With ever-changing landscapes, from verdant forests and terraced farms to alpine meadows and high deserts, the trek offers a kaleidoscope of natural beauty. Central to the trekking experience, however, is the weather. The Annapurna region experiences a dynamic climate, which plays a significant role in defining the journey.
The grandeur of the Annapurna massif is awe-inspiring, but the whims of its weather can be challenging, making preparation essential. Different seasons introduce trekkers to varied facets of the region, each presenting its own set of wonders and challenges. Understanding the weather patterns not only ensures safety but also enhances the overall trekking experience.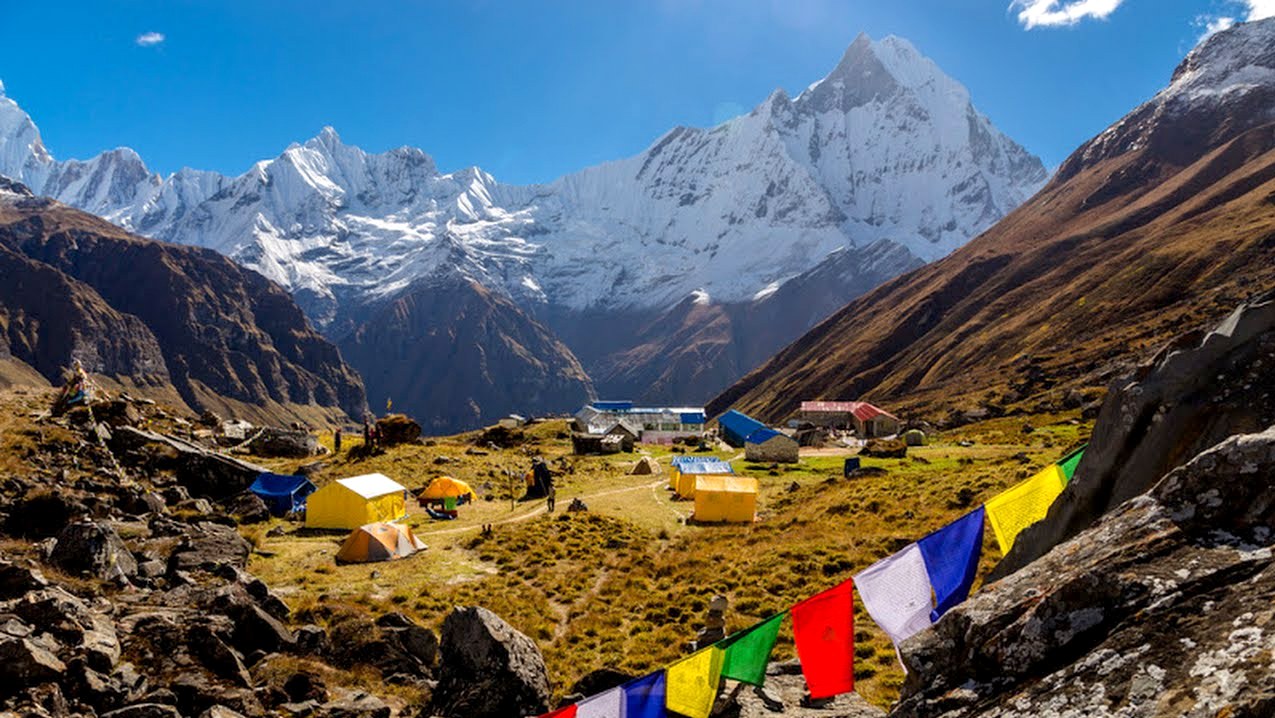 For many trekkers, the quest to reach the Annapurna Base Camp is as much about conquering personal challenges as it is about soaking in the natural splendor. The weather, with its unpredictability, often becomes a part of that challenge. Whether it's the crisp air of the post-monsoon months or the snowy embrace of winter, each climatic phase offers a distinct experience.
As trekkers set forth on this mesmerizing journey, a comprehensive understanding of the Annapurna Base Camp Trek's weather is pivotal. Armed with this knowledge, adventurers can better plan, prepare, and immerse themselves in the majesty of the Himalayas.
Geography
The Annapurna Base Camp Trek journeys through one of the most diverse and captivating landscapes in the world, which is defined by its unique geography. Situated in the north-central part of Nepal, the Annapurna region is a harmonious blend of deep valleys, terraced fields, lush forests, alpine meadows, glacial moraines, and towering peaks. Understanding the geography of the region not only enriches the trekking experience but also offers insights into the ecological and cultural tapestry of the area.
The Annapurna Massif:

Central to the geography of the trek is the Annapurna massif, an imposing cluster of peaks over 7,000 meters, including Annapurna I, the 10th highest mountain globally at 8,091 meters. This massif is surrounded by several other notable peaks like Annapurna South, Machapuchare (the 'Fishtail' mountain), and Hiunchuli. The massif, coupled with these mountains, forms an amphitheater that houses the Annapurna Sanctuary, the final destination of the ABC Trek.

Valleys and Rivers:

The trek navigates through the deep valleys carved by the fast-flowing Modi Khola River, originating from the Annapurna South Glacier. This river valley is an essential feature of the trek's geography, offering trekkers serene trails alongside roaring river currents and over picturesque suspension bridges.

Forests to Alpine Zones:

Starting at a lower altitude, trekkers first walk through sub-tropical forests populated by rhododendron trees, oaks, and bamboo thickets. As the trek ascends, the geography transitions to alpine meadows dotted with hardy shrubs and eventually to the tundra, where vegetation is sparse, and landscapes are dominated by rocks and snow.

Cultural Tapestry:

The geography of the Annapurna region is intertwined with its cultural landscapes. Traditional Gurung and Magar villages punctuate the trek, settled on terraced slopes and offering panoramic views of the valleys and peaks. These settlements, like Ghorepani, Chomrong, and Deurali, showcase the harmonious blend of nature and culture in the region.
The geography of the Annapurna Base Camp Trek is a dynamic blend of natural wonders and cultural imprints. The diverse landscapes, coupled with the dramatic altitude variations, offer trekkers an unparalleled journey through the heart of the Himalayas.
Highlights
Diverse Ecosystems: Traverse through various ecological zones, from subtropical forests to alpine meadows and glacial landscapes.
Majestic Peaks: Witness some of the Himalayas' iconic peaks, including Annapurna I, Machapuchare (Fishtail Mountain), and Dhaulagiri.
Local Culture: Experience the rich culture and hospitality of the Gurung and Magar communities in villages like Ghorepani and Ghandruk.
Poon Hill Sunrise: Catch a breathtaking sunrise over the Himalayas from the famous Poon Hill viewpoint.
Hot Springs: Relax and rejuvenate at the natural hot springs in Jhinu Danda after days of trekking.
Machapuchare Base Camp: Stay a night at the base camp of the sacred and unclimbed Machapuchare.
Diverse Flora and Fauna: Pass through the Annapurna Conservation Area, which houses over 1,200 species of flowering plants, 100 mammals, and 450 bird species.
Challenging Terrains: Navigate through dense rhododendron forests, cross suspension bridges over roaring rivers, and climb stone steps carved into the mountainsides.
Traditional Villages: Visit charming villages such as Tadapani and Chomrong, offering glimpses into the traditional mountain way of life.
Glacial Rivers and Valleys: Trek alongside the mighty Modi Khola (river) and marvel at the beauty of the deep valleys and gorges it has carved over millennia.
Alpine Meadows: As you approach the Annapurna Base Camp, the landscape transforms into vast alpine meadows dotted with yaks and high-altitude flora.
360-Degree Mountain Panorama: At the Annapurna Base Camp, be surrounded by a 360-degree panorama of towering snow-clad peaks, offering some of the most mesmerizing mountain views in the world.
These highlights, among many others, make the Annapurna Base Camp Trek not just a journey through the mountains, but a deeply enriching experience that resonates with trekkers long after they've descended the trails.
Weather and Climate
The Annapurna Base Camp Trek is renowned not only for its breathtaking landscapes but also for its distinct weather patterns and climatic zones. As trekkers move from subtropical forests to alpine heights, they experience a vast range of temperatures and weather conditions. Here's an in-depth exploration of the weather and climate that characterize this iconic trek.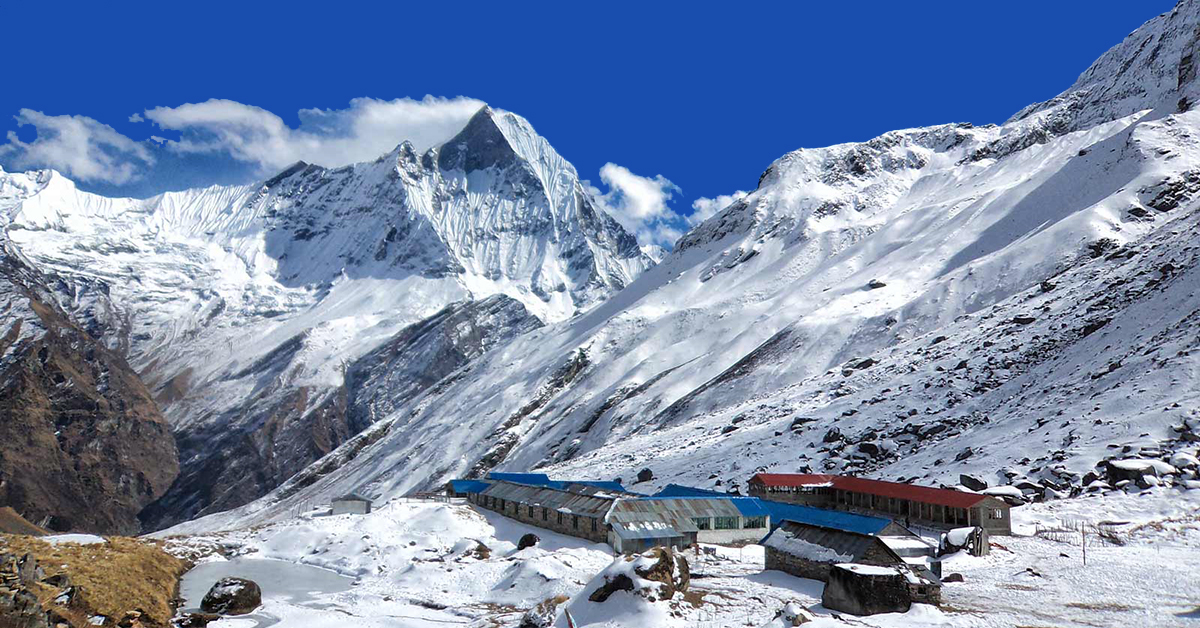 Microclimatic Diversity
Given the considerable altitude range—from approximately 1,070 meters at the starting point to 4,130 meters at the Base Camp—the Annapurna region witnesses diverse microclimates. From subtropical warmth at the beginning of the trek to the chilly environs of the Annapurna Sanctuary, trekkers need to be prepared for a spectrum of conditions.
Seasonal Variations
Places
Avg temp
Min temp
Max temp

Nayapul:1,070 m

20°C

10°C

30°C

Tikhedhunga:1,540 m

18°C

8°C

28°C

Ghorepani:2,860 m

10°C

2°C

18°C

Tadapani:

2,630 m

11°C

3°C

19°C

Chhomrong:2,170 m

14°C

6°C

22°C

Deurali:

3,200 m

8°C

1°C

15°C

Annapurna Base Camp :

4,130 m

5°C

-6°C

12°C
Spring (March to May): Widely regarded as one of the best times to trek, the weather is moderate, and temperatures are comfortable. Daytime temperatures can range from 10°C to 20°C. As spring progresses, rhododendron forests bloom, adding vibrant colors to the trails. Night temperatures at higher elevations may dip below freezing.
Packing for Spring
Layered Clothing: Lightweight base layers, a fleece or mid-layer, and a waterproof and windproof outer layer.
Trekking Boots: Waterproof and broken-in for comfort.
Sleeping Bag: Rated for at least -10°C, considering higher altitudes can still be chilly.
Sun Protection: High SPF sunscreen, sunglasses, and a wide-brimmed hat.
Water Purification: Portable water filters or purification tablets.
First Aid Kit: Include essentials and altitude sickness medication.
Trekking Poles: Useful for stability on varying terrains.
Summer/Monsoon (June to August): This period sees substantial rainfall, leading to slippery trails and potential landslides. However, the landscape becomes lush and verdant. Trekkers should be equipped with rain gear and be cautious of leeches. The temperatures during this period hover between 10°C and 20°C, with evenings being cooler.
Packing for Summer
Waterproof Gear: Lightweight rain jacket and rain cover for your backpack.
Breathable Clothing: Quick-dry shirts and trekking pants.
Trekking Boots: Waterproof, with good grip for potentially slippery trails.
Insect Repellent: Especially important to ward off leeches and mosquitoes.
Water Purification: Portable water filters or purification tablets.
Sun Protection: High SPF sunscreen, sunglasses, and a wide-brimmed hat.
Light Sleeping Bag: Rated for 0°C to 5°C, considering the milder temperatures.
Autumn (September to November): A favorite among many, the post-monsoon months offer clear skies and stunning mountain vistas. Day temperatures range from 10°C to 20°C, with nights becoming progressively cooler as winter approaches. This is also peak trekking season, so trails can be crowded.
Packing for Autumn
Layered Clothing: Start with lightweight base layers and add a warm mid-layer; an insulating jacket for chilly evenings.
Trekking Boots: Durable and waterproof, providing ankle support.
Sleeping Bag: Rated for at least -5°C, as nights can get cold at higher altitudes.
Sun Protection: High SPF sunscreen, sunglasses, and a brimmed hat.
Water Purification: Portable water filters or purification tablets.
First Aid Kit: Basics plus altitude sickness medication.
Trekking Poles: For added stability on descents and uneven terrain.
Winter (December to February): Characterized by snowfall at higher altitudes and cold conditions, winter trekking can be challenging but rewarding. Daytime temperatures might hover around 5°C to 10°C, while nights can see temperatures plummet to -10°C or lower at the Base Camp.
Packing for Winter
Insulated Clothing: Thermal base layers, down jacket, and cold-weather trekking pants.
Warm Trekking Boots: Waterproof and insulated, suitable for snow and icy conditions.
Sleeping Bag: Rated for at least -15°C to -20°C, given the extreme cold at higher elevations.
Sun Protection: High SPF sunscreen, UV-protective sunglasses, and a beanie or hat.
Water Purification: Portable water filters or purification tablets.
First Aid Kit: Basics, plus altitude sickness medication and hand/foot warmers.
Trekking Poles with Snow Baskets: Helps with stability on snowy trails.
Altitude and Its Effects
As the trek gains altitude, temperatures drop, and weather conditions can change rapidly. Furthermore, higher altitudes bring about the risk of Acute Mountain Sickness (AMS). It's crucial to monitor one's health and be aware of the symptoms of AMS, which can be exacerbated by harsh weather conditions.
Local Wind Patterns
The region experiences local wind patterns, especially the afternoon up-valley winds that can make temperatures feel cooler than they are. It's always a good idea to carry windproof jackets and gear.
While the Annapurna Base Camp Trek offers some of the most magnificent views and experiences in the Himalayas, it's essential for trekkers to be well-prepared and informed about the region's weather and climate. Adequate preparation ensures not only safety but also a more enjoyable trekking experience.
Accommodation and Meals
One of the unique aspects of trekking in Nepal, including the Annapurna Base Camp Trek (ABC) Trek, is the teahouse culture. These teahouses, also known as lodges", are scattered throughout the trail and offer basic accommodation and food services to trekkers. Here's a brief overview of what you can expect in terms of accommodation and meals on the ABC Trek: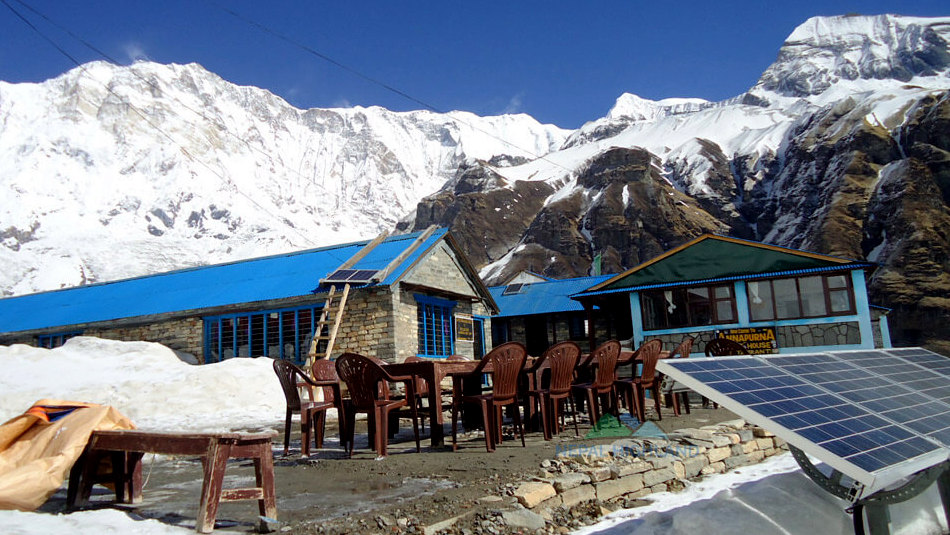 Accommodation
Teahouses: The primary form of accommodation along the ABC Trek are teahouses, comfortable lodges run by local families. These teahouses offer amenities, with rooms usually consisting of two single beds, blankets, and sometimes a table and chairs. Advanced reservations are not typically required, but during peak season, it's recommended to start your trek early in the day to secure a spot.
Cleanliness and Facilities: The quality and cleanliness of teahouses can vary, but generally, they're clean and comfortable. As one ascends in altitude, the facilities might become more basic. Toilets may range from western flush toilets in lower altitudes to simple pit toilets higher up. Hot showers may be available for an extra charge, especially in lower altitudes.
Charging and Connectivity: Electricity can be scarce and may come with an additional charge. Wi-Fi might be available in some teahouses for a fee. It's recommended to carry portable chargers or power banks.
Meals
Dining in Teahouses: Most teahouses have a communal dining area, which becomes a cozy gathering spot in the evenings. Here, trekkers can warm up, share stories, and enjoy their meals.
Menu: The menu in teahouses is quite diverse, ranging from traditional Nepali dishes to some Western foods. The staple is the Dal Bhat, a nutritious meal consisting of lentil soup, rice, vegetables, and pickles. Apart from this, trekkers can find momos (dumplings), noodles, soups, bread, and a range of potato dishes.
Drinks: It's essential to stay hydrated during the trek. Trekkers can purchase bottled water, but to reduce plastic waste, it's recommended to treat local water using purification tablets or portable filters. Tea (including the famous Sherpa tea) and coffee are widely available, as are some soft drinks.
Food Safety: Food is generally safe in the teahouses. However, it's advisable to avoid meat dishes at higher altitudes as freshness cannot be guaranteed. Stick to vegetarian options the higher you go.
While accommodations and meals on the ABC Trek might be basic compared to standard hotel offerings, they provide a warm, authentic experience of Himalayan hospitality. The simplicity, combined with the stunning vistas and enriched camaraderie among fellow trekkers, makes the journey truly special.
Drinking Water
Staying hydrated is essential for any high-altitude trek, and the Annapurna Base Camp Trek is no exception. But it's crucial to ensure that the water you drink is clean and safe. Here's what trekkers should know about drinking water during the ABC Trek:
Sources of Water:
Natural Springs and Streams: As you trek through the Annapurna region, you'll encounter various natural water sources. While this water often looks clean, it can contain harmful pathogens.
Teahouses/Lodges: Most teahouses will provide boiled water for a fee. This is typically safe to drink as boiling kills most harmful organisms. However, ensure it has been boiled thoroughly.
Treating Water:
Water Purification Tablets: These are easy to carry and effective. Iodine or chlorine-based tablets are the most common and can purify water within 30 minutes to a few hours, depending on the brand and water conditions.
Portable Water Filters: These devices can physically filter out pathogens from water. Some popular brands include LifeStraw and Sawyer, and they can be a worthwhile investment for trekkers.
UV Sterilization: Devices like SteriPEN use ultraviolet light to kill bacteria, viruses, and protozoa. They're lightweight, but remember they require batteries or charging.
Bottled Water:
Availability: Bottled water is available for purchase at most teahouses along the trek. However, the cost increases as you ascend due to transportation challenges.
Environmental Concern: The Annapurna region, like many popular trekking areas, faces challenges with waste management. To reduce plastic waste, consider using refillable bottles and treating water from natural sources instead of buying bottled water.
Hydration Tips:
Drink Regularly: Aim for at least 3-4 liters of water per day. At higher altitudes, your body loses moisture more quickly, even if you might not feel particularly thirsty.
Avoid Alcohol: It's advised to refrain from or limit alcohol consumption during the trek, especially at higher altitudes, as it can lead to dehydration and exacerbate the effects of altitude sickness.
Safe water consumption is vital during the ABC Trek to avoid waterborne illnesses and ensure you remain adequately hydrated. With proper precautions and the right equipment, you can ensure your water intake is both safe and environmentally conscious.
Permits for the Annapurna Base Camp Trek
If you're planning to embark on the Annapurna Base Camp Trek, it's essential to obtain the necessary permits. These permits ensure that the trails and the environment are maintained, and they also support the infrastructure and local communities in the region. Here's a comprehensive guide on the permits you'll need for the ABC Trek:
Annapurna Conservation Area Permit (ACAP):
Purpose: ACAP was established to protect and conserve the environment and the culture of the Annapurna region. Your fees will contribute to this.
Where to Obtain: ACAP can be obtained in Kathmandu at the Nepal Tourism Board Office or in Pokhara at the ACAP Office.
Documentation Required: Two passport-sized photos and a copy of your passport.
Trekkers' Information Management System (TIMS) Card:
Purpose: The TIMS card ensures the safety and security of trekkers in the Annapurna region. It also helps track and locate individuals in case of emergencies.
Other Considerations:
Cost: The cost of permits can vary based on nationality and whether you're trekking independently or with a reputable company such as Luxury Holidays Nepal. It's a good idea to check the latest fees before your journey.
Validity: Both ACAP and TIMS are generally valid for a single entry. If you're planning to re-enter the area, you might need to obtain them again.
Checking Posts: Throughout the trek, there will be multiple check posts where you'll need to show your permits. Always keep them handy and ensure you don't lose them.
Trekking with a reputable company: If you're trekking with a registered company like Luxury Holidays Nepal, they will often manage the permit process for you, simplifying the procedure.
Securing the necessary permits is a crucial step in planning your Annapurna Base Camp Trek. Not only do they ensure your legal access to the trail, but they also contribute to the conservation and betterment of the region you'll be exploring. Ensure you obtain these permits well in advance and keep them safe throughout your journey.
Preparing for the Annapurna Base Camp Trek
The Annapurna Base Camp Trek is one of Nepal's most popular trekking destinations, offering breathtaking views of the Annapurna mountain range and an opportunity to experience the local culture. However, to fully enjoy the trek and ensure your safety, proper preparation is essential. Here are some key areas to focus on while getting ready for your ABC Trek:
Physical Fitness:
Cardiovascular Training: Engage in regular cardio exercises like jogging, cycling, or swimming. Aim for at least 30 minutes a day, 4-5 times a week.
Strength Training: Work on strengthening your legs, back, and core muscles. Activities like squats, lunges, and planks are beneficial.
Endurance: Consider long walks or hikes on weekends, preferably in hilly terrain, to build stamina and get used to trekking conditions.
Altitude Acclimatization:
Understand Altitude Sickness: Recognize the symptoms of Acute Mountain Sickness (AMS) – headaches, dizziness, nausea, difficulty sleeping. Knowledge of these can help in timely intervention.
Acclimatization Days: Ensure your itinerary has acclimatization days built-in to help your body adjust to the increasing altitudes.
Stay Hydrated: Drink plenty of water throughout the trek.
Gear and Packing:
Appropriate Footwear: Invest in a good pair of trekking boots that are waterproof, durable, and broken-in.
Layered Clothing: Conditions can vary drastically between day and night. Pack lightweight base layers, warm mid-layers, and a waterproof and windproof outer layer.
Essential Gear: This includes a sleeping bag, trekking poles, sunglasses, sunscreen, water purification methods, and a first aid kit.
Learn About the Region:
Cultural Awareness: Understanding local customs and etiquette is respectful and enhances your trekking experience. For instance, always walk clockwise around religious monuments and use your right hand or both hands while giving or receiving.
Know the Route: Familiarize yourself with the trek's main points, terrain, and possible challenges.
Permits and Documentation:
Ensure you have all the necessary permits for the trek, such as the Annapurna Conservation Area Permit (ACAP) and the Trekkers' Information Management System (TIMS) Card.
Health Precautions:
Consultation: Before embarking on the trek, consult with your doctor, especially if you have existing health conditions.
Vaccinations: Ensure you're up-to-date with vaccinations recommended for travel in Nepal.
Travel Insurance: Opt for a comprehensive travel insurance policy that covers high-altitude trekking and possible emergency evacuations.
Exclusive Experiences:
Cultural Performances: Enjoy local dance and music performances in the evening, providing a deeper understanding of the region's rich cultural heritage.
Helicopter Rides: For an added touch of extravagance, some luxury trekking packages offer helicopter rides, giving trekkers an aerial view of the breathtaking landscape.
Preparing for the Annapurna Base Camp Trek requires a mix of physical training, proper gear, and knowledge about the region and its challenges. When adequately prepared, you'll find the trek more enjoyable and fulfilling, leaving you with memories to cherish for a lifetime. If trekking with a tour operator like Luxury Holidays Nepal, we can also provide insights and guidance to ensure your preparation.
Annapurna Base Camp Heli Trek
The Annapurna Base Camp (ABC) Trek is renowned for its mesmerizing vistas of the Himalayas and the cultural richness of the Annapurna region. But not everyone has the time or physical capability to trek both ways. The solution? The Annapurna Base Camp Heli Trek! This unique journey combines the thrill of trekking with the luxury and convenience of a helicopter ride, letting you experience the grandeur of the Annapurnas in a short time frame and unparalleled comfort. Here's what you can expect from this thrilling journey: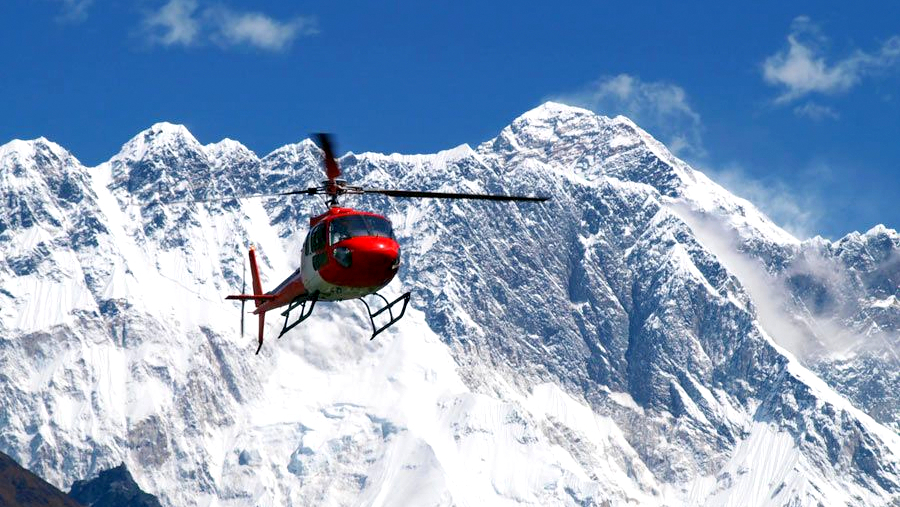 The Itinerary:
Trekking Upward: Begin the adventure by trekking through the classic ABC route. Revel in the terraced farmlands, rhododendron forests, and traditional Gurung villages like Ghorepani and Chhomrong. As you ascend, the trails become more rugged, and the panoramic views of the Annapurna range more spectacular.
Helicopter Descent: Once you reach the Annapurna Base Camp and savor the close-up views of peaks like Annapurna South, Machapuchare, and Hiunchuli, instead of trekking back down, you'll hop onto a helicopter. This aerial journey offers a bird's-eye view of the landscapes you just trekked, providing a wholly different and breathtaking perspective.
Advantages of the Heli Trek:
Time-Efficiency: Perfect for those on tight schedules. What would generally be a 10 to 12-day trekking journey can be completed in nearly half the time.
Ease and Comfort: Bypass the strenuous return trek and save your knees from the descent, while reveling in the luxury of a helicopter ride.
Stunning Aerial Views: The vistas of the Annapurna massif, deep valleys, and terraced fields from the air are incomparable and provide excellent photo opportunities.
Considerations:
Cost: The inclusion of a helicopter ride increases the cost of the journey compared to the standard ABC trek. However, for many, the unique experience and time saved more than justify the price.
Weather Dependency: Helicopter flights are highly dependent on weather conditions. Be prepared for potential changes in plans if the weather doesn't cooperate.
Opting for a Reputable Operator:
Choosing a trusted trekking operator like Luxury Holidays Nepal ensures safety and quality of service. We'll provide experienced pilots, quality helicopters, and necessary safety measures to make your Heli trek smooth and memorable.
The Annapurna Base Camp Heli Trek is an innovative fusion of adventure and luxury. It's designed for those who dream of witnessing the Himalayan grandeur but either lacks the time or wish for a comfortable return journey.
Annapurna Base Camp Luxury Trek
Traversing the trails of the Annapurna region is a dream for many trekkers. However, the Annapurna Base Camp (ABC) Luxury Trek elevates this experience, combining the rugged beauty of the Himalayas with the refined comforts of luxury accommodations and services. Perfect for those who wish to indulge in nature's grandeur without compromising on comfort, the ABC Luxury Trek is an experience of a lifetime. Here's an insight into this upscale trekking journey:
Refined Accommodations:
Luxury Lodges: The trail is dotted with high-end lodges that offer premium services. Think comfortable beds, heated rooms, attached bathrooms, and often, stunning mountain views right from your window.
Authentic Ambiance: While the accommodations are plush, they don't compromise on the region's authenticity. Many luxury lodges are designed in traditional styles, offering an authentic Himalayan feel with a touch of opulence.
Gourmet Culinary Experience:
Variety in Menu: Unlike standard teahouses, luxury lodges often have a wider culinary spread. From traditional Nepali dishes to continental fare, the meals are not only delicious but also presented with finesse.
Fine Dining Settings: Dine in elegant settings, often with panoramic views of the mountains, turning every meal into a memorable experience.
Personalized Services:
Dedicated Porters and Guides: Expect trained and English-speaking guides, as well as dedicated porters to ensure you trek with ease.
Private Transportation: From airport pickups to drives between trek starting points, private and comfortable vehicles are at your service.
Wellness and Relaxation:
Spa and Massage Services: Some luxury lodges offer spa and massage services – a perfect way to unwind after a day's trek.
Peaceful Ambiance: The luxury accommodations are often set in serene locations, offering peace and tranquility that's hard to find in standard teahouses.
Exclusive Experiences:
Cultural Events: Be it a traditional dance performance or a local festival, luxury trek operators often curate unique cultural experiences for their guests.
Guided Village Tours: Apart from the trek, delve deeper into the local way of life with guided village tours, often a part of the luxury trek package.
Safety and Convenience:
Emergency Measures: Helicopter evacuation and first aid services are typically quicker and more accessible.
Wi-Fi and Communication: Stay connected with loved ones or even work remotely, as many luxury lodges offer reliable Wi-Fi.
The Annapurna Base Camp Luxury Trek is much more than just a trek; it's an immersive experience that blends the thrill of Himalayan trekking with the comforts of luxury travel. With an operator like Luxury Holidays Nepal, you can rest assured that every detail, from your sleeping quarters to the food you savor, is curated for quality and comfort, making your journey to the Annapurna Base Camp a truly sumptuous adventure.
FAQs: Annapurna Base Camp Trek Weather
Q: When is the best time to do the ABC Trek based on the weather?
A: The best times are during the post-monsoon autumn months (September to November) when skies are clear, and views are unobstructed, and pre-monsoon spring months (March to May) when the rhododendron forests bloom in vibrant colors.
Q: How cold does it get at the Annapurna Base Camp?
A: During the coldest months (December to February), nighttime temperatures at the ABC can drop to -20°C (-4°F) or even lower. During the trekking seasons of spring and autumn, expect nighttime temperatures of -5°C to -10°C (23°F to 14°F).
Q: Does it rain a lot during the monsoon season?
A: Yes, the monsoon season (June to August) brings heavy rainfall, making the trails slippery, increasing the risk of landslides, and often obscuring mountain views.
Q: Is winter trekking advisable for ABC?
A: Winter trekking is possible, and the trails are less crowded. However, trekkers must be prepared for heavy snowfall and colder temperatures. It's crucial to have proper gear and check weather updates frequently.
Q: How much does the temperature vary between day and night?
A: There can be significant temperature variations. During the day, it might be pleasantly warm, especially when sunny, ranging from 10°C to 20°C (50°F to 68°F). However, as soon as the sun sets, temperatures drop rapidly.
Q: How often is the weather forecast reliable in the Annapurna region?
A: Weather in the mountains can be unpredictable. However, modern forecasts for the region are reasonably accurate for short-term predictions. Always prepare for unexpected changes.
Q: Will I experience altitude-related weather changes during the trek?
A: Yes, as you gain altitude, temperatures tend to drop. Also, weather changes are more rapid and pronounced at higher altitudes. For instance, it can be sunny one moment and then cloudy or snowy the next.
Q: Are there any wind-related concerns while trekking?
A: Winds are generally stronger in the afternoons and at higher altitudes. It can get particularly windy in the base camp area, so it's good to have windproof gear.
Q: How does weather affect the visibility of the mountain peaks?
A: Clear days, especially after recent rain or snow, offer spectacular mountain views. However, cloudy or foggy conditions can obscure visibility. Early mornings usually provide the clearest views.
Q: Can sudden weather changes pose risks during the trek?
A: Yes, sudden weather changes, like unexpected snowfall or rain, can make trails challenging and increase risks like landslides. It's essential to be prepared and often advisable to stay updated with local weather reports.
If you need any further information, please contact us, Email: at [email protected], Phone: at +977- 985 100 5129 (WhatsApp)