[TOC]

Nepal, the" land of the Himalayan" is always known as the paradise for mountain adventure. Nepal is a well-known travel destination because of its breathtaking panoramas, diverse regions, beautiful scenery, culture, and history and that's why each year a huge number of tourists visit here to experience new things. High passes Treks in Nepal capture the essence of trekking to reach a variety of places as well as the beauty of the mountains. You have to cross some passes when walking in the Annapurna, Langtang, Everest, and Shey Phoksundo regions. These are often challenging and high-altitude passes. You should be aware of the height of high passes in Nepal because otherwise, you can feel poorly due to the altitude change.

Mountain passes can be found in almost all trekking areas, and some trekking routes are famous for their mountain passes. A mountain pass is a passage that is used to cross a mountain, and it is referred to as "La" frequently in Nepal. It typically has a saddle-like shape and sits between mountains, dividing two isolated areas.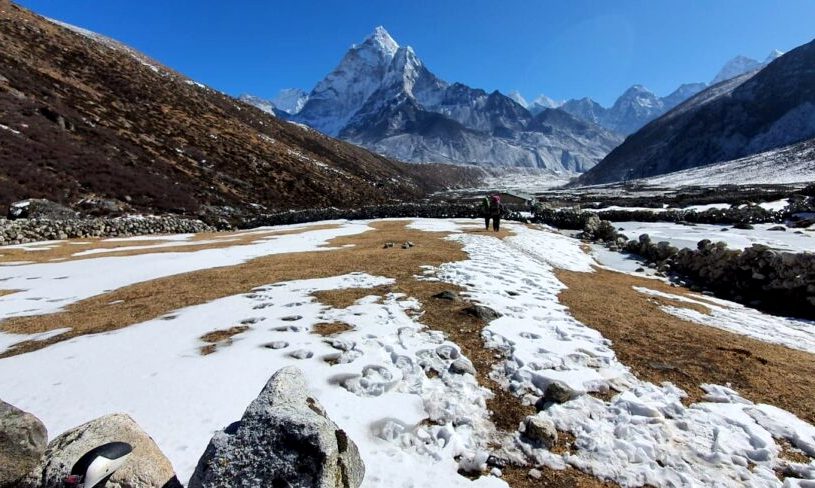 Mountain routes have been crucial for trade and migration between Nepal and Tibet for many millennia. Mountain passes serve as entryways to basecamps in modern times, and on some trekking routes, they are the highest point that travelers can reach. The passes make a variety of countrywide trekking routes more difficult and adventurous.
The passes can also be thought of as the ideal vantage places from which to observe the magnificent and majestuous mountains. At least one mountain pass in each trekking area is known for both its beauty and difficulty. The Thorong La Pass, for example, is the most well-known and often traveled mountain pass in the Annapurna region. Like this pass trekkers can find a huge number of high passes in Nepal to add in their adventure. Above 5000 meters of sea level, several Passes are located. You must therefore be well-versed in high-altitude trekking. While crossing the passes, a few safety precautions should be followed.
Please, click here for the amazing helicopter tours in Nepal.
Why should anyone trek through a High Pass in Nepal?
Trekking over high passes will give trekkers who have been on multiple expeditions in Nepal or elsewhere a new perspective on their journey and a new experience for the other trekkers. High-pass trekking will challenge you to climb higher, and with it comes magnificent views, in contrast to other treks where you gradually gain altitude.
When you turn your head to the north, enormous mountains loom. As far as the eye can see beyond the horizon, azure mountains wrap over one another to the south. You have the best vantage point of both because you are halfway between the high and the low. This makes high-pass trekking an excellent choice for tourists searching for a surefooted mountain excursion, especially when combined with the hard-core trekking experience. But if you've never gone trekking before, we advise doing at least a short, easy trek first.
Also Read: Best Time to Visit Nepal.
How to be prepared for the High Pass Trek?
Doing the High pass treks in the Himalayan area is not a small thing so every trek should be prepared for any kind of situation and conditions before heading. At least a few months before beginning this adventure, go back into the gym or start running. Your confidence, fitness, and immune system will all improve as a result of regular exercise and smart lifestyle choices. We presume that if you are going to the mountains, you are aware of the dangers of acute mountain sickness, the necessity of acclimatization, and the necessary gear. We will help you get ready for the trip to the best of our ability if you are traveling with us. It seems sensible to conduct some study and get ready for the trip if you're traveling alone.
Here are some of the most popular high pass treks in Nepal:
1. Everest Three High Pass Trek (Everest Region)
The very famous Everest Region of Nepal has not just one, not two, but three incredible Himalayan passes that must be crossed during the treks in this region. Three high-altitude passes, Renjo La Pass (5465 m), Cho La Pass (5420 m), and Kongma La Pass (5535 m), are traversed on the Everest Three Pass Trek.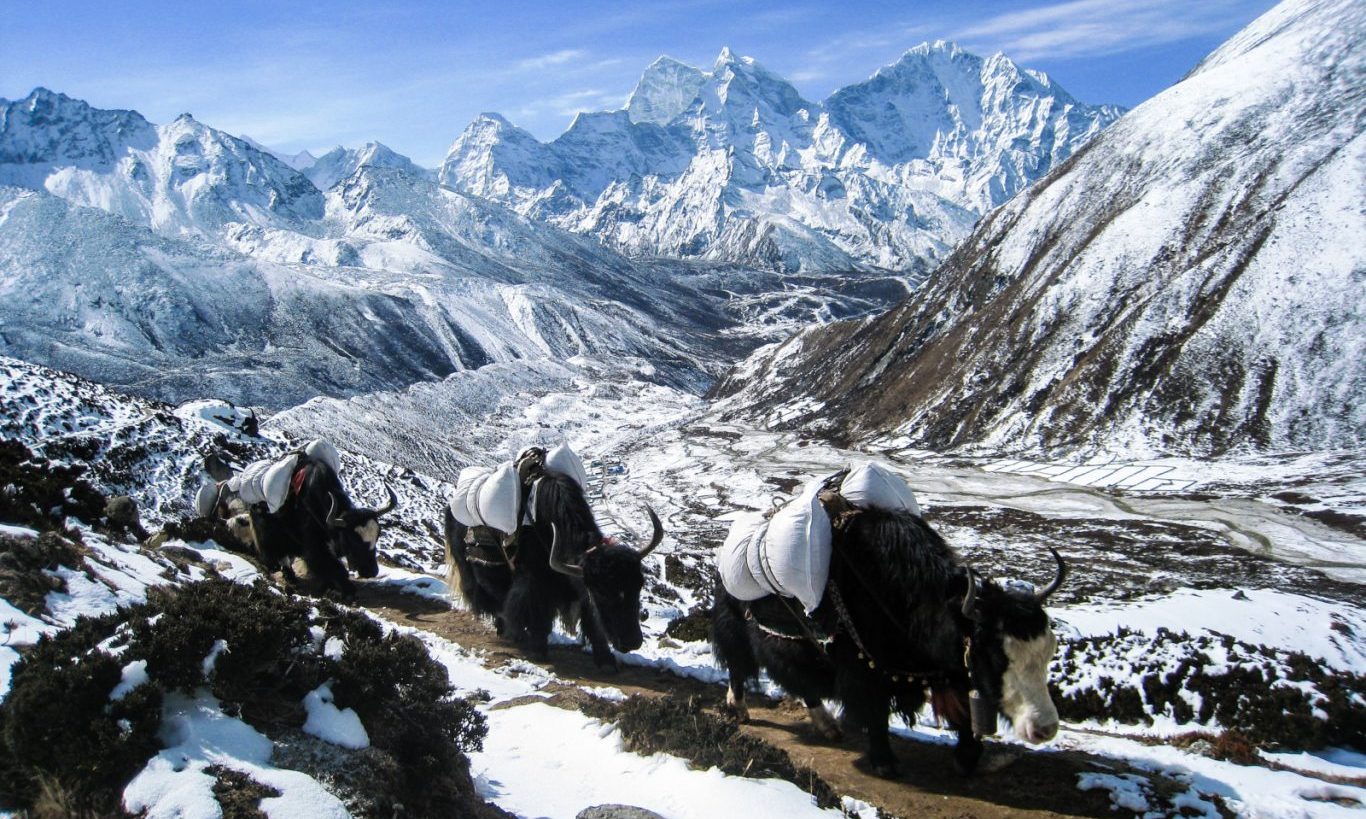 According to reports, the views of Everest from the top of the Renjo La Pass (5,464m) surpass even the expansive Everest views from Kala Patthar. Additionally, there are breathtaking views of Gokyo Lake. Between the snow-capped peaks of Lobuche (6,135m) and Cholatse (6,443m), Cho La Pass (5,420m) is devised. Although the ascent is strenuous and sometimes freezing, there are breathtaking views of Ama Dablam from the peak. The Kongma La Pass is more like a "precarious battle among skittering stones." The ascent up to the pass at 5,535m is the highest on this high pass in Everest, and the trail crosses a glacier and a glacier-fed river.
However, because they are all higher than 5,000 meters, it is crucial to acclimate appropriately. You won't even need the assistance of equipment like crampons, axes, and ropes to cross these passes if the weather is good.
Please, click here for trekking in Everest Region.
2. Thorong La Pass Trek (Annapurna Region)
Thorang La Pass is the highest pass in the Annapurna Himalayas, rising to a height of 5,416 meters. Manang and Mustang, two of Nepal's most well-known and beautiful districts, are connected by the Thorung La Pass Trek. It is a rather challenging walk that also carries some risk. The views of the mountains and the surrounding area from this pass, however, make the hassle and difficulty worthwhile. Many peaks of the Annapurna and Dhaulagiri massifs can be seen from here, and the vistas are very breathtaking.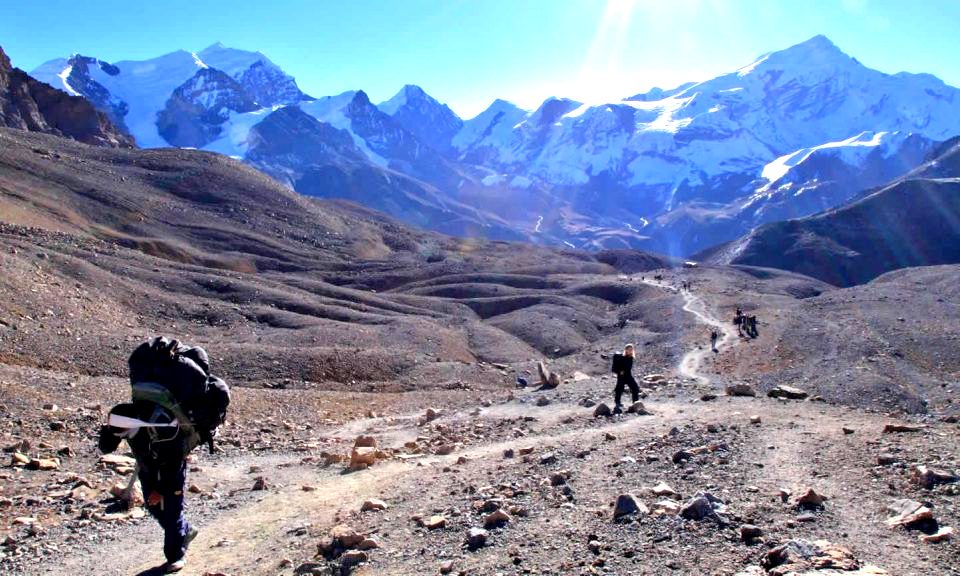 Probably Besi Shahar in Lamjung or Jagat in Kaski will be where the walk begins. The hike from Manang to the pass is not difficult, although it is a long one at a high altitude. To prevent severe mountain sickness, you must carefully plan your trip. The only choice you will have in the event of an emergency is to travel all the way back to Besi Shahar. However, a motorway has since been constructed all the way to Manang in case of an emergency and to facilitate the movement of cargo.
3. Larkya Pass Trek (Manaslu Region)
The Manaslu Circuit Trek also referred to as the Larkya Pass Trek, is a well-known trek over the Himalayas that will take you to a remote preserve of vibrant Tibetan culture. It connects the Manaslu and Annapurna trekking regions and requires traversing high passes at 5,160m/16,930ft. It is safe to say that this trek itinerary skillfully combines the adventurous and cultural components into one to ensure that your trip is one that you will never forget.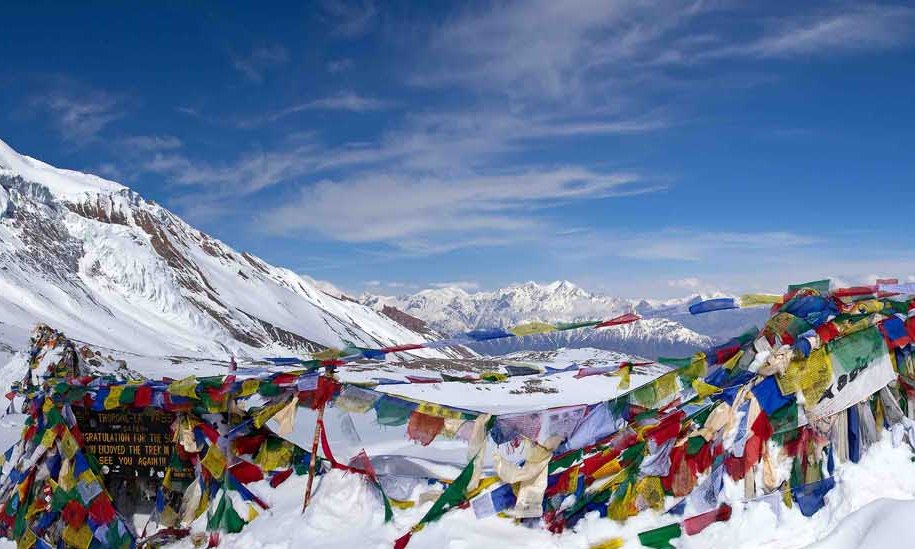 The walk starts in Arughat. Nevertheless, starting from Soti Khola or Macha Khola is also an option. In fact, traversing the Larkya La Pass is a really difficult adventure. However, it will lead you into untamed and inaccessible areas of the Nepalese Himalayas. You can see a wide variety of breathtaking sights while on your trip as well. Please keep in mind, however, that the passes are typically only open during the hiking season. While it is possible to hike during the monsoon, the pass cannot be crossed in the winter due to the snow.
Please, click here for trekking in Manaslu Region
4. Ganja La Pass Trek (Langtang Region)
The Ganja La trek is without a question the riskiest and most challenging trekking route in the Langtang region. But the most rewarding and memorable trekking experience you will ever take is the arduous climb over the Ganja La (5,106m) from Kyanjin Gompa in Langtang to Take Ghyang in Helambu.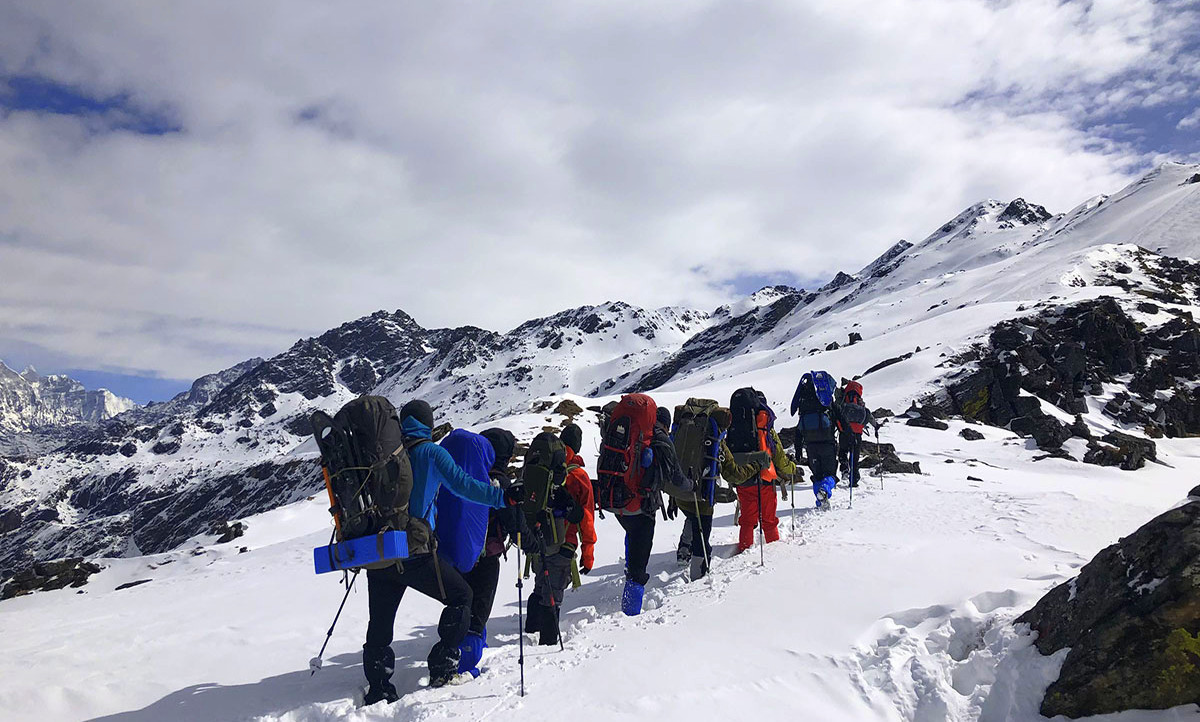 You can enjoy breathtaking views of the Langtang Lirung and other similarly magnificent Tibetan peaks, including an eight-thousander known as Shisha Pangma, from the summit of the pass. In a nutshell, this hike features the best of the Langtang region. But keep in mind that getting across the pass requires trekking up a particularly difficult segment through an avalanche-prone valley. To finish this walk, you'll need a lot of camping gear.
Please, click here for trekking in Langtang Region
5. Tashi Laptcha Pass Trek (Rolwaling Region)
One more from the stunning and isolated Rolwaling region. From Rolwaling Pass, a steep path leads to Everest, which you may reach by crossing the 5,755m/18,882ft-high Tashi Laptcha Pass. This trekking path, which travels from the Rolwaing district to the Everest region, offers a tremendous change in landscape. The most significant benefit of walking along this path is that it will lead you to two of Nepal's most stunning lakes, namely Tso Rolpa Lake.
The journey will start at Gongor Khola and finish in Lukla. There will be major altitude rises along the hike. Therefore, it is extremely important to acclimate properly. We advise against trekking from late November to early May because the area will have extremely severe snowfall.
6. Mesokanto La Pass Trek (Annapurna Region)
At 5,099 meters, Mesokanto La Pass also known as Tilicho Pass is located northwest of Tilicho Lake in the Annapurna region. Manaslu (8,156 meters), Dhaulagiri (8,167 meters), Annapurna I (8,091 meters), and other nearby mountains may be seen from the pass in the beautiful scenery. It's a barren area surrounded by glaciers and landslides.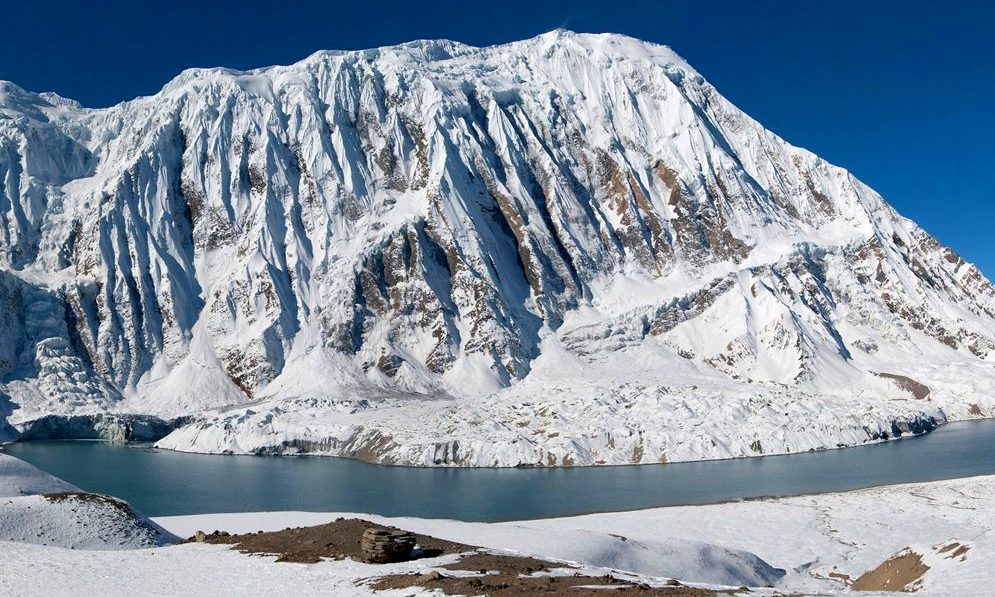 There are many beautiful views to be had because Tilicho Lake (4,912m) is situated along the trail to this pass. Some people believe this route to be more challenging than Thorong La Pass due to its lonely approach. Trekkers reach Jomsom after passing the pass. Thus, Manang and Mustang are connected by the Mesokanto La Pass.
Please, click here for trekking in Annapurna Region
Are high pass treks risky?
Mountain animals may make it look simple to scale the jagged rocks in quest of minerals and salt, but high-pass trekking is no walk in the park and shouldn't be taken lightly. You are moving through terrain that has been eroded and carved out by old glaciers. You must be cautious and strictly adhere to the rules.
We acclimatize at various points to prepare our lungs for less oxygen at greater elevations in order to reduce these hazards. If you have an AMS, an accident, or are in a situation where climbing is not possible, comprehensive travel insurance will guarantee that you are picked up by a helicopter and transported to safety. All of these assist in lowering the danger involved with high-pass trekking in Nepal. However, it is the trekker's responsibility to be aware of these dangers before ascending any hills in Nepal or elsewhere.
Please, click here for various trekking and tour packages in Nepal
If you are an excellent trekker and wished to climb peaks and reach summits in Nepal, you have made the proper choice. We the Luxury Holiday Nepal team organized Mountain climbing and Expeditions in various peaks of Nepal. for more detail about climbing and expedition in Nepal please, click here.
If you need any further information, please contact us, Email: [email protected], Phone: +977- 985 100 5129 (WhatsApp)