Spring and Autumn are considered the best trekking season in Nepal. Spring generally starts in March and ends in May. The Spring season brings fresh air, warm temperature, greenery, and colorful flowers all over Nepal that pleases your eyes and soul. If you love exploring close and massive views of sky-dominating mountains, rich natural resources, and culture in warm temperatures, take a walk on a colorful natural trail, spring would be an ideal trekking season in Nepal.
Nepal, the land of the Himalayas, is the ultimate destination for trekkers. The presence of sky-dominating mountain peaks, incredible trekking trails, exotic biodiversity, and rich culture have contributed to Nepal's making it a perfect destination for trekking. Nepal offers numerous activities like Mountaineering, trekking, hiking, skydiving, paragliding, rafting, Mountain Biking, Ultra Flights, Bungee Jump, Canyoning, and cultural Heritage walk to adventure lovers and travel enthusiasts.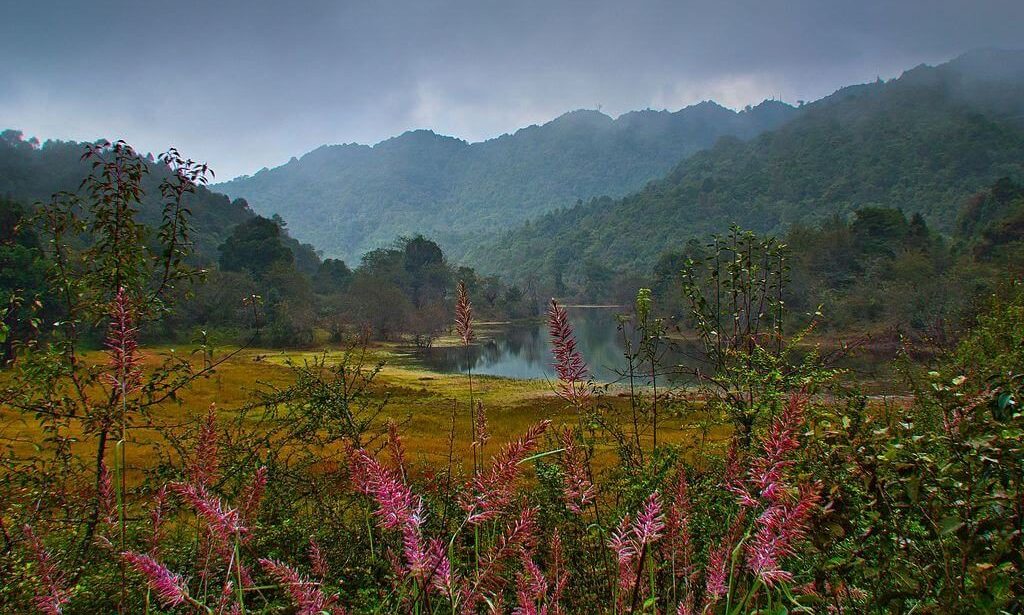 Trekking in Nepal is doable all around the year, but the spring and autumn season is considered the best. Especially during the mid-winter, the higher zone temperature gets below Zero degrees centigrades and gets snowfall, which is hard for trekking in the higher zone. We have lots of Short trek options in Nepal that are easily doable all around the year. During summer, the weather is not much good for the trek as there is a high chance of rain and unfortunate disasters. But also you can trek with proper precautions and guides during summer and winter. Spring and Autumn are considered the best season for all adventurous activities like trekking and mountaineering in Nepal. Spring and Autumn have their different beautiful features.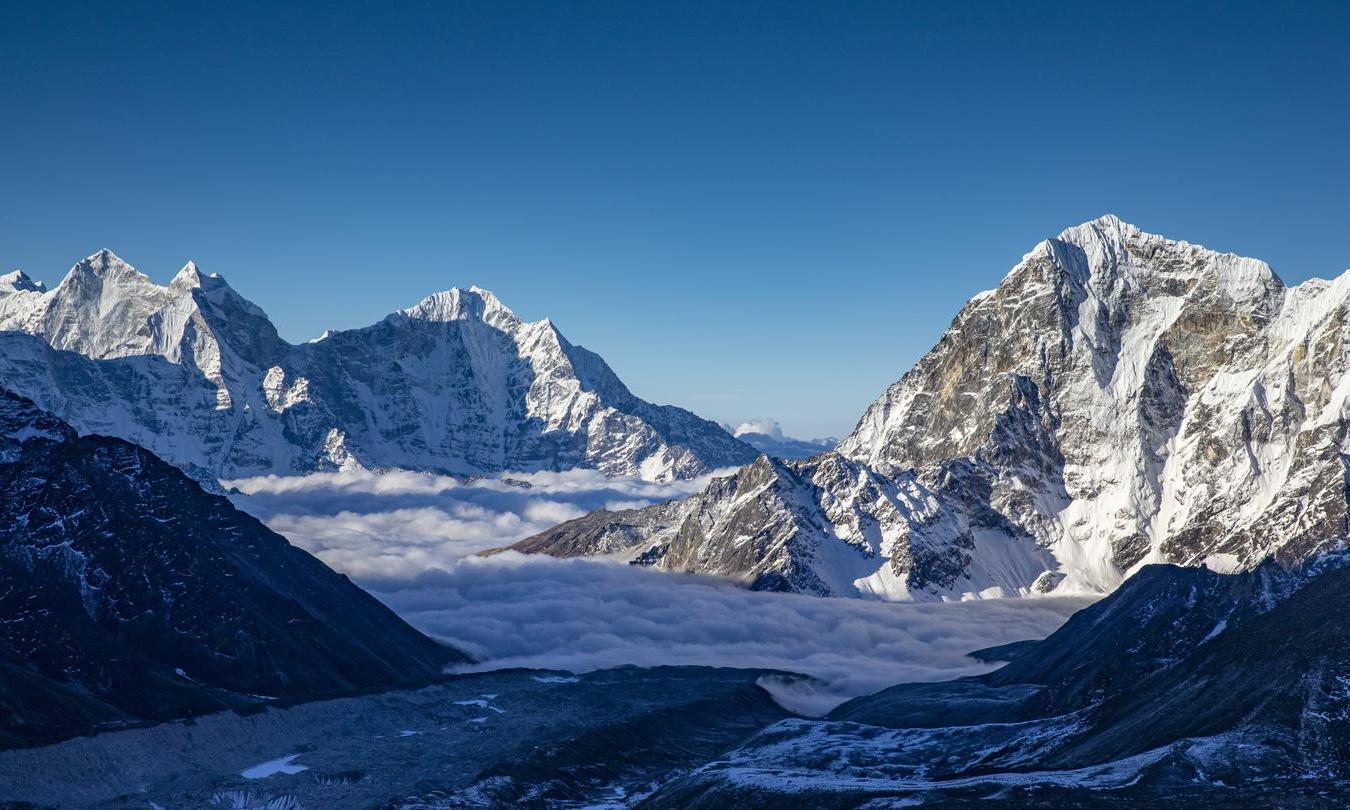 Trekking on the foothills of the snowy mountains during spring weather is simply the best because of the trail filled with blooming Rhododendrons, trees, and other beautiful flowers, the warmer and clear weather days, stunning views of mountain vistas and Himalayan Panoramas, and Low risk of any disasters and unfortunate incidents. Rhododendrons are the national flower of Nepal, native to the high Himalayas of Nepal. There are nearly 1000 species of Rhododendrons in Nepal, and about half of these species are easily explorable during the trek in Nepal. The trekking trail offers you the colorful (red, yellow, pink, and white) blossoms of rhododendrons in the spring season. Spring treks in Nepal are possible in all top trekking destinations in Nepal. Nepal has the top 8 tallest peaks above 8000m out of the 14 tallest Peaks in the world and many other sky-touching mountains that offer many trekking destinations. Many trekking regions in Nepal take you near many high mountains. The detail about the top trekking Regions in Nepal that is best for spring trek are:
Please, click here to know more about Spring Season Trekking.
Everest Region
Mount Everest is the highest peak in The World and lies in the North part of Nepal. Everest Massif (Region) includes the Four highest peaks in The World out of 12, above 8000m, and many peaks above 7000m and 6000 meters above sea level. Mt. Everest (8848.86m). Lhotse (8,516m), Makalu (8,485m), and Cho Oyu (8,201m), Nuptse (7,861m), Ama Dablam (8,812m), Island Peak (6,160m), Mera peak (6,470m), and Lobuche (6,119m) are the prominent peaks in the Everest Region. During Trek to the Everest Region, you can easily explore these mountains.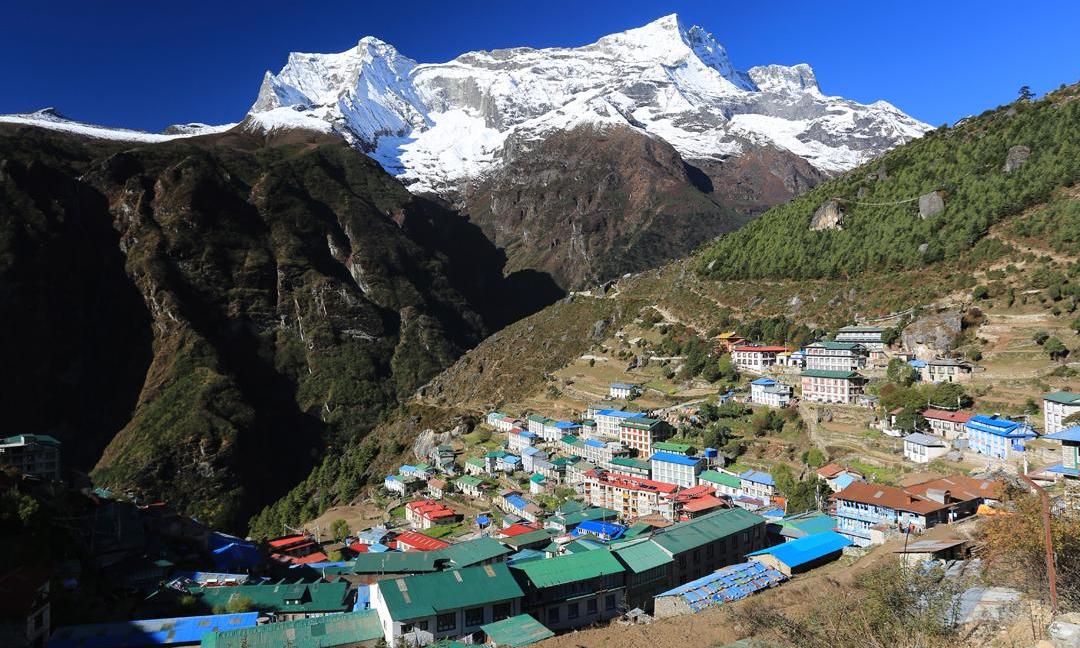 Everest Region is an ultimate trekking destination for all travel enthusiasts and adventure lovers. Everest Trekking is the top trekking destination in The World. Everest region offers several trekking destinations that include the highest altitude treks in The World. Everest region treks consist of Everest Base Camp Trek, Gokyo Everest Base Camp Trek, and Everest Short Treks. These treks include the arrival at Tribhuvan International Airport Kathmandu, Sightseeing in Kathmandu, and then flying to Lukla and trekking to the Everest region. Spring Everest trek is on the bucket list for many travel lovers.
Highlights of Everest Region Treks during Spring
The Everest region trek is doable during spring
High-altitude areas offer trails filled with the blooming rhododendron flowers
Less risk of disasters
Explore the stunning and massive views of the Top of the World Mt. Everest and the other mountains in Everest Massif.
Stunning picturesque trails, national park, valleys (Gokyo Valleys), viewpoint ( Base Camp, Kalapathar), and local settlements
Clear and amazing weather makes your treks easy
You can explore the native Sherpa culture of the Everest Region
Amazing and stunning views of Glaciers in the Everest Region.
Explore many monasteries, prayer flags, chortens, and mani walls during the trek
You can explore the most wandering national park in the World: Sagarmatha National Park. During spring Sagarmatha National Park looks more colorful due to blooming Rhododendrons flowers and other flowers and greenery.
Kanchenjunga Region
Mount Kanchenjunga is the Third Highest Peak in The World and Second Highest Peak in Nepal. Kanchenjunga consists of five subsidiary peaks, out of which two lie in Nepal; Kanchenjunga Main (8,586m), Kangbechen (7,903m), and others in Tibet and India. Trekking in the Kanchenjunga Region means exploring the eastern Himalayans in Nepal and admiring the Diamond Jubilee Mt.Kanchenjunga. Kanchenjunga trekking is an off-the-beaten trek that offers a lot to explore. The number of trekkers approaching Kanchenjunga is increasing every year. Kanchenjunga Circuit Trek is one of the most famous and dramatic trekking trails in Nepal.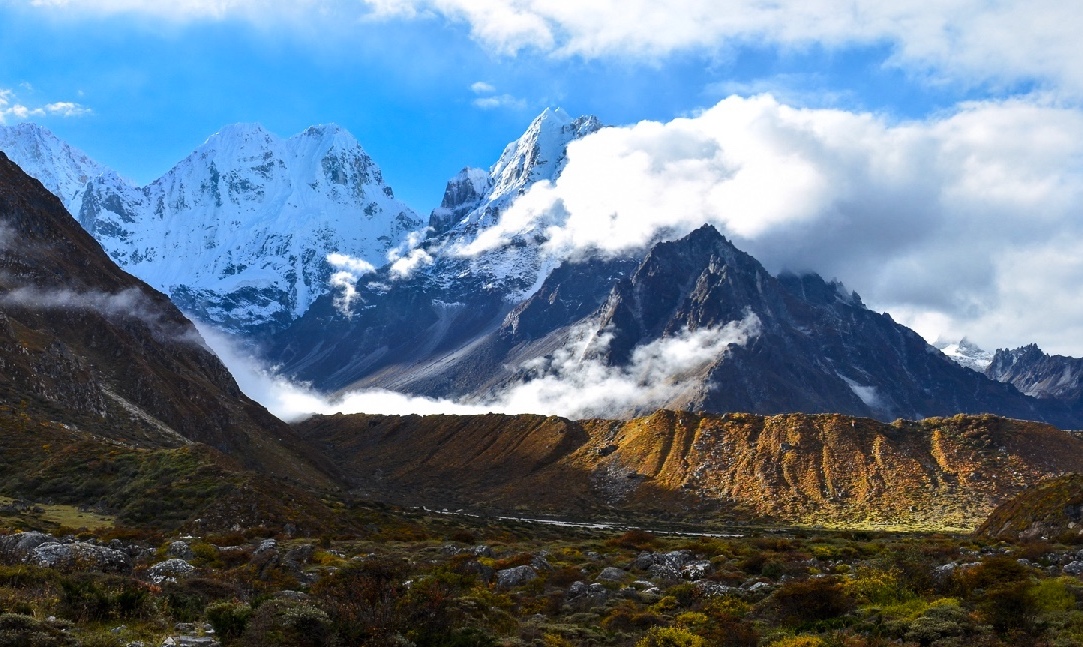 Highlights of Kanchenjunga Trek in Spring
You get to walk through the trails filled with lush green forests, vegetation, and colorful flowers.
Get to see the beautiful landscapes and farm fields.
Clear and amazing views of the weather, easy the trek
Kanchenjunga Conservation rewards you with pristine forests filled with blooming rhododendrons and other diverse floral and faunal species.
Picturesque clear weather
Trek offers you the local culture and traditions of typical Natives.
Outstanding walk-in Yalung Glacier.
Incredible and massive views of Mt. Kanchenjunga. Astounding views of Mt. Makalu and the east face of Mt. Everest.
Annapurna Region
Annapurna I Main lies at the height of 8,091m above sea level, is the 10th highest peak in The World, in Annapurna Massif. Annapurna massif consists of one mountain over 8000m, 13 mountains over 7000m, and 16 mountains over 6000m. The trekking in the Annapurna region is full of wonders. The treks offer you the closest and most stunning views of the sky-touching mountains in Annapurna Massif. The most prominent peaks in this region are Annapurna (I, II, III, and IV), Annapurna South, Khangsar Kang, Nilgiri Himal North, Machhapuchhre (Mt. Fishtail), Hiunchuli, and Mardi Himal.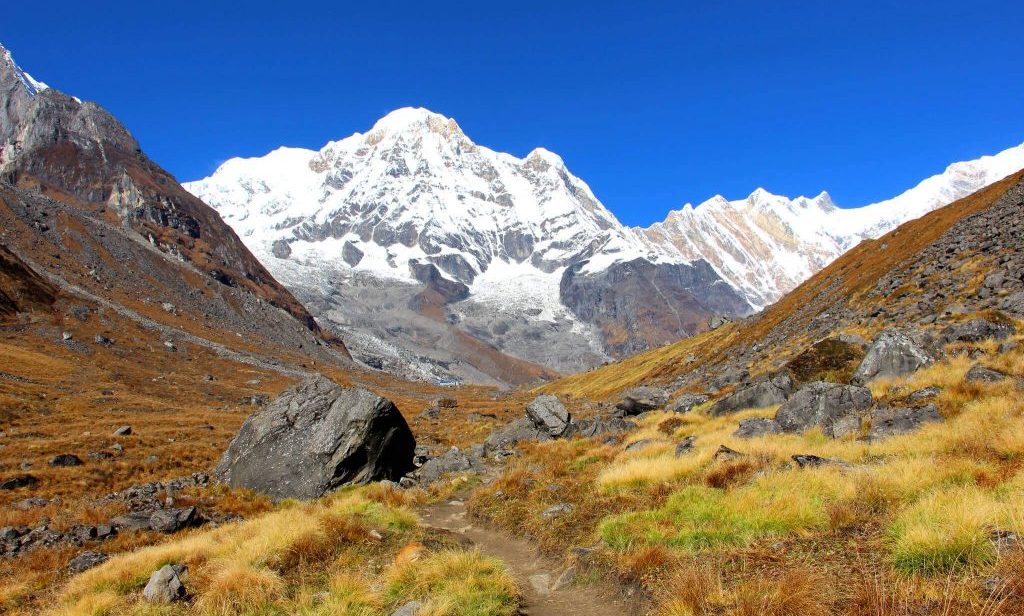 Annapurna Region offers various adventurous and incredible trekking of short to long term and ranging from easy-moderate to challenging. Annapurna Base Camp Trek, Ghorepani Poonhill Trek, Mardi Himal Trek, and Annapurna Circuit Trek are the famous trekking options in Annapurna Region. Annapurna Trekking is the second most popular trekking in Nepal, after Everest Region Trekking. Spring trek in the Annapurna region has a lot to offer and is easily doable.
Please, click here for the trekking packages in Annapurna Region.
Highlights of Spring Trek in the Annapurna Region
Unrevealed and most popular trekking trails
The trail is blissful with the blooming rhododendrons in the upper zone and various wildflowers in the lower region.
Lower regions reward you with green and clear views of farms.
Warm temperature, thus fewer loads of clothes
The clear and sunny days make a perfect time for beautiful photographs.
Explore the local culture of Gurung, Rai, Brahmin, and Sherpa Ethnic groups.
The trek offers you stunning and massive views of the Annapurna massif.
Less risk of any sudden accident.
Langtang Region
Mount Langtang lies in Bagmati province, near Kathmandu Valley, Nepal. Langtang Himal constitutes the Langtang Lirung (7,234m), Langtang Ri, Dorge Lakpa, Loenopo Gang, Chengdu, and many other peaks. The Langtang region includes the Langtang Valley Trek, Gosaikunda Trek, and Tamang Heritage Trek. The Langtang region trek is perfect for exploring the incredible nature of this region. The Spring region in Langtang offers you many beautiful features.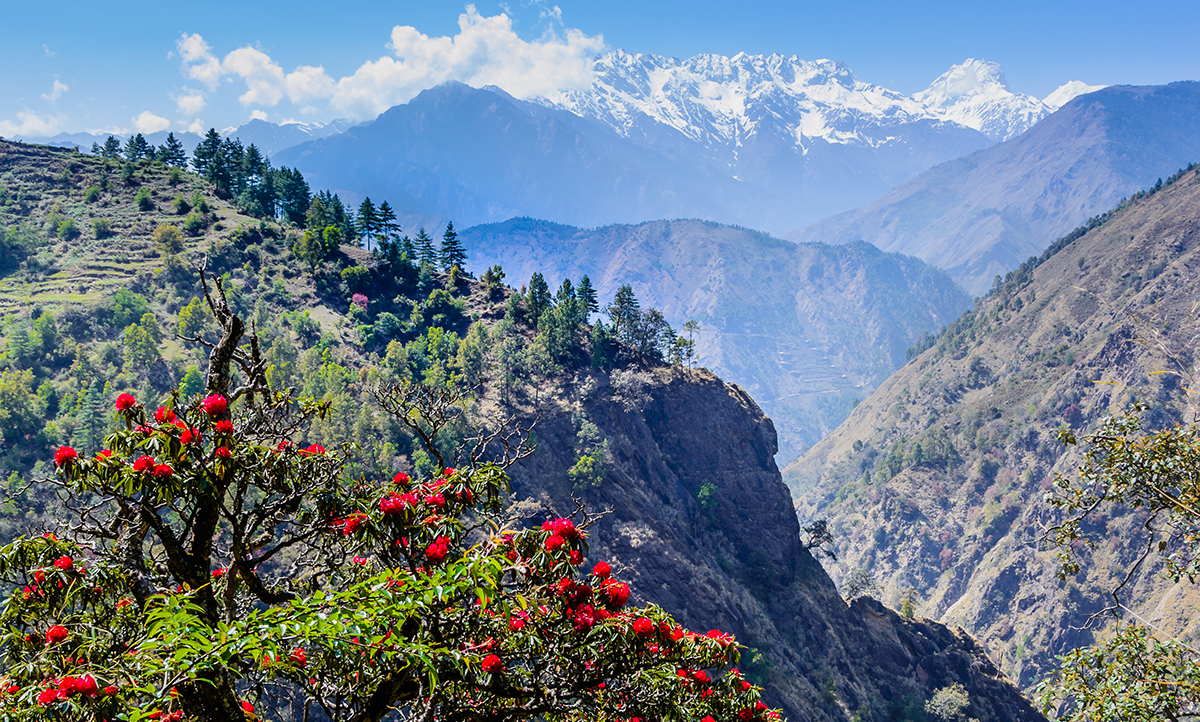 Highlights of Spring Trek in the Langtang Region
The trek rewards you with stunning views of Langtang, Manasalu, Ganesh, and Jugal Himal.
The trek offers you a trail filled with local blooming Rhododendrons and Jasmine flowers.
You will get to Walk Through the green forest filled with lush green vegetation, oak, and Bamboo in the lower trek zone.
Warm and fresh weather is perfect for walking.
Exotic animals in Langtang Region.
Witness the local culture and traditions, and the warm hospitality of local people in the Langtang Region
Incredible views of waterfalls, lakes, Langtang Valley, and many suspension bridges
Explore the local cheese factory and Gompa in this region.
Gosaikunda Trek rewards you with splendid views of Gosaikunda Lake, Sarswati Kunda, and many other lakes in this region.
For Langtang Region Trekking Packages, please click here.
Manaslu Region
Malasalu region offers you The World's eighth highest peak: Mt. Manasalu (8,163m). The trekking in this region takes you through the off-the-beaten and classical path in Gorkha District Nepal. The trekking in this region offers everything you would love to explore in the classical trek in Nepal: Stunning views of mountains, iconic scenery, and close encounters with the local people's culture and traditions.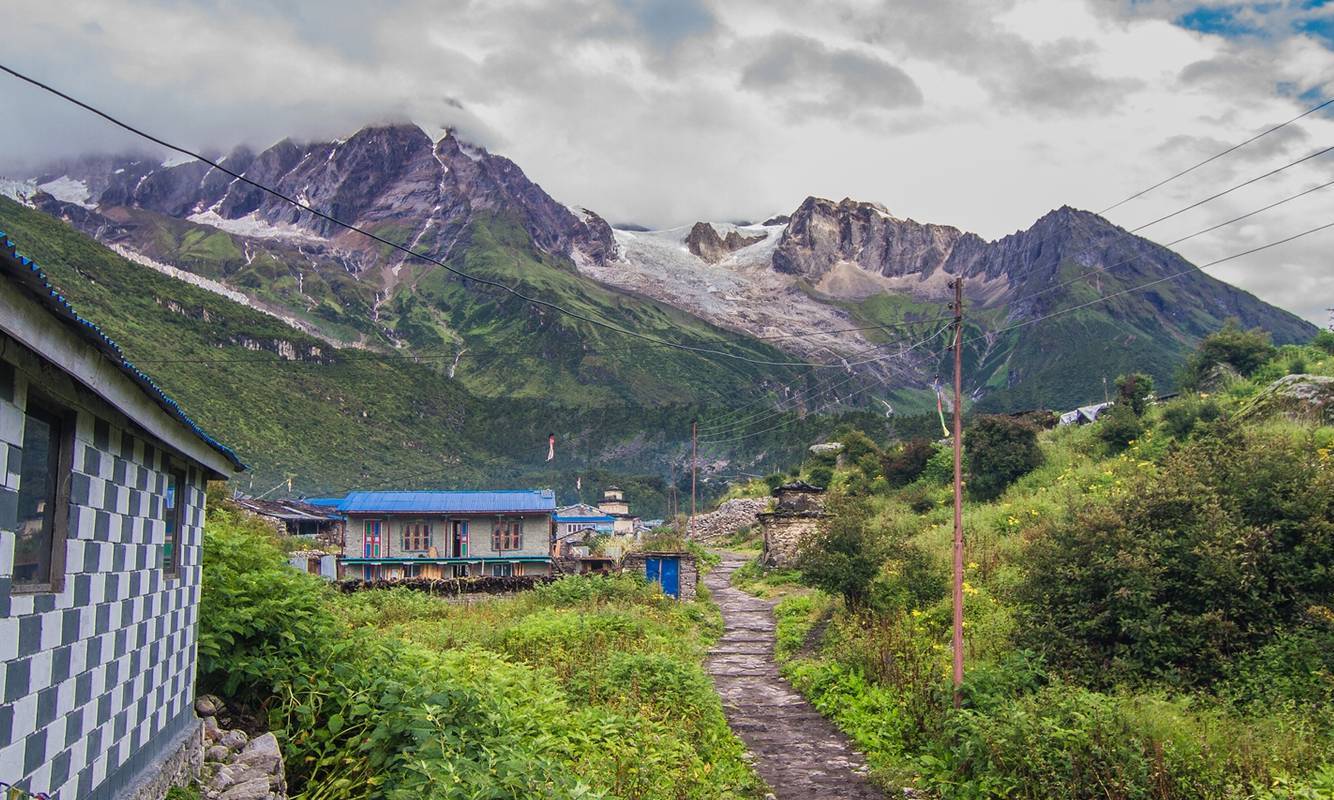 Many people make their way to Manasalu in spring and during other seasons. Many experts also suggest the Manasalu trek as the best trek in Nepal. Manasalu trekking's popularity has risen in the past few years. This trek is doable all around the year and each season rewards you with different but beautiful features and a variety of adventures. However, spring offers a lot of adventurous and mind-blowing features.
Highlights of Spring Trek in the Manasalu Region
Spring offers clear and splendid views of surrounding hills, rivers, and mountains. The starting trail rewards you with a beautiful view of the Budhi Gandaki River.
Warm and bright days, best for beautiful photographs
The trek takes you through the trails filled with blossoms of red, pink, yellow, and white colors of rhododendrons in the upper region. The lower trek region offers you a path filled with green lush vegetation and forests.
The fresh weather in spring and off-the-beaten trekking trails make it easy for a walk.
The treks take you through the most dramatic and longest pass in the Himalayans of Nepal: Larkya La stands at an elevation of 5,106m above sea level.
There are many regions with hundreds of trekking routes in Nepal. Luxury Holidays Nepal offers Trekking in Everest Region, Luxury Trekking in Nepal, Annapurna Trekking, Langtang Trekking, Dolpo Trekking, Mustang Trekking, Rara Region, Manaslu Trekking, Kanchenjunga Region, Dhaulagiri Region, Simikot and Mt. Kailash Region is a popular region to trek.
Please, click here for more options in tours and trekking packages in Nepal.
If you need any further information, please contact us, Email: at [email protected], Phone: +977- 985 100 5129 (WhatsApp)