Spring and Autumn are unanimously hailed as the best trekking seasons in the heart of the Himalayas, Nepal. As Spring ushers in, typically starting in March and winding down in May, it blankets Nepal in a spectacle of fresh air, a comforting warm temperature, vivid greenery, and a canvas of colorful flowers. For those with an affinity for expansive views of sky-dominating mountains, Nepal's rich tapestry of natural resources and its cultural heartbeat, Spring emerges as the prime time. Imagine a journey where every step is on a vibrant natural trail; that's what Spring trekking season in Nepal encapsulates.
Nepal, often reverenced as the land of the Himalayas, stands as the pinnacle for trekkers worldwide. This reputation is buttressed by a panorama of sky-dominating mountain peaks, intriguing trekking trails, a mosaic of biodiversity, and a deep-rooted culture. But the allure doesn't end there. Nepal unfurls a plethora of activities for the insatiable adventure soul: from Mountaineering, trekking, hiking, and adrenaline-pumping skydiving to serene paragliding, exhilarating rafting, Mountain Biking, Ultra Flights, heart-stopping Bungee Jump, thrilling Canyoning, and the quintessential cultural Heritage walk.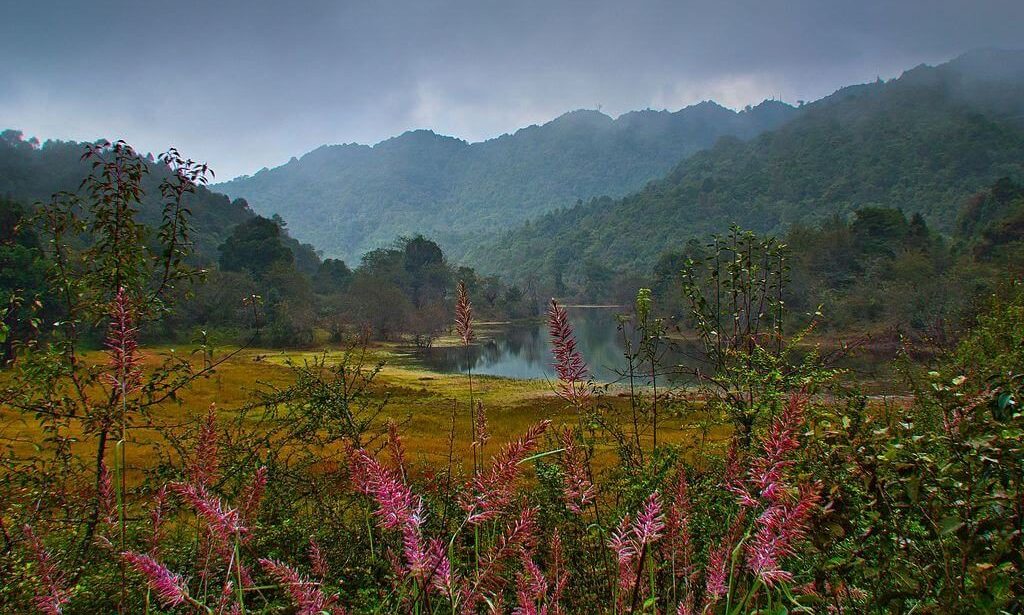 While it's true that trekking in Nepal is a year-round affair, Spring and Autumn clearly outshine the rest. Mid-winter, with its sub-zero temperatures and cascading snowfall, can render higher zone treks challenging. However, Nepal's diverse topography offers a myriad of Short trek options, navigable throughout the year. Summer, with its predisposition to rain and unforeseen calamities, demands a more cautious approach. Yet, with the right precautions and expert guides, it's feasible. Nonetheless, for a holistic experience encompassing trekking and mountaineering, Spring and Autumn reign supreme, each with its unique allure.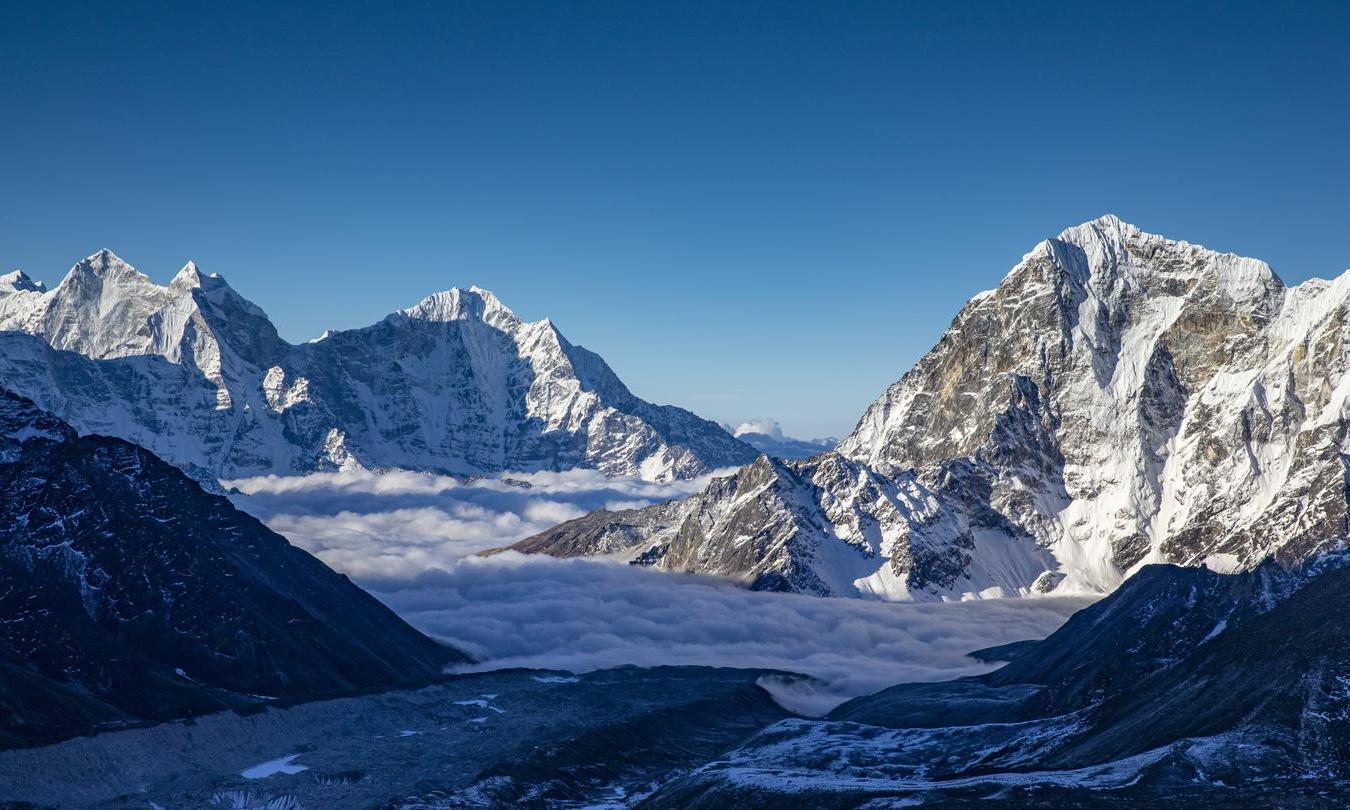 Spring trekking is poetry in motion. Traversing the foothills of snow-clad mountains, trekkers are greeted with trails festooned with blooming Rhododendrons, a medley of trees, and flora, all under the canopy of clear, warm skies. The vistas offer unobstructed views of the mountain magnificence and the vast Himalayan Panoramas. What's more, the risk of disasters and unfortunate incidents is at an all-time low during Spring. Speaking of Rhododendrons, they aren't just flowers; they are Nepal's national pride, indigenous to the high Himalayas. With nearly 1000 species gracing Nepal, about half of them present a visual treat during a Nepal trek. The trails are painted in hues of red, yellow, pink, and white Rhododendron blossoms in spring. Whether you aim for the top trekking hotspots or seek solitude, Spring treks in Nepal don't disappoint. Remember, Nepal is home to 8 of the world's 14 peaks towering above 8000m and countless other lofty mountains, ensuring every trek is a rendezvous with nature's giants.
---
Why Should You Visit Nepal in the Spring?
Nepal in the Spring is a sensory delight, a harmonious blend of vibrant colors, tantalizing aromas, and soul-stirring vistas. But what makes this season truly exceptional for a Nepalese sojourn? Let's delve into the reasons.
Ideal Weather Conditions: Spring, stretching from March to mid-June, is a prelude to the monsoons. This pre-monsoon period is characterized by moderate temperatures, which means neither the harsh winter cold nor the intense summer heat. Clear skies dominate the landscape, ensuring that the majestic peaks and lush valleys are always in full view.

Floral Fantasia: If nature's beauty could be encapsulated in a moment, it would be Nepal in the Spring. The hills and trails come alive with the fiery red, pink, and white blossoms of rhododendrons. These, along with other wildflowers, transform the green canvas into a multi-hued masterpiece.

Trekker's Paradise: Nepal is globally renowned for its trekking trails, especially those winding through the grandeur of the Himalayas. Spring ensures that these trails are accessible and at their scenic best. Whether you're trekking up to the Everest Base Camp or wandering through the Annapurna Circuit, Spring offers optimum conditions.

Geographical Diversity: One of Nepal's crowning glories is its astounding geographical diversity. From the towering peaks like Mount Everest to the sprawling plains of the Terai region, Spring is the ideal time to explore both. While the mountains showcase clearer panoramas, the lowlands, teeming with wildlife, offer adventures of a different kind.

Cultural Celebrations: Spring is also a time of festivities in Nepal. As nature rejuvenates, so do the spirits of the people. Travelers can immerse themselves in local celebrations, getting a firsthand experience of Nepal's rich cultural heritage.

Wildlife Expeditions: The tropical lowlands or the Terai region is home to several national parks and wildlife reserves. Spring is a fantastic time for wildlife enthusiasts to spot the Bengal tiger, one-horned rhinos, and various bird species in their natural habitats.
In essence, visiting Nepal in the Spring is about more than just sightseeing; it's an experience, a journey through nature's splendors and cultural tapestries. It's about creating memories amidst the backdrop of some of the world's most awe-inspiring landscapes.
---
The detail about the top trekking Regions in Nepal that is best for spring trek are:
Everest Region
Mount Everest is the highest peak in The World and lies in the North part of Nepal. Everest Massif (Region) includes the Four highest peaks in The World out of 12, above 8000m, and many peaks above 7000m and 6000 meters above sea level. Mt. Everest (8848.86m). Lhotse (8,516m), Makalu (8,485m), and Cho Oyu (8,201m), Nuptse (7,861m), Ama Dablam (8,812m), Island Peak (6,160m), Mera peak (6,470m), and Lobuche (6,119m) are the prominent peaks in the Everest Region. During Trek to the Everest Region, you can easily explore these mountains.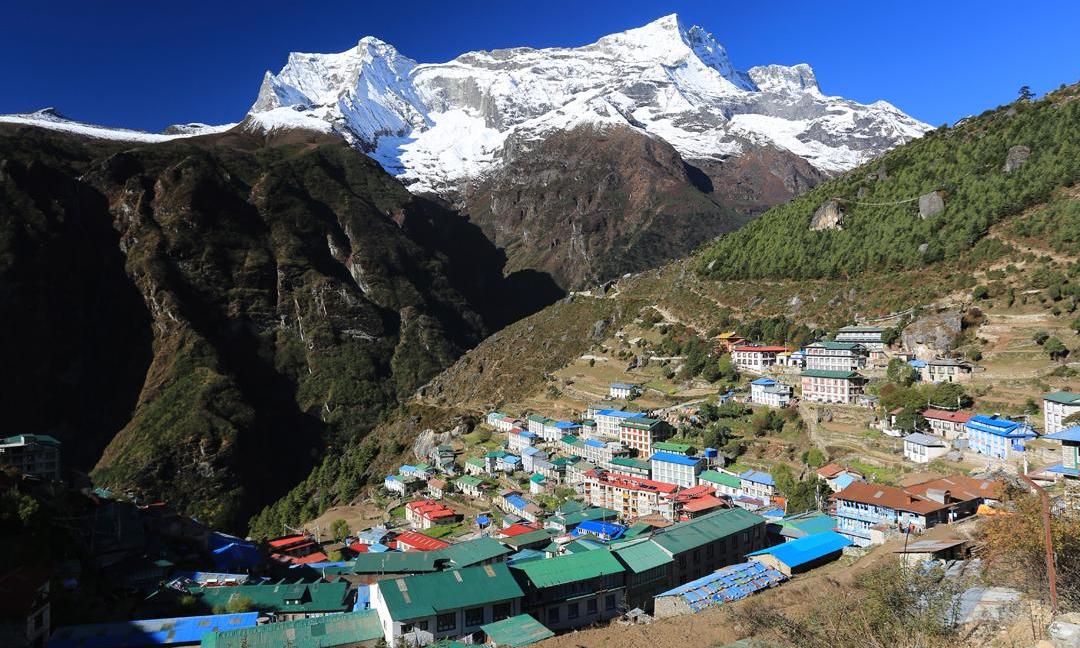 Everest Region is an ultimate trekking destination for all travel enthusiasts and adventure lovers. Everest Trekking is the top trekking destination in The World. Everest region offers several trekking destinations that include the highest altitude treks in The World. Everest region treks consist of Everest Base Camp Trek, Gokyo Everest Base Camp Trek, and Everest Short Treks. These treks include the arrival at Tribhuvan International Airport Kathmandu, Sightseeing in Kathmandu, and then flying to Lukla and trekking to the Everest region. Spring Everest trek is on the bucket list for many travel lovers.
Highlights of Everest Region Treks during Spring
The allure of the Everest Region amplifies during spring, transforming it into a hiker's paradise. From awe-inspiring vistas to enchanting cultural experiences, springtime brings forth the best of this region. Let's take a look at the major highlights of trekking in this majestic terrain during this season:
Seasonal Advantage: Spring ensures that the Everest region trek is not only doable but also delightful. With the snow receding and trails becoming more accessible, it's the preferred time for many trekkers.
Floral Spectacle: As you ascend to higher altitudes, trails adorned with blooming rhododendron flowers greet you. The burst of color against the snow-capped backdrop is a sight to behold.
Safety: One of the primary concerns for high-altitude trekking is the risk of disasters. Spring, with its stable weather, ensures a less risk of disasters, making the journey relatively safer.
Breathtaking Panoramas: The "Top of the World," Mt. Everest, along with its siblings in the Everest Massif, showcases itself in all its glory. These magnificent vistas are the highlight of the trek.
Varied Terrains: The region offers a plethora of landscapes to explore - from picturesque trails and the expansive Sagarmatha National Park to serene valleys like the Gokyo Valleys and viewpoints like Base Camp and Kalapathar.
Pristine Weather: Spring's clear and amazing weather conditions play a pivotal role in making the treks comfortable and enjoyable, giving you clearer views and milder temperatures.
Cultural Immersion: Delve deep into the heart of the native Sherpa culture. The Everest Region provides a unique opportunity to interact with the locals, understand their way of life, and partake in their traditions.
Glacial Marvels: The glaciers in the Everest Region, shimmering under the spring sun, offer an otherworldly experience.
Spiritual Journey: The region is dotted with monasteries, fluttering prayer flags, intricately built chortens, and stone-engraved mani walls. These spiritual landmarks add a touch of tranquility to the journey.
A Burst of Colors in Sagarmatha: The Sagarmatha National Park, renowned globally, is at its vibrant best during spring. The blooming rhododendrons and a plethora of other flowers paint the park in multiple hues, making it even more enchanting.
---
Kanchenjunga Region
Mount Kanchenjunga is the Third Highest Peak in The World and Second Highest Peak in Nepal. Kanchenjunga consists of five subsidiary peaks, out of which two lie in Nepal; Kanchenjunga Main (8,586m), Kangbechen (7,903m), and others in Tibet and India. Trekking in the Kanchenjunga Region means exploring the eastern Himalayans in Nepal and admiring the Diamond Jubilee Mt.Kanchenjunga. Kanchenjunga trekking is an off-the-beaten trek that offers a lot to explore. The number of trekkers approaching Kanchenjunga is increasing every year. Kanchenjunga Circuit Trek is one of the most famous and dramatic trekking trails in Nepal.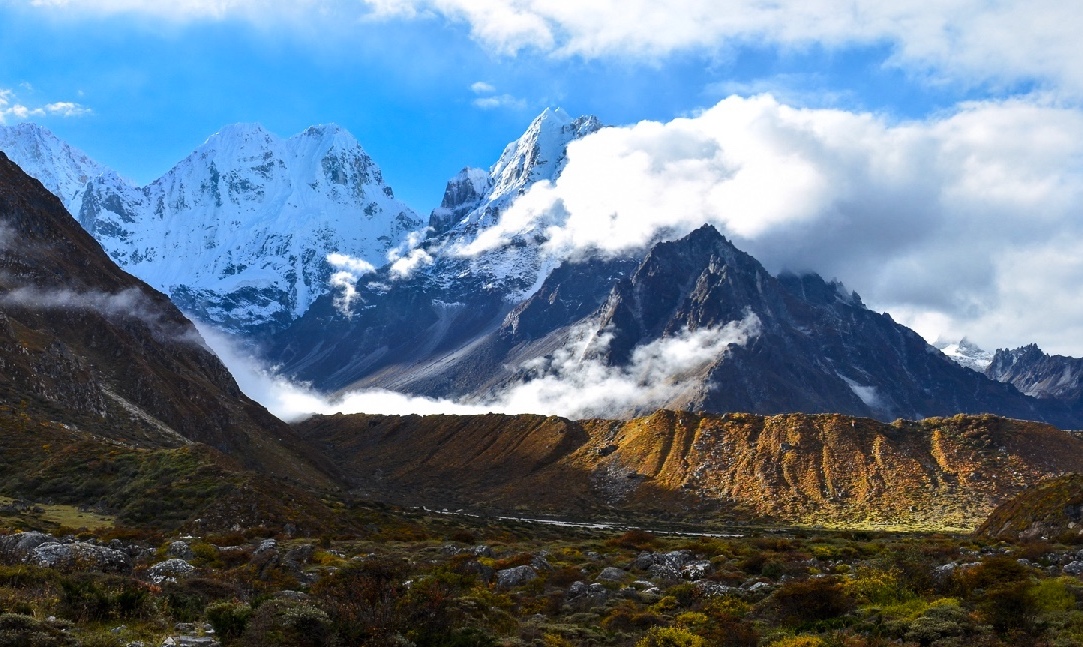 Highlights of Kanchenjunga Trek in Spring
Trekking in this season provides a wholesome experience, combining nature's best visuals with rich cultural encounters. Here are the highlights of a spring trek in the Kanchenjunga region:
Nature in Full Bloom: As you embark on this journey, the trails brimming with lush green forests, vibrant vegetation, and colorful flowers become your constant companion, making every step a delightful experience.
Pastoral Beauty: The trek showcases beautiful landscapes and farm fields, reminiscent of nature's artwork, where terraced fields shimmer under the spring sun.
Clarity of Vision: Spring ensures clear and amazing views of the weather, making the trek not just visually rewarding but also physically easier, with paths being more navigable and the atmosphere invigorating.
A Flora and Fauna Paradise: The Kanchenjunga Conservation Area welcomes you with open arms in spring. Its pristine forests come alive with blooming rhododendrons, and its biodiversity boasts of both flora and fauna unique to the region.
Cultural Enrichment: As you meander through the trails, you get a glimpse into the local culture and traditions of the natives. From traditional houses to festive dances, the culture in the Kanchenjunga region is as vibrant as its landscapes.
Glacial Beauty: An outstanding walk in the Yalung Glacier offers a juxtaposition of snow-clad vastness against the spring's floral beauty, making it a surreal experience.
Himalayan Panorama: The trek's crown jewels are, of course, the mountain vistas. The incredible and massive views of Mt. Kanchenjunga, complemented by the astounding sights of Mt. Makalu and the east face of Mt. Everest, ensure that your camera and your heart are always full.
A spring trek in the Kanchenjunga region promises a melange of nature's finest displays and cultural treasures, making it a must-do for every trekking aficionado.
---
Annapurna Region
Annapurna I Main lies at the height of 8,091m above sea level, is the 10th highest peak in The World, in Annapurna Massif. Annapurna massif consists of one mountain over 8000m, 13 mountains over 7000m, and 16 mountains over 6000m. The trekking in the Annapurna region is full of wonders. The treks offer you the closest and most stunning views of the sky-touching mountains in Annapurna Massif. The most prominent peaks in this region are Annapurna (I, II, III, and IV), Annapurna South, Khangsar Kang, Nilgiri Himal North, Machhapuchhre (Mt. Fishtail), Hiunchuli, and Mardi Himal.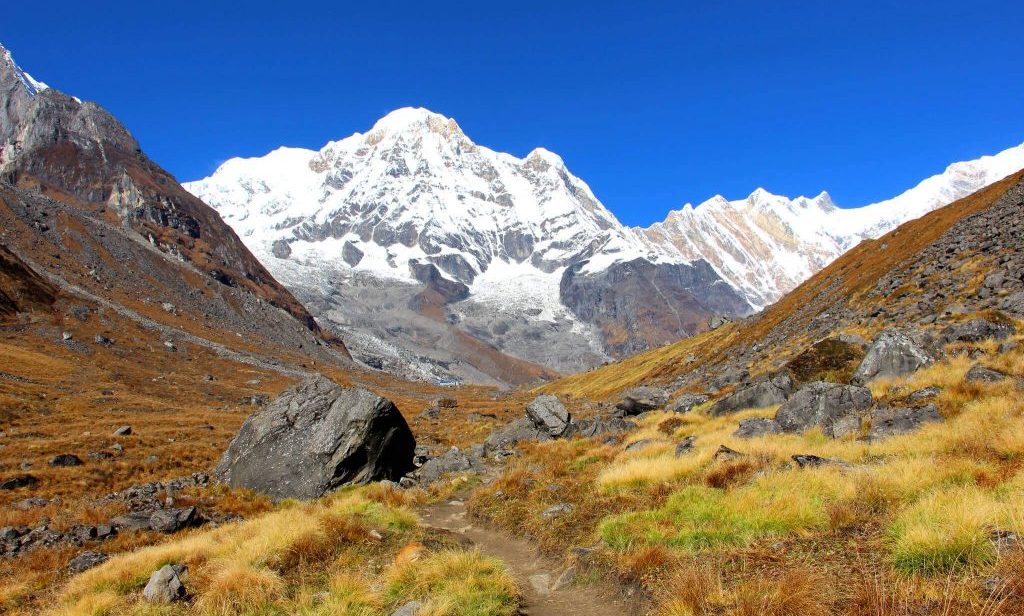 Annapurna Region offers various adventurous and incredible trekking of short to long term and ranging from easy-moderate to challenging. Annapurna Base Camp Trek, Ghorepani Poonhill Trek, Mardi Himal Trek, and Annapurna Circuit Trek are the famous trekking options in Annapurna Region. Annapurna Trekking is the second most popular trekking in Nepal, after Everest Region Trekking. Spring trek in the Annapurna region has a lot to offer and is easily doable.
Highlights of Spring Trek in the Annapurna Region
The Annapurna region, nestled in the heart of the Himalayas, is a trekker's paradise, especially in spring. As nature bursts into life, the trails of Annapurna come alive with colors, culture, and unmatched mountain vistas. Here are the highlights of trekking in the Annapurna region during spring:
Hidden Trails: Embark on some of the unrevealed and most popular trekking trails that the Annapurna region has to offer. Each trail, whether popular or untouched, promises a unique experience.
Floral Symphony: Springtime ensures the trail is adorned with blooming rhododendrons in the upper zone, transforming the paths into a pink and red wonderland. The lower regions are not left behind with various wildflowers carpeting the area, offering a contrasting beauty.
Verdant Vistas: As you descend, the lower regions reward you with green and clear views of terraced farms, where local farmers prepare for the upcoming harvest, adding a rustic charm to your trek.
Comfortable Trekking: Spring's warm temperature means carrying fewer loads of clothes, making your backpack lighter and your trek more comfortable.
Photographer's Delight: With clear and sunny days, every turn offers a postcard-perfect view, ensuring that photographers, amateur or professional, have their cameras busy throughout.
Cultural Dive: The Annapurna region is rich in culture. Trekkers get an opportunity to explore the local culture of ethnic groups like the Gurung, Rai, Brahmin, and Sherpa. Their traditional dances, songs, and festivals add a cultural dimension to the natural beauty.
Majestic Mountain Views: What's a Himalayan trek without its mountains? The Annapurna region promises stunning and massive views of the Annapurna massif, with its snow-clad peaks gleaming under the spring sun.
Safety First: Spring, with its predictable weather patterns, ensures less risk of any sudden accident, making it a preferred time for many trekkers.
Also Read: Trekking in Nepal in Autumn Season
---
Langtang Region
The Langtang region in Nepal is a breathtaking destination for trekking enthusiasts, offering a variety of stunning features to explore. Mount Langtang lies in Bagmati province, near Kathmandu Valley, Nepal. Langtang Himal constitutes the Langtang Lirung (7,234m), Langtang Ri, Dorge Lakpa, Loenopo Gang, Chengdu, and many other peaks. The Langtang region includes the Langtang Valley Trek, Gosaikunda Trek, and Tamang Heritage Trek. The Langtang region trek is perfect for exploring the incredible nature of this region. The Spring region in Langtang offers you many beautiful features.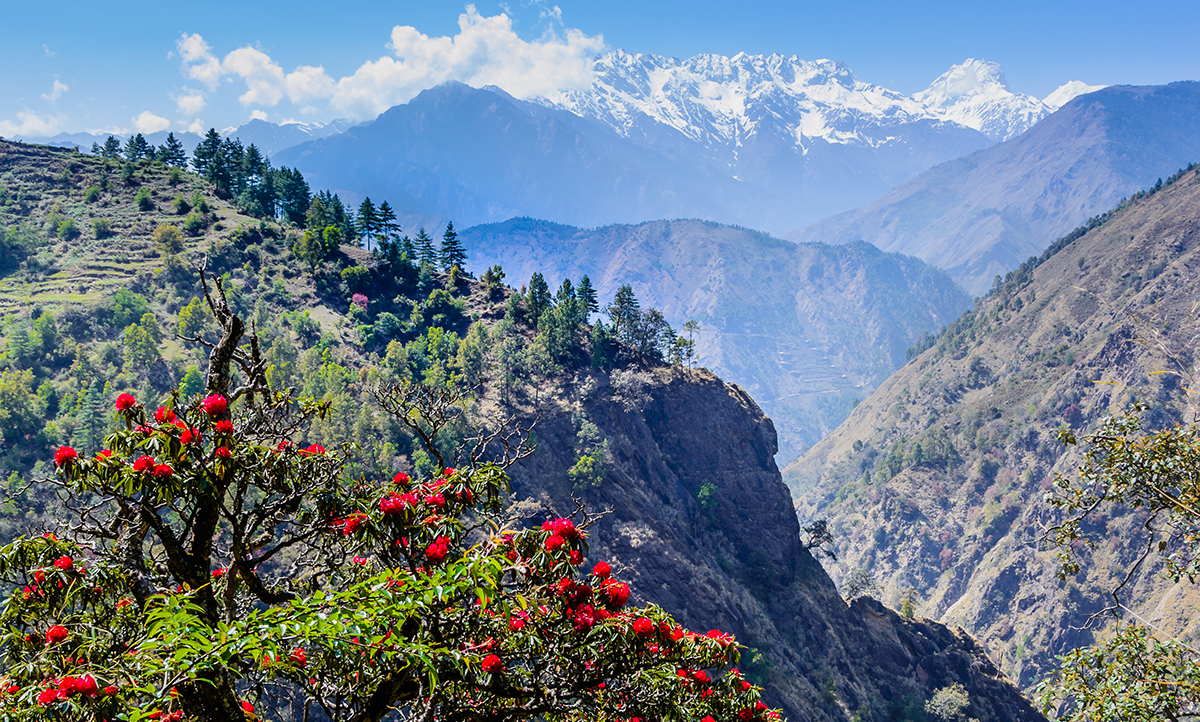 Highlights of Spring Trek in the Langtang Region
The Langtang region, located to the north of Kathmandu, is often touted as the "Valley of Glaciers". With its proximity to the Tibetan border and its unique blend of natural and cultural riches, Langtang becomes an even more appealing trekking destination in spring. Here's a glance at what the Langtang region has in store during the vibrant spring season:
Panoramic Peaks: Your journey will unfold with stunning views of majestic mountain ranges such as Langtang, Manasalu, Ganesh, and Jugal Himal. These peaks stand tall, wearing a shimmering cloak of snow, gleaming brightly under the spring sun.
Floral Wonderland: The region becomes a painter's palette in spring, with trails that are ornamented by blooming Rhododendrons and fragrant Jasmine flowers. Every step you take will feel like walking in a garden.
A Verdant Oasis: As you navigate through the trails, you'll be surrounded by green forests teeming with lush vegetation, oak, and bamboo, especially in the lower trek zones. The rustling of leaves and the chirping of birds add to the serene ambiance.
Comfortable Climatic Conditions: Spring's warm and fresh weather is conducive for trekking, making your journey pleasant and less tiresome.
Witness Exotic Wildlife: The Langtang region is home to many exotic animals. With a little luck, you might spot some of them on your trek, adding an element of surprise and delight.
Cultural Confluence: The local culture, traditions, and the warm hospitality of the Langtang region's inhabitants offer a heartwarming experience. Their simple lifestyles, colorful festivals, and melodious folk songs are a treat to every visitor.
Natural Marvels: The trek also promises incredible views of cascading waterfalls, serene lakes, the sprawling Langtang Valley, and several suspension bridges. Each of these sights is a testament to nature's splendor in this region.
Local Delights: A visit to the local cheese factory and Gompa offers insights into the region's culinary and spiritual facets. It's not just about the trek; it's about savoring the local way of life.
A Lake's Tale: If you venture on the Gosaikunda Trek, you're in for a visual feast. The trek offers splendid views of the sacred Gosaikunda Lake, Sarswati Kunda, and numerous other pristine lakes in the region, each telling its own mythological tale.
Spring in the Langtang region is a harmonious blend of nature's grandeur, rich culture, and ethereal beauty.
---
Manaslu Region
Manaslu region offers you The World's eighth highest peak: Mt. Manasalu (8,163m). The trekking in this region takes you through the off-the-beaten and classical path in Gorkha District Nepal. The trekking in this region offers everything you would love to explore in the classical trek in Nepal: Stunning views of mountains, iconic scenery, and close encounters with the local people's culture and traditions.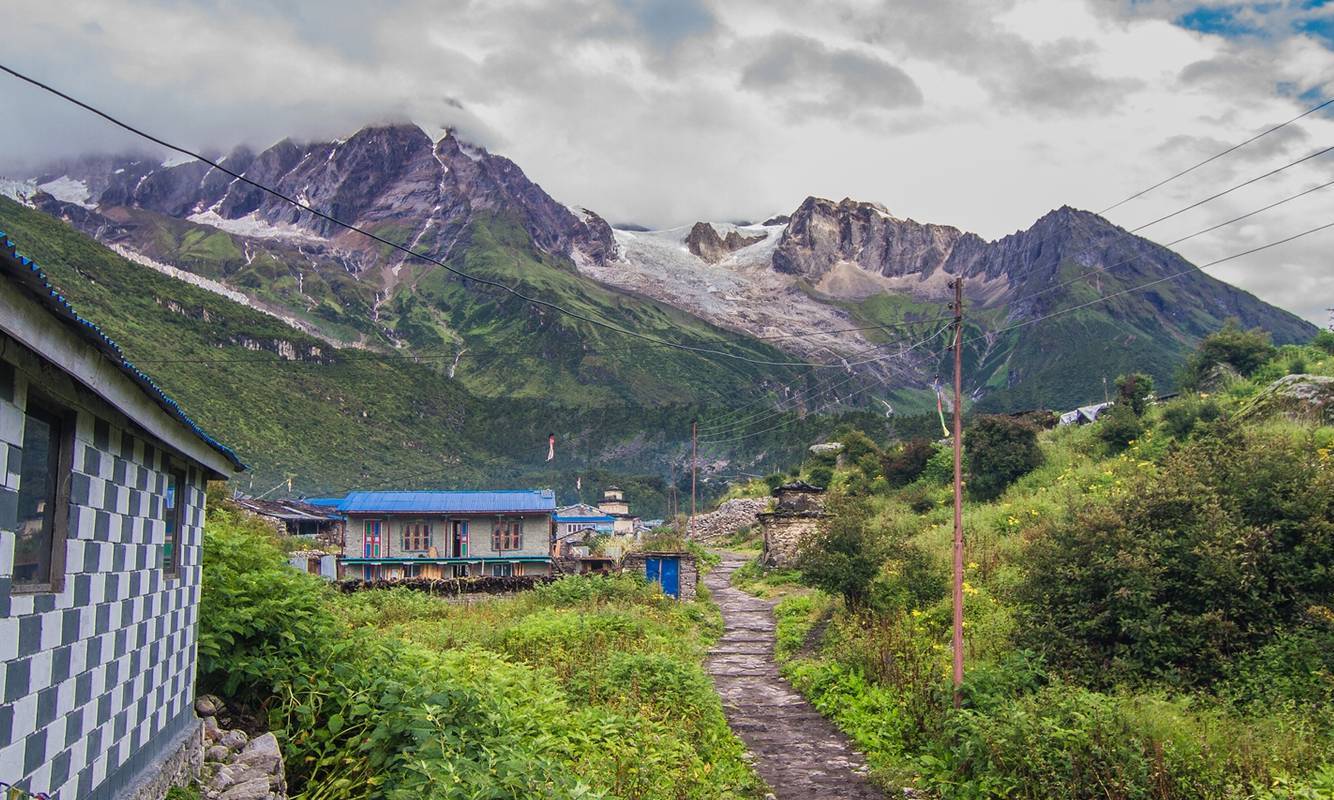 Many people make their way to Manasalu in spring and during other seasons. Many experts also suggest the Manasalu trek as the best trek in Nepal. Manasalu trekking's popularity has risen in the past few years. This trek is doable all around the year and each season rewards you with different but beautiful features and a variety of adventures. However, spring offers a lot of adventurous and mind-blowing features.
Highlights of Spring Trek in the Manasalu Region
Nestled in the heart of the Nepalese Himalayas, the Manasalu region beckons trekkers with its pristine landscapes and untouched beauty. During spring, this region truly comes alive, unveiling its myriad wonders. Here are the highlights that make spring treks in the Manasalu region a coveted experience:
Panoramic Vistas: Spring ensures clear and splendid views of the undulating hills, meandering rivers, and majestic mountains. The early stages of the trek particularly spoil you with enchanting glimpses of the Budhi Gandaki River, its waters gleaming under the sun.
Photographer's Paradise: With its warm and bright days, spring in the Manasalu region becomes a dream destination for photography enthusiasts. Every frame captures the vibrancy and dynamism of nature in full bloom.
Nature's Color Palette: The Manasalu region is renowned for its rich biodiversity, and during spring, it's on a flamboyant display. The upper reaches are adorned with rhododendrons blossoming in hues of red, pink, yellow, and white, creating a surreal contrast against the snowy backdrop. Meanwhile, the lower trekking trails are enveloped in lush green vegetation and dense forests, offering a refreshing canopy to walk under.
Trekker's Delight: One of the notable features of spring is the fresh and invigorating weather. Coupled with off-the-beaten paths, trekkers find it easier to navigate the terrains of the Manasalu region, making the experience more enjoyable and less strenuous.
Crossing the Larkya La Pass: Among the many marvels of the Manasalu trek, crossing the Larkya La Pass stands out. Positioned at an impressive altitude of 5,106m above sea level, Larkya La is celebrated as one of the most dramatic and longest passes in the Nepalese Himalayas. As you traverse this pass during spring, the panoramic vistas of snow-clad peaks and verdant valleys below are nothing short of mesmerizing.
---
Important Tips for the Popular Spring Treks in Nepal
Embarking on a spring trek in Nepal is a dream for many, but it's essential to be well-prepared to ensure a safe and enjoyable experience. Here are some crucial tips to keep in mind when planning your spring trek in Nepal:
Acclimatization is Key: With several treks in Nepal taking you to high altitudes, it's vital to factor in acclimatization days. This prevents Acute Mountain Sickness (AMS) and allows your body to adjust to decreasing oxygen levels.
Choose the Right Gear: While spring brings in warmer temperatures, the higher altitudes can still be chilly. Pack layers that can be added or removed as needed. Also, don't forget a good pair of waterproof trekking boots, a rain jacket, and sunscreen.
Stay Hydrated: Drink plenty of water to prevent dehydration, which can exacerbate the symptoms of altitude sickness. It's recommended to consume at least 3-4 liters daily during the trek.
Book in Advance: Spring is a popular trekking season in Nepal. Ensure that your accommodations, guides, and permits are sorted well in advance to avoid last-minute hassles.
Hire a Local Guide: Not only will local guides help you navigate the trails, but they also offer invaluable insights into the region's culture, flora, and fauna. They can also help in communicating with the local communities.
Stay Updated on Weather: While spring is generally stable, weather in the mountains can be unpredictable. Always check weather forecasts and be prepared for sudden changes.
Respect Local Customs: Nepal is rich in cultural diversity. Learn about local customs, dress modestly, and always ask for permission before taking photographs of people or their property.
Purchase Travel Insurance: Ensure your travel insurance covers high-altitude trekking, medical emergencies, and possible evacuations.
Maintain Health and Hygiene: Use hand sanitizers and avoid drinking tap water. Opt for boiled or purified water to prevent waterborne diseases.
Limit Weight: Carry only the essentials and limit the weight of your backpack. If needed, hire porters to assist with carrying heavy equipment.
Stay Environmentally Conscious: Respect the pristine nature of Nepal's trekking trails. Carry reusable water bottles, avoid plastic, and ensure you take all your trash with you or dispose of it properly.
Always Inform Someone: Before setting out each day, inform someone about your day's plan, be it your guide, a fellow trekker, or someone back at your accommodation.
Start Early: Start your treks early in the morning to maximize daylight hours and avoid any late afternoon weather changes.
Be Prepared for Crowds: Given the popularity of spring treks, trails can be busy. Be patient and respectful of other trekkers.
By following these tips, you can have a safe and memorable trekking experience on popular spring treks in Nepal, immersing yourself in the natural beauty and cultural richness of the Himalayas.
Nepal has numerous regions with hundreds of trekking routes. The Everest Region, Luxury Trekking in Nepal, Annapurna Region, Langtang Region, Dolpo Trekking, Mustang Trekking, Rara Region, Manaslu Trekking, Kanchenjunga Region, and Dhaulagiri Trekking are just a few of the popular trekking destinations offered by Luxury Holidays Nepal.
Please, click here for more options in tours and trekking packages in Nepal.
If you need any further information, please contact us, Email: at [email protected], Phone: +977- 985 100 5129 (WhatsApp)