Packing the right gear and clothing is essential for a successful and enjoyable trek in the Everest region. Here's a suggested packing list to help you prepare for your adventure: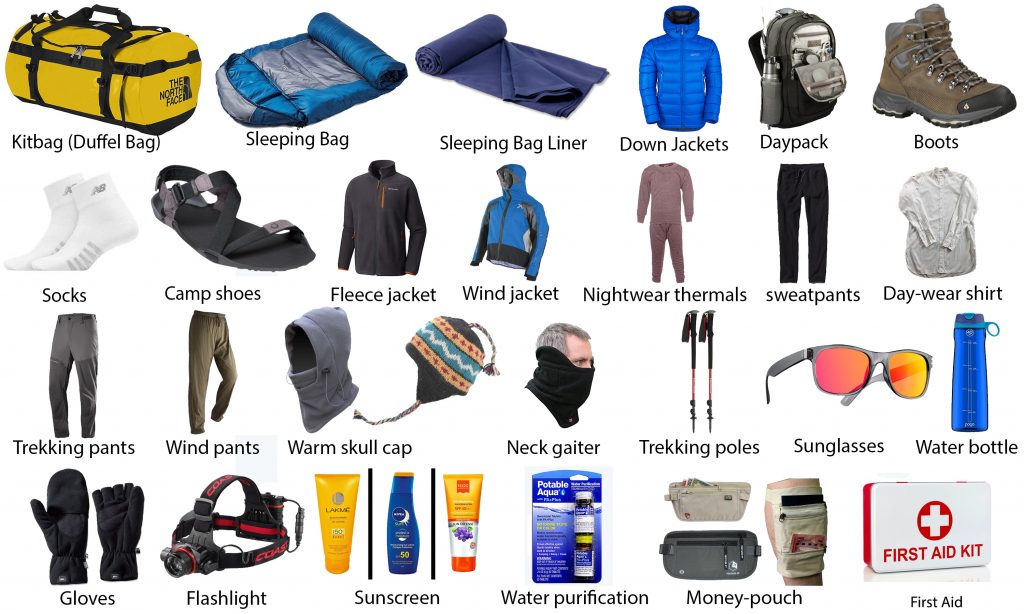 Clothing
Base layers: Lightweight, moisture-wicking thermal tops and bottoms (synthetic or merino wool)
Mid layers: Fleece or down jackets, softshell jackets, and trekking shirts (long and short-sleeved)
Outer layers: Waterproof and windproof jacket and pants (preferably with breathable fabric, like Gore-Tex)
Trekking pants: Lightweight, quick-drying, and preferably with zip-off options for versatility
Underwear: Moisture-wicking and breathable, including sports bras for women
Socks: Trekking socks (synthetic or wool) and liner socks to prevent blisters
Gloves: Lightweight fleece gloves and waterproof, insulated gloves for higher altitudes
Hats: Sun hat or cap for sun protection, and a warm beanie or hat for colder temperatures
Neck gaiter or buff: Useful for protecting your face and neck from cold and wind
Footwear
Hiking boots: Sturdy, waterproof, and broken-in to prevent blisters
Camp shoes: Lightweight sandals or sneakers for resting your feet in the evenings
Gaiters (optional): Useful for keeping snow, mud, and debris out of your boots
Gear
Backpack: 40-60 liters for trekkers, with a rain cover
Duffel bag: For porters to carry (if using porter services)
Trekking poles: Adjustable and lightweight, to reduce strain on your knees and improve stability
Sleeping bag: Rated for temperatures down to -15°C (5°F) or lower
Sleeping bag liner (optional): Adds extra warmth and keeps your sleeping bag clean
Water bottles or hydration bladder: With a combined capacity of at least 3 liters
Headlamp: With extra batteries
Sunglasses: UV protection and polarized lenses for glare reduction
Dry bags or plastic bags: To keep your belongings dry and organized
Toiletries and personal items:
Sunscreen: SPF 30 or higher
Lip balm: With SPF protection
Hand sanitizer
Toilet paper and wet wipes
Toothbrush and toothpaste
Quick-drying towel
Personal medication and first-aid kit
Multipurpose soap or body wash
Insect repellent
Electronics
Camera or smartphone: With extra batteries or a power bank
Charging cables and adapters
Universal power adapter (for charging in teahouses)
Headphones or earbuds (optional)
Miscellaneous
Snacks: Energy bars, trail mix, or other high-energy snacks
Water purification tablets or a portable water filter
Trekking map and guidebook (optional)
Travel documents: Passport, visas, permits, and travel insurance
Money: Local currency (Nepalese Rupees) for tips, food, and other expenses
Notebook and pen (optional)
Playing cards, book, or other lightweight entertainment for downtime
Remember that packing light and efficiency is key, as you'll need to carry your gear throughout the trek or pay for porter services. Make sure to check the weather and seasonal conditions before your trek and adjust your packing list accordingly.
If you need any further information, please contact us, Email: at [email protected], Phone: at +977- 985 100 5129 (WhatsApp)