To make the most of your trip to Nepal, it's important to prepare accordingly. Ensure you have your travel documents in order, including a valid passport and visa if staying for more than 15 days. Consider the best time to visit based on what you want to see and do, and pack accordingly with warm or lightweight clothing, hiking gear, and rain gear. Be aware of the risk of altitude sickness and take precautions, including gradual acclimatization and staying hydrated. Respect local customs and culture by dressing modestly, asking for permission before taking photos, and learning some basic Nepali phrases. Prepare for power outages by bringing a flashlight and portable charger. With these tips in mind, you can make the most of your trip to this beautiful and diverse country.
Visa and entry requirements
To enter Nepal, visitors are required to have a valid passport that is valid for at least six months from the date of entry. If you are staying in Nepal for 15 days or less, you can obtain a visa upon arrival at the airport or any of the overland entry points. The visa fee varies depending on the length of stay, ranging from USD 30 for a 15-day visa to USD 125 for a 90-day visa.
If you plan to stay in Nepal for longer than 15 days, or if you are traveling for a specific purpose such as work or study, you may need to obtain a visa in advance from the Nepalese embassy or consulate in your home country.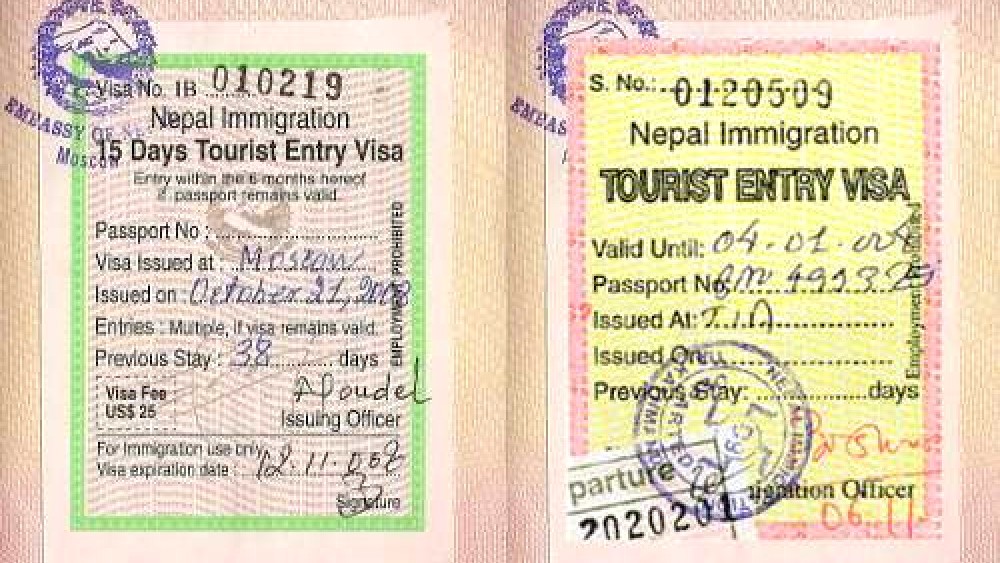 In addition to a passport and visa, visitors may be asked to provide proof of onward travel, such as a return ticket or a ticket to a third country. It's also recommended to have proof of travel insurance that covers medical expenses and emergency evacuation, as medical care in Nepal can be expensive.
Best time to visit
The best time to visit Nepal depends on your interests and the activities you have planned. Nepal has four distinct seasons: spring (March to May), summer (June to August), autumn (September to November), and winter (December to February).
Autumn and spring are considered the peak seasons for tourism in Nepal because of the mild temperatures, clear skies, and spectacular mountain views. Autumn is the best time for trekking and hiking because the skies are generally clear, the temperatures are moderate, and the monsoon rains have ended. Spring is also a popular time for trekking and hiking because the weather is warm and dry, and the hills are covered in blooming rhododendrons.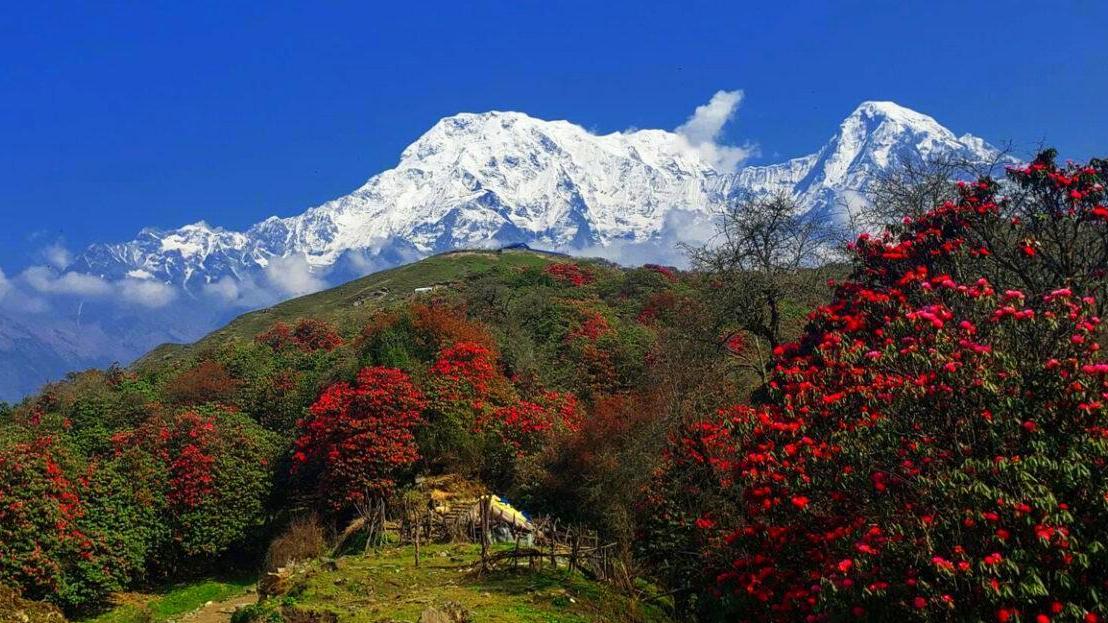 Winter is a great time to visit Nepal if you want to avoid the crowds and enjoy the beauty of snow-capped mountains. However, it can be quite cold, especially at higher elevations.
Summer is the monsoon season in Nepal, and the country experiences heavy rains and high humidity. However, it's also the best time to visit Nepal's lush jungles and see the country's waterfalls in full flow.
Language
The official language of Nepal is Nepali, which is spoken by the majority of the population. However, there are also many other languages and dialects spoken throughout the country, including Maithili, Bhojpuri, Tamang, Newari, and many more.
English is also widely spoken, especially in tourist areas, and many Nepalese people working in the tourism industry speak multiple languages. Knowing some basic Nepali phrases can help make connections with locals and show respect for their culture.
Here are some useful Nepali phrases to know:
Namaste - Hello
Dhanyabad - Thank you
Sanchai cha? - How are you?
Malai Nepali thah chaena - I don't speak Nepali
Mero naam ___ ho - My name is ___
Kati ho? - How much?
Ho - Yes
Hoina - No
Chai - Tea (a popular drink in Nepal)
Learning a few basic phrases in Nepali can go a long way in making your trip more enjoyable and meaningful.
Currency and payment
The currency of Nepal is the Nepalese rupee (NPR). It's recommended to exchange your currency at banks or authorized money exchange counters in Nepal to get the best exchange rates. You can also withdraw cash from ATMs, which are available in most tourist areas.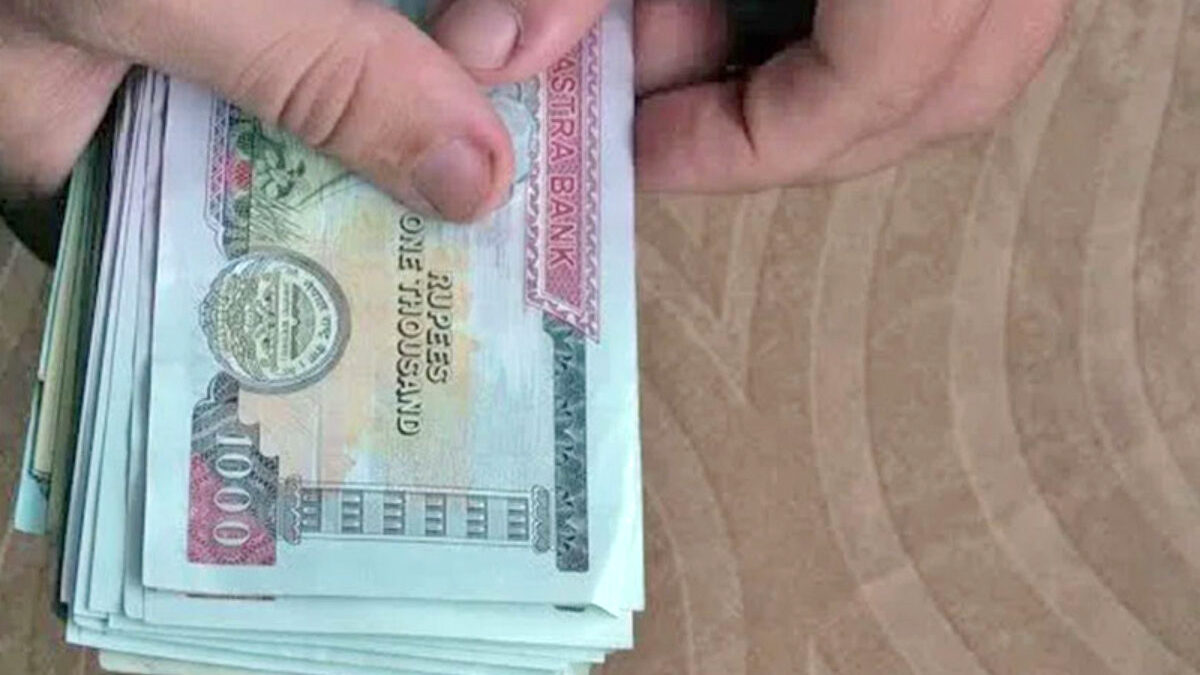 Credit and debit cards are accepted at some hotels, restaurants, and shops in major cities like Kathmandu and Pokhara, but it's always a good idea to carry cash, especially when traveling to more remote areas. Some smaller shops and restaurants may only accept cash.
It's important to note that many places in Nepal do not accept foreign currencies or traveler's checks, so it's best to exchange your money for Nepalese rupees before your trip. Additionally, it's a good idea to carry small denominations of Nepalese rupees, as it can be difficult to get change for larger bills.
Health and Safety
When traveling to Nepal, it's important to take some basic health and safety precautions to ensure a safe and enjoyable trip. Here are some tips:
Health
Make sure to get all necessary vaccinations before your trip, including hepatitis A and B, typhoid, and tetanus. Depending on the region you're visiting and the activities you have planned, you may also need additional vaccinations or medications.
Drink only bottled or filtered water, and avoid ice cubes and tap water. It's also a good idea to avoid eating raw fruits and vegetables that may have been washed with tap water.
Bring a basic first-aid kit with essentials such as bandages, pain relievers, antihistamines, and diarrhea medication.
Protect yourself from the sun by wearing sunscreen, a hat, and sunglasses.
Safety
Be aware of the risk of altitude sickness, especially if you plan to trek or hike. Gradual acclimatization, staying hydrated, and seeking medical attention if symptoms persist are important steps in preventing altitude sickness.
Keep your valuables secure and be aware of your surroundings, especially in crowded areas like markets and public transportation.
Be cautious when trekking or hiking, and only use authorized guides and companies. Check the weather conditions before embarking on any outdoor activity, and stay on marked trails.
Respect local customs and laws, and avoid engaging in illegal activities such as drug use or wildlife trafficking.
Cultural etiquette
Nepal has a rich cultural heritage, and it's important to respect local customs and etiquette when traveling there. Here are some cultural etiquette tips to keep in mind: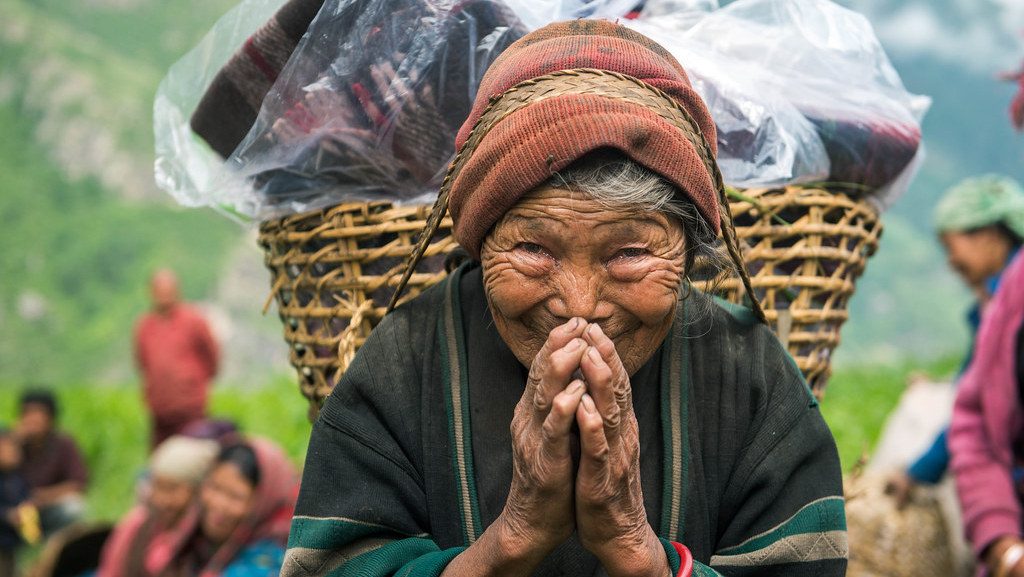 Dress modestly when visiting temples, religious sites, and rural areas. Cover your shoulders and knees, and avoid wearing revealing clothing.
Remove your shoes before entering temples, homes, and some shops.
Use your right hand for eating, shaking hands, and giving or receiving items. The left hand is considered unclean.
Avoid public displays of affection, as they are considered inappropriate in Nepalese culture.
Ask for permission before taking photos of people, especially in rural areas. Some people may feel uncomfortable or offended if their photo is taken without their consent.
Use your feet sparingly, as they are considered unclean. Avoid pointing your feet at people, and don't touch anyone with your feet.
Avoid showing anger or frustration in public, as it's considered impolite. Instead, maintain a calm and respectful demeanor.
When greeting someone, say "Namaste" with your hands pressed together in front of your chest. This is a common greeting in Nepal and shows respect.
By following these cultural etiquette tips, you can show respect for local customs and make connections with Nepalese people during your travels.
Top destinations
Nepal is home to many beautiful and diverse destinations, each offering a unique experience. Here are some top destinations to visit in Nepal: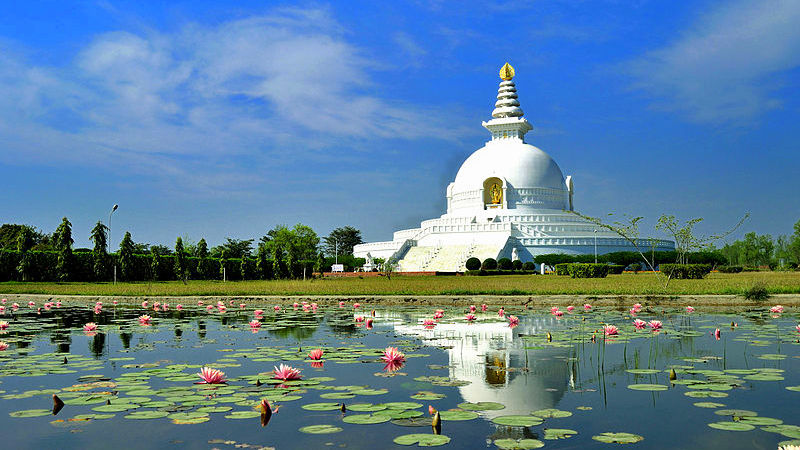 Kathmandu - The capital city of Nepal, Kathmandu is a vibrant and bustling city with many temples, palaces, and bazaars. Some popular attractions include the Swayambhunath Stupa, Pashupatinath Temple, and Durbar Square.
Pokhara - Known as the "Gateway to the Himalayas," Pokhara is a picturesque city located near the Annapurna mountain range. Popular activities include boating on Phewa Lake, hiking to the World Peace Pagoda, and paragliding over the city.
Chitwan National Park - Located in southern Nepal, Chitwan National Park is home to a variety of wildlife, including tigers, rhinos, and elephants. Visitors can go on jungle safaris, birdwatching tours, and canoe rides.
Everest Base Camp - For the ultimate trekking experience, many visitors to Nepal trek to Everest Base Camp, located at an altitude of over 17,000 feet. The trek takes several days and offers stunning views of the Himalayas.
Annapurna Circuit - Another popular trekking destination, the Annapurna Circuit takes visitors through remote mountain villages, lush forests, and stunning landscapes.
Bhaktapur - Located near Kathmandu, Bhaktapur is a well-preserved ancient city known for its traditional architecture and rich cultural heritage.
Lumbini - Considered the birthplace of Buddha, Lumbini is a sacred site for Buddhists from around the world. Visitors can explore the temples and monasteries in the area and learn about Buddha's life and teachings.
Transportation
Transportation in Nepal can be challenging due to the country's mountainous terrain and underdeveloped infrastructure. However, there are several options available for getting around: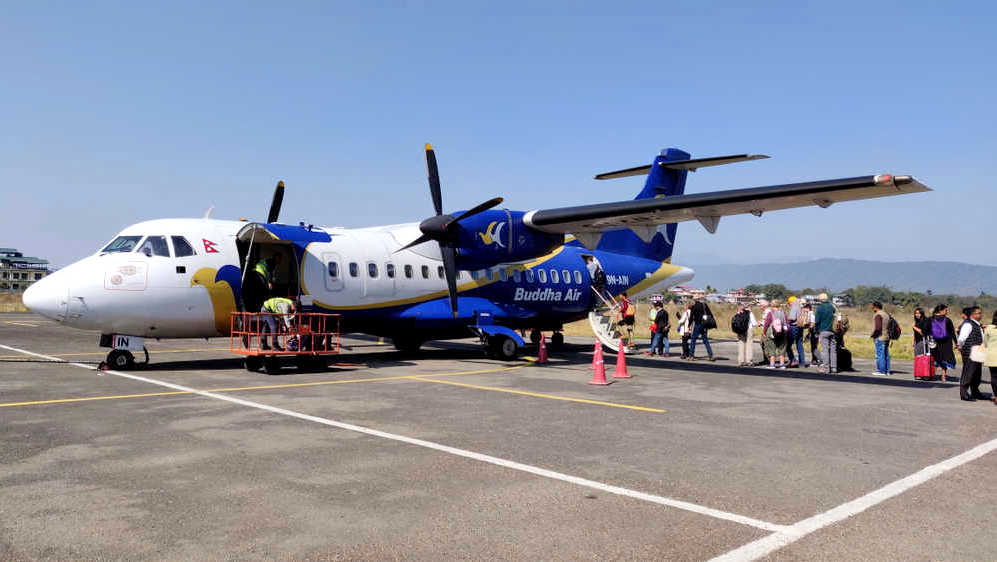 Domestic flights - Nepal has several domestic airlines that offer flights to major cities and towns. This is the fastest and most convenient way to travel long distances, especially if you're short on time.
Buses - Buses are the most common form of public transportation in Nepal, and they can take you almost anywhere in the country. However, they can be crowded, uncomfortable, and slow due to Nepal's rugged terrain and narrow roads.
Taxis - Taxis are available in most cities and towns, and they can be a convenient way to get around, especially if you're traveling in a group. However, make sure to negotiate the fare before getting into the taxi.
Motorbikes - Motorbikes are a popular mode of transportation in Nepal, especially in tourist areas like Pokhara. However, they can be dangerous, especially for inexperienced riders, and it's important to wear a helmet and follow traffic laws.
Trekking - If you're trekking or hiking in Nepal, you'll need to rely on your own two feet or hire a guide and porter to carry your gear. Trekking is a great way to experience Nepal's stunning landscapes and remote villages, but it requires a good level of fitness and preparation.
Accommodation
Nepal offers a range of accommodation options for travelers, from budget guesthouses to luxury hotels. Here are some popular accommodation options in Nepal: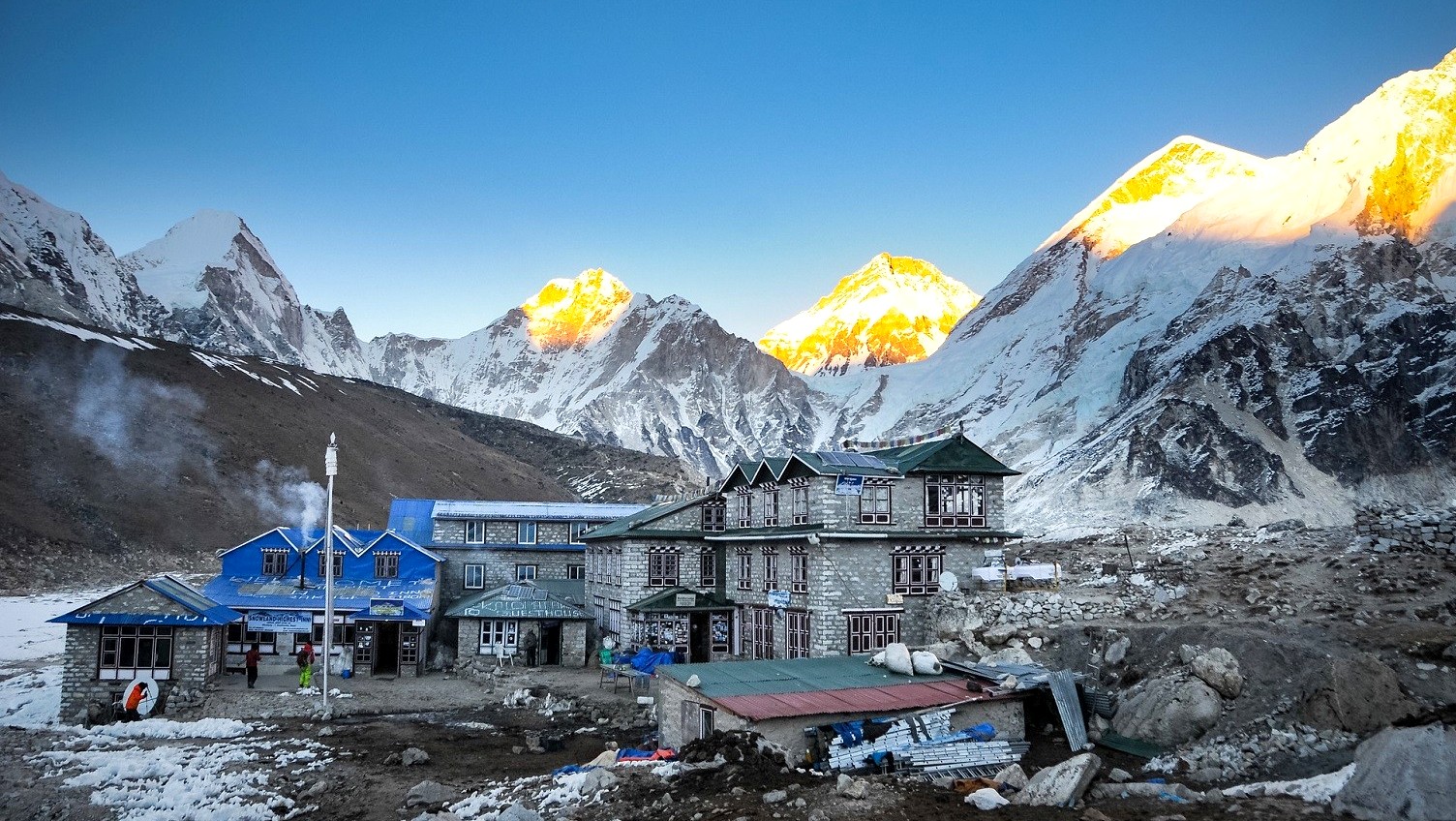 Guesthouses and Hostels - These are the most common and affordable accommodation options in Nepal. They offer basic amenities like a bed, shared bathrooms, and sometimes a communal kitchen. They're a great option for backpackers or travelers on a budget.
Tea Houses - Tea houses are small guesthouses located along popular trekking routes in the mountains. They offer basic accommodations and meals to trekkers, and they're a great way to experience local culture and hospitality.
Hotels - There are many hotels in Nepal, ranging from budget to luxury. They offer a variety of amenities like private bathrooms, air conditioning, and Wi-Fi. They're a good option for travelers who want more privacy and comfort.
Homestays - Homestays are a great way to experience local culture and hospitality. You'll stay in a local family's home and experience their way of life, including their food, customs, and traditions.
Resorts - There are several resorts in Nepal, especially in popular tourist areas like Pokhara and Chitwan. They offer luxury accommodations, spa services, and other amenities.
Food
Nepalese cuisine is influenced by Indian and Tibetan cuisine and is known for its flavorful spices and aromatic herbs. Here are some popular Nepalese dishes to try: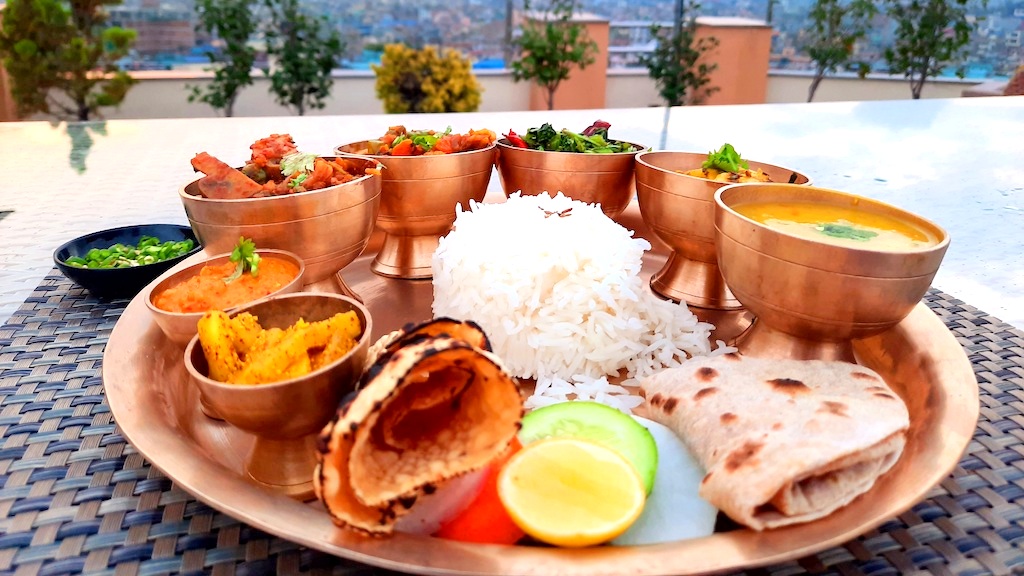 Dal Bhat - This is the national dish of Nepal and consists of steamed rice, lentil soup, and vegetable or meat curry. It's a staple food for most Nepalese people and is often eaten for lunch and dinner.
Momo - Momo is a popular street food in Nepal, which consists of steamed or fried dumplings filled with vegetables or meat. They're often served with a spicy tomato sauce.
Thukpa - Thukpa is a hearty noodle soup that's often eaten in the mountains. It's made with vegetables, meat, and noodles in a flavorful broth.
Chana Masala - This is a spicy vegetarian dish made with chickpeas, tomatoes, and onions. It's often served with rice or naan bread.
Sel Roti - Sel Roti is a sweet Nepalese bread that's often eaten during festivals and celebrations. It's made with rice flour and is deep-fried until crispy.
Lassi - Lassi is a popular drink in Nepal made with yogurt, water, and sugar. It's a refreshing drink that's often served with spicy food.
Remember to research, plan, and be flexible in your itinerary to make the most of your trip to Nepal. Enjoy the incredible landscapes, warm hospitality, and vibrant culture that this country has to offer.
Best Selling Luxury Tour and Trekking in Nepal
Luxury Everest View Trek- 8 Days: Starting Price - USD 2399
Kathmandu Tour with the sunrise view from Nagarkot - 5 Days: Starting Price - USD 349
Luxury Nepal Tour with Everest Scenic Flight - 5 Days: Starting Price - USD 1399
Nepal Luxury Tour with Everest flight and birthplace of Buddha - 9 Days: Starting Price - USD 1599
Everest Base Camp Helicopter with Kathmandu and Pokhara Luxury Tour - 6 Days: Starting Price - USD 1899
Everest Helicopter with Luxury Nepal Tour - 5 Days: Starting Price - USD 2199
Luxury Nepal Tour with Everest Scenic flight - 6 Days: Starting Price - USD 1299
Luxury Nepal Tour with Everest Landing Helicopter tour - 9 Days: Starting Price - USD 3599
Everest Heli with Luxury Kathmandu, Pokhara and the birthplace of Buddha - 8 Days: Starting Price - USD 2299
Kathmandu and Chitwan Luxury Tour with Dhulikhel - 7 Days: Starting Price - USD 4499
Annapurna in Luxury - 11 Days: Starting Price - USD 2199
Luxury Everest Base Camp Trek - 15 Days: Starting Price - USD 2999
Luxury Everest Base Camp Heli Trek - 9 Days: Starting Price - USD 2999
Luxury Nepal Tour with Dhampus Sarangkot Trek - 10 Days: Starting Price - USD 1599
Upper Mustang Heli Trek with Luxury Accommodations in Kathmandu and Pokhara - 14 Days: Starting Price - USD 3899
VVIP Everest Base Camp Luxury Trek - 10 Days: Starting Price - USD 5900
Luxury Nepal Tour with optional Chitwan, Pokhara and Lumbini - 5/9 Days: Starting Price - USD 1180
If you need any further information, please contact us, Email: at [email protected], Phone: at +977- 985 100 5129 (WhatsApp)