How can we see Everest?
Probably, there is none who misses the chance to see Everest, the top of the world when he/she is in Nepal or planning to visit Nepal. Do you know an interesting fact that the biggest number of people/tourists/ trekkers is attracted by Everest in Nepal every year? This legendary trekking trail used by Tenzing Norgay Sherpa and Edmund Hillary when they scaled Mt. Everest successfully in 1953 takes us to the highest Base Camp in the world, Everest Base Camp (5463m). We not only see Everest from Everest Base Camp, but also, celebrate the magnificent views of mighty glaciers; other mountain peaks include Loa Tse, Pumori, and Makalu.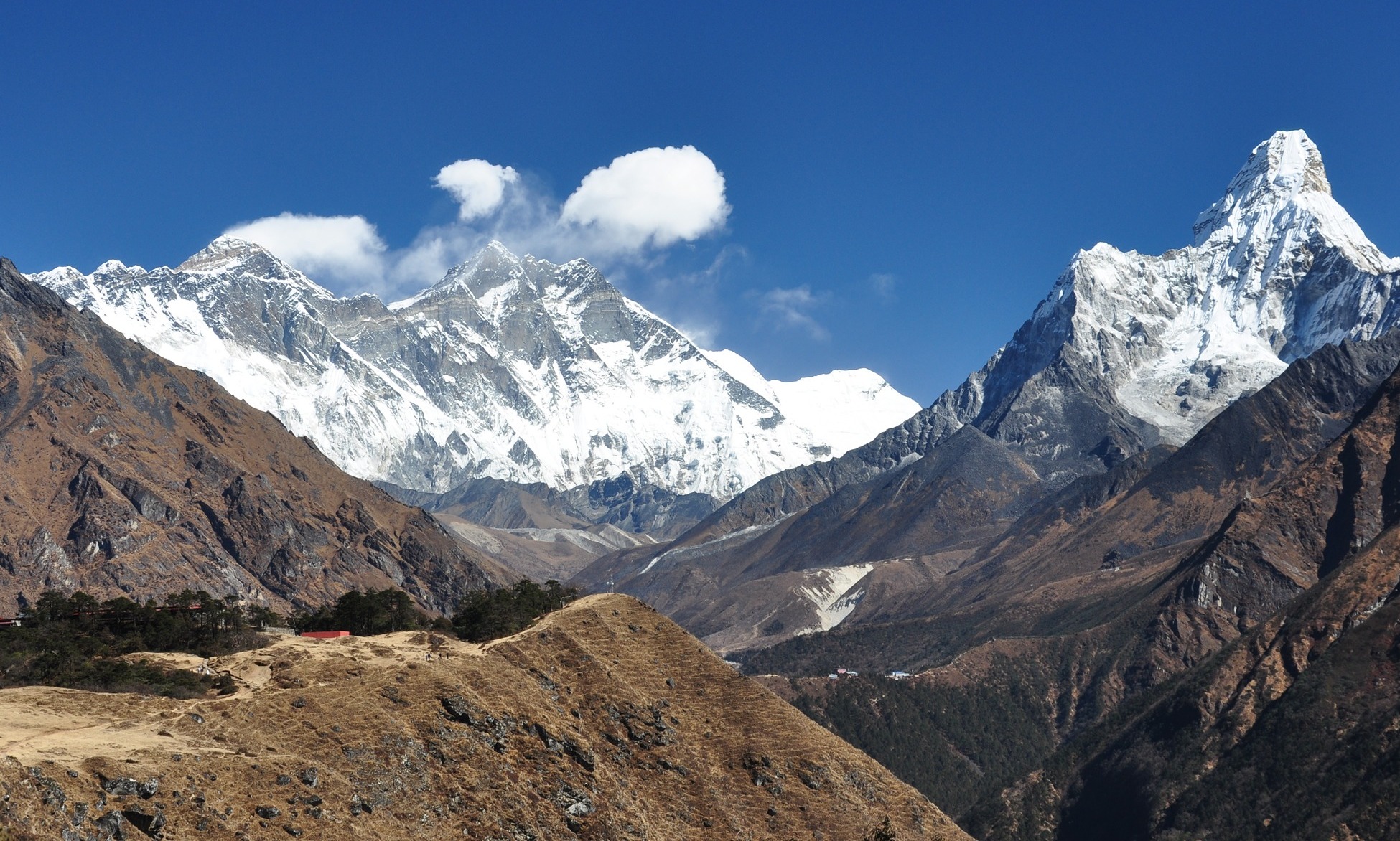 And now the question is how can we see Everest? Or what are the ways of seeing Everest? To quench the thirst for these questions, let's see some ways of seeing Everest.
Everest Base Camp Trekking
Everest Base Camp Trekking is the most striking way of seeing Everest, the top of the world with our own eyes. We see the closest view of Everest from Kalapatthar and Everest Base Camp in our Everest Base Camp Trekking. We have three popular viewpoints in Everest Base Camp Trekking: Hotel Everest View above Namche Bazar, Kalapatthar, and Everest Base Camp. We begin Everest Base Camp Trekking from Lukla after a short and scenic flight from Kathmandu. We head to Phakding and get into Sagarmatha National Park. Sagarmatha National Park, a UNESCO World Heritage site, is a national park located at the highest elevation in the world. We experience alpine species of flora and fauna in the park.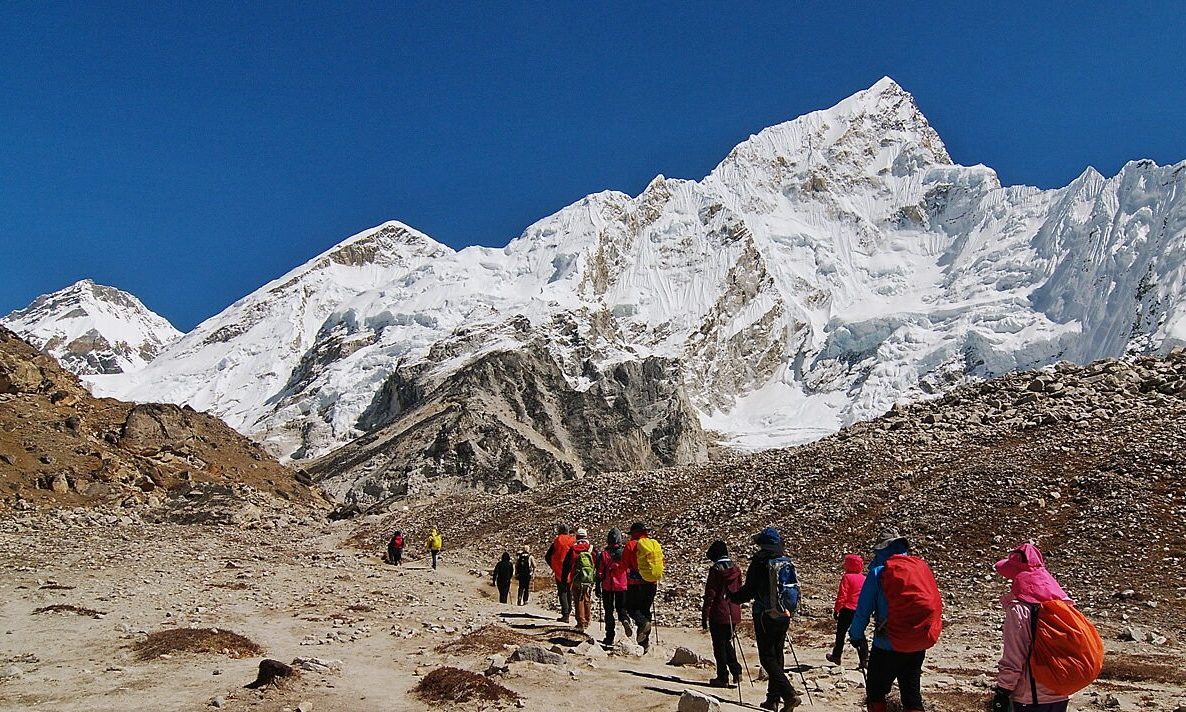 Further, we trek to Namche. We acclimatize at Namche and explore the Bazaar. We climb up to Hotel Everest View and enjoy stunning sunrise, Everest, and Khumjung village. Now, we trek to Tengboche; explore the monastery, and relax in the serenity of Tengboche. At Dingboche, we acclimatize and explore the area. Then, we trek to Gorekhshep via Periche and Dingboche. Our Kalapatthar climb offers us magnificent views of sunrise and mountain summits including Pumori, Loa Tse, and Mt. Everest. We, further trek to Everest Base Camp and celebrate more breathtaking mountain and glacier views. We backtrack to Lukla following the same trail and fly to Kathmandu to end Everest Base Camp Trek.
Please, click here for the various trekking packages in Nepal.
Everest View Trekking
Those who don't have enough time and a good level of stamina can see Everest from Hotel Everest View ( 3800m) located just above Namche Bazaar( 3400m). The budget trekkers also find Everest View Trekking a perfect way of seeing Everest. We fly to Lukla from Kathmandu and begin our Everest View Trekking. We head to Namche via Phakding. We also explore Sagarmatha National Park during this trek. We ascend up to Everest View Hotel from Namche and celebrate fabulous views of sunrise and Mt. Everest. We also see the picturesque Khumjung Village from Hotel Everest View.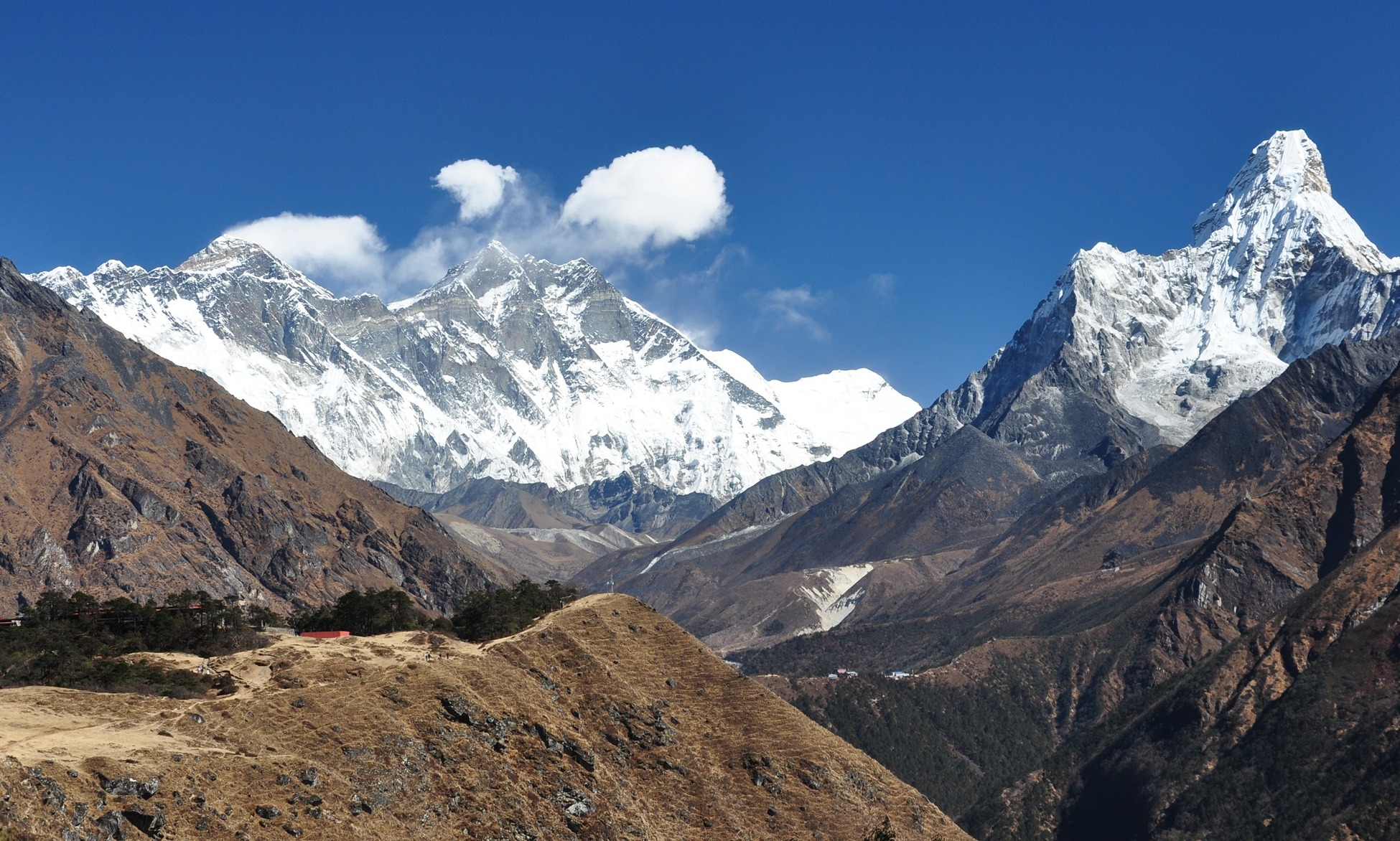 Please, click here for the Luxury Everest View Trek.
Everest Mountain Flight
Everest Mountain Flight is another beautiful way to witness the amazing Mt. Everest. Everest Mountain flight takes off from Kathmandu airport every morning. Different airlines like Shree Airlines, Buddha Airlines, and Yeti Airlines operate regular Everest Mountain Flight from Kathmandu airport. On this one-hour flight to the Everest region, everybody is guaranteed a window so that they can celebrate splendid views of landscapes, glaciers, settlements, and mountain summits.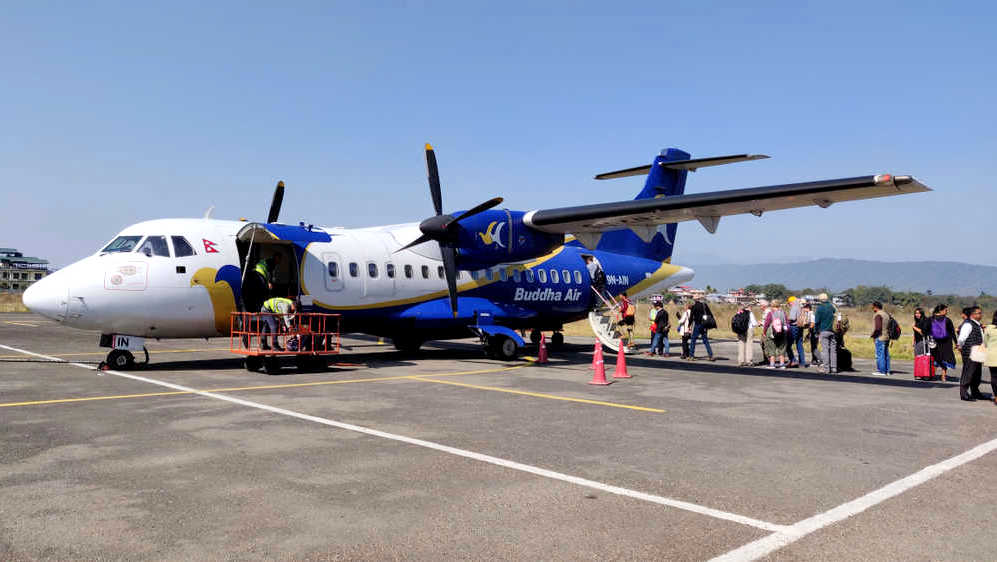 We, initially, fly to Langtang Himalayan from Kathmandu and then head to the Everest region. The towering giant peaks begin to loom in front of us including the top of the world, Mt. Everest. We fly just above Everest and other towering summits and explore the entire region and finally fly back to Kathmandu.
Also Read: Mountain Flight: Beyond the Expectation and Imagination
Everest Flight By Plane: 1 Hour Flight
5:30 AM: Pick up from your hotel and transfer to the airport:
As per your dramatic flight time, we collect you from your respective hotel and transfer you to the domestic terminal of the airport. Our representative will brief you about your would-be Himalayan experience.
6:30 AM: Scenic Flight to Mount Everest
Your supernatural world roof's experience lasts for one entire hour over the eastern Himalayan range of Nepal. On offering a bird's eye view of the world's highest Mt. Everest, the flight extends up to Mt. Makalu and returns back, making a circle of high mountains.
7:30 AM: Drive back to the hotel:
After the eye-appealing flight is over back to Kathmandu airport, our representative will meet you at the arrival lounge. Share your life experience and drive back to your hotel.
Duration: 1 Hour Flight
Cost: USD 200 per person
Everest Helicopter Tour
Everest Heli Tour is an awesome way to see not only Everest but also to explore the entire Khumbu region within 3 hours. Everest Heli Flight takes off from Kathmandu airport. One heli can be shared by 6 people from Kathmandu and we land at Syangboche airport and take only 3 people above Everest again rest of the people are taken they are dropped at the same place. After this exciting flight above Mt. Everest, all are collected and flown back to Kathmandu.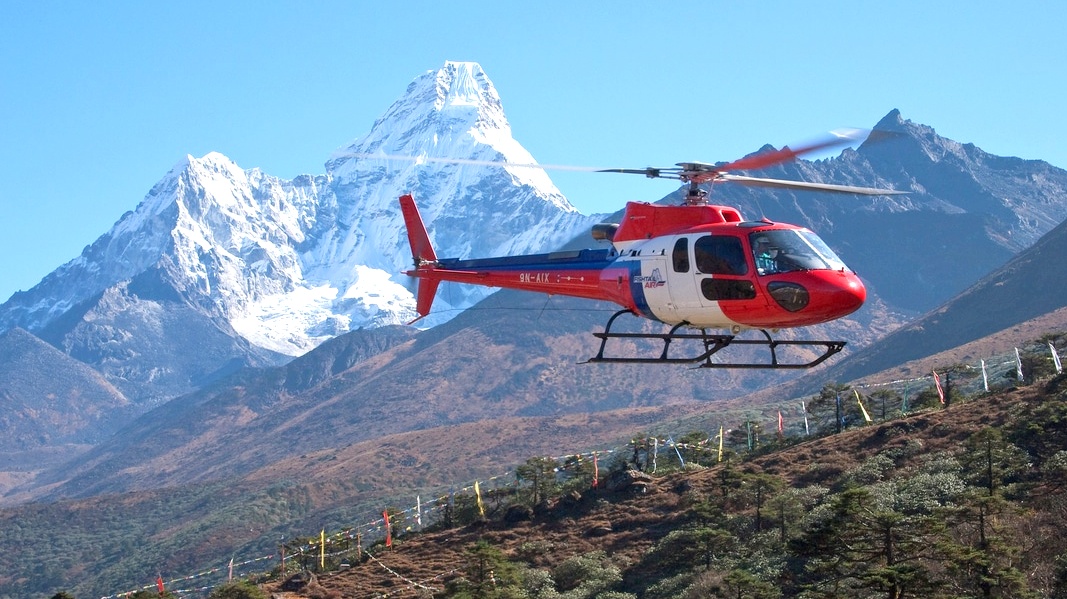 Duration: 3 to 4 hrs
Cost: USD 4500 (5 pax)/ USD 1000 for 1 pax (Sharing Basis)
Route: Kathmandu-Lukla-EBC/ Kalapathar-Lukla-Kathmandu
Best Time: Jan-May and Aug-Dec
Maximum Altitude: Height of Everest Base Camp (5,364m / 17,598 ft)
Please, click here for the Helicopter tour packages in Nepal.
Conclusion
These are the four magnificent ways of seeing Mt. Everest. Tourists can go in any of the above-mentioned ways to see Everest. If they have sufficient time and budget, they can go with Everest Base Camp Trek which takes all 2 weeks time. And if they do not have much time period to spend 2 weeks in the mountain, then, they can go on either Everest Heli Flight, Everest Mountain Flight, or Everest View Trek.
If you are planning to see Everest, we offer the Everest Base Camp Trek, Everest Base Camp Heli Trek, Everest View Trek, Luxury Everest Base Camp Trek, Everest Scenic Flight from Kathmandu, and Everest Helicopter Tour as the best options.
If you need any further information, please contact us, Email: [email protected], Phone: +977- 985 100 5129 (WhatsApp)