Well, with facts and reality, this article is prepared and posted to provide information to those who seek such facts and reality on accommodation and food in the Everest region.
There is no doubt that while tourists and visitors are in Kathmandu and other major cities of Nepal, they have the availability of excellent hotels and lodges. Several restaurants offer a variety of foods and dishes, and different categories of hotels are available for accommodation and relaxation. Nonstar to 5 Star hotels &resorts is available with a variety of cuisine like Chinese, Indian, Italian, French, Intercontinental, Japanese, etc, and most, varieties of Traditional and typical Nepalese Foods. But these all shrink and decrease while you reach to trekking destination or trekking routes. Himalayan Regions such as Everest Region, Annapurna Region, Langtang Region, Manaslu, or other regions are geographically hard and challenging to develop infrastructures for luxurious and high-standard hotels. But there are many teahouses and family-run Guest-house and Home Stay available which offer the best quality of foods and accommodation as compared to the topography and remoteness of the area.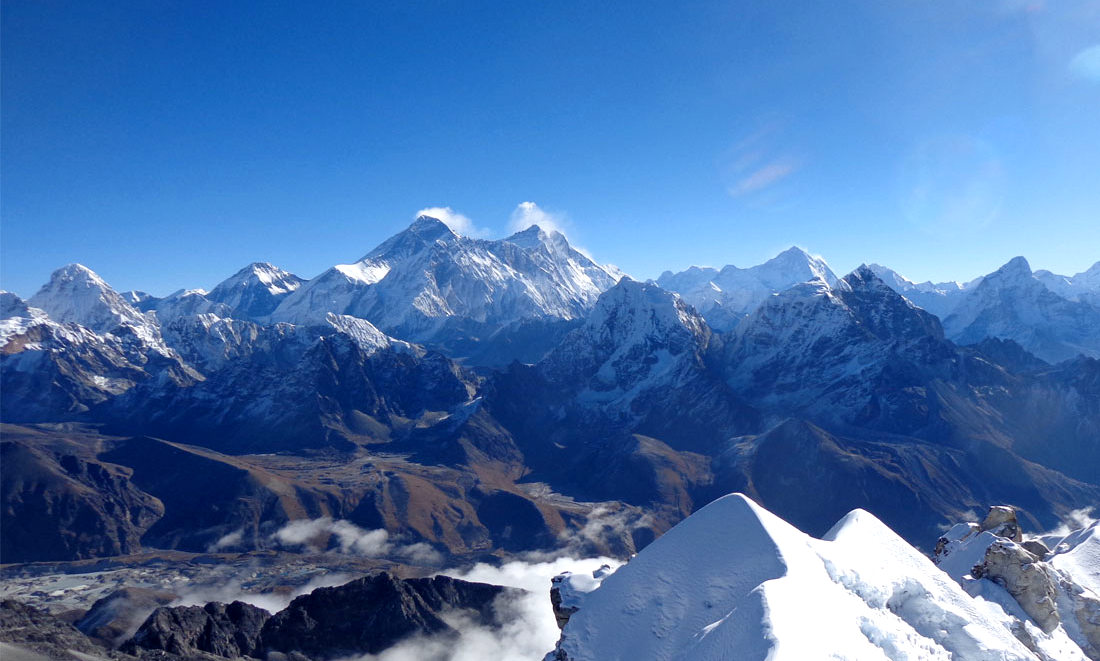 If you are hearing the word 'Teahouse' for the first time, you may think it is a house where teas are available to drink. Well, you hit slice a bite. Initially, it is correct that teahouses are a point or place where peoples and visitors or travelers take a rest for a while and drink teas. With years and years, the number of tourists and trekkers visiting the Himalayan region increased. With time and changes, teahouses are developed and increased to in definition with several more services. Now day Teahouse means a place or a stopping point where visitors and travelers take a rest not for a while but for whole night or even for several nights and eat breakfast and other meals. Teahouse is like your own house with a different sense that you are a guest.
Do you know that Everest trekking, Annapurna trekking and many Himalayan region treks are also famous for teahouse trek? Actually, camping trekking in Nepal is disappearing gradually. With the popularity of Teahouses on those routes, they are also famous with the name of Teahouse Trek.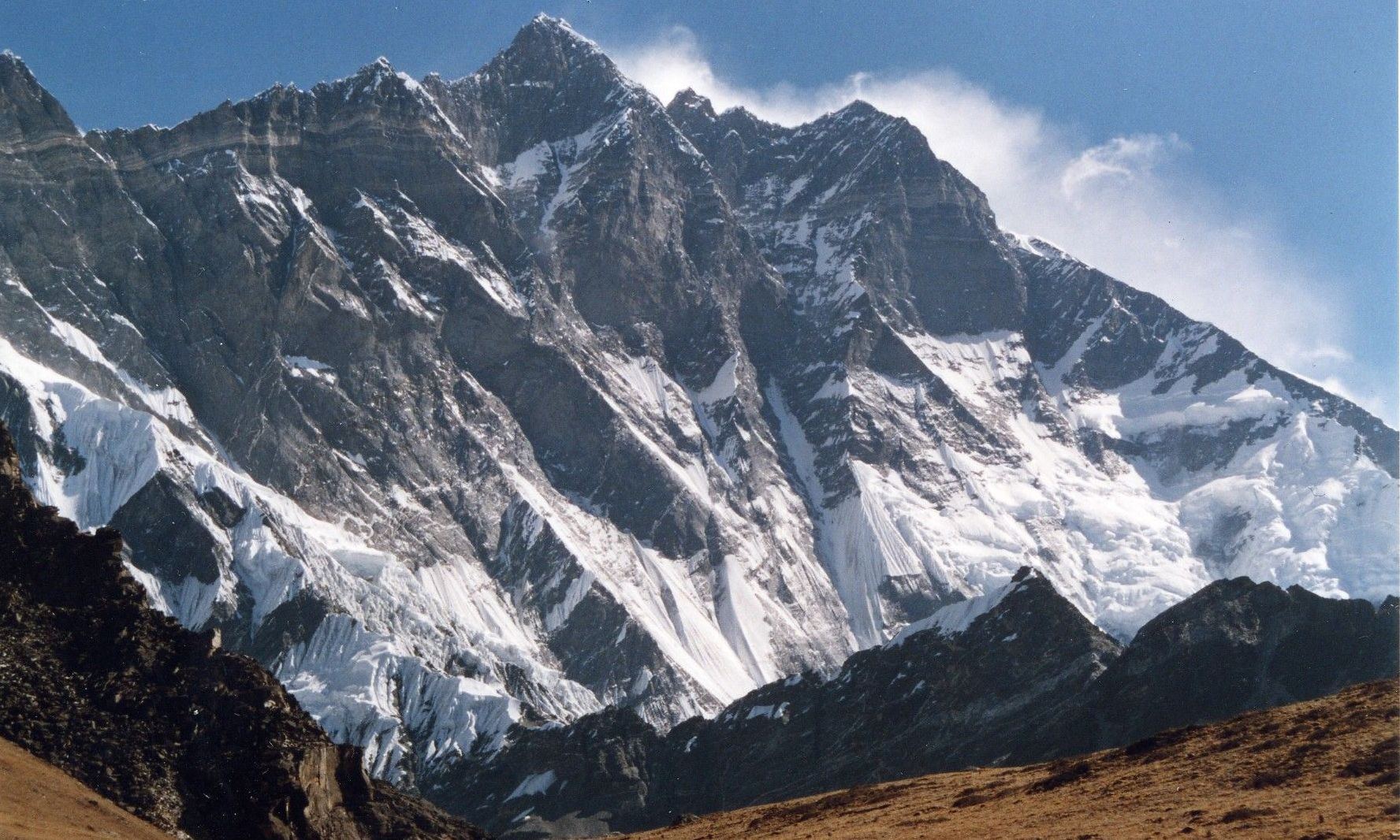 There are many teahouses on the route to Everest Trekking. From Lukla to the last settlements of the Khumbu Region (Everest Region) or upper Himalayan, many teahouses are established and run.
What kinds of foods or dishes does Teahouse provide? How do the foods are in Teahouse? Or how does and what kinds of accommodation are provided by Teahouse? In Fact, everyone looks for the best and best. Here is detailed information about tea houses and food in Everest trekking.
Drinks Available on Everest Trekking
Drinking alcohol or caffeine while trekking at high altitudes must be avoided. Although these are also available on teahouse, more than those there are some other things which are listed below;
Mineral Water
Tea, either black or milk( mostly of milk power) is common
Various Fruit Juices, a variety of fruit-flavored extracts that are mixed with hot water. Hot Lemon and hot Orange are common and also with ginger slices are also available which is quite good for bad stomach and body heating.
Bears and some variety of alcohol and mostly local and homemade alcohols are also available but, drinking those is not good for trekking and walking.
Everest and Nepal Ice are popular brands of beer in Nepal and in its mountain
Type of food is served in the tea houses during Everest Trekking
Due to the remoteness and high elevation, Foods and other necessary goods have to be carried by people themselves or by using horses/mules and yaks. So, most meals are of nonperishable ingredients such as cereals, rice, grains, and others.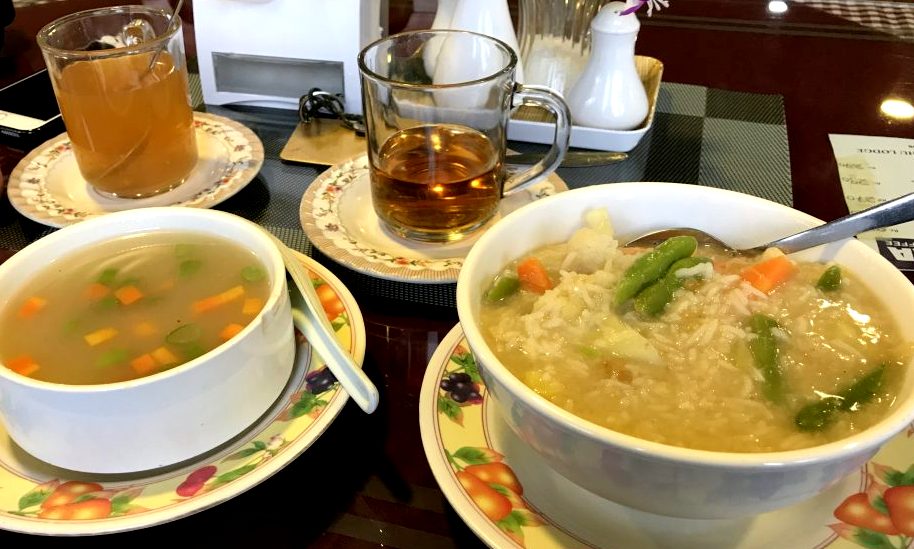 Types of breakfast served During Everest trek
Generally, most of the teahouses offer a hot breakfast usually consisting of French toast, eggs, potatoes, tea, and coffee. Here is a list of such breakfasts which may available during trekking in the Everest region.
Toasted Bread
Toast bread with jam and honey
French toast
Cheese toast
Honey toast
Jam toast
Toast bread with egg and cheese
Plain toast
Eggs
Boiled eggs
Plain omelets
Scrambled eggs
Fried eggs
Veg omelets
Cheese omelets
Bread and Pancakes
Tibetan Bread
Pancake with jam or honey
Apple pancake
Egg pancake
Chocolate pancake
Lemon pancake
Cinnamon pancake
Chapati plain
Chapati with honey, peanut butter, egg, and baked beans
Porridge
Oat porridge
Tsampa porridge
Apple porridge
Honey porridge
Porridge with cinnamon and resins
Muesli with hot milk
Cornflakes with hot milk
Rice pudding
Chocolate pudding
Lunch and Dinner in Teahouse
Rice Meals ( Dal Bhat Power-24 hour)
Dal Bhat Normal/ Veg
Dal Bhat non-veg
Rice with chicken curry
Rice with veg curry
Cheese fried rice
Veg fried rice
Egg fried rice
Tuna fried rice
Mixed fried rice
Other Foods Available in Teahouse
Noodles
Veg fried noodles
Egg-fried noodles
Fried noodles with cheese
Mixed fried noodles
Momo (Dumplings)
Veg momo
Buff momo
Chicken momo
Cheese momo
Veg momo fried or steamed
Potato momo
Pasta and Macaronis
Veg fried pasta
Cheese fried pasta
Pasta with cheese and tomato sauce
Plain macaroni
Macaroni with vegetables, cheese, and egg
Mix macaroni
Pizza and Sandwiches
Chicken Pizza
Mushroom pizza
Mixed pizza
Grilled cheese tomato sandwich
Grilled tomato egg sandwich
Grilled tuna and tomato sandwich
Spaghetti
Spaghetti with cheese tomato sauce
Spaghetti with tomato sauce
Spaghetti veg tomato sauce
Spaghetti with tuna, cheese, and tomato sauce
There are lots of variety of foods as your choice and need. You are given a menu locally prepared by the teahouse and you will find the options in order for your breakfast, lunch and dinner. Due to the large crowd and mass trekkers, there may be a chance of unavailability of such foods but don't worry. Nepali Traditional and common food "Dal Bhat" is surely available.
Cost for food in Everest trekking
One item of food costs between USD 3-8 depending on what you eat and where you eat. The menus will almost be the same in the entire region and all teahouses. We do not really find such special items of the foods on the menu. However, Nepali dishes which you are going to try for the first time will be new for you.
Carry some snacks of our own
Yes, definitely, we can. Trekkers carry some light snacks on the trail to satisfy their immediate hunger. You can carry some light snacks like cookies, chocolate, fruits, etc.
We have done good and enough discussion about foods in this article which will definitely be helpful for you while trekking to Everest or Trekking in Nepal.
We already discussed that accommodation on trekking in Himalayan will serve by the teahouse. Due to the remoteness of the area, the expecting facility as in the city is a little illogical. However, accommodation on Teahouse will definitely cross your expectation.
Accommodation in Everest trekking
Obviously, it is frequently asked question by many trekkers who are trekking in Nepal. And there is one short and sweet answer which satisfies all your curiosity. Teahouse is a small hotel providing both Food and accommodation in the remote area of the Himalayas area. Despite the remoteness of the area, they serve quality foods and quality accommodation for the visitors and guests. A variety of rooms, Single, Twin, Triple, are offered. Either single or shared both rooms are available. With the large numbers of trekkers on the season, rooms are mostly booked and reserved. It is a little hard to find the best and as choice rooms.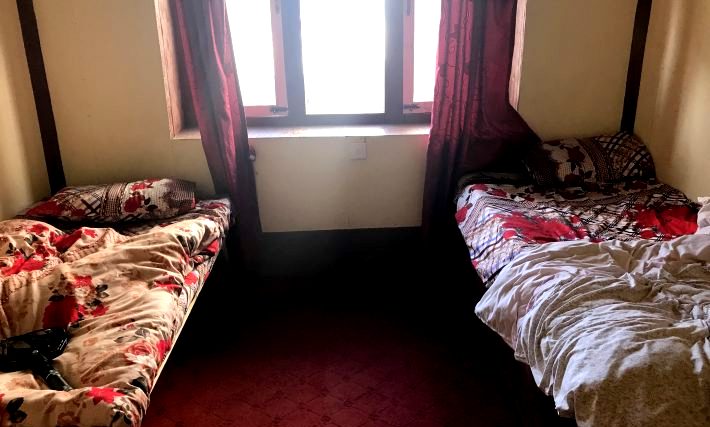 Bathrooms and toilets with sharing basis are provided and a cold shower is free but a hot shower costs you little. There are some places to charge your electrical devices.
With small rooms, basically with two beds and a table, is maintained by the teahouse which is quite nice insulated, have clean bed sheet, pillows and a warm blanket, hot-bag with extra cost, etc. Please take your own lock to make sure security in your rooms.
Cost of Accommodation in Everest Trekking
We also can find luxury accommodation for Luxury Everest Base Camp Trek these days. We can get these luxury accommodations in a few places like Lukla, Phakding, Namche and Dingboche. If you really want luxury accommodation for your Everest Base Camp Trek, you need to inform your local partner prior to the trekking.
Luxury Accommodations in the Everest region cost between USD 25-35 per night and normal teahouse accommodations cost between USD 5-15 per night. And these days, the teahouses charge you individually per night on sharing basis.
If you are looking for the best Everest Trekking, we offer the Everest Base Camp Trek, Everest Base Camp Trek with Helicopter flight, Everest Base Camp Heli Trek, Everest Base Camp Trek with 5-star accommodations in Kathmandu, Luxury Everest Base Camp Trek, and many more.
If you need any further information, please contact us, Email: [email protected], Phone: +977- 985 100 5129 (WhatsApp)