Nepal is a wonderland for exploring the untamed variations of flora and fauna, experiencing the spectacular vistas of enormous mountains, exploring many civilizations, studying various climates, and discovering the diversity of plants. Nepal's extreme altitude range, from 59 meters to 8848.86 meters above sea level, offers a variety of climates, topographies, and ecosystems. Nepal's various geographic variations provide a wide range of natural beauty. Nepal is a paradise of natural beauty, with the eighth-highest mountain in the world above 8000 meters, as well as other smaller peaks, freshwater rivers, lakes, streams, glaciers, glacier lakes, valleys, and protected regions. Nepal is a country where a variety of ethnic groups coexist peacefully. The most alluring features of Nepal's visit have been its numerous expertly constructed stupas, monasteries, palaces, gompas, and temples.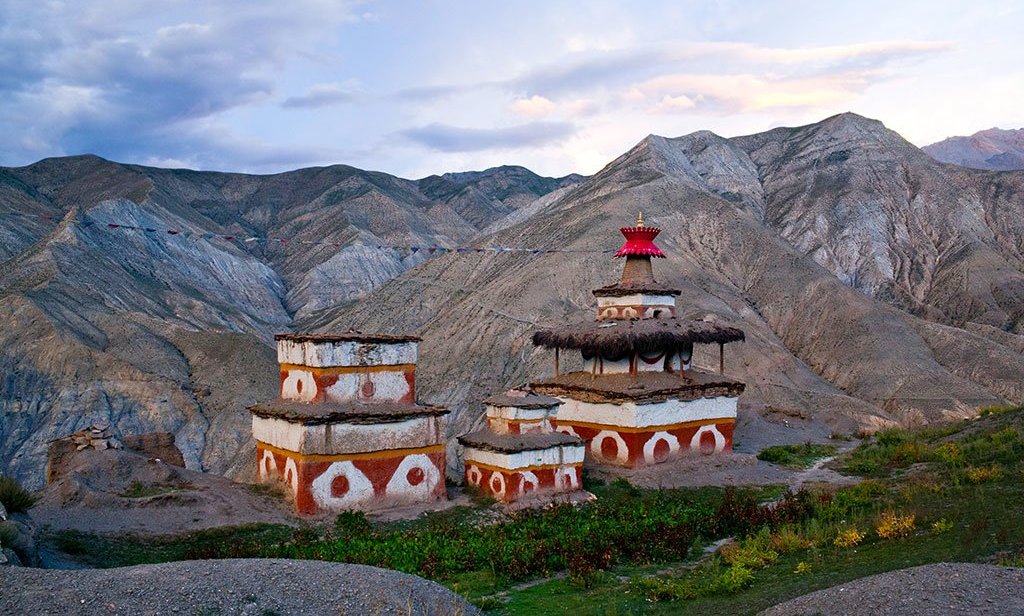 Spring is one of the major trekking seasons in Nepal which falls in March and lasts until May. It is the second busiest time of the year to trek in Nepal after the autumn season, normally in the Everest Region and Annapurna Region. Spring seasons are also called the seasons of flowers, where you can explore the varieties of blooming flowers based on altitudes and climates. The Spring season in Nepal is the peak time for touring, trekking, and mountaineering. During this season trekking is possible in all top trekking destinations in the nation. Trekking on the foothills of the snowy mountains during spring weather is simply the best because of the trail filled with blooming Rhododendrons, trees, and other beautiful flowers, the warmer and clear weather days, stunning views of mountain vistas and Himalayan Panoramas, and Low risk of any disasters and unfortunate incidents.
Thousands of tourists visit Nepal each spring to enjoy the ultimate thrill of exploration and wandering amid the country's beautiful natural and cultural surroundings. Some of the most well-known trekking routes in Nepal during springtime are Everest trekking, Manaslu trekking, Annapurna trekking, Kanchenjunga trekking, Langtang trekking, Gosaikunda trekking, Khaptad trekking, and Dolpo trekking.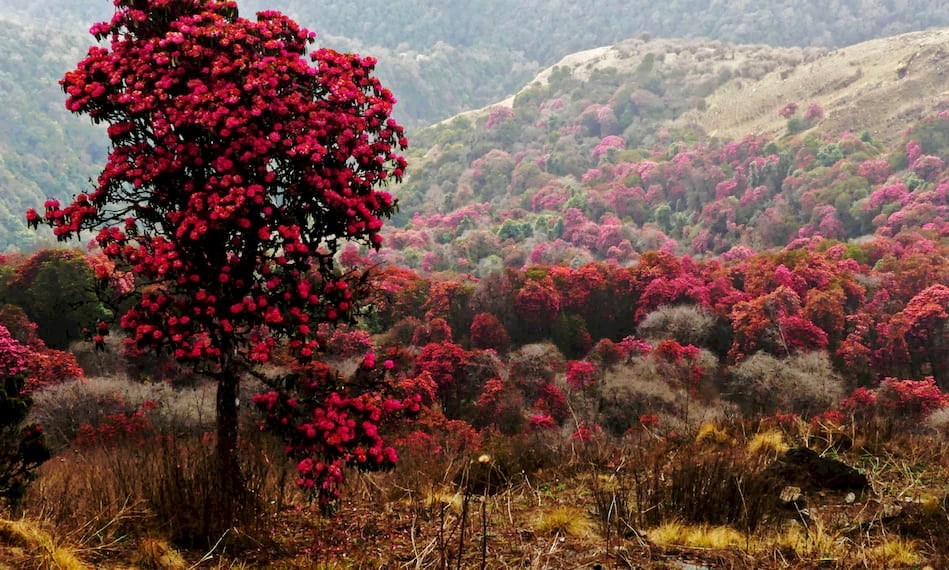 The many types of wildflowers that bloom in the springtime above 2,000 meters, particularly the breathtaking vista of rhododendron flowers, orchids, and magnolia blooms, are among the highlights of spring trekking in Nepal. The Annapurna and Kanchenjunga regions, in particular, will transform into a stunning garden of wildflowers in March (in the spring), which will undoubtedly catch your eye as you travel there. In addition to this, there are a few festivities that take place in Nepal throughout the spring season, like Holi (Color Festival), Shivaratri, and Buddha Jayanti, which give your spring trekking in Nepal extra flavor.
Please, click here for the popular spring trek in Nepal.
Major Highlights of the Spring Season in Nepal
Clear Skies and Warmer Weather
As the spring season emerges in Nepal, a gradual increase in temperature brings forth a delightful transformation. The journey becomes a tapestry of wonder as the weather turns pleasant and the climate clears. Bid farewell to the heavy snowfalls and unpredictable shifts of winter as the transition brings stability and clarity. In March, trekkers are greeted with a magical sight: white-capped peaks rising above lush green alpine forests, crafting a breathtaking backdrop of natural splendor.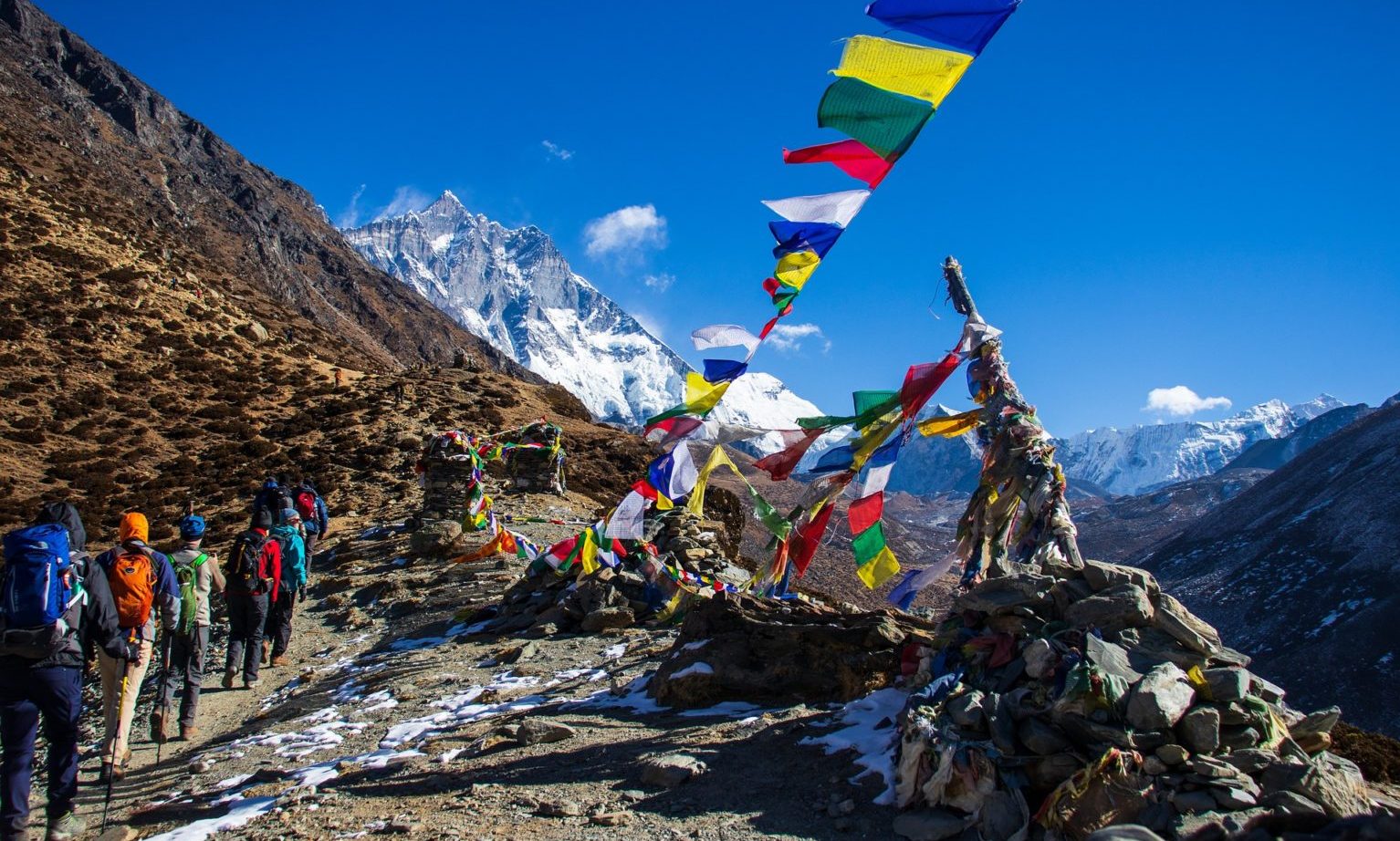 The temperature, mildly warm at lower altitudes and comfortably moderate at higher elevations above 4,000 meters, allows for awe-inspiring vistas of snow-kissed mountains. Days bask in the glory of clear skies, painting a picture of serenity and granting trekkers uninterrupted views of the majestic Himalayas. While occasional clouds may dance across the heavens during midday or the afternoon, they bestow a tranquil ambiance, creating a perfect opportunity to nestle with a book and savor the mountain's embrace. Even in moments of concern over tomorrow's weather, the evening often unfolds like a fairytale, unveiling a pristine, star-studded sky that reassures trekkers of the beauty awaiting them. The spring season in Nepal beckons with its mild temperatures, clear climate, and ever-changing allure, inviting adventurers to revel in the enchantment of the mountains.
Colorful Forest and Blooming Trails
March marks the awakening of nature in Nepal, as the landscape transforms into a symphony of colors. Trekking through the country's trails during this time reveals a magical world of vibrant forests and blooming trails. Off-the-beaten paths come alive with breathtaking scenery, where lush green vegetation carpets pastures and grasslands, creating a picturesque backdrop against the clear blue sky. The alpine forests enchant with their colorful new buds and flowers, as if nature itself is painting a masterpiece. Each step along the trekking trails is a feast for the senses, with the fresh scent of blossoms filling the air and the vibrant hues of leaves and petals captivating the eye. The trails become a gateway to the wonders of nature's rejuvenation, offering a sense of serenity and awe. It is a time of new beginnings, where the beauty of nature unfolds before your eyes, inviting you to immerse yourself in the vibrant harmony of the colorful forests and blooming trails.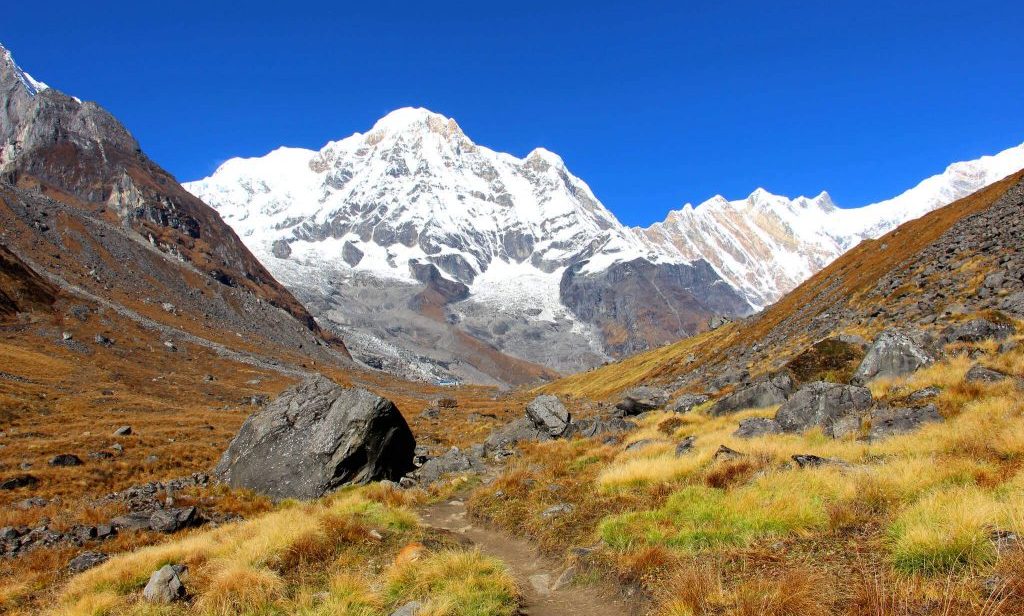 Blooming Rhododendrons and Numerous Wild Flowers
The spring season in Nepal unveils a breathtaking spectacle of blooming rhododendrons and a myriad of wildflowers, transforming the landscape into a trekkers' paradise. As you venture along the trails, you'll be captivated by the vibrant display of nature's colors. The hills and mountains come alive with the majestic presence of rhododendrons, showcasing a stunning array of shades, from fiery reds and pinks to delicate whites. These magnificent blooms paint a vivid picture against the backdrop of the majestic mountains. Adding to the tapestry of colors, the trails are adorned with an abundance of wildflowers. Meadows and valleys are adorned with delicate primroses, cheerful daisies, vibrant irises, and an array of native blossoms, creating a symphony of hues that dance in harmony with the surroundings.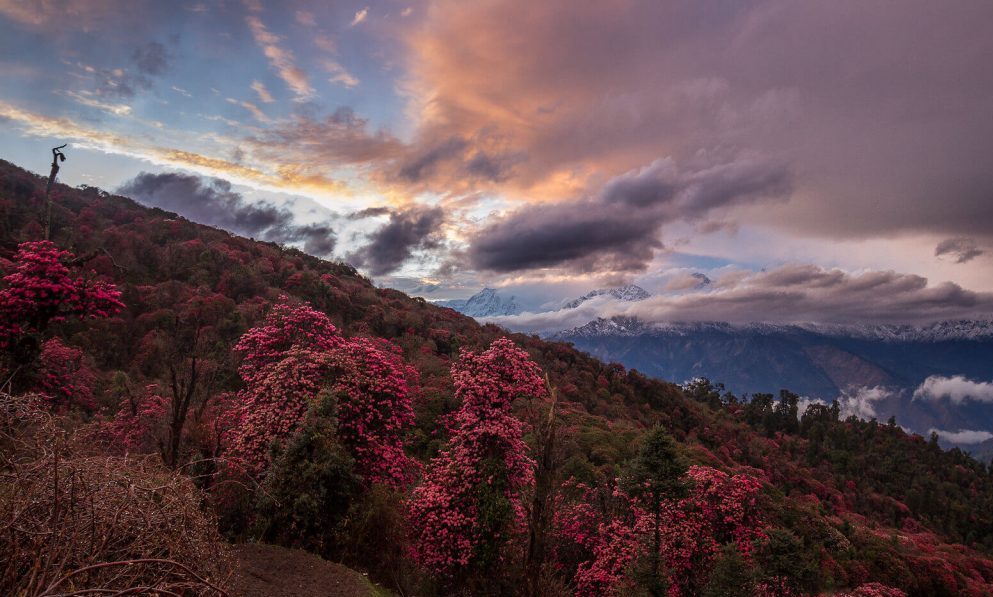 Each step offers a new discovery, with the scents and sights of these blooming treasures enchanting the senses. This natural beauty provides a captivating backdrop for photography enthusiasts, offering endless opportunities to capture delicate details and sweeping landscapes. Beyond their aesthetic appeal, these blossoms play a crucial ecological role, attracting pollinators and contributing to the region's biodiversity. Embrace the cultural symbolism of rhododendrons and engage with local communities to learn more about their significance. Trekking through Nepal's blooming rhododendrons and wildflowers in spring is an immersive experience that fills the heart and soul with wonder, leaving lasting memories of the vibrant beauty of nature's floral symphony.
You can explore Laliguras named Rhododendron flower festivals in the Helambu region of Nepal during Spring.
Here are some of the blooming flowers you can encounter during the spring season in Nepal:
Rhododendrons (including varieties like Rhododendron arboreum, Rhododendron campanulatum, and Rhododendron grande)
Primroses (such as Primula denticulata and Primula sikkimensis)
Daisies (including varieties like Aster himalaicus and Leucanthemum vulgare)
Irises (such as Iris nepalensis and Iris hookeriana)
Blue Poppies (Meconopsis betonicifolia)
Orchids (including varieties like Cymbidium hookerianum and Dendrobium spp.)
Marigolds (Tagetes spp.)
Himalayan Balsam (Impatiens glandulifera)
Buttercups (such as Ranunculus spp.)
Himalayan Bluebell (Campanula latifolia)
These are just a few examples of the blooming flowers you may encounter during your trekking adventures in Nepal's spring season. The exact flowers you'll see can vary depending on the specific trekking route and altitude.
Low Risk of Unfortunate Incidents
Many trekkers and climbers have been passing away every year due to their bad timing for such mountaineering activities. But March is often recognized as the best and low risky time for any mountaineering activities such as trekking, expeditions, and peak climbing. During March neither snow falls or any heavy rains. There is one thing and that is the pleasant weather on a sunny day and a clear blue sky. There are low risks of floods, landslides, storms, snowfalls, avalanches, or any other unpredictable disaster. The climate is also quite predictable and assumable. In general, the month of March in the spring season is the best time to trek in the high mountains in Nepal. As all those 4 months are trekking in Nepal at the best time, March is more special with one special thing; the blooming Rhododendron trees and their forests. If you are looking for any Trekking in Nepal this spring and especially in March then hurry up and just catch this special trekking time.
Also, Read Top Trekking Destination in Nepal.
Highlights of the Trekking in Nepal in the Spring Season
Trekking in Nepal during the spring season offers a multitude of highlights that make it a truly remarkable experience. Here are the highlights you can expect when trekking in Nepal in spring:
Breathtaking mountain views, including iconic peaks like Mount Everest, Annapurna, and Langtang.
Vibrant floral displays with blooming rhododendrons, magnolias, and wildflowers.
Mild and pleasant weather with clear skies for optimal visibility and enjoyable trekking.
Cultural festivals like Holi and Bisket Jatra, provide a unique cultural experience.
Relatively fewer crowds compared to peak seasons, offering a quieter trekking experience.
Comfortable tea house accommodations along the trekking routes.
Opportunities to engage with local communities and experience their warm hospitality.
Increased chances of wildlife sightings, including various bird species and Himalayan Thars.
A perfect blend of natural beauty, cultural heritage, and stunning landscapes.
These highlights make spring an ideal time to explore Nepal's trekking routes and immerse yourself in the breathtaking beauty of the country.
Tips for Trekking in Nepal in Spring
Pack appropriate clothing for variable weather conditions.
Stay hydrated by drinking plenty of water and using purification methods.
Be prepared for unpredictable weather with waterproof and windproof gear.
Take acclimatization seriously to prevent altitude sickness.
Follow a well-planned trekking itinerary that allows for gradual ascent and rest days.
Obtain necessary trekking permits and documents beforehand.
Stay updated on weather forecasts and be prepared for sudden weather changes.
Stay connected and informed with a mobile phone, map, or GPS device.
Consider traveling with a reputable trekking agency such as Luxury Holiday Nepal.
Pack emergency essentials such as a headlamp, whistle, and emergency blanket in case of unforeseen circumstances.
Respect natural surroundings and wildlife, avoiding any actions that may harm the environment or endanger animals.
Enjoy the journey, take it slow, and appreciate the stunning landscapes and unique experiences along the way.
Following these tips will help ensure a safe and enjoyable trekking experience in Nepal during the spring season.
Best trekking and tour destinations in Nepal during the Spring Season
Nepal offers a plethora of stunning trekking and tour destinations during the spring season. Here are some of the best options to explore:
Everest Base Camp Trek: Embark on the iconic Everest Base Camp Trek, where you can experience the majesty of Mount Everest and the surrounding peaks. Spring offers clear skies, perfect weather, and blooming rhododendrons along the trail.
Annapurna Circuit Trek: Traverse the Annapurna Circuit, a classic trek known for its diverse landscapes and breathtaking mountain views. In spring, the trail comes alive with colorful rhododendrons, and you can enjoy pleasant temperatures for the journey.
Langtang Valley Trek: The Langtang Valley Trek is a picturesque journey through beautiful landscapes and traditional Tamang villages. Spring brings vibrant rhododendron forests and the chance to witness the recovery and resilience of the region after the earthquake.
Ghorepani Poon Hill Trek: This shorter trek in the Annapurna region is ideal for those with limited time. In spring, you'll witness blooming rhododendrons along the trail and can enjoy spectacular sunrise views from Poon Hill.
Kathmandu-Pokhara-Chitwan Tour: This tour combines the cultural highlights of Kathmandu, the natural beauty of Pokhara, and the wildlife experiences in Chitwan National Park. Explore the UNESCO World Heritage Sites in Kathmandu, enjoy the scenic beauty of Pokhara with its lakes and mountain views, and indulge in thrilling jungle safaris and wildlife encounters in Chitwan.
Tsum Valley and Manaslu Circuit Combined Trek: Combine the enchanting Tsum Valley with the challenging Manaslu Circuit Trek for an unforgettable adventure. Spring offers a perfect blend of cultural immersion and mountain scenery.
Rara Lake Trek: Visit the pristine Rara Lake, the largest lake in Nepal, located in the remote Karnali region. Spring offers pleasant temperatures and the opportunity to witness the beauty of the lake surrounded by snow-capped peaks.
Helicopter Tours in Nepal: Helicopter tours in Nepal offer a thrilling and scenic way to explore the country's breathtaking landscapes of various
These are just a few of the many incredible trekking and tour destinations in Nepal during the spring season. Each offers its unique charms, from awe-inspiring mountain vistas to cultural immersion and wildlife encounters. Choose the one that resonates with your interests and embark on a memorable journey through the enchanting landscapes of Nepal.
Luxury Holidays Nepal (LHN) is one renowned and popular trekking agency in Nepal offering lots of Trekking packages in the Himalayas. Everyone is offering special packages with lots of special offers but the things that make LHN different from other is our work and working style; we focus on the first-hand experience of everything through the hand of expert locals and believe in customers' satisfaction with a lifetime experience through Appearance rather than explanation.
For more tours and treks packages in Nepal, please, click here.
If you need any further information, please contact us, Email: [email protected], Phone: +977- 985 100 5129 (WhatsApp)