Nepal is known for more than merely its towering mountains. Nepal is much more than the home of Mount Everest and other Himalayan ranges. Nepal is home to a variety of festivals and cultures in addition to its high mountains, hills, and trekking destinations. Nepal is a beautiful country full of festivals and feasts. It's a kaleidoscope of religions, civilizations, ethnicities, and languages. Visiting Nepal during the festivals provides a unique opportunity to learn more about Nepalese culture and customs. Nepalese festivals are observed according to the lunar calendar of Nepal.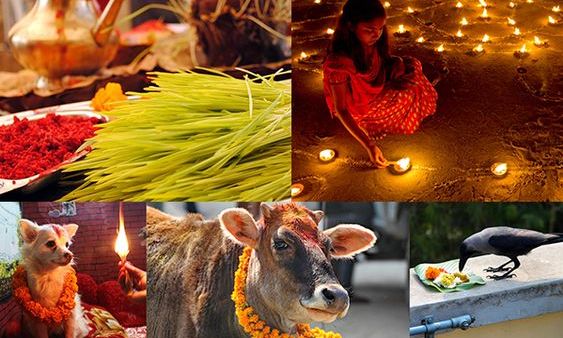 Every year, Nepal celebrates around 50 festivals with great enthusiasm. The majority of the celebration has religious significance, but others have historical relevance. Various Hindu and Buddhist holy entities are honored in Nepal through a variety of festivals. Festival Tours in Nepal give you a glimpse of a vibrant culture. These events also allow you to delve deeper into Nepal's social, customary, and provincial uniqueness, which holds a unique place for all Nepalese people.
Table of Content
Nepali New Year (Bisket Jatra)
Buddha Jayanti (Birthday of Lord Buddha)
Janai Purnima (Raksha Bandhan)
Gai Jatra (Cow Festival)
Indra Jatra
Teej
Dashain
Tihar (Deepawali)
Lhosar (Tibetan New Year)
Maha Shivaratri
Fagu Purnima (Holi)
Ram Navami
Nepali New Year /Bisket Jatra
The Nepali New Year falls in the middle of the month of April on the Nepali Lunar calendar. This is an excellent time to set new objectives and resolutions. On this first month of the year besides New Year, we all celebrate Bisket Jatra.
Bisket Jatra is a weeklong yearly event in Dhapasi, Thimi, Bhaktapur, Tokha, and other areas in Nepal. It lasts for nine days, celebrated on the 14th of April, whose focus of attraction is pulling chariots that are being manufactured. In Jatra, the two chariots symbolize two deities: goddess Bhadrakali and angered god Bhairav. However, due to differences in astronomical positions and the lunar calendar, the time shifts. Bisket Jatra is also known as the "Festival of the Serpent's Death." Locals offer food and prayers in the hopes of avoiding problems and calamities in the future. People in Thimi pierce their tongues for religious reasons, making it a "tongue-piercing festival."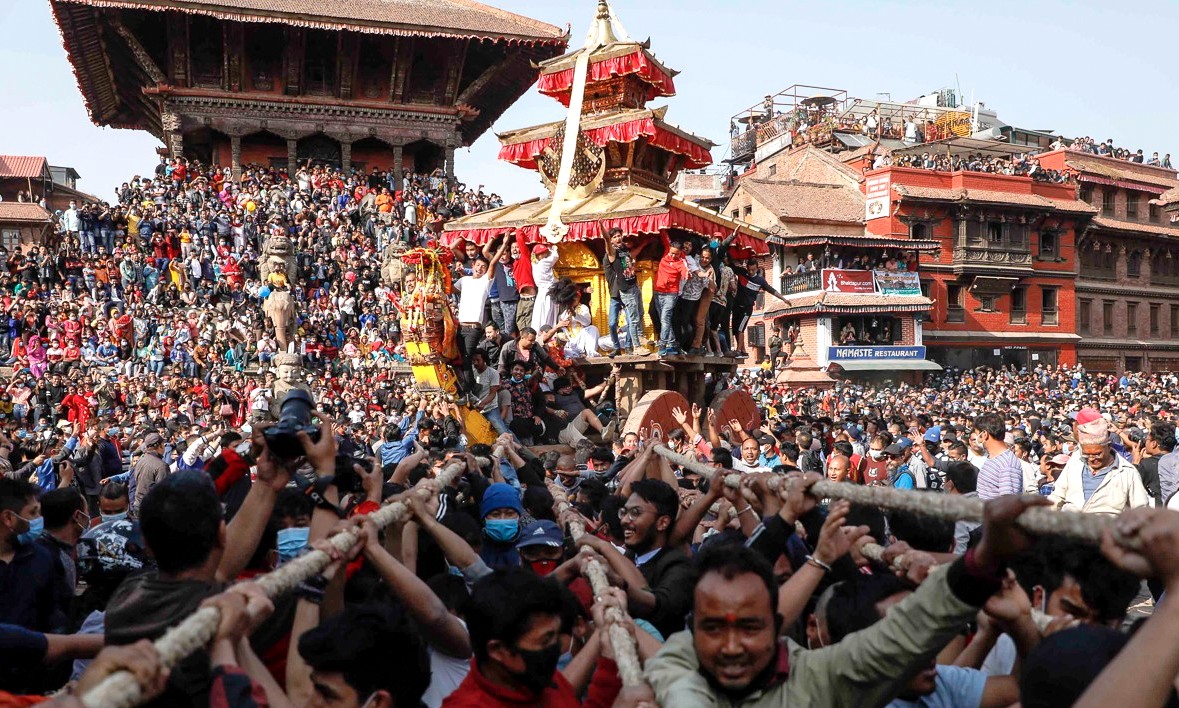 According to myth, a princess was cursed by her husband to die on the wedding bed many centuries ago. Later, she married a prince who had been blessed by the Goddess. A tall pole tied with the embroidered cloth to mimic snakes may be found in Lyasinkhel. This pole was built to commemorate the snakes' demise. This festival is celebrated by the locals as a New Year's celebration.
Solar Calendar- April - May
Nepali Lunar Calendar - Baisakh
Buddha Jayanti (Birthday of Lord Buddha)
Buddha Jayanti is a very significant and honorable event for Nepali people, particularly Buddhist groups throughout the country because Nepal is the birthplace of the Lord Buddha (Siddhartha Gautam).
On the auspicious event of Gautam Buddha's birthday, every person in the country celebrates Buddha Jayanti. In the year 543 BC, Siddhartha Gautam (Gautam Buddha) was born in Nepal's Kapilvastu. In Buddhist civilization, it is the holiest day. This important day arrives on the full moon day of Baisakh (1st month of the Nepali lunar calendar), which falls between April and May on the Gregorian calendar. Because of Buddha's birth and the day he attained enlightenment and Nirvana, the full moon of Baisakh (April-May) has special significance. Buddha Purnima is a significant festival because of the three commemorations.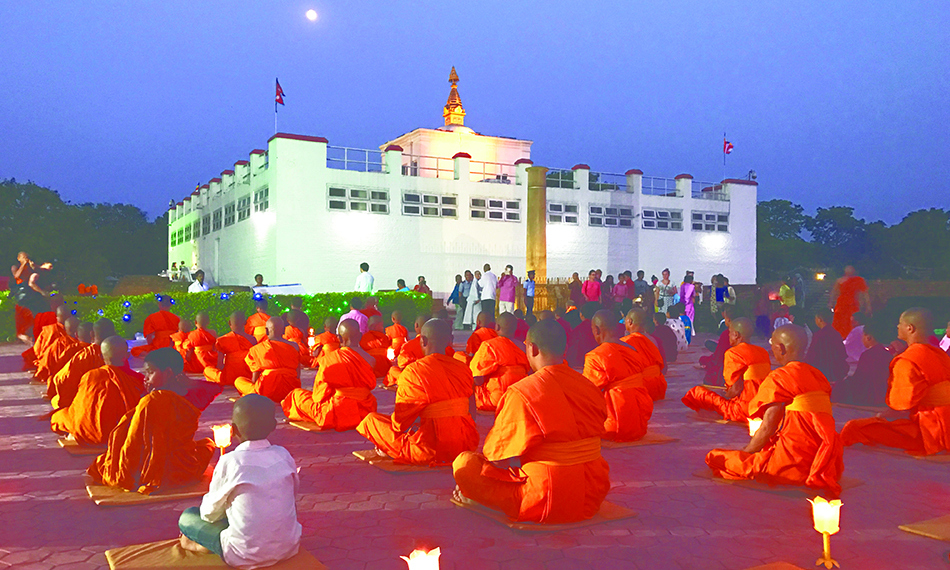 Devotees from all over the country light butter lamps at Lumbini (Buddha's birthplace), Boudhanath, Swayambhunath, and other religious sites on this fortunate day. During the celebration, the major destination is Lumbini. In 2017, about 2.5 million people came to Lumbini to see Lord Buddha's birthplace, and the number is growing every year.
Solar Calendar- May-June
Nepali Lunar Calendar - Jestha
Janai Purnima (Raksha Bandhan)
Janai Purnima/ Raksha Bandhan is one of the major festivals celebrated in Nepal by the Hindu people. This festival falls in the month between Shrawan and Bhadra. On this auspicious full moon day, Hindu men, mainly Brahmins and Chettris, renew their holy thread called 'Janai' and wrap it around their bodies. The Janai teaches the child how to be masculine and how to follow the faith and way of life with zeal. Following a holy event known as Bratabandha, Hindu males began wearing this thread. Janai should be worn for the rest of one's life, and the mantra should be uttered daily. Janai is thought to be the picture of the body, speech, and mind. The Janai signifies that the knots have been knotted and that the individual has gained mastery over them.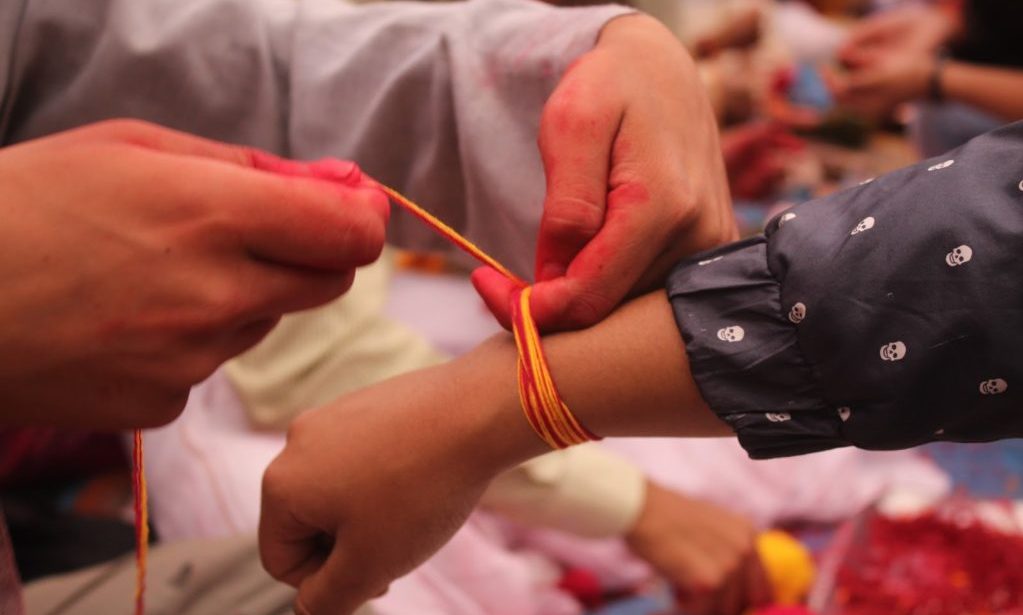 This day is also known as Raksha Bandhan. Bandhan is a bond, while Rakshya means to protect. Rakshya Bandhan is a security obligation. Every sister ties a thread called 'Rakhi' on their brother's hand and The ritual of Rakshya Bandhan involves preachers wearing sacred strings around their wrists while reciting the mantra:
"एन बद्धु बलि राजा दानबिन्द्रो महावल
तेन त्वं बध नामी रक्षे मा चल मा चल"
Importance of the Mantra:
"I tie the Raksha that was tied on the King of Evil Spirits "Bali", on you (the devotee).
Oh Raksha, in this manner! Always remember to keep this devotee safe."
Apart from that, families get together to eat sprout lentils, which are known in Nepali as 'Kwati.' Everyone ate, laughed, and celebrated the festival together.
a Huge number of people also go to Shiva temples, and a large Mela is conducted in various holy spots, such as Gisaikunda near Rasuwa, which attracts a large number of devotees.
Solar Calendar- July- August
Nepali Lunar Calendar - Shrawan
Gai Jatra (Cow Festival)
Gai Jatra, also known as the Cow Festival, begins the day following the full moon in Nepali Shrawan month and falls at the month of Bhadra and is conducted to remember those family members who have died in the previous year. This is one of Nepal's most well-known festivals, full of humor, parody, satire, jokes, and shades of melancholy. It is observed in Kathmandu, Bhaktapur, Patan, and other parts of Nepal.
Gai Jatra started at the time of King Malla. According to folklore, when a Malla queen was grieving the loss of her son, the monarch sent out a procession of people who had lost loved ones to show the queen that she was not alone. Gai Jatra has now become one of Nepal's most popular events.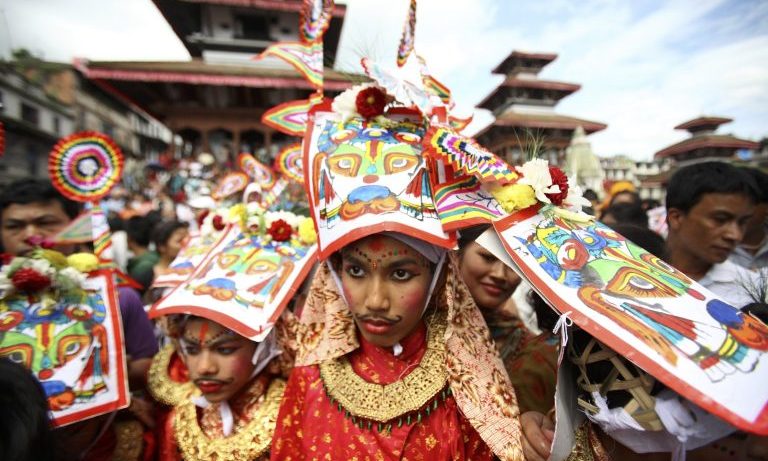 According to the Newars, the cow will lead the departed to Yama, the god of the underworld. So catching the cowstail would make it much easier for them to complete the voyage. Cows will be led around Nepal's large streets and narrow lanes on this day, and small children will dress up as cows. You must be astounded by what you see on the streets of different places of Kathmandu, Bhaktapur, and Patan during this festival.
Solar Calendar- August- September
Nepali Lunar Calendar - Bhadra
Indra Jatra/ Kumari Jatra/ Yenya Parabha
Indra Jatra, also known as Yenya Parabha, is an eight-day festival held in the month of September and is one of the most cherished traditional festivals in Kathmandu of the Newari community. This festival is celebrated to honor Lord Indra, the "GOD OF RAIN" and "HEAVEN". He is revered by both Hindus and Buddhists equally.
The festival begins with the construction of a pine-wood pole in Basantapur Durbar Square, in front of the historic Hanuman Dhoka Palace. The pole-raising ritual attracts hundreds of people to the Durbar Square area. Kumari's chariot, the Living Goddess, is paraded through Kathmandu's principal avenues. Every night, masked performers with loud drums stampede through known as Lakhay.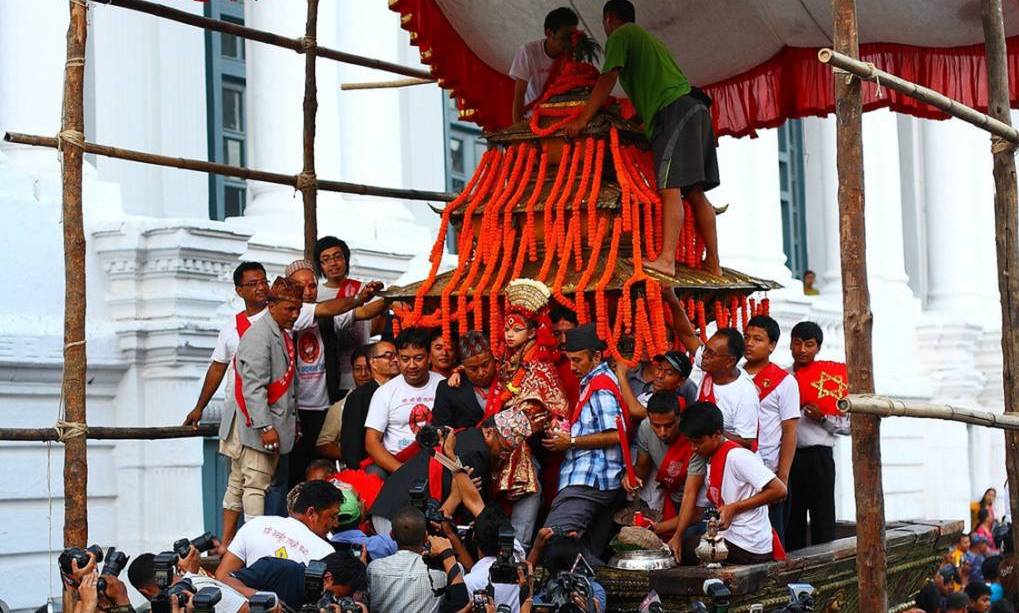 Nepalese celebrate Indra Jatra to pray to Lord Indra and Dagini for a good harvest and to remember the deceased from the previous year. The Yenya Festival is divided into two parts: Indra Jatra and Kumari Jatra. The flagpole function, blood sacrifice, and displays of Bhairava's masks are all part of the Indra Jatra festivities. During Kumari Jatra, the living goddess will be transported to Kathmandu by chariot. Thousands of people get there to take blessings from the living goddess and enjoy the festival as well.
Solar Calendar- August- September
Nepali Lunar Calendar - Bhadra
Teej (Hartalika Teej) Women's Festival
Teej, also known as the Women's Festival, takes place from the second to the fifth day after the new moon in the Nepali calendar month of Bhadra and is particularly celebrated in the area of Pashupatinath temple. Throughout the three-day festival, you'll find Nepalese women dressed in their magnificent red saree with red tika, bangles and dancing and singing the songs in the streets, and visiting temples in a heavenly and joyful mood. The married ladies would pray to Shiva for the happiness of their life partner and children, as well as the refinement of their body and spirit, while the unmarried would hope to marry a respectable spouse. That's why this is one of the most significant festivals for Nepali women.
Hartalika combines the terms ``Harit'' and "aalika." Harit connotes kidnapping, while Aalika connotes female companionship. According to myth, Goddess Parvati emerged as Shailaputri, a Himalayan girl who promised Lord Vishnu her hand in marriage as Naradmuni's idea. Knowing this, Parvati notified her female friends, who brought Parbati to a dense jungle so that her father would not force her to marry Lord Vishnu. Parbati pleaded Shiva Linga to disappear from her mind and prayed on the third day of the beautiful section of Bhadrapud. This makes Lord Shiva happy, and he agrees to marry Parbati.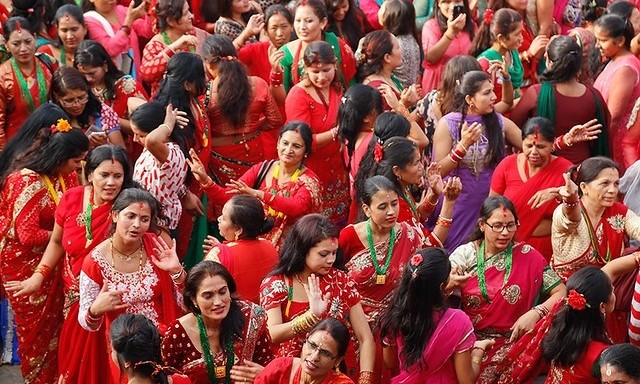 Teej is a multi-day holiday that includes lavish feasting also known as 'DAR' and after the dar they will do a very strict fasting. The mother of a married girl handed them presents such as sarees, food, and jewelry on the first day of the festival. Nepali ladies believe that celebrating Teej will ensure her better half's long life and a long and stable married connection. Teej is honored with traditional dances and music.
Solar Calendar- August- September
Nepali Lunar Calendar - Bhadra
Dashain
Dashain, also known as Bijaya Dashami, is Nepal's longest and most auspicious holiday, lasting 15 days. This festival is held to commemorate the goddess Durga's victory over evil Mahishasura and the nine forms of the goddess Maa Durga. And it is also believed that Dashain is also the victory of Lord Ram over Ravana. During this auspicious festival, a large number of animals are sacrificed. Furthermore, people who live far away from home would return home for a family gathering. Beautiful kites will be flying in the azure sky, and youngsters will be swinging on the swings.
Dashain is the most auspicious and anticipated festival in Bhutan, Myanmar, and a few regions in Northern India, in addition to Nepal. It is celebrated during the Ashwin/Ashoj month (late September and early October).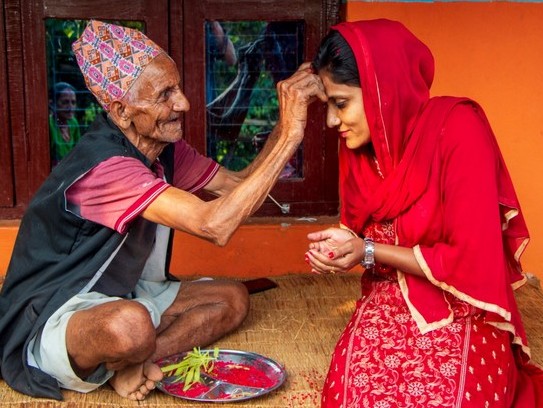 During Dashain, all government offices, instructional spaces, and other private offices are closed. Dashain is celebrated in September or October, starting with the Sukla paksha, Ashwin's bright lunar fortnight, and ending with Purnima, the full moon day. Even though Dashain lasts 15 days, the first (Ghatasthapana), seventh(Phulpati), eighth(Maha Ashtami), ninth(Maha Navami), and tenth(Vijaya Dashami) days are the most significant. The tenth day of Dashain is the most significant of the 15 days. Everyone in the family receives a red tike as well as blessings from the elders. Dashain's red tika represents a family's blood connections.
Solar Calendar- September- October
Nepali Lunar Calendar - Ashoj
Kindly, click here to know more about Dashain.
Tihar (Deepawali)
Tihar is considered Nepal's second most important celebration festival after Dashain. Candles, lights, colorful Rangolis, and flowers are the main part of the festivity. During this festival, people clean and adorn their homes. People worship a few animals, such as crows, dogs, cows, and bullocks, during this festival. To invite Lakshmi, the goddess of abundance and fortune, all the dwellings are cleaned and brightened with candles and magnificent lights on the fourth day. That is why it is also known as the Festival of Lights in Nepal.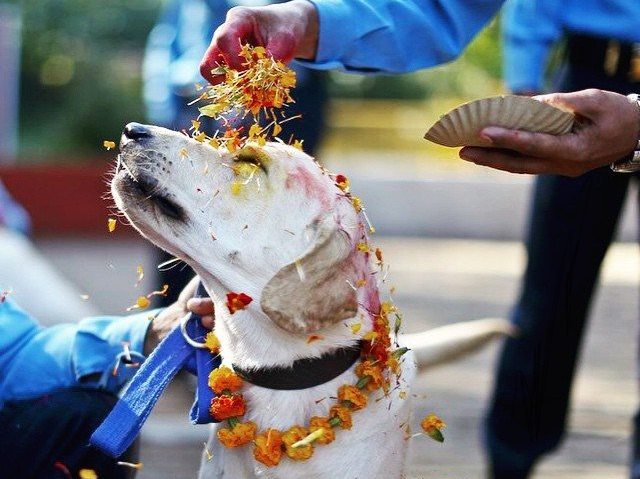 Tihar is a 5-day festival that differs from Dashain. Tihar is praised for lightening up the house and putting Saptarangi (7 coloreds) tika from siblings, just as Dashain is honored by elders by applying tika and jamara on the forehead. After Dashain, Tihar is celebrated fifteen days later. Kaag Tihar, Kukur Tihar, Laxmi Puja, Gobardhan Puja, and Bhai Tika are the five days of Tihar. Tihar is sometimes referred to as Yama Panchak because it is a multi-day festival. It is recommended for late autumn and early winter. People light candles, sing deusi bhailo melodies, dance and play cards, and finally put colorful tika with makhamali mala on their doors. Tihar begins with Kaag Tihar in Kartik Krishna Paksha's Trayodashi and finishes with Bhai Tika in Kartik Sukla Paksha's Dwitiya. It occurs between late October and early November, lasting five days, and is famed for its bright, joyful lights.
Solar Calendar- October- November
Nepali Lunar Calendar - Kartik
Kindly, click here to know more about Tihar.
Lhosar (Tibetan New Year)
The Tibetan new year, Lhosar is made up of two words: Lho, which means year, and sar, which means new. Lhosar, or Tibetan New Year, is one of Nepal's most popular celebrations, with different groups celebrating it on different days. The Gurung community celebrates Tamu Lhosar, whilst the Tamang and Yolmo communities celebrate Sonam Lhosar. The Tibetan and Sherpa populations are aware of the third variety, Gyalbo Lhosar. Dance, music, family get-togethers, and sharing greetings and gifts mark the start of the new year. During this holiday, families worship together and prepare special dishes for the gods and goddesses. During Lhosar, it is customary to drink changkol, a Tibetan drink similar to beer derived from chhaang.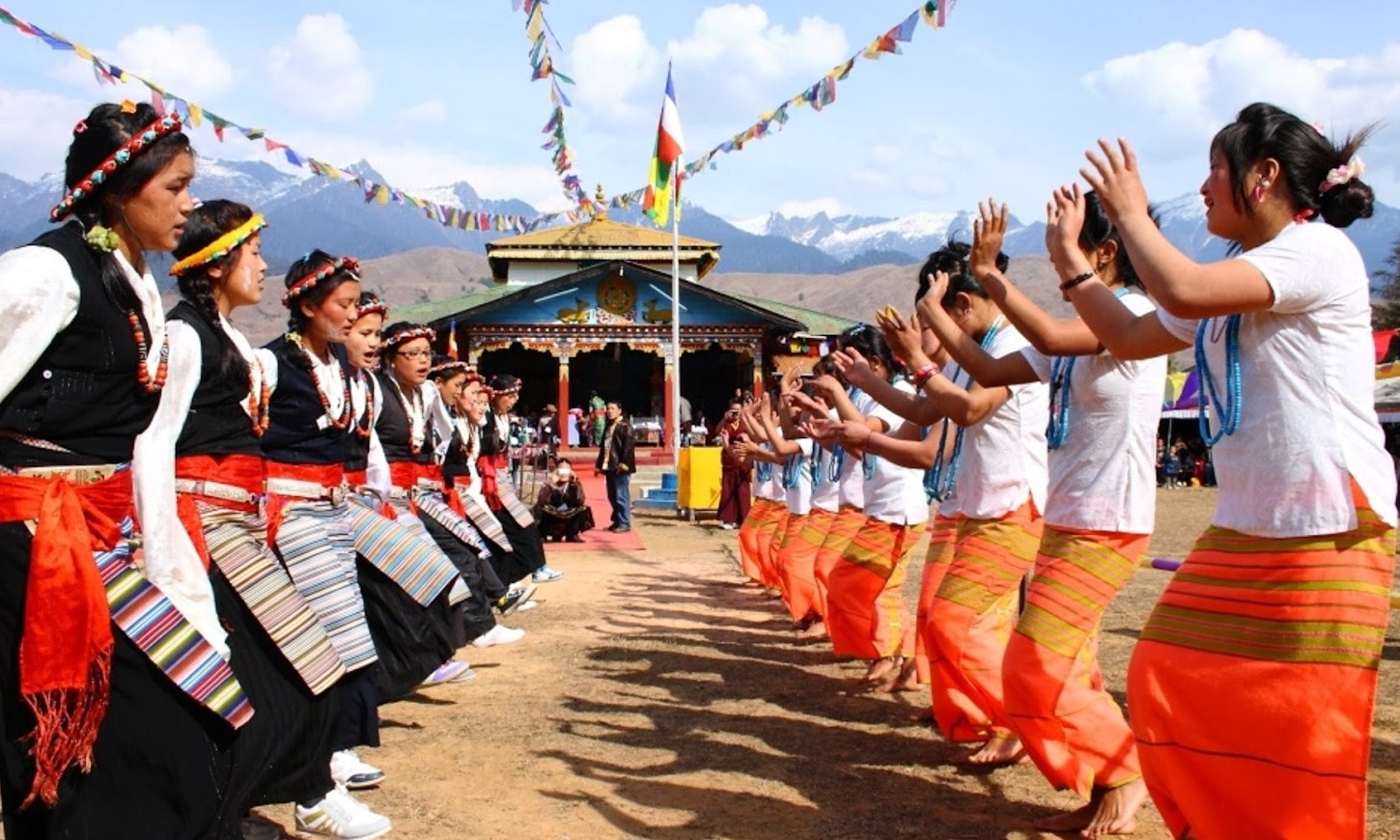 Sherpa and Tamang people commemorate it in Bodhnath Stupa, Swayambhunath, Tibetan people group in Jawalakhel, and the Solu Khumbu region. During this occasion, the Tibetan people as a whole enjoy the pleasant atmosphere with the whole community and their loved ones.
Solar Calendar- January- February
Nepali Lunar Calendar- Magh
Maha Shivaratri
Shivaratri is the night that is devoted to Lord Shiva also called shiva's night. According to Hindu mythology, Lord Shiva is the ultimate god and the stars are at an excellent position on the day of Shivratri, according to beliefs, which raises spiritual energy. It occurs in Nepal's Falgun month (in the middle of February-March). A large number of Hindu devotees from all around the world are expected at Pashupati. Sadhus frequently travel to Nepal for this festival and stay in Pashupatinath a few days before or after Shivaratri. It's fascinating to watch those Sadhus in the Pashupatinath sanctuary on this day because most of them are half-naked, and only a few are entirely naked. Marijuana and cannabis are illegal in Nepal, although they are publicly donated to Shiva and his devotees during Shivaratri.
Shivaratri is a Hindu festival dedicated to the heavenly force known as Shambhu, Bhole, Mahadev, Shanker, Kailash, and Pashupatinath. Shivaratri is a Hindu festival celebrated by Hindus in Nepal and India. According to the Nepali lunar calendar, Shivaratri falls on the new moon in the Falgun month. All of the Shiva temples host various festivals, but the spectacle at Pashupatinath Temple is particularly spectacular. The whole area of Pashupatinath temple is decorated with lots of different flowers and lights and all night chanting and praying to lord shiva. A great number of provident priests from all over Nepal and India will gather here to perform the biggest pooja and celebrate the biggest night of Lord Shiva.
Solar Calendar- February- March
Nepali Lunar Calendar - Falgun
Fagu Purnima (Holi)
The festival of colors, Fagu Purnima, is also known as Holi. One of the most well-known festivals among both national and international people. Holika is the name of a legendary demon. The Holi festival is based on Hindu mythology, as are many other Nepalese holidays. It marks the beginning of good achieving victory over evil. According to legend, a small child named Prahalad was a follower of Lord Bishnu, whom his father, the demon king Mahisasur, considered a terrifying foe. Furious, the demon king ordered his sister Holika, who possessed fire immunity, to murder his own son. After that, Holika, who sat on a fire flame carrying Prahalad, died but the boy survived. People play Holi, a festival of colors, enjoyment, and happiness, to commemorate the miracle. Holi takes place in late February or early March each year.
Holi is played by every group of age and especially the youth and youngsters. It is closely similar to Thailand's and Myanmar's Songkran Festivals. It occurs on the full moon in the Nepali month of Fagu. The cooling water tells us that the rainy & summer season is approaching as the dry season draws to a close. People from all places celebrated by putting colors on each other with full of happiness and joy.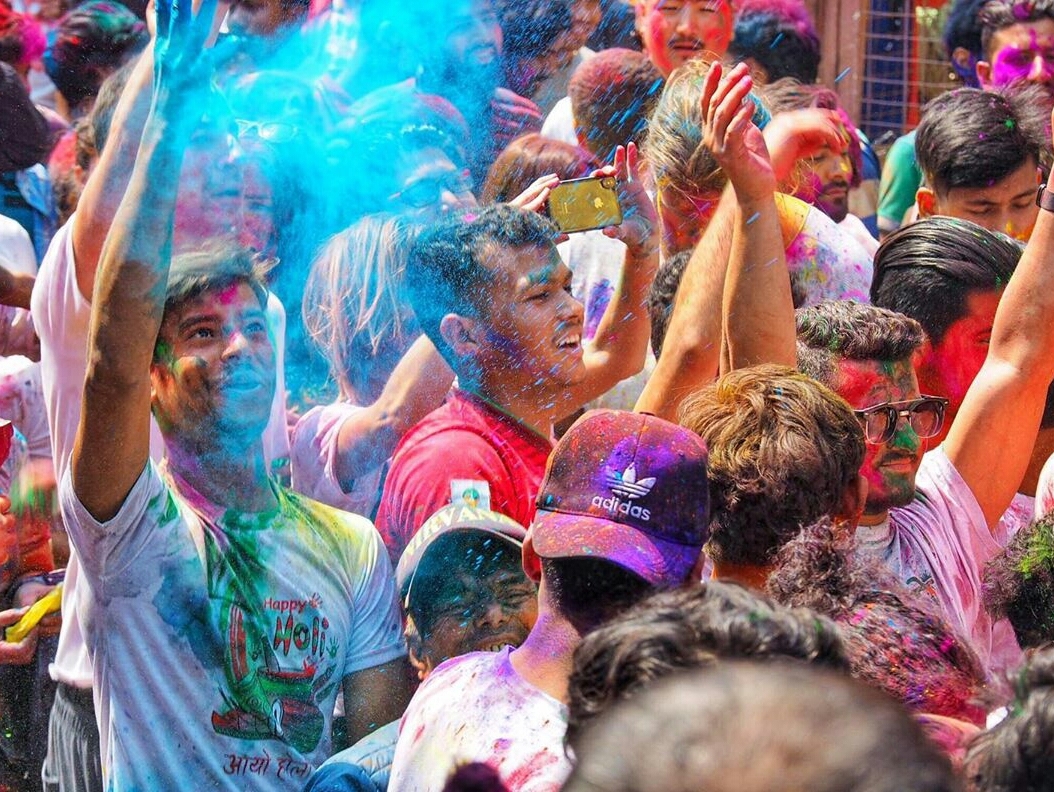 The Holi festival in Nepal lasts two days. On the first day of Holi, residents in the hilly region celebrate the festival, followed by people in the Terai region on the second day.
Holi is celebrated with live music, concerts, and colors at Kathmandu's durbar square and other places in Kathmandu city.
Solar Calendar- February- March
Nepali Lunar Calendar - Falgun
Ram Navami
Ram Navami is one of the very well-known festivals celebrated by the Hindu people in Nepal.
According to the Hindu calendar, it occurs on the Navami of Shukla Paksha in Chaitra Month. Lord Ram is the Hindu god Vishnu's seventh avatar.
The Ram Navami celebration commemorates the glorious victory of truth over evil and honors the remembrance of lord Ram. During the Treta Yuga, the festival commemorates the birth of Vishnu as the Ram form to King Dasharatha and Queen Kausalya in Ayodhya. Ram Katha recitals, including the epic Ramayan, which tells the story of Ram, are held on this day.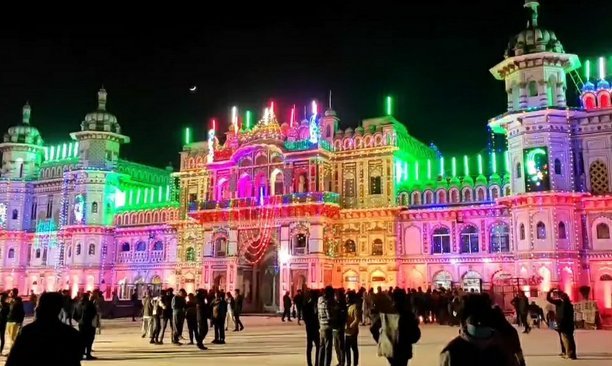 There will be large celebrations in many places around the country, particularly in Janaki temple in Janakpur city, which is regarded as Goddess Sita's hometown (Wife of lord Ram). On this day, the entire temple and surrounding areas were festooned with flowers and lights, and a large procession of elephants and bullock carts, as well as up to 100,000 pilgrims, gathered in the city and danced and sang praise hymns to Lord Ram to celebrate the Ram Navami.
Solar Calendar- March- April
Nepali Lunar Calendar - Chaitra
For other tour plans kindly click here
If you need any further information, please contact us, Email: [email protected], Phone: +977- 985 100 5129 (WhatsApp)