Manaslu Trekking is the most adventurous trekking that takes you to the foothills of the eighth highest peak in the world: Mt.Manaslu (8156m). Manaslu Trek is a dream destination for thousands of Fairless travelers from different parts of the world.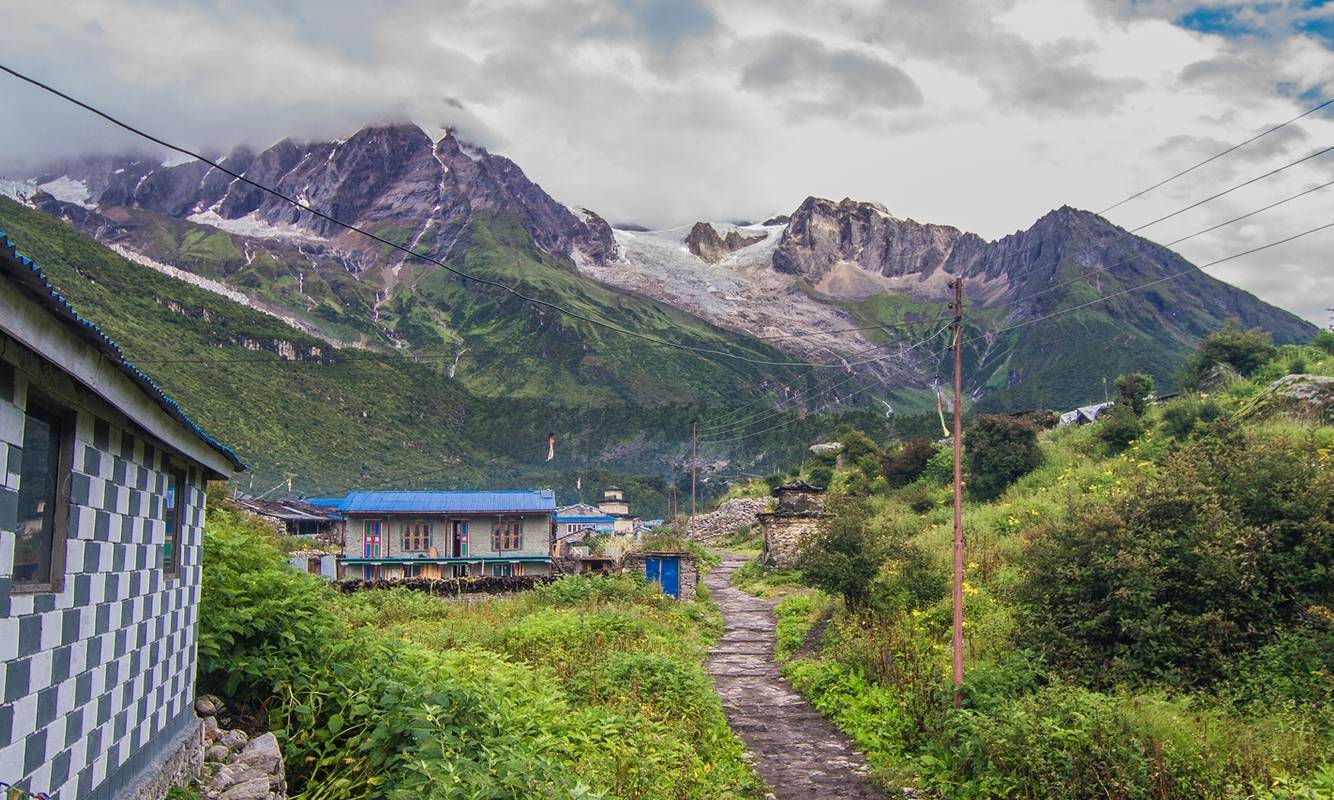 Manaslu trekking is all based on lodges. Trekking in this region is quite challenging. However, it also depends on the proper planning and the trekker's capability. Here is the list of possible challenges during the Manaslu trek.
Weather Conditions
Rough Trail
Remote Landscapes
Lack of luxury lodges and hotels
Altitude Sickness
Tips For Successful Trekking in Manaslu Region
Here is the list of successful trekking in the Manaslu region.
Weather Forecast
The difficulty of the Manaslu Region trek can be lessened by checking the weather before beginning the route. The finest weather and climate to visit the Himalayan Region, however, are in the spring and fall seasons. Mountain peaks and other natural beauty are at their most beautiful during this season. These seasons' temperatures are perfect for Manaslu trekking in the Himalayan region.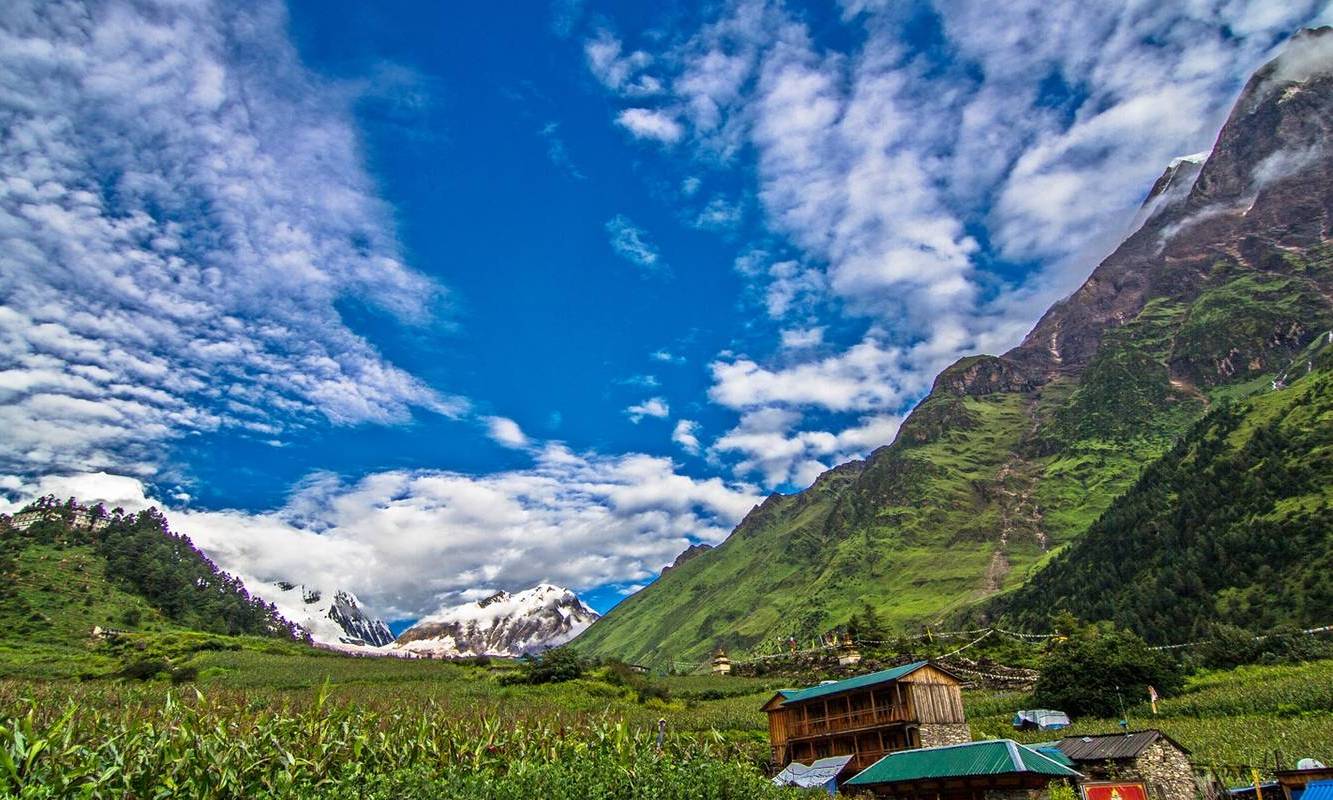 Proper Packaging
For trekking, proper packaging is crucial. It will be difficult to enter the high-altitude area if you forget some crucial supplies. Your journey will undoubtedly be successful if you pack properly, which includes hiking boots, bags, pants, coats, water bottles, and other necessities dependent on the various climatic seasons.
Fitness
Physical and mental fitness is a must to have a successful trek. The proper training for at least two weeks before the Manaslu trek is a must to complete it successfully. Similarly, it also makes you ready for the trip by improving your stamina and bearing capacity. For this, you could go for 6-7 hours of the hike on local trails before the weeks of the Manaslu trek.
In addition, mental exercise and a proper diet on the trek are a must to enjoy it to the fullest. You have to mentally be prepared to walk a long distance and spend a night in simple tea houses where all facilities are typical.
Trek with Experienced Guide and Porter
Manaslu trekking region is less explored, and sometimes you have to walk a rough trail in the Manaslu region. So, trekking in the Manaslu region with experienced guides and porters would be the best way to complete this trek successfully. An experienced guide will guide the right routes and about the Himalayan lifestyles, Tibetan cultures, and traditions of the locals, and make it easy for food and accommodations.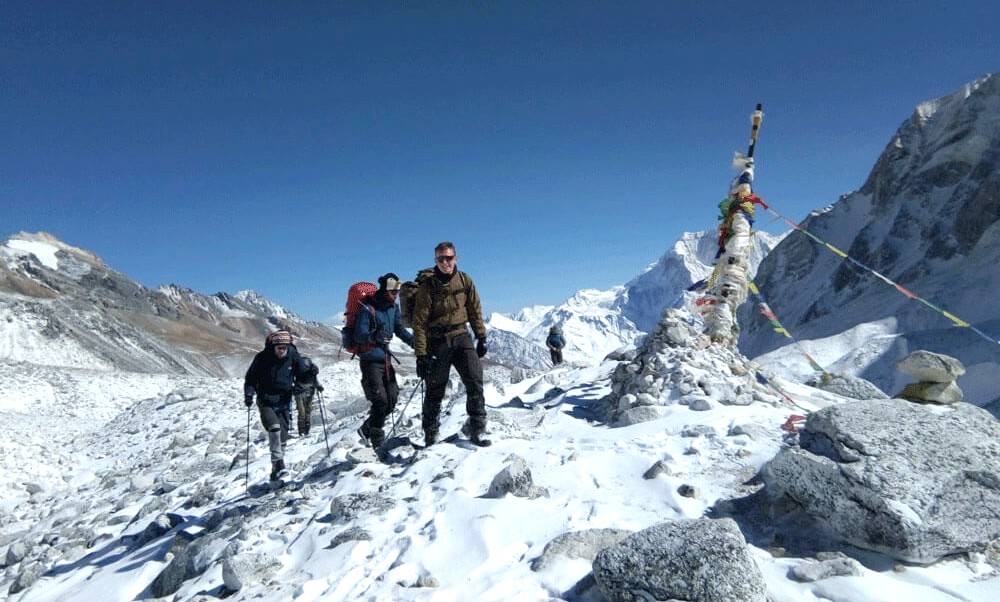 This trekking requires long days and a heavy backpack. Thus, trekking with a porter will lower your loads and enjoy the trek to the fullest.
Acclimatization
Altitude Sickness is a big challenge while heading up near Mt. Manaslu. The highest altitude on the Manaslu trek is Larkya La Pass at 5106m, and there is a risk of altitude sickness. Thus, acclimatization is a must to cope with the altitude. Ensure that you have enough days for proper acclimatization during the Manaslu trek.
Similarly, walking at a slow pace is all we need to reduce the chances of getting altitude sickness.
Learn the Symptoms of Acute Mountain Sickness (AMS) and Be aware of Its Symptoms
One who ascends to a higher altitude without proper physical and mental fitness and acclimatization will easily suffer from acute mountain sickness. Headache, nausea, dizziness, muscle pain, shortness of breath, and High-altitude pulmonary edema (HAPE) are the common symptoms of AMS. To avoid altitude sickness, you should learn the symptoms of AMS and be aware of its symptoms. Altitude sickness can quickly get from moderate symptoms to the worst. Thus, quick action needs to be taken after the AMS symptoms are seen.
For more information about high altitude sickness and its prevention tips please, click here.
Accommodation
Most of the local tea houses are available in the Manaslu region, and the facilities of these tea houses are not fancy as in the city areas. However, people give you a warm welcome and treat you with warm hospitality. Thus, before trekking, you should make up your mind that you will not stay in fancy hotels. Moreover, bathroom facilities are not as fancy as in the city, so you should be mentally prepared to face the simple lodges.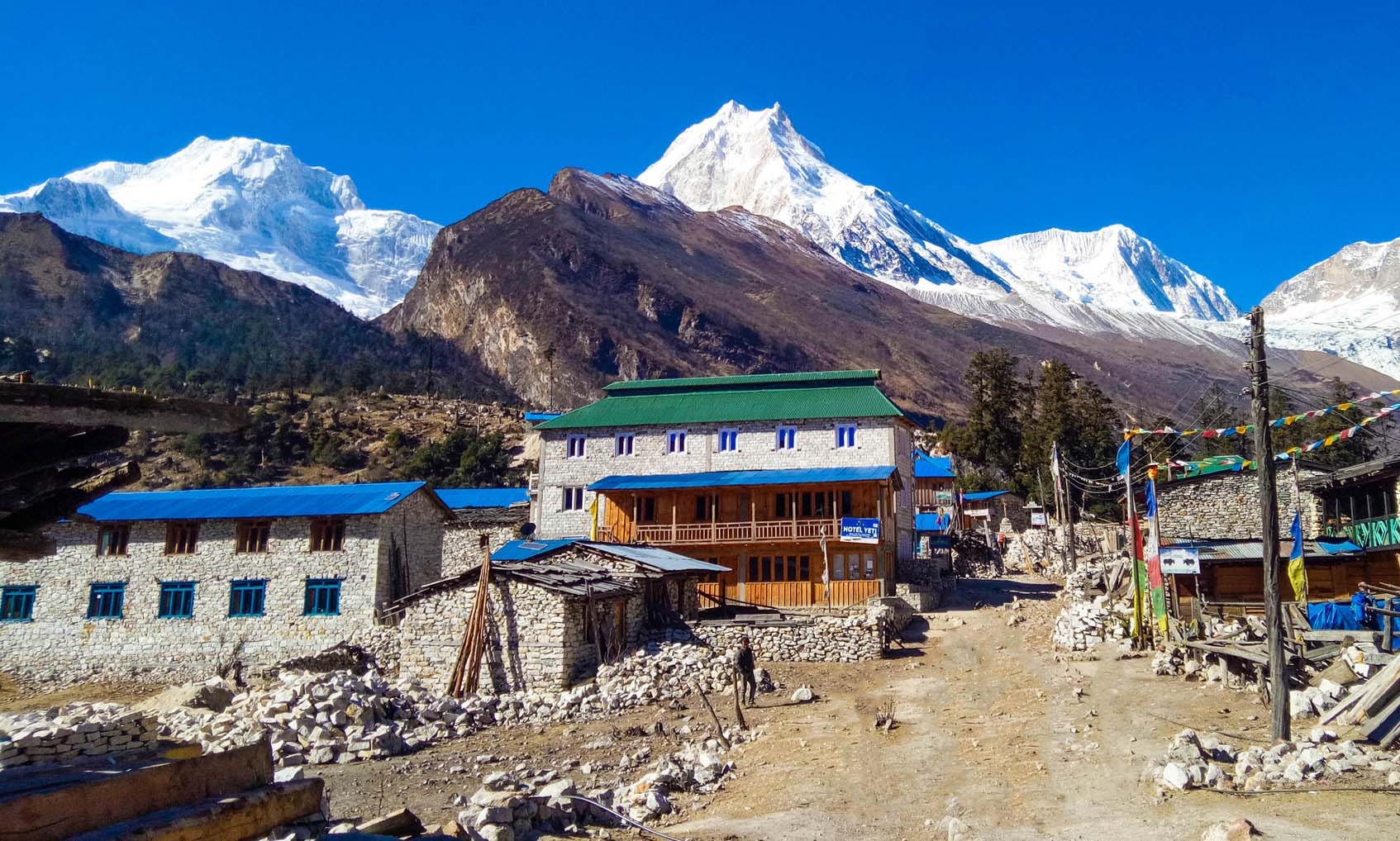 In addition, camping in the Manaslu region is very famous. You could carry a sleeping bag to prevent cold, whether you stay in tea houses or camping.
Eat a Balanced Diet- Always trek with your favorite chocolates and Have Nutritious Food
Eating nutritious food is a must in streak to recharge all those lost calories while walking in the Manaslu region. Balancing your diet when you lose your appetite is very important during the trek.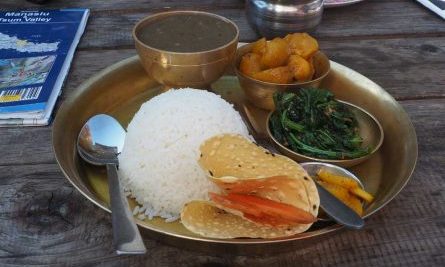 Dal Bhat is a traditional meal on a regular basis in Nepal, which comprises vegetables, rice, lentils, and pickles. Manaslu trekking region is a rising trekking region in Nepal. You can hardly find international menus in this region. Only a few restaurants serve all foods like Thukpa, Trendruk, french fries, spring roll, mo: mo (Veg, Non-Veg), trekkers breakfast, soup (veg, and non-veg), and Pizza (Veg, Non-Veg, and Cheese). Although, the food quality is not the same as in the city.
It would be healthier if you avoid meat products and eat veg while trekking. Since meats are usually carried from a long distance because animal slaughter is not allowed in this region, thus you can't have fresh meat here. And carrying your favorite chocolates, protein bars, and other treats would be the best.
Keep Yourself Hydrated
Keeping hydrated during a trek is a must to avoid the weakness of your body and altitude sickness. During the Manaslu trek, you will walk for about 5-7 hours a day, and your body can lose water quickly while trekking. Make sure you drink plenty of water in the early morning and during the trek and always fill up your bottles wherever you get a chance, like lodges and tea houses.
On average, when you are in the mountains you should drink about 5 liters of water per day. You can get both boil and mineral water in the tea houses of the Manaslu region. Also, make sure you carry chlorine or iodine tablets for water purification.
Stay Safe From The UV Rays, Dust, and Wind
Exposure to the sun in the high altitude zone even at lower UV rays can be harmful. Wrinkles and sunburn are high in the Manaslu trekking region. Putting sunscreen, sunglasses, sun hat, and full sleeves t-shirts are essential needs while trekking in the Everest region to prevent the effect of sun rays, wind, and dust.
Prepare For Harsh Weather Conditions
The high-altitude zones of the Manaslu region can get cold even in the warmest season, thus it is always better to carry the necessary stuff to keep yourself warm. Ensure that you have packed warm clothes like fleece, hat, gloves, jacket base layers, and sleeping bags. The weather in the high-altitude zone of Manaslu can change quickly and can even get too wet and harsh situations even on a sunny day. Thus, a backpack with hardshell pants and jackets, gaiters, and raincoats will be the best to protect from rain and snowstorms.
Bring Enough Handcash
Atm is not available on the higher region of the Manaslu trek. Thus, withdrawing money from an ATM in Kathmandu before trekking would be the best way to enjoy it to the fullest. You can carry sufficient money and exchange it for Nepali rupees on arrival.
Please, click here for the Manaslu Region trekking.
If you need any further information, please contact us, Email: at [email protected], Phone: at +977- 985 100 5129 (WhatsApp)