Nestled in the majestic Annapurna region of Nepal, the Poon Hill Trek is a captivating journey that offers trekkers a taste of Nepal's incredible natural beauty and rich cultural tapestry in a compact time frame. As one of the most sought-after short treks in Nepal, it beckons both novice trekkers and seasoned hikers alike, with its promise of panoramic Himalayan views and relatively moderate trails.
Poonhill, standing at an elevation of 3,210 meters, serves as the focal point of this trek. The ascent to its summit rewards trekkers with an awe-inspiring sunrise view over the Annapurna and Dhaulagiri massifs. These moments, when the first rays of the sun kiss the snow-clad peaks, turning them into a golden spectacle, are what trekkers eagerly await and cherish.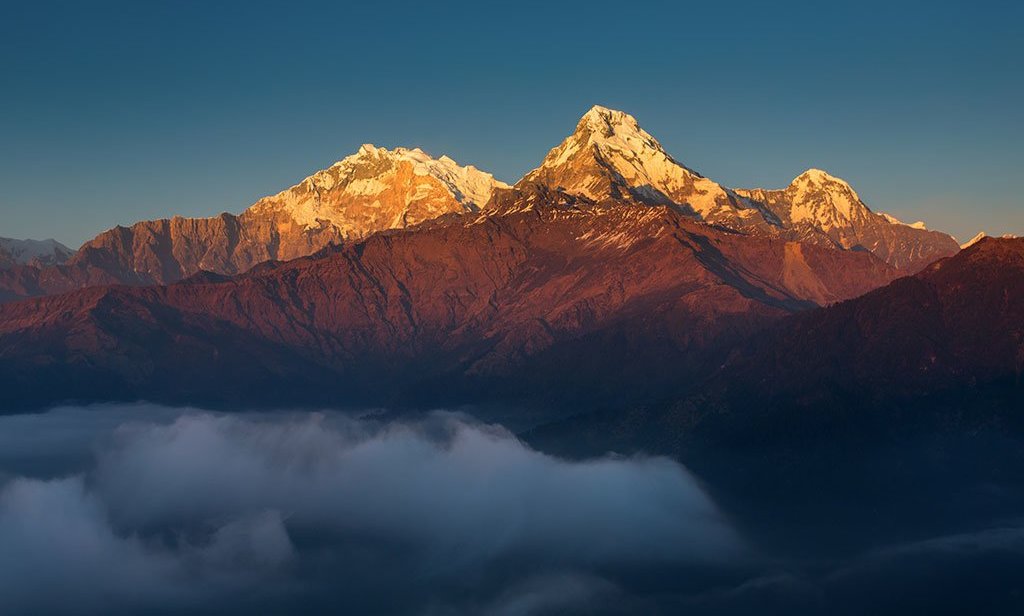 The trek isn't just about the mountains, though. Winding through verdant forests of rhododendron, oak, and pine, the trail offers a constantly changing backdrop that ranges from cascading waterfalls to terraced farmlands. Furthermore, the journey through quaint Gurung and Magar villages introduces trekkers to the local culture, traditions, and the warm hospitality of the Himalayan people.
Starting and ending in the vibrant city of Pokhara, the Poon Hill Trek usually spans 4 to 6 days. Along the way, comfortable teahouses provide shelter and authentic Nepali meals, ensuring trekkers are well-rested and nourished for the trail ahead. With well-defined paths and ample facilities, it's an excellent introduction to trekking in the Himalayas.
Whether you're drawn to the allure of the mountains, the charm of the local culture, or the call of the wild, the Poonhill Trek is a journey that promises diverse experiences and memories to last a lifetime. This guide aims to provide all the necessary insights for anyone looking to embark on this unforgettable adventure.
---
Highlights of Poonhill Trek
Mesmerizing Sunrise at Poonhill: Witnessing the first rays of sun illuminating the peaks of the Annapurna and Dhaulagiri ranges.

Panoramic Mountain Views: Stunning vistas of prominent peaks like Annapurna South, Machapuchare (Fishtail), Dhaulagiri, and Himchuli.

Vibrant Rhododendron Forests: Especially during spring, the trails blaze with the colors of blooming rhododendrons.

Cultural Immersion in Ghorepani: Dive deep into the culture and traditions of the Gurung and Magar communities.

Historic Ghandruk Village: A picturesque Gurung village where you can explore traditional stone houses, a Gurung museum, and experience the local way of life.

Stone Staircase at Ulleri: An iconic stretch of 3,300 stone steps, offering a challenging yet rewarding ascent.

Bird's Eye View from Tadapani: A vantage point providing clear and close views of the Annapurna range.

Rhythmic Sounds of Bhurungdi Khola River: Accompanying trekkers along certain trail sections, the river adds a calming auditory backdrop.

Local Hospitality: Warm and welcoming teahouses dot the trail, offering rest, refreshment, and a taste of Nepali hospitality.

Pokhara City: A serene lakeside city at the beginning and end of the trek, perfect for relaxation and exploration of its vibrant streets, boating in Phewa Lake, and visiting the Peace Pagoda.
These highlights ensure that the Poon Hill Trek remains an unforgettable journey for every trekker, blending natural beauty with rich cultural experiences.
---
Overview of the Poonhill Trek
Location: Annapurna region, Nepal.
Duration: Typically 4-6 days.
Elevation: Poonhill Peak stands at 3,210 meters (10,532 ft).
Difficulty: Moderate; suitable for beginners to intermediates.
Optimal Time: March-May (spring) and September-November (autumn).
Starting/Ending Point: Pokhara.
Main Attraction: Breathtaking panoramic views of the Himalayas from Poonhill, especially during sunrise.
Cultural Experience: Immersion in Gurung and Magar villages, especially Ghorepani and Ghandruk.
Flora: Vibrant rhododendron forests, especially noticeable in spring.
Permits: TIMS (Trekkers' Information Management System) Card and ACAP (Annapurna Conservation Area Permit) are required.
Accommodation: Teahouses along the route provide food and lodging.
Accessibility: Suitable for most age groups and fitness levels; no prior trekking experience required.
---
How to reach Poon Hill?
Normally, this trekking will start from the beautiful city of Pokhara which is 200km far (8hr drive/30min flight) distance from Kathmandu. From Pokhara, it will take a 2hr scenic drive to Nayapul and start to hike from there. From Nayapul, you either can trek clockwise or you can go in an anticlockwise direction as well. In a clockwise direction, you will follow Tikhedhunga which leads to Ulleri, and finally, take you to the Ghorepani village where you would find Poonhill. Later, you trek through Tadapani and it leads to Ghandruk, a beautiful Gurung village and we will finally reach Nayapul to end the trek.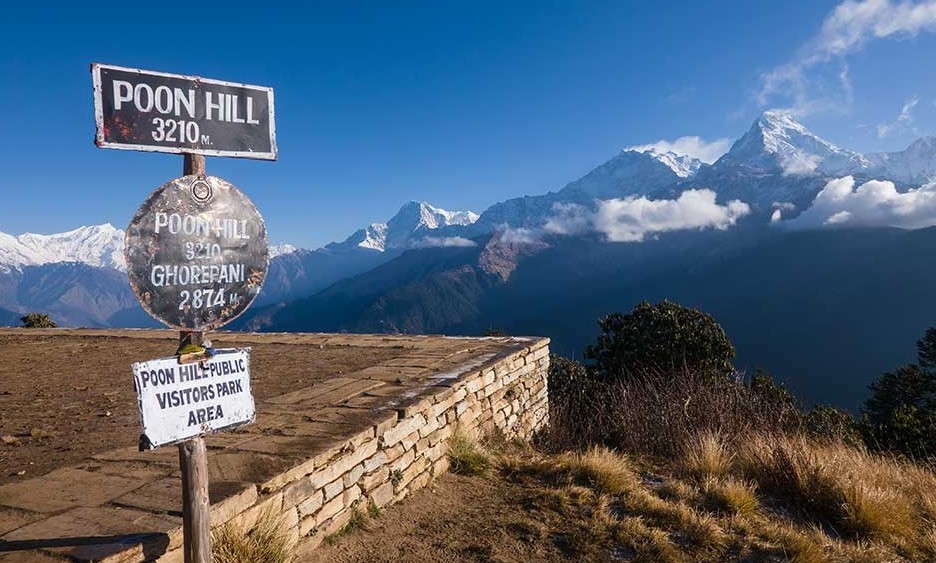 ---
Best Time to Trek the Poonhill
The Poon Hill Trek, situated in the Annapurna region of Nepal, offers stunning views of the Himalayas and a rich cultural experience. However, like any trek, the experience can vary significantly depending on the season. Here are key details to help you determine the best time to embark on this journey.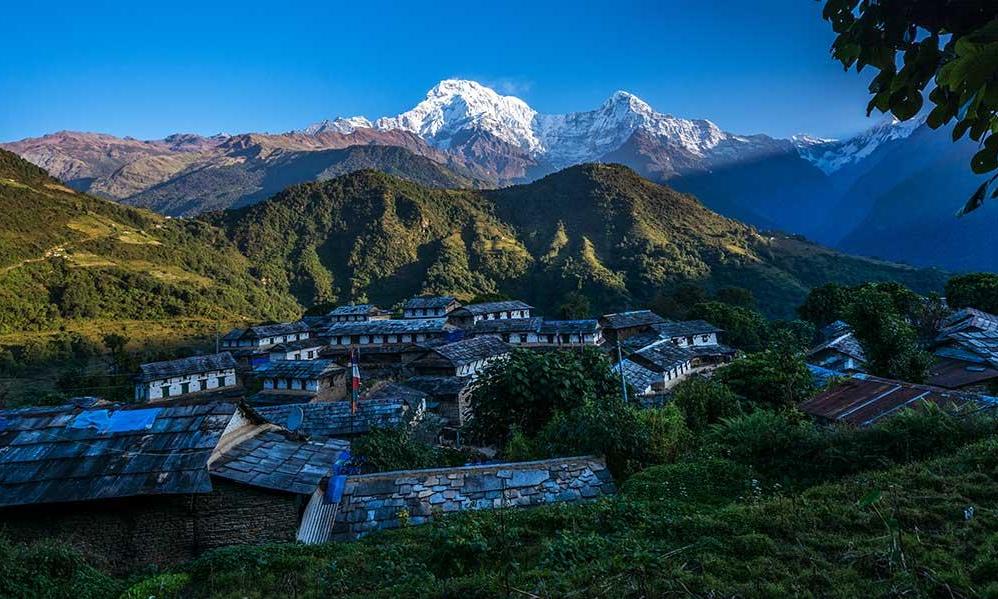 Spring (March to May)
Weather: This is one of the most favorable times to trek as the temperatures are moderate and the skies are usually clear. Mornings and nights can still be chilly, especially at higher altitudes, but daytime temperatures are comfortable for trekking.

Flora: Spring is when the rhododendron forests bloom, providing trekkers with breathtaking landscapes of vibrant colors.

Visibility: Clear skies ensure that the panoramic views of the Annapurna and Dhaulagiri ranges are at their best.
Autumn (September to November)
Weather: Similar to spring, the autumn months offer clear skies and moderate temperatures. This is the post-monsoon period, ensuring a fresh and clear atmosphere.

Flora: The greenery from the monsoon season still remains, and the forests and hills are lush and verdant.

Visibility: Arguably the best time for mountain vistas, the air post-monsoon is free of dust and pollution, offering crystal-clear views of the peaks.
Winter (December to February)
Weather: Winter brings cold temperatures, especially during the nights and at higher altitudes. Snowfall can occur, which might make some trails slippery.

Flora: While the rhododendrons are not in bloom, the snow-capped forests and mountains create a picturesque winter wonderland.

Visibility: Skies are mostly clear, but morning vistas are the best before potential afternoon cloud cover.

Note: It's essential to have proper cold-weather gear if trekking during this time.
Monsoon (June to August)
Weather: Monsoon means heavy rainfall, which can make trekking challenging. Trails can be slippery, and there's a higher risk of landslides in certain areas.

Flora: The landscape is at its greenest, with waterfalls and rivers in full flow, adding to the trek's beauty.

Visibility: Clouds and fog can obscure mountain views, especially during peak rainfall.

Note: While this is the least popular time due to the rain, it also means fewer trekkers on the trail. It's crucial to have waterproof gear and be prepared for potential delays.
While the Poon Hill Trek is accessible and beautiful year-round, most trekkers prefer the clear skies and moderate temperatures of the spring and autumn seasons. Always check the current weather before starting, and ensure that you're equipped for the season in which you're trekking.
---
Difficulty Level of the Poonhill Trek
Understanding the difficulty level of a trek is essential for preparation and to ensure a safe and enjoyable experience. Here's a detailed breakdown of the Poonhill Trek's difficult aspects:
Altitude and Elevation:
Poonhill's Height: The summit of Poonhill stands at 3,210 meters (10,532 ft). While this is significantly lower than many other treks in Nepal, the rapid ascent over a few days can still present challenges for some.

Altitude Sickness: Due to its relatively lower altitude, the risk of altitude sickness on the Poonhill Trek is minimal. Everyone reacts to altitude differently, and mild symptoms can still occur. It's always good to be aware of the symptoms and ensure proper acclimatization.
---
Trail Characteristics:
Trail Type: The Poonhill Trek consists mostly of well-trodden paths and stone steps. While there aren't any technical sections, the constant uphill and downhill can be strenuous on the knees.

Distance: The trek covers approximately 50 kilometers, depending on the specific route taken. Over 4 to 6 days, this translates to an average of 10-12 kilometers of trekking per day.

Stairs: One of the most talked-about aspects of the Poonhill Trek is the flights of stone stairs, especially between Ulleri and Ghorepani. Proper pacing is essential to tackle these sections.
Physical Fitness Requirements:
Fitness Level: A moderate level of fitness is sufficient for this trek. While prior trekking experience isn't mandatory, being in good shape will enhance the experience.

Preparation: Engaging in cardiovascular exercises like running, cycling, or swimming in the weeks leading up to the trek can be beneficial. Strength training, especially for legs, and regular walks or hikes can also prepare the body for the demands of the trek.
External Factors:
Weather: Conditions can vary. Cold temperatures, especially at night, and unpredictable rain can add to the trek's challenge. Proper gear and clothing are essential to handle these changes.

Pack Weight: Carrying a light pack can significantly reduce strain. If you're not used to carrying a backpack, consider hiring a porter to ease the journey.
Classified as a moderate trek, the Poonhill Trek is accessible to most people with a reasonable level of fitness. Its primary challenges arise from the repetitive ascents and descents, and the stretches of stone steps. With proper preparation, pacing, and awareness of one's body, the trek is a rewarding experience that offers unparalleled views and cultural immersion without the extended high-altitude risks of longer Himalayan treks.
---
Accommodation and Facilities during the Poon Hill Trek
Trekking in the Himalayas doesn't mean you have to compromise on comfort. The Poonhill Trek, one of Nepal's premier teahouse treks, offers decent amenities along its route. Here's what to expect in terms of accommodation and facilities: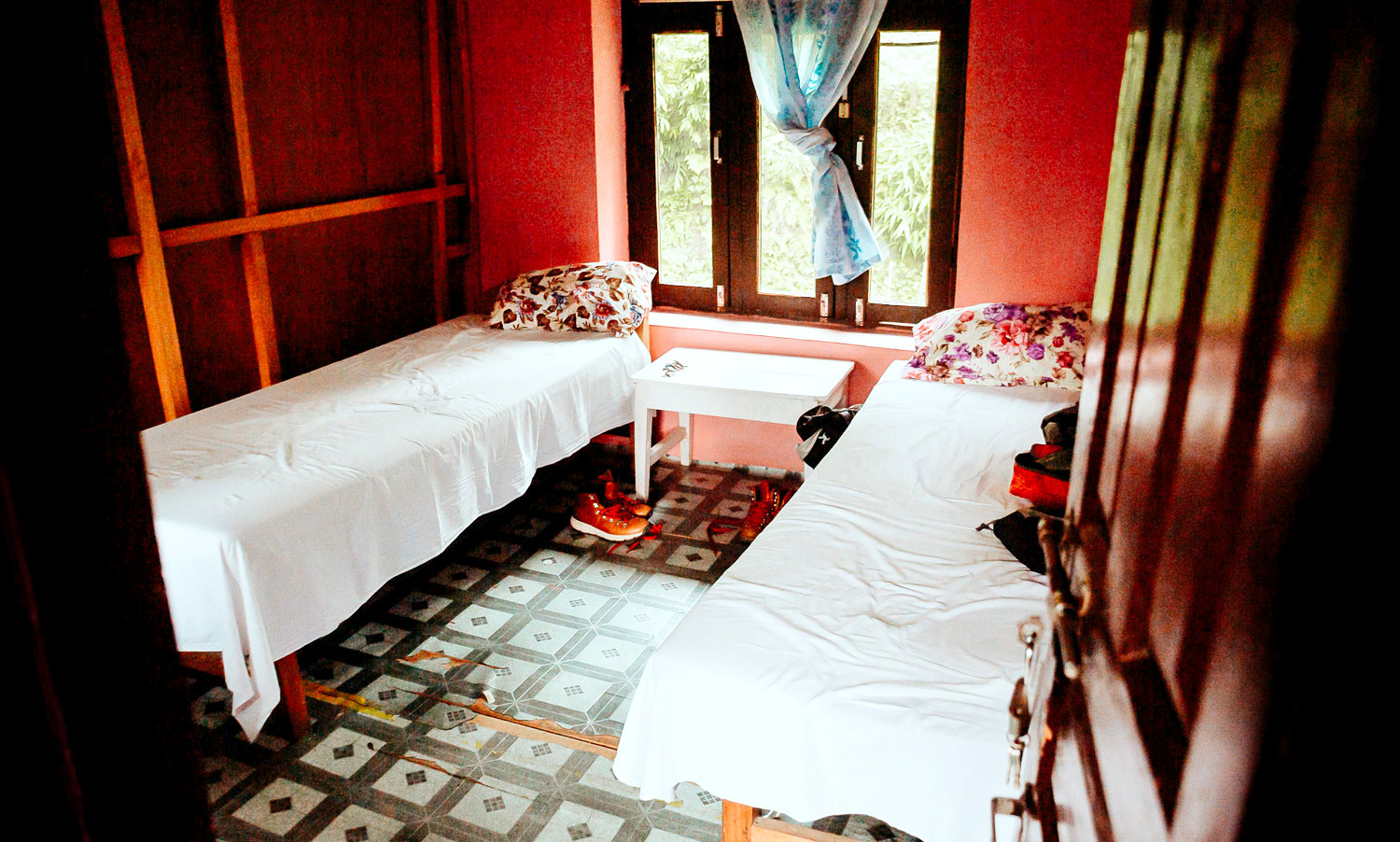 Teahouses:
Description: Teahouses are the primary form of accommodation for trekkers in the Annapurna region. These are lodges run by local families that provide both sleeping quarters and meals.

Rooms: Teahouse rooms are generally basic, featuring twin beds with pillows, sheets, and blankets. Remember, the higher or more remote the location, the more basic the accommodation tends to be.

Toilets and Showers: Most teahouses offer shared bathroom facilities. While some provide Western-style toilets, others might have squat variants. Hot showers are available in many teahouses, though they may come at an extra cost.
Dining and Food:
Menu: Teahouses offer a menu with a diverse range of items. The staple food is 'dal bhat', a traditional Nepali dish comprising rice, lentil soup, and vegetable or meat curries. Additionally, you can find items like pancakes, pasta, eggs, and sandwiches.

Water and Beverages: Filtered and boiled water is available for purchase. Bottled water can be found, but to reduce plastic waste, consider refilling your bottle with purified water. Tea, coffee, soft drinks, and sometimes even local alcoholic beverages are available.
Connectivity and Charging Facilities:
Electricity: Teahouses typically have electricity, allowing you to charge cameras and other devices. Do note, however, that due to the remote locations, there can be power outages or additional fees for charging.

Internet: While not lightning-fast, many teahouses offer Wi-Fi for a charge. Alternatively, local SIM cards with data plans can be purchased in bigger towns for better connectivity.
Additional Facilities:
Shops: Small local shops or stalls can be found sporadically along the trail, offering snacks, toiletries, and basic trekking gear.

Medical Facilities: There aren't full-fledged medical clinics on the Poonhill route, so carrying a first-aid kit and any essential medicines is crucial.
The accommodation and facilities on the Poonhill Trek strike a balance between rustic charm and necessary comforts. Embracing the simplicity of teahouse living enriches the trekking experience, allowing for a deeper connection to the Himalayan landscape and its people.
---
Guide and Porter
Trekking in the mountain region is not easy but with the help of experienced guiding team members, proper food, drink, and rest can take you to your dream destination. We recommend travelers to travel with a guide and porter (if you have heavy luggage), because most of the time, we've to travel through dense forests and mountain trails. Guides provide the essential information and take care of all the accommodation, safety measures, flights, transportation, and entry and exit at all the entrance points. Though this route is one of the easiest, and deftly finds the locations. So, you can travel solo/ without guides as well in Poonhill.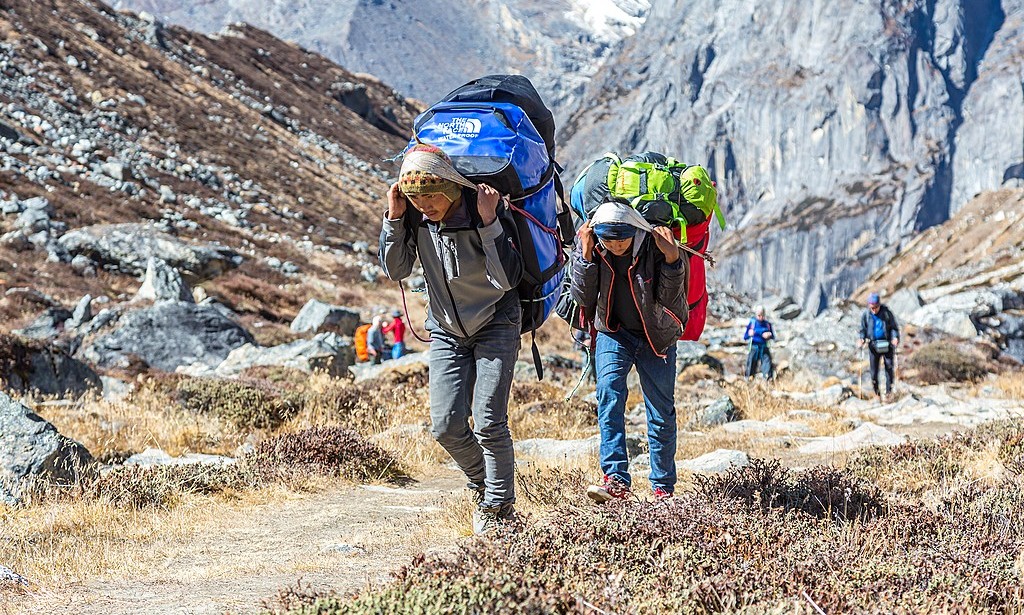 One thing you need to keep in mind is that, at the end of the trekking, the guide and porter expect good tips from you. These people are hardworking and they put all the effort to take you and your staff to your dream destinations in an extreme mountain environment.
---
Itinerary for Poonhill Trek
Poon Hill Trek normally starts from 2-3 hours driving from Pokhara to Nayapul and starts hiking from there. The landscapes, terrain, ethnic people, culture, and everything look diverse as compared to Kathmandu. Dense rhododendron forests, wide-range valleys, beautiful landscapes, waterfalls, small settlements, rivers, and snow-capped mountain views are the major attractions on the way. Here is the most popular itinerary for the Poon Hill trek:
Day1: DriveFly to Pokhara (7-8hr/30min)
Day2: Drive to Nayapul and trek to Tikhedhunga (2hr/3-4hr)
Day3: Trek to Ghorepani (5-6hr)
Day4: Hike to Poonhill and trek to Tadapani (6-7hr)
Day5: Trek to Ghandruk (5-6hr)
Day6: Trek to Nayapul and drive to Pokhara (4-5hr/2hr)
Day7: Drive/Fly to Kathmandu (7-8hr/30min)
Ghorepani Poon Hill Trek is the best trek for trekkers having a short time. Ghorepani Poon Hill offers more than you expected in those short times. The rich natural beauties, snow-capped mountain view, rich culture, and amazing hospitality the lifetime memories after this trek.
---
Permits for the Poonhill Trek
Embarking on the Poon Hill Trek requires certain permits, ensuring trekkers' safety, maintaining the region's environment, and aiding local community development. Here's a detailed overview of the permits needed:
TIMS (Trekkers' Information Management System) Card
Purpose: This card helps keep a record of trekkers in the region and ensures their safety.
Documentation Required:
Passport-sized photos (2 copies)
A copy of your passport
Itinerary details
Contact information of your emergency contact and your insurance details
Where to Obtain: Nepal Tourism Board Office in Kathmandu
Annapurna Conservation Area Permit (ACAP)
Purpose: This permit contributes to the protection and maintenance of the Annapurna region. The fees are used for sustainable community development and to maintain the environment.
Documentation Required:
Passport-sized photos (2 copies)
A copy of your passport
Where to Obtain:
Nepal Tourism Board Office in Kathmandu
ACAP counter during TIMS card acquisition in Pokhara
Note: Always carry the original and copies of your permits with you during the trek. Checkpoints along the route will require you to show them. Always check the latest requirements and costs before planning your trek.
---
Preparation and Packing for the Poonhill Trek
Proper preparation and packing are crucial for a comfortable and enjoyable trekking experience. Here's a comprehensive detail to help you prepare and know what to pack for the Poonhill Trek:
Physical Preparation:
Cardio Training: Engage in cardio exercises like jogging, cycling, or swimming for a few weeks before the trek.

Strength Training: Focus on leg muscles, core strength, and endurance training.

Altitude Preparation: Though Poonhill doesn't reach extreme altitudes, it can still be a good idea to spend a day or two in a hilly area or at a higher altitude if possible.

Practice Hikes: Engage in a few day hikes with a loaded backpack to simulate the trek.
Mental Preparation:
Research: Familiarize yourself with the trek route, major landmarks, and the culture of the region.

Positive Mindset: A determined and positive attitude is essential, especially when faced with challenges.
---
Packing List:
Clothing:
Base Layers: Quick-dry, moisture-wicking thermal tops and bottoms.

Trekking Shirts: Both short-sleeved and long-sleeved, preferably synthetic or merino wool.

Trekking Trousers: Lightweight and breathable.

Outer Layer: Waterproof and windproof jacket and trousers.

Down Jacket: Especially useful for chilly mornings and evenings.

Undergarments: Quick-drying.

Trekking Boots: Waterproof, ankle-supporting with good grip.

Sandals or Camp Shoes: To rest your feet after trekking.

Woolen Hat and Sun Hat: For warmth and sun protection.

Gloves: Lightweight and warmer pairs.

Buff or Neck Gaiter.
Gear and Accessories:
Backpack: 40-60 liters with rain cover.

Trekking Poles: Helpful for ascents and descents.

Sleeping Bag: Though teahouses provide blankets, a sleeping bag can add comfort.

Water Bottle or Hydration Bladder: At least 1-liter capacity.

Headlamp with Extra Batteries.

Sunglasses with UV protection.

Quick-dry Towel.
Personal Items:
Toiletries: Toothbrush, toothpaste, biodegradable soap, shampoo, etc.

Personal Medications and First Aid Kit: Include pain relievers, blister plasters, diarrhea medication, rehydration salts, and altitude sickness medication.

Sunscreen and Lip Balm with UV protection.

Hand Sanitizer.

Camera with Extra Batteries.

Snacks: Energy bars, nuts, or chocolates for quick energy.
Documents:
Passport and Copies.

Travel Insurance: Ensure it covers high-altitude trekking.

Permits: TIMS Card and ACAP.
Tip: While packing, always consider the season you'll be trekking in. For instance, during the colder months, you'll need more layers. On the other hand, during the monsoon season, waterproof gear becomes essential. And always pack light – only carry what you truly need!
The Poon Hill Trek stands as a testament to the sheer beauty and rich cultural diversity that the Himalayas have to offer. In just a handful of days, trekkers are treated to mesmerizing panoramas of some of the world's highest peaks, a journey through verdant forests dotted with rhododendron blooms, and a warm encounter with the traditions and hospitality of Nepal's mountain communities. This trek is more than just a walk through nature; it's a deeply immersive experience that bridges the divide between man and the grandeur of the natural world.
While the trek is accessible to both beginners and seasoned hikers, preparation remains key. From understanding the best times to embark on this journey to ensure one is equipped with the right gear and knowledge about accommodation and facilities, a successful trek is built on informed choices. With this guide in hand, trekkers can confidently set forth on the Poonhill journey, carrying with them the promise of unforgettable vistas, enriching cultural interactions, and memories that will last a lifetime.
---
Frequently Asked Questions (FAQs): The Complete Guide for the Poonhill Trek
Q: How long is the Poonhill Trek?
A: The Poonhill Trek typically spans 4 to 6 days, covering a distance of approximately 50 kilometers. The exact duration can vary based on the specific route chosen and the pace of the trekker.
---
Q: Is the Poonhill Trek difficult?
A: The trek is considered moderate. While it doesn't demand technical climbing skills, trekkers should be prepared for steep inclines and a series of stone steps. Prior trekking experience isn't mandatory, but a reasonable level of fitness is beneficial.
---
Q: Do I need a guide for the Poonhill Trek?
A: While the trail is well-marked, our experienced guide can provide cultural insights, logistical support, and added safety. For those unfamiliar with the region or trekking in general, a guide is recommended.
---
Q: What kind of accommodation is available?
A: Trekkers typically stay in teahouses, which are simple mountain lodges offering comfortable rooms and meals. These teahouses are run by local families and provide a cozy, authentic experience.
---
Q: Is altitude sickness a concern on the Poonhill Trek?
While Poonhill stands at 3,210 meters, it's generally considered a lower-elevation trek. Altitude sickness is less common than on higher treks, but it's always good to be aware of the symptoms and to acclimatize properly.
---
Q: What is the best time to do the Poonhill Trek?
The best times to undertake the trek are during the spring (March-May) and autumn (September-November) seasons when the weather is clear and views are at their best.
---
Q: Do I need special permits for the trek?
A: Yes, trekkers need both the Annapurna Conservation Area Permit (ACAP) and the Trekkers' Information Management System (TIMS) card.
---
Q: What kind of food is available during the trek?
A: Teahouses offer a variety of dishes, ranging from traditional Nepali meals like "dal bhat" to pasta, pancakes, and momos. It's advisable to stick to vegetarian options on the trail.
---
Q: Can I get drinking water easily?
Safe drinking water is crucial. Most teahouses provide boiled water for a fee. Alternatively, trekkers can use purification tablets or carry a portable water filter to ensure safe drinking water.
---
Q: Are there any medical facilities on the trail?
There aren't dedicated medical facilities on the Poonhill trail. It's essential to carry a basic first-aid kit and any personal medications. It's also recommended to have comprehensive travel insurance that covers emergency evacuation.
---
If you are looking for another option for a trek in the Annapurna Region please, click here.
If you need any further information, please contact us by email: at [email protected], Phone: at +977- 985 100 5129 (WhatsApp)