Ghorepani-Poonhill is one of the most classical trekking trails in the Annapurna region as well as the most popular shortest trekking trail in Nepal. A week trek through the foothills of the majestic Annapurna range and a beautiful view-point Poonhill. Undoubtedly, you will be amazed by the rich culture, stunning mountains view, amazing landscapes, and great hospitality there. Trekking through the traditional ethnic villages of Gurung, lush green forest filled with rhododendron flowers, and mind-blowing natural beauties along with astonishing views of snow-capped mountains is a source of happiness for each trekker who wants to travel in this region.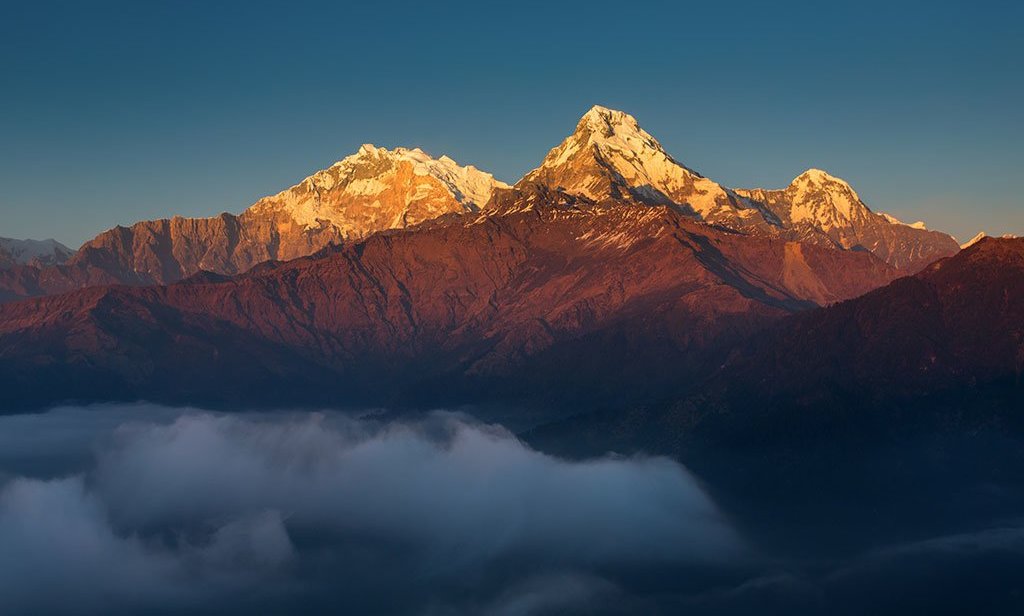 A mosaic of Nepalese beauty awaits all trekkers on this journey. The flowering forest comes alive with bird songs and deep subtropical valleys set with stone steps that will make you feel like a real adventurer. Pokhara will be another perfect city which is the entry point of this trekking to hang out by the lake and walking in the busy street at the lakeside will be a memorable vacation for you. The climax of this trek will be the sunrise view from the top of Poon Hill, which will give you front-row access to one of the most phenomenal spectacles of natural theatre on earth.
Please, click here for the Ghorepani Poonhill Trek.
Highlights of Poonhill Trek
The best trekking trail for beginners in the lap of majestic Annapurna mountains
Opportunity to explore diverse destinations in a short period like Pokhara (the most popular tourist city in Nepal) Ghandruk (Gurung community), and Poonhill (2nd best viewpoint in Nepal).
Magnificent and breathtaking mountain views like Annapurna massif, Fishtail, Dhaulagiri, Nilgiri, and many more.
Wonderful sunrise from Poonhill viewpoint.
Trekking through the beautiful rhododendron forest and lush green forest.
Mesmerizing views of hills, grazing lands, terrace farmlands, human settlements, forests, and
grounds make the beautiful chameleonic color of landscapes.
Typical Gurung village and their unique practices, customs, and cultures.
Trekking Summary
Distance: 40km
Permits: TIMS card and ACAP Card
Starting Point: Nayapul
Ending Point: Nayapul/Ghandruk
Maximum Elevation: Poonhill 3210m
Accommodations: Guesthouse, tea house
Meals: Nepali, Indian, Italian, and Continental food
Trekking Grade: Easy to Moderate
Best seasons: Spring & Autumn
Duration: 4-5days from Pokhara
How to reach Poon Hill?
Normally, this trekking will start from the beautiful city of Pokhara which is 200km far (8hr drive/30min flight) distance from Kathmandu. From Pokhara, it will take a 2hr scenic drive to Nayapul and start to hike from there. From Nayapul, you either can trek clockwise or you can go in an anticlockwise direction as well. In a clockwise direction, you will follow Tikhedhunga which leads to Ulleri, and finally, take you to the Ghorepani village where you would find Poonhill. Later, you trek through Tadapani and it leads to Ghandruk, a beautiful Gurung village and we will finally reach Nayapul to end the trek.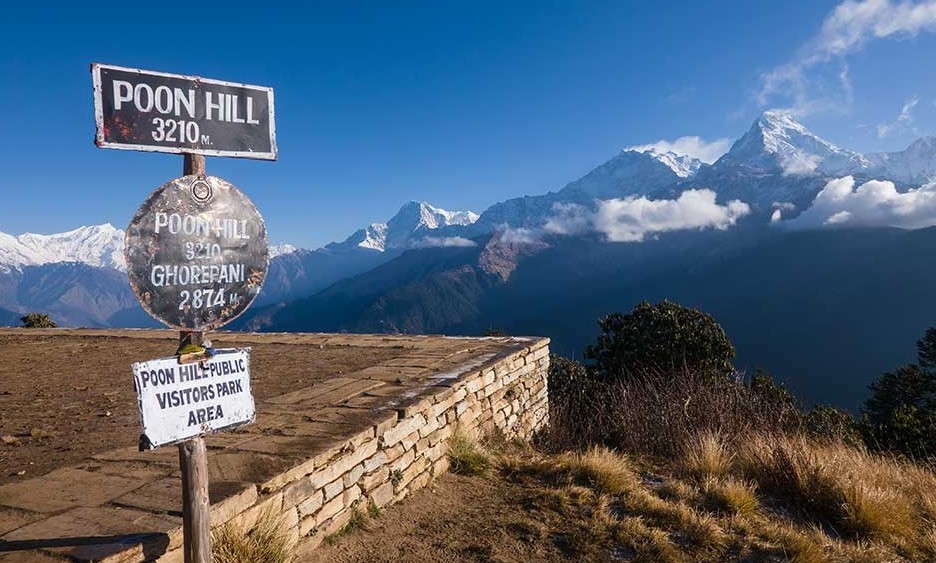 Best season for Poonhill Trekking
Poon Hill trek can be done around the year since the altitude is quite normal as compared to high mountain trekking and also it's normally easy in trekking grading. Despite this, there is always favorable weather for the amazing view of mountains and landscapes. Spring and Autumn are the best seasons to trek in all the Himalayan regions of Nepal and including Poonhill as well.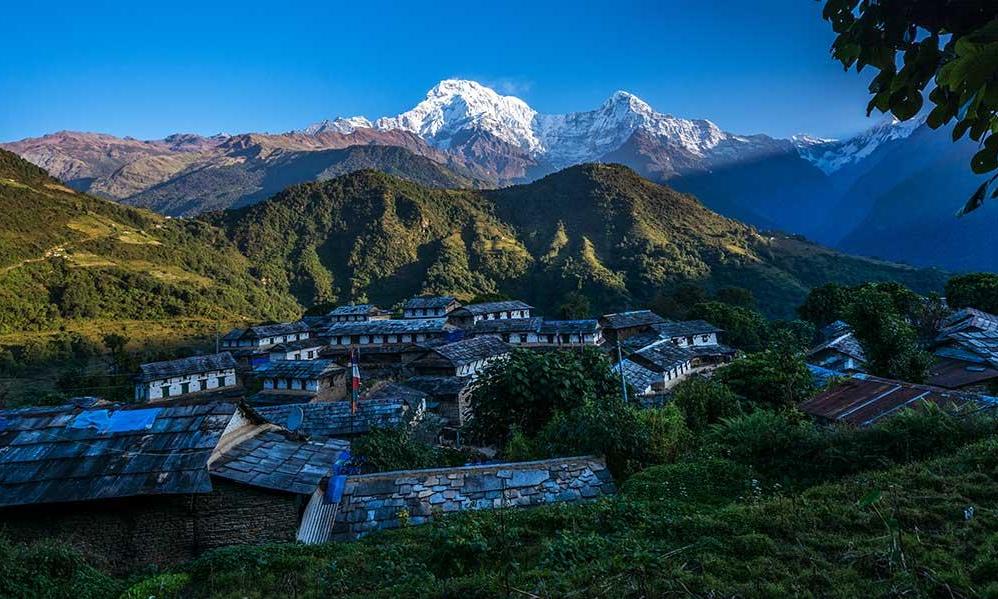 Besides this, December to February assigns cold with a bit cloudy and scenic might be not good to explore. Likewise, June to August is normally considered the monsoon in Nepal, and heavy rainfall, slippery trail, and sometimes might face natural disasters like landslides and floods as well. Though, with proper safety measures, you can travel throughout the year.
Also, Read Best Time to Visit Nepal.
Level of difficulty for Poonhill Trekking
Ghorepani Poonhill trekking is normally considered the light and easy level of trekking which is especially for beginner trekkers. The trekking trail is considered a simple chain alongside favorable altitudes and climates. A basic battle during walking and sometimes steep up is only the hardest part of this entire trekking. Though, some workouts, small hikes, cycling, and stamina-building activity will definitely help you to successfully complete this trek. The entire trail is pretty good, mostly walking through the rhododendron forest and small village settlements, grazing lands, and small hilltops.
Accommodation and Food in Poonhill Trekking
This trail is normally a teahouse trekking, so you would get a tea house, small lodges, and hotels during trekking. You normally hike from one village to another village and can get enough lodges for a normal stay. They are clean and nice bedrooms with attached bathrooms in some of the hotels. Some normal hotels have shared bathrooms but you can get a private room easily. It cost normally 4$ to 7$ per night. But during the prime trekking season, it's a little difficult to get a room, so you have to book in advance if you are planning to trek in the spring and autumn season.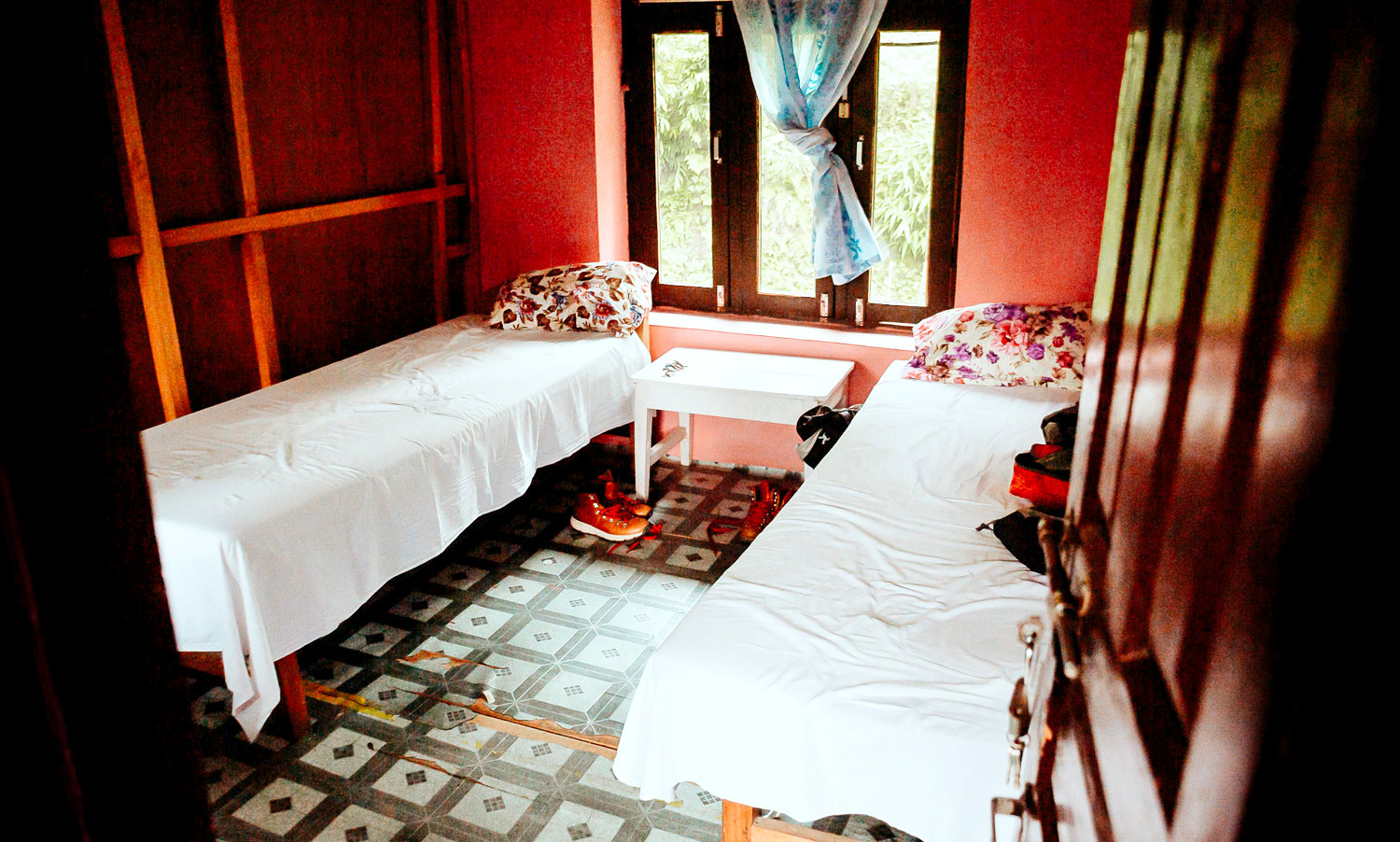 Talking about food, you will get mostly all the items that are mentioned on the menu. The foods are local mostly, fresh and hygienic as most local people are farmers and they almost produce everything on their own land. You will get Nepali local foods, continental, Indian cuisine, Tibetan food, and Italian food. Most of the vegetables and rice are grown in nearby fields, so they are healthy and organic as well.
During breakfast, you will get pancakes, bread items, noodle soup, local cornbread, and Chapati with tea and coffee. You will get ginger lemon honey, soda, coke, and some other soft drinks on the way. You will find some hard drinks also, but it's better not to take them while trekking in high mountains. Instead of this, drink more and more water and keep your body hydrated.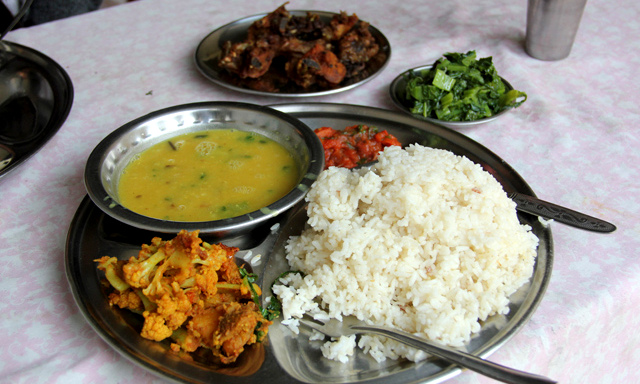 During lunch, the teahouse and lodges offer Nepali Dal Bhat, Pasta, fry noodles, MOMOs, and some other flavors. Dinner will be mostly similar to Lunch, but it depends on what to eat at your dinner. If you are trekking through a travel agency, they will get some dessert ( mostly fruits) during your dinner.
Also, sometimes, you might get hungry while hiking, So, it's better to bring some chocolate, dry fruits, and nuts with you. When you get tired and hungry, it always helps you.
Trekking Permits and Entrance Poonhill Trekking
Since this amazing trekking trail is a part of the Annapurna Sanctuary, you need a trekking permit like other trails in the Annapurna region. You will require the Annapurna Conservation Area Permit (ACAP) which helps you to enter the Annapurna Conservation Area. Also, you need a Trekkers Information Management System card (TIMS), which is basically a database of the foreigners who visited Nepal and it includes their general information along with where they visited and how many days they spend in that region. Nepal Tourism Board, TAAN Office Kathmandu, and Pokhara both provide this permit with a photocopy of your passport and two pp-size photographs. ACAP costs Rs 3,000 (~26$) and TIMS card costs Rs 2,000 (~18$) for foreigners.
However, if you are traveling through a local travel agency, then you shall not worry about all these permits and entrance. They will get all the necessary permits for you.
Also, Read Popular Spring Treks in Nepal.
Electricity & Internet facility in Poonhill Trekking
The entire trekking trail has good access to electricity and the internet. You can use mobile internet, generally, Ncell provides a handsome data pack for internet access and the hotels and lodges also have wifi facilities. But, some of the hotels charge a little for the wifi service as well as electricity. They normally charge Rs 100-150 (~1.5$) per mobile full battery.
Guide and Porter
Trekking in the mountain region is not easy but with the help of experienced guiding team members, proper food, drink, and rest can take you to your dream destination. We recommend travelers to travel with a guide and porter (if you have heavy luggage), because most of the time, we've to travel through dense forests and mountain trails. Guides provide the essential information and take care of all the accommodation, safety measures, flights, transportation, and entry and exit at all the entrance points. Though this route is one of the easiest, and deftly finds the locations. So, you can travel solo/ without guides as well in Poonhill.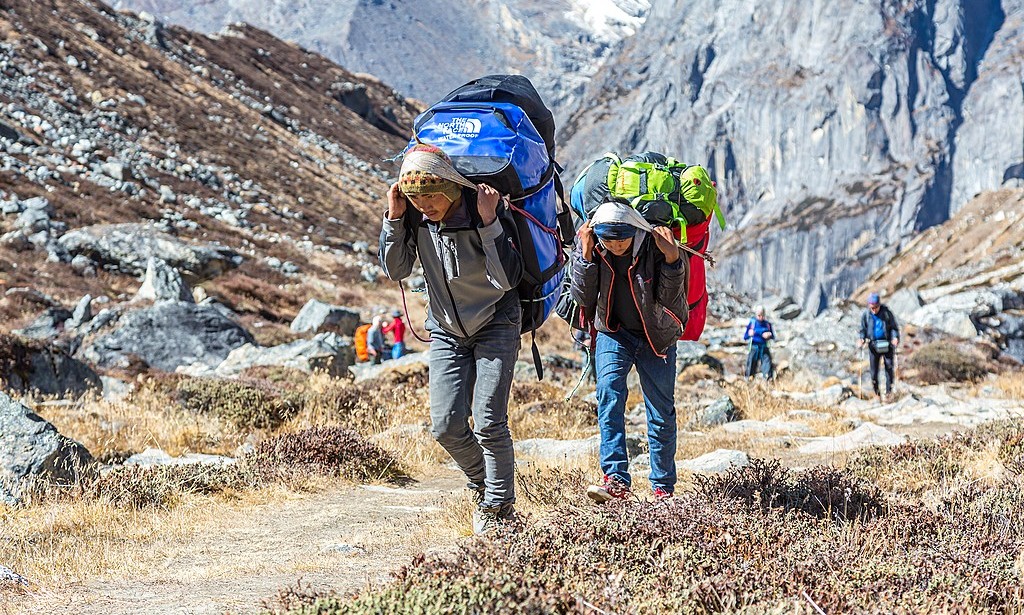 One thing you need to keep in mind is that, at the end of the trekking, the guide and porter expect good tips from you. These people are hardworking and they put all the effort to take you and your staff to your dream destinations in an extreme mountain environment.
What are drinking water and toilet facilities?
In the mountains usually, the bathroom was made outside the teahouse or sometimes attached to the house but in one corner. In the Poonhill trek, you can find both an attached room and a common room. But, it's better to carry your own toilet paper and your personal stuff with you.
The drinking water tab is available almost everywhere on this trekking trail but all are not safe to drink directly. So, carry your own bottle and water purifier along with you. Also, the teahouse and lodges sell bottled water which you can directly use without a purifier. But we do not recommend this one, because it will make the trail trash and using plastic things in high mountains is against the conservation of nature.
Pre-trekking Preparation
Poonhill trekking is not that so much easy also. You need some warm-up, little practice, discipline, early preparation, and the best guidance that can easily take you to the most classy trekking destination in Nepal. It means not that you have to work as a professional trekker. Anyone can go on this trekking but, good health, physical fitness, and self-motivation are indeed required. There are a few things that you can do as naive trekkers before the commencement of the trek:
Do some short hikes and walk around 6-8hr a day both uphill and downhill.
If you do have no habit of doing exercise, restart that habit at least a month before the trek.
Running, Summing, Cycling, and some other cardio exercises can boost your stamina. Which helps you during your trekking.
Try some Yoga steps which directly help in your respiration and drink more water and keep your body hydrated even before the trek.
Another important and essential thing is your trekking equipment and gear. Proper equipment includes a sleeping bag, a pair of high mountain trekking boots, poles, a duffle bag, essential warm and hiking comfortable clothes, warm socks, gloves, sunglasses, sunscreen, and so on. Another major thing that we should keep in mind is, that comfortable and warm but light things are best for high mountain trekking. Make sure all the necessary papers, documents, and ideas about restricted and non-restricted things are in that zone.
Itinerary for Poonhill Trek
Poonhill Trek normally starts from 2-3hr driving from Pokhara to Nayapul and starts hiking from there. The landscapes, terrain, ethnic people, culture, and everything look diverse as compared to Kathmandu. Dense rhododendron forests, wide-range valleys, beautiful landscapes, waterfalls, small settlements, rivers, and snow-capped mountain views are the major attractions on the way. Here is the most popular itinerary for the Poon Hill trek:
Day1: DriveFly to Pokhara (7-8hr/30min)
Day2: Drive to Nayapul and trek to Tikhedhunga (2hr/3-4hr)
Day3: Trek to Ghorepani (5-6hr)
Day4: Hike to Poonhill and trek to Tadapani (6-7hr)
Day5: Trek to Ghandruk (5-6hr)
Day6: Trek to Nayapul and drive to Pokhara (4-5hr/2hr)
Day7: Drive/Fly to Kathmandu (7-8hr/30min)
Ghorepani Poon Hill Trek is the best trek for trekkers having a short time. Ghorepani Poon Hill offers more than you expected in those short times. The rich natural beauties, snow-capped mountains view, rich culture, and amazing hospitality is the lifetime memory after this trek.
If you are looking for another option for a trek in Annapurna Region please, click here.
If you need any further information, please contact us, Email: at [email protected], Phone: at +977- 985 100 5129 (WhatsApp)