Annapurna region is always taken as the best trekking and travel destination for travel enthusiasts around the globe. There are a lot of different trekking trails in this region, among all those trekking trails Mardi Himal is also another most beautiful and popular trekking trail nowadays. It lies in the eastern part of the Annapurna and this trek is outstandingly positioned at the base of the Mardi Himal and Mt. Machhapuchhre, another iconic mountain. This is a recently opened trekking trail because it's an unrevealed natural beauty and a majestic and gorgeous view of mountains can be easily experienced from this trail.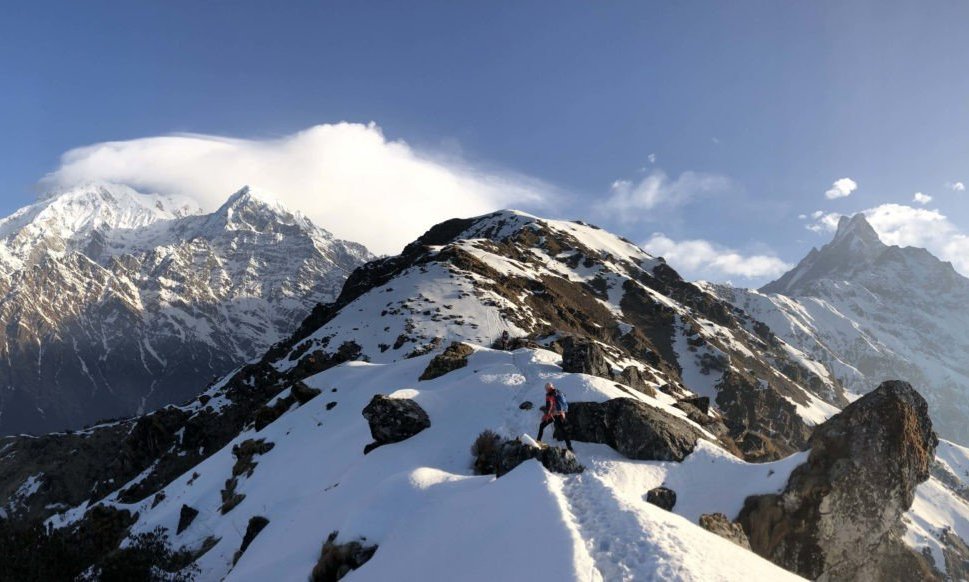 Trekking through the traditional mountain settlements, lush green forest, and mind-blowing unrevealed natural beauty along with gorgeous mountains is the major attraction of the Mardi Himal trek. The landscape changes unexpectedly into the rugged mountain terrain, once you cross above 3000m altitude. If you plan to do this trek in the off-season (winter season), the trail is completely filled with snow and will be more fun for the snow lover. Here we've collected some useful guides regarding this trekking trail.
---
Highlights of Mardi Himal Trek
The Mardi Himal Trek is a captivating adventure that offers a range of highlights, combining natural beauty, cultural experiences, and trekking challenges. Here are some of the key highlights of the Mardi Himal Trek:
Stunning Mountain Views: The trek provides panoramic views of some of the most iconic Himalayan peaks, including Annapurna South, Hiunchuli, Machapuchare (Fishtail), Dhaulagiri, and Manaslu. The Mardi Himal Base Camp, in particular, offers an up-close and mesmerizing perspective of these majestic mountains.
Off-the-Beaten-Path: Compared to more popular trekking routes in Nepal, Mardi Himal sees significantly fewer trekkers, creating a quieter and more intimate experience with the natural surroundings. You'll often find yourself trekking through pristine landscapes without the crowds.
Rich Cultural Encounters: Along the trail, you'll pass through traditional villages inhabited by Gurung and Magar communities. This provides an opportunity to interact with the locals, learn about their customs, and experience the warmth of Nepalese hospitality.
Lush Rhododendron Forests: During the spring (March to May), the trekking route is adorned with vibrant rhododendron blooms, creating a colorful and enchanting atmosphere in the forests. This is a unique and beautiful aspect of the trek.
Alpine Meadows: As you ascend higher, you'll trek through alpine meadows adorned with various wildflowers. The contrast between the lush lower regions and the alpine landscapes is a visual treat.
Mardi Himal Base Camp: The high point of the trek is the Mardi Himal Base Camp at an elevation of approximately 4,500 meters (14,764 feet). Here, you'll find yourself surrounded by towering peaks and a serene, snowy landscape.
Peaceful Environment: The tranquility of the Mardi Himal region allows trekkers to connect with nature on a deep level. The serene atmosphere and lack of commercialization make it an ideal place for reflection and relaxation.
Moderate Trekking Difficulty: While the trek involves steep ascents and descents, it is considered moderately challenging, making it accessible to trekkers with varying levels of experience. Trekkers do not need technical climbing skills to complete this route.
Close Proximity to Pokhara: The Mardi Himal Trek starts and ends near the lakeside city of Pokhara, which is a popular destination in Nepal. After the trek, you can relax by Phewa Lake or explore Pokhara's attractions.
Natural Diversity: The trek takes you through a range of ecological zones, from lush subtropical forests to alpine tundra, providing an opportunity to witness diverse flora and fauna.
---
Mardi Himal Trekking in Summary
Maximum elevation: 4200m, Mardi Base Camp
Trekking Grade: Moderate
Duration: 4-5 days
Best seasons: Spring and Autumn
Permit & Entrance: ACAP + TIMS Card
Total Distance: 42km (mostly preferred route)
Accommodations: Teahouse and Lodges
Meals: Local Nepali Food, Indian, Italian, Tibetian, and common continental meal
---
Reach Mardi Himal Base Camp
Normally, Mardi Himal Trek starts from the drive or flies from Kathmandu to Pokhara and starts trekking from there. There are multiple options for trekking in Mardi Himal. One is the most chosen route which starts from Kande and finishes in Siding. Another is the connecting route, which starts from Ghandruk and ends in Siding as well. This is the route for those who came from ABC or Poonhill trek.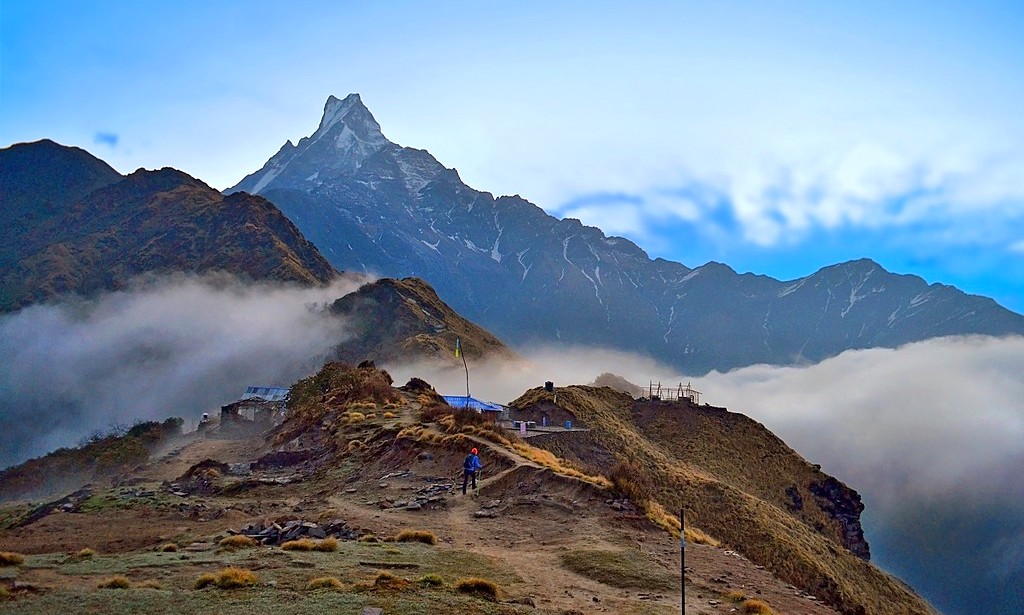 There is another shortest route as well, which starts from Landruk and ends at Siding. If you have less time for trekking, you can choose this option. Also, the longest one starts from either Ghandruk or Kyumi and ends at Kande.
---
Best Season to Trek in Mardi Himal
Mardi Himal trek can be done around the year since the altitude is quite normal as compared to other high mountain treks also Mardi Himal trek is graded as a moderate trek in the level of difficulty. Despite this, there is always favorable weather for the amazing view of mountains and landscapes. Spring and Autumn are the best seasons to trek in all the Himalayan regions of Nepal and including Mardi as well.
Spring (March to May)
Pros:
Rhododendron Blooms: Spring is famous for the vibrant rhododendron blooms that cover the hillsides, creating a colorful and picturesque landscape.
Moderate Temperatures: Daytime temperatures in the lower elevations are comfortable, ranging from 15°C to 20°C (59°F to 68°F).
Clear Skies: Spring typically brings clear skies, offering excellent mountain views, including Annapurna and Machapuchare.
Moderate Crowds: While it's a popular season, Mardi Himal sees fewer trekkers compared to more established routes like the Annapurna Circuit.
Cons:
Possibility of Rain: There may be occasional showers in lower elevations, so be prepared for rain.
Summer (June to August)
Pros:
Lush Greenery: The monsoon season brings lush greenery to the region, making it a great time for botany enthusiasts.
Fewer Crowds: This is the least crowded season for trekking in the Mardi Himal area.
Lower Costs: Accommodation and services may be more affordable during this season.
Cons:
Monsoon Rains: Heavy rainfall, landslides, and leeches can be common during the monsoon, making trekking challenging and potentially dangerous.
Limited Mountain Views: Cloud cover and mist may obstruct mountain views, so you might not get the iconic Himalayan vistas.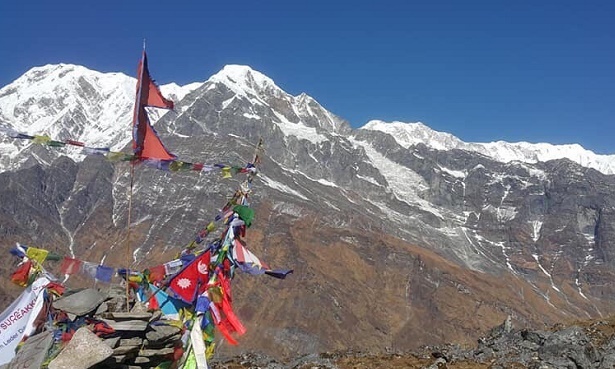 Autumn (September to November)
Pros:
Clear Skies: Autumn offers clear skies and excellent visibility, ensuring breathtaking mountain views.
Moderate Temperatures: Daytime temperatures range from 15°C to 20°C (59°F to 68°F) in the lower regions.
Cultural Festivals: September and October coincide with several Nepalese festivals, providing opportunities to witness local celebrations.
Moderate Crowds: While autumn is the peak season in Nepal, Mardi Himal is less crowded than some other treks.
Cons:
Peak Season: Expect more trekkers on the trail compared to other times of the year.
Winter (December to February)
Pros:
Peaceful Trekking: Winter is the quietest season for trekking in the Mardi Himal region, and you'll often have the trails to yourself.
Snow-Covered Landscapes: The higher elevations are blanketed in snow, creating a serene and beautiful winter wonderland.
Clear Skies: When the skies are clear, you can enjoy stunning views without obstruction.
Cons:
Cold Temperatures: Winter temperatures can drop significantly, especially at higher elevations, with daytime temperatures ranging from 0°C to 10°C (32°F to 50°F). You'll need to be well-prepared for the cold.
Limited Teahouse Availability: Some teahouses along the trail may be closed due to the off-peak season, so you'll need to plan your accommodation carefully.
Each season has its unique charm and challenges, so your choice should align with your preferences and tolerance for different weather conditions and trekking experiences.
---
Food and Accommodation during Mardi Himal Trek
Since the route is newly opened, you might not get all the continental and international tastes in Mardi Himal, but the taste and proper diet will be enough for this trail. Basically, they serve typical Nepali food (Dal Bhat), some Indian cuisine, common international taste, and Italian and Tibetan foods. Most of the vegetables and rice are grown in nearby fields, so they are healthy and organic as well.
During breakfast, you will get pancakes, bread items, noodle soup, local cornbread, and Chapati with tea and coffee. You will get ginger lemon honey, soda, coke, and some other soft drinks on the way. You will find some hard drinks also, but it's better not to take them while trekking in high mountains. Instead of this, drink more and more water and keep your body hydrated.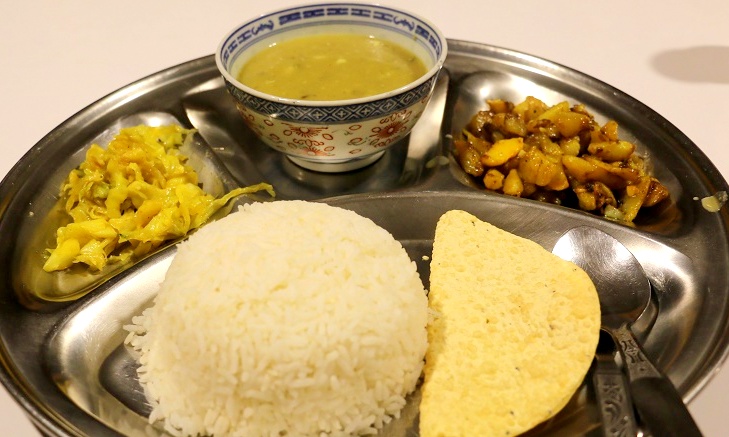 During lunch, the teahouse and lodges offer Nepali Dal Bhat, Pasta, fry noodles, MOMOs, and some other flavors. Dinner will be mostly similar to Lunch, but it depends on what to eat for your dinner. If you are trekking through a travel agency, they will get some dessert ( mostly fruits) during your dinner.
Also, sometimes, you might get hungry while hiking, So, it's better to bring some chocolate, dry fruits, and nuts with you. When you get tired and hungry, it always helps you.
---
Accommodation on Mardi Himal Trek
Accommodation will be normal as in all the mountain regions. If you are familiar with the other high mountain accommodation, then it will be almost similar. For the first few days, you will get comfortable accommodations like an attached bathroom. But, once you cross forest camp or low camp you will get normal rooms with a shared bathroom in the teahouse. During prime trekking season, sometimes you might share your room with fellow trekkers as well. Though the trail is getting more popular day by day, as a result, the food and accommodation facilities are improving.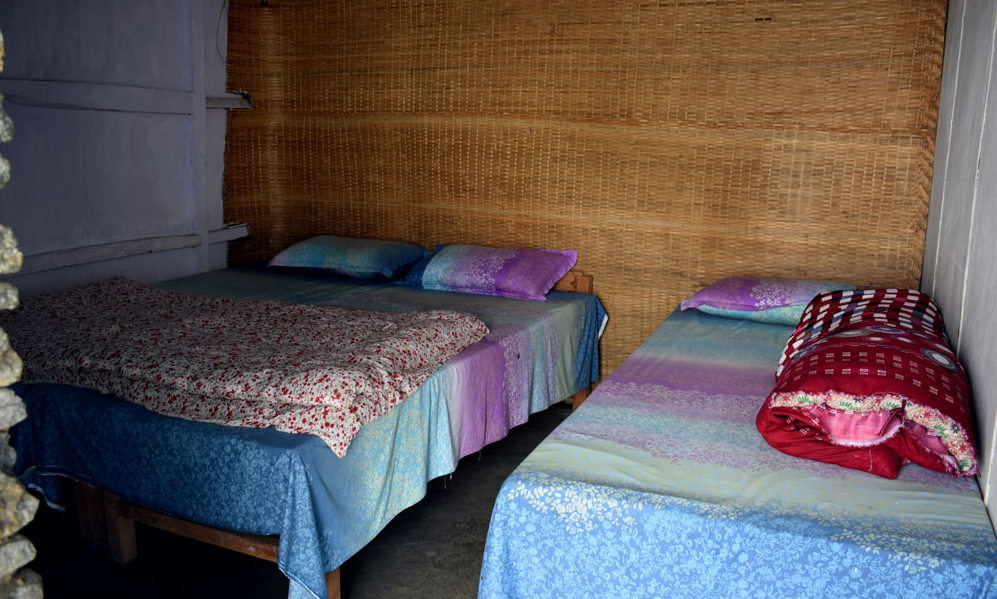 The accommodation facilities are fewer as you ascend to higher altitudes. The options for food also become fewer as compared to the low altitude. Since most of the trail is filled with forest, they have limited lodges and tea houses in major camp areas.
---
Trekking Grade in Mardi Himal Trek
Normally Mardi Himal is considered an easy to moderate-level hiking trail. The walking distance is shorter and easier and you won't gain much altitude in a single day. Also, the maximum altitude is nearly 4200m, So, this altitude is common for high mountain trekking. The longest day will be hiking from high camp to base camp and back to high camp. The risk of altitude sickness will be less as we won't spend much time at higher altitudes. Still, plenty of water, proper rest, and sufficient food will take you easily to the most famous and beautiful trekking trail in Nepal. However, a narrow path. Steep slope might be a problem while trekking, so it's better to be aware of it.
---
Trekking Permits and Entrance for Mardi Himal Trek
Permits Required:
Annapurna Conservation Area Permit (ACAP): Essential for entering the Annapurna Conservation Area, including the Mardi Himal Trek.
Trekkers Information Management System (TIMS) card: A database of foreign trekkers' information, documenting their visits to specific regions in Nepal.
Issuing Authorities:
Nepal Tourism Board.
Trekking Agencies' Association of Nepal (TAAN) Office in Kathmandu.
TAAN Office in Pokhara.
Documents Needed:
Photocopy of your passport.
Two passport-sized photographs.
Permit Costs (for foreigners):
ACAP: NPR 3,000 (approximately USD 26).
TIMS card: NPR 2,000 (approximately USD 18).
Purpose:
ACAP permits support conservation efforts, trail maintenance, and local community projects in the Annapurna region.
TIMS cards serve as a record of foreign trekkers' visits to Nepal and provide information about their destinations and duration of stay.
Please note that permit fees and regulations can change, so it's advisable to verify the current requirements with the authorities or a reliable trekking agency in Nepal before embarking on the Mardi Himal Trek.
---
Solo trekking in Mardi Himal Trek
As we know, some travelers love to explore solo without any disturbance from other fellow travelers and trekkers. In such a case, Yes, Mardi Himal is the best option for solo travelers as well. You will get the proper direction on the way and the Nepalese locals, as well as guides and travelers, are always helpful to you.
However, it depends on person to person. If you are traveling in Nepal for the first time and even you never traveled to high mountains then solo travel will not be a good option for you. Because this is the newly opened trail, it's a hidden valley that is untouched and virgin land. The human settlements are too far from one another. In such a worst moment, you may be lost and you may not find anyone to help you there.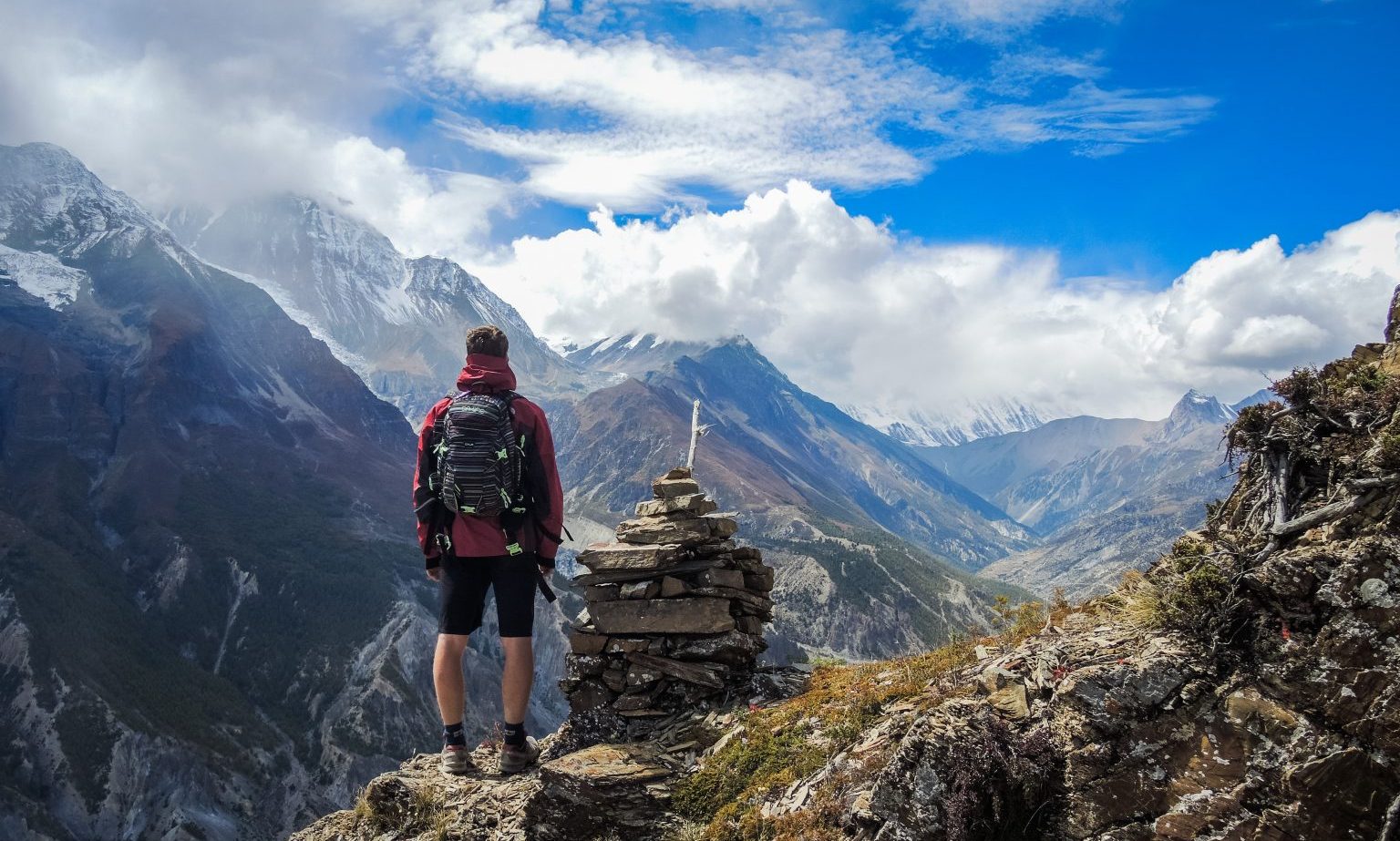 So, if you know everything and you have experience of trekking in high mountains before then just collect all the necessary information, get enough cash to spend while trekking and get in touch with some travel agency or some reliable person, so that you can contact them if you will find some trouble on the way while doing solo trekking in Mardi Himal.
---
Electricity & Internet facility in Mardi Himal Trek
After Ghandruk, you won't find electricity in your own room. They will provide that facility in either the dining room or the reception area. Because they don't have normal electricity and they depend on sunlight for electricity. They charge Rs 100-150 per hour for the charging of your phone. You will get wifi in almost all the hotels as well. They charge a certain amount for it as well.
---
Guide and Porter on Mardi Himal Trek
Trekking in the mountain region is not easy but with the help of experienced guiding team members, proper food, drink, and rest can take you to your dream destination. We recommend travelers to travel with a guide and porter (if you have heavy luggage), because most of the time, we've to travel through dense forests and narrow trails. Where it's very hard to find the locals and other people always while trekking. Guides provide the essential information and take care of all the accommodation, safety measures, flights, transportation, and entry and exit at all the entrance points.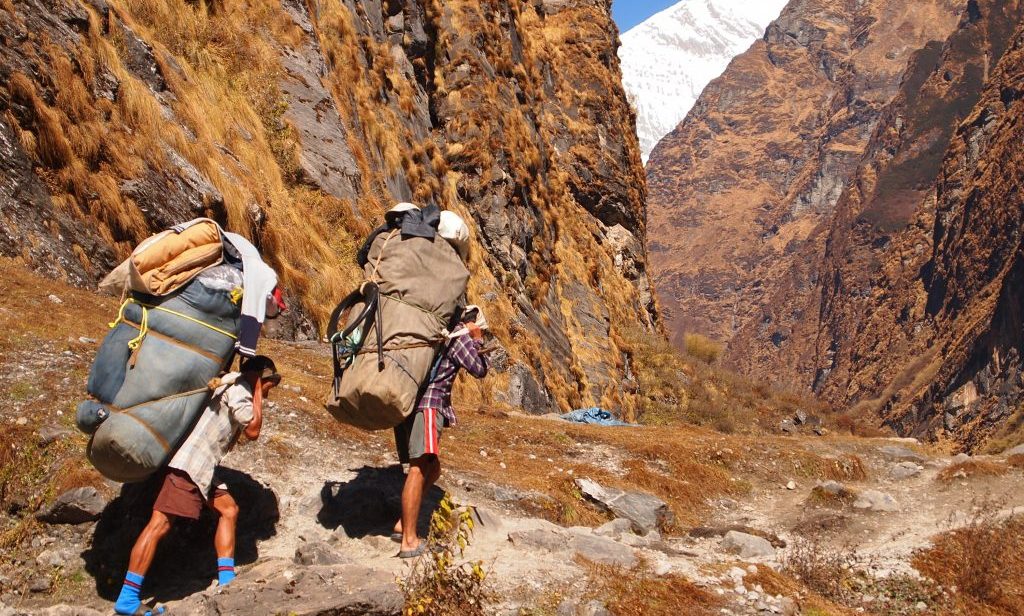 One thing you need to keep in mind is that, at the end of the trekking, the guide and porter expect good tips from you. These people are hardworking and they put all the effort to take you and your staff to your dream destinations in an extreme mountain environment.
---
Drinking water and toilet facilities on Mardi Himal Trek
In the mountain usually, the bathroom was made outside the teahouse or sometimes attached to the house but in one corner. In Mardi Himal Trek, the toilets are shared basis and you've to use a bucket to carry water and your own toilet paper while trekking.
The drinking water tab is available almost everywhere on this trekking trail but all are not safe to drink directly. So, carry your own bottle and water purifier along with you. Also, the teahouse and lodges sell bottled water which you can directly use without a purifier. But we do not recommend this one, because it will make the trail trash and using plastic things in high mountains is against the conservation of nature.
---
Pre-trekking Preparation for Mardi Himal Trek
Mardi Himal trekking is not that so much easy also. You need some warm-up, little practice, discipline, early preparation, and the best guidance that can easily take you to the most beautiful trekking destination in Nepal. It means not that you have to work as a professional trekker. Anyone can go on this trekking but, good health, physical fitness, and self-motivation are indeed required. There are a few things that you can do as naive trekkers before the commencement of the trek:
Do some short hikes and walk around 6-8hr a day both uphill and downhill.
If you do have no habit of doing exercise, restart that habit at least a month before the trek.
Running, Summing, Cycling, and some other cardio exercises can boost your stamina. Which helps you during your trekking.
Try some Yoga steps which directly help in your respiration and drink more water and keep your body hydrated even before the trek.
Another important and essential thing is your trekking equipment and gear. Proper equipment includes a sleeping bag, a pair of high mountain trekking boots, poles, a duffle bag, essential warm and hiking comfortable clothes, warm socks, gloves, sunglasses, sunscreen, and so on. Another major thing that we should keep in mind is, that comfortable and warm but light things are best for high mountain trekking. Make sure all the necessary papers, documents, and ideas about restricted and non-restricted things are in that zone.
---
Itinerary for Mardi Himal Trek
Mardi Himal has a few different options to start trekking. Normally, we start at 3-4hr driving from Pokhara to Kande, and start our hiking from there. The landscape, terrain, people, culture, and everything look so different from Kathmandu. Dense rhododendron forests, wide-range valleys, diverse terrain, waterfalls, and rivers are the major attractions on the way. Here is the most popular itinerary for the Mardi Himal Trek:
Day1: Drive from Kathmandu to Pokhara
Day2: Drive from Pokhara to Kande and trek to Deurali
Day3: Trek to Low camp
Day4: Trek to High camp
Day5: Explore Mardi Base Camp and back to Middle Camp
Day6: Trek to Siding and drive back to Pokhara
Day7: Drive to Kathmandu
Here, we tried to collect some essential information for the Mardi Himal trek, which you must know before departing to the Mardi Himal. We hope that it will be helpful for you.
If you are looking for trekking and tour packages in Nepal, please click here.
If you need any further information, please contact us, Email: at [email protected], Phone: +977- 985 100 5129 (WhatsApp)