The Everest Base Camp (EBC) and Gokyo Valley Trek is an incredible adventure that offers the opportunity to witness the world's highest peak, Mount Everest, and experience the stunning beauty of the Himalayan range. This trek takes you through some of the most magnificent landscapes, including vibrant Sherpa villages, lush forests, sparkling rivers, and the mesmerizingly turquoise Gokyo Lakes.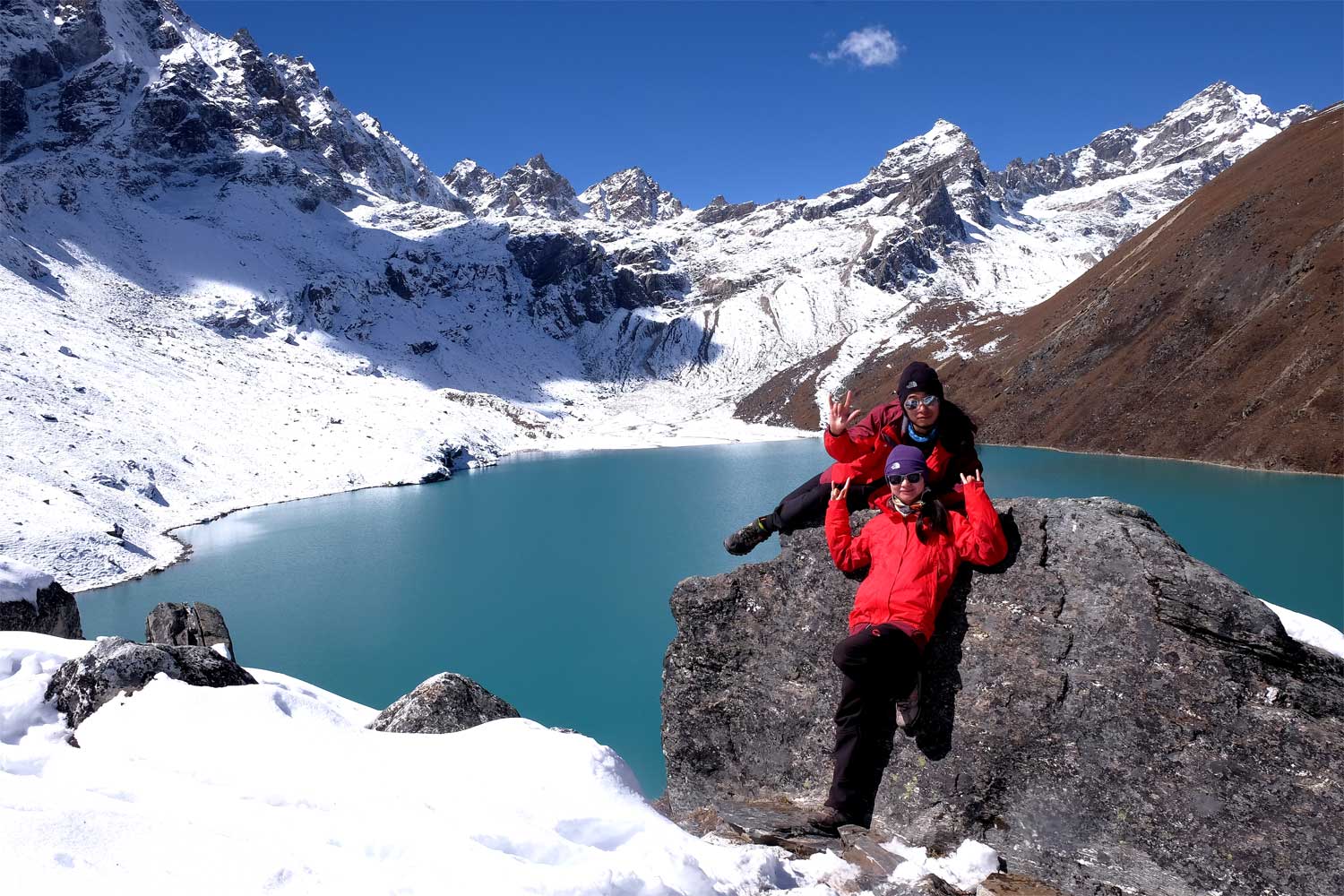 On this trek, you will encounter diverse flora and fauna, gain insight into local Sherpa culture, visit ancient monasteries, and cross high-altitude passes. The journey culminates at the Everest Base Camp and Gokyo Ri, providing awe-inspiring panoramic views of some of the tallest peaks on Earth.
The adventure, however, is not just about the destination but also about the journey itself. Every step you take on this trek presents you with breathtaking beauty and a chance to test and surpass your own physical and mental limits.
This guide will provide a comprehensive overview of the EBC and Gokyo Valley Trek, including the preparation required, the detailed itinerary, and helpful tips to ensure that you have an unforgettable and safe journey.
Preparations for Everest Base Camp and Gokyo Valley Trek
Physical Preparation
Embarking on the Everest Base Camp and Gokyo Valley Trek is a physically demanding adventure. Given the length of the trek and the altitude, physical preparation is crucial for success and enjoyment on this journey. Below are some suggestions to physically prepare for the trek:
Cardiovascular Training: Cardiovascular fitness is key as you'll be trekking and climbing for several hours a day, often over steep terrain. Start with low-intensity exercises such as walking or cycling, then gradually increase intensity over weeks or months. Jogging, swimming, and stair climbing are also excellent exercises to improve cardiovascular fitness.
Strength Training: Strengthening your core, legs, and body will help you manage the challenging trekking routes better. Exercises such as squats, lunges, pushups, and planks are particularly beneficial. Incorporating weight training into your routine can also help improve your strength and endurance.
Hiking: If possible, try to go on several day hikes or multi-day treks in your home country. This will help your body get used to the type of physical activity you will be undertaking and help you understand what walking uphill for a number of hours feels like. Hiking also helps break in your trekking boots, an essential part of preventing blisters during the actual trek.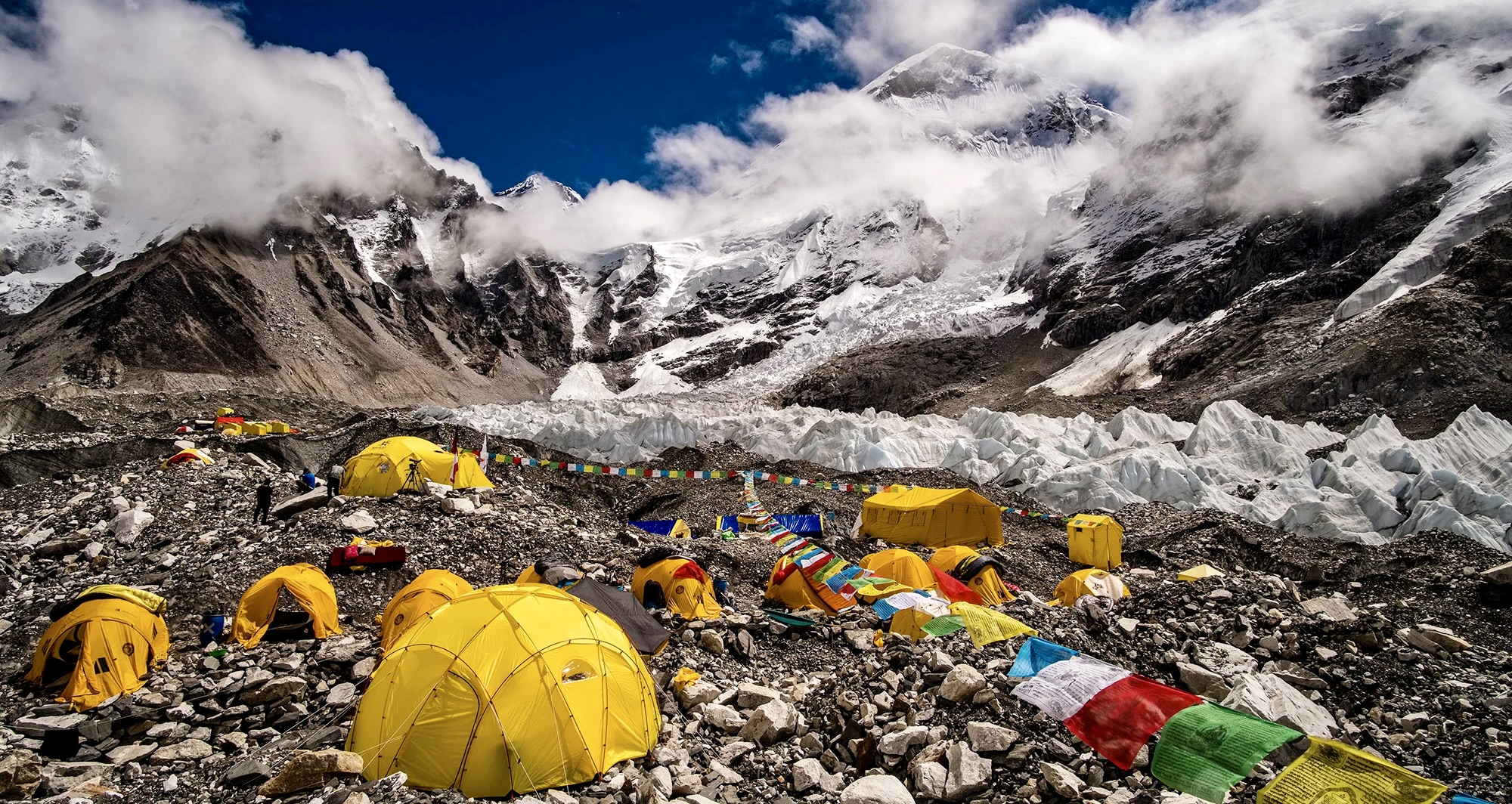 Altitude Training: If possible, train at high altitudes to help your body acclimate to the decreased oxygen levels you'll experience in the Himalayas. If you live in a flat region, consider using an altitude mask that simulates high-altitude conditions.
Flexibility and Balance Training: Flexibility and balance can help prevent muscle strains and sprains. Yoga and Pilates are great for improving both, and they also help improve core strength.
Mental Preparation: Mental stamina is just as important as physical stamina on long treks. Practices such as meditation can help improve mental fortitude, and learning stress management techniques can be valuable for dealing with challenging moments on the trek.
Remember, everyone is different, so what works best for one person might not work as well for another. Listen to your body, and adjust your training accordingly. It is also advisable to undergo a full medical check-up before starting your training regime, to ensure that you are fit to undertake this physically demanding adventure.
Finally, while training is crucial, proper rest and recovery time are also essential to avoid injuries and overtraining. Aim to be in the best possible shape before the trek, but also ensure you're well-rested and ready to go.
Gear Preparation
Ensuring you have the right gear is a vital part of preparing for the Everest Base Camp and Gokyo Valley Trek. The right equipment can make the difference between a comfortable, enjoyable trek and a difficult, unpleasant experience. Here's a comprehensive list of items you should consider packing for your adventure: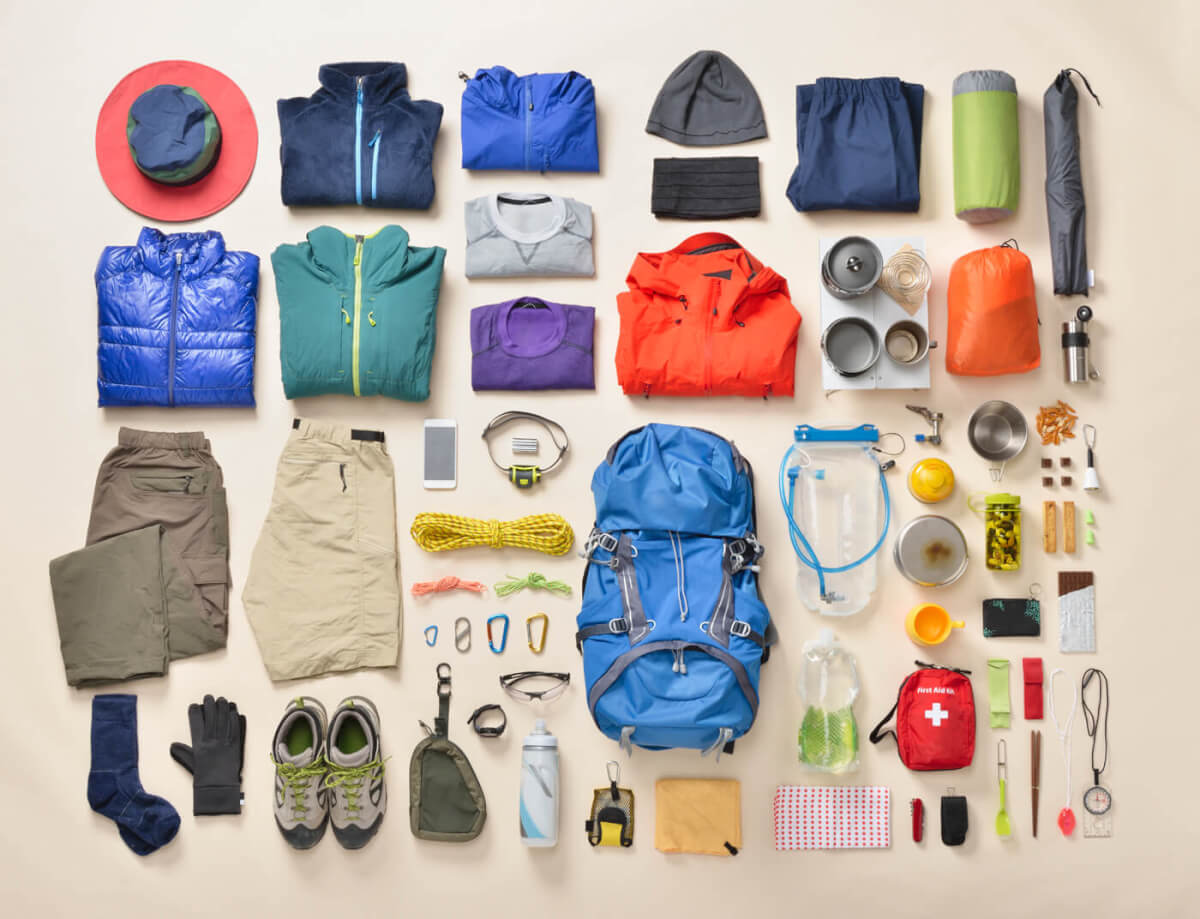 Clothing
Base layers: Lightweight, moisture-wicking base layers for both your upper and lower body.
Insulation: Fleece jackets or pullovers for mid-layers.
Outer layer: Waterproof and windproof jackets and trousers to protect you from rain, snow, and wind.
Trekking trousers and shorts: Lightweight and quick-drying.
Underwear: Sports bras for women, and quick-drying, comfortable underwear for everyone.
Footwear: High-quality trekking boots that are comfortable and well broken-in, lightweight shoes or sandals for evenings, trekking socks, and thermal socks for colder temperatures.
Gloves: Lightweight gloves for trekking during the day and insulated gloves for colder temperatures.
Hats: A wide-brimmed hat for sun protection, and a beanie or other warm hat for cold temperatures.
Gear
Backpack: A sturdy 50-65L backpack with good weight distribution and a rain cover.
Daypack: For carrying water, snacks, and layers during the day.
Sleeping Bag: A high-quality sleeping bag rated for -10 degrees Celsius or lower.
Trekking Poles: They can help reduce strain on your knees, particularly during descents.
Headlamp: With extra batteries.
Health and Hygiene Items
Water Purification: Water purification tablets or a water purifier.
First Aid: A basic first aid kit including bandages, antiseptic wipes, and plasters. Include any personal medication, and consider packing medication for altitude sickness, diarrhea, and other common travel-related illnesses.
Personal Hygiene: Travel-sized toiletries, wet wipes (great for when showers aren't available), hand sanitizer, toilet paper.
Protection: High SPF sunscreen, lip balm with SPF, sunglasses with UV protection.
Nutrition
Snacks: High-energy snacks like trail mix, energy bars, and dried fruits can be a great pick-me-up between meals.
Hydration: Electrolyte tablets or powder can help prevent dehydration at high altitudes.
Miscellaneous
Electronics: Camera, spare batteries, portable power bank, plug adapter.
Documents: Passport, visa, travel insurance, permits, cash.
Entertainment: Books, playing cards, journal, pen, etc.
Remember, while it's essential to be well-prepared, it's also important not to over-pack. Every kilogram counts when you're trekking at a high altitude, so stick to the essentials and enjoy your trek!
Documents
To embark on the Everest Base Camp and Gokyo Valley Trek, several documents are necessary. Here is a list of the main documents you should prepare:
Passport: Your passport should have at least six months of validity remaining from the date of arrival in Nepal, and there should be at least two blank pages for visa stamps.
Visa: Most nationalities can get a visa on arrival in Nepal, but it's always a good idea to check the latest regulations with your local Nepalese embassy or consulate. A passport-size photo is typically required for the visa.
Travel Insurance: It's strongly recommended to have a comprehensive travel insurance policy that covers emergency evacuation, as helicopter evacuations from high altitudes can be extremely expensive. The policy should also cover medical expenses, trip cancellation, loss of belongings, and other potential travel mishaps.
Permits
TIMS Card (Trekkers' Information Management Systems): This is required for any trekking in the Nepal Himalayas. It can be obtained in Kathmandu or Pokhara.
Sagarmatha National Park Permit: This is required for trekking in the Everest region. It can be obtained in Kathmandu or at the park entrance in Monjo.
Gokyo Valley Permit: This is also required and can be obtained along the way.
Itinerary and Flight Tickets: Always carry a copy of your travel itinerary and flight tickets.
Emergency Contact Information: Keep a list of emergency contact numbers, including those of your country's embassy or consulate in Nepal, local authorities, your guide, and your insurance company.
Medical Prescriptions: If you're carrying any prescribed medicines, it's wise to have a letter from your doctor explaining the need for each medication. Make sure all medicines are in their original packaging to avoid issues at customs.
Lastly, it is a good idea to keep digital and physical copies of all these documents in case any of them get lost. And while it's not a document, carrying some cash is also necessary, as ATMs are not available everywhere along the trek, and cards are often not accepted.
Important Notes
The Everest Base Camp and Gokyo Valley Trek is an incredible adventure but also a serious endeavor. Here are some crucial things to keep in mind:
Acclimatization: Altitude sickness is a serious concern and can become life-threatening if not properly managed. Your body needs time to adjust to the decreased oxygen levels at high altitudes. Ensure your itinerary includes ample time for acclimatization and avoid ascending more than 500 meters per day once you're above 3,000 meters.
Hydration and Nutrition: Staying hydrated and well-nourished is essential, particularly at high altitudes. Drink plenty of water (minimum 3-4 liters per day) and consume high-calorie food. While trekking, your body needs more energy than usual, so consume ample carbohydrates and proteins.
Respect Local Culture: The Everest region is home to the Sherpa people, known for their rich culture and tradition. Respect local customs and traditions, ask for permission before photographing people, dress modestly, and remember that some places like monasteries may have specific rules to follow.
Protect the Environment: Practice the principle of 'Leave No Trace.' Carry all your waste back, avoid using plastic bottles, respect wildlife, and refrain from picking flowers or disturbing natural elements. Preserving the environment ensures future trekkers can enjoy the same beauty.
Safety First: Always prioritize safety over your itinerary or reaching a destination. The weather in the mountains can be unpredictable and may require you to change your plans. Listen to your guide and local advice, and always let someone know your plans.
Hire a Guide/Porter: Hiring a local guide or porter can significantly enhance your trekking experience. They are knowledgeable about the trail, culture, and can help during emergencies. Also, it's a great way to contribute to the local economy.
Stay Connected: Consider renting a local SIM card or satellite phone to stay connected. Although many teahouses offer Wi-Fi, the connection can be unreliable.
Medical Kit: Bring a well-stocked medical kit with essentials like band-aids, antiseptic creams, altitude sickness medication, pain relievers, and any personal medications. Consider a pre-trek health check-up to ensure you're fit for the journey.
Remember, the Everest Base Camp and Gokyo Valley Trek are not a race. Trek at your own pace, enjoy the journey, and allow the magnificence of the mountains to leave an indelible imprint on your memory.
Best time for Everest Base Camp and Gokyo Valley Trek
The Everest Base Camp and Gokyo Valley Trek can technically be undertaken any time of the year, but certain months provide more favorable conditions than others. There are two prime seasons for trekking in this region:
Pre-Monsoon (Spring - March to May): This is one of the most popular times to trek in the Everest region, with warmer temperatures, clear skies, and stunning views. During April, the trails are often surrounded by vibrant rhododendron blooms. The weather during the daytime is warm (around 15°C), but nights can still be chilly, with temperatures often dropping below freezing.
Post-Monsoon (Autumn - September to November): Post-monsoon season offers clear skies and incredible panoramic views of the peaks. The temperatures are similar to the pre-monsoon season, providing pleasant trekking conditions. The trails may be a bit crowded during this time as many people choose this season for trekking, but it also adds a festive feel to the journey.
Other times of the year are less ideal due to weather and visibility:
Monsoon (Summer - June to August): This is the least popular time for trekking in the Everest region. The trails are often slippery and muddy due to heavy rain. The leeches can be an issue at lower elevations, and flights to/from Lukla are often delayed or cancelled due to poor visibility.
Winter (December to February): Winter treks are challenging due to extremely cold temperatures, especially at night. Many of the teahouses at higher elevations are closed, and there's the risk of trails being blocked by snow. However, if you can withstand the cold, the trails are less crowded, and the views are still stunning on clear days.
Keep in mind that despite these general guidelines, the weather in the Himalayas is notoriously unpredictable, and conditions can change rapidly. Always be prepared for a variety of weather conditions, regardless of when you choose to trek.
Foods on Everest Base Camp and Gokyo Valley Trek
During the Everest Base Camp and Gokyo Valley Trek, you will primarily eat at teahouses along the trekking route. The food is a mix of traditional Nepalese, Tibetan, and the more common international cuisine (continental, Indian, Italian, etc). Here are some of the common foods you can expect: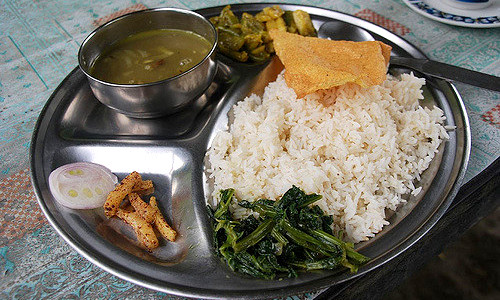 Dal Bhat: This is the staple food of Nepal. It's a nutritious and filling dish comprised of lentil soup (dal), rice (bhat), and usually served with a couple of vegetable curries and pickles. The great thing about Dal Bhat is that it's typically all-you-can-eat, perfect for hungry trekkers!
Momos: Momos are Tibetan-style dumplings filled with either meat or vegetables. They are a popular snack and can be either steamed or fried.
Tibetan Bread/Chapati: These flatbreads are usually served with honey or jam at breakfast. They are a great source of carbohydrates, giving you energy for your trek.
Noodles: Wai-Wai or Ramen noodles are a quick, filling, and cheap option available at most teahouses. They can be cooked in a soup style or fried with vegetables and/or eggs.
Garlic Soup: It's believed that garlic helps with acclimatization, so you'll find this simple, comforting dish on menus as you get higher.
Pizza/Pasta: More for the taste of home, these items are regularly featured on teahouse menus, though don't expect them to taste exactly like they do back home!
Drinks: Tea is the most common beverage (with black, green, mint, lemon, and ginger options). Coffee is also available but usually instant. You can also find hot lemon or orange drinks, and even hot chocolate in some places. Remember, alcohol is not recommended on treks due to its dehydrating effect and the potential to exacerbate altitude sickness.
Snacks: You can purchase snacks like biscuits, chocolate bars, and other packaged items at teahouses or in shops in villages along the trail. However, they get more expensive as the elevation increases.
In general, it's recommended to eat a diet high in carbohydrates and drink plenty of fluids to stay hydrated. Lastly, it's good to be flexible with your food choices; the availability of certain dishes may vary depending on the season, the altitude, and the supplies available at the teahouses.
Flight & Transportation
Getting to Nepal
Most international travelers will arrive in Nepal via Tribhuvan International Airport in Kathmandu, the country's capital. Many airlines from around the world operate flights to Kathmandu.
Domestic Flight to Lukla
The trek to Everest Base Camp and Gokyo Valley typically begins from Lukla. To get to Lukla, you will take a small plane from Kathmandu to Tenzing-Hillary Airport in Lukla, which is renowned as one of the most exciting airports in the world due to its short, uphill runway and the incredible landscapes surrounding it. The flight is approximately 30 minutes.
Note that flights to Lukla are heavily weather-dependent and can often be delayed or canceled if conditions are not suitable for flying. It's advisable to have a few buffer days in your itinerary to account for potential flight delays.
Getting Around
Once you arrive in Lukla, the only way to get to Everest Base Camp and Gokyo Valley is on foot! This region of Nepal doesn't have roads, so all travel beyond Lukla is by trekking.
Transportation in Kathmandu
While in Kathmandu, there are several modes of transport to get around. Taxis are widely available and convenient, although you should always negotiate the fare before beginning your journey. Ride-hailing apps like Pathao and Tootle also operate in Kathmandu.
For local experiences, you can use local buses or tempos (three-wheeler buses), but they can be crowded and may not always follow a fixed schedule. Walking or renting a bicycle can also be good options for short distances.
Remember, when planning your travel, factor in extra time for potential delays, especially when flying to and from Lukla. While this can be frustrating, it's all part of the adventure of trekking in the Himalayas!
Permit
Trekking in the Everest region requires a couple of permits. Here's a breakdown of the permits you will need for the Everest Base Camp and Gokyo Valley Trek:
Trekkers' Information Management Systems (TIMS) Card
TIMS Card is mandatory for any trek in Nepal. It was implemented to ensure the safety and security of trekkers and to control illegal trekking operations. The TIMS card can be obtained in Kathmandu or Pokhara upon presenting your passport and two passport-sized photos.
Sagarmatha National Park Permit
The Sagarmatha National Park is home to Mt. Everest and many other peaks. You will need a permit to enter the park, which costs around 3,000 NPR. This permit can be obtained in Kathmandu at the Nepal Tourism Board Office or at the park entrance in Monjo. You will need your passport and TIMS card to apply.
Gokyo Valley Permit
While trekking to the Gokyo Valley, no separate permit is required. The Sagarmatha National Park Permit will cover your trek in this region.
Note: Always carry these permits and your passport with you during the trek, as there are several checkpoints where you'll need to show them. Also, remember to keep the permits safe and dry.
Trekking Grade
The Everest Base Camp and Gokyo Valley Trek is considered a moderately challenging trek. This classification takes into consideration factors such as the trek's duration, the altitude reached, daily walking hours, and trail conditions. Here's a bit more detail about each of these aspects:
Duration: The trek typically takes between 14 to 18 days, depending on the specific route and pace of the trekker. This duration includes necessary acclimatization days.
Altitude: The trek reaches high altitudes, with Everest Base Camp sitting at 5,364 meters (17,598 feet) and the highest point of the trek, Cho La Pass, at 5,420 meters (17,782 feet). At such elevations, there is a significant risk of Acute Mountain Sickness (AMS), which requires trekkers to follow acclimatization guidelines strictly.
Daily Walking Hours: On average, you can expect to be walking 5 to 7 hours each day, excluding rest days. Some days, particularly during pass crossings, can be longer.
Trail Conditions: The trails vary from well-defined paths through forests and villages to rough rocky trails and glacier crossings. Some parts can be quite steep, and the conditions can be more challenging in bad weather.
In terms of physical fitness, trekkers should have a good level of fitness and ideally some prior trekking experience. Preparation should include cardiovascular training (such as running, cycling, or swimming), strength training, and practice hikes. Despite the challenges, with proper preparation and acclimatization, this trek is achievable for most people with a moderate level of fitness.
Altitude sickness and Travel Insurance
Altitude Sickness:
Altitude sickness, or Acute Mountain Sickness (AMS), is a significant concern when trekking in high-altitude areas like Everest Base Camp and Gokyo Valley. As you ascend, the air pressure decreases, and there's less oxygen available. If you ascend too quickly, your body may not have enough time to adjust, leading to AMS.
Symptoms of AMS include headache, dizziness, fatigue, shortness of breath, loss of appetite, nausea, and difficulty sleeping. More severe forms of altitude sickness are High Altitude Cerebral Edema (HACE) and High Altitude Pulmonary Edema (HAPE), both of which can be life-threatening and require immediate descent and medical attention.
To prevent AMS, it's essential to ascend slowly and allow time for acclimatization. A good rule of thumb is not to increase your sleeping altitude by more than 500 meters (1,640 feet) per day, and to take a rest day every 600-800 meters (2,000-2,600 feet) of elevation gained. If you start to feel symptoms of AMS, don't ascend further until your symptoms have fully disappeared. If your symptoms get worse, you should descend immediately.
Travel Insurance
Travel insurance is a must for treks like the Everest Base Camp and Gokyo Valley Trek. Your travel insurance should cover high-altitude trekking (up to 6000 meters), emergency evacuation (helicopter rescue), and medical treatment. Also, ensure it covers trip cancellation, travel delays, lost or delayed baggage, and other potential travel mishaps.
Keep in mind that not all travel insurance policies cover high-altitude treks or helicopter rescues, so you must read the fine print and ensure your specific trek is covered.
Some reputable insurance companies that provide coverage for high-altitude trekking include World Nomads, Global Rescue, and Allianz Travel. Always make sure to fully understand your policy before purchasing, and consider getting advice from the insurance company if anything is unclear.
Lastly, carry your insurance policy details with you during the trek, as they will be needed to arrange any potential helicopter evacuation or medical treatment.
Guides & Porters
Hiring a guide and/or porter for your Everest Base Camp and Gokyo Valley Trek can enhance your trekking experience and contribute significantly to your safety and comfort.
Guide
A guide leads the way on the trail, provides information about the local culture and environment, assists with logistics such as accommodation and meals, and helps you manage any health issues or other challenges that may arise. Perhaps most importantly, a good guide will help you maintain a suitable pace and ensure you're properly acclimatizing to prevent altitude sickness.
Guides are licensed by the Nepal Tourism Board after undergoing proper training, including in first aid and mountain safety. A guide will typically cost around $25-$30 per day, though this can vary.
Porter
A porter carries your heavy trekking gear, allowing you to trek with just a light daypack with your water, snacks, camera, and jacket. This can make a significant difference in your comfort and stamina on the trail. A porter usually carries the luggage of two trekkers and is paid by the amount of weight they carry. The cost of hiring a porter can vary, but it is typically around $15-$20 per day.
Guide-Porter (Porter-Guide)
A guide-porter, or porter-guide, is a kind of middle ground between a guide and a porter. They will carry some of your gear (though less than a typical porter would) and also provide some guidance on the trail, though they might not have as much training or experience as a licensed guide. This can be a cost-effective option if you're comfortable with a little less support.
Important Considerations
When hiring a guide or porter, it's crucial to ensure they have proper insurance and equipment. Treat your guide or porter ethically, respecting the recommended weight limits (generally not exceeding 20 kg or 44 lbs) and ensuring they have adequate food and accommodation.
Hiring a guide and/or porter not only makes your trek more comfortable but also contributes to the local economy. Many guides and porters come from local mountain communities, and this work is an essential source of income for them.
Everest Base Camp and Gokyo Lakes trek general itinerary
The following is a general itinerary for the Everest Base Camp and Gokyo Valley Trek. This trek usually takes around 17 to 19 days, although this can vary depending on the pace of the trek and additional acclimatization days.
Day 1: Fly from Kathmandu to Lukla (2,860m), Trek to Phakding (2,610m)
Begin your journey with a short, scenic flight from Kathmandu to Lukla. From Lukla, trek for about 3-4 hours to reach the village of Phakding.
Day 2: Trek from Phakding to Namche Bazaar (3,440m)
The trail follows the Dudh Koshi River and goes through beautiful pine forests, crossing suspension bridges, and past several Sherpa villages. This trek takes about 5-6 hours.
Day 3: Acclimatization Day in Namche Bazaar
A rest day for acclimatization. You can explore the bustling market town of Namche Bazaar, visit the Sherpa Museum, or hike up to the Everest View Hotel for stunning views of Everest and other Himalayan peaks.
Day 4: Trek from Namche Bazaar to Dole (4,110m)
Trek along the high, winding trail with great views of the mountains. This trek takes about 5-6 hours.
Day 5: Trek from Dole to Machhermo (4,470m)
Continue to climb steadily up the side of the valley, crossing small bridges and passing several summer settlements used by yak herders. Trek time is about 4-5 hours.
Day 6: Trek from Machhermo to Gokyo (4,790m)
Trek through a landscape of high ridges, broad valleys, pristine blue lakes, and numerous glaciers. Gokyo is a small, beautiful settlement located by the side of Ngozumpa glacier, the largest glacier in Nepal.
Day 7: Acclimatization Day in Gokyo, Visit Gokyo Ri (5,357m)
A day to rest and acclimate to the high altitude. You can hike to Gokyo Ri, a small peak above Gokyo village, for an impressive view of the Everest range, Cho Oyu, and other Himalayan giants.
Day 8: Cross Cho La Pass (5,420m), Trek to Dzongla (4,830m)
Begin early for the challenging trek over Cho La Pass. The views from the pass of the surrounding peaks and glaciers are exceptional. After crossing the pass, descend to the village of Dzongla.
Day 9: Trek from Dzongla to Lobuche (4,940m)
The trail continues along the lateral moraine of the Khumbu Glacier, with views of Kala Patthar and Pumori, to reach Lobuche.
Day 10: Trek from Lobuche to Gorak Shep (5,164m), Visit Everest Base Camp (5,364m)
Trek along the Khumbu Glacier to reach Gorak Shep. After lunch, make a side trip to Everest Base Camp. Although you cannot see the summit of Everest from the base camp, the view of the Khumbu Icefall is impressive.
Day 11: Climb Kala Patthar (5,550m), Trek to Pheriche (4,240m)
Rise early to climb Kala Patthar for sunrise views of Everest. This is the highlight of the trip for many. Afterward, descend to the village of Pheriche.
Day 12: Trek from Pheriche to Namche Bazaar
Retrace your steps along the Imja Khola to Tengboche, descend to the bridge over the Dudh Koshi at Phunki Tenga and climb uphill to Kyanjuma, and finally reach Namche Bazaar.
Day 13: Trek from Namche Bazaar to Lukla
Follow the Dudh Koshi river downstream, and after crossing several suspension bridges and passing through several villages, reach Lukla.
Day 14: Fly from Lukla to Kathmandu
Fly back to Kathmandu, and spend the day at leisure - rest, explore the city, shop for souvenirs, or celebrate the successful trek.
This itinerary is just a general guide and might be changed based on your preference, fitness level, and weather conditions. Always allow for extra days for acclimatization and unexpected delays. It's essential to be flexible and take things as they come on Himalayan treks.
If you are looking for trekking in the Everest region, please click here.
If you need any further information, please contact us, Email: at [email protected], Phone: +977- 985 100 5129 (WhatsApp)