Gokyo valley trek is one of the most fascinating and popular trekking destinations for all adventure seeker trekkers around the globe, which lies in the Everest Region. This trail is especially famous for its diverse landscape, rare flora & fauna, Sherpa culture, and the giant white mountains. This trail provides you with extra thrill and adventure, which refreshes your mind and motivates you to guide you toward your ultimate destination.
Generally, trekking is a journey, where trekkers have to espouse the high altitude environment and extreme weather conditions, that challenge you with both physical and mental aspects.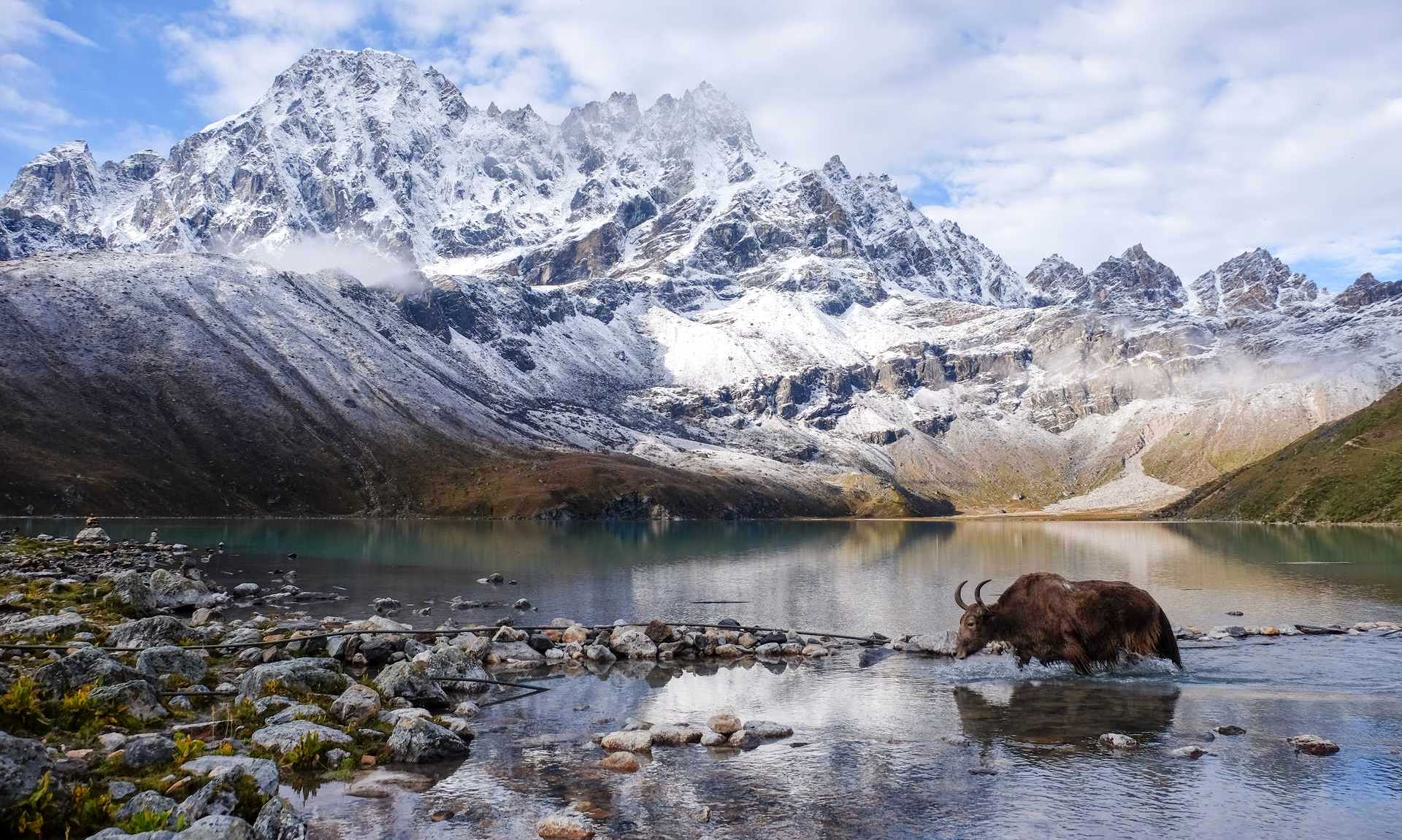 Along with those, mountain foods and accommodations are the other aspects that trekkers should adopt during their trekking journey.
In Everest Region, hotels, guest houses, and teahouses normally serve you the standard meal for your entire day. Since this is one of the most popular and crowded trekking trails in Nepal, accommodation, and food facilities are indeed less accessible. The important part is how to make all the meals so that you can adapt to the mountain climate easily.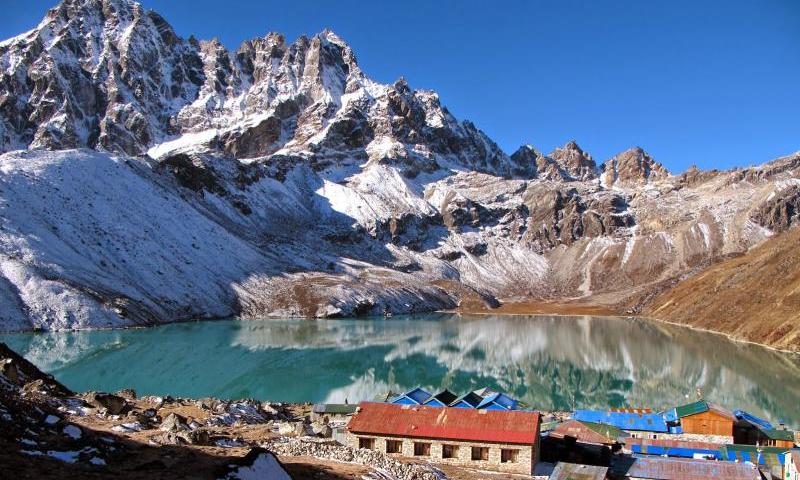 Before going to each meal and its specification, you should know about the background of mountain regions in Nepal and especially in the Everest Region. Sherpa people are prominent in mountain villages and they do follow Buddhism most in that region and slaughtering animals is strictly prohibited there. As such, meat and eggs from the Everest region are generally supplied from city areas like Kathmandu through helicopters and planes, because most of the village is far away from road transportation. This is the main reason that the price of food is comparatively higher in the mountains than in city areas.
Please, click here for the Gokyo Lake & Gokyo Ri Trek.
Here, we are writing some vital information about the foods during your Gokyo Valley trek. The foods are mainly categorized into three different sections, such as Breakfast, Lunch, and Dinner.
What should I eat for breakfast?
The first breakfast we normally take in Lukla village, once we finished our 35m thrilling flight from Kathmandu. Out of all three meals, breakfast is the most important among all. A good and balanced breakfast fuels you up and makes your body ready for the whole day trek. Normally, in the teahouse trek, breakfast is usually eaten around 7-8 am. Most of the teahouse/guesthouses offer a hot breakfast, which consists of toast items, egg items, local potatoes, porridge, muesli, bread items, pancake, and tea/coffee.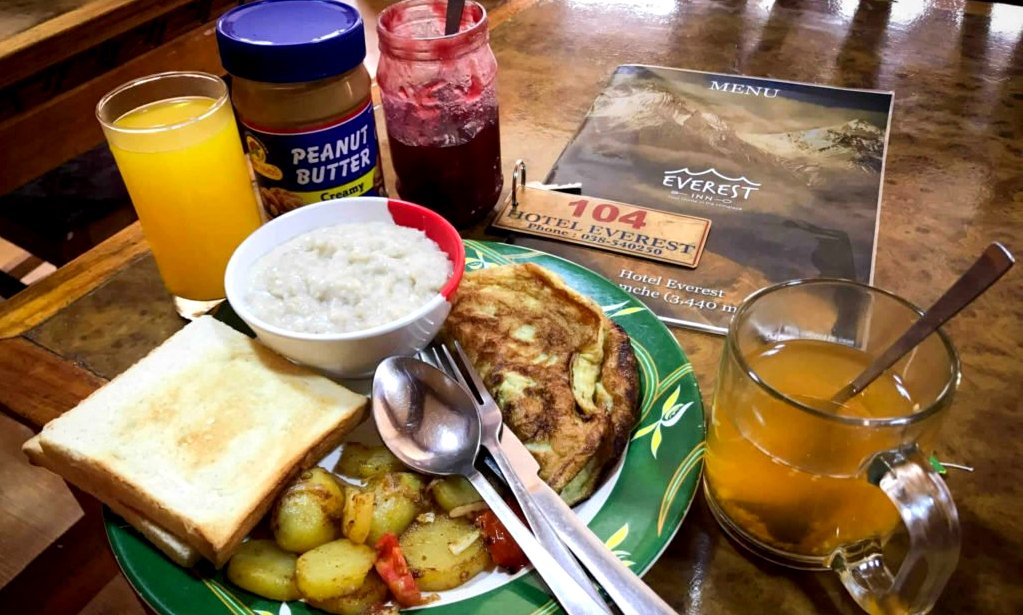 All the above-mentioned foods are healthy and hygienic, which fill your body with energy for a longer period. Also, their breakfast items have higher levels of glucose in them that maintain a higher level of glucose in your blood. A higher level of glucose is essential for your trek to help you to get more energy in your body. According to your taste and preference, you can select any of these foods for your breakfast.
What should I eat for lunch?
We consider lunch as the major course of food during trekking, which is normally rich in carbohydrates and grains. It will give you enough energy during the whole day trek. Trekkers usually take lunch from 12 pm to 1 pm, according to the hiking speed and accessibility of lunch camp on the way. There are many beautiful and scenic lunch places on the way to Gokyo Valley, from where you can take lunch with majestic views of mountains and mountain landscapes.
The most popular and abundantly found lunch item in Gokyo Valley treks is the traditional Nepalese food, Dal Bhat Set ( it includes boiled rice, lentil soup, vegetables, pickle, spinach, and meat item if you want with it). Besides this, noodles item, dumplings (we called it momo), pasta, kinds of macaroni, pizza, sandwich, spaghetti, and Thukpa soup.
We have mentioned the topic of the item here, but you can get veg, and non-veg along with other toppings like adding cheese, vegetables, eggs, etc, etc in most of the meals. The menu will vary and become scarce as you reach a higher altitude.
What should I eat for dinner?
Dinner is typically a communal affair in the Himalayas, so you will join many trekkers as you sit down around a large locally made mountain heater and discuss the day. The normal meals for dinner will be on offer, as well as some tea and snacks. Some people also like to make beer at a lower altitude during dinner time. Usually, dinner time starts at 7 pm and ends at 9 pm.
Out of these above-mentioned menus: Few foods help you in your trekking. This is good as a diet to maintain your body's energy and temperature to sustain at high altitudes.
Sherpa stew:
Sherpa stew is on nearly every menu, and each tea house has its unique recipe. In some places, it tasted like a spicy veggie curry, while in others it was more like a simple veggie stew. Normally, it's full of veggies (greens, vegetables, carrot, green beans, onion, garlic, and during the season you might get some spinach as well). Also, you can try it with an omelet egg and dry meat.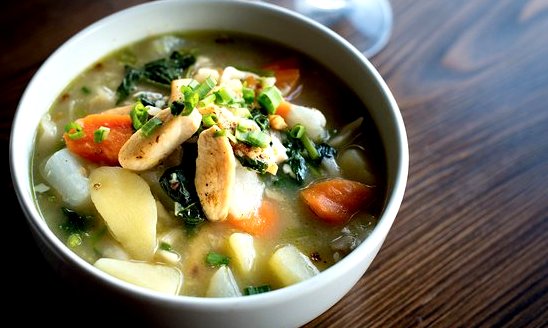 Dal Bhat Power-24Hour:
When you are in the mountains, this is the most typical and authentic local food found around the trail. This is made up of steamed rice, black lentil soup, green vegetables, tomato pickle, and spinach. They serve Dal Bhat in non-veg sets also, you can also take it with chicken curry. This set is full of carbohydrates and proteins which gives you full-day energy during hiking.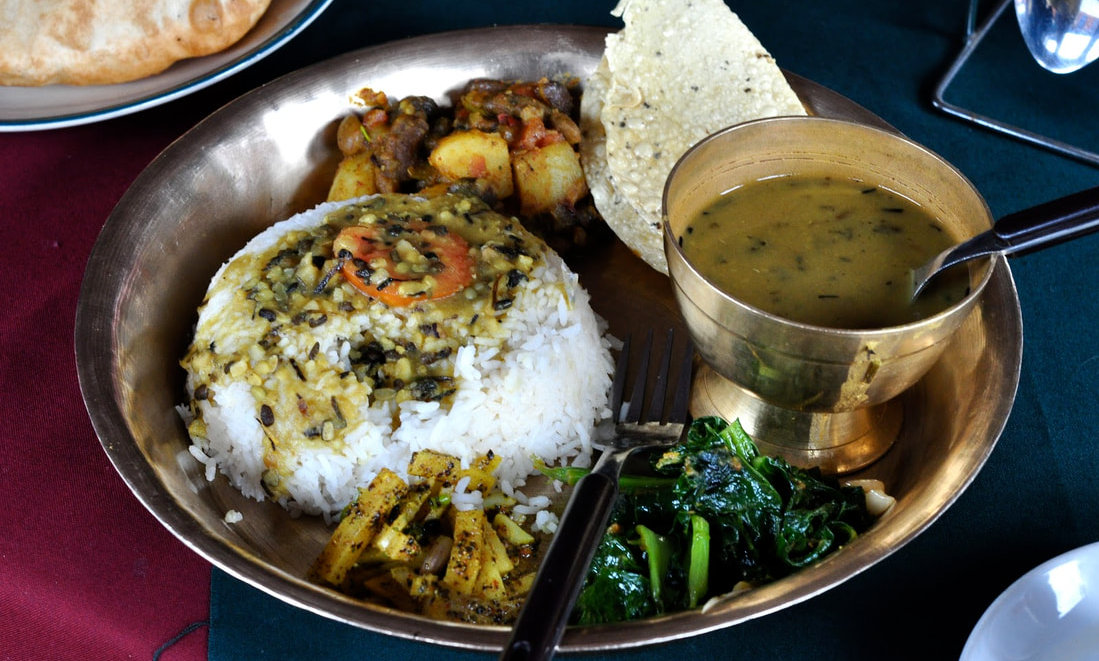 The best part of ordering Dal Bhat sets is, that you can get a second of anything except (a papad) for free.
Drink a lot of water during trekking
"eat more and drink more". sufficient food and liquid are always considered the major part that can take you to the dream destination because more water makes your body hydrated which is so important to adjust your body to the high altitude. Generally, high altitude means less oxygen in the air, which makes it difficult to breathe. This is the major problem of altitude sickness. So, make your body hydrated when you are in the mountains. Drink at least 4 liters of liquid every day. This liquid may be tea or soup or water.
While you are hiking on the trail, you will get tap water everywhere. But all are not safe and hygienic to drink. What you can do is, either bring chlorine tablets or a pocket water filter. Also, you can directly buy the mineral water on the way which costs around Rs 100 (in Lukla) up to Rs 250 in Gokyo village.
Also, you can carry some dry nuts/fruits, chocolates, and other foods that you like personally. On the way, sometimes you might be hungry and there will be no tea houses and shops to buy small snacks.
Best trip Notes: Proper guiding, food, drinking enough water, and taking good rest can easily take you to one of the world's wandering trekking trails.
If you are looking to trek in the Everest region, please click here.
If you need any further information, please contact us, Email: at [email protected], Phone: at +977- 985 100 5129 (WhatsApp)