Nepal, often described as a wonderland, beckons travel aficionados and adventure enthusiasts alike. Spanning altitudes from below 1000m (3,300 ft) to an astonishing 8848.46m (29,031 ft), this South Asian gem boasts an incredible tapestry of cultural, climatic, and topographical diversity. Home to sky-dominating peaks such as Mt. Everest, Mt. Kanchenjunga, Mt. Manaslu, and Mt. Dhaulagiri, Nepal's verdant expanse is punctuated by dense forests, inhabited by enigmatic wildlife. Crisscrossed by natural water bodies, from cascading waterfalls to serene rivers and streams, it's not just the home of yaks, but also the proud habitat of the elusive One Horned Rhinoceros. Beyond that, it flaunts the highest altitude lake: Tilicho, and the Lowest altitude Glacier Lake: Kapuche Glacier Lake, safeguarding a plethora of endangered species within its boundaries.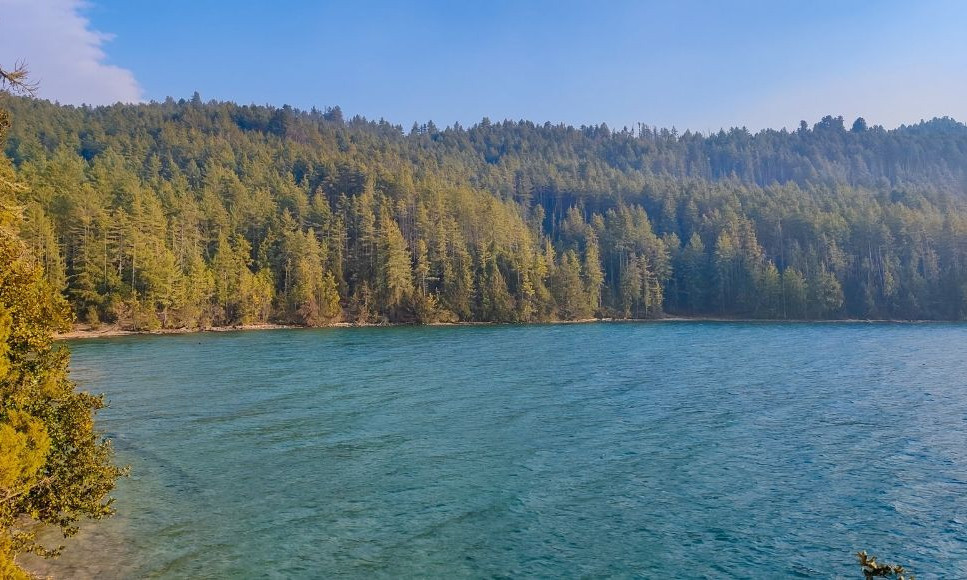 Every year, legions of global travelers tread the paths of this South Asian marvel, lured not just by its natural allure but also by its rich tapestry of trekking and touring destinations. Among these, the Rara Trek stands out, guiding adventurers to the mesmerizing expanse of the Rara Lake, rightfully crowned as the queen of lakes. As one embarks on this journey, they traverse diverse landscapes, each a harmonious blend of nature and culture. The trail unfurls panoramic vistas of majestic mountains, sprawling forests, tranquil rivers, and undulating hills. Interspersed along the route are indigenous and sherpa settlements, their tranquility often punctuated by the rhythmic chants of monks and the gentle rustle of fluttering prayer flags. Offering more than just scenic beauty, the Rara Lake trek is a window to the remote cultures and lifestyles of western Nepal and an invitation to discover the exotic flora and fauna preserved within the Rara National Park.
---
How to Reach Rara Lake
Venturing to Rara Lake, the shimmering blue gem of Nepal, is an adventure that entails a blend of air travel and terrestrial commutation. Here's a structured guide on how to get there:
Fly to Kathmandu: Initiate your journey with an international flight, landing at Tribhuvan International Airport in Kathmandu, the vibrant capital of Nepal. Kathmandu is well-connected, hosting direct flights from numerous global cities.

Domestic Flight to Nepalgunj: Post your arrival in Kathmandu, board a domestic flight destined for Nepalgunj. Located in the western Terai belt of Nepal, Nepalgunj is roughly an hour's flight away from Kathmandu.

Fly to Jumla: Subsequent to reaching Nepalgunj, embark on another domestic flight, this time to Jumla. Positioned as the proximate airport to Rara Lake, Jumla is a brisk 30-minute flight away from Nepalgunj. Given the sporadic nature of these flights, it's prudent to acquaint yourself with the flight timetable ahead of time.

Trek from Jumla to Rara Lake: Commencing from Jumla, the tangible trek towards the pristine Rara Lake beckons. Traversing through quaint hamlets like Chere Chaur, Botan, and Majhghat, this leg of the journey offers an authentic Nepalese trekking experience. Depending on the selected pathway and your trekking velocity, it generally takes a span of 4-5 days to lay eyes on the captivating Rara Lake.
For those with an adventurous spirit, Rara Lake is also accessible by road. However, this alternate mode is considerably lengthier and tests one's mettle, courtesy of the rugged terrain and the nascent stage of road development. Originating from Nepalgunj, this byway snakes through isolated territories before culminating at Rara Lake. Spanning several days, this road trip mandates the procurement of a sturdy vehicle and the services of a seasoned driver well-versed with the local topography.
---
Highlights of the Rara Lake Trek
Here are the highlights of the Rara Lake Trek:
Remote and Off-the-Beaten-Path: The trek takes you through remote and less explored regions of Nepal, offering a sense of adventure and discovery.
Rara Lake's Changing Colors: Witness the mesmerizing and ever-changing colors of Rara Lake throughout the day, creating a magical and enchanting atmosphere.
Cultural Encounters: Interact with local communities along the trekking route, gaining insights into their traditional lifestyles, customs, and rituals.
Flora and Fauna Diversity: Explore the rich biodiversity of Rara National Park, home to various plant species, wildlife, and colorful Himalayan bird species.
Tranquil Atmosphere: Immerse yourself in the serene and peaceful ambiance of Rara Lake, away from the noise and chaos of city life.
Majestic Mountain Views: Marvel at the panoramic views of snow-capped Himalayan peaks, including glimpses of Mt. Api, Saipal, and other surrounding mountains.
Picnic at Lakeside: Enjoy a peaceful picnic by the shores of Rara Lake, surrounded by stunning natural beauty and tranquility.
Sunrise and Sunset Views: Experience breathtaking sunrise and sunset views over the lake and mountains, creating unforgettable moments of beauty and tranquility.
Authentic Local Cuisine: Indulge in delicious local cuisine, experiencing the flavors of traditional Nepali food prepared by local communities.
Untouched Wilderness: Trek through pristine forests, untouched landscapes, and remote valleys, immersing yourself in the raw and untouched beauty of nature.
Adventure and Outdoor Activities: The trek provides opportunities for outdoor activities like camping, birdwatching, and nature photography, adding excitement and adventure to the journey.
These highlights make the Rara Lake Trek a unique and rewarding adventure, combining natural wonders, cultural exploration, and wilderness experiences.
---
Best Time To Visit Rara Lake
Rara Lake, with its enchanting beauty, is a treat to visit any time of the year. Each season brings its own charm, making the landscape dynamic and ever-evolving. If you're planning a trek, here's what you can expect across the year:
Spring (March to May):
A highly recommended time for the Rara Trek, spring blankets the region in a myriad of colors.
The mild and pleasant weather is perfect for trekking.
Trails are punctuated by vibrant blooming flowers and rhododendrons.
Lush landscapes paint a vibrant tableau, perfect for photography.
An excellent season for birdwatching, with avian life at its peak.
Summer (June to August):
Not typically a favored trekking season due to monsoons, Rara is an exception. The region sees less rainfall compared to other parts of Nepal.
The environs turn intensely green, marked by blooming flowers and verdant vegetation.
An added advantage is the lesser crowd, offering solitude on the trails.
Despite the occasional rain showers, trekkers should be equipped with rain gear.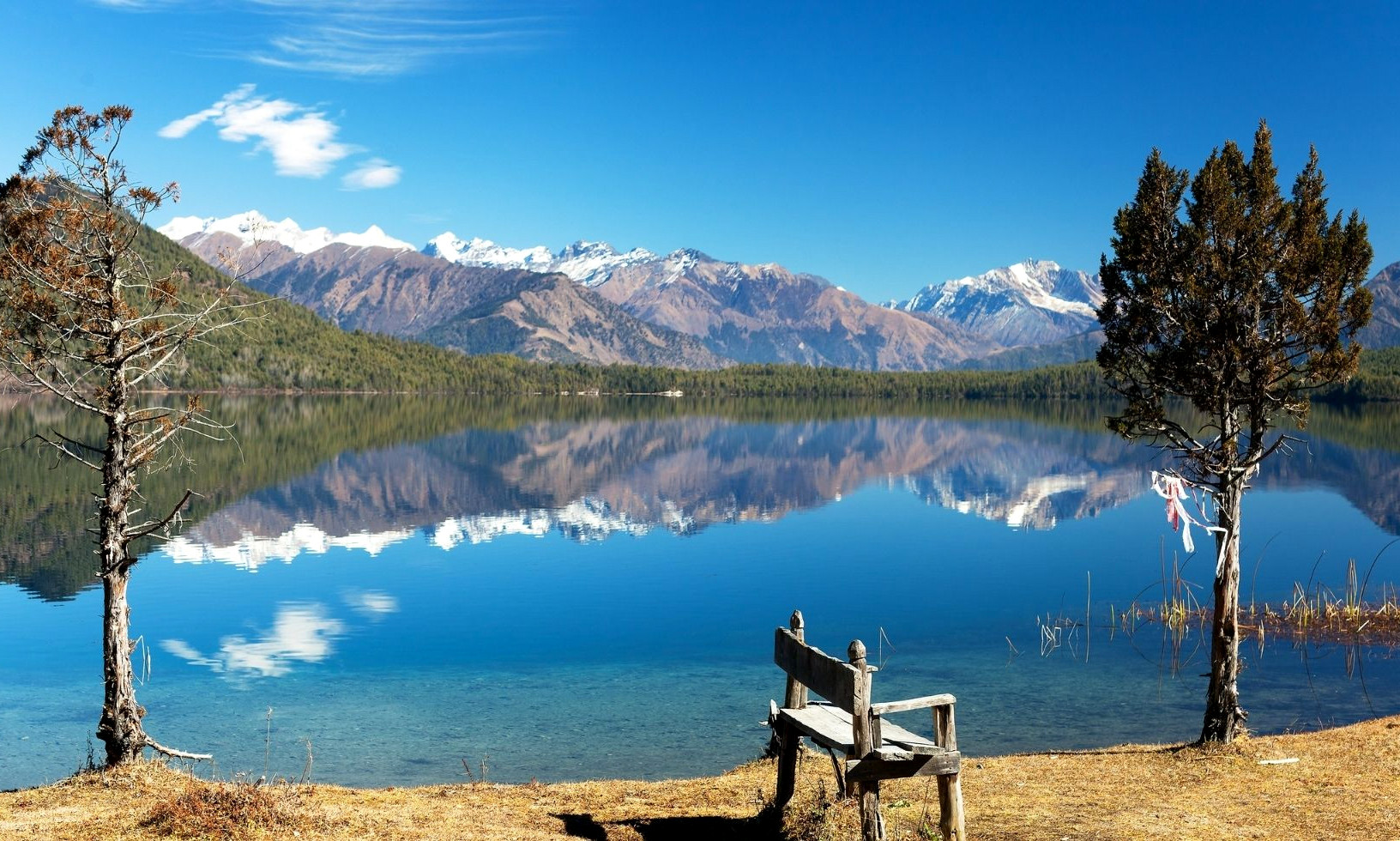 Autumn (September to November):
Often dubbed as the prime time for Rara Trek, autumn promises clear skies, stellar visibility, and panoramic mountain vistas.
The trails are dry with a perfectly mild temperature, ensuring a comfortable trekking experience.
The forests don an amber hue, with leaves turning golden-brown, enriching the trek's visual appeal.
Winter (December to February):
A season that's fast gaining traction among adventurers, winter in Rara is a snowy wonderland.
Trails may be snow-laden, promising an enchanting snowy trek.
The landscapes transform, with frozen lakes and crystalline snow, offering a surreal beauty.
Best suited for those craving for a serene, snowy ambiance and unobstructed views.
In conclusion, while Rara offers something unique every season, it's paramount to monitor weather updates and be prepared for the varying temperatures. Rara's high-altitude location can usher in cold spells, especially during dawn and dusk, so packing accordingly is crucial.
---
Major Attraction of The Rara Trek
Virgin Trekking Trail
Rara Lake trekking trail stands as an untouched gem, a truly virgin trail that meanders through the pristine and less trodden corners of nature. This unspoiled path has recently garnered attention, especially among domestic travelers, eager to explore its undisturbed beauty. Its allure lies not just in the scenic landscapes, but also in the serenity provided by its less crowded pathways, making every step a rendezvous with pure nature. The trail boasts a rich tapestry of picturesque, tranquil villages such as Chalachaur, Sinja Valley, Shorosingha, Pina, Bumrah, and, of course, Jumla. Embarking on this trek offers travelers a unique opportunity to dive deep into an adventurous exploration of a truly virgin terrain, making it an unforgettable holiday experience.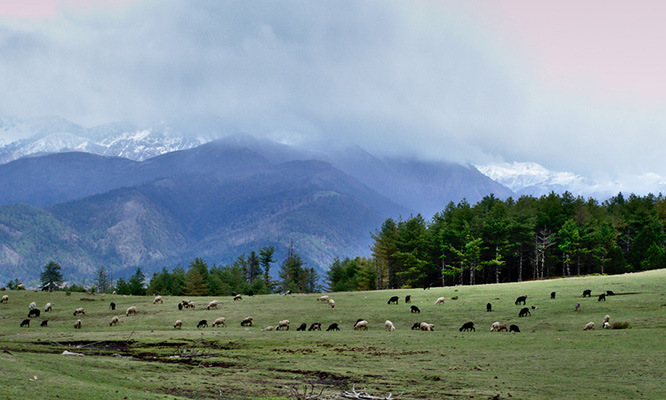 ---
Explore The Indigenous Peoples' Culture
As you venture through the trek, you'll traverse the heartlands of the indigenous and Sherpa communities. These settlements are a testament to time-honored traditions and lifestyles, seemingly untouched by the wave of modernity. The dominant Thakur people of the Rara region offer an intimate glimpse into a culture that thrives amidst the rugged Himalayan landscapes. Your journey will take you past myriad temples, Gompas, mani walls, chortens, and stupas, showcasing the harmonious blend of Hindu and Buddhist religions in the region. Along the way, you'll also discover a treasure trove of herbal medicines available for purchase, highlighting the locals' deep-rooted knowledge of the region's rich biodiversity.
---
Rara National Park
Often hailed as one of the most pristine national parks globally, Rara National Park stands out as a top destination for avid nature lovers and independent travelers. Established in 1976, this park, despite being Nepal's smallest, spanning just 106 sq. km, packs a punch with its rich biodiversity. Located within the altitude range of 2,800m to 4,039m, the park offers varied terrains and ecosystems.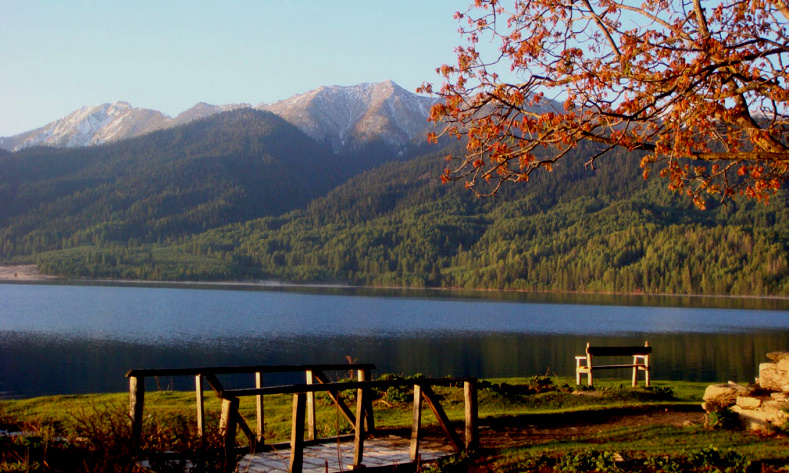 Rara NP stands as a testament to Nepal's commitment to conserving its natural heritage. Established primarily to shield the vibrant biodiversity of the Humla and Jumla districts, the park boasts an impressive 1020 flora species. Among these, prominent vegetation includes blue pine, rhododendron, black juniper, oak, and Himalayan cypress. But the park's biodiversity doesn't end with plants. It's a haven for wildlife enthusiasts with its roster of 51 mammal species and 241 bird species. Notably, one can spot majestic creatures like the musk deer, Himalayan Tahr, jackal, and leopard during their visit.
---
Rara Lake: The Central attraction of Rara Trek
Nestled amidst the towering, snowy peaks of the Himalayas lies Rara Lake, a serene expanse of blue that has rightfully earned its reputation as Nepal's most enchanting freshwater alpine lake. With an expansive area of 10.8sq.km, this pristine body of water stands as the largest of its kind in Nepal, proudly perched at an altitude of 2,990m within the confines of Rara National Park.
The lake's mesmerizing beauty is further accentuated by the vibrant wildflowers, diverse avian life, indigenous animals, and the quaint, picturesque local villages that border the park. Gazing upon the clear, mirror-like waters of Rara Lake, visitors are treated to a breathtaking reflection of the surrounding hills and lush forests. For those seeking a touch of adventure, horse rides beckon on the verdant grasslands by the lake's edge. And for the water enthusiasts, Rara Lake, which miraculously doesn't freeze, offers the enticing opportunity to dive in, swim, or even boat.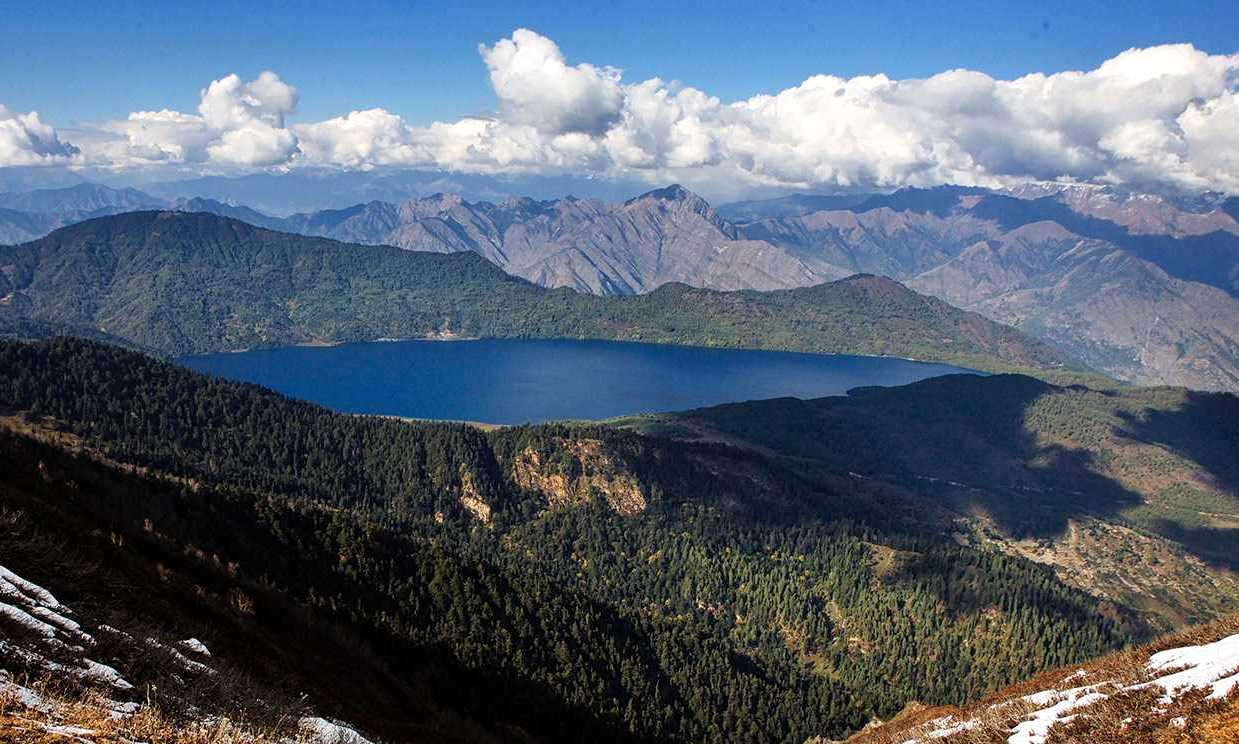 As you stand by its shores, looking northwards, the magnificent peaks of Malika Kand and Ruma rise to greet you. And as a final treat, set against the backdrop of the tranquil Rara waters, the majestic Mt. Chuchemara stands tall at 4,039m, offering a view that remains etched in memory long after the journey ends.
If you want to explore the small parts of heaven on the earth: Rara, naturally and biologically enriched Rara National Park, and take a captivative walk in the remote western part of Nepal with experienced guides from a reputed travel company, you can contact us. If you would like to know a detailed itinerary about Rara Lake Trek, you can visit our Rara Lake Trek Package on our website. Short treks and other adventurous sports activities can be done in this area.
For a complete guide on trekking in Nepal, please click here.
If you need any further information, please contact us, Email: at [email protected], Phone: +977- 985 100 5129 (WhatsApp)