Nepal, renowned for its captivating beauty and towering Himalayas, has become a coveted destination for mountain biking enthusiasts worldwide. The country's diverse landscapes and striking mountain panoramas provide an incredible array of exhilarating mountain biking trails. These trails cater to both seasoned bikers and those seeking adventure, with options ranging from high-altitude, challenging rides to picturesque routes that meander through quaint villages and terraced fields. Nepal's biking trails represent the perfect fusion of thrilling action and serene natural beauty, offering riders an experience like no other.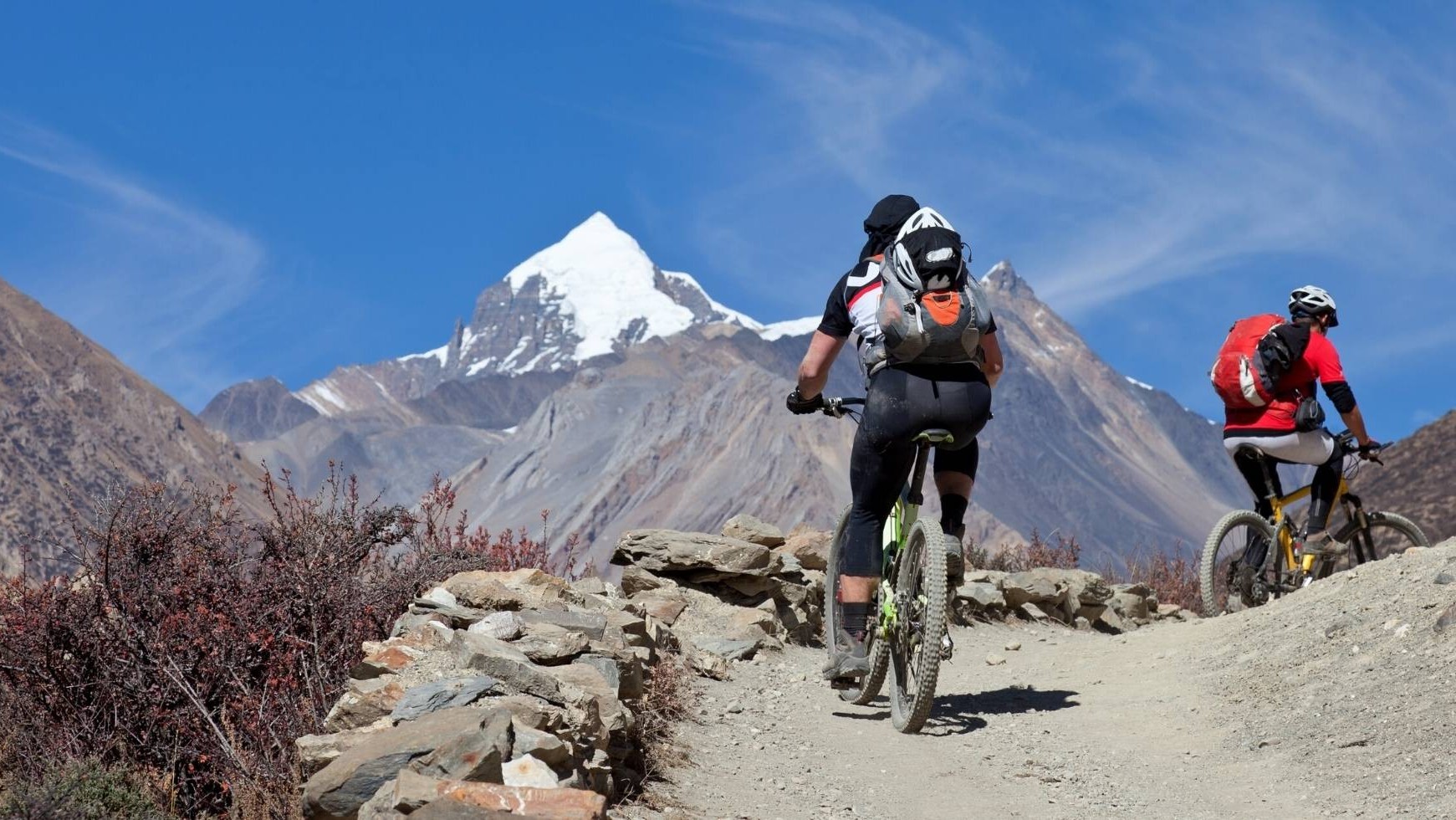 For thrill-seekers, the famed Annapurna Circuit presents rugged terrain and high-altitude challenges, delivering an unmatched sense of achievement. Riders traverse remote mountain villages, cross thrilling passes, and are rewarded with stunning views of the iconic Annapurna and Dhaulagiri ranges. In contrast, the Kathmandu Valley allows for a captivating blend of history and adventure, offering a unique opportunity for cultural immersion combined with the thrill of mountain biking. Beyond the exhilaration of the ride itself, Nepal's trails allow riders to experience the warm hospitality of local communities, creating a deeper connection with the stunning Himalayan region and its people. Whether you're a seasoned rider seeking challenges or a nature lover longing for cultural immersion, Prepare to unleash the thrill and immerse yourself in the enchanting beauty of Nepal's Himalayas on two wheels - a journey that promises unforgettable memories and a deeper appreciation for the magnificence of the Himalayan region.
Highlights of The Mountain Biking In Nepal
Mountain biking in Nepal offers an exhilarating mix of adventure, cultural immersion, and breathtaking natural beauty. Here are some of the key highlights:
Diverse Terrains: Nepal's biking trails offer a diverse range of terrains to suit riders of every skill level. From the single tracks weaving through serene forests and the rugged mountain paths in the higher altitudes, to the exhilarating downhill descents and undulating trails of the lower foothills, Nepal has something to challenge and thrill every mountain biker. These various terrains not only test your biking skills but also provide an excellent opportunity to experience the country's diverse ecosystems.
Spectacular Landscapes: The country's topography is incredibly varied, offering a tapestry of stunning landscapes. Riders can traverse through lush jungles, verdant terraced fields, rushing rivers, alpine forests, and arid mountain landscapes all in a single ride. Traversing these spectacular landscapes on a bike allows riders to experience the raw beauty of Nepal in a unique and intimate manner.
Cultural Immersion: Mountain biking in Nepal is not just about the physical activity; it's a cultural journey. Trails often pass through remote villages and ancient heritage sites, providing bikers with a unique opportunity to interact with local communities, understand their customs and traditions, and get a glimpse of their daily lives. From the Sherpa communities of the Everest region to the ethnic Thakali villages of the Mustang region, each trail offers a unique cultural experience.
Incredible Views: One of the major highlights of mountain biking in Nepal is the breathtaking views of the Himalayan range. Popular trails like the Annapurna Circuit or Kathmandu Valley Rim offer stunning panoramas of some of the world's highest peaks, including Mount Everest, Annapurna, and Langtang. Witnessing these majestic peaks while riding through the trails is an unforgettable experience.
Wildlife Encounters: Many of Nepal's biking trails pass through national parks and conservation areas, offering riders a chance to observe the country's diverse wildlife. Riders may encounter species such as the Red Panda, Snow Leopard, or even the elusive Bengal Tiger, as well as a wide array of bird species, adding another exciting dimension to the journey.
Year-round Opportunities: Nepal's unique climatic conditions mean there is always somewhere to bike, no matter the season. While monsoon season may make some trails in the lower regions muddy and challenging, it's the perfect time to explore the rain-shadow areas like Mustang.
Unique Challenges: Each trail presents its unique set of challenges - be it the harsh winds of the Upper Mustang, the high-altitude thin air of Thorong La Pass on the Annapurna Circuit, or navigating through the bustling traffic of Kathmandu's outskirts. Overcoming these challenges adds a sense of accomplishment to the adventure.
In essence, mountain biking in Nepal is an unforgettable journey. It offers a mix of thrilling physical challenge, a rich tapestry of cultural experiences, and a chance to witness the grandeur of some of the world's most breathtaking landscapes.
Best Mountain Biking Destinations in Nepal
Here is the list of the top 5 mountain biking destinations in Nepal.
Upper/Lower Mustang Mountain Biking
If you're a mountain biking enthusiast, a Himalayan adventure that should be at the top of your 'bucket list' is exploring both Upper and Lower Mustang in Nepal. Known as "The Forbidden Kingdom," Upper Mustang offers a legendary trail passing through desolate terrains, praised by veteran cyclists as heavenly. This adventurous journey is a captivating mix of challenging mountain biking, cultural discovery, and awe-inspiring landscapes. As you pedal through dusty routes to the walled kingdom of Mustang, you'll be surrounded by stunning views of snow-capped peaks like Mt. Dhaulagiri and Mt. Annapurna, accompanied by Buddhist monasteries, chortens, and ancient wall caves that speak of the region's rich heritage. Moreover, Lower Mustang enchants its own allure, presenting a slightly milder terrain while retaining the cultural charm and natural beauty of the Mustang region.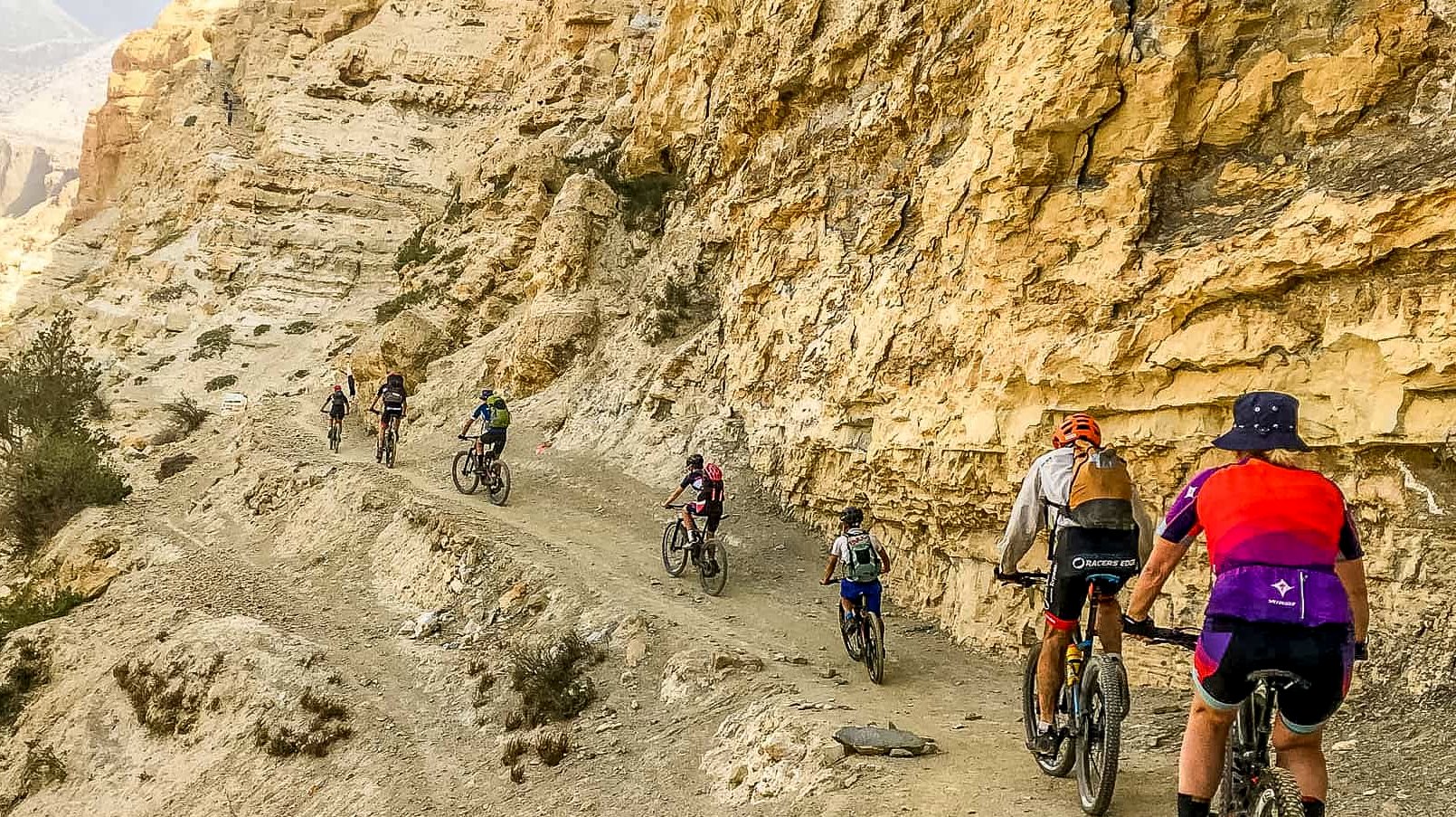 Riding through picturesque villages, lush valleys, and apple orchards, you'll encounter warm-hearted locals, diverse flora, and the iconic Kaligandaki River, boasting the world's deepest gorge. With both Upper and Lower Mustang combined, this mountain biking tour becomes an extraordinary expedition, offering a perfect blend of adrenaline-pumping action, cultural immersion, and soul-stirring experiences in the heart of the Himalayas.
Annapurna Circuit Mountain Biking
Experience the ultimate mountain biking adventure on the classic trekking route of Annapurna Circuit in Nepal, a thrilling journey reaching a high of 5,416 meters at Thorong La Pass. Surrounded by majestic snow-capped mountains, suspension bridges, and enchanting pine forests, this tough yet rewarding trail offers breathtaking views in every direction. The Annapurna massif (8091m), Dhaulagiri (8167m), Manaslu (8156m), and other snow-clad peaks provide a stunning backdrop throughout the challenging terrain. Along the way, immerse yourself in the rich cultures of the local ethnic communities.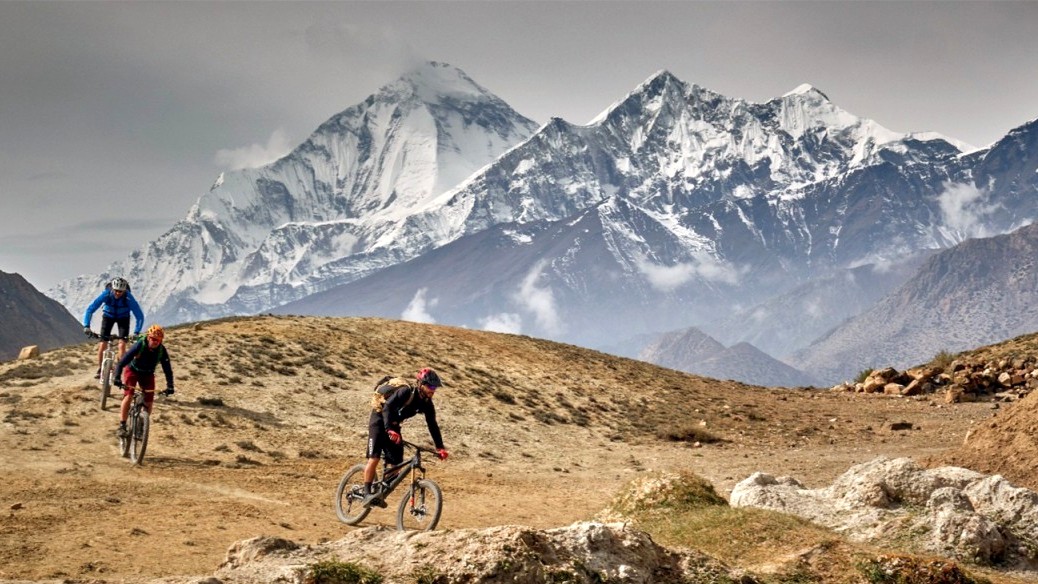 While the ascents and limited descents push your limits, the raw beauty of the Himalayas and the sense of accomplishment make Annapurna Circuit Mountain Bike Tours an unforgettable experience, leaving you with cherished memories of this remarkable mountain biking playground.
Lower Everest Region Mountain Biking
Discover the thrill of mountain biking in the Lower Everest Region, a lesser-known yet captivating destination for biking enthusiasts. This off-the-beaten-path adventure takes you through picturesque villages, terraced fields, and lush rhododendron forests, offering a unique perspective of the iconic Everest region. Pedal amidst the towering Himalayan peaks like Ama Dablam, Thamserku, and Kantega, and immerse yourself in the tranquility of the lower altitudes. Lower Everest Region Mountain Biking promises an unforgettable journey, combining the excitement of mountain biking with the breathtaking beauty of the Everest landscape, making it a must-try experience for nature lovers and adventure seekers alike.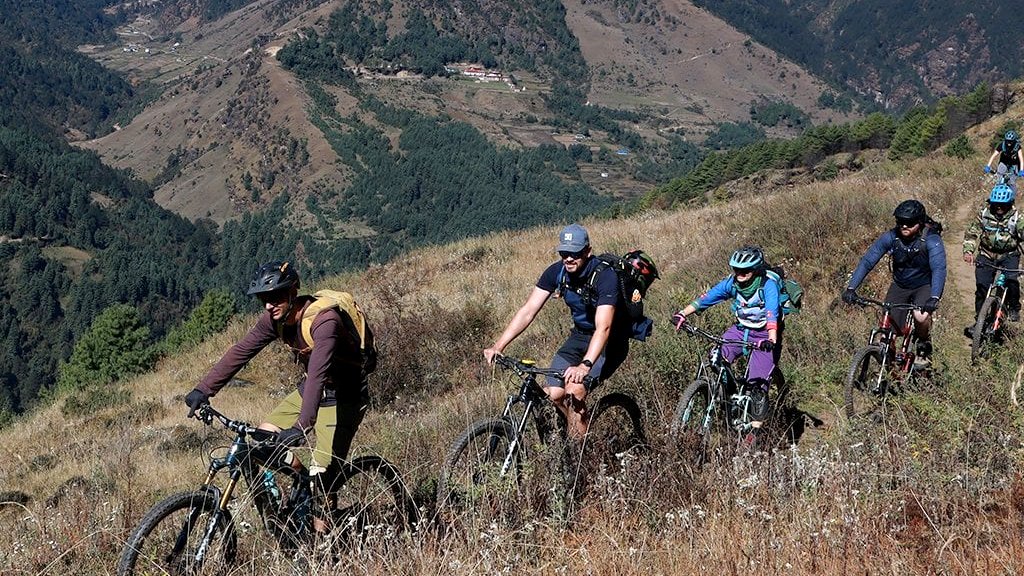 Kathmandu Valley Mountain Biking
Embark on an exhilarating mountain biking adventure in the Kathmandu Valley, where ancient history and natural beauty blend seamlessly with adrenaline-pumping action. This unique biking experience takes you through the outskirts of Kathmandu, allowing you to explore the valley's hidden gems and cultural treasures on two wheels. Ride past centuries-old temples, traditional villages, and lush forests, as you pedal amidst the serene countryside. The Kathmandu Valley Mountain Biking offers a perfect mix of cultural exploration and outdoor thrill, providing an unforgettable journey that unveils the rich heritage and stunning landscapes of this enchanting region.
Here are the Top 3 Mountain Biking Trails in/around Kathmandu
Nagarkot
Perched atop a ridge, Nagarkot is a scenic hill station situated east of Kathmandu, renowned for its spectacular sunrise and sunset views over the Himalayas. The biking trails leading to Nagarkot are equally captivating, taking you through charming countryside landscapes, traditional villages, and terraced fields. The moderate uphill ride to Nagarkot rewards you with breathtaking vistas of snow-capped peaks, including Mt. Everest on clear days. Nagarkot is not only a picturesque destination for mountain biking but also offers a peaceful retreat from the hustle and bustle of the city. Whether you're a seasoned biker or a casual rider, Nagarkot provides a delightful escape and an opportunity to witness the beauty of the Himalayas from a different perspective.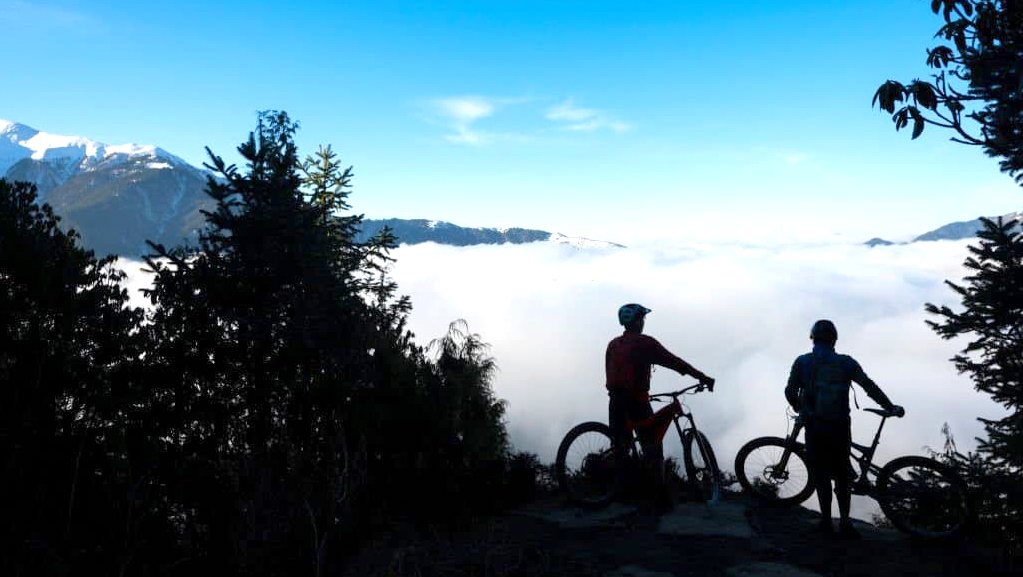 Shivapuri National Park
Located just a short distance north of Kathmandu, Shivapuri National Park offers an excellent mountain biking destination for nature enthusiasts. The park is home to diverse flora and fauna, making it a haven for wildlife lovers. The biking trails take you through dense forests of rhododendron and oak trees, offering refreshing rides amidst the lush greenery. As you ascend to higher altitudes, you'll be rewarded with stunning panoramic views of the Kathmandu Valley below and the surrounding mountain ranges. Shivapuri National Park's biking routes provide a perfect blend of natural beauty, tranquility, and adventure, making it an ideal day trip from Kathmandu for mountain biking enthusiasts.
Kakani
Situated north-west of Kathmandu, Kakani is a delightful hill station known for its lush greenery, terraced fields, and strawberry farms. The biking trails in Kakani take you through beautiful countryside landscapes, where you can savor the natural beauty and experience the local way of life. Kakani is also known for its stunning views of the central and western Himalayas, making it an ideal spot to enjoy a peaceful sunset or sunrise over the mountains. The biking routes in Kakani are moderately challenging, making it suitable for intermediate bikers seeking a mix of adventure and scenic beauty.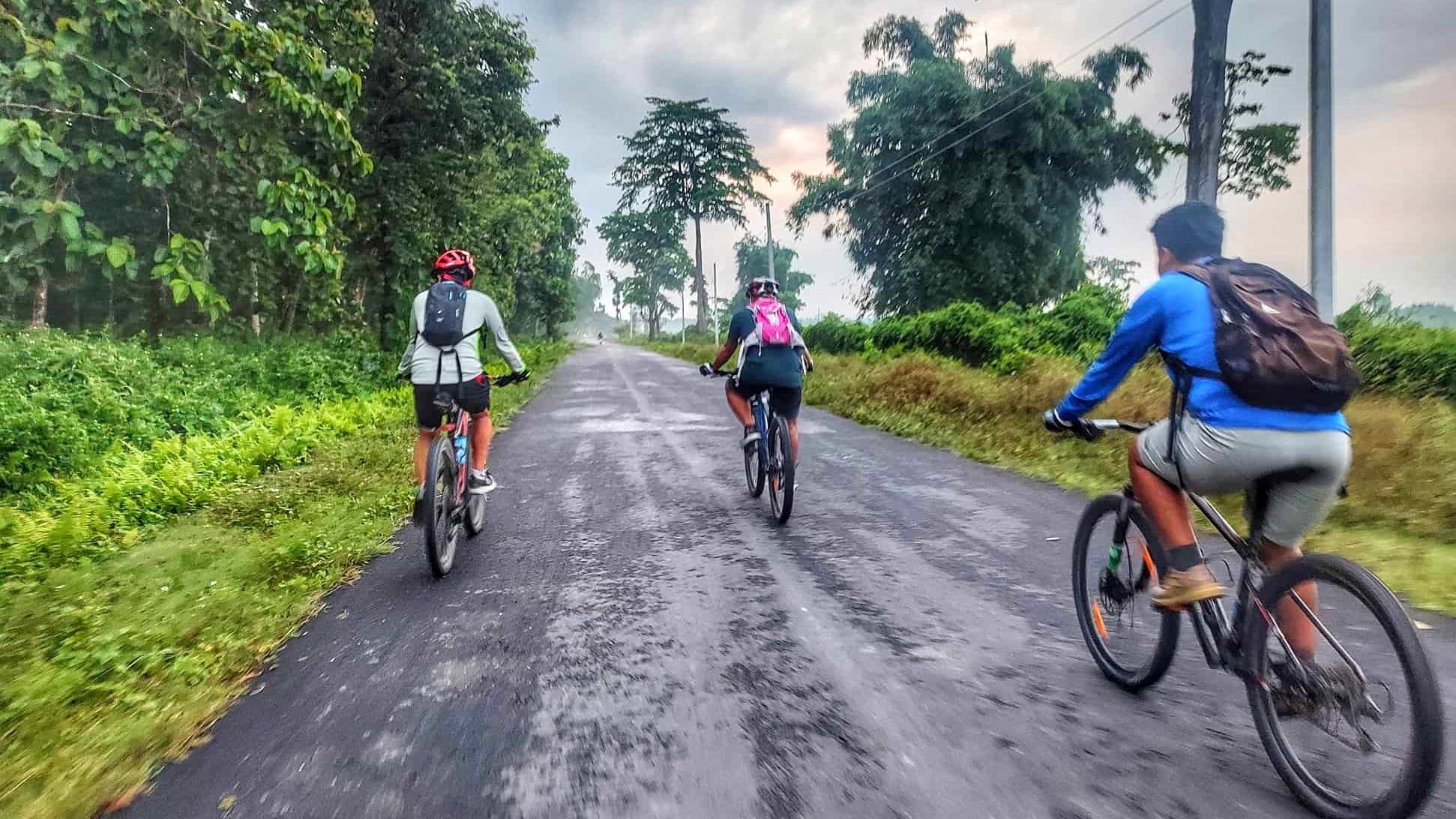 Pokhara Downhill Mountain Biking
Experience the adrenaline-pumping thrill of downhill mountain biking in the picturesque city of Pokhara, Nepal's adventure capital. Nestled amidst the Annapurna and Dhaulagiri mountain ranges, Pokhara offers a stunning backdrop for an exhilarating biking adventure. The downhill biking trails start from Sarangkot, a scenic viewpoint known for its captivating sunrise and sunset vistas. As you navigate the rugged terrains and winding paths, you'll be treated to breathtaking views of the Phewa Lake, lush forests, and the majestic Himalayan peaks.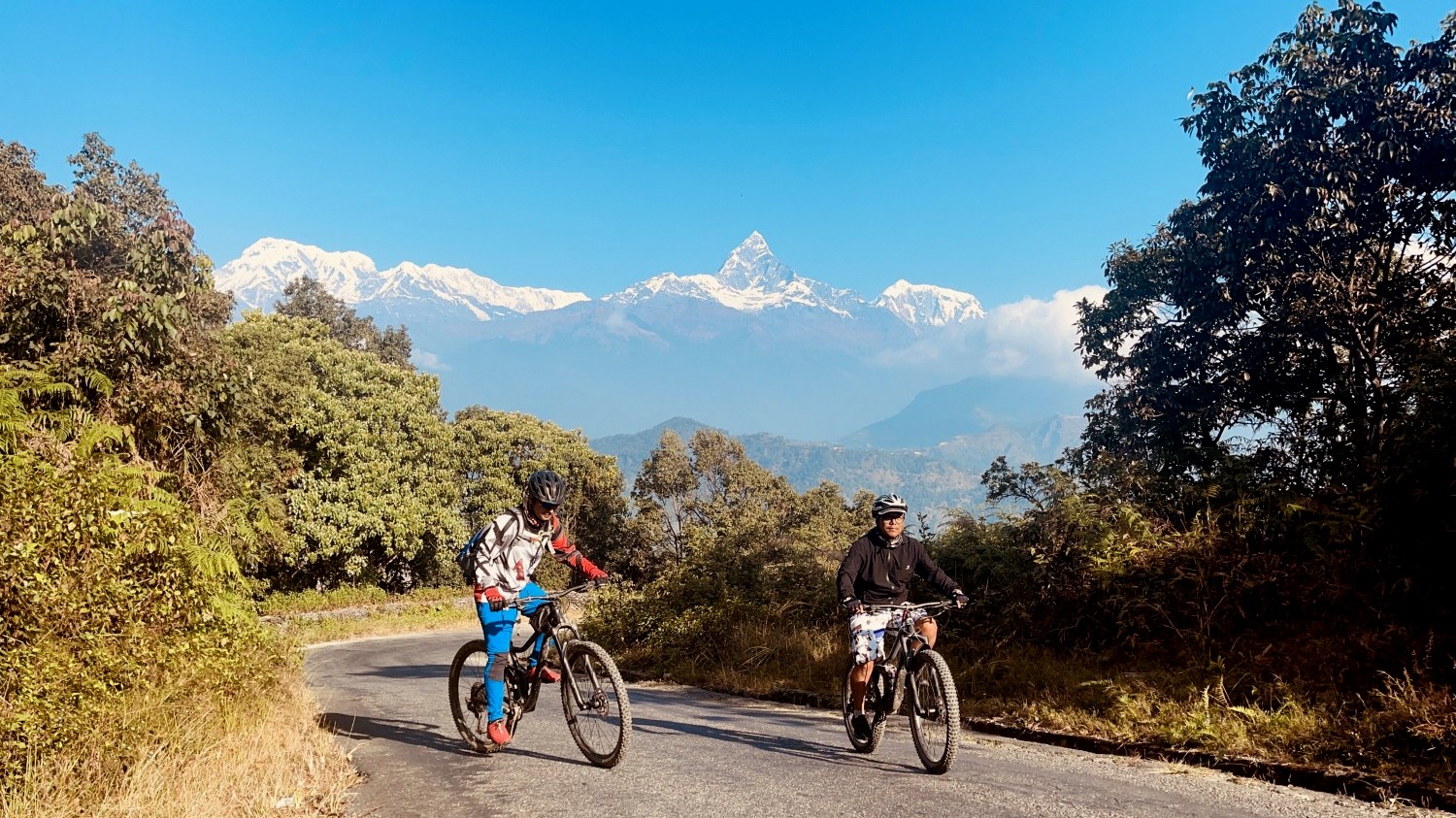 The downhill descent from Sarangkot to Pokhara provides an adrenaline-filled ride, rewarding you with an unforgettable mountain biking experience that combines thrill, natural beauty, and the charm of this vibrant city. Whether you're a seasoned rider or a biking enthusiast seeking a unique adventure, Pokhara's downhill mountain biking promises an unforgettable journey that immerses you in the mesmerizing beauty of Nepal's landscape.
Things to Be Considered During Mountain Biking in Nepal.
Mountain biking in Nepal can be a thrilling adventure, but like any outdoor activity, it requires careful preparation and awareness. Here are a few essential considerations for your biking trip:
Physical Fitness: Mountain biking can be strenuous, especially in the high-altitude regions of Nepal. It's important to have a good level of physical fitness before embarking on your journey. Regular cardio workouts and strength training can help prepare your body for the rigors of the trail.
Altitude Sickness: Nepal's trails often ascend to high altitudes where the air is thinner. Symptoms of altitude sickness can include headaches, fatigue, and dizziness. It's important to acclimatize properly, ascend slowly, stay hydrated, and seek immediate medical attention if symptoms persist.
Guides and Maps: Hiring a local guide can enhance your experience. They can navigate tricky trails, assist in case of mechanical issues, and facilitate local interactions. Even if you prefer solo trips, always carry a reliable map or GPS.
Respect Local Culture: Nepal is rich in culture and traditions. It's important to respect local customs, especially when visiting remote villages. Dress modestly and always ask before photographing people.
First Aid and Health: Bring a well-stocked first-aid kit that includes bandages, antiseptic cream, and medication for common issues like diarrhea, headaches, and altitude sickness.
Hydration and Nutrition: Always carry plenty of water and high-energy snacks. Staying hydrated and nourished is especially important at high altitudes.
Weather and Climate: The weather in the mountains can change rapidly. Check the forecast and be prepared for various conditions. Monsoon season can make trails slippery and dangerous, while winter can bring snow and freezing temperatures.
Wildlife Encounters: Respect wildlife from a distance. Never feed wild animals and keep food securely stored.
Permits and Regulations: Some areas require trekking permits or National Park entry tickets. Make sure to research this beforehand and carry necessary documentation.
By considering these aspects, you can ensure a safer and more enjoyable mountain biking experience in Nepal.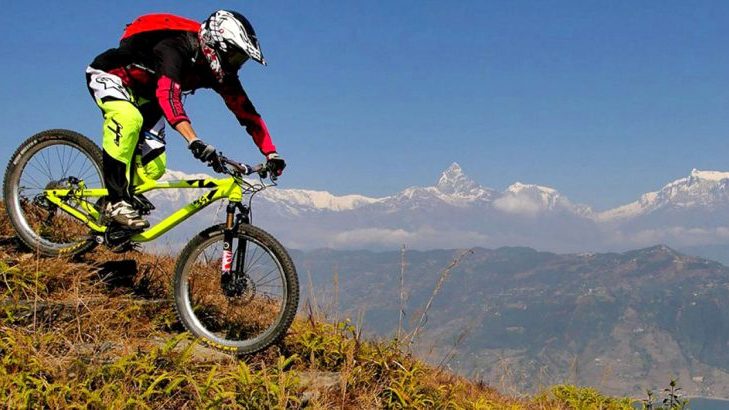 Equipment
Before starting a mountain biking trip, make sure you are properly equipped. Mountain bikes can be rented from different parts of Nepal, like Thamel Kathmandu and Pokhara Nepal. Generally, the bikes on rent offer good service. You can rent for a day or even longer. Generally, domestic airlines have a 25kg weight limit. So before traveling on the flight with a bike, you should think about it.
Mountain Biking Accessories in Nepal
Here's a list of recommended accessories for mountain biking in Nepal:
Helmet

Biking Gloves

Eye Protection (Sunglasses or clear cycling glasses)

Padded Shorts

Cycling Jersey

Cycling Shoes and Clipless Pedals

Hydration Pack

Multi-tool Kit

Spare Tubes and Repair Kit

Portable Bike Pump

Lights and Reflectors

Bike Lock

Bike Computer or GPS
Remember, the right gear can enhance your safety and enjoyment during your mountain biking adventure.
Frequently Asked Questions (Faqs) for Mountain biking in Nepal
Q: What fitness level is required for mountain biking in Nepal?
A: It's important to have a good level of fitness for mountain biking in Nepal, as the trails can be strenuous and often involve long ascents and descents. Regular cardio workouts and strength training in the weeks before your trip can help prepare your body for the adventure.
Q: Can beginners do mountain biking in Nepal?
A: Yes, there are plenty of trails suitable for beginners. However, it's recommended to take a few lessons or go on several rides before embarking on a mountain biking trip in Nepal to familiarize yourself with the equipment and gain some basic skills.
Q: What is the best time of year for mountain biking in Nepal?
A: The best time for mountain biking in Nepal is during the dry seasons, from October to December and March to May. However, there are trails suitable for biking throughout the year.
Q: Do I need to bring my own bike and gear?
A: While you can bring your own bike and gear, there are several places in Kathmandu and Pokhara where you can rent high-quality mountain bikes and equipment.
Q: Are there guided mountain biking tours in Nepal?
A: Yes, numerous tour operators offer guided mountain biking tours in Nepal. These tours can range from day trips around Kathmandu Valley to multi-day adventures in the Annapurna or Everest region.
Q: Is it safe to go mountain biking in Nepal?
A: Yes, mountain biking in Nepal is generally safe if you follow safety guidelines, stay on marked trails, and wear the necessary protective gear. However, like any outdoor activity, it does carry some inherent risks.
Q: Do I need a permit for mountain biking in Nepal?
A: For most trails, you don't need a permit for mountain biking. However, if your trail passes through national parks or protected areas, you may need to obtain an entry permit.
Q: How do I prepare for high-altitude mountain biking in Nepal?
A: To prepare for high-altitude mountain biking, it's important to stay in good physical shape, stay hydrated, eat high-energy foods, and acclimatize properly. It's also crucial to listen to your body and descend to a lower altitude if you start feeling symptoms of altitude sickness.
Q: What should I do in case of a medical emergency or mechanical breakdown during the trip?
A: It's advisable to always ride with a group or guide, carry a first aid kit, and have a basic understanding of bike repair. If you're on a guided tour, your guide will have the necessary training to handle emergencies. In case of severe medical emergencies, evacuation services are available in Nepal.
Q: Can I do mountain biking during the monsoon season in Nepal?
A: While it's possible to mountain bike during the monsoon season, the trails can be slippery and more challenging. The rain shadow areas like Upper Mustang, however, are ideal for biking during the monsoon.
If you like looking for other adventure sports in Nepal please, click here.
If you need any further information, please contact us, Email: at [email protected], Phone: +977- 985 100 5129 (WhatsApp)