The Manaslu Base Camp Trek stands as a gateway to an enchanting Himalayan adventure, beckoning trekkers to traverse landscapes that seem untouched by the hands of time. We'll unravel the intricate tapestry of time that defines this expedition, guiding you through the rhythm of days and the moments that will become etched in your memory.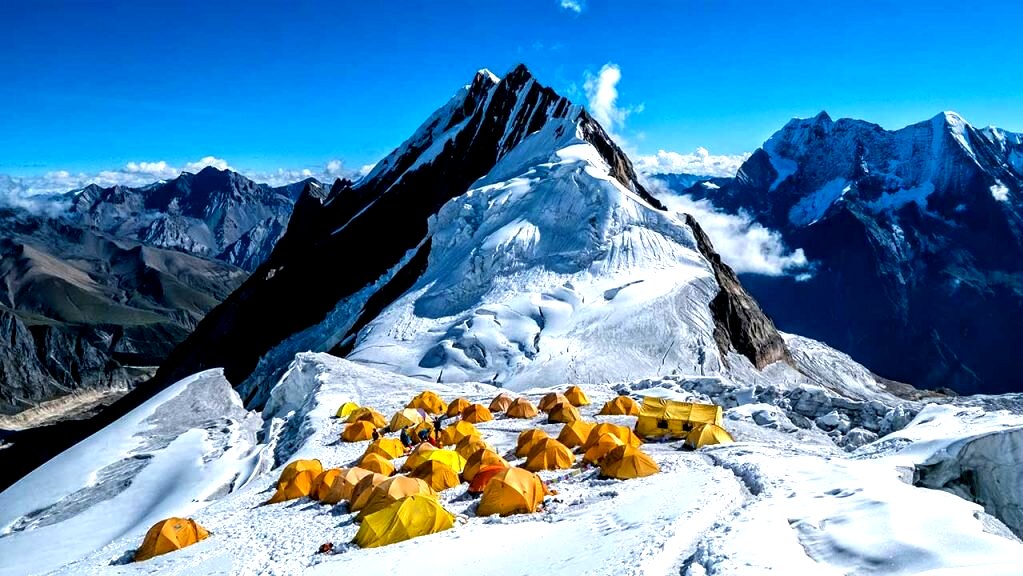 In the heart of Nepal, amidst the towering peaks of the Himalayas, the Manaslu Base Camp Trek unfolds like a chapter from a traveler's dream. The duration of this expedition, on average spanning 12 to 14 days, isn't merely a measure of days and nights; it's a canvas onto which you'll paint your experiences. This timeframe allows for an immersive exploration of the diverse terrains that characterize the trail, from lush forests to rugged alpine landscapes.
The duration is more than the sum of its days. It's a vessel that carries you through encounters with local communities, where you'll witness the rhythm of daily life in these remote villages. It's a gradual ascent, each step guiding you closer to the base camp and the awe-inspiring Himalayan panorama that awaits. The Manaslu Base Camp Trek's duration is a doorway to a world where time slows down, allowing you to truly absorb the beauty, culture, and nature that surrounds you.
It is important to note that the duration isn't set in stone. The trek's flexible nature accommodates various paces and preferences, ensuring that your journey aligns with your desires. Whether you wish to savor each moment or prefer a swifter adventure, the Manaslu Base Camp Trek duration can be tailored to create an experience that resonates with your heart's call.
As you prepare to embark on this captivating trek, remember that the duration is a guide, a whisper of the moments that await. It's an opportunity to step into the rhythm of the Himalayas, immerse yourself in the dance of time, and uncover the magic that lies within each day's journey.
Manaslu Base Camp Trek itinerary
The Manaslu Base Camp Trek's itinerary is provided below:
Day 1: Arrival in Kathmandu.
Airport pickup by us.

Transfer to hotel.

Trek briefing and preparation.

Overnight stay in Kathmandu.
Day 2: Drive to Soti Khola.
Scenic drive through picturesque landscapes.

Arrive at Soti Khola.

Overnight stay in Soti Khola.
Day 3: Trek to Maccha Khola.
Trek along the Budi Gandaki River.

Cross-suspension bridges.

Reach Maccha Khola.

Overnight stay in Maccha Khola.
Day 4: Trek to Jagat.
Continue along the riverbank.

Pass through terraced fields and villages.

Reach Jagat.

Overnight stay in Jagat.
Day 5: Trek to Deng.
Enter Manaslu Conservation Area.

Cross a suspension bridge.

Arrive at Deng.

Overnight stay in Deng.
Day 6: Trek to Namrung.
Trek through lush forests.

Gain altitude gradually.

Reach the village of Namrung.

Overnight stay in Namrung.
Day 7: Trek to Samagaon.
Trek through alpine terrain.

Enjoy panoramic views of Manaslu and Ganesh Himal.

Arrive in Samagaon.

Overnight stay in Samagaon.
Day 8: Acclimatization day in Samagaon.
Explore the village and its monasteries.

Short hikes for acclimatization.

Rest and preparation for higher altitudes.

Overnight stay in Samagaon.
Day 9: Trek to Samdo.
Ascend to higher altitudes.

Reach the Tibetan-influenced village of Samdo.

Spectacular mountain views.

Overnight stay in Samdo.
Day 10: Acclimatization day in Samdo.
Further acclimatization.

Optional hikes for exploration.

Enjoy the mountain scenery.

Overnight stay in Samdo.
Day 11: Trek to Dharamsala (Larkya Phedi).
Trek through rocky landscapes.

Reach Dharamsala, also known as Larkya Phedi.

Prepare for the next day's pass-crossing.

Overnight stay in Dharamsala.
Day 12: Cross Larkya La Pass and trek to Bhimthang.
Early start for Larkya La Pass.

Cross the pass with stunning views.

Descend to Bhimthang.

Overnight stay in Bhimthang.
Day 13: Trek to Tilije.
Descend through rhododendron forests.

Pass by serene landscapes.

Arrive at Tilije.

Overnight stay in Tilije.
Day 14: Trek to Dharapani and drive to Besisahar.
Continue trekking to Dharapani.

Complete the trekking part.

Drive to Besisahar.

Overnight stay in Besisahar.
Day 15: Drive back to Kathmandu.
Scenic drive back to Kathmandu.

Overnight stay in Kathmandu.
Day 16: Departure.
Airport transfer for your onward journey.
Please note that this is a simplified itinerary and the actual trek might have variations based on weather conditions, group pace, and other factors. We provided a detailed and updated itinerary before embarking on the Manaslu Base Camp Trek.
Factors Influencing the Duration
Manaslu Base Camp Trek is a journey that transcends the mere passage of time. It's a chance to connect with nature, culture, and yourself while traversing the stunning landscapes of the Himalayas. While the average duration for this trek is around 12 to 14 days, understanding the factors that influence this timeframe is crucial for planning a successful and enriching adventure.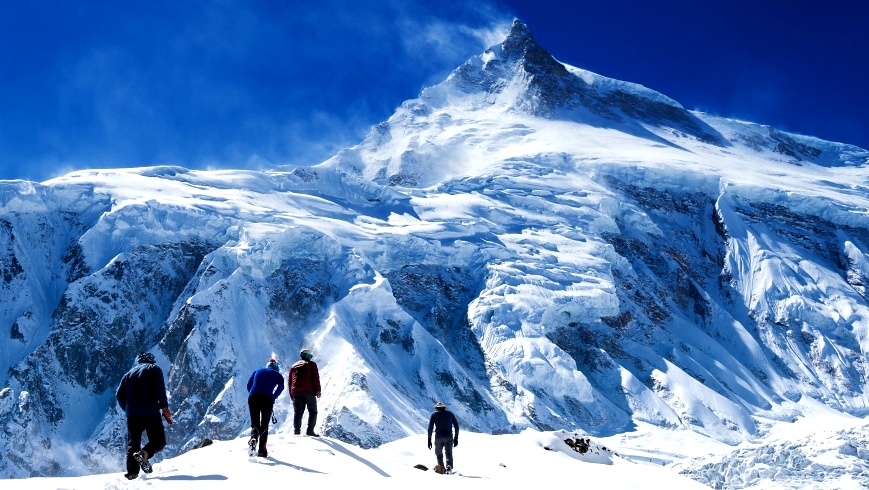 Trekking Pace: The pace at which you choose to trek is a significant determinant of the journey's duration. Some trekkers prefer a leisurely pace, allowing ample time for capturing photographs, immersing in the surroundings, and interacting with locals. Others might opt for a more brisk pace, aiming to cover more ground each day. Your comfort level and preferences play a vital role in finding the rhythm that resonates with you.
Acclimatization Days: Acclimatization is a pivotal aspect of any high-altitude trek, including the Manaslu Base Camp Trek. Acclimatization days are strategically inserted into the itinerary to allow your body to adjust to the increasing altitude, reducing the risk of altitude sickness. These days also contribute to the overall duration of the trek. Spending extra time acclimatizing not only enhances your safety but also enables you to fully appreciate the stunning landscapes without rushing.
Side Trips and Exploration: The Manaslu Region is teeming with cultural and natural treasures waiting to be discovered. Side trips to monasteries, viewpoints, and nearby attractions are common and can extend the trek's duration. These detours offer a chance to gain deeper insights into local culture, interact with villagers, and witness hidden gems that might not be part of the main trail.
Fitness Level: Your fitness level plays a vital role in determining your trekking pace and, subsequently, the overall duration. Experienced trekkers or those with high fitness levels might cover distances more quickly, while those new to trekking might opt for a more moderate pace. It's essential to listen to your body and find a balance between pushing your limits and enjoying the journey.
Weather and Trail Conditions: The weather in the Himalayas can be unpredictable, especially at higher altitudes. Snowfall, rain, or challenging trail conditions can affect the speed at which you trek. Be prepared for variations in weather and adjust your pace accordingly to ensure safety and comfort.
As you prepare for the Manaslu Base Camp Trek, remember that the duration is a flexible parameter that can be tailored to your preferences. Each factor influencing the duration contributes to the unique tapestry of your journey. Whether you're a leisurely wanderer who delights in cultural immersion or a dedicated trekker seeking a challenging adventure, understanding these factors will help you customize your trekking experience.
Best time to Trek to Manaslu Base Camp
The allure of the Himalayas beckons adventurers year-round, but for those seeking to embark on the Manaslu Base Camp Trek, timing is essential. The seasons significantly impact your trekking experience, influencing weather conditions, trail accessibility, and the overall ambiance of the journey. In this guide, we unravel the best time to trek the Manaslu Base Camp, ensuring you make the most of this captivating expedition amidst the towering peaks.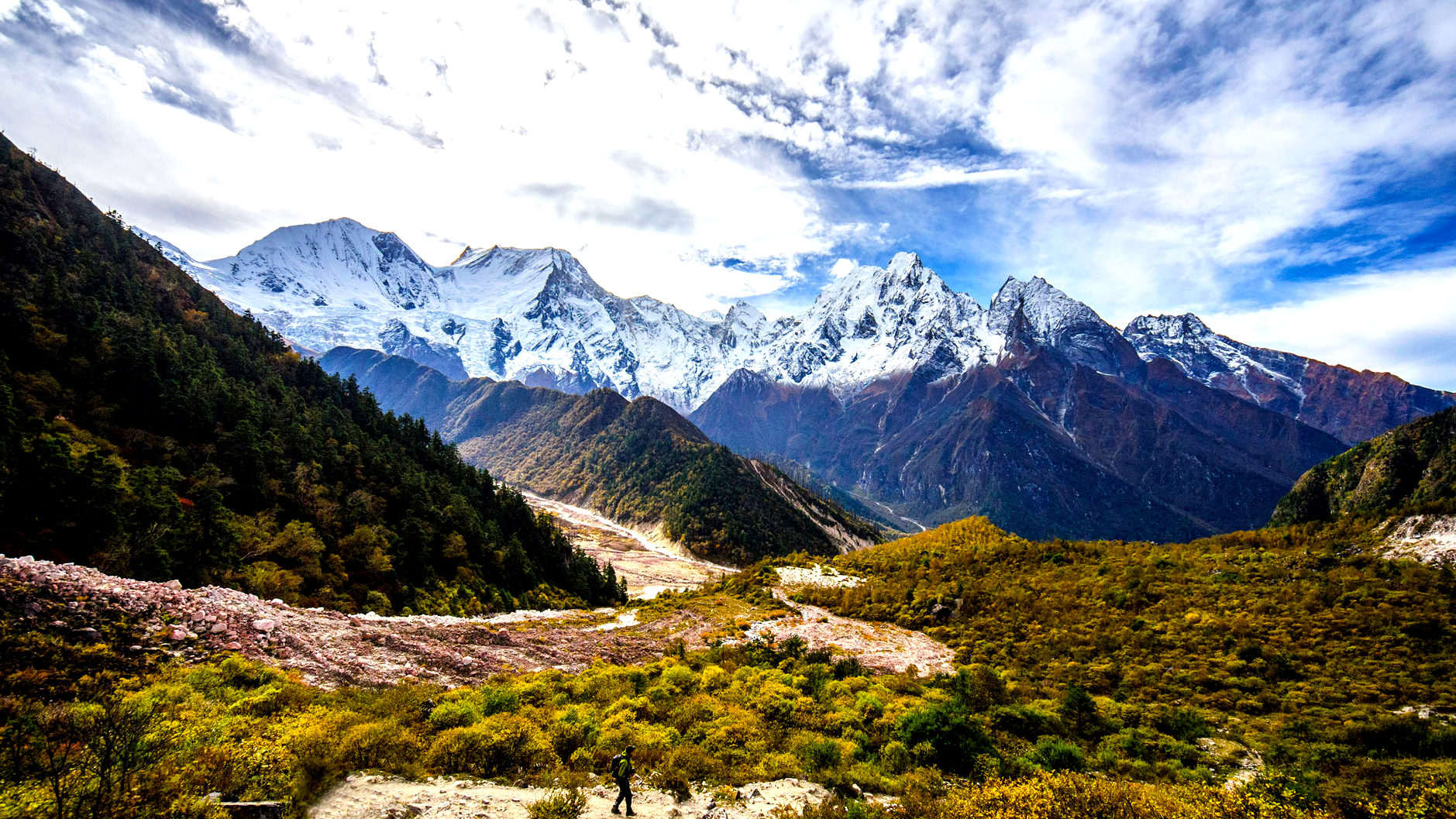 Spring: March to May
As the snow begins to melt and flowers bloom, spring paints the Manaslu Region with vibrant colors. This is a remarkable time to trek, offering clear skies, moderate temperatures, and stunning views of blossoming rhododendron forests. The trails come alive with nature's beauty, making it a popular choice among trekkers. The days are longer, allowing for extended exploration, and the warmer weather creates a comfortable trekking experience.
Summer: June to August
While summer is the monsoon season in Nepal, the Manaslu Region experiences lesser rainfall compared to other parts of the country. The lush landscapes are at their greenest during this time, and the trails are relatively quieter. Trekkers who don't mind occasional rain showers can enjoy the serenity of the region without the crowds. Just be prepared for some wet and muddy trails, and pack appropriately.
Autumn: September to November
Considered the best time to trek in the Manaslu Region, autumn offers a magical blend of clear skies, pleasant temperatures, and breathtaking mountain views. The post-monsoon air is crisp, and the skies are at their bluest. This season attracts trekkers from around the world, so the trails might be busier than at other times of the year. If you're seeking picture-perfect panoramas and a comfortable trekking experience, autumn is your golden opportunity.
Winter: December to February
While winter brings cold temperatures and some trail closures, it also offers a unique charm for those seeking a quieter trekking experience. The snowy landscapes create a tranquil ambiance, and the crystal-clear views of the mountains are mesmerizing. However, be prepared for sub-zero temperatures, especially at higher elevations. Winter trekkers should have proper cold-weather gear and consider the availability of accommodations at higher altitudes.
The Manaslu Base Camp Trek is a journey that adapts to the rhythm of the seasons, offering an experience for every type of trekker. Whether you're drawn to the vibrant blooms of spring, the lush greenery of summer, the panoramic vistas of autumn, or the serene landscapes of winter, the region welcomes you with open arms year-round. Your choice of the best time to trek depends on your preferences, tolerance for weather conditions, and the kind of experience you seek. Whatever the season, the Manaslu Base Camp Trek promises memories that will last a lifetime.
Side trips from Manaslu Base Camp Trek
While the Manaslu Base Camp Trek itself is a captivating journey through the heart of the Himalayas, the region offers a treasure trove of additional experiences waiting to be explored. These side trips allow you to delve deeper into local culture, witness stunning vistas, and uncover hidden gems that might not be part of the main trail. We'll unveil some of the most alluring side trips you can consider during your Manaslu Base Camp Trek, enhancing your adventure and providing a well-rounded Himalayan experience.
Pung Gyen Monastery: Nestled between Samdo and Dharamsala, the Pung Gyen Monastery offers a spiritual haven amidst the rugged landscapes. This serene and ancient monastery allows trekkers to witness the daily lives of monks, engage in meditation, and immerse themselves in the region's spiritual traditions. The monastery's ornate decorations and panoramic views create an enchanting atmosphere that leaves a lasting impression.
Tsum Valley: Often referred to as the "Hidden Valley," the Tsum Valley is a secluded enclave that lies adjacent to the Manaslu Trek. This side trip offers a cultural journey through ancient monasteries, traditional villages, and warm hospitality. The Tsum Valley provides a glimpse into a way of life untouched by time and modernization, allowing you to forge connections with local communities and experience their unique customs.
Birendra Tal: Located near the village of Samagaon, the Birendra Tal is a serene glacial lake surrounded by stunning alpine landscapes. This side trip offers a chance to escape the trail's hustle and bustle and immerse yourself in nature's tranquility. The crystal-clear waters reflect the surrounding mountains, creating a picture-perfect setting for relaxation and reflection.
Lho Village: Lho Village is the epitome of traditional Tibetan culture. As you make your way through the village, you'll encounter charming houses, intricately carved mani walls, and the impressive Ribung Gompa. This side trip provides a window into the local way of life and offers breathtaking views of the Manaslu peak.
Manaslu Base Camp Extension: For those seeking an even more immersive experience, consider extending your trek to the Manaslu Base Camp itself. This extension allows you to get up close and personal with the towering peak, basking in its majestic aura. While this extension requires careful planning and acclimatization, the rewards in terms of scenery and accomplishment are unparalleled.
The Manaslu Region isn't just about following a trail; it's about discovering the nuances that lie off the beaten path. These side trips offer a chance to broaden your horizons, engage with local cultures, and witness the Himalayas from different angles. Whether you choose to explore monasteries, valleys, and lakes, or extend your journey to the base camp itself, each side trip weaves an additional layer of magic into your Manaslu Base Camp Trek.
Preparation for the Manaslu Base Camp Trek
The Manaslu Base Camp Trek is the journey of a lifetime, a chance to immerse yourself in the breathtaking landscapes, rich culture, and awe-inspiring beauty of the Himalayas. As you gear up for this captivating expedition, thorough preparation becomes paramount to ensure your safety, comfort, and overall enjoyment. We'll delve into the essential aspects of preparing for the Manaslu Base Camp Trek, equipping you with the knowledge to make your adventure unforgettable.
Physical Fitness: Trekking in the Himalayas demands a certain level of physical fitness. Engaging in cardiovascular exercises, strength training, and endurance activities can help build the stamina required for the trek's varying terrains and altitudes. Regular walking and hiking practice, preferably with a loaded backpack, can mimic the trekking conditions and prepare your body for the journey ahead.
Acclimatization: Acclimatization is vital to prevent altitude sickness. While the trek itinerary incorporates acclimatization days, arriving in Nepal a few days before the trek to adjust to the change in altitude is recommended. During the trek, ascending slowly and drinking plenty of water aids in adapting to higher altitudes. Familiarize yourself with the symptoms of altitude sickness and know when to seek medical attention.
Packing Essentials: Packing efficiently ensures you have everything you need without burdening yourself with unnecessary weight. Essential items include comfortable trekking shoes, waterproof clothing, warm layers, a sleeping bag, a sturdy backpack, a headlamp, sun protection, and a first aid kit. Renting or purchasing gear in Kathmandu is a viable option if you're not traveling with all the necessary equipment.
Permits and Documentation: Acquiring the required permits is a crucial step. The Manaslu Conservation Area Permit (MCAP) and Annapurna Conservation Area Permit (ACAP) are necessary, along with a Restricted Area Permit for the Manaslu Region. These permits can be obtained in Kathmandu. Additionally, having a valid passport, travel insurance, and any necessary medical documents is essential.
Choosing a Reputable Trekking Company: Selecting a reliable trekking company such as Luxury Holidays Nepal enhances your experience. We ensure knowledgeable guides, handle logistics, and ensure safety.
Cultural Sensitivity: Respecting local culture is crucial. Learning a few basic Nepali phrases, understanding local customs, and adhering to guidelines for waste disposal and responsible tourism showcase your commitment to preserving the region's beauty and integrity.
Preparing for the Manaslu Base Camp Trek is about more than just collecting gear; it's a holistic approach that encompasses physical readiness, mental preparedness, and cultural awareness.
Temperatures & Weather While Trekking to Manaslu Base Camp
Trekking to Manaslu Base Camp involves navigating varying climates and weather conditions. Understanding the temperatures and weather patterns is crucial for a safe and enjoyable journey. Here's a concise guide are listed below:
Autumn (September to November):
Temperature: Days are pleasantly warm, with temperatures ranging from 10°C to 15°C (50°F to 59°F). Nights can be chilly, dropping to around -5°C to 5°C (23°F to 41°F).
Weather: Clear skies and minimal rainfall. Crisp and stable weather conditions create excellent trekking conditions.
Spring (March to May):
Temperature: Daytime temperatures range from 10°C to 15°C (50°F to 59°F). Nights can still be cold, ranging from 0°C to 8°C (32°F to 46°F).
Weather: Mild weather with blossoming flora. Occasional rainfall is possible, especially in May.
Winter (December to February):
Temperature: Daytime temperatures hover around 5°C to 10°C (41°F to 50°F). Nights are cold, often dropping to -10°C to -5°C (14°F to 23°F).
Weather: Cold and dry conditions. Possibility of snowfall at higher altitudes.
Summer (June to August):
Temperature: Daytime temperatures range from 15°C to 20°C (59°F to 68°F). Nights remain relatively mild, averaging around 5°C to 10°C (41°F to 50°F).
Weather: Monsoon season with heavy rainfall, especially in July and August. Trails can be muddy and slippery.
High Passes and Altitude:
Temperature: Temperatures decrease with altitude. Higher altitudes experience colder conditions, especially during the night.
Weather: Conditions can change rapidly at high altitudes. Always be prepared for sudden weather shifts.
Clothing and Gear:
Layering is essential to adapt to changing temperatures throughout the day.

A good-quality down jacket, thermal inner layers, gloves, and a warm hat are crucial for colder days and nights.

Waterproof and windproof outer layers are important to protect against rain, snow, and wind.
Always Be Prepared:
Weather in mountainous regions can be unpredictable. Even during the best seasons, it's advisable to pack clothing suitable for a range of temperatures.

Stay updated with local weather forecasts and trekking advisories.
Trekking to Manaslu Base Camp offers diverse climatic experiences. Being aware of the temperatures and weather patterns during different seasons helps you pack appropriately and plan a safe and enjoyable trekking adventure. Whether you're marveling at blooming flowers in spring or embracing the snowy serenity of winter, understanding the weather conditions adds to your preparedness and overall trekking experience.
Manaslu Base Camp Trek Safety
Trekking to Manaslu Base Camp is a remarkable journey that offers breathtaking landscapes and cultural experiences. Safety should always be a top priority. Luxury Holidays Nepal, with its commitment to excellence, takes your safety seriously and strives to provide a secure and memorable trekking experience. We'll provide essential tips to ensure your safety during the Manaslu Base Camp Trek.
Physical Preparation:
Fitness: Engage in regular exercise to build stamina, endurance, and strength. Cardiovascular fitness and muscle conditioning are vital for navigating rugged terrain.
Acclimatization:
Gradual Ascent: Ascend slowly to allow your body to acclimatize to increasing altitudes. Plan acclimatization days into your itinerary.
Stay Hydrated: Drink plenty of water to combat the effects of high altitude. Dehydration can exacerbate altitude sickness.
Weather and Clothing:
Layering: Dress in layers to regulate body temperature. Weather conditions can change rapidly, so being prepared for both cold and warm weather is essential.
Rain Gear: Pack waterproof and windproof clothing to stay dry during unexpected rain or snow.
Accommodation:
Lodging: Choose established and reputable teahouses or lodges for accommodation. These establishments adhere to safety standards and offer comfortable amenities.
Trekking with a Guide and porters:
Our guides and porters add an extra layer of safety and convenience to your trek. Our experienced guides are familiar with the trails, weather patterns, and potential risks. Porters can alleviate the burden of carrying heavy backpacks, allowing you to focus on the journey.
Communication:
Emergency Contacts: Carry a fully charged mobile phone with a local SIM card and emergency contact numbers saved.
GPS and Maps: Use GPS devices or offline maps to navigate the trail accurately.
First Aid and Medication:
First Aid Kit: Carry a comprehensive first aid kit containing essentials like bandages, antiseptics, painkillers, and altitude sickness medication.
Personal Medications: If you have specific medical needs, ensure you have an adequate supply of necessary medications.
Altitude Sickness:
Recognize Symptoms: Familiarize yourself with symptoms of altitude sickness, such as headaches, nausea, and shortness of breath.
Descend if Necessary: If symptoms worsen, descend to lower altitudes immediately.
Hygiene:
Food and Water: Consume only bottled or purified water and opt for cooked foods in teahouses to reduce the risk of foodborne illnesses.
Responsible Trekking:
Respect Local Customs: Be culturally sensitive and respectful towards local communities, customs, and traditions.
Environmental Responsibility: Carry out all waste and dispose of it properly. Follow Leave No Trace principles.
Insurance:
Travel Insurance: Purchase comprehensive travel insurance that covers medical emergencies, evacuation, and unexpected events.
While the Manaslu Base Camp Trek promises adventure, taking precautions and prioritizing safety is essential for a successful journey. By adhering to safety guidelines, preparing thoroughly, and making informed decisions, you'll not only enjoy the stunning landscapes and cultural encounters but also create lasting memories of a safe and fulfilling trekking experience.
Checklists for The Manaslu Base Camp Trek
Preparing for the Manaslu Base Camp Trek involves careful planning and packing to ensure you have everything you need for a safe and enjoyable journey. Here are the checklists to help you organize your essentials:
Essentials:
Travel Documents: Passport, visa, permits, and necessary identification.
Trekking Permits: Manaslu Restricted Area Permit, Annapurna Conservation Area Permit (ACAP), and Trekker's Information Management System (TIMS) card.
Travel Insurance: Comprehensive coverage for trekking at high altitudes and emergency medical evacuation.
Cash: Nepalese Rupees for expenses not covered by the trek package.
Clothing:
Layered Clothing: Moisture-wicking base layers, insulating mid-layers, and a waterproof outer shell.
Headwear: Warm hat, sun hat, and sunglasses with UV protection.
Gloves: Insulated gloves for colder temperatures and lightweight gloves for moderate conditions.
Footwear: Sturdy, waterproof trekking boots with good grip and ankle support. Comfortable socks.
Rain Gear: Waterproof and windproof jacket and pants to protect against rain and wind.
Extra Clothing: Additional layers for colder days and nights, including thermal underwear.
Gear:
Backpack: Comfortable and well-fitting backpack with sufficient capacity for your essentials.
Sleeping Bag: Suitable for the expected temperatures at higher altitudes.
Sleeping Pad: Insulated pad for cushioning and insulation from the ground.
Trekking Poles: For added stability and support during ascents and descents.
Headlamp or Flashlight: Essential for navigating in low light conditions.
Water Bottle: Reusable water bottle with good capacity to stay hydrated.
Camera and Electronics: With spare batteries and charging cables.
Power Bank: To keep your devices charged during the trek.
Personal Items:
Toiletries: Toothbrush, toothpaste, soap, hand sanitizer, and other personal hygiene items.
Sunscreen and Lip Balm: With high SPF to protect against strong mountain sun.
Insect Repellent: Especially during lower altitudes.
Trekking Towel: Lightweight and quick-drying.
Personal Medications: Prescription medications, pain relievers, altitude sickness remedies, and any necessary medical supplies.
First Aid Kit: Including bandages, antiseptics, blister treatment, and basic medical supplies.
Other Essentials:
Maps and Navigation Tools: Local maps, compass, GPS device, or trekking apps on your smartphone.
Emergency Contact Information: For your tour company, local contacts, and embassy.
Snacks and Energy Bars: To keep your energy levels up during the trek.
Trekking Hat and Buff: For sun protection and staying warm.
Trash Bags: To pack out your waste and adhere to the "Leave No Trace" principle.
Optional Items:
Reading Material or Entertainment: For relaxation during downtime.
Personal Comfort Items: Such as a small pillow or earplugs.
By using this comprehensive checklist, you'll be well-prepared for your Manaslu Base Camp Trek. Enjoy the journey, the breathtaking scenery, and the memorable experiences that await you in the Himalayas!
Insurance for the Manaslu Base Camp Trek
Manaslu Base Camp Trek is a thrilling adventure that immerses you in the awe-inspiring landscapes of the Himalayas. While the journey promises unforgettable memories, it's essential to prioritize safety and preparedness. One crucial aspect of your preparation is obtaining comprehensive insurance coverage. We'll delve into the importance of travel insurance for the Manaslu Base Camp Trek and what aspects to consider when securing your coverage.
Coverage Essentials for the Manaslu Base Camp Trek
Emergency Medical Coverage: Altitude-related illnesses, accidents, and minor injuries can occur during trekking. Ensure your insurance covers medical expenses, including hospital stays, medication, and evacuation if necessary.
Evacuation and Repatriation: Trekking in remote regions means access to medical facilities can be limited. Look for insurance that includes emergency helicopter evacuation to the nearest medical facility and repatriation to your home country in case of severe injuries.
Trip Cancellation or Interruption: Sometimes unforeseen events can disrupt your travel plans. Comprehensive insurance should cover trip cancellation or interruption due to unforeseen circumstances like medical emergencies, natural disasters, or flight cancellations.
Travel Delays: Weather conditions, particularly during monsoon or winter, can lead to flight delays or cancellations. Your insurance should provide compensation for additional accommodation and transportation costs due to such delays.
Lost or Delayed Baggage: Trekking gear and personal belongings are crucial for a successful journey. Choose insurance that covers lost, stolen, or delayed baggage, ensuring you're equipped for the trek.
Adventure Activities Coverage: Verify that your insurance covers adventure activities like trekking at high altitudes, which may be considered a specialized activity by some policies.
Choosing the Right Insurance
High Altitude Coverage: Ensure your insurance explicitly covers trekking at altitudes above 4,000 meters (13,123 feet).
Medical Evacuation: Confirm that emergency helicopter evacuation is included in your coverage.
Claims Process: Research the ease and efficiency of the claims process. Read reviews or seek recommendations from fellow trekkers.
Exclusions: Understand the policy's exclusions, including pre-existing medical conditions, extreme sports, and non-covered activities.
Coverage Limits: Check the coverage limits for different aspects, such as medical expenses, evacuation costs, and baggage loss.
Obtaining comprehensive travel insurance is a vital step in preparing for the Manaslu Base Camp Trek. We encourage travelers to prioritize safety and ensure they're adequately protected against unexpected situations. Your insurance coverage is not just a document; it's your safety net, allowing you to navigate the Himalayas with confidence, knowing that you're well-prepared for whatever the journey may bring.
A Confluence of Extravagance and Adventure
Tailored Itineraries: Manaslu Base Camp Trek is meticulously designed, blending adventure with every juncture. Immerse yourself in the opulence of deluxe accommodations and gourmet dining that elevate your trekking experience.
Guided by Experts: Our team of seasoned guides goes beyond navigation. We will sharing insights into the region's culture, history, and geography. Our expertise enhances your journey, making each moment more meaningful.
Personalized Attention: Your desires and preferences are our priority. We offer personalized service, ensuring that every aspect of the journey resonates with your aspirations, creating a trek that's uniquely yours.
Manaslu Base Camp Heli Trek
The Manaslu Base Camp Heli Trek is a symphony of adventure an experience that elevates trekking to new heights. In this article, we introduce you to a unique journey that combines the thrill of trekking to the base camp with the breathtaking allure of a helicopter ride. Get ready to explore the beauty of the Manaslu Region from both the ground and the skies.
A Fusion of Trekking and Helicopter Adventure
Breathtaking Itinerary: We present the Manaslu Base Camp Heli Trek, an itinerary that merges trekking with a spectacular helicopter flight. Trek to the base camp through captivating landscapes and then soar above them, witnessing the grandeur of the Himalayas from a whole new perspective.
Helicopter Ascension: The pinnacle of the heli trek includes a helicopter flight from the base camp to Kathmandu, granting you stunning aerial views of the mountains, valleys, and villages below.
Seamless Luxury: Even in remote terrains, luxury accompanies you. Enjoy comfortable accommodations, gourmet meals, and personalized service throughout the journey.
Defining the Experience:
Trekking Marvels: Embark on a trek that offers diverse landscapes, from lush forests to barren terrains, and immerse yourself in local culture as you pass through charming villages.
Helicopter Panorama: Experience an awe-inspiring helicopter ride that showcases the beauty of the Himalayas in all its glory, providing unmatched views of towering peaks and pristine valleys.
Altitude with Ease: With a helicopter ride in the mix, altitude-related challenges are reduced. This journey caters to trekkers of varying fitness levels, making it accessible and enjoyable.
Elevate Your Adventure
Expert Guiding: Our experienced trekking guides and helicopter pilots ensure your safety and enrich your journey with insights into the region's history, culture, and geography.
Seamless Transitions: The transition from trekking to flying is smooth and seamless, creating an experience that's as exhilarating as it is luxurious.
Memories Beyond Compare: The Manaslu Base Camp Heli Trek isn't just about reaching the base camp; it's about relishing the journey. The trek and helicopter flight combine to create a tapestry of memories that will remain etched in your heart.
The Manaslu Base Camp Heli Trek is more than a trek; it's a transformational journey where adventure unites in harmony. With Luxury Holidays Nepal, every moment is an ode to opulence, every experience is an elevation of the ordinary. As you walk the trails and ascend to new heights, the heli trek experience envelops you in enhancing the entire adventure. This isn't just a trek; it's a saga of exploration, where the beauty of the Manaslu Region unfolds both underfoot and from the skies, and where each instant epitomizes the fusion of thrill.
The trek's duration isn't just about the number of days spent on the trail; it's about the memories made, the challenges conquered, and the connections formed with both the majestic Himalayan landscapes and fellow trekkers. Whether you opt for the standard 12 to 14 days or choose a variant itinerary, the journey to the Manaslu Base Camp promises a profound and unforgettable adventure.
Our commitment to crafting safe, comfortable, and enriching trekking experiences ensures that regardless of the trek's duration, every moment is imbued with expert guidance, opulent accommodations, and the chance to create lifelong memories. As you step into this unparalleled trek, may the duration be an aspect that paves the way for an extraordinary exploration of the Himalayan.
Frequently Asked Questions(FAQs): Manaslu Base Camp Trek Duration
Q: How long is the standard Manaslu Base Camp Trek duration?
A: The standard Manaslu Base Camp Trek typically takes around 12 to 14 days. This duration includes the trek to the base camp and the return journey.
Q: Can the trek duration be customized?
A: Yes, the trek duration can be customized based on your preferences. Luxury Holidays Nepal offers various itineraries that range from 12 to 18 days, allowing you to adjust the trek's length according to your fitness level and interests.
Q: How does altitude affect the trek duration?
A: Altitude is a crucial consideration in the Himalayas. It's important to include acclimatization days to allow your body to adjust gradually to higher altitudes, which might extend the trek's duration.
Q: Can altitude sickness impact the trek duration?
A: Altitude sickness can affect trekkers differently. Itineraries are designed to minimize the risk by incorporating acclimatization days. If you experience symptoms, such as headache or dizziness, it might lead to an extra rest day or a slower pace.
Q: What are acclimatization days?
A: Acclimatization days are rest days taken at specific altitudes to help your body adapt to reduced oxygen levels. These days aid in preventing altitude-related illnesses and ensure a safer and more enjoyable trekking experience.
Q: How do rest days impact the trek duration?
A: Rest days are strategically planned to aid acclimatization and minimize the risk of altitude sickness. While they extend the overall trek duration, they are essential for your well-being and the success of the trek.
Q: Are there variations in the trekking pace?
Yes, the trekking pace can vary based on the group's fitness level, weather conditions, and terrain. Our experienced guides adjust the pace to ensure everyone's comfort and safety.
Q: Can side trips extend the trek duration?
A: Yes, some itineraries offer optional side trips, such as exploring the Tsum Valley or taking detours to nearby viewpoints. These side trips can add extra days to the trek but offer unique experiences.
Q: How do weather conditions affect the trek duration?
A: Weather in the Himalayas can be unpredictable, especially during winter months. Snowfall or challenging trail conditions might slow down progress, potentially extending the trek duration.
Q: What's the recommended trek duration for a comfortable experience?
A: For a comfortable and well-acclimatized trek, a duration of around 14 days is often recommended. This allows you to enjoy the journey, take in the scenery, and adapt to the changing altitudes.
Q: Can I extend my stay in local villages during the trek?
A: Yes, some itineraries allow for extended stays in certain villages to explore the local culture and lifestyle. This might extend the trek's duration but adds depth to your experience.
Q: How can I choose the right trek duration for me?
A: Choosing the right trek duration depends on your fitness level, time availability, and trekking goals. Our expert team can help you select an itinerary that matches your preferences.
Here are some of the most popular Trekking packages in Nepal.
Luxury Trekking Package in Nepal
Everest Region Trekking Packages
If you need any further information, please contact us, Email: at [email protected], Phone: at +977- 985 100 5129 (WhatsApp)