Nepal is a renowned destination for adventure enthusiasts, offering breathtaking landscapes and unforgettable trekking experiences. While trekking in Nepal has traditionally been associated with simple meals and basic accommodations, the emergence of luxury dining experiences is transforming the way travelers indulge their taste buds on these epic journeys. In this blog, we'll take you on a culinary adventure through the luxury dining experiences available during trekking in Nepal.
A New Era of Trekking in Nepal
Trekking in Nepal has long been a popular activity for adventure seekers, but the introduction of luxury dining experiences has added a new dimension to this exhilarating pastime. Gone are the days when trekkers had to make do with basic, carb-heavy meals; now, gourmet cuisine and fine dining experiences are becoming an integral part of the trekking adventure.
Luxury Lodges: A Feast for the Senses
One of the primary ways to enjoy luxury dining experiences during trekking in Nepal is by staying at high-end lodges along your chosen trekking route. These lodges not only offer comfortable accommodations and top-notch amenities but also provide gourmet meals that cater to both local and international palates.
The cuisine at these luxury lodges is often prepared by skilled chefs using fresh, locally-sourced ingredients. You can expect a diverse array of dishes, ranging from traditional Nepali fares like dal bhat and momos to international classics like pasta, steaks, and even sushi. With an emphasis on quality, presentation, and flavor, these meals are a delightful reward after a day of trekking through the mountains.
Private Chefs and Catered Camps
For an even more personalized luxury dining experience, some trekking tours offer the services of a private chef who will accompany you on your journey. These chefs are trained in both local and international cuisine and can tailor meals to suit your specific tastes and dietary requirements. Imagine enjoying a gourmet meal under the stars, surrounded by the stunning peaks of the Himalayas – it's a dining experience like no other.
Catered camps are another option for those seeking luxury dining experiences during trekking in Nepal. These camps feature a dedicated kitchen and dining tent, where you can enjoy delicious meals in a cozy, intimate setting. With attentive staff and a focus on personalized service, catered camps provide an elevated dining experience in the heart of the wilderness.
Sustainable and Responsible Dining
Many luxury dining experiences during trekking in Nepal prioritize sustainable and responsible practices. From using organic produce grown in local communities to minimizing waste and plastic usage, these dining experiences demonstrate a commitment to protecting the environment and supporting local livelihoods. By choosing a luxury dining experience that adheres to these principles, you're not only treating yourself to delicious cuisine but also contributing to the well-being of the region.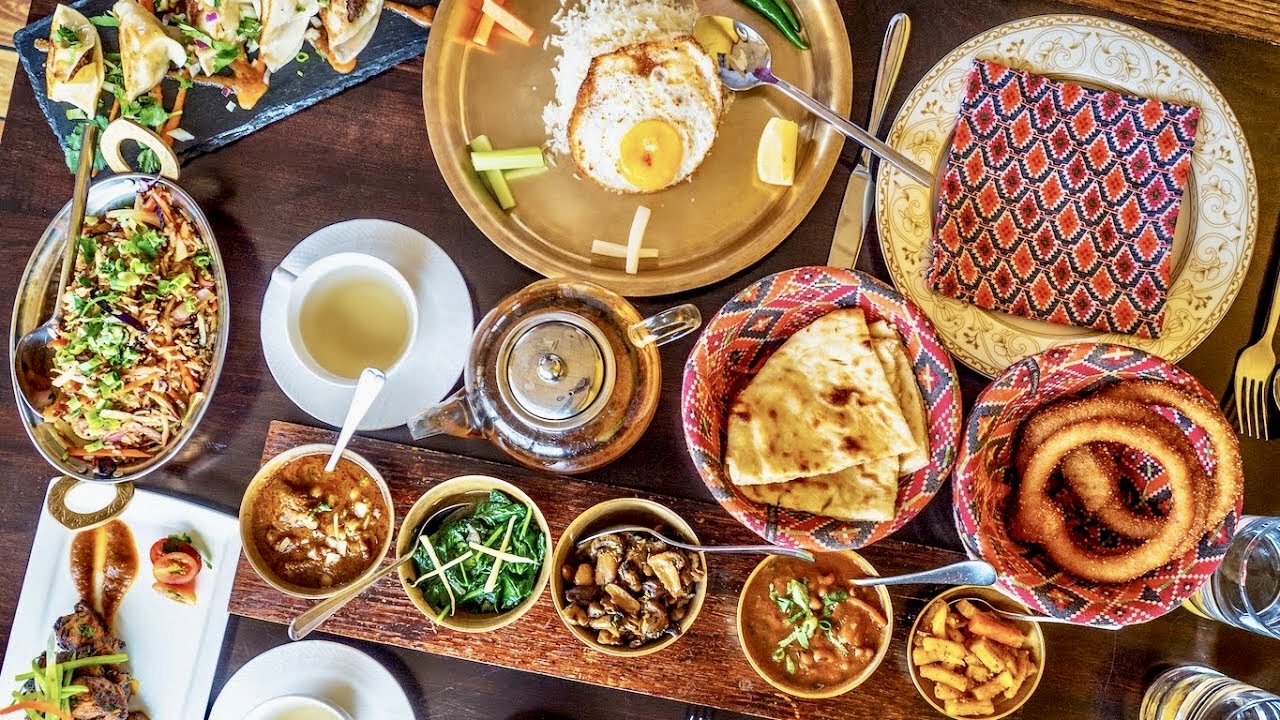 Culinary Workshops and Local Experiences
In addition to enjoying gourmet meals, some luxury trekking tours also offer culinary workshops and immersive dining experiences. These may include learning to cook traditional Nepali dishes, participating in a tea-tasting session, or sharing a meal with a local family. These experiences provide a unique insight into the rich culinary heritage of Nepal and create lasting memories that you'll cherish long after your trek is over.
Nepal, the land of the majestic Himalayas, is renowned for its breathtaking trekking trails and awe-inspiring mountain vistas. However, trekking in Nepal isn't just about the great outdoors. With the rise of luxury trekking lodges and high-end culinary experiences, adventure seekers can now indulge in some of the finest dining options available in the Himalayas. In this blog, we'll explore the unique luxury dining experiences you can enjoy during your trekking journey in Nepal.
Traditional Nepali Cuisine with a Twist
Luxury lodges and boutique hotels along popular trekking trails are now offering traditional Nepali dishes with modern and sophisticated twists. These culinary delights are prepared by skilled chefs who merge local ingredients with international flavors to create unique and mouth-watering dishes. Some must-try luxury Nepali dishes include:
Timur Truffle Momo: A fusion of Tibetan dumplings with the exotic truffle and local Nepali spice, Timur.
Choila: A marinated and grilled meat dish, often served with a fresh salad and a side of beaten rice.
Yomari: A sweet dessert dumpling made from rice flour and filled with jaggery, sesame seeds, and coconut.
World-class Culinary Experiences
Many luxury lodges and hotels have teamed up with renowned chefs to bring world-class dining experiences to the heart of the Himalayas. These fine dining establishments serve a variety of international cuisines, such as Italian, French, and Japanese. With their exquisite dishes, sumptuous interiors, and unparalleled mountain views, these restaurants provide a unique and unforgettable dining experience.
Organic and Farm-to-Table Dining
In recent years, there has been a growing trend of eco-friendly and sustainable dining options in Nepal. Many luxury lodges have embraced this movement by growing their own organic produce and sourcing ingredients from nearby farms. This not only ensures the freshness and quality of the food but also reduces the environmental impact. Some popular farm-to-table establishments in the region include:
Yeti Mountain Home: Situated along the Everest Base Camp trail, this luxury lodge features organic gardens and offers a farm-to-table dining experience.
Dwarika's Resort Dhulikhel: Nestled in the hills, this eco-friendly resort offers a holistic dining experience using organic ingredients from its own gardens and nearby farms.
Private Dining with a View
For those looking for a more intimate and personalized dining experience, some luxury lodges offer private dining options. You can enjoy a specially curated meal, accompanied by a selection of fine wines, in a secluded setting with stunning mountain views. This is the perfect way to celebrate special occasions or simply enjoy a romantic meal with a loved one.
Cooking Classes and Culinary Workshops
Another unique dining experience you can enjoy during your trekking adventure in Nepal is participating in cooking classes and culinary workshops. Many luxury lodges and hotels offer these experiences, where you can learn about traditional Nepali cooking techniques, local ingredients, and regional recipes. This is a great opportunity to immerse yourself in the rich Nepali culinary culture and take home a skill you can share with friends and family.
Trekking in Nepal has evolved over the years, and today, it's not just about conquering the mountains. Luxury dining experiences have become an integral part of the adventure, offering trekkers a chance to savor the world-class cuisine and local delicacies in the heart of the Himalayas. So, whether you're indulging in a gourmet meal at a fine dining restaurant, relishing organic farm-to-table delights, or learning to cook traditional Nepali dishes, a trekking journey in
Luxury dining experiences during trekking in Nepal offer a delectable fusion of adventure, comfort, and culinary indulgence. From gourmet meals at upscale lodges to private chefs and catered camps, these dining options elevate your trekking experience to new heights. As you savor the flavors of Nepal, surrounded by the majestic peaks of the Himalayas, you'll discover a new appreciation for the art of dining and the beauty of this enchanting country.
Luxury Trekking Package in Nepal
Luxury trekking Packages in Everest Region
If you need any further information, please contact us, Email: at [email protected], Phone: at +977- 985 100 5129 (WhatsApp)