Nestled in the heart of the majestic Himalayas, Nepal is a destination like no other. It's a treasure trove of ancient temples, serene lakes, dense wildlife reserves, and some of the world's highest peaks. But how many days should you spend in this Himalayan haven? Let's delve into the wonders of Nepal and craft the ideal itinerary.
Exploring the Kathmandu Valley (3-5 Days)
Nestled in the heart of Nepal, the Kathmandu Valley is a treasure trove of ancient traditions, vibrant culture, and architectural marvels. With its UNESCO World Heritage Sites, bustling markets, and spiritual sanctuaries, the valley offers a unique blend of history and modernity. In this blog, we will explore the highlights of the Kathmandu Valley and suggest an ideal itinerary for spending 3-5 days in this enchanting region.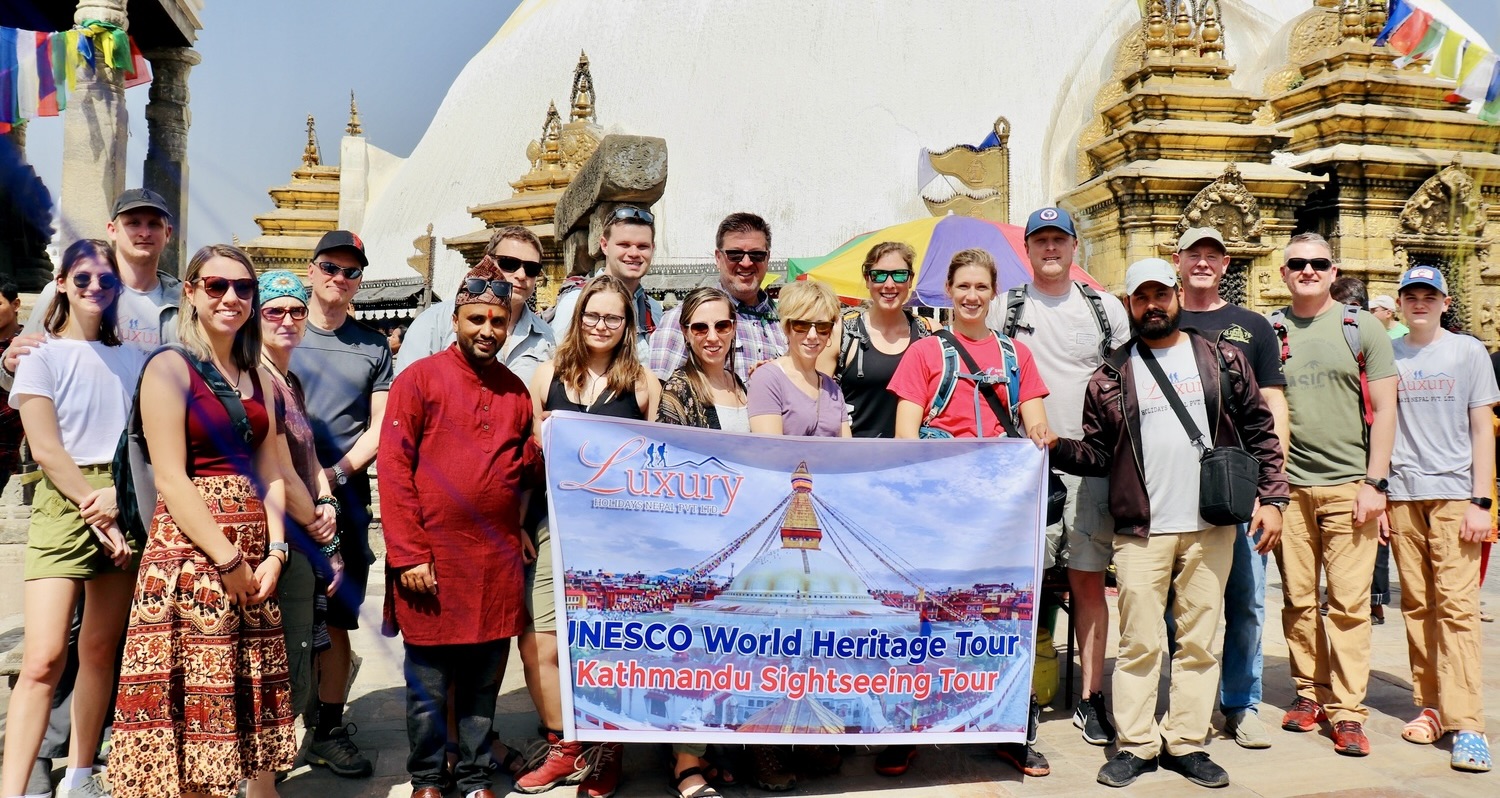 Day 1: Discover the Historical Wonders
Start your journey by immersing yourself in the historical wonders of the Kathmandu Valley. Begin with a visit to Kathmandu Durbar Square, the former royal palace complex, where you can marvel at intricately carved temples, palaces, and courtyards. Don't miss the magnificent Hanuman Dhoka Palace, the Taleju Temple, and the Kumari House, where you may catch a glimpse of the living goddess, Kumari.
Next, head to Swayambhunath Stupa, also known as the Monkey Temple, which sits atop a hill overlooking the valley. Explore the ancient stupa, adorned with colorful prayer flags and surrounded by sacred shrines. Enjoy panoramic views of Kathmandu city and embrace the spiritual atmosphere.
Day 2: Spiritual Exploration and Cultural Immersion
Begin your second day with a visit to Pashupatinath Temple, one of the holiest Hindu temples in the world. Observe the rituals, witness the cremation ghats along the sacred Bagmati River, and gain insights into Hindu funeral rites. The serene ambiance and the intricate architecture of the temple complex offer a captivating experience.
Continue your spiritual journey by visiting Boudhanath Stupa, one of the largest Buddhist stupas in the world. Take a leisurely stroll around the stupa, spin the prayer wheels, and soak in the serene atmosphere. Explore the surrounding monasteries, observe monks in prayer, and perhaps participate in a meditation session.
In the afternoon, visit the ancient city of Bhaktapur, renowned for its well-preserved medieval architecture. Wander through its narrow streets, visit Durbar Square, and admire the impressive 55 Window Palace. Don't forget to try the local delicacy, Juju Dhau (King Yogurt), and observe the intricate pottery-making process in the traditional Pottery Square.
Day 3: Art, Culture, and Handicrafts
Dedicate your third day to exploring the artistic and cultural heritage of the Kathmandu Valley. Start with a visit to Patan Durbar Square, also known as Lalitpur, famous for its exquisite Newari architecture. Explore the Patan Museum, which houses a remarkable collection of art and artifacts from the region.
Next, visit the Kathmandu Contemporary Arts Centre or the Nepal Art Council to immerse yourself in contemporary Nepali art. From traditional paintings to modern installations, these art spaces offer a glimpse into the vibrant art scene of Nepal.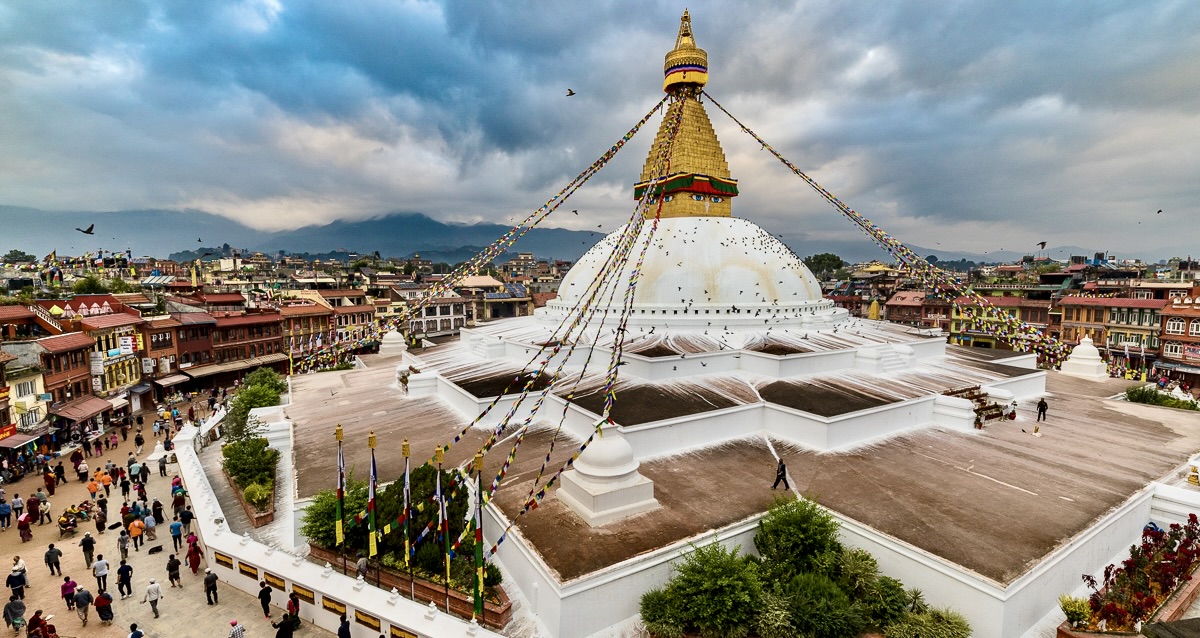 Indulge in a shopping spree at Thamel, Kathmandu's bustling tourist hub. Explore its narrow alleys filled with shops selling traditional handicrafts, colorful textiles, jewelry, and trekking gear. Bargain for souvenirs, savor local delicacies in cozy cafes, and soak in the energetic ambiance of this vibrant neighborhood.
Optional Day 4-5: Excursions and Nearby Attractions
If you have additional days to spare, consider exploring nearby attractions from the Kathmandu Valley. Some popular options include:
Nagarkot: Experience breathtaking sunrise and sunset views over the Himalayan range from this hill station near Kathmandu.
Chandragiri Hills: Take a cable car ride to the top of Chandragiri Hills for panoramic views, hiking trails, and a visit to the Bhaleshwor Mahadev Temple.
Shivapuri Nagarjun National Park: Embark on a nature hike through this beautiful national park, located on the outskirts of Kathmandu, and enjoy the serene surroundings and birdwatching opportunities.
Spending 3-5 days in the Kathmandu Valley allows you to unravel the rich tapestry of history, spirituality, and cultural heritage that defines this remarkable region. From exploring ancient palaces and temples to immersing yourself in the bustling markets and vibrant art scene, each day will be filled with captivating experiences. Embrace the beauty of the Kathmandu Valley and create memories that will stay with you long after you leave.
2 Days Nepal Tour with Nagarkot
3 Days Nepal Tour with Nagarkot
4 days Nepal tour with Pokhara
5 days Nepal tour with Pokhara and Chitwan Safari
5 days Nepal tour of Kathmandu and Pokhara
6 days Nepal tour with Pokhara and Safari
7 Days Nepal tour with Pokhara, Nagarkot, and Safari
7 days Nepal Tour with rafting and safari
8 Days Nepal tour with Pokhara, Rafting, and Safari
9 Days Nepal tour with Pokhara, Lumbini, and Safari
Embrace the Adventure: Trekking (10-21 Days)
Nepal is a haven for adventure enthusiasts, particularly those seeking the ultimate trekking experience amidst the majestic Himalayas. With its rugged landscapes, pristine trails, and breathtaking views, Nepal offers a wide range of trekking options for all levels of hikers. In this blog, we will delve into the world of trekking in Nepal, highlighting some of the most popular routes and providing insights on planning a trekking adventure lasting 10-21 days.
Choosing the Right Trek:
Nepal boasts a plethora of trekking routes, each offering a unique experience. Here are three popular options for treks that can be completed within 10-21 days:
Everest Base Camp Trek (12-14 Days):
Embark on a legendary journey to the base of the world's highest peak, Mount Everest. This trek takes you through remote Sherpa villages, lush valleys, and rugged mountain passes. Marvel at stunning views of iconic peaks, including Everest, Lhotse, and Nuptse. The trek typically begins with a scenic flight from Kathmandu to Lukla, and the trail leads through Namche Bazaar, Tengboche Monastery, Dingboche, and Gorak Shep, culminating at Everest Base Camp.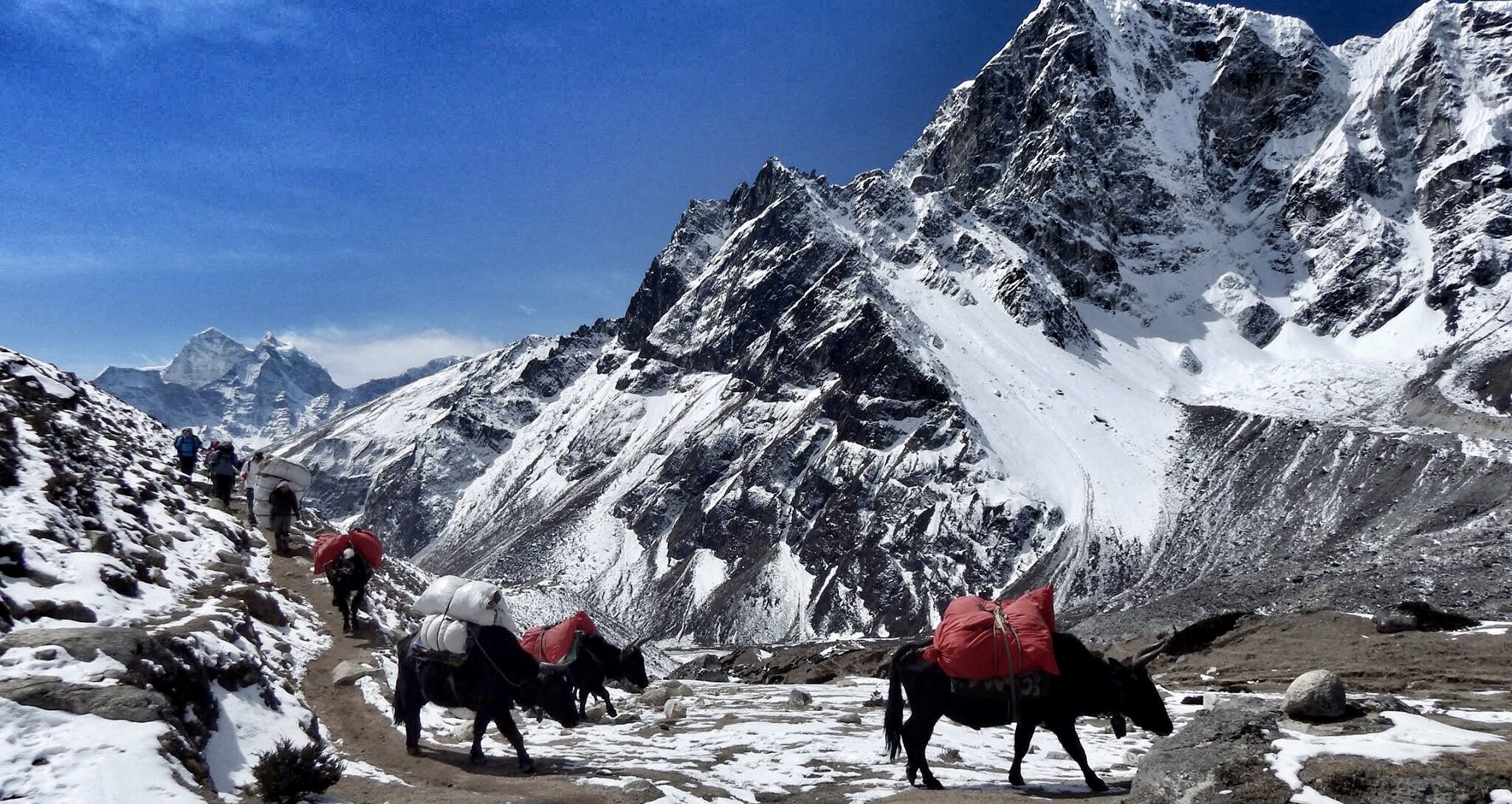 Annapurna Circuit Trek (15-21 Days):
Experience the diverse landscapes and rich cultural heritage of the Annapurna region on this classic trek. Traverse through lush green valleys, terraced farmlands, and enchanting rhododendron forests. Witness panoramic mountain vistas, including the Annapurna and Dhaulagiri ranges. The trek usually starts from Besi Sahar and encompasses iconic destinations such as Manang, Thorong La Pass, Muktinath, and Jomsom.
Langtang Valley Trek (10-12 Days):
For those seeking a shorter yet equally rewarding trek, the Langtang Valley Trek is an excellent choice. This trek takes you through the Langtang National Park, where you can witness breathtaking mountain vistas, encounter friendly Tamang and Sherpa communities, and explore the scenic Langtang Valley. The trek starts from Syabrubesi and passes through villages like Lama Hotel, Langtang Village, and Kyanjin Gompa.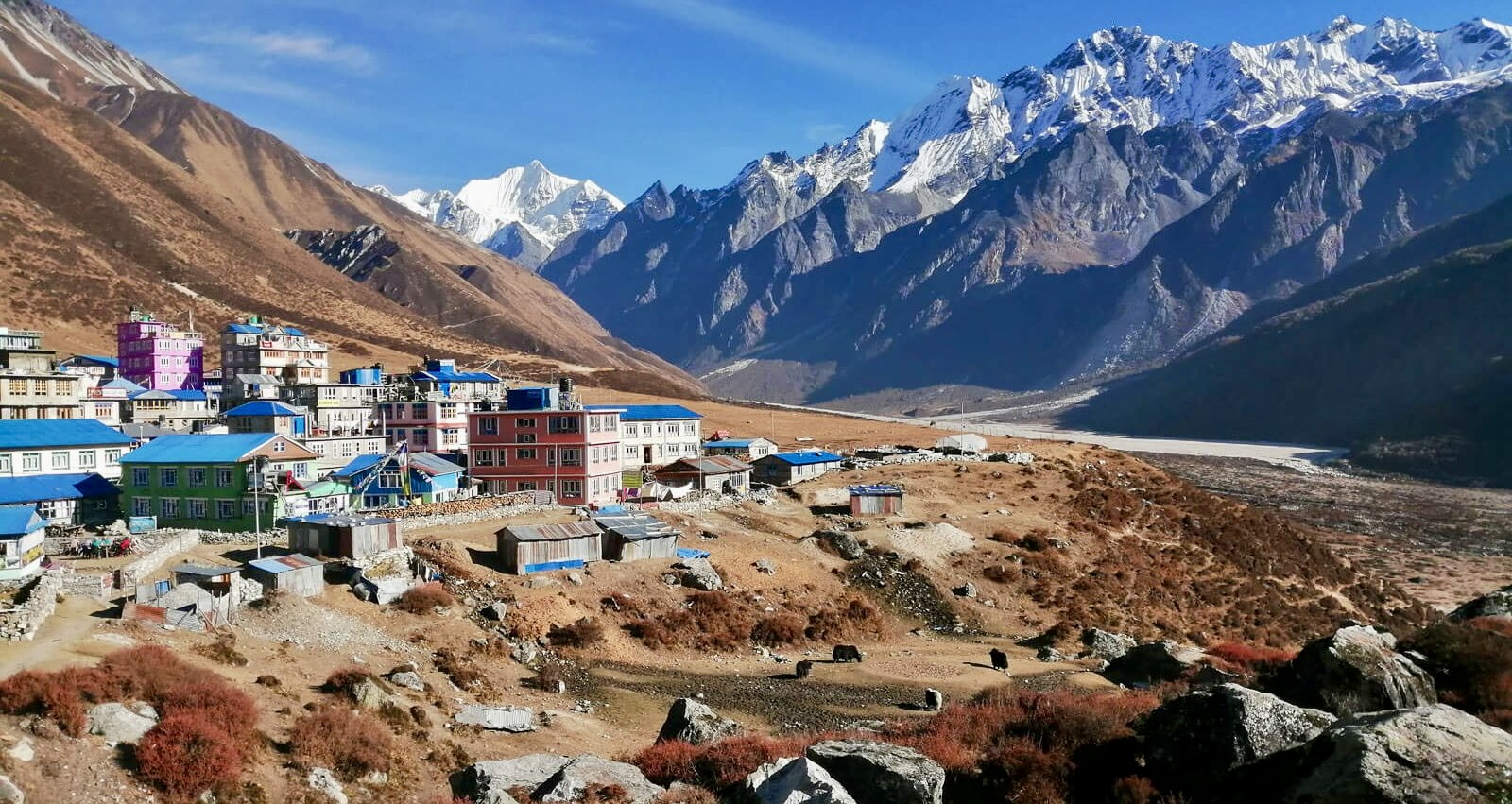 Preparation and Considerations:
Physical Fitness: Trekking in the Himalayas requires a certain level of physical fitness. Engage in regular exercise and stamina-building activities before your trip. Consult with a medical professional to ensure you are physically fit for the trek.
Permits and Documentation: Obtain the necessary permits for your trek, such as the TIMS (Trekkers' Information Management System) card and the Annapurna Conservation Area Permit (ACAP) or Sagarmatha National Park Permit, depending on your chosen route.
Equipment and Gear: Invest in quality trekking gear, including sturdy hiking boots, warm clothing layers, a comfortable backpack, a sleeping bag, and trekking poles. Consider renting or hiring equipment in Kathmandu or Pokhara if needed.
Guides and Porters: Hiring a local guide or porter can enhance your trekking experience. They provide valuable insights, assist with navigation, and ease the physical burden, allowing you to fully enjoy the journey.
Altitude Acclimatization: Acclimatization is crucial to avoid altitude sickness. Plan your itinerary with adequate rest days and gradual ascent to higher altitudes. Stay hydrated, follow proper acclimatization guidelines, and be mindful of any symptoms of altitude sickness.
Discover the Wild Side: Chitwan National Park (2-3 Days)
If you're seeking an adventure in the wilderness and a chance to encounter rare wildlife, Chitwan National Park in Nepal is the perfect destination. Located in the Terai lowlands of southern Nepal, this national park is a UNESCO World Heritage Site and offers a unique opportunity to explore diverse ecosystems and spot endangered species. In this blog, we will delve into the wonders of Chitwan National Park and provide insights on how to make the most of your 2-3 day visit.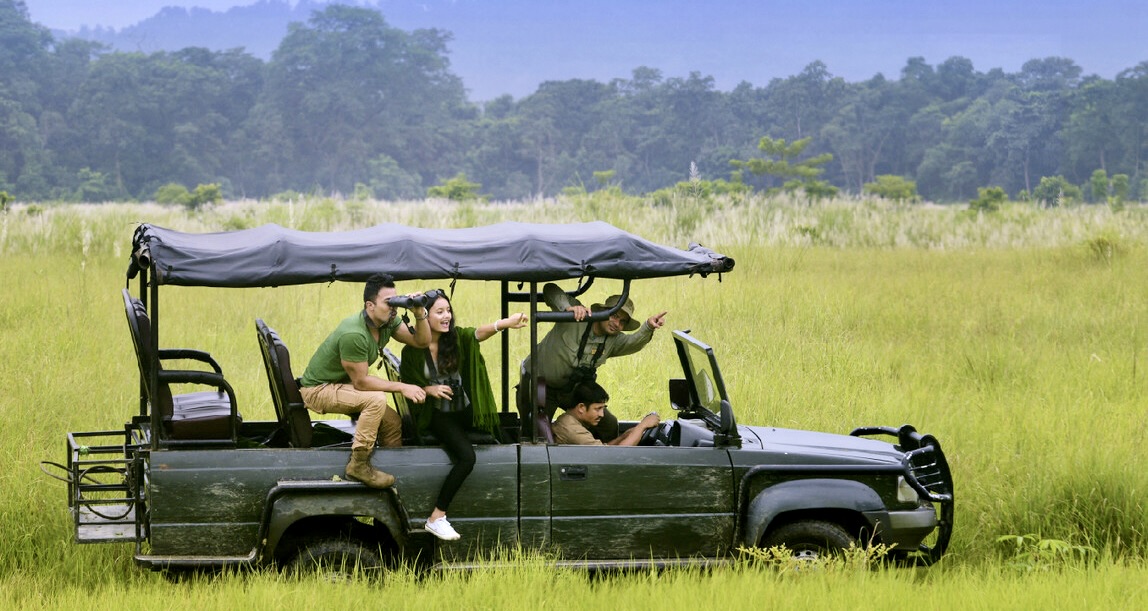 Day 1: Arrival and Jungle Safari
Upon arrival in Chitwan, settle into your accommodation and get ready for an exciting jungle safari. Start your adventure by embarking on a jeep safari or an elephant-back safari, accompanied by experienced guides. Traverse through dense forests, grasslands, and marshes as you keep an eye out for a variety of wildlife, including the elusive Bengal tiger, one-horned rhinoceros, wild elephants, deer, and an abundance of bird species. The park is also home to sloth bears, gharials (fish-eating crocodiles), and the rare Gangetic dolphins.
Day 2: Canoe Ride and Elephant Encounter
Begin your second day with a peaceful canoe ride along the Rapti or Narayani River, allowing you to observe the aquatic life, including birds, crocodiles, and possibly even river dolphins. Immerse yourself in the tranquility of the riverine ecosystem and enjoy the scenic beauty of the surroundings.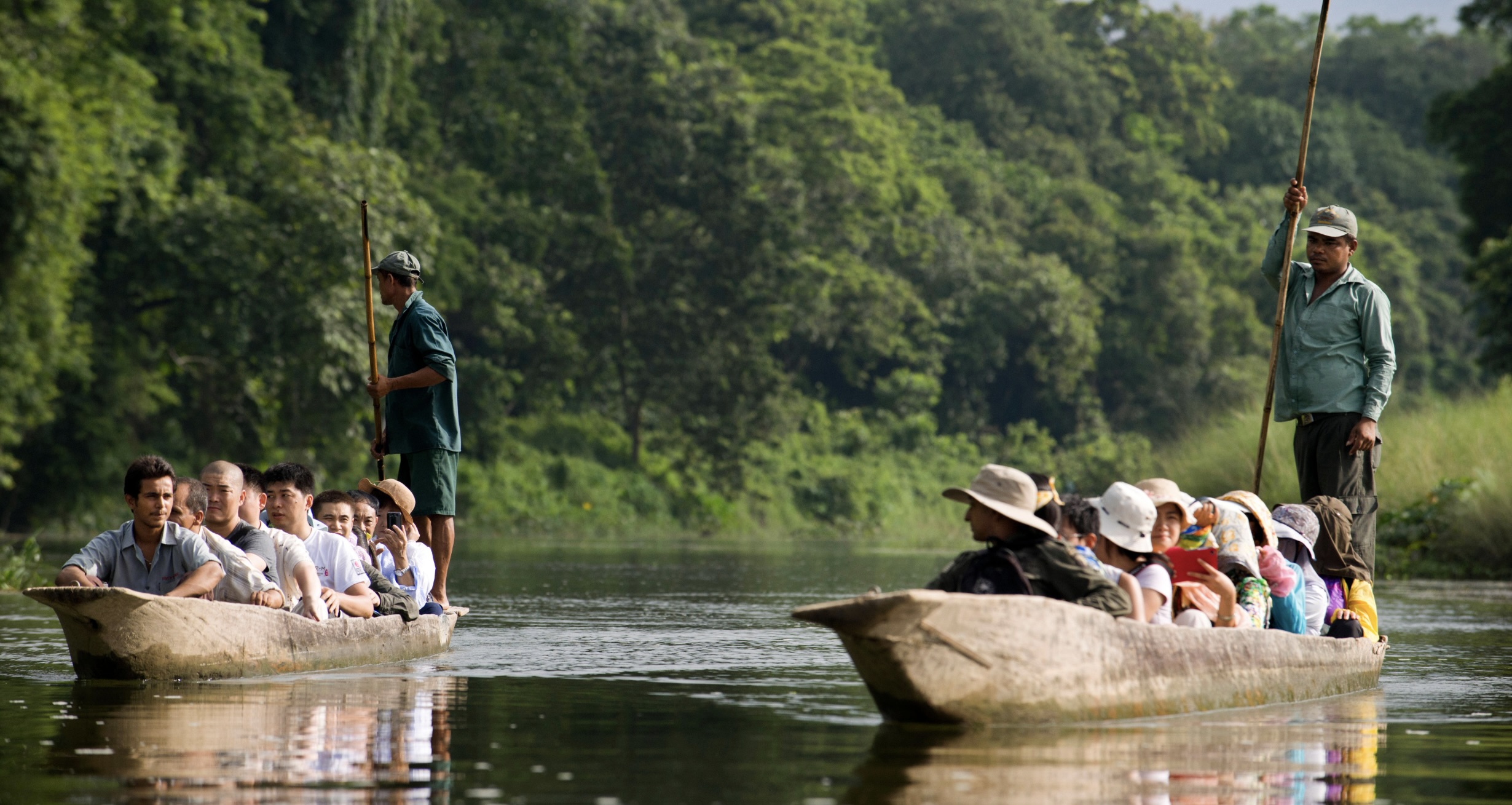 In the afternoon, engage in a memorable elephant encounter. Visit an elephant breeding center or an elephant camp and learn about these magnificent creatures. You can participate in activities like feeding, bathing, and even taking a short elephant-back ride. It's an opportunity to gain insight into the conservation efforts and the bond between humans and elephants in this region.
Day 3: Tharu Village Visit and Cultural Experience
Dedicate your final day to experiencing the rich cultural heritage of the Tharu community. The Tharus are an indigenous ethnic group residing in the Terai region, known for their unique traditions, vibrant dances, and craftsmanship. Take a guided tour of a Tharu village and interact with the locals, gaining insights into their way of life, traditional farming practices, and unique mud-and-thatch houses. Witness captivating Tharu cultural performances, including their energetic dances and melodic music.
Optional Activities:
If you have an additional day, consider including the following activities in your itinerary:
Nature Walks: Join experienced naturalists for guided nature walks within the park's buffer zone. Explore the lush forests, spot birds and smaller wildlife, and learn about the local flora and fauna.
Birdwatching: Chitwan National Park is a paradise for bird lovers. Embark on a birdwatching excursion with a knowledgeable guide and spot a variety of colorful and rare bird species.
Jeep Safari Extension: Extend your jungle safari by exploring deeper areas of the park in a jeep. Venture into remote corners and increase your chances of spotting elusive wildlife.
A visit to Chitwan National Park offers an unforgettable wildlife experience and a glimpse into the cultural heritage of the Tharu community. Whether you're exploring the wilderness on a thrilling safari, observing majestic elephants up close, or immersing yourself in the traditions of the Tharu people, Chitwan National Park promises a truly remarkable adventure. So, pack your binoculars, embrace the wild side, and create lasting memories in this pristine natural haven.
Trace the Steps of Buddha: Lumbini (1-2 Days)
Lumbini, located in the Terai plains of Nepal, holds immense religious and historical significance as the birthplace of Lord Buddha, the founder of Buddhism. This sacred pilgrimage site attracts Buddhist devotees and curious travelers from around the world who seek to immerse themselves in the aura of tranquility and spirituality. In this blog, we will guide you through the highlights of Lumbini and suggest an ideal itinerary for a 1-2 day visit to this sacred destination.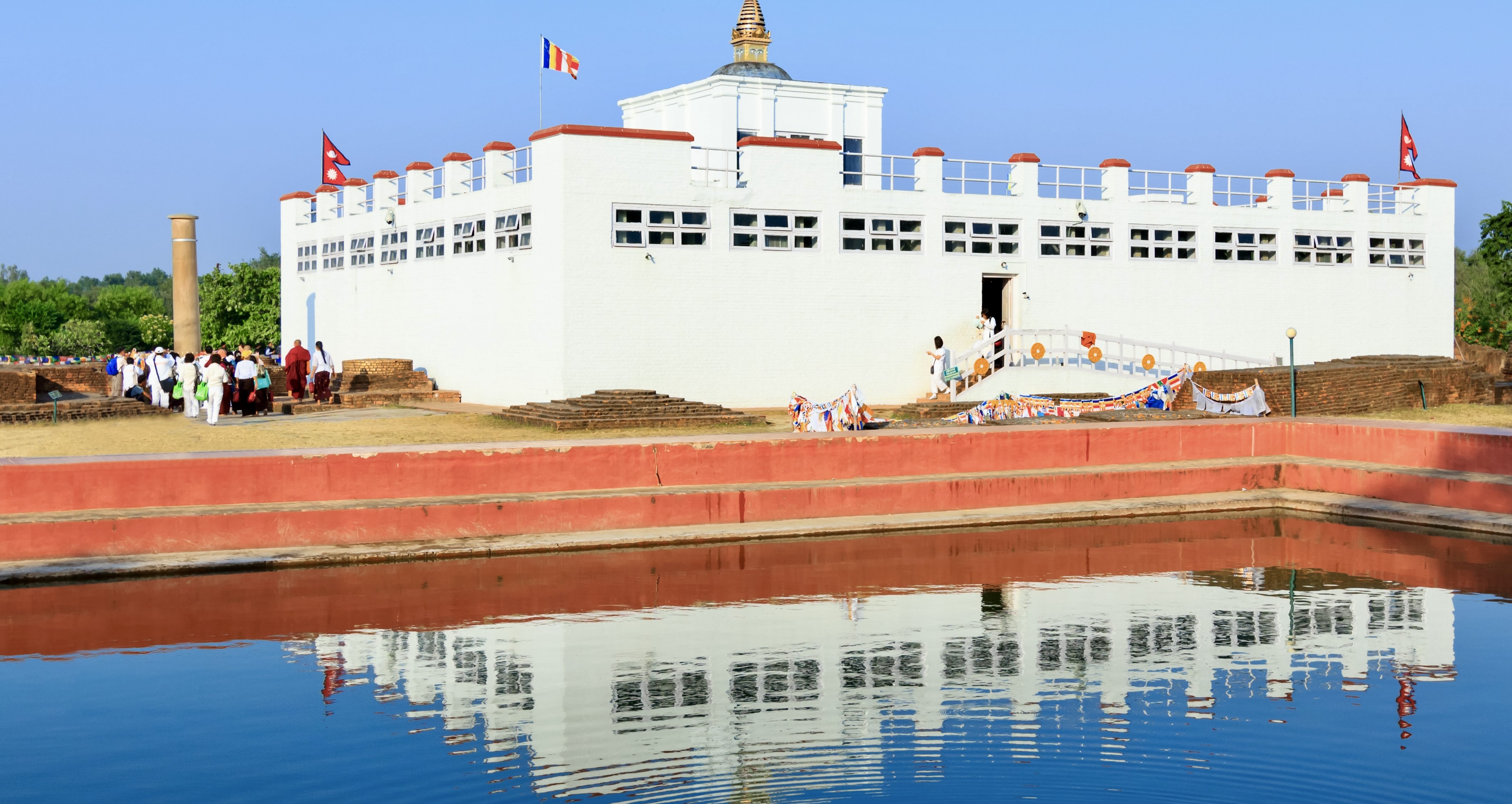 Day 1: Arrival and Exploration of Lumbini Gardens
Upon arrival in Lumbini, check into your accommodation and begin your spiritual journey by visiting the Lumbini Development Zone. This expansive complex, spread over 6 square kilometers, encompasses the major sites associated with Buddha's birth and enlightenment. Start your exploration with a visit to the Sacred Garden, the heart of Lumbini.
Maya Devi Temple: Begin your pilgrimage at the Maya Devi Temple, the main shrine in the Sacred Garden. This temple marks the exact spot where Queen Maya Devi gave birth to Prince Siddhartha Gautam, who later became the Buddha. Enter the temple and witness the holy marker stone and the sacred pond where Queen Maya Devi is said to have bathed before giving birth.
Ashoka Pillar: Next, marvel at the Ashoka Pillar, erected by Emperor Ashoka of India in the 3rd century BCE. This pillar bears an inscription stating the significance of Lumbini as the birthplace of Buddha.
Bodhi Tree: Pay homage to the Bodhi Tree, a descendant of the original tree in Bodhgaya under which Buddha attained enlightenment. Meditate under its shade and reflect upon Buddha's teachings.
Lumbini Museum: Visit the Lumbini Museum to gain insights into the history, art, and archaeological discoveries of the region. The museum houses a remarkable collection of ancient artifacts and exhibits related to Buddhism.
Day 2: Monastery Visits and Peaceful Reflection
On your second day, dedicate your time to exploring the monastic zones and various international monasteries within the Lumbini Development Zone. Each monastery represents different Buddhist traditions from around the world and offers a unique architectural and cultural experience.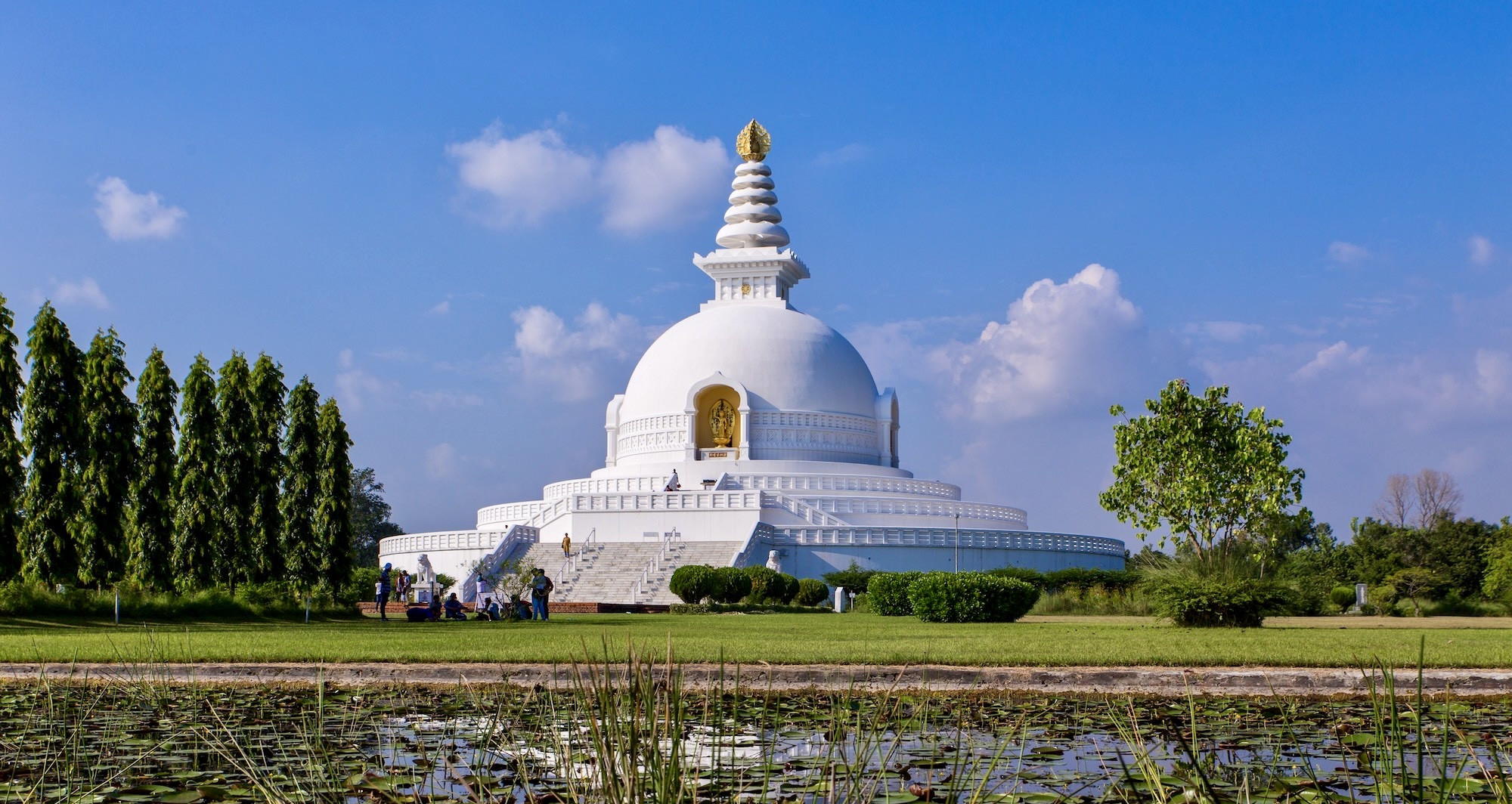 Visit International Monasteries: Explore monasteries constructed by different countries, such as Thailand, Japan, Myanmar, China, and more. Admire the stunning architectural designs, intricate artwork, and serene surroundings. Interact with resident monks and nuns, engage in meditation or chanting sessions, and learn about diverse Buddhist practices and cultures.
Peaceful Reflection: Take time for personal reflection and meditation in the peaceful ambiance of Lumbini. Find a tranquil spot within the gardens or by the banks of the sacred canal and immerse yourself in the serenity of the surroundings. Embrace the spiritual energy and contemplate the teachings of Buddha.
Optional Activities:
If you have additional time, consider including the following activities in your itinerary:
Visit the Eternal Peace Flame: Pay homage to the Eternal Peace Flame, a symbol of peace and harmony in Lumbini. This perpetual flame was lit by the late King Birendra of Nepal and represents the universal message of Buddha.
Explore Tilaurakot: Take a half-day excursion to Tilaurakot, located about 27 kilometers west of Lumbini. This ancient fortified city is believed to be the capital of the Shakya kingdom, where Prince Siddhartha spent his early years.
A visit to Lumbini offers a profound spiritual experience as you trace the footsteps of Buddha and immerse yourself in the birthplace of Buddhism. The serene atmosphere, sacred sites, and diverse monastic zones provide a unique opportunity for introspection, meditation, and cultural exploration. Whether you spend one day or extend your visit to two days, Lumbini promises a transformative journey that connects you with the essence of Buddha's teachings and leaves a lasting impression of peace and enlightenment.
2 Days Nepal Tour with Nagarkot
3 Days Nepal Tour with Nagarkot
4 days Nepal tour with Pokhara
5 days Nepal tour with Pokhara and Chitwan Safari
5 days Nepal tour of Kathmandu and Pokhara
6 days Nepal tour with Pokhara and Safari
7 Days Nepal tour with Pokhara, Nagarkot, and Safari
7 days Nepal Tour with rafting and safari
8 Days Nepal tour with Pokhara, Rafting, and Safari
9 Days Nepal tour with Pokhara, Lumbini, and Safari
Relax in Nature's Lap: Pokhara (3-5 Days)
Nestled amidst the tranquil foothills of the Himalayas, Pokhara is a picturesque city in Nepal that captivates visitors with its natural beauty, serene lakes, and breathtaking mountain views. Whether you seek adventure, relaxation, or a spiritual retreat, Pokhara offers a perfect blend of nature and culture. In this blog, we will guide you through the highlights of Pokhara and suggest an ideal itinerary for a 3-5 day visit to this enchanting destination.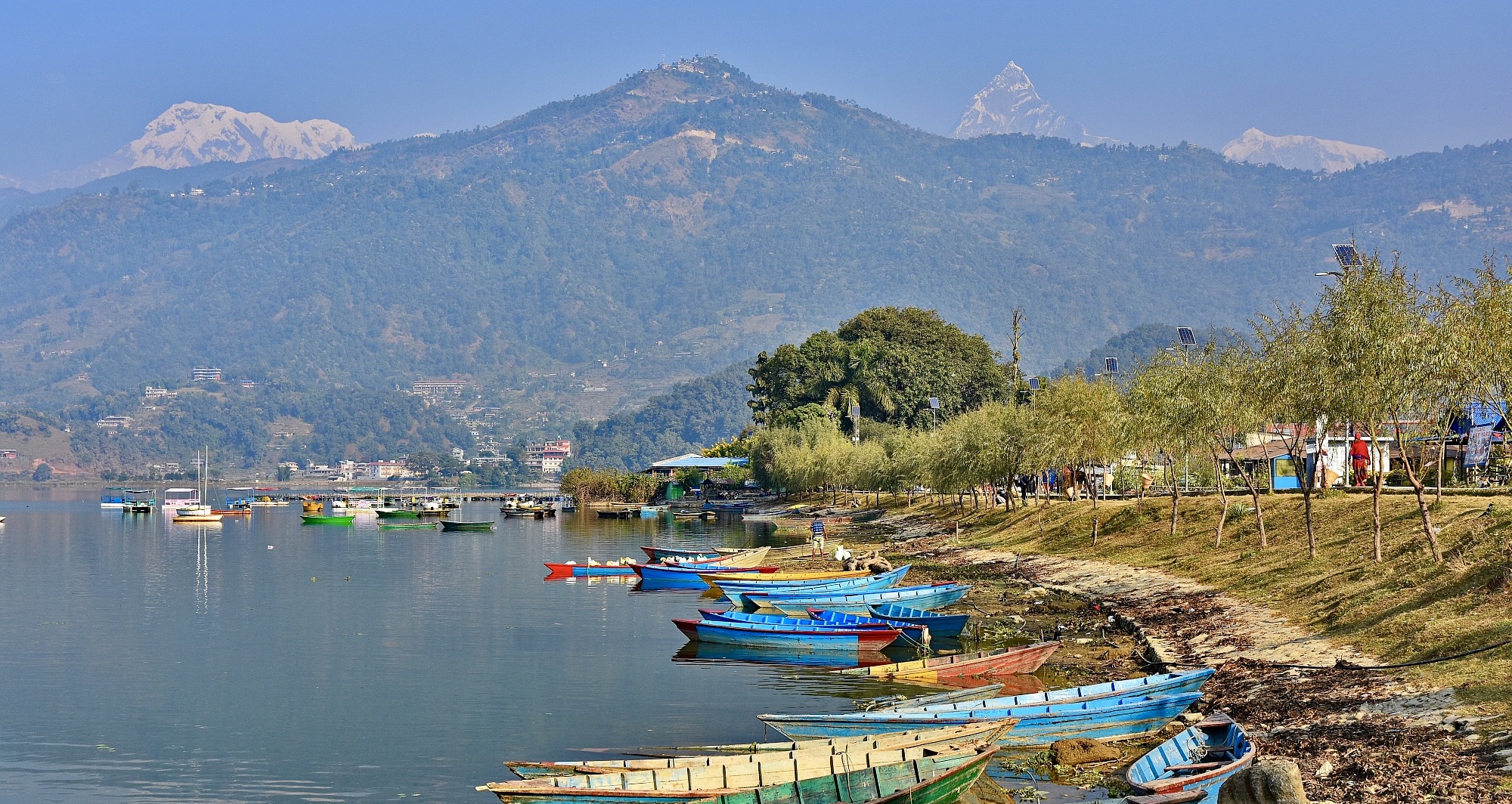 Day 1: Explore Pokhara City and Lakeside
Upon arrival in Pokhara, settle into your accommodation and embark on a journey of exploration. Start by exploring Pokhara City, and visiting its vibrant markets, temples, and cultural sites. Highlights include:
Old Bazaar: Wander through the narrow lanes of the Old Bazaar, where you can experience the authentic local lifestyle, shop for souvenirs, and sample traditional Nepali cuisine.
Bindhyabasini Temple: Pay a visit to Bindhyabasini Temple, a sacred Hindu temple dedicated to the goddess Durga. Seek blessings and soak in the spiritual ambiance.
Seti River Gorge: Marvel at the beauty of the Seti River Gorge, where the milky-white river flows through a deep gorge, creating an awe-inspiring sight.
In the evening, head to Lakeside, a vibrant and popular tourist area along the banks of Phewa Lake. Enjoy lakeside strolls, browse the shops, dine at lakeside restaurants, and witness the stunning sunset over the lake.
Day 2: Sunrise and Nature's Beauty
Rise early to experience the mesmerizing sunrise over the Himalayan peaks from Sarangkot Hill. Take a short drive or hike up the hill and witness the breathtaking panorama of the Annapurna and Dhaulagiri mountain ranges, bathed in golden hues.
Afterward, visit the International Mountain Museum, which showcases the cultural and mountaineering history of the Himalayas. Explore its exhibits, artifacts, and displays dedicated to the mountains and the mountaineers who have conquered them.
In the afternoon, embark on a peaceful boating excursion on Phewa Lake. Rent a boat and glide across the pristine waters, soaking in the tranquility and admiring the reflection of the surrounding mountains on the lake's surface. You can also visit the Tal Barahi Temple located on a small island in the middle of the lake.
Day 3: Adventure and Nature's Wonders
For adrenaline seekers, Pokhara offers a plethora of adventure activities. Choose from paragliding, zip-lining, or even a thrilling ultralight flight to soar above Pokhara's landscapes and enjoy breathtaking aerial views of the city and the mountains.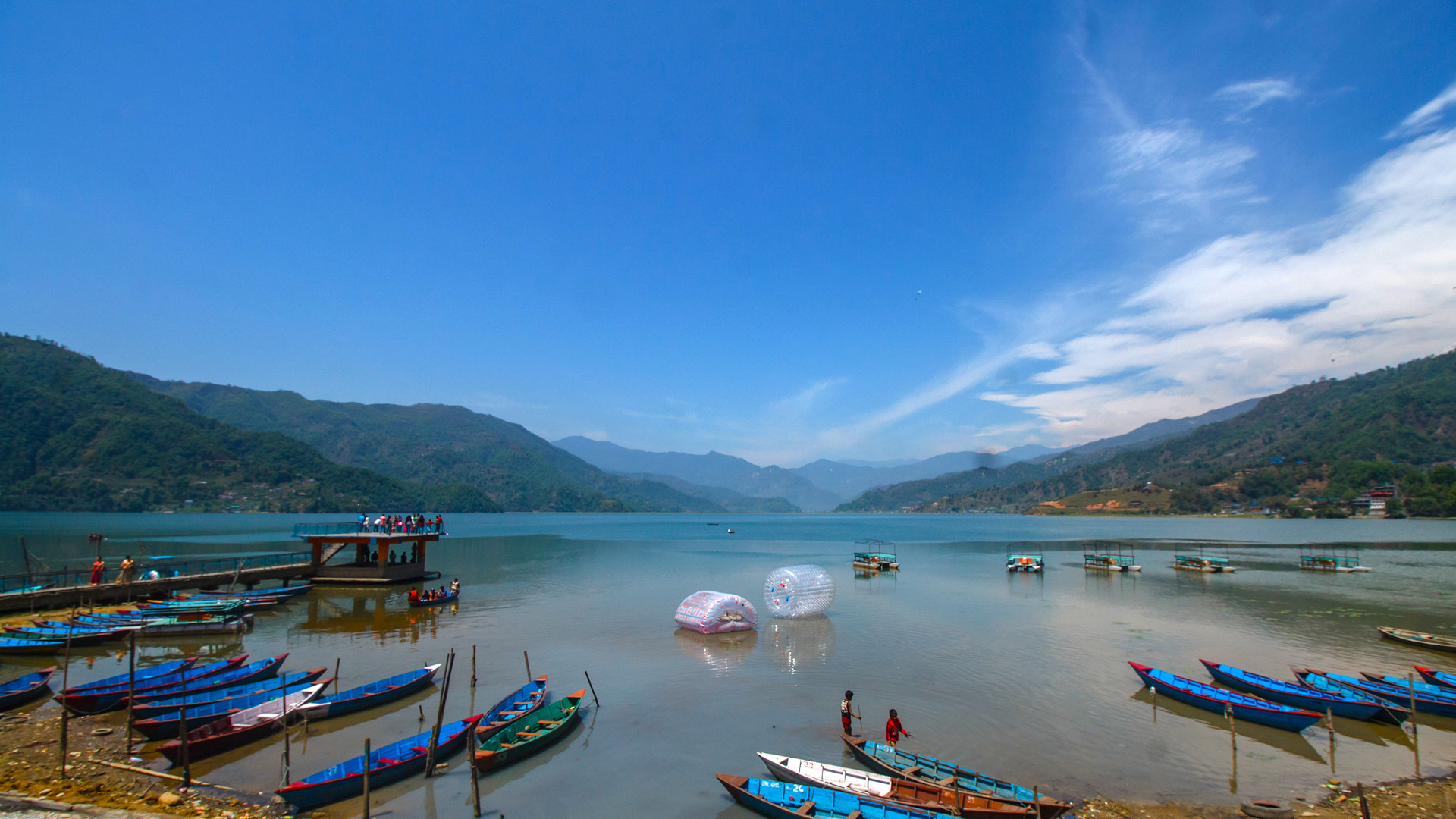 In the afternoon, explore the serene and mystical Davis Falls (also known as Patale Chhango). Witness the waterfall plunging into an underground cavern and feel the misty spray on your face.
Visit the nearby Gupteshwor Mahadev Cave, an ancient Hindu cave temple. Marvel at the stalactites, stalagmites, and the impressive Shiva lingam inside the cave.
Optional Day 4-5: Excursions and Relaxation
If you have additional days to spare, consider adding the following activities to your itinerary:
Sarangkot Hiking: Embark on a scenic hike to Sarangkot Hill, enjoying panoramic views along the way. Spend the night at Sarangkot and wake up to another stunning sunrise.
Peace Pagoda: Take a boat ride across Phewa Lake and hike up to the Peace Pagoda. Enjoy the serene surroundings and panoramic views of Pokhara City and the mountains.
R&R at Lakeside: Indulge in relaxation and rejuvenation at the lakeside. Pamper yourself with a massage, practice yoga, or simply unwind by the lake, absorbing the peaceful ambiance.
Pokhara, with its natural beauty, serene lakes, and adventure opportunities, offers a perfect escape for nature lovers and adventure seekers alike. Whether you spend 3-5 days, the city's blend of cultural heritage, stunning landscapes, and recreational activities will leave you enchanted and rejuvenated. Embrace the tranquility, indulge in adventure, and create lasting memories amidst nature's lap in Pokhara.
A Serene Getaway: Bandipur or Nagarkot (1-2 Days)
If you're looking for a serene and peaceful getaway from the bustling cities of Nepal, both Bandipur and Nagarkot offer idyllic retreats with breathtaking views and tranquil surroundings. Bandipur, a hilltop town in central Nepal, and Nagarkot, a scenic hill station near Kathmandu, provide a perfect escape to rejuvenate amidst nature's beauty. In this blog, we will explore the highlights of Bandipur and Nagarkot, and suggest an ideal itinerary for a 1-2 day visit to these serene destinations.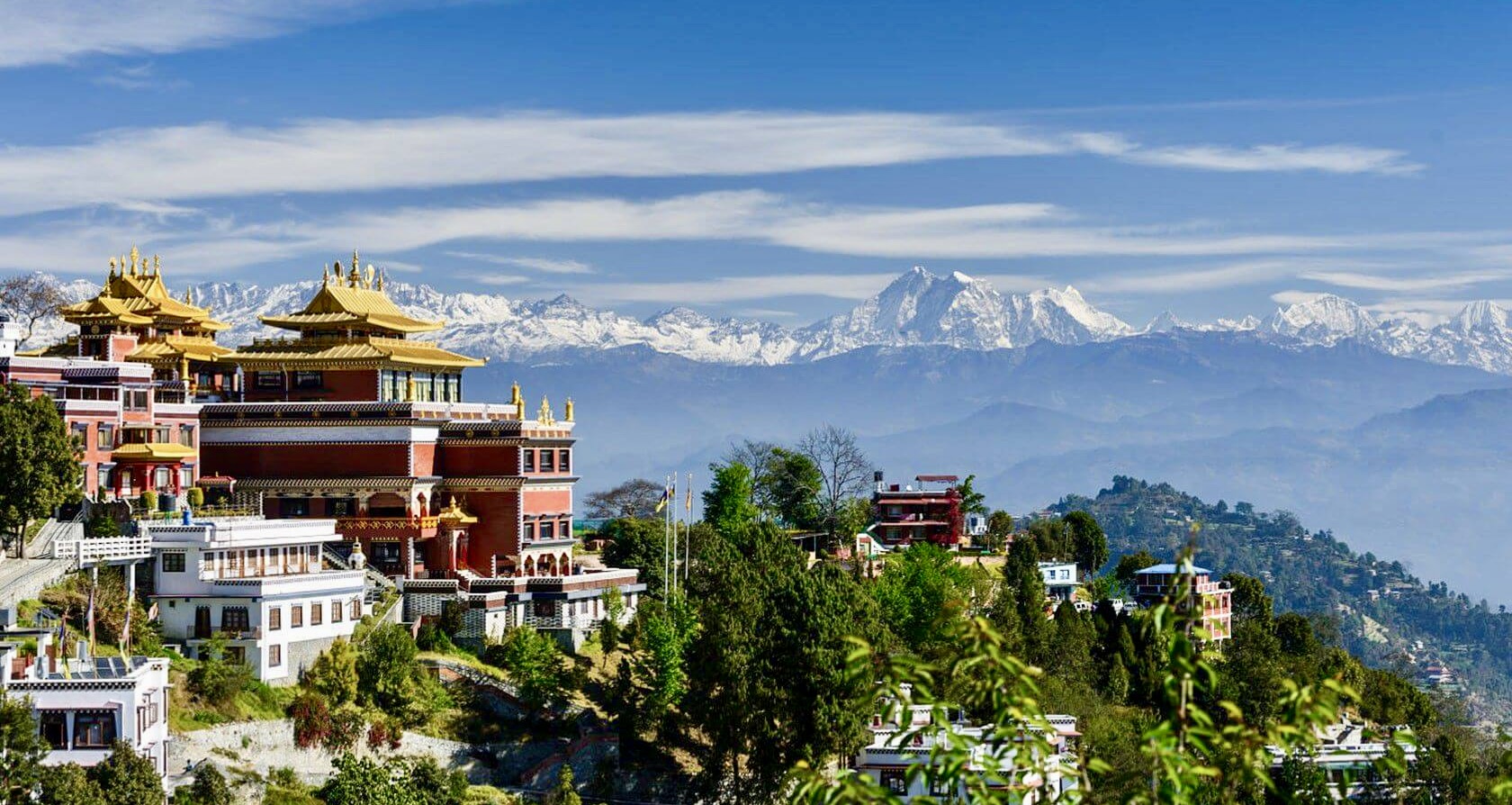 Bandipur: A Step Back in Time
Day 1: Arrival and Exploring Bandipur
Upon arrival in Bandipur, you'll instantly be transported back in time with its well-preserved Newari architecture and traditional charm. Spend your day exploring the town and immersing yourself in its unique ambiance.
Discover Bandipur Bazaar: Begin your exploration in the heart of Bandipur, its historic bazaar. Stroll through the narrow, cobblestone streets lined with beautifully preserved Newari buildings, traditional shops, and ancient temples. Take in the sights, sounds, and flavors of this charming town.
Bindabasini Temple: Visit Bindabasini Temple, a significant religious site in Bandipur. The temple is dedicated to the Hindu goddess Durga and offers panoramic views of the surrounding hills and valleys.
Tundikhel Viewpoint: Hike up to Tundikhel, a viewpoint that offers breathtaking panoramic views of the Himalayan ranges, including Manaslu, Ganesh Himal, and Langtang. Enjoy the serene beauty of the mountains and soak in the tranquility.
Day 2: Siddha Cave and Hiking Trails
On your second day in Bandipur, venture beyond the town and explore the surrounding natural wonders.
Siddha Cave: Embark on a short trip to Siddha Cave, one of the largest caves in Nepal. Explore the mystical underground chambers, admire the stalactites and stalagmites, and learn about the geological formations.
Ramkot Village Hike: Take a hike to the nearby Ramkot Village, passing through terraced fields, quaint settlements, and lush forests. Enjoy the scenic beauty and immerse yourself in the rural charm of the region.
Nagarkot: Majestic Mountain Views
Day 1: Arrival and Sunset at Nagarkot
Upon arrival in Nagarkot, you'll be greeted by awe-inspiring mountain vistas and a serene atmosphere. Spend your day relaxing and immersing yourself in the natural beauty of the area.
Enjoy Sunset Views: Nagarkot is famous for its breathtaking sunrise and sunset views over the Himalayas. Find a cozy spot, perhaps at your hotel or at one of the viewpoints, and witness the golden hues illuminating the snow-capped peaks.
Explore the Surroundings: Take leisurely walks around Nagarkot and enjoy the fresh mountain air. Marvel at the panoramic views of the Himalayan range, including Everest, Annapurna, Manaslu, and Ganesh Himal.
Day 2: Sunrise and Hiking Trails
Wake up early to witness the magical sunrise casting a golden glow on the mountains.
Sunrise Experience: Find a vantage point to observe the sunrise over the Himalayas. Watch as the first rays of light illuminate the majestic peaks, creating a mesmerizing spectacle.
Hiking Options: Nagarkot offers various hiking trails for nature enthusiasts. Embark on a hike through the surrounding hills and forests, enjoying the tranquility and the stunning natural beauty along the way.
Add More Flavor to Your Journey
No travel experience is complete without indulging in the local cuisine and immersing oneself in the cultural delights of a destination. To enhance your journey in Nepal, it's essential to savor the unique flavors of Nepali cuisine, explore traditional markets, and engage in cultural activities. In this blog, we will guide you on how to add more flavor to your journey by experiencing local cuisine and cultural delights throughout Nepal.
Nepali Cuisine:
Nepali cuisine is a delightful blend of flavors influenced by regional ingredients and traditional cooking techniques. Here are some must-try dishes:
Dal Bhat: The quintessential Nepali dish, consisting of lentil soup (dal), rice (bhat), and a variety of side dishes like vegetables, curries, pickles, and papad.
Momo: These steamed or fried dumplings filled with meat or vegetables are a Nepali favorite. Don't miss out on trying momos with spicy chutney.
Newari Delicacies: Explore the Newari cuisine, known for its unique flavors. Enjoy dishes like Choila (spiced grilled meat), Bara (lentil pancake), and Samay Baji (a platter of beaten rice with various condiments).
Juju Dhau: Treat yourself to Juju Dhau, a creamy and delicious yogurt unique to Bhaktapur. It's often enjoyed as a dessert or a sweet snack.
Traditional Markets:
Venture into the vibrant traditional markets of Nepal to immerse yourself in the local culture and taste the authentic flavors. Here are a few markets to visit:
Ason Bazaar (Kathmandu): Explore the bustling lanes of Ason Bazaar, filled with spice shops, colorful produce, traditional sweets, and local snacks. Take in the sights, smells, and flavors of the market.
Boudha Bazaar (Kathmandu): Visit Boudha Bazaar, surrounding the magnificent Boudhanath Stupa. Explore the stalls selling Tibetan handicrafts, prayer flags, incense, and traditional Tibetan food.
Lakeside Market (Pokhara): Browse through the shops and stalls of Lakeside Market, offering a variety of souvenirs, clothing, and locally made handicrafts. Don't miss the opportunity to sample local snacks and sweets.
Cultural Activities:
Immerse yourself in the rich cultural heritage of Nepal through engaging activities:
Cultural Shows: Attend traditional cultural shows featuring vibrant dances like the Nepali folk dance, Newari dances, and cultural performances showcasing different ethnic groups.
Henna Art: Get your hands adorned with beautiful henna art, a traditional form of body decoration. Experience this intricate art form and appreciate its significance in Nepali culture.
Thangka Painting: Learn the art of Thangka painting, a traditional Buddhist art form. Join a workshop and create your own Thangka masterpiece under the guidance of skilled artisans.
Homestay Experience: Opt for a homestay in a local village to immerse yourself in the daily lives of Nepali families. Participate in cooking classes, learn traditional recipes, and enjoy authentic home-cooked meals.
By adding the flavors of Nepali cuisine and engaging in cultural activities, you will elevate your journey to Nepal. Indulge in the diverse flavors of local dishes, explore bustling markets, and partake in cultural experiences to create lasting memories and truly embrace the essence of Nepal's culinary and cultural heritage.
So, how long to stay in Nepal? A minimum of two weeks will let you experience the major highlights. If you're keen on trekking and more in-depth exploration, plan for 3-4 weeks. Remember, these are rough guidelines - everyone's pace and interests vary. It's always a good idea to include buffer time for potential delays or spontaneous detours!
In Nepal, it's not just about the destination; it's also about the journey. Embrace the unexpected, relish the serenity, and let the diverse landscapes and rich culture create memories that will last a lifetime. Here's to your unforgettable Nepalese adventure!
Frequently Asked Questions on How Many Days to Spend in Nepal
Q: How many days should I spend in Nepal?
A: The duration of your stay in Nepal depends on several factors, including your interests, available time, and the activities you wish to undertake. For a comprehensive experience, a minimum of 10-14 days is recommended to explore popular destinations like Kathmandu, Pokhara, and go on a trek. However, even a shorter stay of 5-7 days can provide a glimpse of Nepal's cultural and natural wonders. Ultimately, it's best to plan according to your preferences and the specific regions and activities you wish to prioritize.
Q: Can I experience Nepal in just a few days?
A: While Nepal is a diverse and vast country, it is still possible to have a meaningful experience in just a few days. If you have limited time, focusing on specific areas such as Kathmandu and its UNESCO World Heritage Sites, or going on a shorter trek like Ghorepani Poon Hill Trek, can provide you with a taste of Nepal's culture and natural beauty. It's important to prioritize your interests and plan accordingly to make the most of your time.
Q: How many days should I allocate for trekking in Nepal?
A: The duration of a trek in Nepal depends on the specific route and difficulty level you choose. Popular treks like the Everest Base Camp Trek or Annapurna Circuit Trek typically require around 12-14 days. However, there are shorter treks available, such as the Ghorepani Poon Hill Trek or Langtang Valley Trek, which can be completed in 4-7 days. If you have the time and physical fitness, allocating more days for trekking allows for acclimatization and a more immersive experience.
Q: Is it necessary to acclimatize when trekking in Nepal?
A: Yes, acclimatization is crucial when trekking in Nepal, especially in higher altitude regions. It allows your body to adjust to the lower oxygen levels and helps prevent altitude sickness. Most trek itineraries include acclimatization days to ensure your safety and well-being. It's important to listen to your body, drink plenty of fluids, and follow the guidance of your trekking guide to acclimatize properly.
Q: What is the best time of year to visit Nepal?
A: The best time to visit Nepal is during the spring (March to May) and autumn (September to November) seasons. These months offer stable weather, clear skies, and moderate temperatures, making them ideal for trekking and sightseeing. However, Nepal can be visited year-round, with each season offering unique experiences. Winter (December to February) provides opportunities for low-altitude treks and cultural exploration, while the monsoon season (June to August) brings lush greenery and is suitable for rainforest treks and cultural tours in the lower regions.
Q: Do I need a visa to enter Nepal?
A: Yes, most visitors to Nepal require a visa. You can obtain a visa on arrival at Tribhuvan International Airport in Kathmandu or at certain land border crossings. Some nationalities are also eligible for an e-visa, which can be obtained in advance online. It's important to check the visa requirements specific to your nationality and ensure that your passport is valid for at least six months beyond your intended stay in Nepal.
Q: Is it safe to travel to Nepal?
A: As of my knowledge cutoff in September 2021, Nepal is generally safe for tourists. Like any other place, travelers should be mindful of their surroundings and take precautions, especially against petty crimes such as pickpocketing in crowded areas.
Q: What should I pack for my trip to Nepal?
A: What to pack depends largely on your activities and the time of your visit. For trekking, bring good hiking boots, warm clothing, rain gear, a first aid kit, sunscreen, and water purifiers. For city exploration, comfortable shoes, modest clothing respecting local cultures, and a good map or guidebook are advisable. Also, don't forget essentials like travel documents, personal hygiene items, and any necessary medication.
Q: How difficult are the treks in Nepal?
A: The difficulty of treks in Nepal varies greatly depending on the trail. Treks like the Everest Base Camp or Annapurna Circuit are considered challenging and require good physical fitness. However, there are easier treks, like Ghorepani Poon Hill, suitable for beginners or those with limited time. Always ensure you're well-prepared and acclimatized to prevent altitude sickness.
Q: Can I use credit cards in Nepal?
A: Credit cards are accepted in many hotels, restaurants, and shops in major cities like Kathmandu and Pokhara. However, smaller establishments and remote areas might only accept cash. It's advisable to carry some local currency (Nepalese Rupees) with you.
Q: Do I need to hire a guide for trekking?
A: While it's possible to trek independently in some regions, hiring a guide is highly recommended, especially for less experienced trekkers. Guides can ensure safety, help with communication, provide valuable information about the area, and support the local economy.
2 Days Nepal Tour with Nagarkot
3 Days Nepal Tour with Nagarkot
4 days Nepal tour with Pokhara
5 days Nepal tour with Pokhara and Chitwan Safari
5 days Nepal tour of Kathmandu and Pokhara
6 days Nepal tour with Pokhara and Safari
7 Days Nepal tour with Pokhara, Nagarkot, and Safari
7 days Nepal Tour with rafting and safari
8 Days Nepal tour with Pokhara, Rafting, and Safari
9 Days Nepal tour with Pokhara, Lumbini, and Safari
Important Articles regarding of Best Place to Visit in Asia
If you need any further information, please contact us, Email: at [email protected], Phone: at +977- 985 100 5129 (WhatsApp)