Dhampus Peak, popularly known as Thapa Peak, stands majestically within the Dhaulagiri mountain range of Nepal. With an elevation of 6,012 meters (19,724 feet) above sea level, this trekking peak offers a harmonious blend of challenge and beauty, making it a sought-after destination for trekkers and mountaineers alike.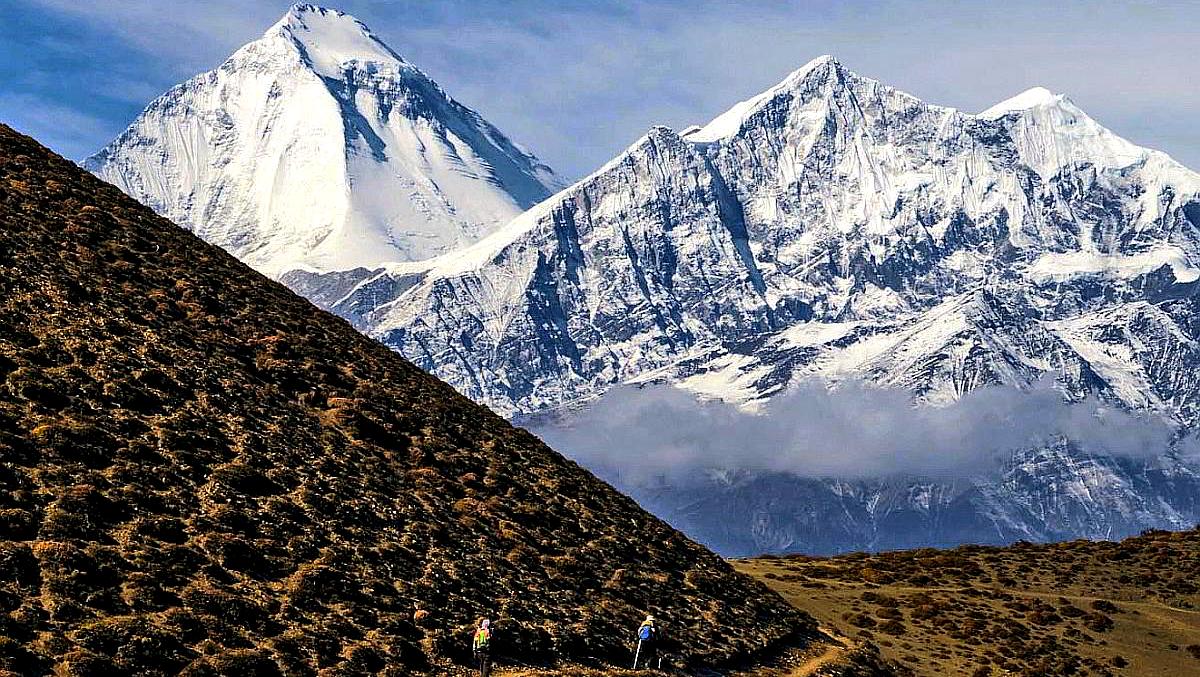 Situated amidst the grandeur of the Himalayas, the peak provides climbers with unparalleled panoramas. From its summit, one can behold the magnificent views of Mount Dhaulagiri, Annapurna, Tukuche Peak, and several other majestic Himalayan giants. This visual spectacle, combined with the pristine natural surroundings, offers a truly sublime mountaineering experience.
The allure of Dhampus Peak is not limited to its landscapes. The journey to its base camp takes adventurers through verdant forests, terraced fields, and traditional Nepali villages. Here, trekkers get an intimate glimpse of the local Gurung and Magar communities, enriching their journey with cultural insights and warm local interactions.
The climb, while moderately challenging, is accessible to those with basic mountaineering skills. Some technical sections require proper gear and roping, but with adequate preparation and acclimatization, many climbers find the ascent both thrilling and rewarding.
In essence, Dhampus Peak stands as a testament to the allure of the Nepali Himalayas. Offering a mix of natural beauty, cultural immersion, and mountaineering challenges, it's a destination that promises an unforgettable adventure for those who dare to ascend its slopes.
Highlights of Dhampus Peak
Elevated Beauty: Standing at 6,012 meters (19,724 feet) in the Dhaulagiri mountain range, Dhampus Peak offers a challenging yet rewarding trekking experience.

Panoramic Vistas: The summit provides breathtaking views of renowned Himalayan giants, including Mount Dhaulagiri, Annapurna, and Tukuche Peak.

Cultural Insights: The trek route offers an intimate glimpse of traditional Nepali mountain life, especially the Gurung and Magar communities, enriching the journey with cultural immersion.

Diverse Flora and Fauna: As trekkers ascend the peak, they pass through lush rhododendron forests and might spot various bird species native to the region.

Moderate Challenge: While certain sections of the climb are technical, requiring roping and specific gear, the peak is accessible to climbers with basic mountaineering skills.

Strategic Location: Dhampus Peak's location between the Annapurna and Dhaulagiri ranges makes it an excellent vantage point for witnessing the vastness of the Himalayas.

Authentic Trekking Experience: Unlike some of the more commercial trekking routes, Dhampus Peak offers a more untouched and serene trekking environment.

Seasonal Beauty: Whether trekking during the rhododendron bloom in spring or experiencing the clear skies of autumn, each season offers a unique perspective of the peak's beauty.

Safety and Acclimatization: With proper acclimatization stops, the risk of Acute Mountain Sickness (AMS) is minimized, ensuring a safer trekking experience.

Versatile Approach Routes: Trekkers can opt for various routes, either starting from the town of Pokhara or combining the journey with other trails leading towards the Annapurna region.
Elevation and Details
Height: Dhampus Peak, also commonly referred to as Thapa Peak, stands at an elevation of 6,012 meters (19,724 feet) above sea level.
Location: Dhampus Peak is nestled within the Dhaulagiri mountain range of the Nepalese Himalayas. The peak is positioned to the northeast of the massive Dhaulagiri I, which is the seventh-highest mountain in the world. The peak offers commanding views of the Annapurna and Dhaulagiri ranges.
Climbing: Dhampus Peak is categorized as a "trekking peak" in Nepal, which means that it's considered one of the more accessible peaks for climbers, especially when compared to some of the higher and more technically challenging peaks in the region. The ascent to the summit is non-technical, but climbers should still be well-acquainted with basic mountaineering skills and be physically fit.
Views from the Summit: One of the primary reasons for the peak's popularity is the panoramic vista it offers. Climbers are rewarded with unobstructed views of Tukuche Peak and Dhaulagiri I to the west, the Annapurna range to the north and northeast, and the Kaligandaki valley down below – the deepest gorge in the world. On clear days, the stunning contrast of the snowy peaks against the blue sky creates a mesmerizing spectacle.
Geological Significance: The Dhaulagiri region, where Dhampus Peak is located, is characterized by its unique geology. The area has been extensively studied for its complex tectonic evolution, with the collision of the Indian and Eurasian plates playing a pivotal role in shaping the landscape. This collision has resulted in diverse rock formations, glaciers, and dramatic topography.
Local Culture and Importance: The base and the route leading to Dhampus Peak traverse through several ethnic villages. Trekkers and climbers get a chance to experience the rich culture of the Gurung and Magar communities. For these communities, the mountains are not just geological structures but also hold deep spiritual and cultural significance.
Flora and Fauna: The journey towards Dhampus Peak takes climbers through diverse ecological zones. Lower altitudes feature lush rhododendron forests, while higher altitudes give way to alpine meadows and rock-strewn landscapes. The region is also home to various wildlife species, including snow leopards, Himalayan tahr, and pheasants.
Dhampus Peak (Thapa Peak) offers a rich blend of natural beauty, adventure, and cultural immersion. Its elevation, while significant, provides a relatively accessible challenge for mountaineering enthusiasts, allowing more people to experience the thrill of summiting a Himalayan peak. Whether you're drawn to its height, its panoramic vistas, or the journey leading up to it, Dhampus Peak stands as a proud jewel in Nepal's trekking peak crown.
Suitable for beginners or not: Dhampus Peak (Thapa Peak)
Dhampus Peak, also known as Thapa Peak, stands at an elevation of 6,012 meters (19,724 feet). When considering its suitability for beginners, several factors come into play:
Technicality: Dhampus Peak is classified as a trekking peak, meaning it's among the less technical peaks in Nepal. The ascent involves some technical sections, especially closer to the summit, which might require basic roping and the use of crampons and ice axes.

Altitude Concerns: Any mountain trek or climb that goes above 5,000 meters carries the risk of Acute Mountain Sickness (AMS). Beginners need to be particularly cautious, ensuring they follow a proper acclimatization schedule.

Physical Fitness: While technical skills are one aspect, physical fitness is equally crucial. Beginners should be in good physical condition, and prior trekking experience, even at lower elevations, can be beneficial.

Guided Tours: For beginners, it's highly recommended to opt for a guided tour. Established trekking and tour operators such as Luxury Holidays Nepal in Nepal offer guided treks to Dhampus Peak, ensuring climbers' safety, providing local knowledge, and assisting with logistics like permits, accommodation, and food.

Training: Before attempting the peak, beginners should engage in a training regimen that focuses on cardiovascular fitness, strength training, and endurance. Familiarizing oneself with basic mountaineering equipment and techniques is also advised.

Duration: The journey to the peak and back can range from 16 to 21 days, depending on the route and pace. Beginners need to be prepared for the challenges of prolonged physical activity and camping in high-altitude areas.
Dhampus Peak is not the most technical of the Himalayan peaks, it still presents challenges that should not be underestimated. With proper preparation, training, and guidance, motivated beginners with a good level of physical fitness can successfully attempt this trekking peak. Prior trekking experience, even if not at high altitudes, will certainly be an asset.
Trekking and Climbing Routes
Trekking and climbing Dhampus Peak (Thapa Peak) is a rewarding experience that not only offers the exhilaration of summiting a Himalayan peak but also provides trekkers with a chance to immerse themselves in Nepal's rich cultural and natural beauty. Here's a breakdown of the popular routes: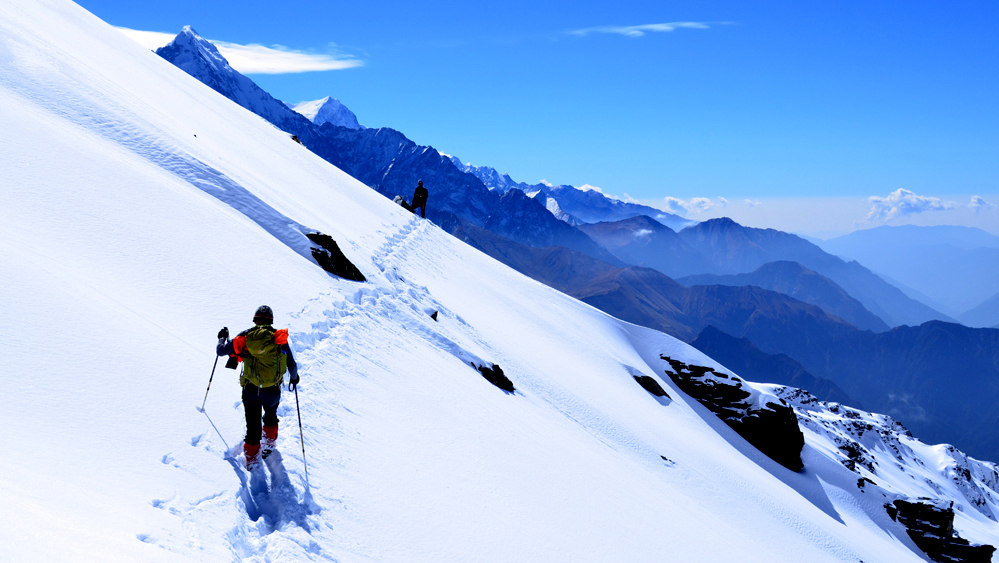 Standard Route via Pokhara:
Starting Point: The trek typically starts from the lakeside city of Pokhara.

Initial Phase: From Pokhara, trekkers drive to Darbang, the trek's starting point. The route then heads towards Sibang, Muri, and Boghara.

Mid-section: Continuing through Dobang and Choriban Khola, trekkers reach the Italian Base Camp, which offers stunning views of the west face of Dhaulagiri. The trek continues to the Dhaulagiri Base Camp.

Approaching the Peak: From Dhaulagiri Base Camp, trekkers and climbers move to the Dhampus Base Camp, which lies at an altitude of around 4,000 meters. Before the summit push, an acclimatization day is typically spent here.

Summiting: From the base camp, climbers then proceed to the high camp. The summit push usually starts early in the morning, passing through snow slopes of moderate steepness. Some technical sections might require roping up, especially closer to the summit.

Descent: After reaching the summit and soaking in the panoramic views, climbers descend using the same route.
Alternative Route via Hidden Valley:
This route approaches Dhampus Peak from the side of the Hidden Valley, after crossing the French Pass. It provides an opportunity to experience the beauty of the Hidden Valley before making the summit push.
Combination with Annapurna Circuit:
After summiting Dhampus Peak, some trekkers choose to continue their journey towards the Annapurna Circuit, adding more days to their trek but offering a comprehensive Himalayan experience.
While there are multiple routes to approach Dhampus Peak, the choice largely depends on the trekkers' preferences, physical condition, and the time available. Whether you opt for the standard route or combine it with other trekking circuits, the journey promises an unforgettable Himalayan adventure.
Difficulty Level: Dhampus Peak (Thapa Peak)
Understanding the difficulty level of a trekking peak is essential for proper preparation and ensuring a safe and enjoyable experience. Here, we delve into the complexities and challenges of the Dhampus Peak (Thapa Peak) climb:
Elevation:
Dhampus Peak rises to an elevation of 6,012 meters (19,724 feet). Trekking and climbing at such high altitudes present inherent challenges, primarily due to the thin air and reduced oxygen levels. Acute Mountain Sickness (AMS) and other altitude-related illnesses are potential risks.
Technical Aspects:
Terrain: While Dhampus Peak is categorized as a trekking peak, certain sections, especially closer to the summit, are technical. These may require basic mountaineering techniques.

Equipment: The use of crampons, ice axes, and ropes might be necessary, especially on the glacier and during the final ascent to the peak.

Snow and Ice: Depending on the season, climbers might encounter snow and ice patches, adding to the challenge.
Physical Fitness:
The trek and climb demand a good level of cardiovascular endurance, muscular strength, and stamina. Participants should ideally engage in a fitness regimen before the expedition, focusing on aerobic exercises, strength training, and hiking.
Duration:
The entire expedition, from the starting point to the summit and back, usually spans 16 to 21 days. This extended period of strenuous activity can be demanding for many, especially those not used to multi-day trekking at high altitudes.
Weather Conditions:
The Himalayan weather is notoriously unpredictable. Sudden changes in weather, unexpected snowfall, or storms can increase the difficulty level of the climb.
Route Finding:
While the route to Dhampus Peak is relatively well-defined, there can be challenges in navigation, especially in adverse weather conditions or if the trail is covered in snow.
Acclimatization:
Given the significant altitude gain, proper acclimatization days are integrated into the itinerary. However, everyone's body reacts differently to altitude, and some might find the acclimatization process challenging.
Camping:
Unlike tea-house treks in regions like Everest or Annapurna, the Dhampus Peak climb might require camping, which means dealing with cold nights and comfortable amenities.
Recommendations:
Preparation: It's vital to prepare both physically and mentally. Joining mountaineering or trekking clubs, taking courses, or participating in preparatory treks can be beneficial.

Guides and Porters: Our experienced guides and porters can significantly reduce the difficulty level. We assist in route finding, setting up camps, and ensuring overall safety.

Listen to Your Body: It's essential to listen to your body and communicate any discomfort to the guides or team members. Pushing too hard can lead to complications, especially at high altitudes.
Dhampus Peak (Thapa Peak) offers a moderate challenge. While it's not among the most technical peaks in Nepal, the combination of altitude, terrain, and duration makes it a challenging endeavor. With proper preparation, guidance, and a cautious approach, it's an achievable goal for those with a basic mountaineering background or avid trekking enthusiasts ready for the next level.
Best Time to Trek and Climb the Dhampus Peak (Thapa Peak)
Trekking and climbing in the Himalayas are significantly influenced by the seasons, each offering unique experiences and challenges. Here's a breakdown of what you can expect during each season for Dhampus Peak (Thapa Peak):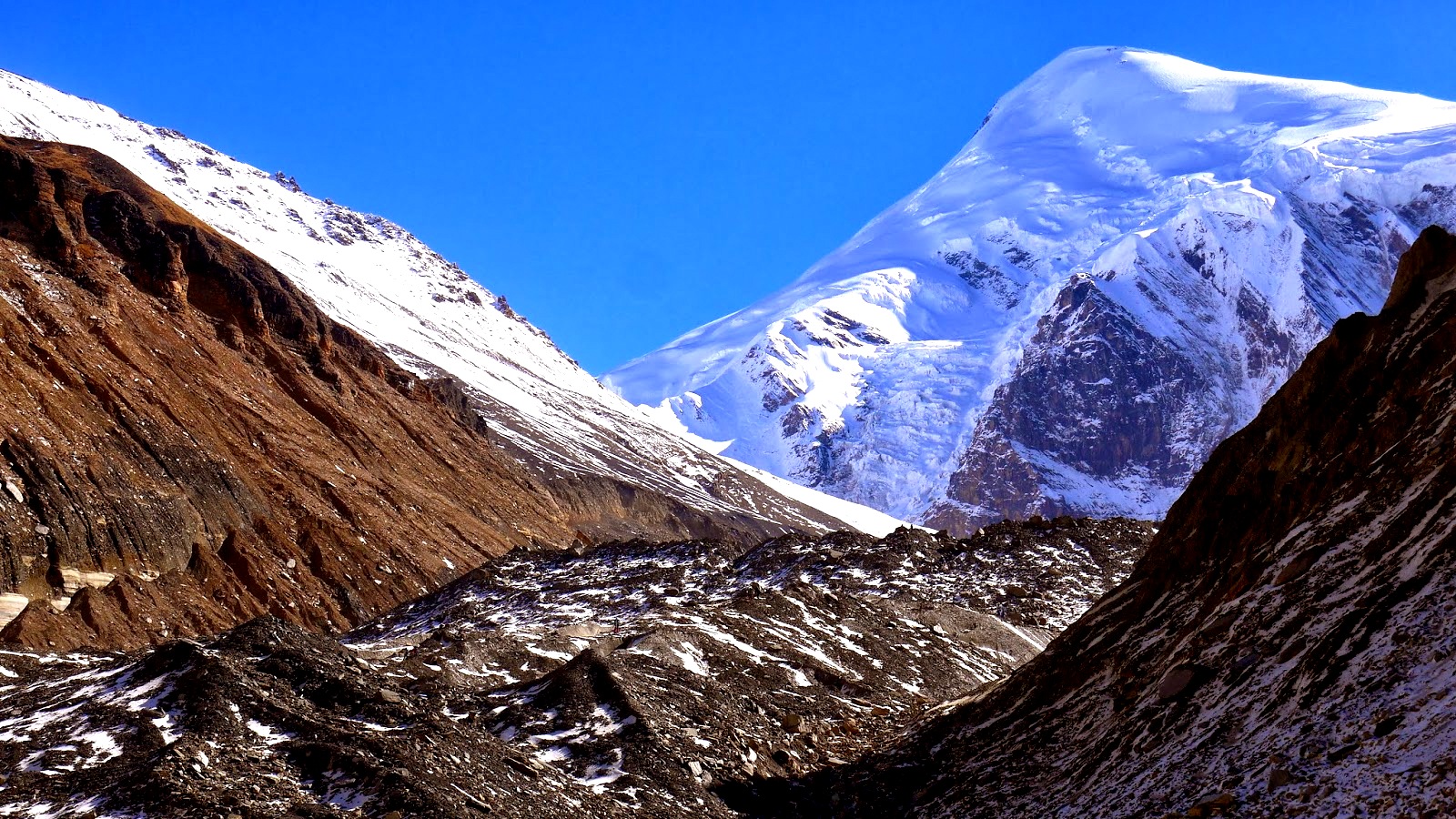 Spring (March to May):
Weather: Spring is one of the most popular seasons for trekking in Nepal. Temperatures are moderate, making for comfortable trekking conditions.

Visibility: Clear skies are common, especially in April and May, providing excellent mountain views.

Flora: This is the time when rhododendrons, the national flower of Nepal, bloom in full glory, carpeting the hills in vibrant reds, pinks, and whites.

Trail Conditions: Snow from the winter months might still be present at higher altitudes but generally starts to melt, making the paths more accessible.
Monsoon/Summer (June to August):
Weather: This is the monsoon season in Nepal, with heavy rains, potential landslides, and occasional flooding.

Visibility: Clouds and mist might obscure mountain views.

Flora: The landscape is lush and green due to the rains.

Trail Conditions: Trails can be slippery, and leeches are common in the lower elevations.

Other Considerations: Due to potential challenges, this season is less popular among trekkers. However, those looking for solitude might find this time appealing, with fewer crowds on the trails.
Autumn (September to November):
Weather: Post-monsoon, the skies clear up, and temperatures are moderate – neither too cold nor too warm. This makes autumn another prime season for trekking in Nepal.

Visibility: Mountain views are at their best with crystal-clear skies.

Flora: The landscapes, though not as vibrant as spring, still retain some of their greenery.

Trail Conditions: Trails are in good condition and dry, although higher altitudes will start seeing snowfall as winter approaches.
Winter (December to February):
Weather: Cold, especially at higher altitudes. The base camps and routes can be covered in snow.

Visibility: While the skies remain clear, the cold can sometimes lead to haze, especially in the mornings.

Flora: Most of the vegetation goes dormant, with snow covering higher altitudes.

Trail Conditions: Snow and ice can make certain sections of the trail challenging.

Other Considerations: Fewer trekkers attempt peaks during winter due to the cold, but the solitude and pristine snow-covered landscapes can be rewarding for those adequately prepared.
While spring (March to May) and autumn (September to November) stand out as the best times to trek and climb Dhampus Peak (Thapa Peak) due to favorable weather and trail conditions, each season has its charm. If one opts for the monsoon or winter seasons, additional precautions and preparations are essential. Always keep an eye on weather forecasts and consult with our tour and trekking company such as Luxury Holidays Nepal before embarking on your journey.
Permits and Regulations
Trekking and climbing in Nepal necessitate various permits, especially in protected and restricted regions. When you're heading to Dhampus Peak (Thapa Peak), you'll need to secure the following permits and be aware of certain regulations:
Trekking Permit:
TIMS (Trekkers' Information Management System) Card: This permit is mandatory for trekkers in Nepal. There are two types of TIMS cards: one for organized trekkers (blue) and another for independent trekkers (green).
Climbing Permit:
NMA (Nepal Mountaineering Association) Permit: As Dhampus Peak is categorized as a trekking peak, you will need to obtain a climbing permit from the NMA.
Conservation Area or National Park Permit:
Depending on your trekking route to reach Dhampus Peak, you might also need:
ACAP (Annapurna Conservation Area Project) Permit: If your route passes through the Annapurna Conservation Area.

Dhorpatan Hunting Reserve Permit: If your trekking route to Dhampus Peak takes you through this reserve.
Restricted Area Permit:
While the core route to Dhampus Peak might not need this, if your itinerary includes trekking in restricted areas, you would need additional permits.
Regulations and Guidelines:
Eco-Friendliness: As with any trek in Nepal, practicing eco-friendly trekking is crucial. Avoid littering, use established campgrounds, and respect the natural environment.

Local Culture and Traditions: Respect local customs and traditions. Dress modestly, especially in villages, and always ask for permission before taking photographs of people or their property.

Safety: Always trek with a group, especially during climbs. If you are not experienced, need a guide, or join a group tour.
Securing the right permits and being aware of the regulations ensures a hassle-free trekking and climbing experience. The process might seem extensive, but it's essential for ensuring climbers' safety and maintaining the natural beauty of the Himalayas. We will make the process smoother, letting trekkers focus on the adventure ahead.
Insurance for Dhampus Peak (Thapa Peak)
Considering the inherent risks associated with high-altitude trekking and climbing, having comprehensive insurance is crucial for anyone attempting Dhampus Peak (Thapa Peak). Proper insurance can safeguard climbers from unforeseen expenses related to accidents, health issues, or other emergencies during the trek.
High Altitude Coverage:
Ensure that the insurance policy covers treks and climbs up to and beyond the altitude of Dhampus Peak (6,012 meters or 19,724 feet). Some policies may have altitude limits, so it's crucial to verify this beforehand.
Emergency Evacuation and Helicopter Rescue:
The Himalayas' remote nature means that in the case of an emergency, helicopter evacuation may be the only quick means of transportation to a medical facility. The cost of such evacuations can be significant, making it vital to ensure your insurance covers this.
Medical Coverage:
The insurance should cover comprehensive medical treatment, including hospitalization, medication, and doctor consultation fees. It's also beneficial if the policy covers treatments for altitude sickness.
Trip Cancellation and Interruption:
In the event that you need to cancel or cut your trip short due to personal reasons, illness, or unforeseen circumstances like natural disasters, this coverage can help recuperate lost funds.
Gear and Equipment:
If you're bringing expensive climbing equipment, consider getting insurance that covers loss, theft, or damage to your gear.
Repatriation:
In the unfortunate event of severe injury or death, repatriation coverage ensures that the policyholder can be transported back to their home country.
Personal Accident and Liability:
This provides a payout in case of permanent disability or death and covers expenses if the policyholder is deemed liable for injuring another person or damaging property.
The adventure of climbing Dhampus Peak (Thapa Peak) should be a memorable experience, and having robust insurance ensures peace of mind, allowing climbers to focus on the journey and the beauty of the Himalayas. Always prioritize safety, and invest in comprehensive insurance before embarking on such expeditions.
Preparing for Dhampus Peak (Thapa Peak) Climb
A successful ascent of Dhampus Peak (Thapa Peak) requires meticulous preparation in various aspects, from physical fitness to gear selection. Here's a detailed guide to help aspiring climbers get ready for this memorable adventure:
Physical Preparation:
Cardiovascular Training: Start with aerobic exercises like running, cycling, and swimming. These will enhance lung capacity and stamina, vital for high-altitude activities.

Strength Training: Focus on building leg strength through exercises like squats, lunges, and step-ups. Core strength is equally essential, so incorporate planks and other core exercises.

Hiking: Engage in regular hiking sessions, preferably on varied terrains and with a loaded backpack. This prepares your body for the actual trekking conditions and helps in breaking in new trekking boots.

Flexibility: Yoga and stretching routines can prevent muscle stiffness and injuries on the trail.

Altitude Training: If accessible, spend time in altitude chambers or at high-altitude locations.
Mental Preparation:
Research: Understand the challenges of the trek, from altitudes and terrains to possible weather conditions.

Visualization: Familiarize yourself with the trek and climb by watching videos or reading firsthand accounts. This helps in mentally preparing for the journey.

Mindfulness and Breathing: Practices like meditation can help manage stress and anxiety. Learning breathing techniques can be beneficial at high altitudes.
Gear and Equipment:
Footwear: Invest in quality trekking boots. For the climbing segment, specialized mountaineering boots are essential. Also, bring comfortable trekking sandals or shoes for the evenings.

Clothing: Layering is key. Have a mix of light and warm base layers, insulation (fleece or down jackets), and waterproof and windproof outer layers.

Climbing Gear: Crampons, ice axes, harnesses, carabiners, and ropes.

Backpack: A comfortable, sturdy backpack with good weight distribution. For summit day, a smaller daypack might be necessary.

Sleeping: A quality sleeping bag rated for low temperatures, preferably with a liner for added warmth.

Miscellaneous: Sunglasses, sun hat, woolen hat, gloves, trekking poles, water purification tablets or filters, first-aid kit, headlamp with extra batteries, and personal toiletries.
Acclimatization:
Pre-trek acclimatization: If possible, spend a few days at a location with moderate altitude before starting the trek.

During the trek: Follow the "climb high, sleep low" principle. This means you can hike to a higher altitude during the day but descend to sleep.

Stay Hydrated: Drinking plenty of water helps in acclimatizing.

Know the symptoms of AMS (Acute Mountain Sickness): This can range from headaches to nausea. If symptoms persist or worsen, it's crucial to descend or seek medical advice.
Diet and Hydration:
Balanced Diet: Ensure a mix of carbohydrates, proteins, and fats in your meals. Carbs are the primary energy source, especially important in high-altitude treks.

Stay Hydrated: Drink at least 3-4 liters of water daily. Dehydration can exacerbate altitude sickness.

Avoid Alcohol: It can lead to dehydration and negatively affect your sleep.
Medical Precautions:
Consultation: Visit a doctor for a health check-up. Discuss the trek's challenges and get advice on any medications you might need.

Vaccinations: Ensure all your vaccinations are up to date.

First Aid Kit: Equip it with bandages, antiseptic wipes, blister treatments, painkillers, altitude sickness medication, and any personal medications.
Preparation is key to ensuring a successful and enjoyable climb of Dhampus Peak (Thapa Peak). Starting early, being thorough in your planning, and consulting experts or those who've done the climb before can significantly enhance your experience. Remember, the journey is as rewarding as the destination, so enjoy every step of your preparation and the trek itself.
Dhampus Peak, also known as Thapa Peak, stands as a testament to the sheer majesty and allure of the Himalayas. With its comparatively moderate altitude and non-technical ascent, it serves as an ideal gateway for both seasoned climbers wanting a less strenuous climb and novices seeking their first taste of Himalayan peak climbing. The journey to its summit not only offers climbers a tangible challenge but also immerses them in the profound beauty of the surrounding landscapes, dotted with picturesque villages and marked by dramatic mountain vistas.
The preparation for such an expedition, while extensive, is part of the entire enriching experience. From physical training to mental readiness, and from gear selection to understanding the terrains, every step towards the peak is a learning curve. Collaborating with experienced tour and trekking companies such as Luxury Holidays Nepal can provide an added layer of security and guidance, ensuring that climbers can focus on the thrill of the climb and the serenity of the environment.
In the grand tapestry of Nepal's trekking and climbing destinations, Dhampus Peak occupies a unique niche. It's a blend of adventure and spirituality, challenge and reward. For those who undertake this journey, the memories forged amidst the snow-capped peaks, clear blue skies, and the echoing silence of the mountains will undoubtedly last a lifetime.
Frequently Asked Questions (FAQs): Dhampus Peak (Thapa Peak)
Q: How high is Dhampus Peak (Thapa Peak)?
A: Dhampus Peak, also known as Thapa Peak, stands at an elevation of 6,012 meters (19,724 feet).
Q: Is Dhampus Peak suitable for beginner climbers?
Yes, Dhampus Peak is considered a trekking peak and is suitable for those with limited mountaineering experience. A good level of physical fitness is essential, and prior trekking experience can be advantageous.
Q: What permits are required to climb Dhampus Peak?
A: Climbers need a Trekking Group Permit (TGP) for the Dhaulagiri region, a Peak Climbing Permit from the Nepal Mountaineering Association, and possibly a Conservation Area or National Park Permit, depending on the specific route.
Q: What is the best time to attempt Dhampus Peak?
A: The best times to climb Dhampus Peak are during the pre-monsoon (March to May) and post-monsoon (September to November) periods. These windows offer more stable weather conditions and clearer skies.
Q: How long does the Dhampus Peak expedition typically take?
A: The entire expedition, from Kathmandu and back, usually takes around 18 to 24 days, including acclimatization days, trekking, and the climb itself.
Q: What type of equipment is essential for the climb?
A: Climbers should be equipped with high-altitude clothing, mountaineering boots, crampons, ice axes, harnesses, ropes, and other standard climbing equipment.
Q: Is there a risk of altitude sickness?
A: Yes, like any high-altitude trek or climb in the Himalayas, there's a risk of Acute Mountain Sickness (AMS). Proper acclimatization, staying hydrated, and understanding the symptoms are crucial.
Q: Are there any local cultural or environmental considerations to be aware of?
A: Respect local customs and traditions, especially when passing through villages. It's also essential to practice "Leave No Trace" principles, ensuring the environment remains pristine for future generations.
Q: Is insurance necessary for the climb?
A: Absolutely. Comprehensive insurance that covers high-altitude trekking, emergency evacuations, medical treatment, and equipment loss or damage is crucial.
Alternative 8000m Mountain Expeditions
We Offer the Following similar 8000m Mountain Expedition in Nepal
Mt Everest Expedition (8848.86 m)
Manaslu Expedition (8,163 m)
Makalu Expedition (8,463m)
Kanchenjunga Expedition (8,586 m)
Lhotse Expedition (8,516 m)
We also offer peak climbing expeditions in Nepal at altitudes of 7000 and 6000 meters.
7000 M Peaks for Climbing and Expedition
Gangapurna Expedition (7,455 m)
Pumori Expedition (7,145 m)
Tilicho Peak Expedition (7,134 m)
Annapurna South Expedition (7,219 m)
6000 M Peaks for Climbing and Expedition in Nepal
Mt Ama Dablam Expedition (6,812 m)
Island Peak Expedition (6,160 m)
Mera Peak Climbing (6,476 m)
Chulu West Peak Climbing (6,419 m)
Pisang Peak Climbing (6,091 m)
Singu Chuli Peak Climbing (6,501 m)
Island Peak Climbing with Everest Base Camp Trek
Lobuche Peak Climbing with Everest Base Camp
If you need any further information, please contact us, Email: [email protected], Phone: +977- 985 100 5129 (WhatsApp)