Nestled amidst the mighty Himalayas, Nepal is a land of sublime landscapes, snow-clad mountains, vibrant culture, and a rich tapestry of biodiversity. Offering everything from thrilling treks to serene spiritual pursuits, Nepal is an adventurer's paradise. One thrilling option for those who seek a unique perspective of this gorgeous landscape is to embark on a helicopter tour. A helicopter tour in Nepal is an exhilarating way to behold the beautiful topography of the country, from the majestic Mount Everest to the mystical valleys of Annapurna. This blog post will provide a step-by-step guide to help you book your dream helicopter tour in Nepal.
Decide on the Destination and Duration
Deciding on the destination and duration of your helicopter tour in Nepal is the crucial first step of your booking process. There are numerous stunning locales in Nepal that offer different experiences, and you have to choose based on your interests, budget, and time constraints. Here's a breakdown of some popular destinations to help you decide:
Everest Base Camp and Kala Patthar
The crown jewel of Nepal, Everest Base Camp is a popular choice for a helicopter tour. The views are breathtaking, and the flight usually includes a ground stop at Kalapatthar or the base camp itself. If you dream of seeing the highest peak on Earth up close without a strenuous trek, this is a fantastic option. Duration is generally around 3-4 hours, including a short break at the base camp.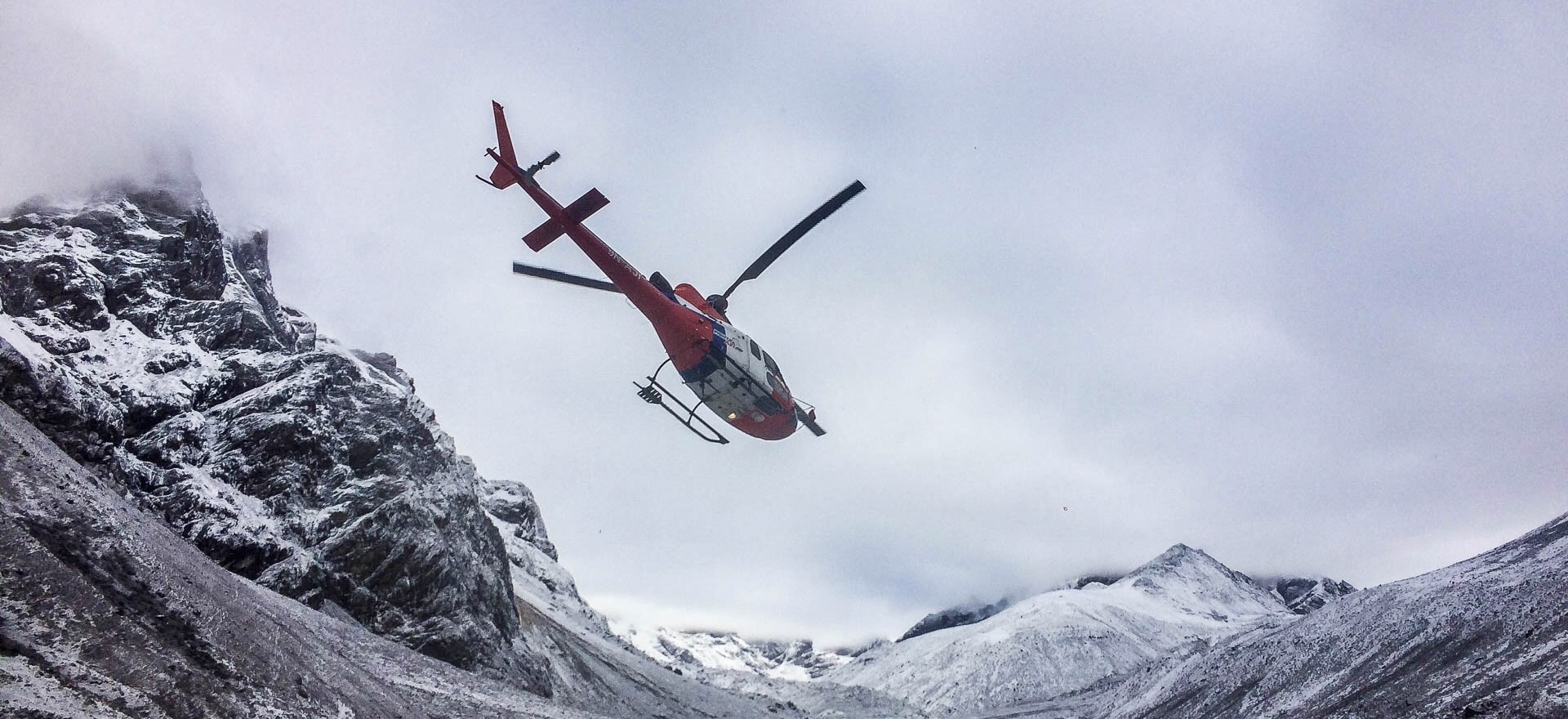 Annapurna Base Camp
A helicopter tour to the Annapurna base camp will expose you to the diverse landscapes of Nepal, from terraced fields to rugged mountain terrain. You'll fly over several beautiful mountain ranges, including Dhaulagiri, Manaslu, and Machapuchare, before landing at Annapurna Base Camp. Duration is typically around 2 hours.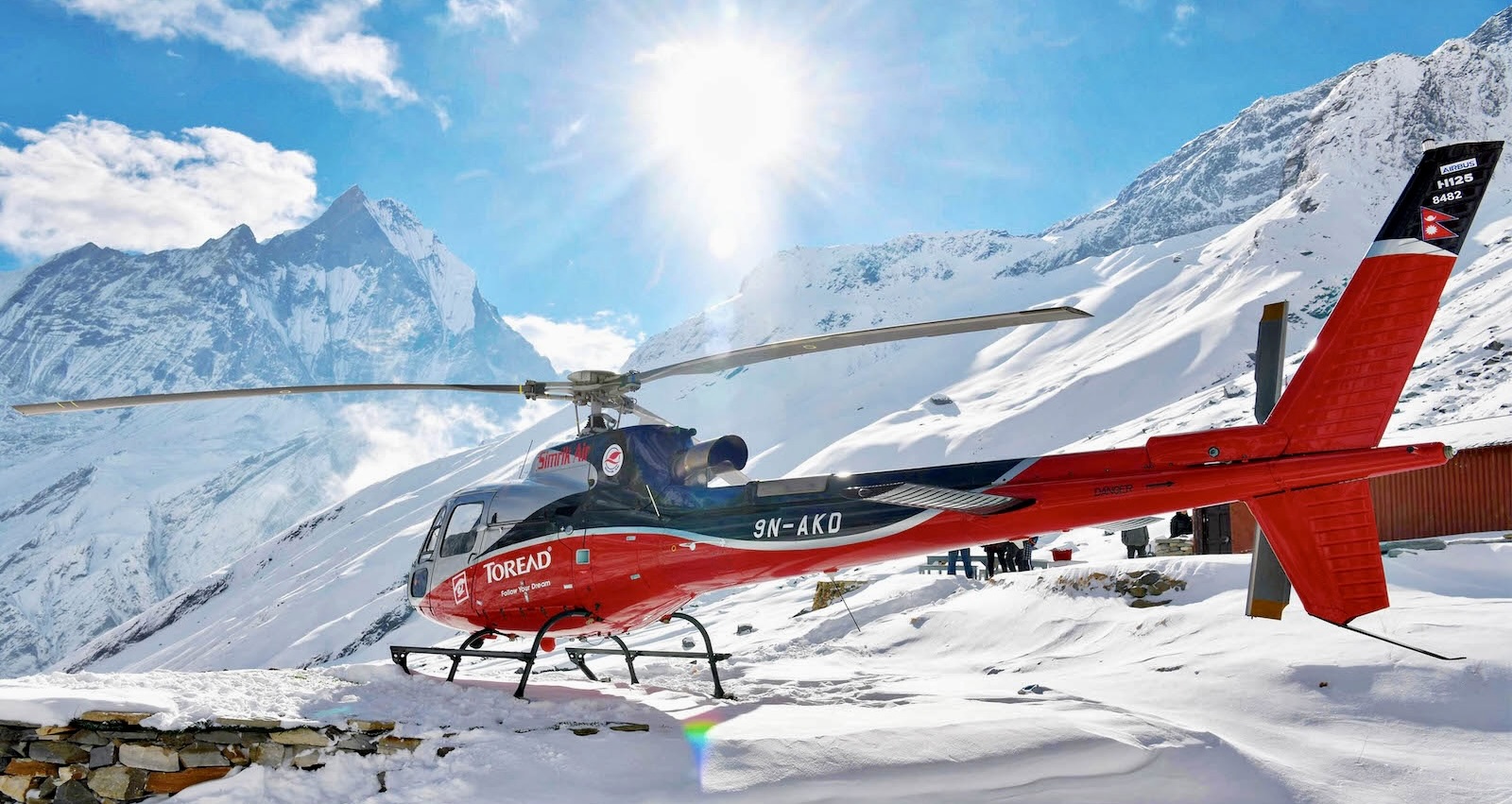 Langtang Valley
The Langtang Valley tour offers a serene journey into a region that is often termed the "valley of glaciers." On this tour, you can see the beautiful Langtang village and Kyangjin Gompa, and many glaciers. Duration is about 1-2 hours, and it's a great tour for those seeking to experience the lesser-known side of Nepal.
Kathmandu Valley
If you have less time or prefer to stay near the capital city, a helicopter tour of Kathmandu Valley can be an excellent choice. This tour provides a unique perspective of the city and its surrounding landmarks like Swayambhunath (Monkey Temple), Pashupatinath Temple, and Boudhanath Stupa. The flight duration is typically around 20-30 minutes.
Gosaikunda Lake
A helicopter tour to Gosaikunda Lake, a high-altitude freshwater lake considered sacred by both Hindus and Buddhists, could be a spiritual and natural retreat. The trip typically lasts for about 2-3 hours.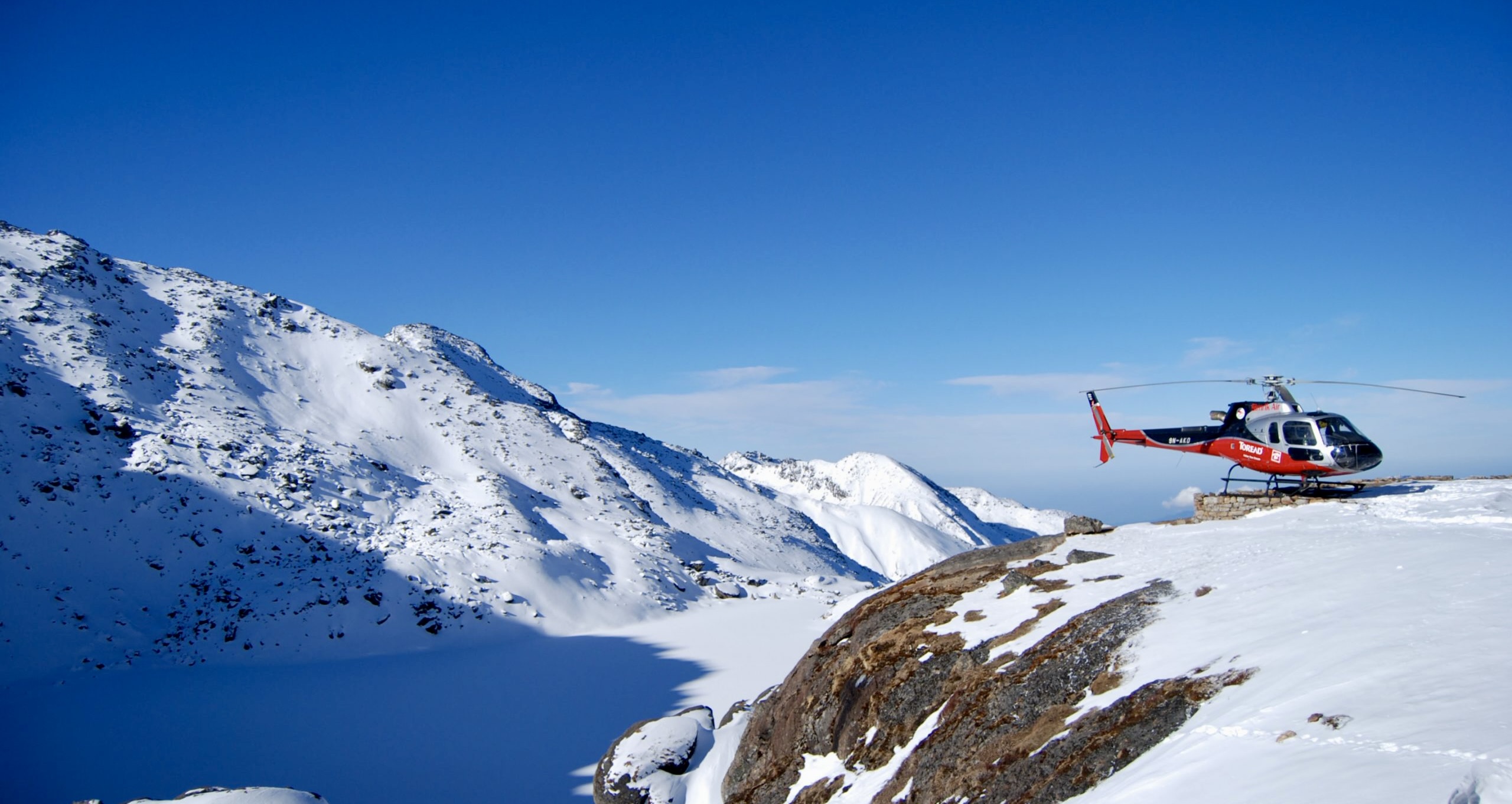 Upper Mustang
A helicopter tour to the Upper Mustang, also known as the 'Forbidden Kingdom,' provides you with glimpses of ancient Tibetan Buddhist shrines, caves, and a semi-arid desert with colorful rock formations. The tour usually lasts around 3-4 hours.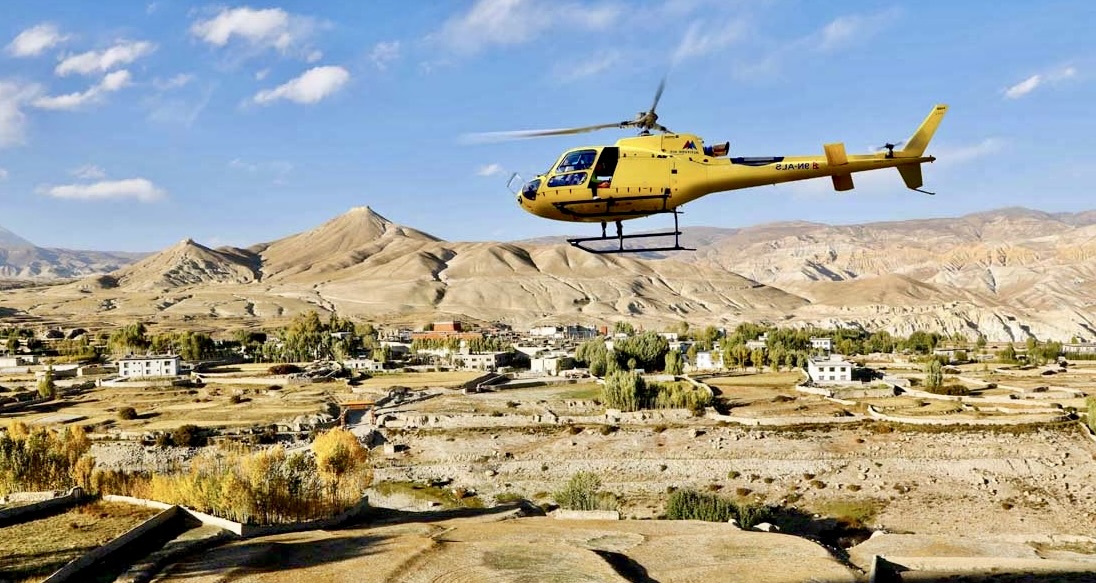 The duration and destination of your tour can also depend on your budget. Longer tours or tours to more remote regions like Everest Base Camp are usually more expensive than shorter tours or those covering locations closer to Kathmandu. However, regardless of your choice, every helicopter tour in Nepal promises stunning views and a memorable experience.
Research Tour Operators
When it comes to booking a helicopter tour in Nepal, it's crucial to find a reliable tour operator that guarantees safety and a high-quality experience. Luxury Holidays Nepal is one such reputable tour operator that you can consider. Here are a few points to consider while researching Luxury Holidays Nepal.
Safety Record
Safety should be your number one priority when selecting a tour operator. Luxury Holidays Nepal is recognized for its commitment to safety and professionalism. We only collaborate with reputable helicopter companies that maintain high safety standards.
Pilot Experience
The skill and experience of the pilot play a significant role in ensuring a safe and enjoyable tour. Luxury Holidays Nepal works with experienced pilots who are well-acquainted with the routes and local weather conditions.
Customer Reviews
Customer reviews can provide valuable insights into the quality of service provided by the tour operator. Luxury Holidays Nepal has received positive feedback for its services, with customers appreciating professionalism, attention to detail, and a customer-oriented approach.
Packages and Pricing
It's important to compare the various packages offered by the tour operator and evaluate if we provide good value for money. Luxury Holidays Nepal offers a range of helicopter tours, including Everest Base Camp, Annapurna Base Camp, and Langtang Valley. The prices are competitive and include essentials such as airport transfers and permit fees.
Responsiveness and Customer Service
Good customer service is critical, especially in case of changes in plans or any emergencies. The team at Luxury Holidays Nepal is known for prompt response and assistance, ensuring a smooth experience for their customers.
Plan Your Budget
Planning your budget for a helicopter tour in Nepal involves considering several factors such as the pricing, the chosen destination, duration, and any additional features or services included in the tour package. Here is a general breakdown of what you can expect to budget for this unique experience:
Tour Pricing
The most significant part of your budget will be the cost of the tour itself. Generally, the pricing depends on the duration and destination of the tour. For example:
Everest Base Camp helicopter tour: This is usually the most expensive, ranging from $1000 to $1200 per person.
Annapurna Base Camp or Langtang Valley tour: These tours might cost around $300 to $500 per person.
Kathmandu Valley tour: As a shorter and more accessible tour, it could cost anywhere between $150 to $250 per person.
Additional Services: We offer additional services such as ground transportation, meals, and professional guide services, which could add to the overall cost.
Personal Expenses: Don't forget to budget for personal expenses such as travel insurance, meals, accommodations, and souvenirs.
Tip for the Pilot and Crew: While not mandatory, it's customary to tip the pilot and crew for their services, which is generally around 10% of the tour cost.
Emergency Funds: It's always wise to set aside some emergency funds for unexpected costs or changes in plans.
Check Availability and Book
Checking availability and booking your helicopter tour in Nepal can typically be done in a few straightforward steps, as outlined below.
Step 1: Visit the Website
you can find detailed information about the helicopter tours on this website: https://www.luxuryholidaynepal.com/helicopter-tours-in-nepal We include descriptions of the tours, prices, and often the availability of tour dates.
Step 2: Check the Availability
Check the availability of your desired tour. This is typically done by selecting your preferred tour and checking the calendar or schedule for available dates. Remember that peak seasons (usually Spring - March to May, and Autumn - September to November) might have more demand due to the favorable weather conditions, so it is best to book well in advance.
Step 3: Choose Your Preferred Date
Once you've found a date that works for you, select it. We also allow you to select a preferred time for your tour.
Step 4: Complete the Booking Process
After selecting your date, you'll typically need to provide some additional information and make a payment to complete your booking. This generally includes contact information, the number of people in your party, and any special requests or needs.
Step 5: Receive Confirmation
After completing your booking, you should receive a confirmation via email. This will typically include details of your tour, the date and time, and any additional information you might need.
If you encounter any issues during this process or have any specific requests, don't hesitate to contact us. We are able to assist you and ensure that your booking process goes smoothly.
Lastly, it's important to note that the availability of tours can sometimes be affected by weather conditions in Nepal, particularly in the mountainous regions. Therefore, always be prepared for possible changes or cancellations due to adverse weather.
Prepare for Your Tour
Preparing for a helicopter tour in Nepal involves a few critical steps. From dressing appropriately to ensuring you have everything you need, here's how to prepare for your adventure:
Dress Appropriately: Weather in the mountains can be unpredictable, so it's advisable to dress in layers. Even if it's warm in Kathmandu or Pokhara, temperatures at higher altitudes can drop significantly. Opt for thermal inner layers, a warm fleece or down jacket, and windproof outerwear. Don't forget a good pair of gloves and a warm hat.
Footwear: Comfortable shoes are essential. While you won't be doing much walking, it's still important to have sturdy footwear in case of uneven or icy landing sites.
Protect your Eyes: The sun's glare can be particularly strong when you're flying over snowy landscapes, so don't forget to bring a pair of sunglasses with good UV protection.
Carry Essential Accessories: These include a camera for capturing stunning aerial views and binoculars if you want a closer look at specific landscapes or peaks. Also, bring a light backpack to keep your belongings secure.
Hydrate and Eat Well: Altitude sickness can be a risk when you're flying at high altitudes, even if it's just for a short duration. Make sure to hydrate well before your tour and avoid heavy meals.
Carry Identification: Carry your passport or a valid ID card.
Health Check: If you have any health conditions, especially those that might be affected by changes in altitude, consult with your doctor before booking the tour.
Understand Safety Briefings: Make sure to pay close attention to safety briefings and instructions given by the pilot. This includes knowing how to use seat belts and headsets, and what to do in case of an emergency.
Arrive Early
Arriving early for your helicopter tour in Nepal is highly recommended for several reasons:
Check-In Process: Just like when you take a flight, there will be a check-in process. Arriving early allows you to complete this process without feeling rushed. You'll likely need to present your identification and your booking confirmation.
Safety Briefing: Safety is of utmost importance on a helicopter tour.
Weather Check: Weather, particularly in the mountains, can be unpredictable.
Get Acquainted with the Helicopter: Arriving ahead of time gives you an opportunity to familiarize yourself with the helicopter, and its seating arrangement, and to discuss any questions or concerns you may have with the pilot or staff.
Avoid Delays: Unforeseen circumstances like traffic jams or difficulties finding the meeting point can cause delays. Arriving early can help mitigate the stress associated with such unexpected events.
As a rule of thumb, aim to arrive at least 30 minutes to 1 hour before your scheduled departure time. This will allow enough time to complete all the necessary procedures calmly and start your once-in-a-lifetime helicopter tour in Nepal on the right foot.
Safety Briefing and Weather Considerations
Safety is paramount when booking and undertaking a helicopter tour in Nepal. Before your flight, the pilot will provide a safety briefing that covers a range of topics designed to ensure your safety and comfort during the tour. Weather considerations also play a critical role in determining the feasibility and safety of your helicopter tour.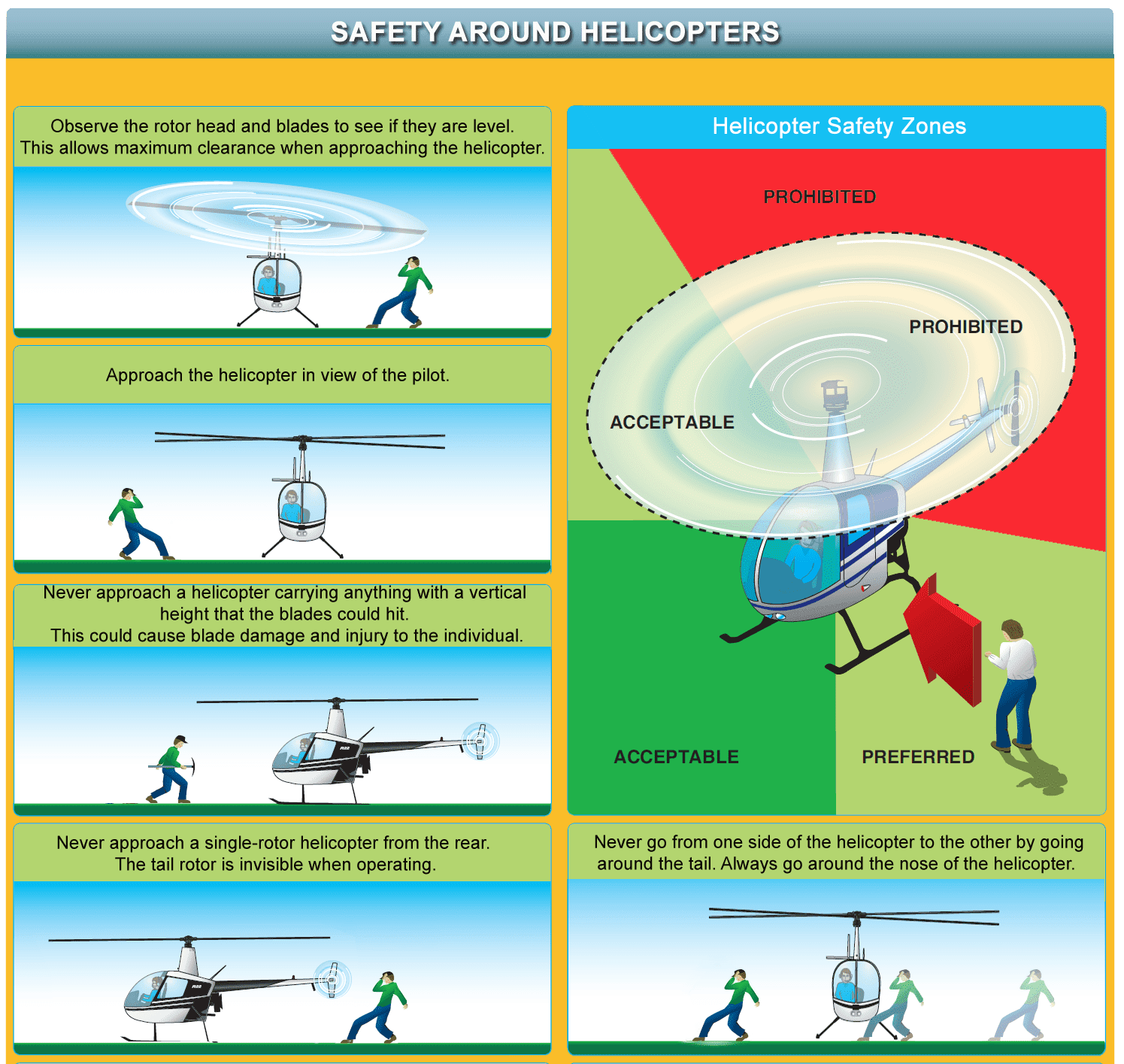 Safety Briefing:
The safety briefing typically includes the following:
Boarding and Disembarking: You'll be instructed on the right way to approach, board, and disembark from the helicopter. It's essential to approach and leave the helicopter from the front side and always in the pilot's view.
Seatbelts: The briefing will cover how to fasten and unfasten your seatbelt. Seatbelts should be worn at all times during the flight.
Emergency Exits: The location of emergency exits and how to use them will be explained.
Communication Headsets: You'll be shown how to use the headsets, which allow you to communicate with the pilot and other passengers.
Behavior Inside the Helicopter: It's crucial to keep your hands and feet clear of the controls and not throw anything out of the helicopter.
Weather Considerations:
The weather plays a significant role in the execution of helicopter tours. Since many of the popular tourist destinations are in high-altitude mountainous regions, they can be subject to rapid weather changes.
Flight Visibility: The pilot needs good visibility to fly safely, and this can be compromised in heavy rain, fog, or snow.
Wind Speed: High winds can make flying difficult and risky.
Temperature and Altitude: As altitude increases, the temperature drops and can affect the performance of the helicopter.
Given these considerations, helicopter tours may sometimes be delayed or canceled. We will always prioritize safety and will not fly unless conditions are right.
Remember, the safety briefing is the time to ask any questions you may have. Ensuring you understand all safety procedures will contribute to a smoother and more enjoyable helicopter tour experience.
Enjoy the Experience
After going through all the necessary steps – from choosing your destination, selecting a reliable tour operator like Luxury Holidays Nepal, planning your budget, checking availability, and booking, to preparing for your tour, arriving early, and understanding safety and weather considerations – you're finally ready for the most exciting part: enjoying the helicopter tour in Nepal.
Here are some tips to help you make the most of this incredible experience:
Embrace the Moment: Whether you're soaring over the Everest Base Camp, the Annapurna range, or the beautiful Kathmandu Valley, take the time to immerse yourself in the moment. Breathe in, look around, and let yourself be awed by the beauty of the majestic Himalayas.
Capture the Experience: While living in the moment is crucial, you'll likely want to capture some memories too. Use your camera or smartphone to take stunning aerial shots. However, make sure your photography doesn't come at the cost of missing out on the experience.
Respect the Environment: Remember, you are a guest in these pristine environments. Adhere to the principles of "Leave No Trace" – take only photographs and leave only footprints.
Communicate with the Pilot: The pilot is not only your guide but also a wealth of information. Feel free to ask them questions about the landscapes you're flying over, the best spots for photography, or any other queries you may have.
Stay Hydrated and Relaxed: Make sure to keep yourself hydrated during the tour. Also, if you're prone to motion sickness, consider taking appropriate medication before your flight.
Share Your Experience: After the tour, share your experience with others. You can leave a review on us or share your photos and experience on social media.
A helicopter tour in Nepal is a once-in-a-lifetime experience. By planning carefully and following these tips, you can make sure that it's an experience you'll cherish forever. Remember, the beauty of Nepal isn't just in its breathtaking landscapes, but also in its rich culture and warm-hearted people. Enjoy every moment of your journey!
A helicopter tour in Nepal is truly an experience of a lifetime. From the thrill of flying above the world's highest peaks to the awe of observing nature's grandeur from a bird's eye view, there is nothing quite like it. This step-by-step guide aims to make the booking process easier for you so that you can focus on enjoying this extraordinary adventure. Remember, the sky is not the limit; it's just the beginning of your journey in Nepal. Bon voyage!
If you need any further information, please contact us, Email: at [email protected], Phone: at +977- 985 100 5129 (WhatsApp)