[TOC]

This tiny, landlocked mountain country is renowned for its untouched landscape, conserved Tibetan Buddhist cultural sites, first-rate lodging options, and breathtaking treks. Bhutan is one of the fortunate nations to see seasonal changes. Since Bhutan has distinct summer, winter, spring, and fall seasons, it is a wonderful place to visit all year round. Bhutan is ideal for travel year-round and offers something special to guests depending on when they arrive. Bhutan offers a range of landscapes and terrains, and the climate fluctuates correspondingly, despite the country being primarily recognized for its high peaks. There are lush subtropical plains in the south that can be found at altitudes as low as 200 feet, for instance, where the humid jungle environment is comparable to that of India over the border.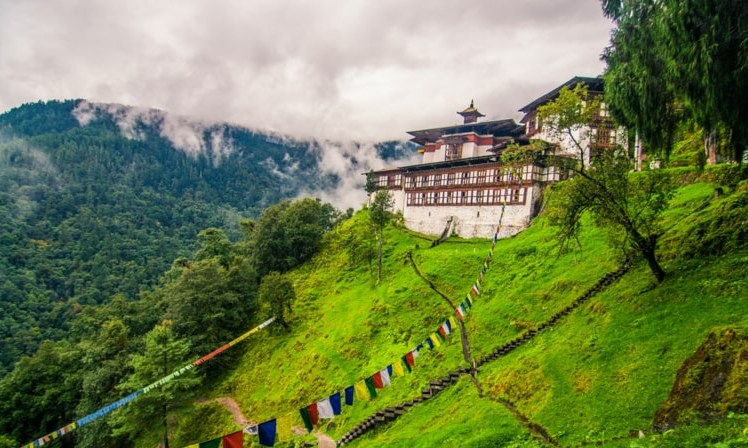 Bhutan is best visited in the spring when the valleys are alive with blooming flowers. Be it in its celebrations or festivals, in the bright skies and views of the Himalayan peaks, in the thriving flora and wildlife of the Himalayas, or in the just stunning snowfall. Bhutan makes sure you have a terrific time in the presence of nature and all of its magnificent byproducts and return home with a memory you will cherish for the rest of your life. Due to the rains, June to August is regarded as the low season and trekking is less feasible.
Table of Content
Summer Season (June, July, August)
Spring Season (March, April, and May)
Autumn / Fall Season (September, October, and November)
Winter Season (December, January, and February)
Summer Season (June, July, August)
June marks the beginning of summer, which lasts through August. The monsoon always follows the summer season. Nearly the entire country has rainy weather at this time of year. It's not a bad idea to travel to Bhutan at this time of year. You can enjoy a beautiful view of the monsoon's lush green paddy fields and scenery while admiring the spectacular raindrops and washed-out mountains.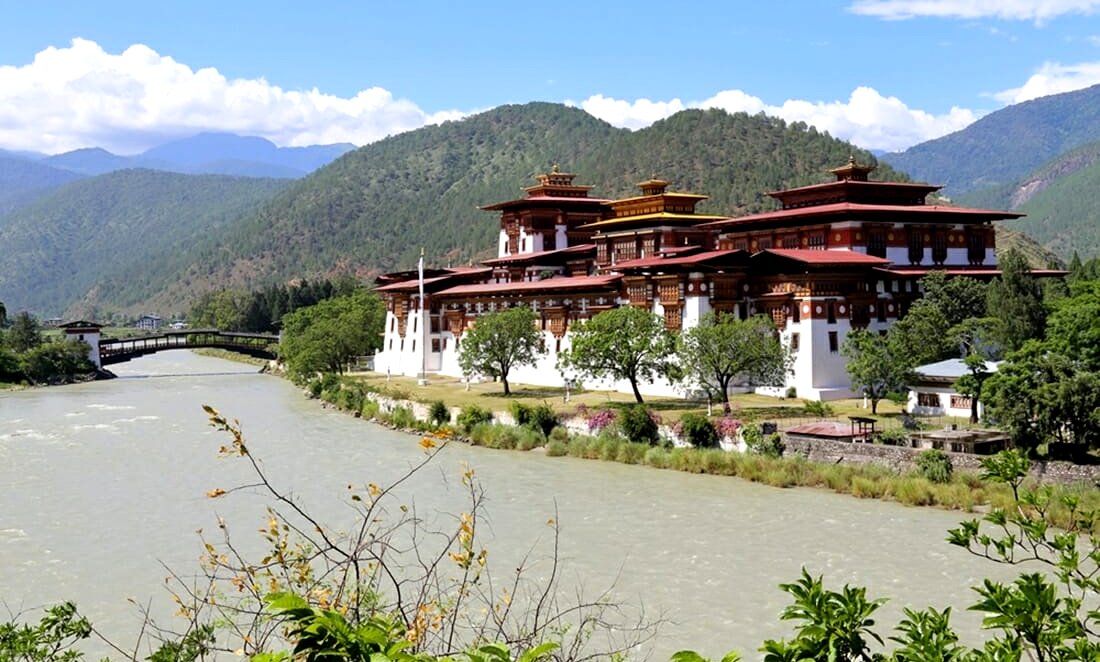 Besides all the natural beauty, visitors can witness some kind of celebration as we ll. The Haa Valley of Bhutan hosts the Haa Summer Festival. Mid-July is when this festival takes place. It honors the traditional and nomadic way of life of the Bhutanese people. You may observe the fascinating nomadic culture of the Bhutanese tribes in the breathtaking Haa Valley. You are welcome to take part in cultural dances or in games like yak riding.
Average Temperature - 15-25°C (59-77°F)
Average Rainfall - 120-345mm
Festivals - Haa Summer Festivals in Haa Village
Spring Season (March, April, and May)
One of the greatest times to visit Bhutan is in the spring season, namely from March to May, during this time of the year the weather is pleasant, the valleys become a lovely shade of green, and flowers bloom all over. This is the perfect time of year to visit Bhutan for sightseeing and other outdoor activities. The springtime weather in Bhutan can occasionally be erratic. Numerous religious and trekking-related events take place throughout this season.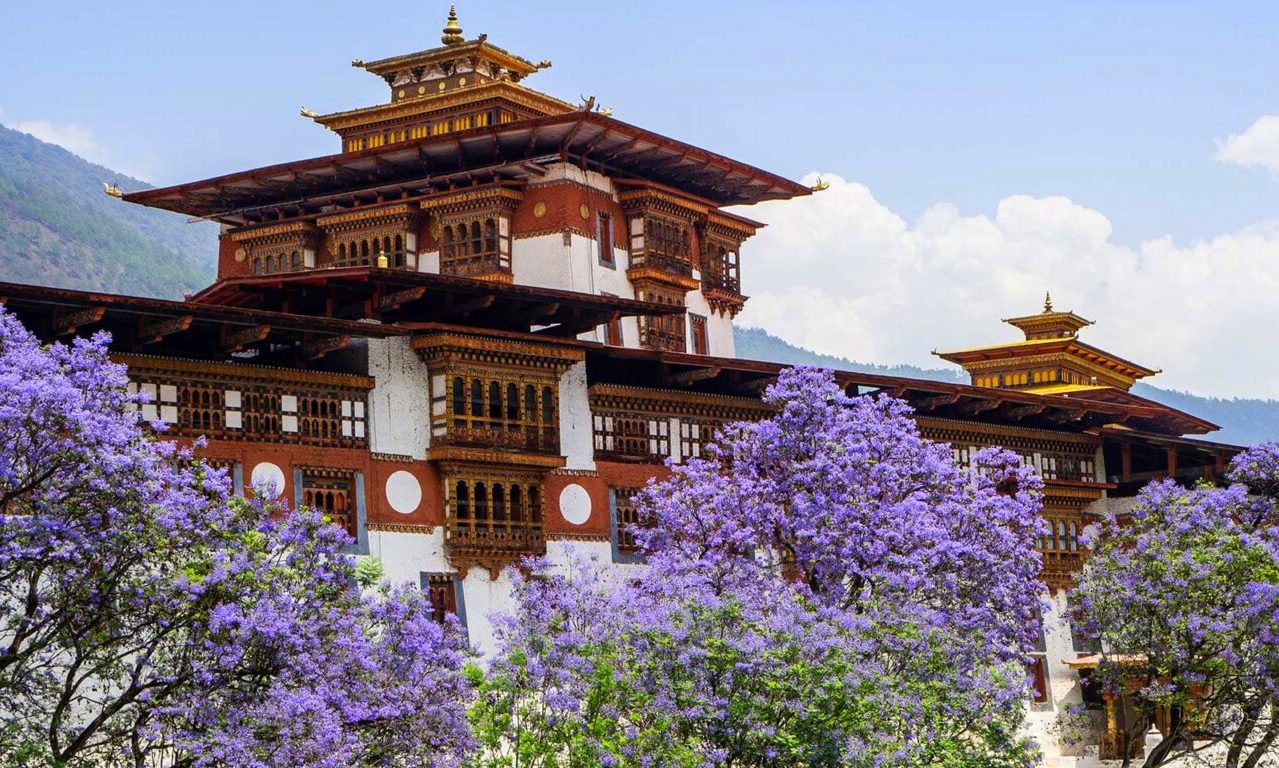 The lowlands come to life as the flowers bloom. Whether it be through its festivities or festivals, the clear skies, and views of the Himalayan peaks, the abundant Himalayan flora, and fauna, or just the breathtaking snowfall. Bhutan assures you that you will appreciate being with nature and all of its beautiful byproducts while there and that you will go home with memories you will treasure for the rest of your life. Wherever possible, pack a camera, hat, fashionable sunglasses, and lightweight clothing to capture Bhutan's breathtaking natural beauty.
Average Temperature - 4- 23°C (39-84°F)
Average Rainfall - 23-57mm
Festivals - Punakha Drubchen in Punakha Dzong, Paro Tshechu in Paro, and Gomphu Kora in Trashigang
Autumn / Fall Season (September, October, and November)
Autumn is the greatest time of year to visit Bhutan for travelers, trekkers, ardent tourists, and photographers. The skies are clear and blue, and the weather is favorable. Bhutan experiences its peak travel season in the autumn as visitors flock there to enjoy the lovely atmosphere. Visitors can trek during this time to Jhomolhari, Dagala, Druk Path, and numerous more destinations. Trekking across diverse areas and pathways is the best way to experience the Land of the Thunder Dragon's natural treasures. Every part of the country boasts excellent weather and climate throughout the autumn.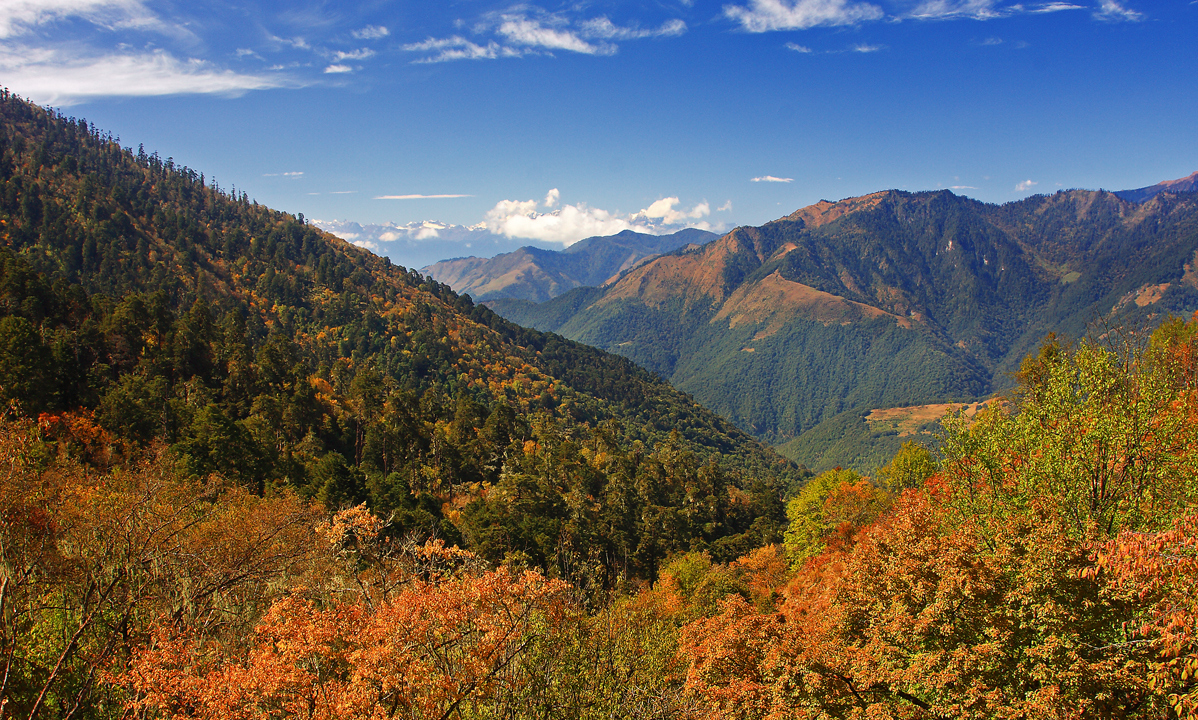 In addition to all the natural splendor If you happen to be in this beautiful valley, known as the country's happiest place, Phobjikha Valley, you can participate in the Black-Ncek Crane Festival in mid-November and the harvest season also officially starts in the autumn in Bhutan. Bhutan's Bumthang region has four valleys (Chokhor, Chhume, Ura, and Tang). With its buckwheat fields, rice fields, and fruit orchards, the valleys will make you feel drunk.
Average Temperature - 5-23°C (41-73°F)
Average Rainfall - 8-155mm
Festivals - Thimphu Tshechu in Thimphu, Wangdue Phodrang Tshechu in Wangdue Phodrang, and Jambay Lhakhang Drup in Bumthang
Winter Season (December, January, and February)
Late November marks the start of winter, which lasts until early March. Heavy snow is anticipated to afflict areas over 3,000 meters, and spots of frost can be seen all around the country. Bhutan's nickname, "Land of the Thunder Dragon," comes from the gale-force winds that roar over the highest mountain passes in the winter and create a terrifying noise. There is a chance that more isolated monasteries, temples, and villages could be cut off, and it will be challenging to travel on the roads, especially in the east of the country. However, while the central highlands and farther south will be much warmer and still great for hiking, high mountain passes endure almost frigid conditions.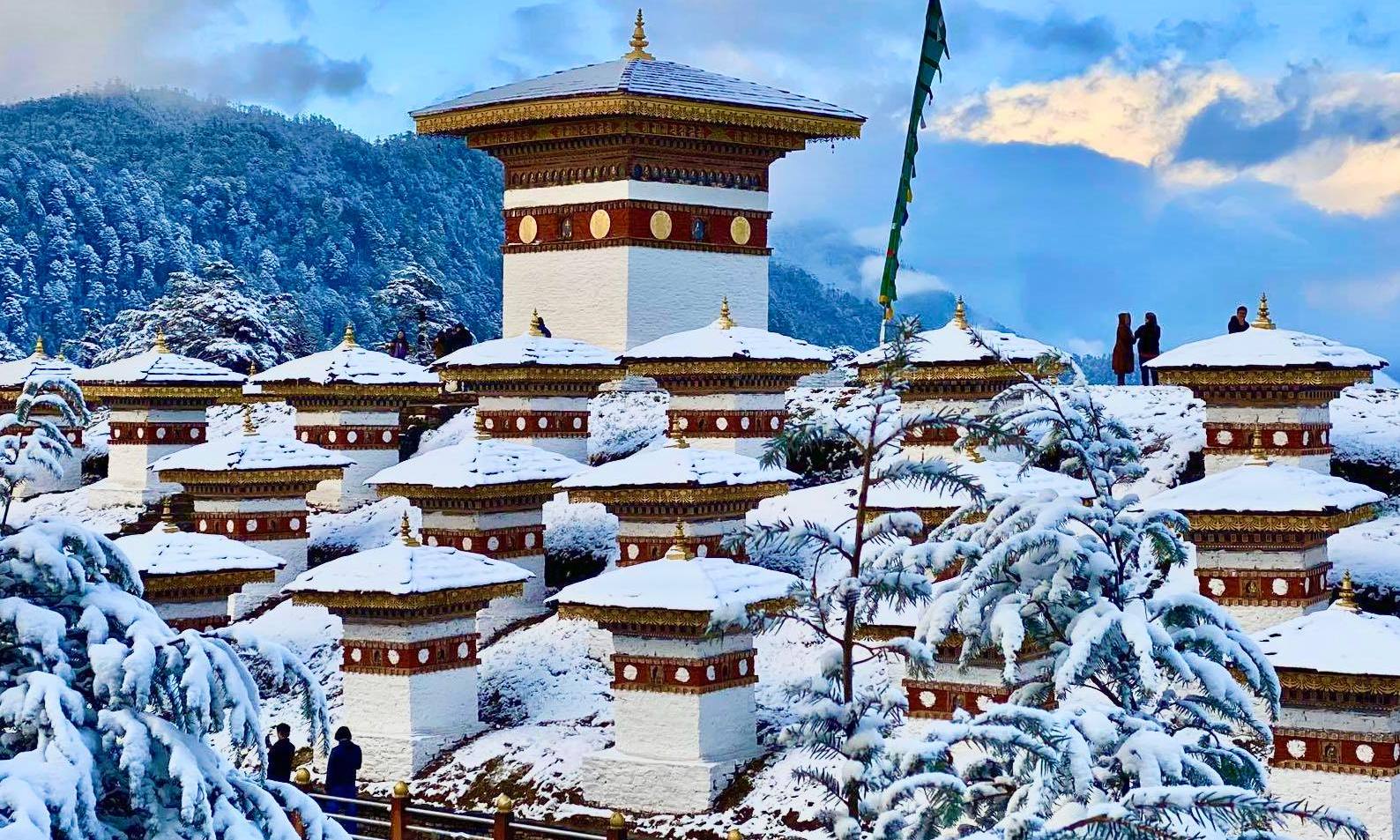 Bhutan's winters are frequently below zero despite the generally sunny weather. In January, Paro in the west can reach almost -6°C, although circumstances are often much milder in the south and east. But if you are a snow lover, exploring the snowy beauty of Bhutan in winter is one of the best things any visitor can do.
Average Temperature - 3-15°C (37-59°F)
Average Rainfall - 0-21mm
Festivals - Nomada Festival in Bumthang
Please click here for the best Bhutan tours and treks with us.
If you need any further information, please contact us, Email: [email protected], Phone: +977- 985 100 5129 (WhatsApp)