Helicopter tours in Nepal offer an unparalleled way to immerse oneself in the majesty of the Himalayas. Given Nepal's unique geographical structure, these aerial tours emerge as the most effective means of savoring the country's breathtaking natural splendors. Beyond sightseeing, helicopters play a pivotal role in rescue operations, testament to their versatility and utility. Although many of Nepal's top destinations require challenging treks due to their remoteness from roadways, helicopter tours present an efficient solution for those pressed for time or seeking a different vantage point. Especially during the unpredictable monsoon season, when landslides and floods pose grave travel risks, helicopters stand out for their reliability and safety in both touristic and rescue contexts. Luxury Holidays Nepal offers a diverse range of customizable helicopter tours, ensuring clients receive the optimal package tailored to their preferences.
---
Best time for Helicopter Tour in Nepal
Nepal, with its mesmerizing Himalayan vistas, offers an unparalleled aerial experience, especially during pre-winter. This period, just before the chilly embrace of winter, stands out as the ideal time for helicopter tours in Nepal. The ambiance is characterized by serene weather, with clear skies unveiling the majestic Himalayan peaks in all their glory.
Spring and winter are also favorable for aerial jaunts; however, pre-winter holds the distinction of presenting the crispest and most invigorating environment for such adventures. While Nepal's weather might occasionally spring surprises, autumn and spring emerge as the most preferred seasons for helicopter tourism. Moreover, morning hours are a popular choice for these tours, given the typically calmer meteorological conditions, regardless of the season.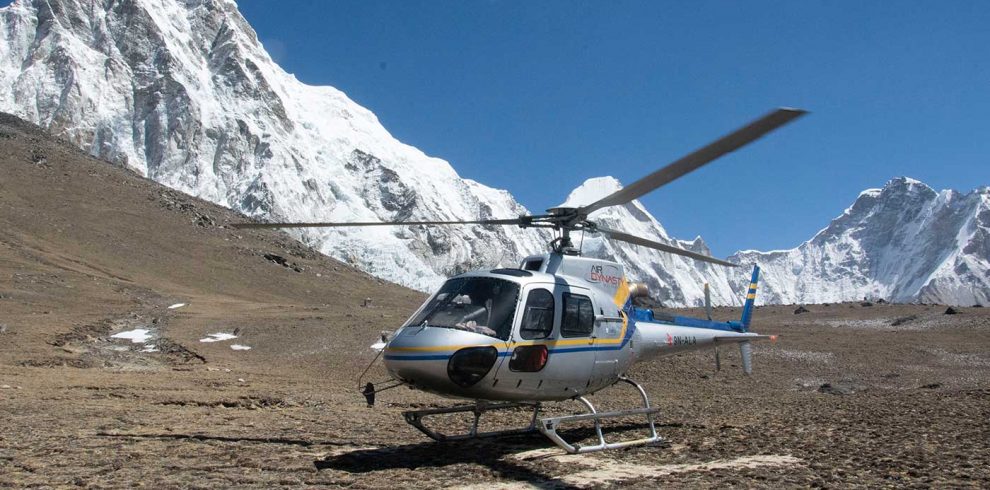 Luxury Holidays Nepal offers bespoke helicopter experiences, catered from various Nepalese regions. These aerial journeys can be meticulously tailored to align with individual preferences, ensuring each traveler garners a distinct and intimate Himalayan experience. Regardless of your chosen season, be it pre-winter or another, a helicopter excursion in Nepal promises a riveting adventure, etching indelible memories in your heart.
---
Here are some of the well-known popular helicopter tour destinations in Nepal are given below:
Best Helicopter Tours in Nepal
Everest Base Camp Helicopter Tour
The Everest Base Camp helicopter tour in Nepal is a mesmerizing journey that brings adventurers face-to-face with the grandeur of Mt. Everest, the zenith of our world. While the challenge of scaling its majestic heights beckons to many, this tour offers the thrill of approaching its doorstep from the skies.
Nestled in the tranquil embrace of Sagarmatha National Park, the flight not only reveals the unparalleled beauty of mountainous panoramas but also offers a window into the park's vibrant ecosystem. As the helicopter glides smoothly above, below lie dense forests that are a sanctuary to numerous rare and endangered species, painting a living tableau of nature's wonders.
For those with an insatiable thirst for adventure, or those simply yearning for arresting views and a profound connection with nature, the Everest Base Camp helicopter tour stands as an iconic experience, etching an indelible impression amidst the timeless magnificence of the Himalayas.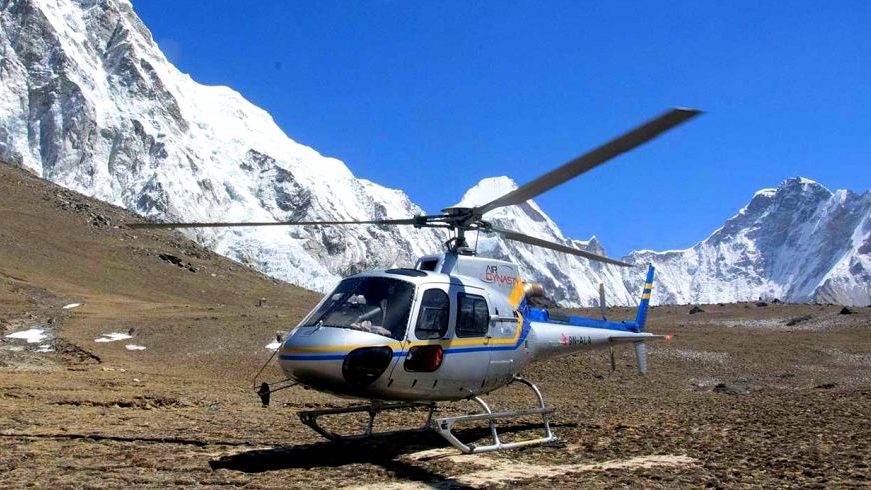 Highlights
Direct Departure: Take off from the bustling city of Kathmandu directly from Tribhuvan International Airport, setting your course straight towards the grandeur of the Everest Region.
Gateway Landing: Experience the thrill of touching down at Hillary-Tenzing Airport, a high-altitude airstrip revered as the portal to the captivating Everest Region.
Panoramic Vistas: From the airborne comfort of the helicopter, drink in the sweeping views of landmarks like Namche Bazaar, Tengboche Monastery, and the intricate dance of glaciers and rivers below.
Himalayan Giants: Feel the rush of adrenaline as you soar tantalizingly close to the world's titans – Mount Everest, Lhotse, Cho Oyu, Nuptse, Pumori, and the enchanting Ama Dablam.
Best Seat in the House: Hover above Kalapatthar, a renowned vantage point, and let your gaze travel over the sweeping expanse of Mount Everest and its majestic companions.
Breakfast with a View: Relish a sumptuous breakfast on the terrace of a lofty hotel, with the unparalleled backdrop of the towering Everest and its neighboring peaks.
Glacial Grandeur: Be captivated by the might and beauty of the Khumbu Glacier, one of the Himalayas' crown jewels, as it carves its path through the mountains.
Spiritual Sojourn: Gaze upon the venerable Tengboche Monastery, a beacon of spirituality, nestled atop a hill, its silhouette complemented by the panoramic embrace of the Himalayas.
Serenity Above: Let the pristine air of the Everest Region fill your lungs, as you're surrounded by tranquil valleys, awe-striking peaks, and a world that feels untouched by time.
Photographer's Paradise: With the majestic Himalayan range stretching out beneath the clear blue skies, it's an opportune moment to capture the grandeur through your lens.
Embarking on this Everest helicopter tour is not just about the flight, but about the myriad of experiences and emotions that are intertwined with each breathtaking view. Dive into the heart of the Himalayas and take away memories that will last a lifetime.
| | |
| --- | --- |
| Name of Helicopter Tour | EBC Helicopter tour |
| Duration | 3 to 4 hrs |
| Best Time | Jan-May and Aug-Dec |
| Maximum Altitude | (5,364m / 17,598 ft)/(5,644 m / 18,517 ft) |
| Route | Kathmandu-Lukla-EBC/ Kalapathar-Lukla-Kathmandu |
---
Annapurna Base Camp Helicopter Tour
The allure of Annapurna Base Camp, standing tall at an impressive 4,130 meters, is unparalleled, save perhaps by the Everest Base Camp. While trekking remains the traditional route to its heights, helicopter tours present an exhilarating and time-efficient alternative. Departing from Kathmandu, these tours aren't just a swift passage to the base camp. They offer a comprehensive view into Nepal's rich tapestry of art, architecture, and culture, enhanced by panoramic vistas of UNESCO World Heritage Sites and the sprawling majesty of the Himalayas.
As the helicopter carves its path over the Annapurna Conservation Area, passengers are treated to a bird's-eye view of its diverse flora and fauna, providing an insight into the region's ecological wonders. Beyond the nature, the aerial journey captures the essence of the Himalayan paradise - terraced fields, shimmering lakes, ancient temples, and the towering Annapurna herself. This tour promises an adventure that melds nature's grandeur with cultural nuances, ensuring an experience that lingers in memory.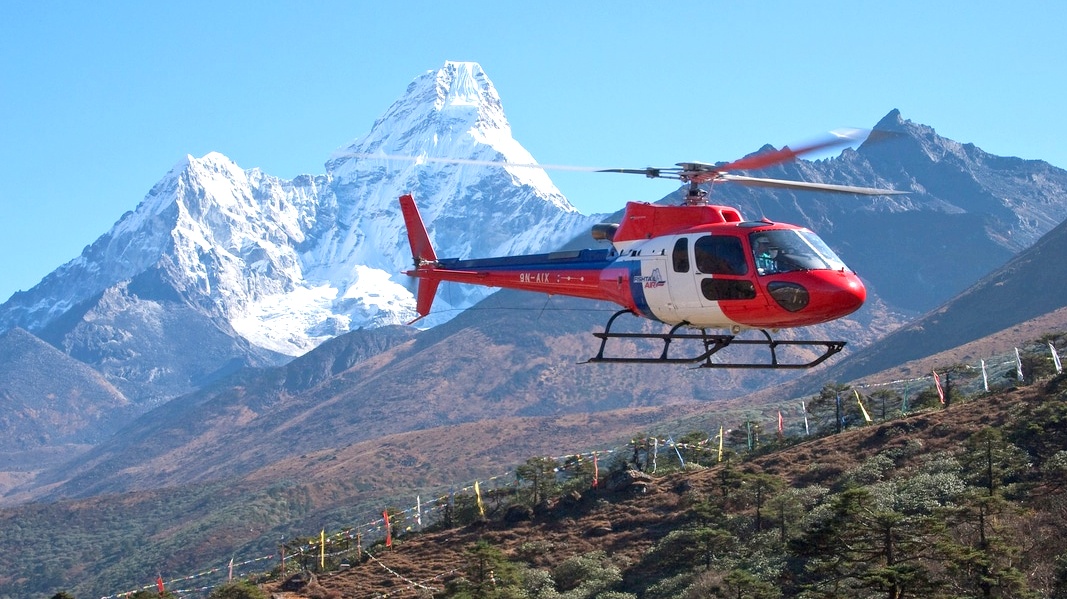 Highlights
Majestic Panorama: Elevate your senses with the spellbinding views of the Annapurna mountain range. Witness giants like Annapurna I, Hinchuli, Gangapurna, and the iconic Machhapuchhre Himal majestically lining the horizon.
Cultural Tapestry: Immerse yourself in the rich cultural essence of the Annapurna region. Encounter local communities, savor their warm hospitality, and gain a glimpse into their deeply rooted traditions.
Ecological Wonder: Marvel at the biodiversity within the Annapurna Conservation Area. Its diverse flora and fauna serve as a testament to the region's ecological richness.
Time-Efficient Exploration: Seize the chance to revel in the Annapurna's splendor without the extended trek, making the most of your time.
Golden Moments: Be present for the transformative experience of a sunrise or sunset at Annapurna Base Camp. Watch as the peaks shimmer and the valleys bathe in golden hues.
Nature's Marvel: From high above, trace the serpentine path of the Modi Khola River as it meanders through lush valleys, accentuating the region's beauty.
Photographer's Delight: Arm yourself with a camera and capture the landscape's splendor, freezing moments that'll last a lifetime.
In-flight Insights: Enrich your journey with expert commentary from seasoned pilots. Their profound insights on the region's geography, culture, and natural wonders enhance the experience manifold.
Amongst the Giants: Embrace the overwhelming emotion of standing at Annapurna Base Camp, dwarfed yet empowered by the surrounding peaks.
Thrill in the Skies: The helicopter flight itself is an adrenaline-packed adventure, offering unparalleled perspectives of the majestic Annapurna region.
| | |
| --- | --- |
| Name of Helicopter Tour | ABC Helicopter tour |
| Duration | 3 to 4 hrs |
| Best Time | Jan-May and Aug-Dec |
| Maximum Altitude | 4130 m |
| Route | Kathmandu-Pokhara-ABC/ ABC-Pokhara-Kathmandu |
---
Gosaikunda Helicopter Tour
Gosaikunda, nestled amidst the grandeur of the Himalayas, stands as a beacon of spiritual significance for both Hindu and Buddhist devotees in Nepal. Steeped in lore, it is said that Lord Shiva sought solace at this pristine lake after consuming poison to save the world, making it a revered pilgrimage site. Every year, especially during the months of July and August, thousands converge here, with pilgrims from both Nepal and India honoring Lord Shiva and Goddess Gauri during the annual ceremonies.
Starting from the heartbeat of Nepal, Kathmandu, the helicopter tour bestows an unparalleled aerial view of UNESCO World Heritage Sites, before whisking you across undulating hills, meandering rivers, picturesque canyons, and quaint village settlements. As you soar, the patchwork of historical monuments, tranquil ponds, and the verdant landscape unfold beneath, presenting a breathtaking tableau of Nepal's rich cultural and natural heritage. As Gosaikunda comes into view, it's not alone; its subsidiary lakes also make a grand appearance, enhancing the beauty and religious importance of the region. This tour isn't just a journey to a destination, but a deep dive into the sanctity, culture, and unparalleled beauty of Gosaikunda and its surroundings.
Highlights
Sacred Waters: Gosaikunda stands as a beacon of devotion, revered by both the Hindu and Buddhist communities. Its waters whisper tales of religious lore and significance, drawing believers from far and wide.
Spiritual Congregation: Each year, the shores of Gosaikunda come alive with the reverberations of prayers as thousands gather, paying homage to Lord Shiva and Goddess Gauri during the annual pilgrimage.
Historic Beginnings: Your ethereal journey begins in Kathmandu, the vibrant capital. As you take off, witness the city's UNESCO World Heritage Sites from above, providing a historic prelude to the spiritual journey ahead.
Nature's Tapestry: Beyond the cityscapes, embrace the grandeur of Nepal's landscapes – rolling hills, serpentine rivers, and deep canyons. Each geographical feature tells a story, more enchanting than the last.
Lake Among the Mountains: As Gosaikunda emerges into view, its serene waters surrounded by craggy peaks and lush greenery, one can't help but feel an overwhelming sense of tranquillity.
Sister Lakes: While Gosaikunda takes center stage, its subsidiary lakes, each holding its own tales of cultural and religious significance, contribute to the region's sanctity.
Cultural Tapestry: Beyond its natural beauty, the region stands as a testament to the rich cultural and religious heritage of Nepal, where traditions run deep and beliefs are paramount.
Spiritual Immersion: Gosaikunda is not just a lake; it's an atmosphere, charged with spirituality and reverence. To be here is to connect with something greater, something profound.
A New Perspective: This helicopter tour isn't just a trip; it's an experience, offering a vantage point like no other, encapsulating the awe, wonder, and sanctity of Gosaikunda.
| | |
| --- | --- |
| Name of Helicopter Tour | Gosaikunda Helicopter Tour |
| Duration | 1 to3 hrs |
| Best Time | Jan-May and Aug-Dec |
| Maximum Altitude | 4380 m |
| Route | Kathmandu-Gosaikunda-Kathmandu |
---
Upper Mustang Helicopter Tour
Mustang, known as the "Forbidden Kingdom," is a secluded valley behind the Himalayas, cherished for its cultural heritage and natural beauty. Upper Mustang, a particularly isolated region, attracts researchers due to its rich mineral resources. A helicopter tour to Upper Mustang begins in Nepal's capital city or Pokhara, offering stunning views of UNESCO World Heritage Sites, hills, rivers, waterfalls, and lakes. The highlight of the tour is the ancient caves, historically used as settlements and shelters during conflicts. These caves hold immense historical and cultural significance, providing insights into the region's heritage. The helicopter tour offers a convenient and unique way to explore this remote valley, showcasing its pristine beauty, rich culture, and remarkable geography. It is an unforgettable journey to uncover the hidden treasures, history, and culture of Mustang.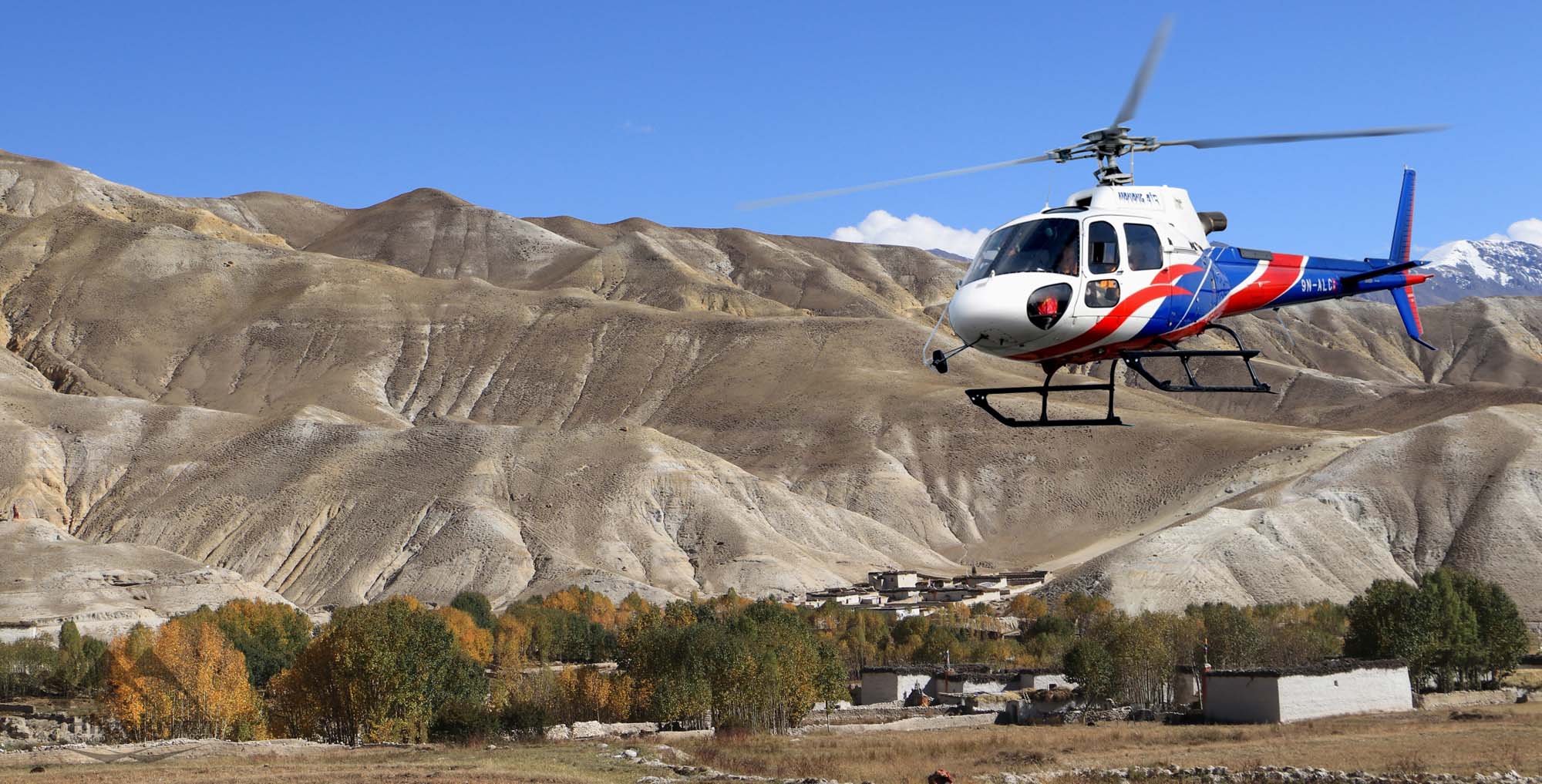 Highlights
Majestic Peaks: Elevate your senses with unparalleled aerial views of the Himalayas, with the majestic Annapurna and Dhaulagiri ranges painting a breathtaking backdrop.
Untouched Paradise: Embark on a secluded odyssey to the elusive Upper Mustang, a region untouched by time and teeming with secrets.
Echoes of the Past: Delve into the mysteries of ancient caves, each holding tales of historical and cultural relevance, reflecting a bygone era.
Nature's Canvas: Revel in the mesmerizing geological formations and varied terrains, from rugged landscapes to serene valleys.
Heartfelt Encounters: Engage with the resilient locals of Upper Mustang, witnessing their authentic lifestyles, traditions, and age-old customs.
Wild Beauty: Marvel at the pristine allure of the region, characterized by barren hillocks, dramatic gorges, and charming hamlets.
Photographer's Dream: Equip your camera for once-in-a-lifetime shots, capturing the vast panoramas and stark contrasts of the region.
Expedited Exploration: Enjoy the convenience of the helicopter tour, a swift and immersive means to delve deep into the heart of Upper Mustang.
| | |
| --- | --- |
| Name of Helicopter Tour | Upper Mustang Helicopter Tour |
| Duration | 1 to 4hrs |
| Best Time | Jan-May and Aug-Dec |
| Maximum Altitude | 3900 m |
| Route | Kathmandu-Mustang-UpperMustang-Mustang-Kathmandu |
---
Gokyo Helicopter Tour
Gokyo, a mesmerizing jewel tucked away at a breathtaking altitude of 4,700 meters within the hallowed grounds of Sagarmatha National Park, Nepal, is no ordinary lake. This oligotrophic wonder is renowned for its crystal-clear azure waters, cradled by an environment of unparalleled serenity. Fed by the mighty Gokyo Ri, this lake rests in the shadow of none other than the world's tallest peak, the iconic Mt. Everest.
A helicopter tour to Gokyo is your ticket to a panoramic symphony of Himalayan grandeur. With each passing moment in the air, you'll be treated to breathtaking vistas of awe-inspiring peaks, including Shishapangma (8,012m), Gaurishankar (7,134m), Cho Oyu (8,201m), and the formidable Makalu (8,463m). But the pièce de résistance remains the majestic Mt. Everest (8,848.86m), a sight to behold from your bird's-eye perch. This aerial escapade is more than a tour; it's a rendezvous with the Himalayas like no other, an adventure that lets you drink in the serenity of Gokyo Lake and the timeless beauty of its neighboring peaks, leaving you with memories etched in the fabric of your soul.
Highlights
Crystal Oasis: Step into the realm of Gokyo Lake, where the waters glisten with an ethereal blue, and the surroundings exude an air of serenity.
Peak Spectacle: Behold a 360-degree panorama of Himalayan majesty, with iconic peaks like Mt. Everest, Shishapangma, Gaurishankar, Cho Oyu, and Makalu painting the sky.
Aerial Embrace: Immerse yourself in the grandeur of the Himalayas, a view unlike any other, as you glide through the heavens, your perspective expanding with each passing moment.
Lakeside Serenity: Find solace amidst the tranquil ambiance of Gokyo Lake, a sanctuary of pristine natural beauty, cradled by the Himalayan giants.
Time-Efficient Exploration: Experience the marvels of Gokyo Lake and the Himalayas in an efficient and convenient manner, making the most of your precious time.
Memory Haven: Craft indelible memories as you capture breathtaking landscapes through your lens, etching the awe-inspiring aura of the Himalayan peaks into your heart.
In-flight Insights: Enrich your journey with expert commentary from seasoned pilots. Their profound insights on the region's geography, culture, and natural wonders enhance the experience manifold.
Skyward Perspective: Reimagine the Himalayas, viewing their majesty and Gokyo Lake's beauty from an aerial standpoint, an experience that will forever alter your perception.
Untouched Beauty: Revel in the untouched natural beauty of Gokyo Lake, a pristine gem cocooned by majestic peaks and untamed landscapes.
| | |
| --- | --- |
| Name of Helicopter Tour | Gokyo Helicopter Tour |
| Duration | 1 to 4hrs |
| Best Time | Jan-May and Aug-Dec |
| Maximum Altitude | 5000m |
| Route | Kathmandu-Lukla-Gokyo-Lukla-Kathmandu |
---
Nepal, with its majestic peaks and verdant valleys, unveils its true splendor when seen from the heavens. Whether you're an intrepid adventurer in search of thrills or a spiritual seeker seeking higher vistas, helicopter tours in Nepal offer an unparalleled experience that is nothing short of breathtaking and utterly unforgettable. So, fasten your seatbelts and prepare to take flight over the magnificent roof of the world.
For a complete guide on the Helicopter tour in Nepal, please click here.
See Everest by Plane: 1 hour Flight (USD 175 per person): Book now
See Everest by Helicopter with Landing: 4-Hour flight (USD 899 per person/ USD 3800 up to 5 people): Book Now
Luxury Holidays Nepal has been operating helicopter tours in different parts of the country, If you need any further information, please contact us, Email: at [email protected], Phone: at +977- 985 100 5129 (WhatsApp)