Nepal, often referred to as the gem of the Himalayas, beckons travelers from across the world with its unparalleled biodiversity, majestic mountains, and rich cultural tapestry. With historic cities, diverse traditions, and a plethora of ethnic groups, Nepal stands as a testament to nature's grandeur and mankind's cultural brilliance.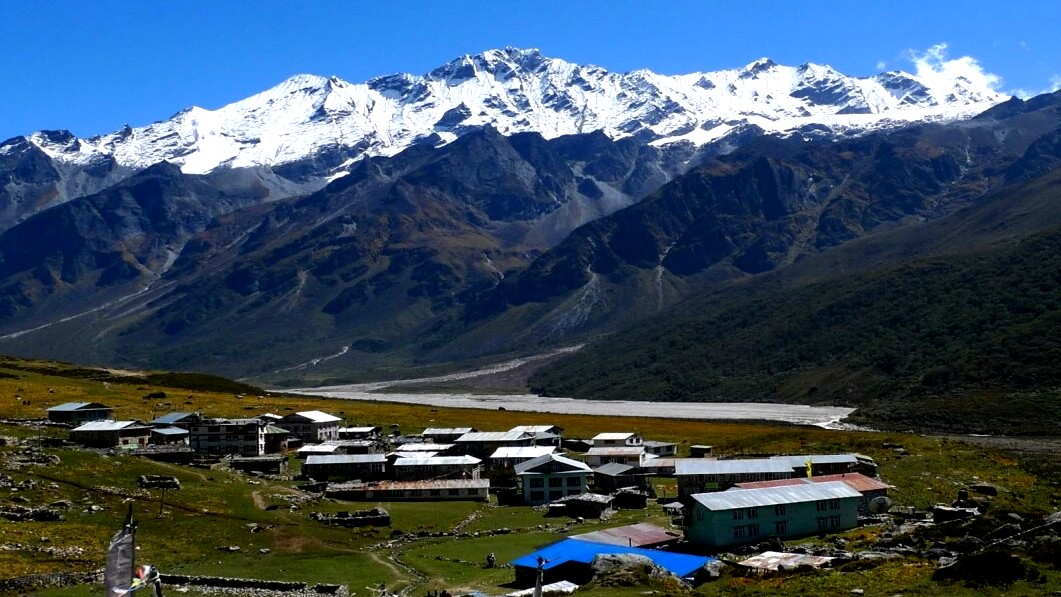 Among the myriad trekking trails that Nepal offers, the Langtang Valley Trek shines distinctly. Positioned third in popularity only to the renowned Everest and Annapurna treks, Langtang provides an oasis of tranquility, a mere stone's throw from the bustling capital. As you embark on this trek with Luxury Holidays Nepal, you'll traverse local hamlets, bamboo clusters, vibrant rhododendron groves, serene pine woods, and pristine alpine territories, all under the watchful gaze of stunning snow-clad peaks.
Langtang Trek isn't just another trek; it's an invitation to witness the splendor of peaks like Langtang Ri, Langtang Lirung, Dorje Lakpa, Langshisha Ri, and the grand Langtang Himal. These towering figures paint the skyline, turning the trek into a visual masterpiece.
What makes Langtang even more special is its accessibility and gentleness, making it a preferred choice for novice trekkers. The trek's relatively low altitude ensures minimal altitude sickness risks, while its short duration doesn't demand extensive trekking experience. It's a refreshing escape, especially for those seeking respite from the capital's frenzied pace.
Langtang Valley Trek presented by Luxury Holidays Nepal is not just a journey through scenic landscapes; it's an experience, a story waiting to be lived. Whether you're a seasoned trekker or someone stepping into the world of Himalayan trekking for the first time, Langtang promises memories that will linger long after the journey ends. Join us, and let's create tales of adventure together!
---
Highlights of Langtang Valley Trek
Majestic Mountain Views: The trek showcases panoramic vistas of the Langtang range, especially Langtang Lirung (7,227m), the highest peak in the area. Other notable peaks include Gang Chhenpo and Naya Kanga.

Diverse Biodiversity: As the trek winds through the Langtang National Park, trekkers have the opportunity to witness its rich biodiversity. The park is home to the red panda, Himalayan tahr, and various bird species.

Cultural Immersion: The valley is populated by the Tamang community, an ethnic group with customs and traditions heavily influenced by Tibetan culture. Their warm hospitality, traditional houses, festivals, and monasteries enrich the trekking experience.

Kyanjin Gompa: Situated against the backdrop of the Himalayas, this ancient Buddhist monastery is a spiritual and cultural landmark of the region.

Local Cheese Factory: Near Kyanjin Gompa, there's a local cheese factory that produces yak cheese. A visit here provides insight into the local economy and offers a chance to taste the fresh cheese.

Rhododendron Forests: Particularly in the spring, the forests come alive with blooming rhododendron trees, painting the landscape in shades of red, pink, and white.

Rivers and Glacial Moraines: Throughout the trek, you'll walk beside the bubbling Langtang River, and as you approach Kyanjin, you'll encounter glacial moraines, evidencing the valley's glacial origins.

Ascend Kyanjin Ri or Tserko Ri: For those looking to challenge themselves, climbing either Kyanjin Ri or the higher Tserko Ri provides unparalleled panoramic views of the entire Langtang range.

Traditional Architecture: The wooden and stone houses, carved windows, and intricate designs reflect the rich architectural heritage of the Tamang community.

Spiritual Sites: Throughout the trek, you'll encounter numerous mani walls, chortens, and prayer wheels, all bearing witness to the deep-rooted spirituality of the region.
---
Where is Langtang Valley located?
Langtang Valley, a pristine gem in the Himalayas, nestles in the north of central Nepal within the boundaries of the Rasuwa district. This enchanting valley stands on the cusp of Nepal and Tibet, adding a trans-border allure to its charm. Though merely 50km from Kathmandu in linear distance, the actual journey from the capital city to the trek's commencement at Syabrubesi extends to approximately 122km. Nevertheless, adventurers can easily embark on this trek with a manageable half-day drive from Kathmandu, setting the stage for an unforgettable experience in the heart of Langtang with Luxury Holidays Nepal.
---
Permits for the Langtang Valley Trek
For the Langtang Valley Trek, trekkers are required to obtain a few necessary permits. Here's a breakdown of the permits and how to acquire them:
Langtang National Park Entry Permit
Purpose: This permit is necessary for anyone looking to trek within the Langtang National Park, which encompasses the entire Langtang Valley Trek.
Where to obtain: You can get this permit either at the Nepal Tourism Board Office in Kathmandu or at the entry point of the park.
TIMS Card (Trekkers' Information Management System)
Purpose: TIMS was established to ensure the safety and security of trekkers and to control illegal trekking operations.
Where to obtain: The TIMS card can be acquired at the Nepal Tourism Board in Kathmandu or the TIMS counter in Pokhara.
Notes:
Remember to carry passport-sized photos, as they might be required for the permits.
Always carry the original permits and their photocopies while on the trek, as there are periodic checkpoints where they may be inspected.
The permit fees and procedures might change over time, so it's a good idea to check for the most recent information before planning your trek or consult with Luxury Holidays Nepal, for the latest updates.
---
Best Time to Trek Langtang Valley
The Langtang Valley embodies the ever-changing moods of the Himalayas, with each season ushering in its own set of wonders. Here's a comprehensive breakdown of the best times to immerse in the Langtang Valley Trek, delineating the beauty of every season: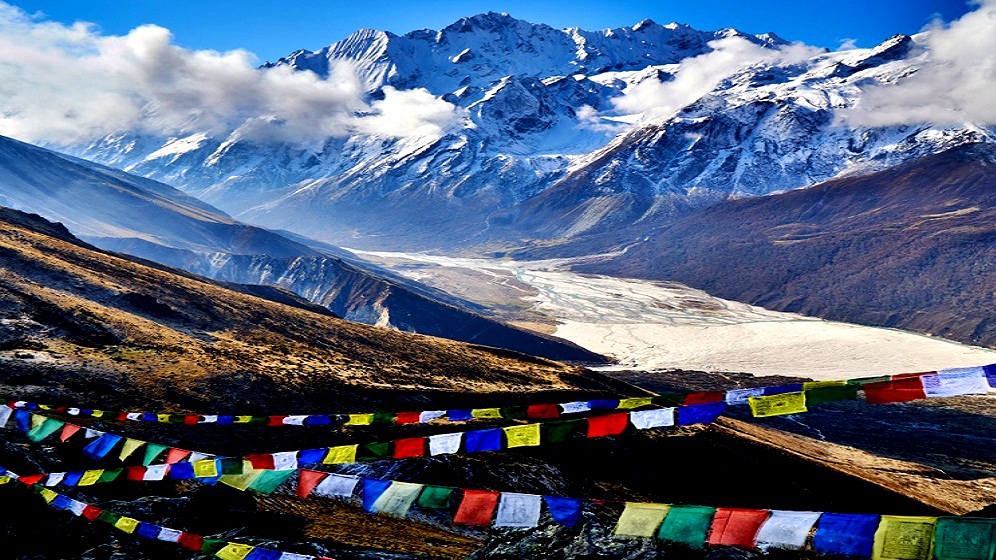 Spring (March to May)
Weather: Revel in warm days and cool nights, with temperatures rising as May looms.
Scenery: The forests come alive with blooming rhododendrons, Nepal's emblematic flower. These blooms juxtaposed against residual snow in higher regions offer captivating visuals.
Pros: The clear skies of spring gift trekkers with unobstructed, panoramic views of majestic mountains, peaking in clarity during April and May.
Considerations: Being a preferred trekking season, trails might witness higher footfall.
Summer/Monsoon (June to August)
Weather: Warm yet wet, the monsoon caress is palpable during these months.
Scenery: The verdant landscape, punctuated by roaring waterfalls, provides a fresh perspective to the valley.
Pros: Lesser crowd ensures a tranquil trekking ambiance.
Considerations: The season poses challenges like landslides and leeches. Though rains might dampen mountain vistas, the flora is at its most radiant.
Autumn (September to November)
Weather: The season is marked by clear blue skies and balanced temperatures, with a nip in the air emerging in November.
Scenery: A fresh, post-monsoon landscape eventually gives way to the golden hues of autumn.
Pros: Often touted as the pinnacle for Himalayan treks due to its impeccable visibility. The festive spirit of Dashain and Tihar, significant Nepali festivals, accentuates the trek's charm.
Considerations: Its popularity ensures that trails are bustling, especially around October.
Winter (December to February)
Weather: The chill is in the air, more pronounced at lofty altitudes. Nights can get bitterly cold, and snow dances down frequently.
Scenery: A winter wonderland awaits, dominated by pristine, snow-draped landscapes and crystalline mountain vistas.
Pros: Adventurous souls can enjoy an almost meditative solitude on trails and relish the snowy spectacle.
Considerations: Trekking in this season mandates thorough preparation, given the potential closure of certain trails and tea houses due to profound snow.
The Langtang Valley Trek, with its seasonal tapestry, caters to diverse preferences. Whether it's the spring's blossoms, autumn's clear vistas, summer's verdancy, or winter's snowy embrace, Langtang promises an unparalleled trekking experience, every step of the journey. Choose your season and let the valley's magic unfold with Luxury Holidays Nepal.
---
Accommodation in Langtang Valley Trek
The Langtang Valley Trek doesn't just promise captivating landscapes but also introduces trekkers to the rustic charm and warmth of its accommodations. Whether you're seeking traditional lodgings or a touch of comfort, the valley has you covered.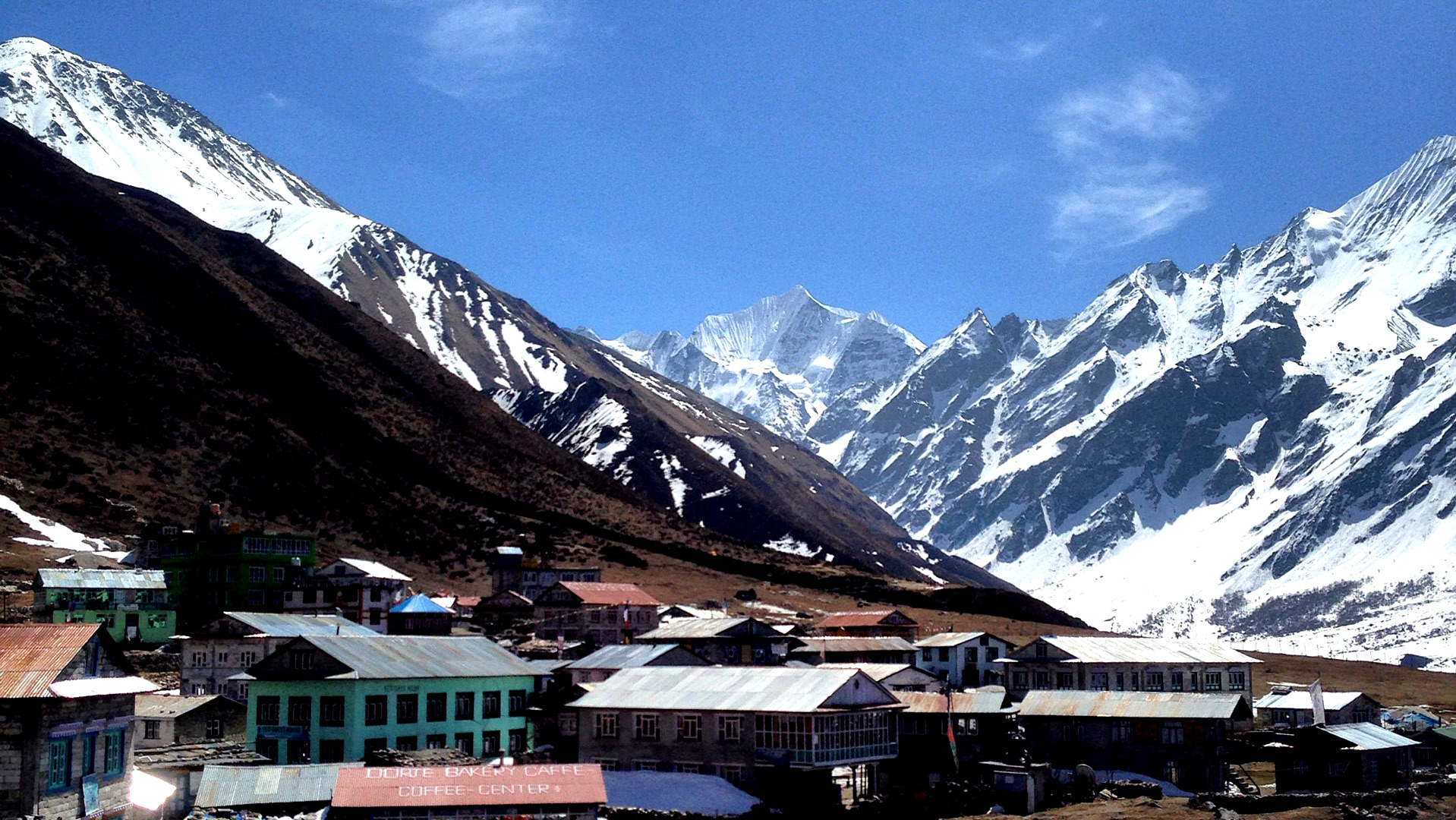 Teahouses
Structure and Ambiance: Crafted with indigenous materials, teahouses epitomize local architecture and provide a genuine taste of the Himalayan lifestyle. They reign as the primary accommodation choice along the trek.
Rooms: Trekkers can expect private quarters featuring twin beds. However, as you ascend, anticipate shared bathroom facilities and simpler setups.
Amenities: Although fundamental, electricity is customary, albeit unpredictable. Certain teahouses might proffer solar charging at an additional charge.
Heating: While communal zones may sport a stove or fireplace, bedrooms typically lack heating mechanisms. Carrying a quality sleeping bag is prudent.
Dining: Doubling as eateries, teahouses delight with an array of dishes, spanning from classic Nepali meals like dal bhat to global favorites such as pasta.
Lodges
Structure and Ambiance: Serving as an upgraded version of teahouses, lodges infuse added comfort into your trek, albeit being less prevalent.
Rooms: Lodge accommodations often come with the luxury of ensuite bathrooms and marginally comfier bedding.
Amenities: Expect consistent electricity, rejuvenating hot showers, and occasionally, the connectivity of Wi-Fi.
Dining: With a wider culinary spread and enhanced food quality, lodges guarantee gastronomic satisfaction.
Camping
For those yearning for an authentic wilderness experience, camping emerges as an option. Predominantly chosen for untouched trek paths, this mode requires a well-equipped expedition, inclusive of tents, culinary gear, and an adept crew for logistical coordination.
Tips
Reservations: In the bustling trekking seasons, preemptively booking lodgings is sage advice, particularly in hamlets with fewer stay options.
Connectivity and Charging: Some establishments might proffer complimentary Wi-Fi and charging, but many levy charges, a trend that intensifies with altitude.
Monetary Essentials: Owing to a predominant reliance on cash transactions, ensure you're stocked with adequate Nepali rupees.
Eco-Conscious Hydration: To mitigate plastic usage, leverage purified water facilities at teahouses, even if it comes at a nominal fee.
In the embrace of Langtang's ethereal landscapes, irrespective of your choice of stay, the camaraderie of the locals and their unparalleled hospitality ensures that your trek is interspersed with heartfelt moments and memories. Delve into the Langtang Valley Trek with Luxury Holidays Nepal for an authentic Himalayan sojourn.
---
Trekking grade for the Langtang Valley Trek
When considering the Langtang Valley Trek, it's crucial to understand its intricacies and challenges. Often labeled as 'moderate', this trek has its unique set of demands, which, when appreciated, can significantly enhance the overall trekking experience.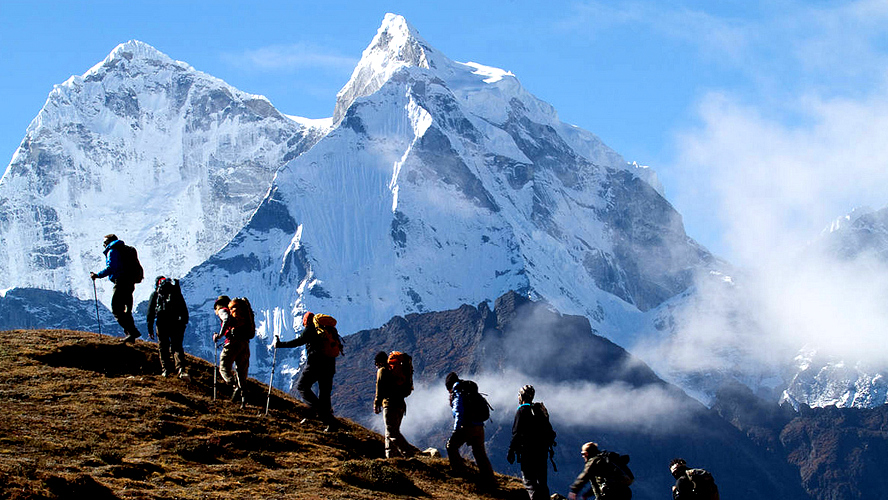 Here are the trekking Grades for the Langtang Valley Trek
Altitude: One of the standout features is the elevation. The trek's zenith, either Kyanjin Ri or Tserko Ri, stands at a staggering 5,000 meters. Ensuring proper acclimatization is paramount to stave off altitude sickness.
Terrain: Traversing the Langtang Valley, trekkers will walk on well-defined paths that offer a medley of flat stretches, moderate slopes, and some challenging ascents.
Duration: A typical day on the Langtang trek sees durations ranging between 4 to 7 hours. However, this varies based on individual itineraries and the trekker's pace.
Technicality: The beauty of this trek lies in its non-technical nature. While no climbing prowess is essential, the trails can occasionally be rugged, underscoring the need for sturdy footwear and a keen sense of balance.
Fitness Level: The Langtang Valley Trek may be amiable for beginners, but having a robust fitness foundation proves invaluable. Emphasis on cardiovascular workouts can aid immensely in tackling the altitude and daily treks.
Weather: High altitudes and mountainous terrains are synonymous with unpredictable weather. Especially during the colder seasons, trekkers should be equipped for brisk temperatures and sudden climatic shifts.
Knowledge and preparation are the keystones to making the most of the Langtang Valley Trek. By internalizing the above aspects, trekkers not only ensure a safer journey but also immerse themselves more profoundly in the natural splendors of the valley. With Luxury Holidays Nepal, embark on this majestic Himalayan journey, armed with insight and readiness.
---
Preparing for the Langtang Valley Trek
Trekking the Langtang Valley is an endeavor of great beauty and challenge. To fully enjoy and ensure a seamless journey, detailed preparation is vital. Dive into this all-inclusive guide designed to steer you through every necessary step.
Physical Fitness and Training
Cardio Training: Integrate activities like brisk walks, jogs, or cycling to enhance endurance. Dedicate at least 30 minutes, 4-5 days a week.
Strength Training: Prioritize toning your legs, core, and back through exercises like squats and lunges.
Altitude Preparation: Engage in high-altitude hikes or hypoxic training if accessible.
Route Research and Itinerary
Delve into the trek route, vital landmarks, and variations in altitude.
Gauge the time span between trek points to determine your daily trekking durations.
Acquiring Necessary Permits
Secure the Langtang National Park Entry Permit and the TIMS card. Stay updated on any fresh stipulations concerning permits.
Packing List
Clothing: Emphasize layers. Stock up on thermal wear, trekking attire, jackets, and waterproof garments.
Footwear: Opt for well-fitted trekking boots and always carry extra socks.
Gear: Essentials include a robust backpack, sleeping gear, trekking poles, and rain protection.
Medical Kit: Equip yourself with altitude medication, purifiers, painkillers, and basic first aid.
Toiletries: Protect against the sun and maintain personal hygiene with select products.
Electronics: Consider energy-efficient devices and backup solutions.
Documents: Always have identification, permits, insurance info, and emergency details handy.
Mental Preparation
Foresee challenges linked to high-altitude treks and basic facilities.
Immerse in local culture by learning rudimentary Nepali phrases.
Travel Insurance
Choose a policy that extensively covers altitude treks, emergencies, medical needs, and trip interruptions.
Dietary Considerations
Familiarize yourself with typical trek foods. Always have a stash of energy boosters.
Commit to hydration. Consume 3-4 liters of water daily during the trek.
Acclimatization and Altitude Sickness
Recognize the signs of Acute Mountain Sickness (AMS).
Prioritize an itinerary that promotes acclimatization.
Stay Informed
Regularly check weather updates.
Stay in the loop about trail statuses and any potential dangers.
Choose a Reliable Tour and Trekking Company
For those seeking guided treks, choose established agencies like Luxury Holidays Nepal that emphasize safety and ethical trekking.
Respect Local Culture and Environment
Champion sustainable trekking and embrace local customs.
Trekking the Langtang Valley Trek is a profound experience, harmonizing nature's grandeur with cultural depth. Detailed preparation fosters safety and augments the trek's richness. Whether you embark solo, with a guide, or in a group, thorough readiness ensures a truly immersive Langtang Valley experience.
---
Itinerary for Langtang Valley Trek
Langtang Valley Trek can be done from a few different places, but the more convenient and preferred trail is given below. The landscape, terrain, people, culture, and everything look so different from Kathmandu. Dense rhododendron forests, wide-range valleys, diverse terrain, waterfalls, and rivers are the major attractions on the way. Here is the most popular itinerary for the Langtang Valley Trek:
Day1: Drive from Kathmandu to Syabrubesi (6-7hr),1460m
Day2: Trek to Lama Hotel/ Sherpa Gaon (5-6hr), 2563m
Day3: Trek to Langtang Village (5-6hr), 3430m
Day4: Trek to Kyanjin Gompa (3-4hr). 3830m
Day5: Acclimatization in Kyanjin Gompa and hike to Tserko Ri (6-7hr),4984m
Day6: Hike to Kyanjin Ri and Trek back to Lama Hotel (7-8hr), 2470m
Day7: Trek to Syabru Besi (5-6hr),1460m
Day8: Drive back to Kathmandu (6-7hr), 1345m
The Langtang Valley Trek is a symphony of breathtaking vistas and deep cultural experiences. To navigate this picturesque terrain with ease, follow these invaluable insights.
Best Time to Go: Spring (March-May) and Autumn (September-November) shine with pristine skies and balanced temperatures. However, anticipate bustling trails during these prime seasons.
Stay Hydrated
Ensure a daily intake of 3-4 liters of water to ward off dehydration and support acclimatization.
Trust in water purification tablets or arm yourself with a handy water filter.
Acclimatization is Key
Dedicate extra nights at strategic altitudes to acclimate, curtailing altitude sickness risks.
Abide by the tried-and-true: "Climb high, sleep low."
Pack Smart
Prioritize accessibility for essentials, making frequent-use items easy to reach.
Organize your belongings with packing cubes or zip-lock bags for efficiency.
Choose the Right Footwear
Broken-in trekking boots are your allies against blisters.
Evening relaxation calls for lightweight sandals or cozy slippers.
Layering: The mercurial dance between day and night temperatures dictates the wisdom of layered attire for easy adaptability.
Connect with Locals
Dive deep into the local Tamang and Sherpa cultures. Opportunities like monastery visits or village events amplify the experience.
Greet with "Namaste" – a small gesture with significant impact.
Respect the Environment
Uphold the Leave No Trace doctrine. Be responsible for your waste.
Pledge against bottled water purchases, favoring refill stations or purified tap water.
Stay Connected: Though some teahouses may dangle the promise of Wi-Fi, reliability is a game of chance. A local SIM card with a data bundle might offer superior connectivity.
Budgeting: With the trek's affordability comes the potential of unforeseen expenses. Arm yourself with spare cash, especially in finer denominations, considering the rarity of ATMs.
Flexibility: The whims of weather or health can mandate itinerary alterations. Stay adaptable.
Guides and Porters: Our seasoned guides enrich your journey with insights into regional culture, history, and topography. Opt for our porters for a lighter load, ensuring they receive just compensation and suitable working conditions.
Travel Insurance: Select a policy encompassing high-altitude trekking and potential emergency airlifts.
Stay Updated: Stay a step ahead by perusing recent trekkers' reviews for the latest on trail conditions, lodging, or novel regulations.
Personal Medical Kit: Though major villages might offer basic medications, a personal kit is a safety net with essentials, from painkillers to altitude medication.
Stay Positive and Enjoy: Challenges might pepper the journey, but a buoyant spirit and immersion in the surrounding splendor render the journey unforgettable.
The Langtang Valley Trek is a canvas of nature's finest strokes and vibrant cultural hues. Harnessing these recommendations ensures not just a smoother trek, but the creation of indelible memories in the Himalayan embrace.
The Langtang Valley Trek with Luxury Holidays Nepal epitomizes the irresistible charm of Nepal, seamlessly fusing unmatched natural grandeur with profound cultural richness. As trekkers traverse unblemished landscapes marked by towering snow-capped peaks, verdant forests, and ancient monasteries, they simultaneously delve deep into the region's vibrant Tamang heritage. With Luxury Holidays Nepal, thorough preparation and deep respect for the local environment and traditions are prioritized, ensuring trekkers not only revel in the breathtaking sights but also contribute positively to the stunning valley.
Embarking on a high-altitude adventure like the Langtang Valley Trek brings inherent challenges, including unpredictable weather and the physical demands of lofty elevations. This makes detailed planning crucial, and Luxury Holidays Nepal excels in assisting trekkers to select optimal gear and grasp crucial acclimatization details. With us, trekkers relish in awe-inspiring panoramas, engage warmly with locals, and bask in a deep sense of accomplishment, making every exertion utterly worthwhile. Let the Langtang Valley Trek with Luxury Holidays Nepal be more than a physical expedition; allow it to be a soulful plunge into the heart of the Himalayas.
---
Frequently Asked Questions(FAQs): A Complete Guide for Langtang Valley Trek
Q: How long is the Langtang Valley Trek?
A: The trek typically spans 7 to 10 days, depending on your itinerary and pace. This includes acclimatization days and optional side trips.
---
Q: How difficult is the trek?
A: The Langtang Valley Trek is considered moderate. While it doesn't have excessively challenging terrains like some other treks, altitude can be a factor, and a good level of fitness is recommended.
---
Q: Do I need any previous trekking experience?
A: No, prior trekking experience isn't mandatory. Having some trekking or long-distance hiking experience can be beneficial.
---
Q: What is the maximum altitude reached?
A: The highest point of the trek is Kyanjin Ri or Tserko Ri, which stands at an altitude of approximately 5,000 meters or 16,404 feet.
---
Q: Is it safe for solo travelers, especially women?
A: Generally, the Langtang Valley is safe for solo travelers, including women. However, usual precautions like informing someone of your whereabouts and being culturally respectful should be taken.
---
Q: Can I access the internet or phone services during the trek?
A: Yes, some villages and teahouses offer Wi-Fi, often for a fee. Mobile network coverage can be spotty but is available in certain areas.
---
Q: What type of accommodation can I expect?
A: Most trekkers stay in teahouses, which offer basic lodging and meals. Private rooms are available, but amenities are usually fundamental.
---
Q: Are ATMs available along the trail?
A: No, ATMs are scarce once you start your trek. It's recommended to carry sufficient cash from Kathmandu or larger towns.
---
Q: What kind of food is available?
A: Teahouses provide a menu of local and international dishes, including dal bhat (traditional Nepali meal), momos (dumplings), and even pasta or pancakes.
---
Q: How do I deal with altitude sickness?
A: Acclimatizing properly, staying hydrated, avoiding alcohol, and ascending slowly can help prevent altitude sickness. If you experience symptoms, it's vital to descend to a lower altitude and seek medical attention if necessary.
---
Q: When is the best time to do the trek?
A: Spring (March to May) and Autumn (September to November) are ideal due to clear skies and moderate temperatures. Monsoon (June to August) sees fewer trekkers but has the risk of landslides, and Winter (December to February) can be quite cold.
---
Here are some of the most popular Trekking packages in Nepal.
Luxury Trekking Package in Nepal
Everest Region Trekking Packages
If you need any further information, please contact us by email: at [email protected], Phone: at +977- 985 100 5129 (WhatsApp)