A complete guide to Langtang Valley Trek furnishes you with comprehensive information about the Langtang valley trek routes, itinerary, favorable season to travel, culture, religion, and practices of that reason including the difficulties and useful tips, information on food and accommodations in the whole.
Nepal is one of the most beautiful as well as imaginative dreamlands in the world for travel enthusiasts. This land is rich in biodiversity because of its unique geographical position, altitude variation, being home to the highest mountains, unique culture, traditions, practices, and hundreds of ethnic groups in this small country of the Himalayas. Historic cities, a sovereign federal republic democratic country with countless natural beauties and historical attractions are the major charisma of Nepal. In general, enchantment is everywhere for anyone in search of Shangri-La.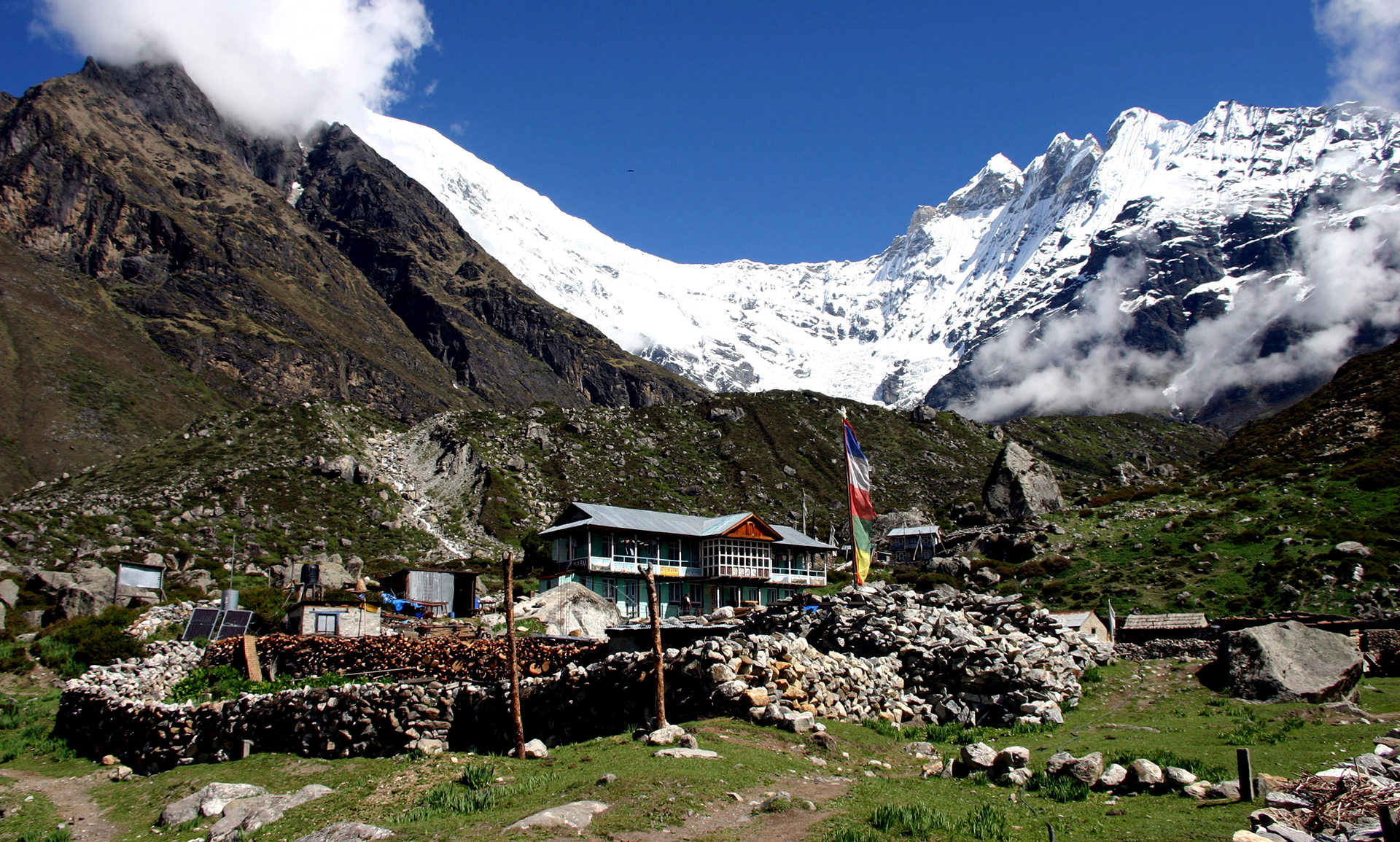 Langtang Valley Trek is one of the most fascinating and popular trekking trails after the Everest Region Trek and Annapurna Region Trek. The moderately graded trekking trail is one of the great escapes from the capital's traffic and hustle. The lush Langtang Valley trek takes you along with local villages through a forest of bamboo, rhododendron, pine, and alpine forest while looking up to the beautiful snow-capped mountains. Langtang Trek offers an outstanding vista of Langtang Ri, Langtang Lirung, Dorje Lakpa, Langshisha Ri, Langtang Himal, and numerous gorgeous mountains that makes it a prime destination for trekking.
Likewise, the Langtang trek is famous for its low altitude & comparatively short & easy trek for all beginner hikers. In addition, this trek is a perfect choice to escape from the capital's busy lifestyle full of crowds & pollution to enjoy nature.
Highlights of Langtang Valley Trek
The scenic drive from Kathmandu to Syabrubesi views astonishing landscapes, small settlements, rivers, terraces, and lush green forests.
Majestic view of Langtang Ri, Langtang Lirung, Dorje Lakpa, Langshisha Ri, Langtang Himal, Ganesh Himal, and numerous gorgeous mountain
Get a chance to explore the ethnic community of Tamang and their tradition, culture, and practices.
Experience the rich and diverse biodiversity.
Panoramic view of mountains from Tserko Ri and Kyanjin Ri including snow-capped mountains, valleys, and glaciers.
Tibetian Buddhist culture and ancient Kyanjin monasteries correspond to Tibetan Buddhism.
Overview of Langtang Valley Trek
Total Distance: 77km
Max Elevation: 4984m(Tserko Ri)
Trekking difficulty: Moderate to difficult
Total Trekking days:8-12 days
Best season for trekking: March to May and September to November
Transportation: Local Bus/ Private Jeep/Car
Required Entry Permit: TIMS Card and National Park Entry Card
Accommodation: Tea House and Guest House
Food: Nepali Food, Local Food, and continental
Where is Langtang Valley located?
Langtang Valley is located in the north of central Nepal in the Rasuwa district bordering Tibet in the Himalayas. It lies around 50km far from Kathmandu and takes a half-day drive from Kathmandu to reach the Langtang region. However, the actual distance from Kathmandu to the trek starting point Syabrubesi is 122km.
How to Get in Langtang Valley?
There are three different options to enter Langtang Valley. First, you can hire a private jeep/car from Kathmandu, which is a little more expensive than normal public transportation. If you are trekking through a travel agency, then you won't need to worry about it.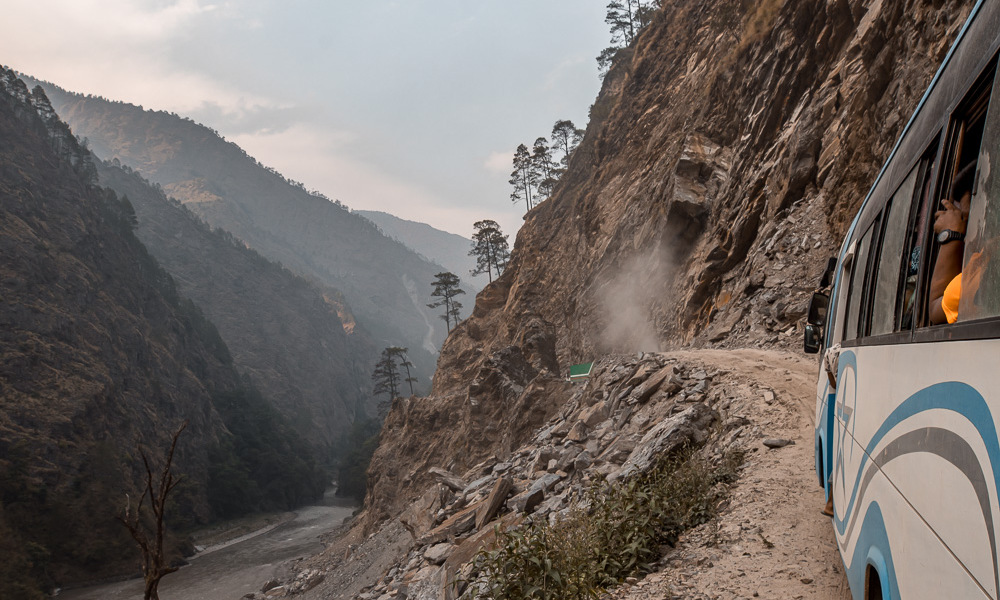 Secondly, you can book the public bus as well to reach Syabrubesi, which normally runs from Balaju Kathmandu. They have AC Delux and comfortable public transportation to Langtang Region. It cost around 8-10 USD per person, which is quite cheaper than a private Jeep/Car. The trail is almost normal, but sometimes you need to travel off-road which is somehow scary as well.
Permits and Entrance Fee
Since this amazing trekking trail lies in Langtang National Park, you need a trekking permit for other reasons like Annapurna Region and Everest Region. The entrance to Langtang National Park will cost you around Rs 3,000(~$20). You need to ask for this permit at Tourism Board Kathmandu, or you can get it from the Dhunche (Starting point of Langtang Valley Trekking)
For foreigners: 3,000 NPR
For SAARC Nationals: 1500 NPR
Free for children less than 10 years of age.

Similarly, you need another permit called a TIMS card. Trekker's Information Management System (TIMS) is a card that you get as a permit. These permits must be shown at checkpoints in different places. The TIMS Card for Langtang Trek is a record that helps trekkers in case of an earthquake, or extreme weather, and for finding lost trekkers. If you are traveling through a Travel Agency, they will manage both National Park Permit and TIMS cards for you. All you need to do is, to provide you with a copy of your passport and 2pc of passport-size photographs.
Organized group/TIMS: NRS. 1000 / ~$9
SAARC Nationals: NRS. 600 / ~$5
Individual Trekker: NRS. 2000 / ~$18
Best Season to Trek in Langtang Valley Trek
Langtang Valley trek can be done around the year since the altitude is quite normal as compared to high mountain trekking and also it's normally moderate in trekking grading. Despite this, there is always favorable weather for the amazing view of mountains and landscapes. Spring and Autumn are the best seasons to trek in all the Himalayan regions of Nepal and Langtang Valley as well.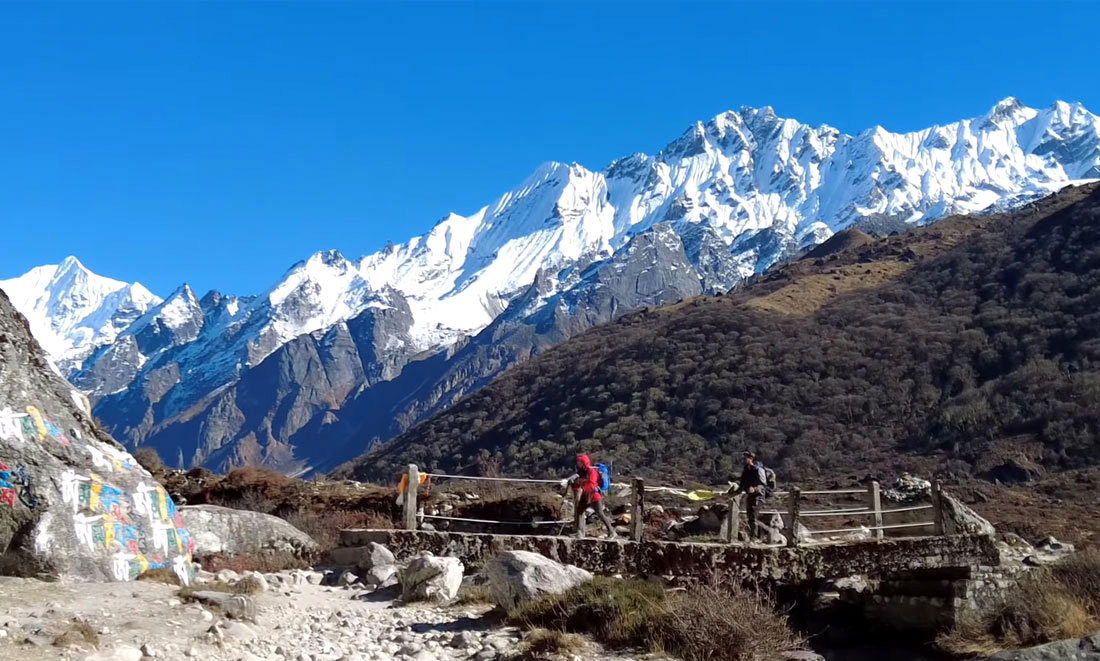 Besides this, December to February assigns cold with a bit cloudy and scenic might be not good to explore. Likewise, June to August is normally considered the monsoon in Nepal, and heavy rainfall, slippery trail, and sometimes might face natural disasters like landslides and floods as well. Though, with proper safety measures, you can travel throughout the year. You must be ready to blend in with pristine nature and enjoy the jaw-dropping mountain views on the trek. Normally in peak season, the weather will be comfortable to explore the authentic beauty of the Langtang region and the surrounding will amaze you with their phenomenal view and outstanding beauty.
Also, Read Best Time to Visit Nepal.
Accommodation in Langtang Valley Trek
This trail is normally a teahouse trekking, so you would get a tea house, small lodges, and hotels during trekking. You normally hike from one village to another village and can get enough lodges for a normal stay. They have clean and nice bedrooms with attached bathrooms in some of the hotels. Some normal hotels have shared bathrooms but you can get a private room easily. It is normally 6$ to 8$ per night. But during the prime trekking season, it's a little difficult to get a room, so you have to book in advance if you are planning to trek in the spring and autumn season. The best option is, if you are trekking through a travel agency, you would have better accommodation and facilities there.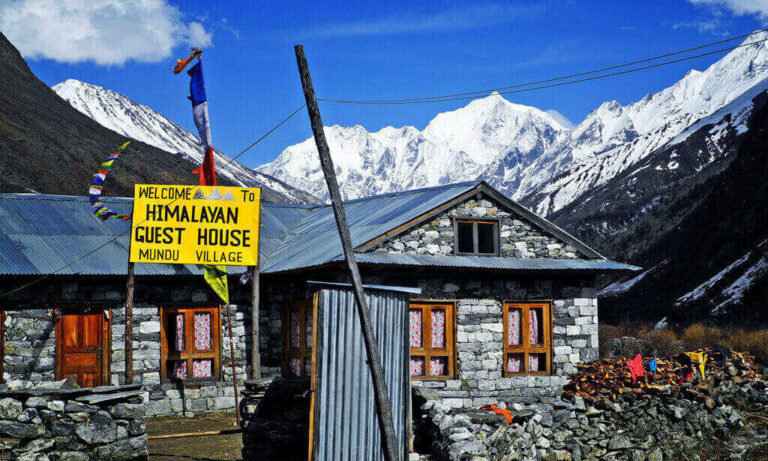 What kind of food is available in Langtang Valley Trek?
In Langtang Valley Trek, normally they serve local cuisine, Nepali Dal Bhat set, and continental food. During breakfast, you can satisfy your belly with tea, juice, toast, pancake, egg, potatoes, mo: mo, etc. for breakfast. Sometimes, you can order soups, local bread, and fried rice. The cost of breakfast at this route starts at $2-$3. The higher the elevation the price may increase up to $4-$5.
For lunch and dinner, the best food to eat is "Dal Bhat'' which provides you with lots of calories and proteins which is essential for your trekking. There is a saying about it also, "Dal Bhat Power 24 Hours". You can also find several items beside it like salad, pickles, etc. The price for lunch and dinner is around $4-$5 and may go up at the top. Besides this, pasta, noodles, spaghetti, some Indian items, Tibetan taste, and Italian taste are also available in this region. If you are traveling through a local agency, then they will serve fruits as a dessert at dinner. Tea, coffee, coke, and some hot/cold drinks are also easily available in this trekking. The higher you go, the price of the product will go higher.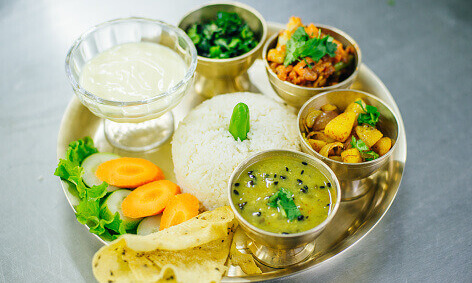 Water is the most essential and vital thing while trekking in high mountains. There is plenty of freshwater resources and tap water on the way. All you need is, to bring a water purifier and purifier tab with you so that you can filter anytime. Bottle water is also available in tea houses and small shops on the way. You can always refill a bottle of water at hotels for free or for a lesser amount.
If you want to buy a purified bottle of water, then it may cost you from $1.5 at a lower elevation to $3.5 at a higher elevation. And also, don't forget to drink hot water at the stop to prevent Acute Mountain Sickness (AMS). Drinking more is the best way to climb more altitude.
Is Langtang Valley safe for the solo female traveler?
Nepal is already safe for both male and female travelers. Since the country is not that big and people are so friendly and humble towards foreigners. For solo female travelers, yes you need to be extra careful while traveling in different places, because of diverse ethnic groups, different languages, cultures, and traditions. So, always respect their culture and practices wherever you go and you must be a little careful about your dress while traveling in remote parts of Nepal. Also, it's better to hire at least a guide while traveling in high mountains and remote areas. They will assist you as much as possible to make your trip memorable.
Trekking grade of Langtang Valley Trek
Normally Langtang Valley Trek is considered a moderate to difficult-level hiking trail. The walking distance is shorter and easier and you won't gain much altitude in a single day. Also, the maximum altitude is nearly 5000m, So, this altitude is common for high mountain trekking. The longest day will be hiking from Kyanjin Gompa to Tserko Ri and back to Kyanjin Gompa. The risk of altitude sickness will be less as we won't spend much time at higher altitudes. Still, plenty of water, proper rest, and sufficient food will easily take the most famous and beautiful trekking trail in Nepal. However, a path in landslides and a bank of the river, steep slope might be a problem while trekking, so it's better to be aware of it.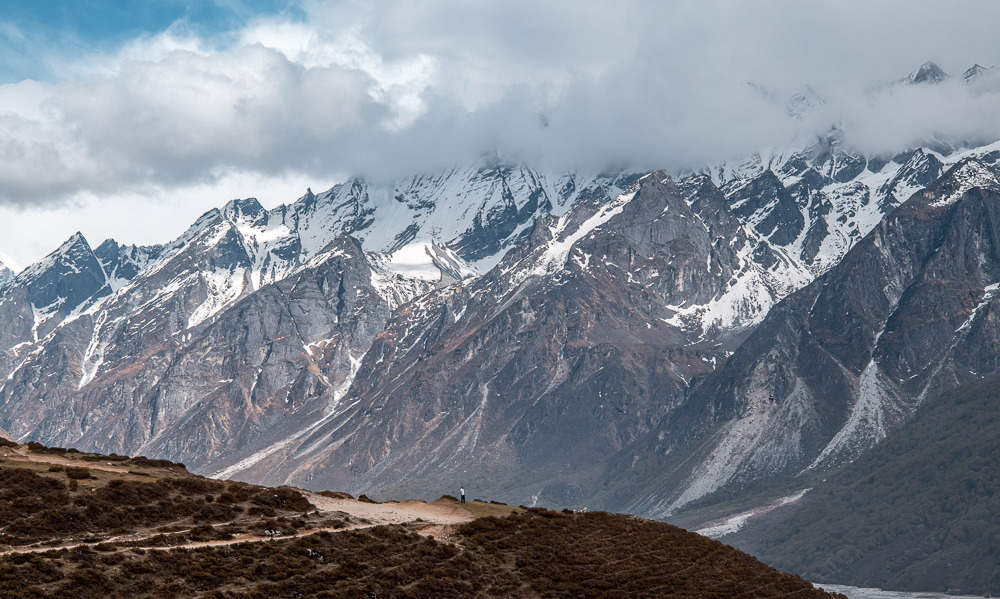 Electricity and Internet Facility in Langtang Valley Trek
Almost, you will find electricity in each lodge and tea house to charge your mobile and camera. But, they will charge Rs 100-Rs 150 per hour for charging your gadgets. About the internet, you will get a mobile network until Langtang Valley and Kyanjin Gompa have wifi facilities, but they charge a certain amount for it. You can use a comfortable internet and electricity facility in Langtang Valley Trek.
Guide and Porter
Trekking in the mountain region is not easy but with the help of experienced guiding team members, proper food, drink, and rest can take you to your dream destination. We recommend travelers to travel with a guide and porter (if you have heavy luggage), because most of the time, we've to travel through dense forests and narrow trails. Where it's very hard to find the locals and other people always while trekking. Guides provide the essential information and take care of all the accommodation, safety measures, flights, transportation, and entry and exit at all the entrance points. One thing you need to keep in mind is that, at the end of the trekking, the guide and porter expect good tips from you. These people are hardworking and they put all the effort to take you and your staff to your dream destinations in an extreme mountain environment.
Itinerary for Langtang Valley Trek
Langtang Valley Trek can be done from a few different places, but the more convenient and preferred trail is given below. The landscape, terrain, people, culture, and everything look so different from Kathmandu. Dense rhododendron forests, wide-range valleys, diverse terrain, waterfalls, and rivers are the major attractions on the way. Here is the most popular itinerary for the Langtang Valley Trek:
Day1: Drive from Kathmandu to Syabrubesi (6-7hr),1460m
Day2: Trek to Lama Hotel/ Sherpa Gaon (5-6hr), 2563m
Day3: Trek to Langtang Village (5-6hr), 3430m
Day4: Trek to Kyanjin Gompa (3-4hr). 3830m
Day5: Acclimatization in Kyanjin Gompa and hike to Tserko Ri (6-7hr),4984m
Day6: Hike to Kyanjin Ri and Trek back to Lama Hotel (7-8hr), 2470m
Day7: Trek to Syabru Besi (5-6hr),1460m
Day8: Drive back to Kathmandu (6-7hr), 1345m
Langtang after Earthquake
Nepal was badly destroyed by a devastating 7.8-magnitude earthquake in 2015. Among various affected areas, Langtang Region was one of them and many homes, lives, and properties were badly damaged by the earthquake. Most of the trekking trails, bridges, and Langtang village were destroyed so badly that it took almost two years to get back to normal life. That's why trekking and mountaineering activities were almost completely stopped for two years from the date of the earthquake and the route was closed for so long.
For several years, the trekking trails were still holding the possibility of landslides which directly affect the flow of tourists in this region. However, over the years, Langtang Valley is once again back and trying to attract national and international tourists. Teahouses and lodges have been rebuilt, new restaurants and hotels are opened and trails are well made and fulfill all the requirements. The local people are so supportive and willing towards welcoming the new guest and people. As a matter of fact, tourism is also one of them to support their lives in the future.
If you are looking to trek in Langtang, please click here.
If you need any further information, please contact us, Email: at [email protected], Phone: at +977- 985 100 5129 (WhatsApp)