Due to the geographic variety of Nepal, helicopter excursions are a unique way to see the nation. Even in the modern day, Nepal still has some of the most isolated locations that are only reachable by air, which is facilitated by a helicopter flight. And the greatest method to experience the breathtaking Himalayan views in a short amount of time is to take helicopter tours in Nepal. Mountain vistas, city sightseeing, research trips, photography trips, and filming trips are all included in Nepal helicopter tour packages. The dream come true service is a honeymoon trip for newlyweds or special event/moment celebrations with your beloved in a remote region of the Himalayas.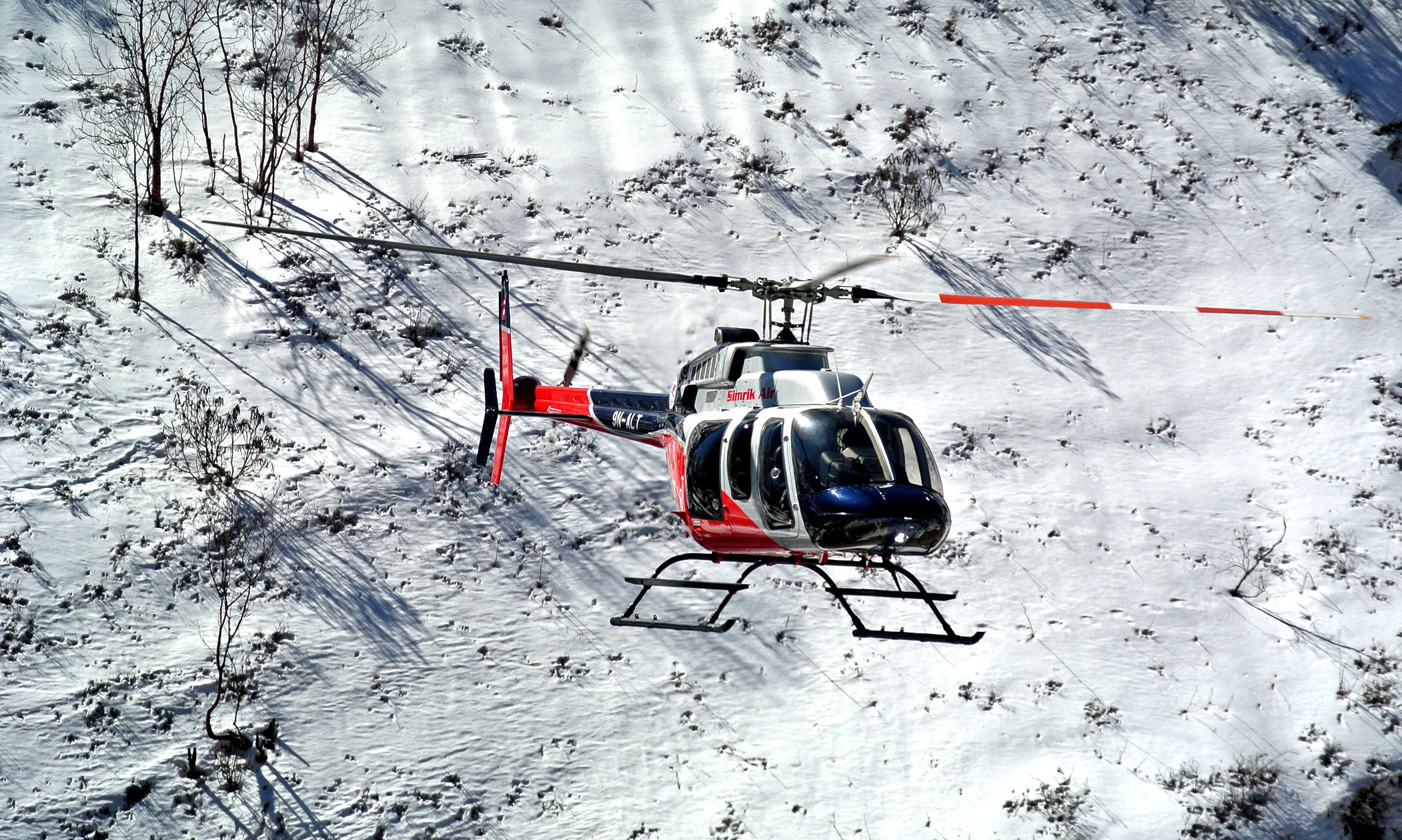 In Nepal, helicopter rides to isolated locations and the Himalayas are the best. The most popular helicopter tours in Nepal include the Helicopter tour in Everest Region, the Helicopter tour in Annapurna Region, the Helicopter tour in Langtang Region, Everest Base Camp Helicopter Tour, and many other options available.
Highlights of Helicopter Tours in Nepal
Helicopter tours in Nepal offer a myriad of highlights that make them a truly unforgettable and exhilarating experience. Some of the key highlights include:
Spectacular Himalayan Views: Helicopter tours provide unparalleled views of the world's highest peaks, including Mount Everest, Annapurna, and Langtang ranges. Witnessing these majestic mountains from the air is a once-in-a-lifetime experience.
Convenience and Time-Saving: Helicopter tours allow travelers to cover vast distances and reach remote areas in a short amount of time. They offer an efficient way to explore Nepal's diverse landscapes without the need for long treks.
Landing at Remote Locations: Some helicopter tours offer the chance to land at iconic locations like Everest Base Camp or Annapurna Base Camp. Stepping foot on these legendary spots adds a sense of accomplishment and connection with the mountains.
Aerial View of Cultural Landmarks: Fly over ancient temples, monasteries, and traditional villages, gaining a unique aerial perspective of Nepal's rich cultural heritage and architectural marvels.
Photography and Filming Opportunities: Helicopter tours present exceptional opportunities for photographers and filmmakers to capture stunning aerial shots of the Himalayas and other natural wonders.
Flexibility and Customization: Helicopter tours can be tailored to individual preferences and interests, making them suitable for adventure enthusiasts, nature lovers, honeymooners, researchers, and more.
Unique Adventure and Thrill: Flying in a helicopter over the dramatic landscapes of Nepal creates an adrenaline-pumping adventure that remains etched in memory for a lifetime.
Rescue and Emergency Operations: Helicopters play a critical role in rescue operations, evacuating injured or stranded individuals from remote mountain regions, showcasing their life-saving significance.
High-Altitude Lakes and Valleys: Some helicopter tours offer a chance to witness serene high-altitude lakes like Gosaikunda and remote valleys like the Langtang region, enhancing the overall experience.
Environmental Awareness: Helicopter tours raise awareness about Nepal's natural beauty and the importance of preserving its fragile ecosystems. Responsible operators prioritize eco-friendly practices.
Best time for Helicopter Tour in Nepal
Nepal's helicopter tours can be enjoyed throughout the year, each season offering unique experiences and perspectives of the country's diverse landscapes. Spring (March to May) is a popular choice with its stable weather, clear skies, and vibrant rhododendron blooms adding splashes of color to the mountains. The warm and pleasant days create an ideal atmosphere for breathtaking helicopter flights. Autumn (September to November) is equally favored for tours with its crystal-clear skies, post-monsoon freshness, and unobstructed views of the snow-capped peaks. The comfortable temperatures make autumn a delightful time to explore Nepal's scenic wonders from the air. Summer (June to August) brings the monsoon season, characterized by heavy rainfall and cloud cover, making it less suitable for helicopter tours due to limited visibility and increased risks. However, some rain-shadow regions may still offer options during this period. Winter (December to February) showcases Nepal's snowy landscapes, and while it's colder at higher altitudes, the clear skies and low humidity can provide stunning aerial views. However, the colder temperatures and potential snowfall in certain areas may impact tour availability. Overall, spring and autumn are the best seasons for helicopter tours in Nepal, offering the most favorable conditions to witness the breathtaking beauty of the Himalayas and other remote destinations from the sky.
Also Read Best Helicopter Tour in Nepal.
Best Places for Heli Rides in Nepal
In Nepal, there are various places for trekking and pilgrimage that are well-liked by both domestic and foreign travelers. Some of them are found in Nepal's most isolated regions. Except for trekking, the only method to visit those areas is by heli-tour. Everest, Mustang, Annapurna, and Langtang are a few of the well-known helicopter trip sites. These areas offer a number of associated destinations that can be explored via heli tour.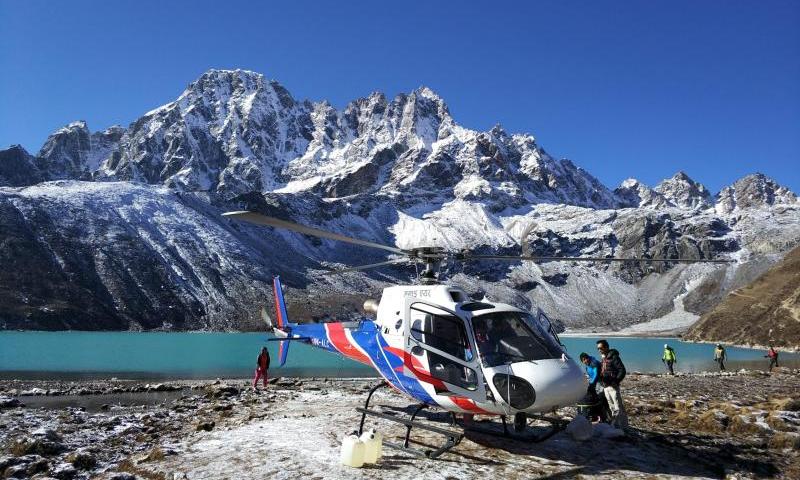 Helicopter Tour in Everest Region
Heli ride to Everest Base Camp is a fascinating experience where you will see the top of the world from the nearest possible place without having to climb on it. You can have a breakfast ride in the Kongde base to the mountain range Kongde Ri, a Ride to Kalapattar Everest Region, and a Ride to Gokyo Ri, a base for Gokyo Peak in Khumbu Region.
Everest Base Camp / Kalapathar Helicopter Tour Package
Duration: 3 to 4 hrs
Cost: USD 4500 (5 pax)/ USD 1000 for 1 pax (Sharing Basis)
Route: Kathmandu-Lukla-EBC/ Kalapathar-Lukla-Kathmandu
Best Time: Jan-May and Aug-Dec
Maximum Altitude: Height of Everest Base Camp (5,364m / 17,598 ft)/ Height of Kalapathar (5,644 m / 18,517 ft)
For more information, please click here.
Helicopter Tour in Annapurna Region
Heli ride to Annapurna Base Camp surrounded by the mountain ranges of Annapurna. Helicopter ride to Ghorepani-Poonhill to observe the outstanding Himalayan Range. Comfortably explore and take in the Annapurna region's splendor on the Helicopter Ride.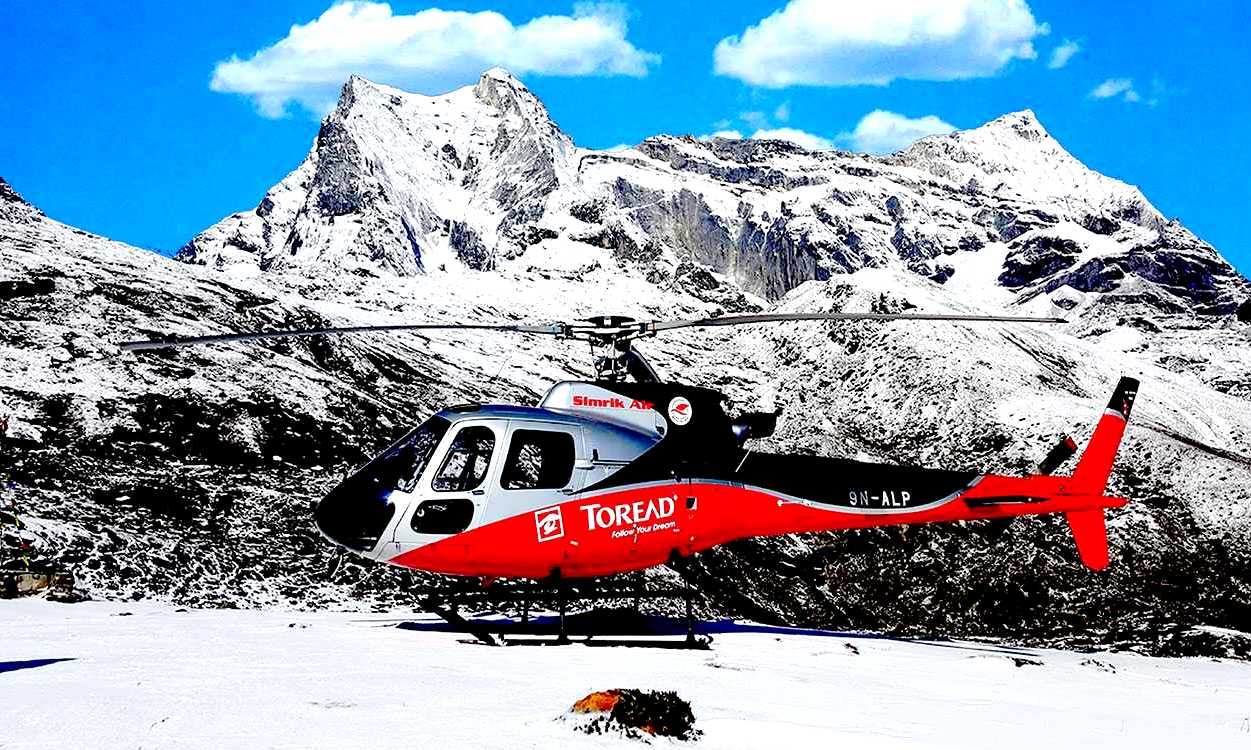 Annapurna Base Camp Helicopter Tour Package
Duration: 3 to 4 hrs
Cost: USD 3500 (5 pax)/ USD 800 for 1 pax (Sharing Basis)
Route: Kathmandu-Pokhara-ABC/ ABC-Pokhara-Kathmandu
Best Time: Jan-May and Aug-Dec
Maximum Altitude: 4130m
For more information, please click here.
Helicopter Tour in Langtang Region
Heli's ride to the Langtang region is very famous as a pilgrimage site for both national and international people. Heli ride to Gosaikunda is the top pilgrimage spot. Langtang comes under a choice of trekkers to witness the majestic Langtang Range. During the ride, you can observe the beauty of the region and Langtang Valley.
Langtang Helicopter Tour Package
Duration: 2 hrs
Cost: USD 3000 (5 pax)/ USD 800 for 1 pax (Sharing basis)
Route: Kathmandu-Langtang/Kyanjin Gompa/ Kathmandu
Best Time: Jan-May and Aug-Dec
Maximum Altitude: 3800m
For more information, please click here.
If you are looking for the cheap and best helicopter tour in Nepal, please click here.
If you need any further information, please contact us, Email: at [email protected], Phone: at +977- 985 100 5129 (WhatsApp)