The Langtang Region, nestled in the heart of Nepal, stands as a testament to nature's grandeur and diversity. Each curve of its rugged landscape tells tales of ancient geology, while the shimmering peaks reach out, almost brushing the skies. To witness Langtang is to experience the sublime dance between the Earth and the heavens, a realm where myths and realities seamlessly intertwine.
Trekking in Langtang has long been a pilgrimage for adventurers, drawing them into its embrace, one step at a time. The whispers of the winds, the songs of the rivers, and the narratives of the local communities have provided countless travelers with memories to cherish. There exists an alternative to this traditional experience, offering a different, yet equally mesmerizing, perspective of this majestic region.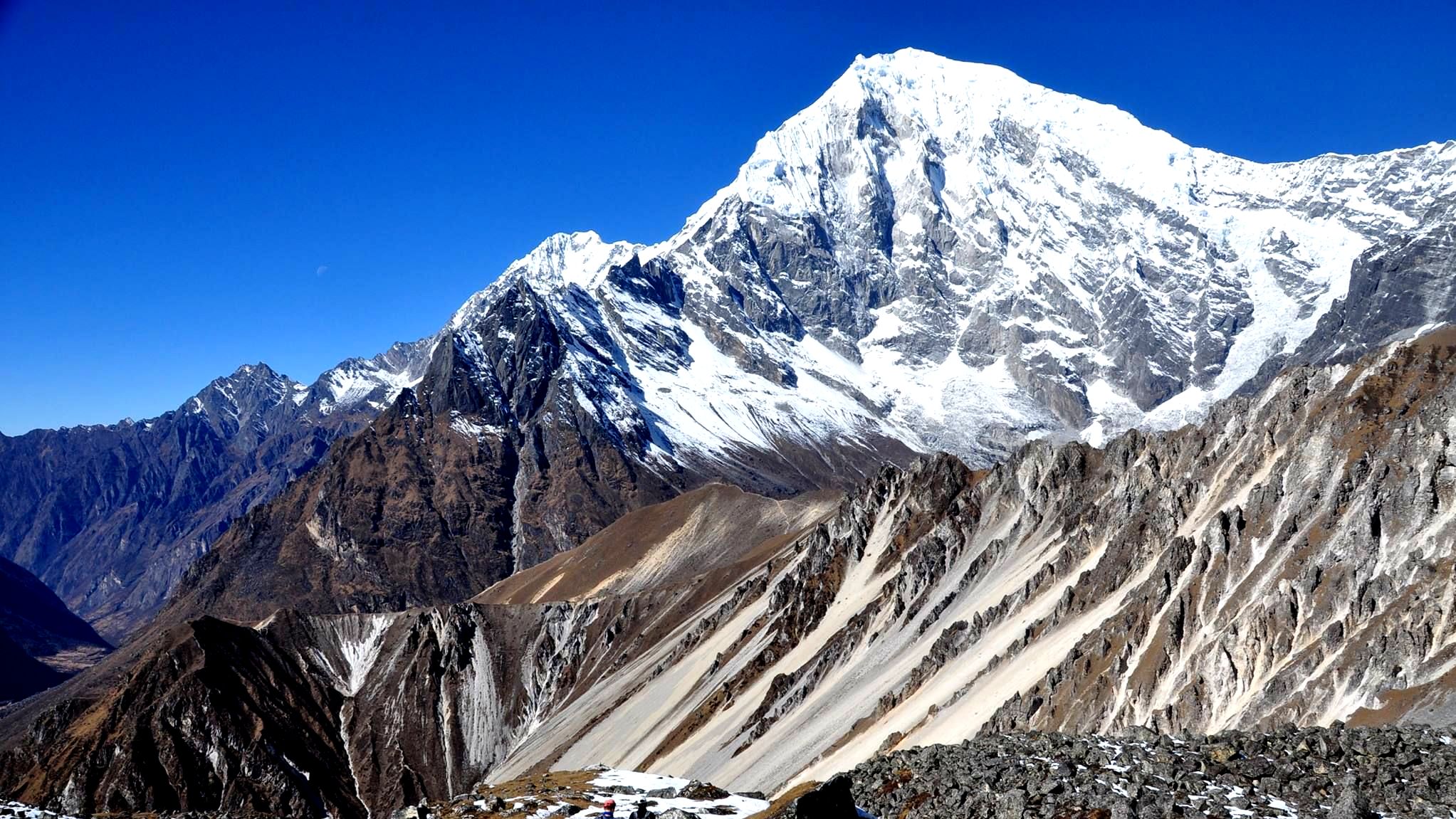 Enter the helicopter tours – an amalgamation of thrill and beauty, offering an aerial journey over Langtang's vast expanse. In mere hours, one can traverse the distance and terrains that would otherwise take days on foot. From the sky, the valleys, peaks, and settlements of Langtang come alive in a vibrant tapestry of colors and textures, providing a panoramic spectacle that leaves an indelible mark on the soul.
As we delve deeper into the nuances of helicopter tours in Langtang, let's embrace the spirit of discovery. Whether you're a seasoned traveler revisiting Langtang or a curious soul eager for a new adventure.
Major Highlights of Langtang Region Helicopter Tour
Majestic Views: Experience unparalleled panoramas of the Langtang range, including Langtang Lirung, Ganesh Himal, and Dorje Lakpa peaks.

Time-Efficient: Traverse and explore the vastness of the Langtang Region in mere hours, a journey that might take days on foot.

Gosaikunda Lake: Witness the sacred alpine lake, a pilgrimage site for many, shimmering under the mountain sun.

Kyongjin Gompa: A bird's-eye view of this ancient monastery, nestled amidst the towering mountains, offers both cultural and scenic splendor.

Diverse Landscape: From terraced fields and lush forests to rugged terrain and snow-capped peaks, enjoy the region's diverse geographies from above.

Local Settlements: Gain insights into the geographical layout of traditional Tamang villages and their unique architecture.

Safety First: Modern helicopter tours emphasize safety with experienced pilots, regular maintenance, and adherence to weather guidelines.

Comfort: Experience the Langtang region with plush seating, noise-canceling headphones, and sometimes even onboard refreshments.

Environmental Impact: Opting for a helicopter tour can reduce foot traffic in sensitive areas, aiding in environmental conservation.

Seasonal Variations: Choose from the vibrant hues of spring, the clear vistas of autumn, or the snowy wonder of winter for diverse experiences.

Cultural Insights: Some tours offer brief landings at significant cultural sites, allowing a quick immersion into local traditions and lifestyles.

Altitude Thrill: Hovering at high altitudes provides the thrill of being amidst the giants of the Himalayas, a feeling unmatched by any other form of travel.

Professional Guidance: In addition to piloting, the crew often provides valuable insights and commentary on the region's highlights, enhancing the tour experience.

Photography Opportunities: Capture stunning aerial shots, which provide a unique perspective compared to ground-level photography.
Why Choose a Helicopter Tour?
The Langtang Region of Nepal, a mesmerizing blend of towering peaks and lush valleys, has been an emblem of nature's artistry for ages. While traditional trekking is a common choice among adventurers wanting to experience its magic, a new, exhilarating perspective awaits those who choose to soar above it. We will explore the myriad reasons why a helicopter tour in the Langtang Region is not just a choice, but an experience of a lifetime.
Time-Efficiency
Quick Overview: The vast expanse of the Langtang Region, with its myriad of attractions, can take days, if not weeks, to explore on foot. A helicopter tour condenses this experience, offering the highlights in a matter of hours. It's perfect for those on a tight schedule or those looking to maximize their time.

No Recovery Days: Trekking can be strenuous, often requiring rest days to recover. Helicopter tours, on the other hand, are devoid of this physical demand, ensuring you're always ready for your next adventure.
Unparalleled Panoramic Views
Bird's-Eye Perspective: There's a distinct magic in viewing the Langtang landscapes from the skies. The bird's-eye view provides a unique perspective, revealing the sheer scale and beauty of the region - from serpentine rivers to towering peaks.

Photo Opportunities: Capture incredible aerial shots, which are often impossible from ground level. It's a photographer's dream come true.
Accessibility to Remote Areas
Beyond the Trails: Some of Langtang's gems are off the beaten track, challenging to reach through trekking. Helicopters can easily access these remote areas, ensuring you don't miss out on any hidden wonders.

Cultural Immersion: Some tours offer landing opportunities in remote villages, allowing for a brief yet profound cultural immersion that might be less accessible to the average trekker.
Comfort and Safety
Avoiding Altitude Sickness: Trekking at high altitudes poses risks like altitude sickness. While short exposure during a helicopter tour doesn't eliminate this risk entirely, the chances are significantly reduced.

Professional Guidance: Pilots are not just trained to fly but are often knowledgeable about the region, ensuring you receive insightful commentary throughout the journey.
An Experience to Remember
Exclusivity: While trekking trails can sometimes be crowded, especially during peak seasons, a helicopter tour offers a more exclusive and personalized experience.

Thrill Factor: The very act of soaring above the valleys, getting up close to peaks, and feeling the adrenaline rush as the helicopter maneuvers through the landscape is an unparalleled thrill.
While trekking in Langtang offers its own set of unique experiences and rewards, a helicopter tour presents a compelling alternative. It's an amalgamation of comfort, efficiency, and sheer wonder. Whether you're a returning visitor to Langtang looking for a fresh perspective or a first-time traveler maximizing your experience, a helicopter tour promises an adventure that will etch itself into your memory for years to come.
Popular Heli Tour Destinations in Langtang Region
Langtang Valley
Standing at an elevation of 3430 meters, the helicopter tour will give you amazing bird's-eye views of some of the tallest mountains in the Langtang Range, including Langtang Lirung (7234 meters), Langtang Ri (7205 meters), and Dorje Lakpa (6966 meters), as well as the Langtang National Park, which is the first national park in the Himalayas and the fourth protected area in Nepal. After touring UNESCO world heritage sites, you will witness a beautiful passageway of enormous hills shortly before leaving the Kathmandu valley.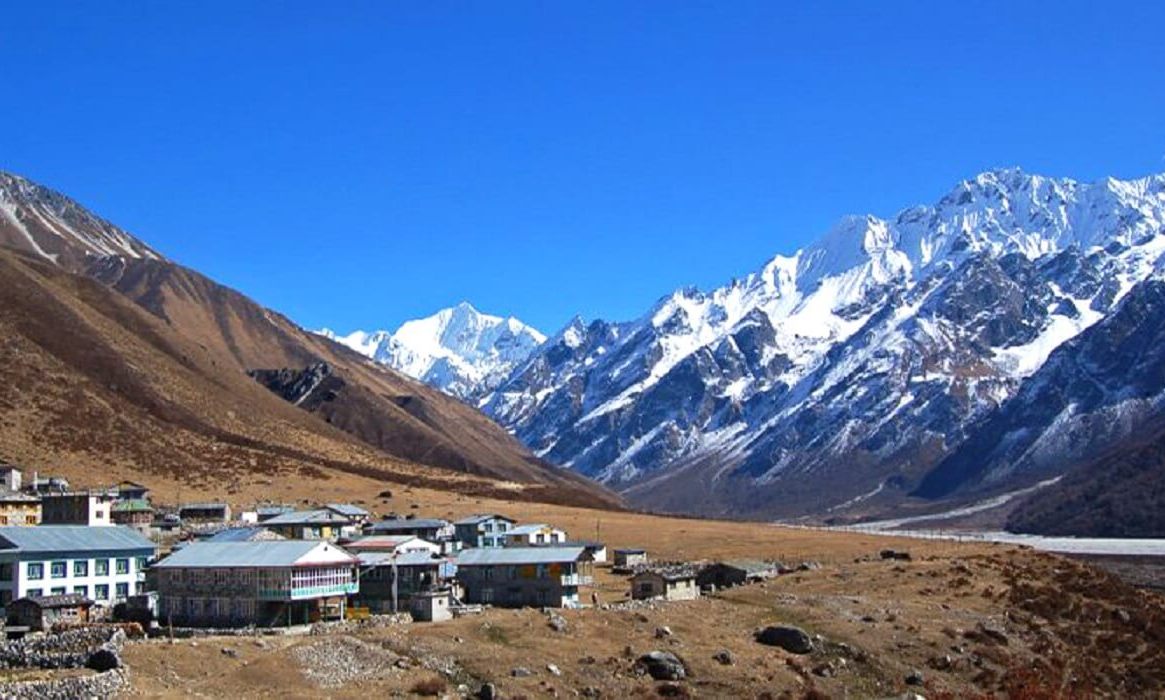 Please, click here for trekking in the Langtang Region
Gosaikunda
Gosaikunda a pilgrimage area that holds significant importance to the community of Hindus and Buddhists is a high-altitude oligotrophic lake situated at an elevation of 4380m. According to Hindu mythology, Gosaikunda is where Lord Shiva broke down the hills to get water, which he drank to save himself from the poison that he had to take from the ocean to save the world. Every year huge numbers of people visit this holy side to worship and get rid of their sins by bathing in the lake.
Gosaikunda is a holy pilgrimage site that attracts people from different walks of life, offering them a unique blend of natural beauty, cultural richness, and spiritual significance. It is a place where pilgrims seek solace, blessings, and a deeper connection with their faith, while also being mesmerized by the breathtaking landscapes of the Langtang region.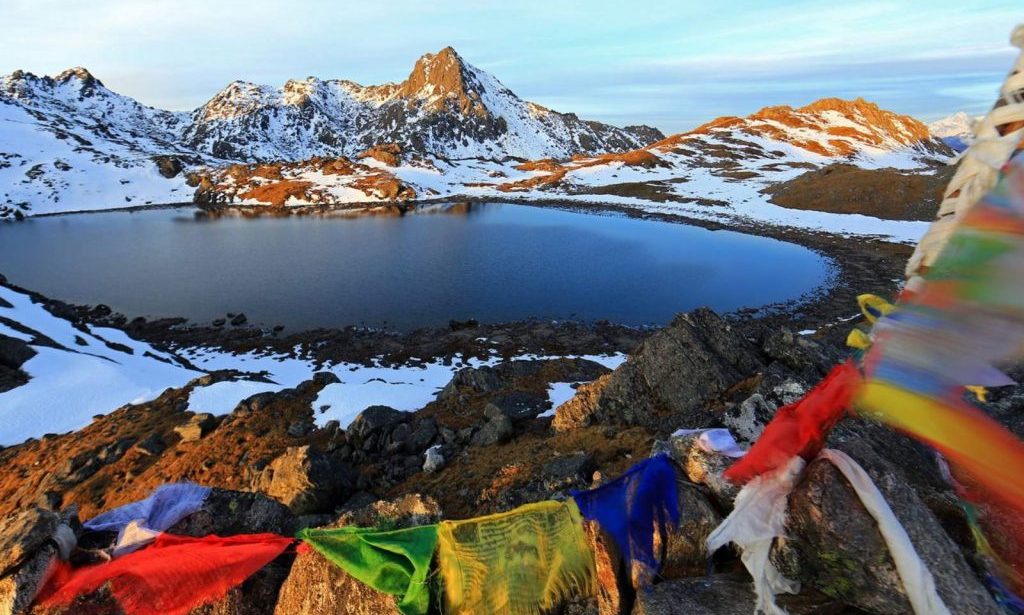 Please, click here for the Gosaikunda Helicopter Tour.
Ganja La Pass
Ganja La Pass a very thrilling and adventurous pass situated at 5130m joining the valley of Langtang with Kyanjin Gompa is considered a top-level destiny to conquer. This pass is especially recommended to carry on with the Helicopter Tour to Ganja La Pass because trekking down on this pass, you have to be a well-experienced trekker and require many preparations to take on the challenges that come on.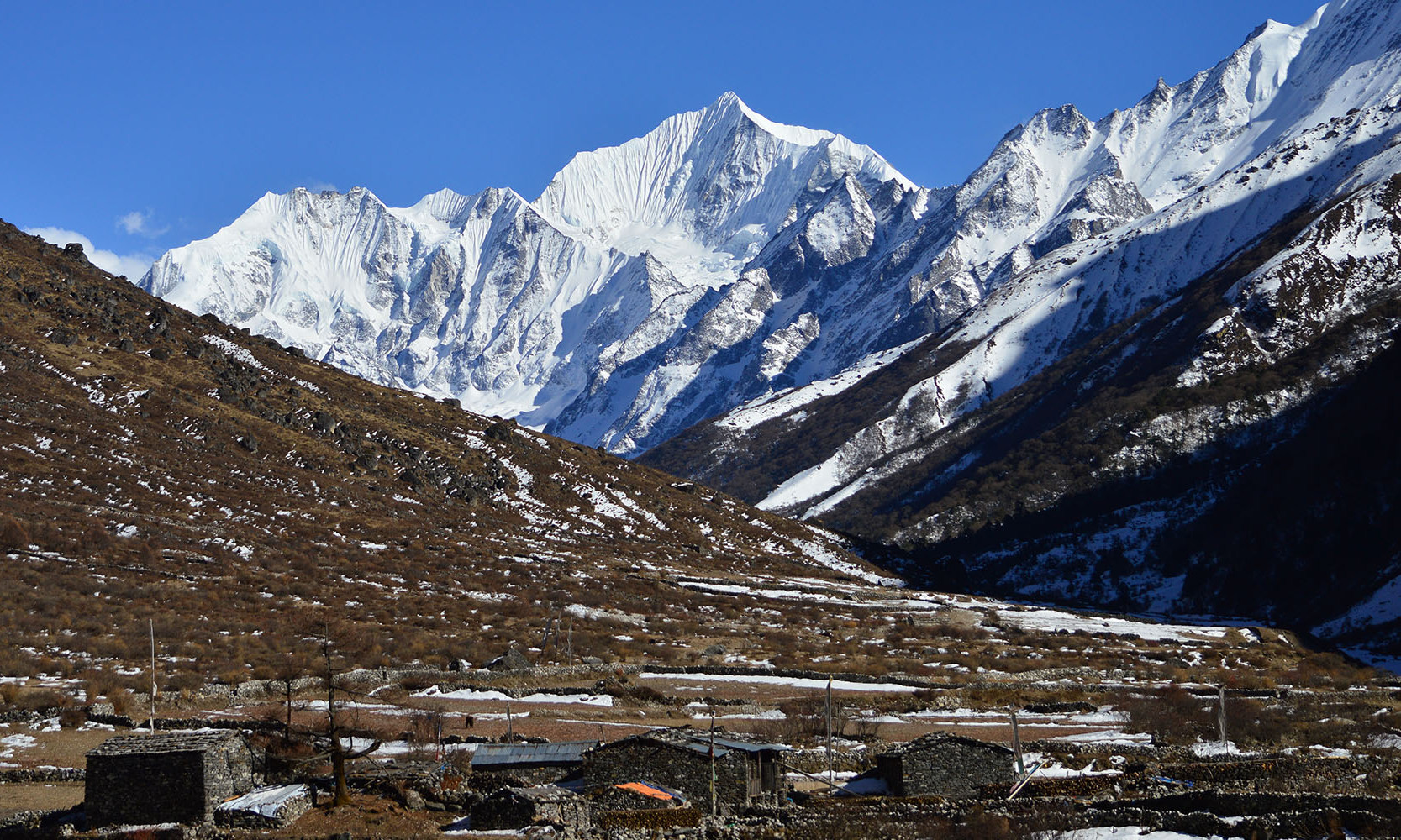 Also, Read High Pass Trekking in Nepal.
Best Packages for Helicopter Tours in Langtang Region
Langtang Helicopter Tour with cost
The helicopter ride towards Langtang has tremendous panoramic views of mountains such as Langtang Lirung (7234m), Langtang RI(7205m), and Dorje Lakpa (6966m). The view of landscapes, hills, mountains, gorgeous rivers, and village settlements from a helicopter makes a sight of wonder. The helicopter tour provides a brief sight of the spirituality and natural beauty that the Langtang region has to offer.
Duration: 2 hrs
Cost: USD 2500 (5 pax)/ USD 600 for 1 pax (Sharing basis)
Route: Kathmandu-Langtang/Kyanjin Gompa-Kathmandu
Best Time: Jan-May and Aug-Dec
Maximum Altitude: 3800m/ 12,467 ft (Kyanjin Gompa)
For more information, please click here.
Gosaikunda Helicopter Tour with cost
Gosaikunda and the oligotrophic lake is an outstanding destination to witness the cultural, religious, and spiritual aspects of Nepal. Helicopter flight is the safest way for you to observe and experience its unique diversities, flora, fauna, forests, and village settlements mostly Tibetan and Tamang settlements are unique. Overall the tour to Gosaikunda is filled with excellent views and full of collective experiences.
Duration: 2 hrs
Cost: USD 1500 (5 pax)/ USD 350 for 1 pax (Sharing basis)
Route: Kathmandu-Gosaikunda-Kathmandu
Best Time: Jan-May and Aug-Dec
Maximum Altitude: 4,380 m/ 14,370 ft
Ganja La pass Helicopter Tour
Ganja La pass is an adventurous ride to the pass of the mountains, the connecting bridge between Langtang Valley and Kyanjin Gompa is the highest point of the region to view some of the tallest mountain peaks of the Langtang Region. The Helicopter tour to Ganja La Pass is specially designed to ensure your safety providing a maximum of everything. The best time to visit Annapurna Region would be the Autumn and Spring seasons.
Best time to visit the Langtang Region
The Langtang Region, with its breathtaking peaks, pristine valleys, and vivid cultural tapestry, stands as a symbol of Nepal's boundless beauty. While this landscape beckons adventurers all year round, the experience from a helicopter is deeply influenced by the season. The best time to embark on a helicopter tour in the Langtang Region are listed below: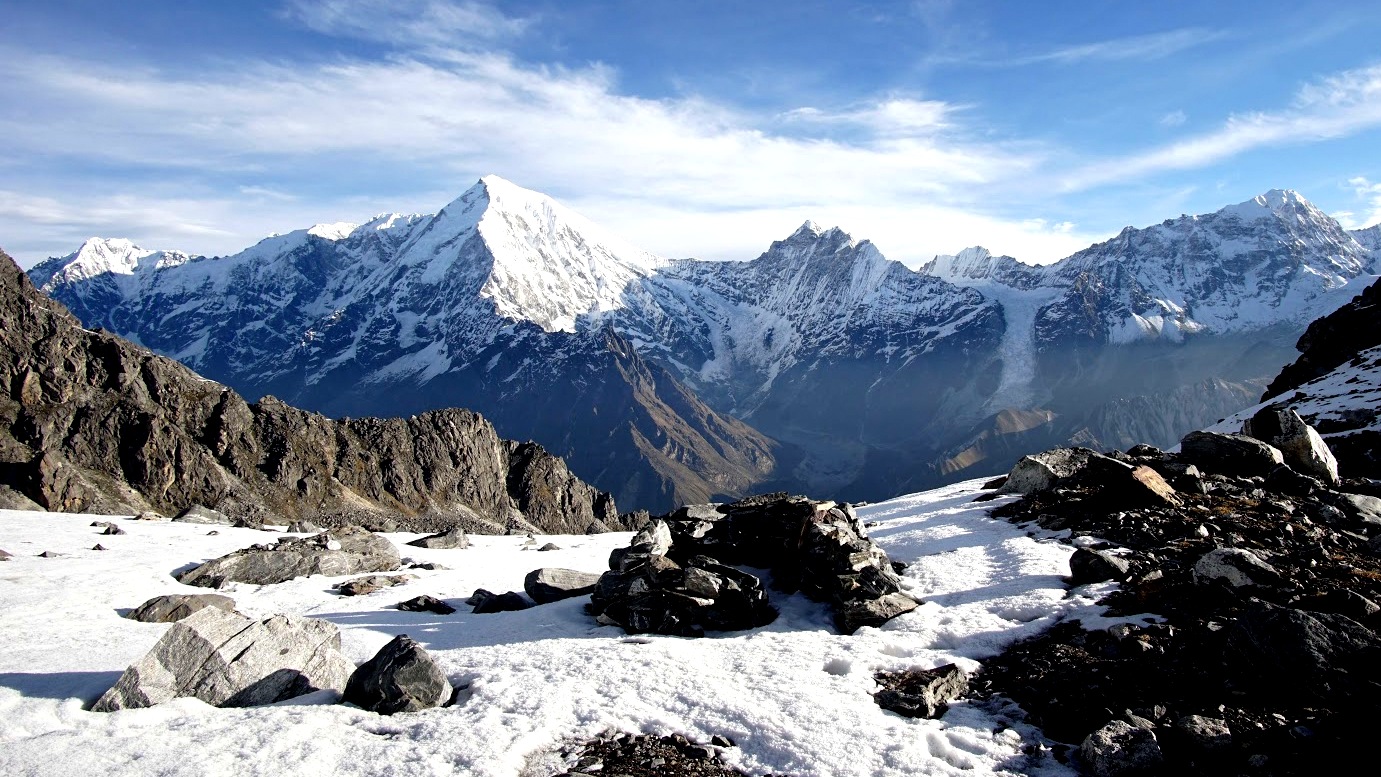 Spring (March to May)
Floral Bloom: Spring paints the region in a palette of colors, with rhododendron forests bursting into a riot of reds, whites, and pinks.

Clear Skies: The post-winter period ensures that the skies are mostly clear, offering panoramic views of the landscape.

Temperature: Moderately warm days and cool nights make for a comfortable flying experience.

Consideration: This is a popular time for both trekkers and aerial tourists, so ensure early bookings to secure your spot.
Summer/Monsoon (June to August)
Lush Greenery: The monsoon rains bring life to every nook and corner of the region, making the valleys and terraces lush and green.

Rain & Visibility: Frequent rain might obscure visibility, making it challenging for helicopter rides. There's also a higher risk of flight cancellations or rescheduling due to weather.

Landslide Concerns: The heavy rains can lead to landslides in certain areas, potentially affecting travel plans.

Consideration: If you're flexible with your plans and are captivated by the monsoon landscape, this can be an offbeat time to visit. However, it's essential to be prepared for uncertainties.
Autumn (September to November)
Peak Clarity: Arguably the best time for a helicopter tour, autumn offers crystal clear skies and unmatched visibility of the region's peaks and valleys.

Crisp Weather: With the monsoon clouds receding, the atmosphere is crisp, making mountain outlines sharper from the skies.

Cultural Festivities: Autumn also coincides with major Nepali festivals like Dashain and Tihar, allowing an aerial glimpse into the region's vibrant cultural celebrations.

Consideration: Similar to spring, autumn attracts a multitude of travelers. Early reservations are recommended.
Winter (December to February)
Snow-Capped Beauty: The winter snow blankets the higher altitudes, transforming Langtang into a winter wonderland. This season offers a unique perspective of the region's snowy grandeur.

Colder Temperatures: Be prepared for chilly conditions. Dress warmly, especially since helicopters often fly with open windows for photography.

Shorter Days: Daylight is limited, which might affect the length and timing of the helicopter tours.

Consideration: If you're keen on experiencing Langtang's snowy charm and are prepared for colder conditions, winter might be the season for you.
While the Langtang Region promises awe-inspiring beauty throughout the year, the experience from a helicopter is intimately tied to seasonal nuances. Whether it's the floral blooms of spring, the clear autumn skies, or the snowy embrace of winter, each season offers something unique. By aligning your visit with the season that resonates most with your preferences, you ensure an aerial journey that will remain etched in your memory for years to come.
Checklist for Langtang Helicopter Tour
Weather Appropriate Clothing: Layered clothing for variable mountain temperatures.

Sunglasses: For glare protection, especially from snowy landscapes.

Camera & Spare Batteries: Ensure charged batteries capture the breathtaking views.

Earplugs or Noise-Cancelling Headphones: Some helicopters can be quite loud.

Sunscreen & Lip Balm: Protect against high-altitude UV rays.

Small Backpack: To keep personal items secure during the flight.

Personal Medications: Especially if you have specific health concerns or are prone to motion sickness.

Sturdy Shoes: In case the tour includes a landing in rugged terrains.

Emergency Contact Information: Keep it accessible, just in case.

Health Precautions: Carry a basic first aid kit and be aware of altitude sickness symptoms.
Frequently Asked Questions (FAQs): A Complete Guide for Helicopter Tours in the Langtang Region
Q: How long is the helicopter tour to the Langtang Region?
A: Most tours last between 1 to 3 hours, depending on the package and any landing points included in the itinerary.
Q: Is there a weight limit for passengers?
A: Yes, there's usually a combined weight limit for passengers to ensure safety.
Q: How many people can the helicopter accommodate at once?
A: Most helicopters used for tours can accommodate 4 to 6 passengers, excluding the pilot. However, this can vary based on the aircraft type.
Q: Is the helicopter tour safe during the monsoon season?
A: Monsoons can cause reduced visibility and unpredictable weather. While operators prioritize safety and avoid flying in adverse conditions, there may be a higher chance of rescheduling or cancellations during this season.
Q: Are there any health precautions to consider?
A: Altitude sickness can be a concern, even on short helicopter rides. It's advisable to be aware of its symptoms. People with specific health conditions, especially heart or lung issues, should consult the doctors before the tour.
Q: What should I wear for the helicopter tour?
A: Layered clothing is recommended due to the variable temperatures. Sunglasses, sunscreen, and sturdy shoes are also essential.
Q: What if the weather turns bad during our tour?
A: The safety of passengers is paramount. If weather conditions deteriorate during a flight, pilots will take necessary measures, which may include cutting the tour short or choosing an alternate route.
Can I take photos during the flight?
A: Absolutely! Helicopter tours offer unique photo opportunities. Always ensure your devices are secure, and heed any guidelines provided by the crew.
If you are looking for some of the best helicopter tours in Nepal, please click here.
If you need any further information, please contact us by email: at [email protected], Phone: at +977- 985 100 5129 (WhatsApp)