The Annapurna Region, nestled in the heart of Nepal, has long been a magnet for trekkers and mountaineers, drawn to its dizzying peaks and verdant valleys. But beyond the traditional trekking routes lies another avenue to witness Annapurna's splendor: the helicopter tour. These aerial journeys offer a tantalizing blend of thrill and beauty, whisking adventurers over terrains that might take days or even weeks to traverse on foot.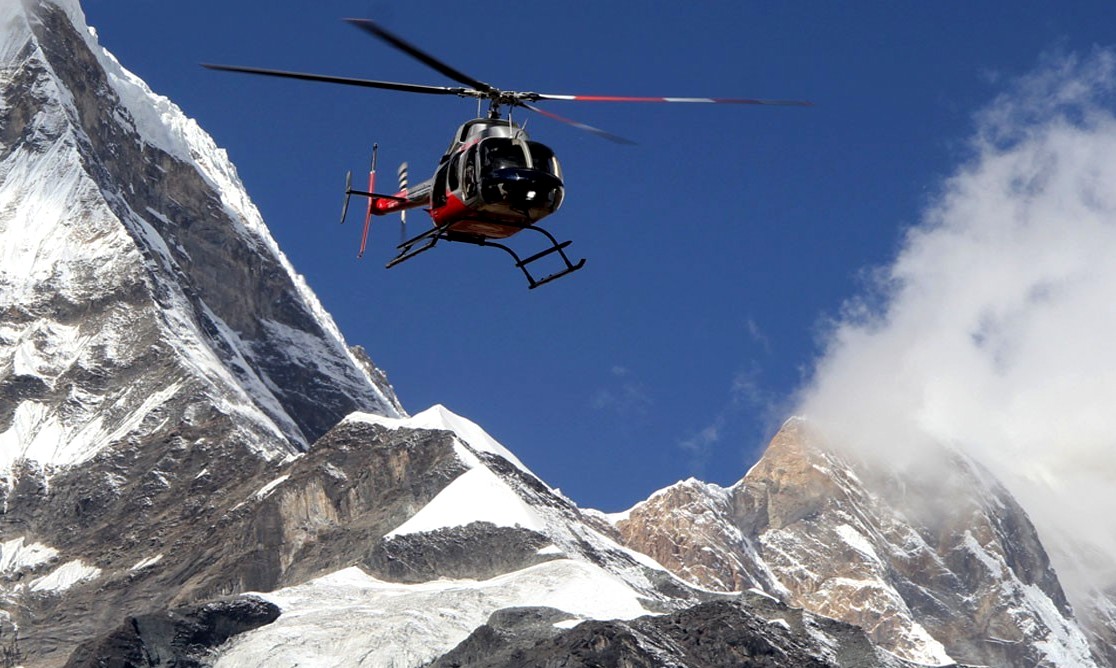 Helicopter Tours in the Annapurna Region are not just about convenience, though the ability to sweep across vast landscapes in a short time is undoubtedly a perk. They're about capturing the essence of the Himalayas from a vantage point few get to experience. With the rotor blades humming a steady rhythm, passengers are treated to an expansive panorama of shimmering snow-capped peaks, deep green valleys, and ancient villages dotting the landscape.
The choice to opt for a Annapurna Helicopter Tour might stem from various reasons. Perhaps it's the allure of viewing the Annapurna Massif without the physical demands of a trek. Or maybe it's the dream of floating above the iconic Machapuchare, also known as the "Fish Tail" mountain, with its untouched peak pointing skywards. For others, it's the promise of a luxury experience, complemented by champagne breakfasts at base camps or serene moments in remote monasteries.
Embarking on such a journey isn't as simple as hopping onto a chopper. It demands careful planning, from selecting the right season to ensuring safety precautions. We aim to provide potential explorers with the necessary insights, ensuring that their airborne adventure over the Annapurna region is both mesmerizing and memorable.
As we delve deeper into the intricacies of this exhilarating venture, remember that the heart of the experience lies in its ability to blend adventure with awe. The Annapurna region, with its vastness and majesty, awaits to be discovered from the skies, offering a fresh, unparalleled perspective to those daring enough to soar above.
Why Optional for a Helicopter Tour?
Opting for a
Annapurna Helicopter Tour
, especially in regions marked by majestic landscapes such as the Annapurna Range, brings a plethora of unique advantages. Here are some compelling reasons to consider:
Time Efficiency: For many, time is of the essence. Whereas trekking or hiking can take several days to weeks to cover specific landscapes, a helicopter tour can present the same views in a matter of hours. This efficiency allows travelers to experience the essence of a region without committing to extended excursions.
Access to Remote Locations: There are certain spots, especially in rugged terrains, which are challenging or near-impossible to reach on foot. Helicopters can easily access these remote locations, offering a unique perspective that very few get to witness.
Inclusive Experience: Not everyone is physically able or willing to trek through challenging terrains. Helicopter tours provide an opportunity for individuals of all ages and physical capabilities, including the elderly or those with mobility issues, to experience the wonders of a region.
Unique Perspective: Witnessing landscapes from an aerial viewpoint provides a completely different perspective. The vastness of the terrain, the juxtaposition of mountains against valleys, and the sheer magnitude of natural wonders are best appreciated from the sky.
Comfort and Luxury: Beyond the practicalities, there's an undeniable luxury associated with helicopter tours. From the thrill of vertical take-offs to the comfort of the cabin, it's an upscale experience.
Safety in Difficult Conditions: In regions prone to avalanches, landslides, or other natural hazards, helicopters can offer a safer means of exploration compared to trekking or driving.
Comprehensive Overview: If you're trying to get an overview of a large area in a short time, there's no better way than by air. A helicopter tour can provide a comprehensive understanding of the geographical and topographical features of a region.
While trekking and hiking have their own irreplaceable charms, Annapurna Helicopter Tours present an unmatched blend of luxury, convenience, and unique viewpoints. For many, it's a bucket-list experience, offering memories that last a lifetime.
Popular Heli Tour Destination in the Annapurna Region
Annapurna Base Camp
In spite of the fact that Annapurna base camp is a well-known trekking destination and is located at an elevation of 4,130 meters, helicopter rides have become very popular among tourists who cannot complete lengthy and exhausting treks due to lack of time or other factors. A helicopter tour is a superb opportunity to enjoy all that the Annapurna region has to offer. Awe-inspiring scenery includes landscapes, mountains, hills, terraces, fields, and hamlet communities, and the magical view of Annapurna Massif.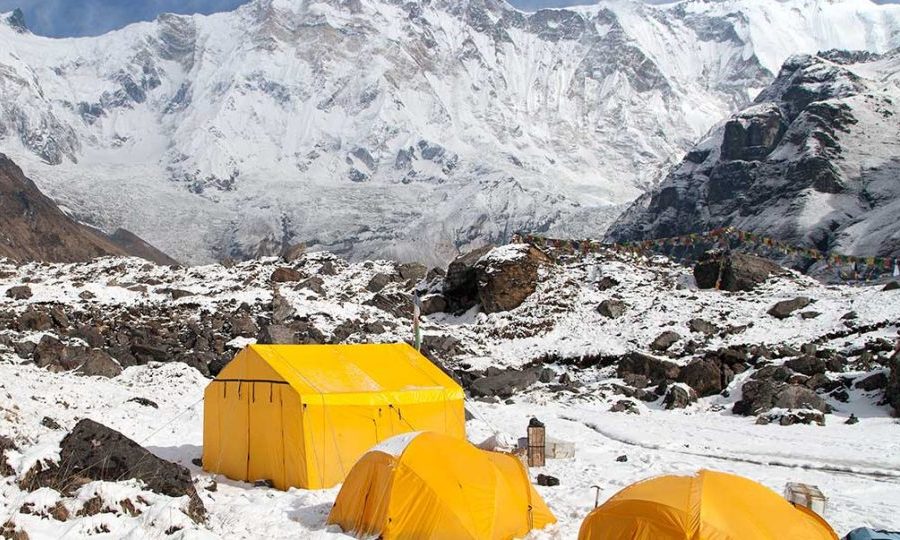 Poon Hill
Poon Hill is a very beautiful hill station located at 3210m and is a popular destination to observe the beautiful Himalayan ranges of the Annapurna region. The adventurous helicopter flight starts in the morning to view the wonderful sunrise on the mountain and eventually having an astounding breakfast with a view would be such an experience. The hill station has an amazing view of the mountains.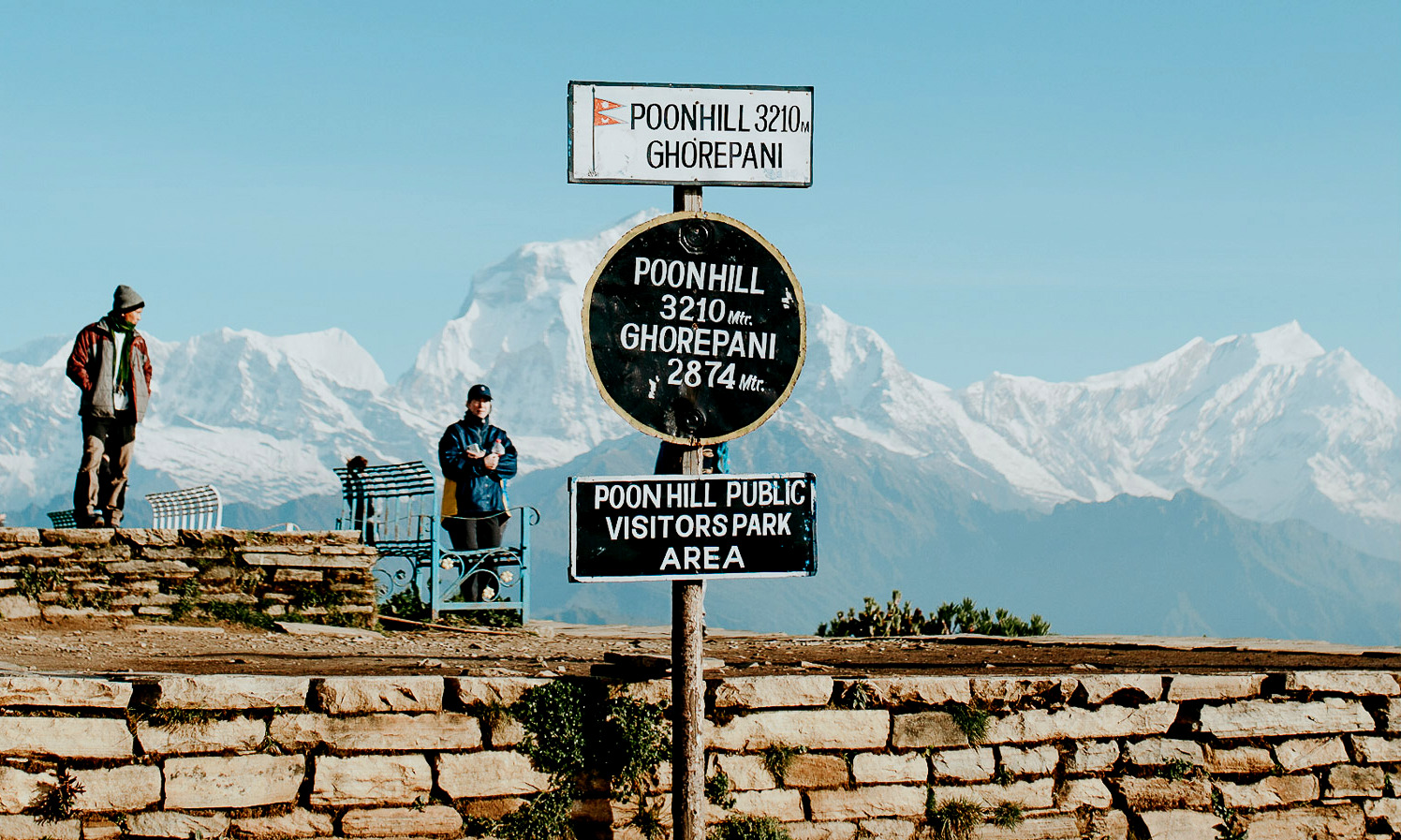 Mardi Himal
Mardi Himal Base Camp Base to popular mountain Mardi Himal the base camp is situated below the lap of Mt.Fishtail aka Mt.Machhapuchhre at an elevation of 4350m elevation. The base camp offers some amazing views of Annapurna South, Hiunchuli, Machhapuchhre, Gangapurna, Annapurna I, and Mardi Himal itself.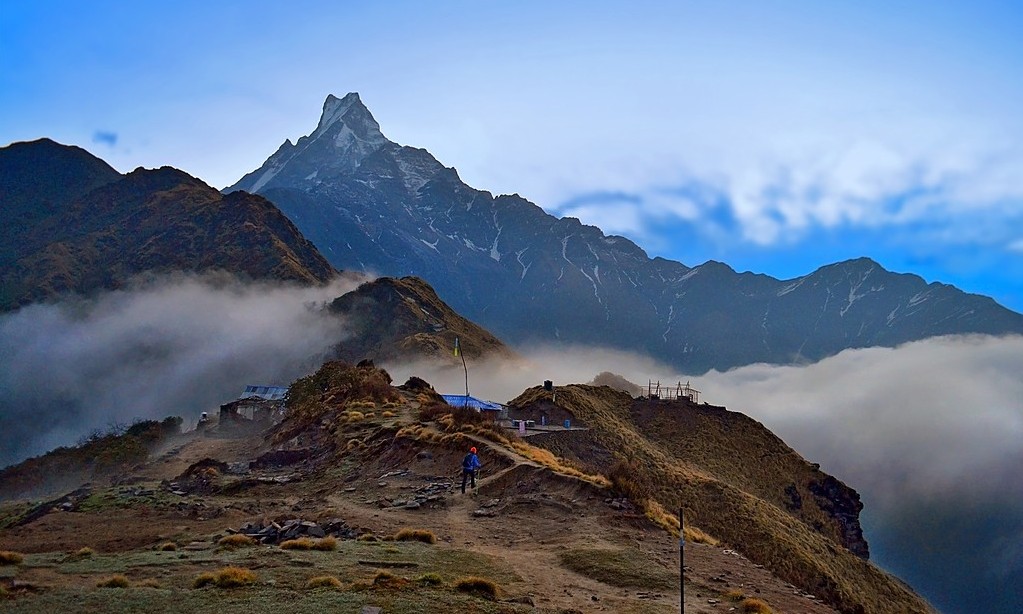 Also, Read A complete guide for the Mardi Himal Trek.
Gandhruk and Landruk
Culturally and religiously rich Ghandruk and Landruk are beautiful village settlements in the Kaski district and are situated nearly 32km from Pokhara Valley. Therefore the helicopter rider is short and adventurous. The cultural value of the Gurung community is a highlight of the village where you can have a look and feel of Gurung dresses. The village settlement's beauty is added by rhododendrons during the spring season making it colorful from the sky.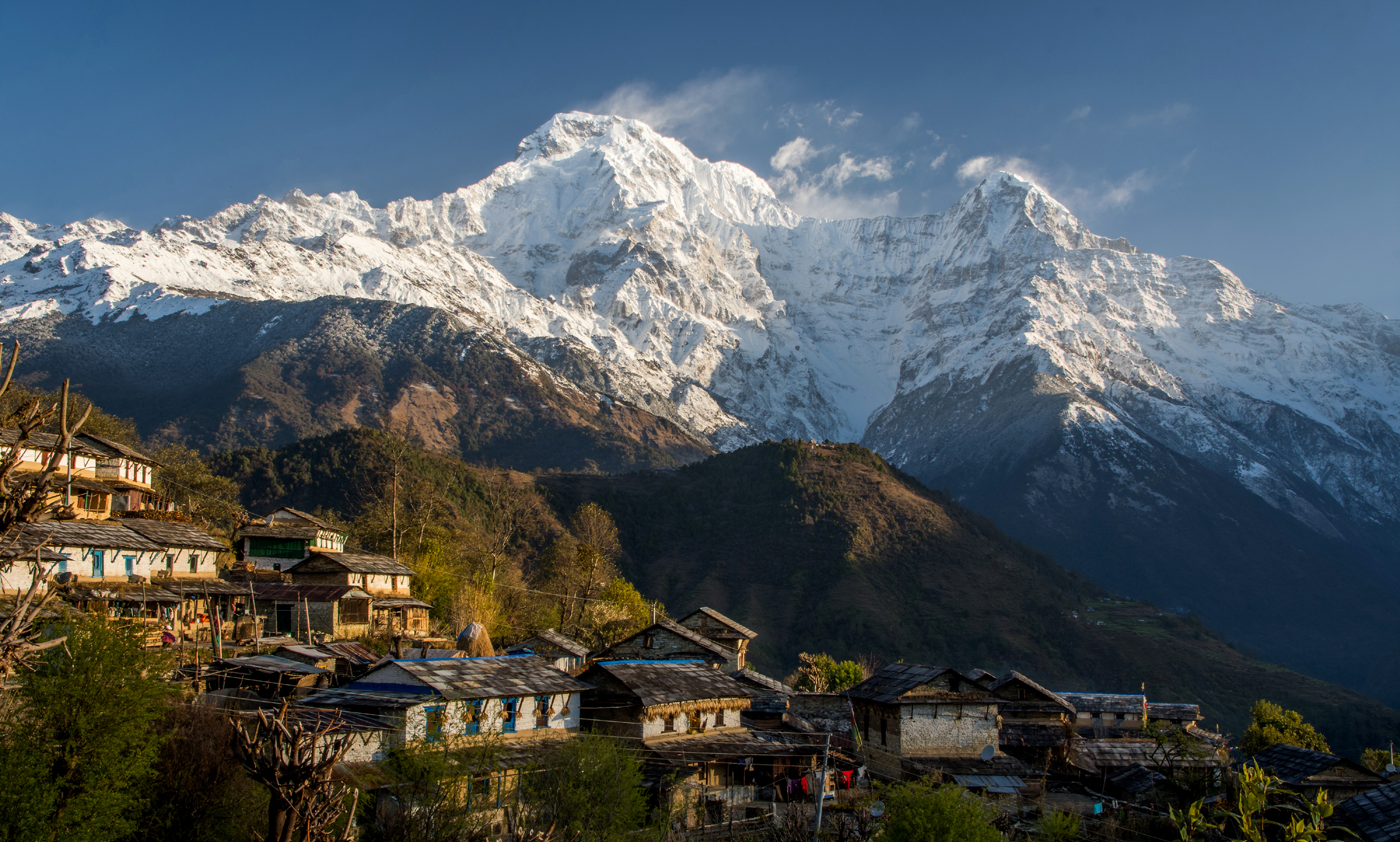 Major Highlights of the Annapurna Region Helicopter Tour
Aerial view of the Annapurna Region
Magnificent view of the Annapurna Massif, Machhapuchhre (Fishtail), Himchuli, Mardi Himal, and
the surrounding mountain peaks and ranges.
Enjoy the Tatopani (The natural hot spring), rivers, cascades, and waterfalls on the trail.
Poonhill is the best spot to observe the magical Sunset and Sunrise
Beautiful location for personal and professional photography.
Traditional and cultural villages with residents who follow their own traditions, lifestyles, and cultures.
Unique and exotic flora and fauna around the Region
Witness some of the rare species in the woodlands.
Best Packages for Helicopter Tour in Annapurna Region
Annapurna Base Camp Helicopter Tour from Kathmandu
Duration: 3 to 4 hrs
Cost: USD 3500 (5 pax)/ USD 800 for 1 pax (Sharing Basis)
Route: Kathmandu-Pokhara-ABC-Pokhara-Kathmandu
Best Time: Jan-May and Aug-Dec
Maximum Altitude: 4130m/13,550 ft
Annapurna Base Camp Helicopter Tour from Pokhara
Duration: 1 Hour
Cost: USD 1200 (5 pax)/ USD 300 for 1 pax (Sharing Basis)
Route: Pokhara-ABC-Pokhara
Best Time: Jan-May and Aug-Dec
Maximum Altitude: 4130m/13,550 ft
Mardi Himal Helicopter Tour from Pokhara
Duration: 1 Hour
Cost: USD 1100 (5 pax)/ USD 280 for 1 pax (Sharing Basis)
Route: Pokhara-Mardi Himal-Pokhara
Best Time: Jan-May and Aug-Dec
Maximum Altitude: 4,500 m/14,763 ft
Ghandruk Helicopter Tour from Pokhara
Duration: 1 Hour
Cost: USD 1100 (5 pax)/ USD 280 for 1 pax (Sharing Basis)
Route: Pokhara-Ghandruk-Pokhara
Best Time: Jan-May and Aug-Dec
Maximum Altitude: 2,012 m/6,600 ft
Best Time to Take a Helicopter Tour in the Annapurna Region
When contemplating a helicopter tour in the Annapurna Region, timing is crucial. Not only does it determine visibility and the richness of the landscapes, but it also impacts safety. The Himalayan weather is known for its unpredictability, so it's essential to pick the right months for optimal experience. Here's a breakdown: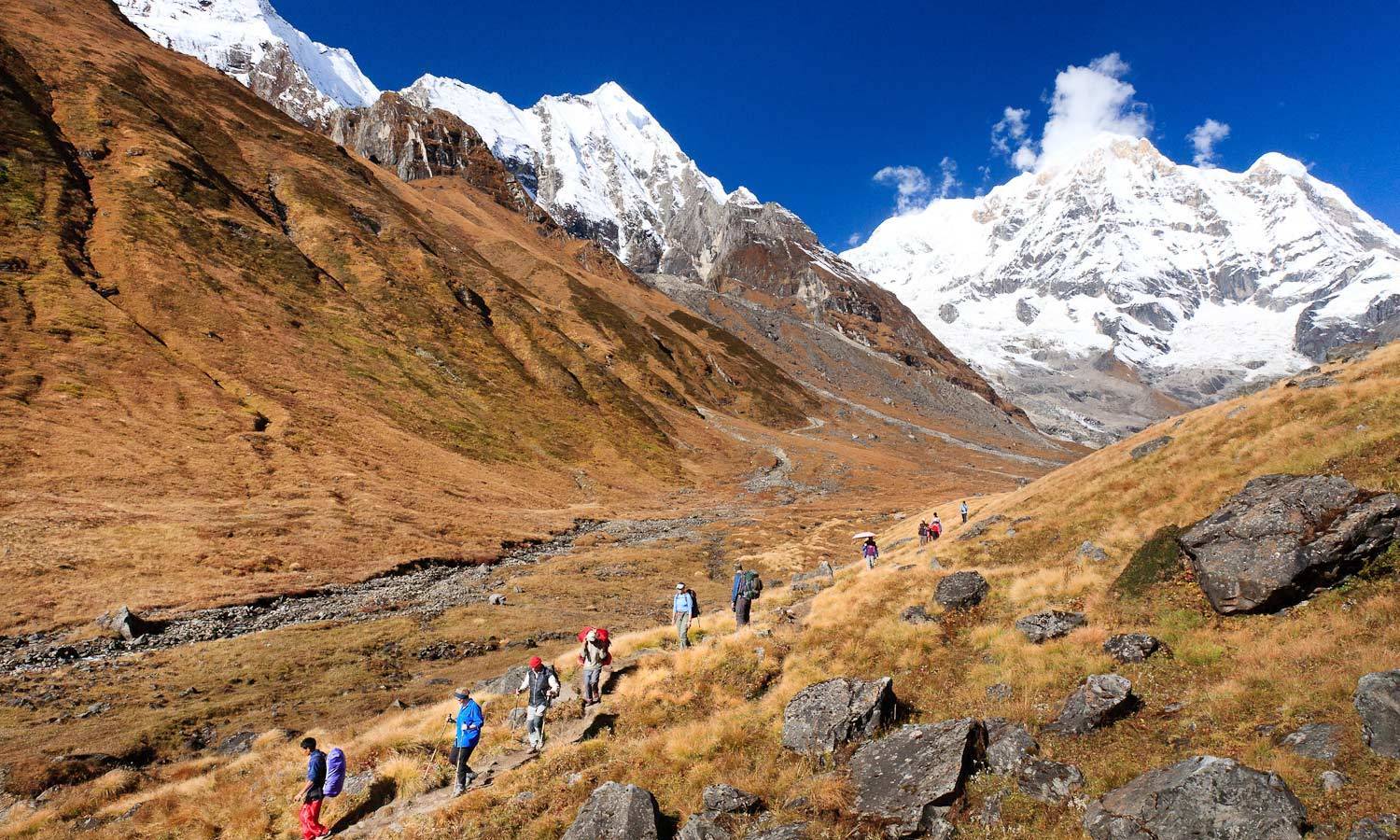 Spring (March to May):
Advantages: Spring is one of the most favored seasons for any aerial tour in Nepal. The skies tend to be clearer, providing excellent visibility. Additionally, rhododendron forests bloom during this time, presenting a mesmerizing blend of greenery and colorful blossoms. The temperatures are also relatively warmer, which makes the flight more comfortable.
Considerations: As spring progresses, particularly in May, there's a slight chance of pre-monsoon showers, which can affect visibility and scheduling.
Autumn (September to November):
Advantages: Autumn is arguably the best time for a helicopter tour in the Annapurna region. Post-monsoon, the atmosphere is scrubbed clean, offering crystal-clear views of the peaks and valleys. The weather is stable, with minimal rain, and the temperatures, though cooler than spring, are still comfortable for flying.
Considerations: Autumn is also a peak trekking season in Nepal, so expect more aerial traffic and busier base camps if your tour includes landing spots.
Winter (December to February):
Advantages: The landscapes are incredibly dramatic in winter, with snow-covered peaks and frosty forests. For those seeking stark, wintry beauty, this could be an attractive time.
Considerations: Winter can be challenging due to colder temperatures, and at times, the weather might become unpredictable with snowstorms, especially in higher altitudes.
Summer/Monsoon (June to August):
Advantages: The landscapes are lush and green, with rivers and waterfalls at their fullest.
Considerations: This is the least recommended time for a helicopter tour. The monsoon clouds often obscure the peaks, reducing visibility dramatically. There's also a higher risk of flights getting postponed or canceled due to unpredictable weather conditions.
While both spring and autumn are ideal, your choice might depend on personal preferences like witnessing rhododendron blooms in spring or enjoying the post-monsoon clarity in autumn. Always consult with our tour operators such as Luxury Holidays Nepal regarding current weather conditions and predictions before booking, ensuring both a safe and visually rewarding experience.
Safety and Health Precautions for a Helicopter Tour in the Annapurna Region
Annapurna Helicopter Tours are thrilling experiences, but like any adventure, they come with inherent risks, especially in challenging terrains like the Annapurna region. Here are safety and health precautions to ensure a smooth and enjoyable journey:
Pre-flight Briefing:
Attend the pre-flight safety briefing. This will cover essential safety protocols, such as using seat belts, emergency procedures, and helicopter etiquette.
Acute Mountain Sickness (AMS):
Even though you're flying and not trekking, you'll be quickly ascending to high altitudes, which could lead to AMS. Symptoms include headache, dizziness, nausea, and breathlessness.
While helicopter cabins are pressurized, carry portable oxygen if possible, especially for tours that land at high-altitude spots.
Stay hydrated and avoid alcohol before the flight.
Dress Appropriately:
Even if it's warm at lower altitudes, the temperature can drop significantly as you ascend. Wear layers, and carry a jacket or windbreaker. Sunglasses and sunscreen are essential to protect against the intensified UV rays at high altitudes.
Weather Considerations:
Himalayan weather is unpredictable. Always be prepared for changes in plans, such as delays or even cancellations due to weather conditions.
It's safer to reschedule than to fly in poor visibility or turbulent conditions.
Limit Your Load:
Helicopters have strict weight limitations. Carry only essentials and adhere to the weight restrictions.
Motion Sickness:
If you're prone to motion sickness, consider taking anti-nausea medications before the flight. Always consult a doctor before taking any medication.
Ear Protection:
The noise inside a helicopter can be loud. They will provide earplugs or headphones. Use them to protect your hearing.
Stay Seated and Follow the Pilot's Instructions:
For your safety, remain seated with your seatbelt fastened throughout the flight unless instructed otherwise by the pilot.
If the tour includes a landing, wait for the pilot's signal before disembarking to avoid the rotor blades.
Respect the Environment:
If your tour includes stops at pristine locations or base camps, ensure you leave no trace behind. Carry back any waste and avoid disturbing local flora and fauna.
While helicopter tours offer unparalleled views and experiences, safety and health should never be compromised. With the right precautions and by choosing a reliable tour operator such as Luxury Holidays Nepal, you can ensure your Annapurna adventure is both safe and unforgettable.
Packing Essentials for a Helicopter Tour in the Annapurna Region
Packing for a Annapurna Helicopter Tour might seem straightforward, but considering the unique challenges and conditions of the Annapurna region, certain essentials can enhance the experience. Here's a comprehensive list:
Clothing:
Layers: Weather can vary dramatically as you ascend. Lightweight, moisture-wicking base layers paired with warmer outer layers allow for flexibility.
Windbreaker or Jacket: The temperatures can drop significantly at higher altitudes. A good wind-resistant jacket can provide the necessary warmth.
Hat and Gloves: Even if it feels warm at the starting point, it can get chilly up in the air, so these can be quite handy.
Personal Items:
Sunglasses: Essential for glare protection, especially given the snow-capped peaks. Polarized ones are preferable.
Sunscreen: The UV radiation is much stronger at high altitudes. A good SPF sunscreen is crucial to prevent burns.
Lip Balm: The air can be dry, so keep a lip balm to avoid chapped lips.
Personal Identification and Necessary Permits: Depending on the tour's specifics and the areas covered, you might need identification and special permits.
Equipment:
Camera with Extra Batteries: The cold can drain battery life faster than usual. If you're keen on photography, extra batteries are a must.
Binoculars: If you want a closer look at specific landmarks or wildlife.
Small Daypack: Useful to keep all essentials together, especially if the tour includes a landing and short trek or exploration.
Health and Safety:
Bottled Water: Staying hydrated can help with altitude sickness.
Snacks: Energy bars or nuts can provide a quick energy boost.
Personal Medications: If you take any daily medications, ensure they're in your pack.
Motion Sickness Pills: If you're prone to motion sickness, it's wise to take preventive medication beforehand.
First-Aid Basics: While it's unlikely you'll need them, a few basics like band-aids, antiseptic wipes, and pain relievers can be helpful.
Eco-friendly Essentials:
Reusable Water Bottle: To minimize plastic waste.
Eco-friendly Sunscreen: Sunscreens without harmful chemicals prevent environmental damage, especially if you plan to touch down and explore.
Waste Bag: If your tour includes stops, always ensure you bring back everything you took with you. Pack a small bag to collect waste.
Miscellaneous:
Earplugs or Noise-Cancelling Headphones: Helicopters can be noisy. While helicopters provide headphones, having your own can be more comfortable.
Cash: In case the tour offers any additional services or stops at places where you can purchase souvenirs or snacks.
Itinerary and Emergency Contact Information: Always good to have on hand for quick reference.
While helicopter tours in the Annapurna region don't require the extensive packing associated with trekking, having the right essentials can make the difference between a good and a great experience. Always check with our tour operator, like Luxury Holidays Nepal, for any specific recommendations they might have, ensuring you're best prepared for the aerial adventure.
Embarking on a helicopter tour in the Annapurna Region offers a unique and unparalleled perspective of one of the world's most breathtaking landscapes. It's an experience that deftly combines the thrill of soaring above towering peaks with the profound awe of witnessing nature's grandeur from a bird's-eye view. Any adventure, it requires meticulous planning and consideration, from understanding the best times to visit, packing essentials, and being aware of the environmental and safety aspects.
Choosing to explore Annapurna from the skies is a testament to the ever-evolving ways in which we seek to connect with our planet. While the immediacy and grandeur of a helicopter tour are undeniable, it's essential to approach this experience with a blend of excitement and responsibility. By equipping oneself with the right knowledge, respecting the environment, and selecting reputable operators like Luxury Holidays Nepal, travelers can ensure that their aerial journey is not only unforgettable but also leaves a positive impact on the region they've come to admire.
Frequently Asked Questions: A Complete Guide for a Helicopter Tour in the Annapurna Region
Q: How long is the helicopter tour in the Annapurna Region?
A: The duration varies depending on the package chosen. On average, tours range from 20 minutes to a few hours. Some tours may include stops at base camps or other key locations.
Q: What is the maximum altitude reached during the tour?
A: Most helicopter tours in the Annapurna region reach altitudes between 12,000 to 16,000 feet, with some touching down at Annapurna Base Camp, which sits at approximately 13,550 feet.
Q: Is there an age limit for the helicopter tour?
A: There's no strict age limit. However, for safety reasons, it's essential to consider the health and comfort of very young children or elderly passengers.
Q: Do I need any special permits for the helicopter tour?
A: While trekking in the Annapurna region typically requires permits, helicopter tours often include all necessary permissions within the package.
Q: What happens if the weather is bad on the day of my tour?
A: Safety is paramount. If weather conditions are deemed unsafe, tours may be rescheduled.
Q: Is there a risk of Acute Mountain Sickness (AMS) during the tour?
A: The rapid ascent in a helicopter can expose passengers to the risk of AMS. We provide detailed information and safety protocols to mitigate this risk, including potentially carrying oxygen for emergency use.
Q: Can I customize my tour or request specific locations?
A: We offer tailored packages and is open to customizations depending on feasibility and safety parameters.
Q: How many passengers can a helicopter accommodate?
A: Typically, helicopters used for these tours can accommodate 5-6 passengers, not including the pilot. However, weight limits apply, and the total number might be adjusted based on overall passenger and cargo weight.
Q: Are there any luggage restrictions?
A: Given the space and weight constraints in helicopters, passengers are usually advised to carry only essentials in a small daypack. Large luggage pieces are not recommended.
Q: Do helicopters land at any locations during the tour?
A: Depending on the tour package, some helicopters might land at specific spots like base camps or viewpoints, allowing passengers to disembark briefly.
Q: What should I wear during the tour?
A: It's advisable to wear layered clothing due to changing temperatures. Essentials include a windbreaker, sunglasses, hat, and gloves. Always refer to the provided packing guide for detailed recommendations.
Q: Is photography allowed during the tour?
A: Absolutely! Photography is encouraged. It's crucial to ensure that any equipment doesn't obstruct the pilot's operations or the comfort of other passengers.
Q: How do I book a helicopter tour with Luxury Holidays Nepal?
A: Visit the official website of Luxury Holidays Nepal for detailed tour descriptions, availability, and an easy booking process. You can also reach out via phone or email for personalized assistance.
Here are the most popular Helicopter Tours packages in Nepal.
Best-Selling Helicopter Tours in Nepal by Luxury Holidays Nepal
If you need any further information, please contact us by email: at [email protected], Phone: at +977- 985 100 5129 (WhatsApp)