Upper Mustang is one of the most stunning and off-the-beaten regions of Nepal. Mustang the last forbidden kingdom of Nepal, which is also known as the Lo, which has thousands of incredible attractions. With a dramatic semi-arid desert with vibrant rock formations, steep gorges, and breathtaking scenery that never ends is the setting for the amazing trekking trips and is higher than 4000 meters, Upper Mustang is a wonderland. Up until 1992, this area was shielded from the outer world. Since the bulk of the population speaks Tibetan, the area is regarded as the best conserved in the entire globe. From the 15th to the 17th centuries, Mustang was an autonomous kingdom that ruled over trade between the Himalayas and India. However, in the 18th century, it was overrun by Nepal, and from that point on, Mustang became a dependency of the Kingdom of Nepal.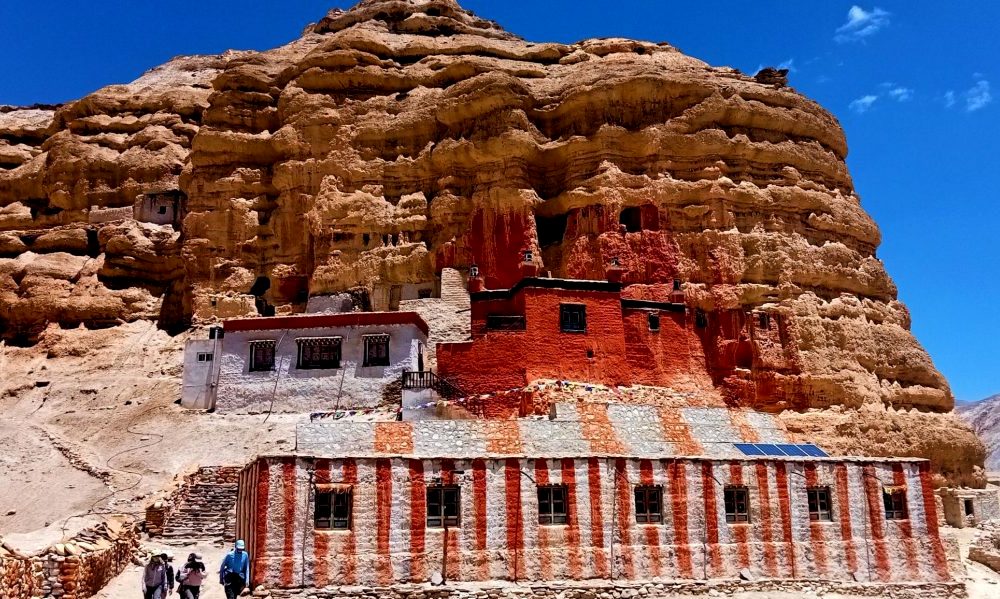 Despite being isolated and constrained from the rest of the world for many years, this trans-Himalayan region still managed to create its own unique culture and extensive traditions, much like Tibet. This area, which borders Tibet, is distinctly Tibetan in terms of its people, culture, and topography. It was originally home to a monarchy with Lo Manthang as its capital.
The primary highlights of the walled city of Lo Manthang are the historic monasteries, rural villages, and architectural caverns perched high on the cliffs.
The territory of Upper Mustang is renowned for its profound and mystical traditions, vibrant Buddhist culture, thousands of years' worth of preserved historical sites, and friendly residents. Even while modernization has changed the region, its distinct culture and traditions continue to astound tourists. We can sense the energy of the actual mountain people struggling to preserve old history and culture in their natural surroundings.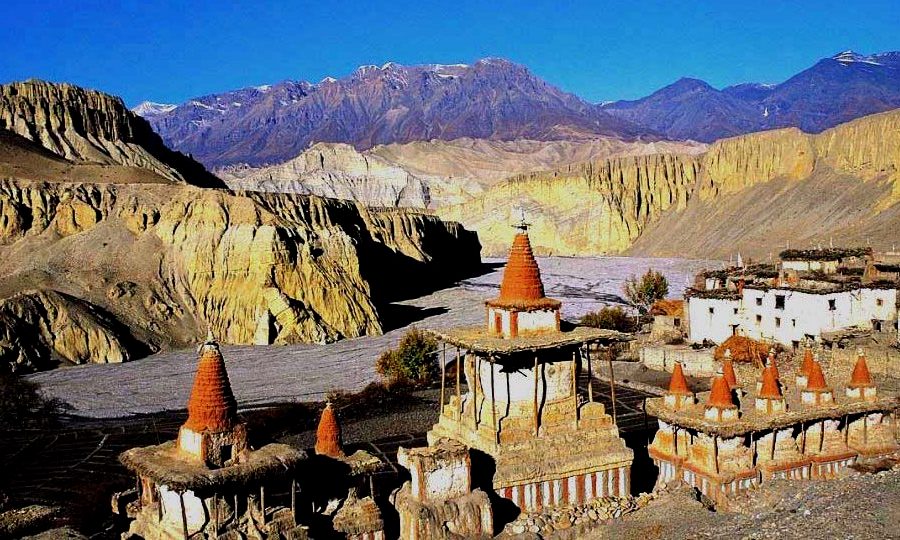 Do you intend to visit Nepal's Last Forbidden Kingdom? If the answer is yes, you are selecting wisely. This region is surrounded by thousands of breathtaking sights. They all contain elements of the natural, historic, cultural, and spiritual worlds.
Please, click here for the Upper Mustang Heli Trek with Luxury Accommodations in Kathmandu and Pokhara.
Attractions of the Upper Mustang Trek
Explore the walled capital of the Kingdom of Lo is Manthang.
Numerous monasteries, caves and the unusual beauty of landscapes devoid of trees
As visitors can observe the Tibetans interacting with one another and carrying prayer flags, taking in their spirituality.
Observe the customs and culture of the locals as they live in close proximity, much like Tibetans.
Imposing mountains (like Annapurna, Dhaulagiri, and Nilgiri)
Sky interment (cutting dead body parts in small pieces and feeding to vultures)
View of the beautiful Kali Gandaki gorge (the deepest gorge in the world)
Shrines to Tibetan Buddhism (Chortens, Kaanis, Prayer Walls, Stupas, etc.)
Sandstone pillars
Tiji (the three-day event held in front of Lo Manthang's royal palace)
Ammonite fossil dating back 210 million years
Tibetan Buddhist traditions, civilizations, and way of life
The Upper Mustang Trek
The Upper Mustang trek leads travelers thru a hidden Buddhist kingdom of the upper Mustang, also known as Lo.This isolated trans-Himalayan mountain region, which shares a border with Tibet, has a very Tibetan feel to it in terms of both its people and culture as well as its desert terrain of tall cliffs and unusually shaped and colored rocks. Upper Mustang Trek is possible at a maximum altitude of 3,810m (12,500ft). Upper Mustang has a trans-Himalayan climate (which is cool and semi-arid with precipitation in the range of 250 to 400mm). The scenery is still breathtaking, and you start to enjoy the wind's pleasant kisses on your cheeks.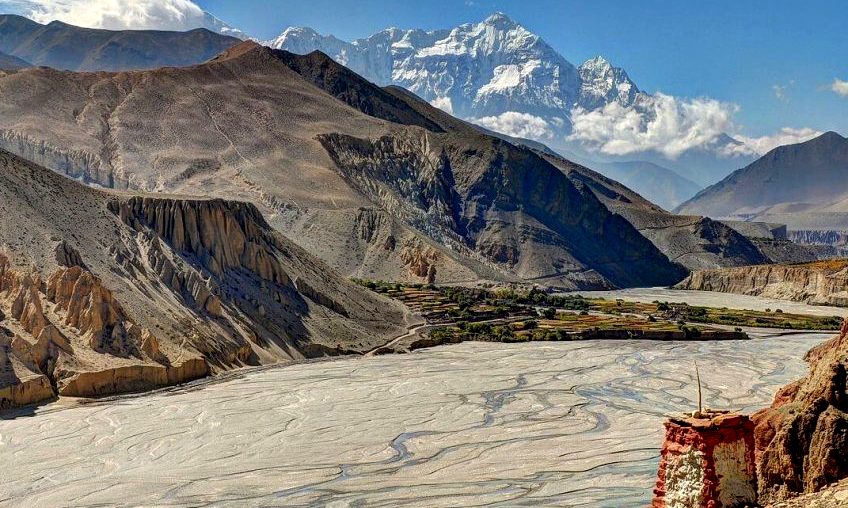 Upper Mustang Trek Permit
Obtaining a permit for the Upper Mustang Trek is also a challenge because it is regarded as a restricted area to explore in Nepal. The Annapurna Conservation Area Permit (ACAP) and the Restricted Area Permit are necessary for the Upper Mustang Trek (RAP). This permit is necessary for the Upper Mustang Trek for all non-Nepalis.
The Annapurna Conservation Area Permit (ACAP), which costs $20 per person and is good for the duration of the trekking, is available. All treks and tours to the Annapurna region must have this permit.
To continue the journey from Kagbeni to Upper Mustang, you need a Restricted Area Permit (RAP). For 10 days, this Upper Mustang Trekking Permit costs USD 500 per person. Additionally, an extra USD50 per person per day will be charged if the days are more than 10. [TIMS (Trekkers Information Management System) card is not necessary as RAP card provides all the information]
Please, click here for Upper Mustang Helicopter Tour.
Best Time for Upper Mustang
Although Upper Mustang Trek can be completed throughout the year, the months of September, October, November, March, April, May, June, July, and August are said to be the most favorable. Since Upper Mustang is located in a rain-shadowed location, the scene is more beautiful during this time of year. For those who can't acclimate quickly to the cold, the temperatures in December, January, and February remain frigid enough to pose a significant challenge.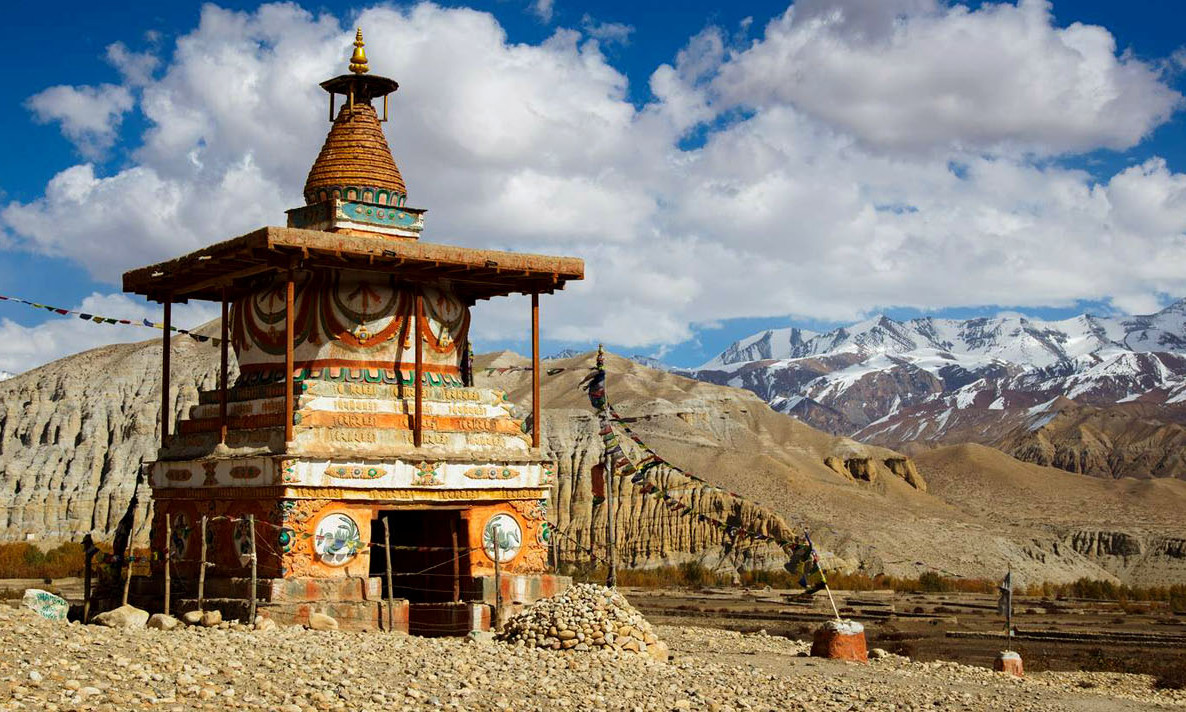 Upper Mustang Temperature
The following chart displays the area's temperature during the day and at night in Mustang:

| | | |
| --- | --- | --- |
| Month | Day Temperature | Night Temperature |
| December, January, February | 0 to 5-degree centigrade(32 to 41 degree Fahrenheit) | -25 to -20 degree centigrade(-13 to -4 degree Fahrenheit) |
| March, April, May, June | 16 to 22-degree centigrade(61 to 72 degree Fahrenheit) | -6 to -2-degree centigrade(21 to 28 degree Fahrenheit) |
| July, August, September | 20 to 33-degree centigrade(68 to 73 degree Fahrenheit) | -3 to 0-degree centigrade(27 to 32 degree Fahrenheit) |
| October, November | 12 to 20-degree centigrade(54 to 68 degree Fahrenheit) | -8 to -4-degree centigrade(18 to 25 degree Fahrenheit) |
Because of numerous causes, including strong winds, minimal rainfall, sunlight, and many others, the temperature of the Upper Mustang continues to fluctuate. You can travel in any month, but you need to be sure that you can fully acclimate at that time. You'll need a suitable itinerary, a proper food system, a place to stay, and—most importantly—a backpack for that.
Difficulty Level of Upper Mustang Trek
The Upper Mustang Trek is rated as being of average difficulty. However, if you are in good physical shape and willing to explore the trans-Himalayan region, you can complete the walk. Everyone of any age can enjoy it, but notably elders and families with young children. The Upper Mustang route can typically be completed by walkers without any limits or limitations. However, this trek requires a reasonable level of fitness.
Because of the elevation and dry atmosphere, the walk-in Upper Mustang is regarded as challenging. Like many treks in the Nepal Himalayas, this hike has its ups and downs. Both high passes and severe descents must be negotiated. You may go on this hike almost any time of year because it is in the rain shadow.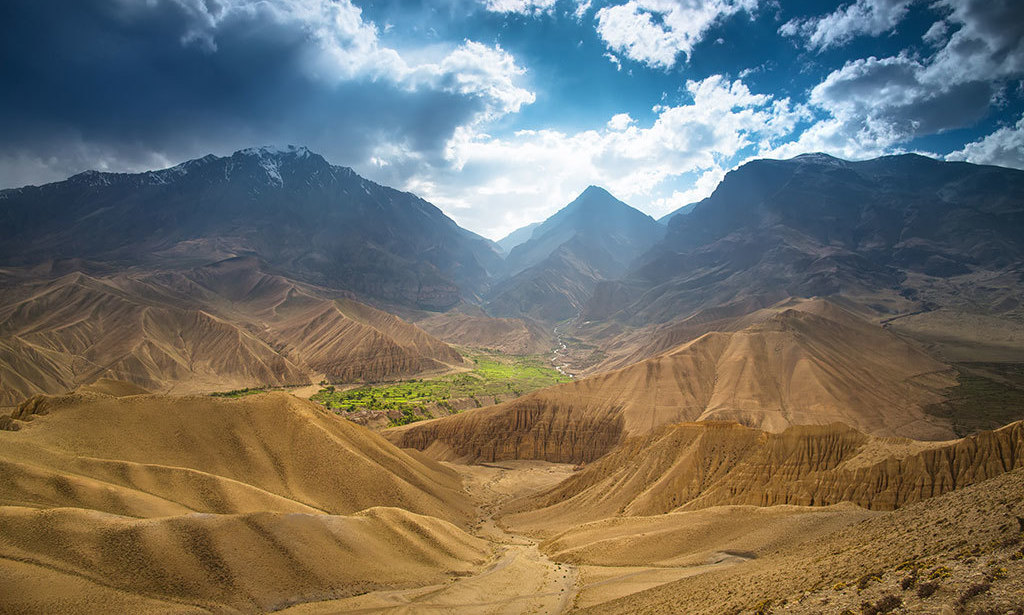 6-7 hours are spent walking on average each day. The Upper Mustang walk can be completed by both beginner and professional trekkers. However, you should be reasonably fit to perform this adventure. Therefore, spend more time in the gym or on a hike before you arrive, just as you would for other Nepali treks. Exercise your heart as well as your legs.
Upper Mustang Trek Backpack Tips
Full-sleeve shirts, ankle boots, underwear, trek pants, watches, walking poles, waterproof hats, belts, thick socks, jumpers, waterproof trousers, first aid kit boxes, sleeping bags, hyper jackets, water bottles, fleece woolen hats, gloves, flip-flops, knives, toilet bag (comb, toothbrush, face wash, dental floss), passports, guides books, trekking maps, notes, and pens are the most crucial items that you need to bring on your trek to To reduce additional difficulty throughout the walk, it is advised that the backpack's total estimated weight be between 8000 and 9000 grams. The level of fatigue will increase with weight. You can choose from a variety of camping and teahouse excursions offered by Upper Mustang Trek, depending on your preferences.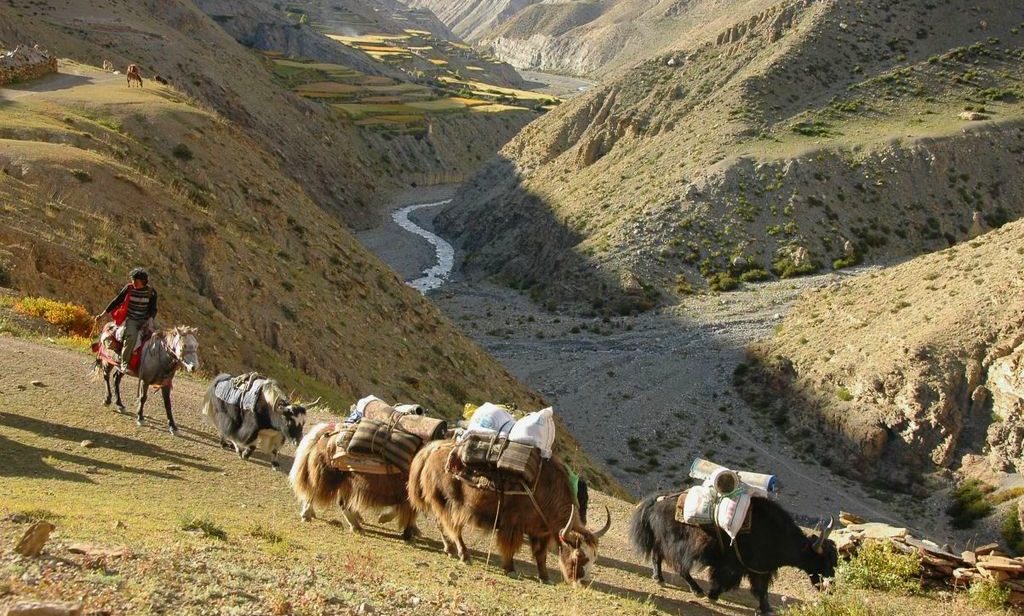 For the Upper Mustang Trek in Nepal, We Luxury Holiday Nepal Team offers a variety of programs at tempting and affordable costs. You can write to us or call us directly if you have any questions about Upper Mustang Trek, Lower Mustang Trek, Upper Mustang Trek Costs, Upper Mustang Trek Itinerary, Upper Mustang Trek Permits, or any other questions.
Food and Accommodation in Upper Mustang
In each village along the walking trail, there are tea houses or simple hotels that offer lodging options. The majority of the lodges and guesthouses in the Upper Mustang region provide lodging for tourists with basic amenities like a western toilet, a clean room with a bed and small side table, and clothes hanger. Because of the low population density, expensive transportation, and seclusion, lodging in Upper Mustang is relatively expensive.
While on the journey towards upper mustang, travelers can have different kinds of local foods in various lodges. In the lodges and guest homes, breakfast, lunch, and supper are served with local and foreign cuisine. The food will be delicious, warm and healthy, which will help you to boost your energy for the journey.
Upper Mustang is one of the best destinations to travel in Nepal. There are various ways to reach there and enjoy the trip, you can do jeep tour, trekking, Helicopter tour or if you are a true adventure seeker, a Mountain biking & Motorcycle ride tour is best to go for.
If you are looking for some more options for treks & tours please, click here.
If you need any further information, please contact us, Email: [email protected], Phone: +977- 985 100 5129 (WhatsApp)