Upper Mustang, renowned as the last forbidden kingdom of Nepal, nestles amidst the celestial terrain of the country, proudly housing countless spellbinding attractions that echo with rich history and vibrant cultural tales. Recognized also by the name Lo, this high-altitude wonder, soaring above 4,000 meters, presents a semi-arid desert, articulated with dynamic rock formations, precipitous gorges, and an infinite canvas of stunning scenery, setting the stage for awe-inspiring trekking expeditions.
Shielded from global eyes until 1992, Upper Mustang retains a unique charm, wherein the majority of the populace communicates in Tibetan, rendering the region as the most pristinely preserved Tibetan culture across the globe. Flourishing as an independent kingdom that dominated trade between the Himalayas and India from the 15th to the 17th centuries, Mustang found itself enveloped by Nepal in the 18th century, morphing into a dependency of the Nepalese Kingdom thereafter.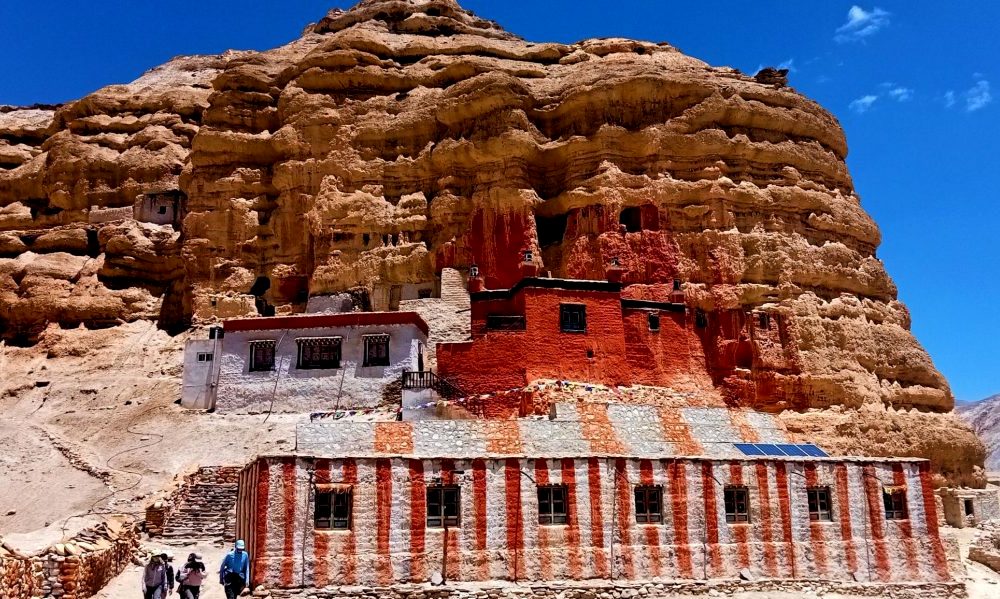 Despite the years of isolation and limitations imposed on interactions with the rest of the world, this trans-Himalayan territory miraculously nurtured its distinctive culture and expansive traditions, akin to those of Tibet. Sharing its borders with Tibet, Upper Mustang resonates deeply with Tibetan influences in its demographics, culture, and topography. The region initially harbored a monarchy, with Lo Manthang serving as its pulsating capital.
Lo Manthang, the fortified city, whispers tales of ancient times through its historic monasteries, quaint villages, and architectural caverns delicately perched upon towering cliffs. The realm of Upper Mustang is celebrated for its deep mystical traditions, pulsating Buddhist culture, millennia-preserved historical sites, and the warm, welcoming demeanor of its inhabitants. While the winds of modernization have brushed through the region, its unique culture and traditions continue to bewitch visitors with an unblemished charm.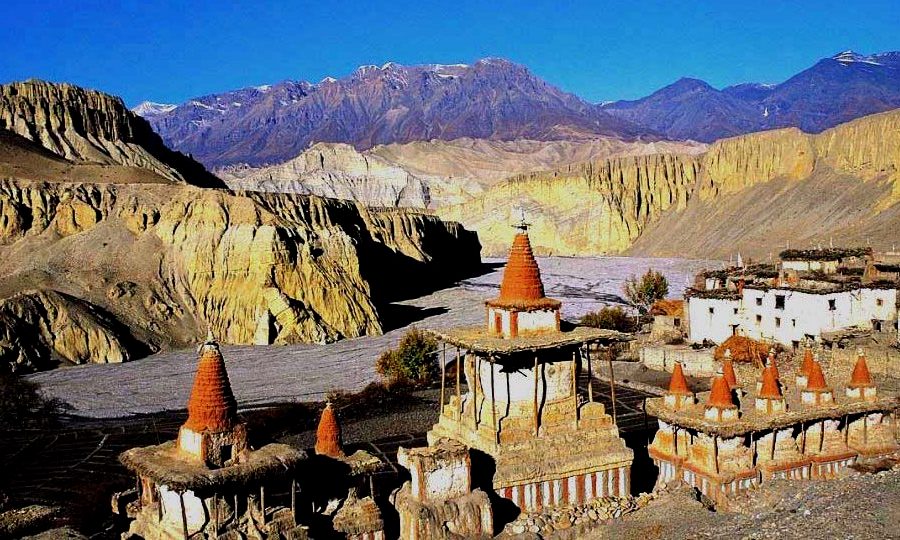 In this realm, one can almost touch the resilient spirit of the true mountain dwellers, fervently preserving ancient history and culture amidst their naturally magnificent environs.
Should you choose to traverse into Nepal's Last Forbidden Kingdom? The answer whispers through the winds of the mountains – a resounding yes. The region, saturated with breathtaking sights, intertwines the natural, historical, cultural, and spiritual threads into a tapestry that promises an unparalleled journey into a world where every path tells a story, awaiting to be unveiled in the mesmerizing expanses of the Upper Mustang.
---
Attractions of the Upper Mustang Trek
Embarking on the Upper Mustang Trek with Luxury Holiday Nepal, explorers unveil a fascinating world, where the past and present coalesce amidst the ethereal landscapes of Nepal. Each step in this ancient kingdom introduces trekkers to a realm steeped in mystique and timeless traditions. Here's a glimpse into some of the compelling attractions that elevate the trek into an experience transcending mere exploration.
Walled Capital - Lo Manthang: A journey into antiquity, exploring the walled capital Lo Manthang, reveals the heart of the erstwhile Kingdom of Lo. Rich with ancient palaces and monasteries, it silently narrates tales of times long gone.

Monastic Marvels and Mystical Caves: The trek unravels a tapestry of numerous monasteries, caves, and a uniquely arresting beauty of landscapes, largely devoid of trees yet brimming with spiritual energy.

Spiritual Encounters: Observing Tibetans, festooning the landscapes with fluttering prayer flags and absorbing their spirituality, gives a genuine insight into the devoutness permeating their daily lives.

Cultural Richness: Glimpsing the customs and cultures of the locals, their Tibetan resemblances, and the communal life they lead is like peering through a window into the soul of Upper Mustang.

Majestic Mountain Vistas: The trek bestows upon visitors arresting views of towering giants like Annapurna, Dhaulagiri, and Nilgiri, each peak narrating tales of adventurers and dreamers.

Sky Burials: An intimate witness to the esoteric sky interment practice, where the departed are returned to the skies, is both poignant and spiritually enlightening.

Kali Gandaki Gorge: The sight of the stunning Kali Gandaki Gorge, recognized as the deepest gorge globally, carves an indelible memory into the heart of every observer.

Buddhist Shrines: Engage in a spiritual communion amidst the numerous shrines dedicated to Tibetan Buddhism, such as Chortens, Kaanis, Prayer Walls, and Stupas.

Sandstone Pillars: The imposing and naturally sculpted sandstone pillars across the landscape stand as eternal sentinels to the passage of time and eras gone by.

Tiji Festival: The Tiji Festival, a vibrant three-day event unfolded in front of Lo Manthang's royal palace, is a cultural spectacle replete with dances, colors, and spiritual significance.

Ammonite Fossil: Touching an ammonite fossil, dating back a staggering 210 million years, connects one palpably to the ancient world that once was.

Tibetan Buddhist Traditions: Immersing oneself into the Tibetan Buddhist traditions, civilizations, and ways of life, is not merely an exploration of a place but a deep dive into a richly preserved culture and ethos.
With every step in the Upper Mustang, you aren't just trekking; you're walking through pages of a living history book, each chapter more enlightening than the last, especially when explored with experts like Luxury Holiday Nepal, ensuring your journey is not only breathtaking but also deeply insightful.
---
The Upper Mustang Trek
The Upper Mustang Trek unfolds an enchanting journey through the veiled Buddhist realm of Upper Mustang, colloquially celebrated as Lo. This secluded trans-Himalayan expanse, nestling along the fringes of Tibet, resonates deeply with Tibetan vibrancy, both in its amiable inhabitants and rich cultural tapestry, as well as its striking desert landscapes adorned with towering cliffs and peculiarly sculpted, vibrantly hued rocks. Traversing the Upper Mustang, trekkers ascend to an impressive elevation of 3,810m (12,500ft), immersing themselves in a trans-Himalayan ambiance characterized by its crisp, semi-arid climate and annual precipitation figures hovering between 250 to 400mm. Despite the aridness, the vistas are nothing short of awe-inspiring, with the wind's gentle embrace caressing one's face, elevating the experience to a realm of pure bliss, especially when journeying with expertise from Luxury Holiday Nepal.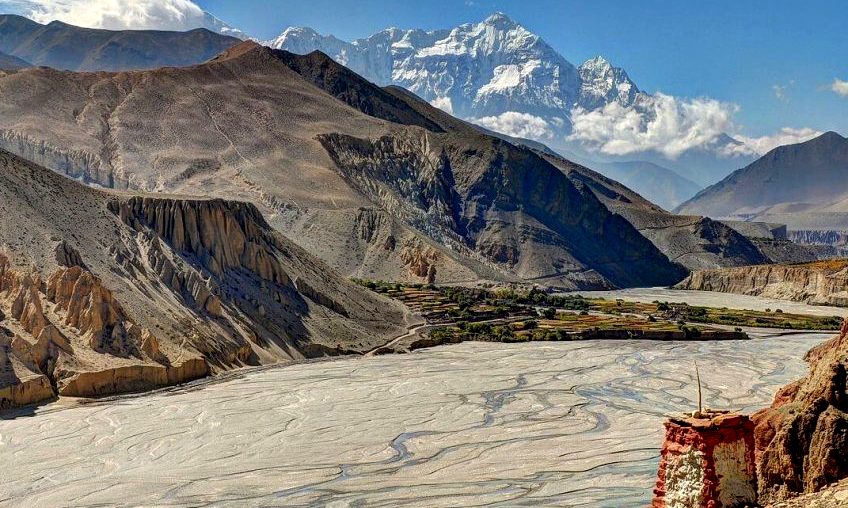 ---
Upper Mustang Trek Permit
Navigating the ethereal landscapes of the Upper Mustang requires trekkers to be equipped with specific permits. Given the region's sensitive location near the Nepal-Tibet border and its unique cultural heritage, the Nepalese government has implemented these measures to protect the area and its people. If you're planning an expedition with Luxury Holiday Nepal, here's what you need to know about securing the necessary permissions:
Restricted Area Permit (RAP): Upper Mustang falls under the restricted areas of Nepal, and thus, trekkers need a special permit to enter. The RAP for the Upper Mustang is issued by the Department of Immigration in Kathmandu.
Duration & Cost: This permit is valid for a 10-day duration, with each additional day costing extra. As of the last update, the permit fee was USD 500 per person for 10 days and an additional USD 50 per day thereafter. However, it's advisable to check the current rates before planning your trek.
Annapurna Conservation Area Project (ACAP) Permit: Since the Upper Mustang lies within the Annapurna Conservation Area, trekkers also need an ACAP permit.
Where to Obtain: This can be obtained either from the Nepal Tourism Board Office in Kathmandu or the Annapurna Conservation Area Project (ACAP) counter in Pokhara.
Cost: As of the last update, the permit fee for foreign trekkers was NPR 3,000 (approximately USD 30). It's recommended to check current rates and regulations prior to your trek.
TIMS Card: Although the Trekker's Information Management System (TIMS) card is usually mandatory for most treks in Nepal, those obtaining the RAP for Upper Mustang generally do not need a TIMS card. But it's always good to consult with your trekking agency, like Luxury Holiday Nepal, for the most updated information.
Important Notes:
Ensure you have multiple passport-sized photographs with you, as they'll be required for the permits.
Always carry your passport and permits while on the trek, as there will be multiple checkpoints where they need to be shown.
It's recommended to process these permits through a recognized trekking agency, which can streamline the process and ensure that all necessary documentation is in order.
With the right permits in hand, the mysteries and wonders of the Upper Mustang await your discovery, and there's no better partner for this adventure than Luxury Holiday Nepal, dedicated to providing a seamless and enriching trekking experience.
---
Best Time for Upper Mustang
Venturing into the mystical realm of Upper Mustang, often termed as the 'Last Forbidden Kingdom,' is an enthralling experience that's further enhanced when done during the right season. With its unique trans-Himalayan topography, this region's climate can differ significantly from other parts of Nepal. Here's a concise breakdown of the best times to embark on the Upper Mustang trek with Luxury Holiday Nepal:
Spring (March to May):
Pros: Spring is one of the prime trekking seasons for Upper Mustang. The temperatures are moderate, making the trek pleasant. Flowers start to bloom, adding a splash of color to the otherwise arid landscapes.
Highlights: Clear skies ensure unobstructed views of Annapurna, Dhaulagiri, and other majestic peaks. The cultural vibrancy is also palpable, with several Tibetan Buddhist festivals occurring during this time.
Monsoon (June to August):
Pros: Unlike most of Nepal, which gets heavy rainfall, Upper Mustang lies in the rain-shadow area. This means it receives significantly less rainfall, making it an ideal destination for monsoon trekking.
Highlights: Rivers and waterfalls are at their fullest, and the landscape, while still arid, has a unique charm. Plus, the Tiji Festival, a significant cultural event in Lo Manthang, usually takes place during this period.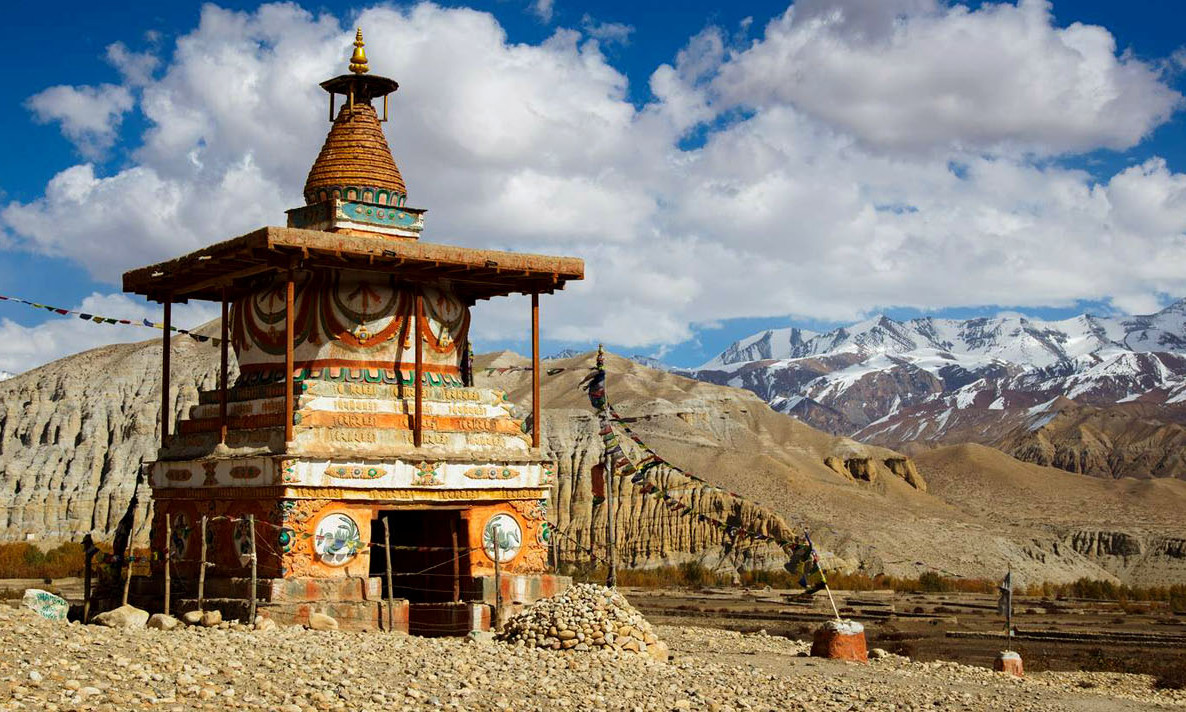 Autumn (September to November):
Pros: Widely considered the best time for trekking in Nepal, Autumn in Upper Mustang sees clear, cloudless skies, and crisp air. The temperatures, though starting to drop, are still comfortable for trekking.
Highlights: The visibility is excellent, offering breathtaking views of the high Himalayas. The festive spirit is in the air with Dashain and Tihar, Nepal's major festivals, being celebrated.
Winter (December to February):
Pros: For those seeking solitude, winter can be an option. The trails are less crowded, and the region exudes a serene, pristine beauty.
Cons: Temperatures drop significantly, especially during the night. Snowfall can also be expected, which might make some trails inaccessible. It's essential to be well-prepared with appropriate gear and clothing.
Recommendation: While each season has its own charm and challenges, Spring and Autumn are traditionally the most favored times for the Upper Mustang trek. However, if you're looking to experience the region's cultural heartbeat, timing your visit around local festivals, regardless of the season, can be incredibly rewarding.
No matter when you decide to journey to Upper Mustang, partnering with Luxury Holiday Nepal ensures a well-planned, immersive, and unforgettable trekking experience.
---
Upper Mustang Temperature
The following chart displays the area's temperature during the day and at night in Mustang:

| | | |
| --- | --- | --- |
| Month | Day Temperature | Night Temperature |
| December, January, February | 0 to 5-degree centigrade(32 to 41 degree Fahrenheit) | -25 to -20 degree centigrade(-13 to -4 degree Fahrenheit) |
| March, April, May, June | 16 to 22-degree centigrade(61 to 72 degree Fahrenheit) | -6 to -2-degree centigrade(21 to 28 degree Fahrenheit) |
| July, August, September | 20 to 33-degree centigrade(68 to 73 degree Fahrenheit) | -3 to 0-degree centigrade(27 to 32 degree Fahrenheit) |
| October, November | 12 to 20-degree centigrade(54 to 68 degree Fahrenheit) | -8 to -4-degree centigrade(18 to 25 degree Fahrenheit) |
Because of numerous causes, including strong winds, minimal rainfall, sunlight, and many others, the temperature of the Upper Mustang continues to fluctuate. You can travel in any month, but you need to be sure that you can fully acclimate at that time. You'll need a suitable itinerary, a proper food system, a place to stay, and—most importantly—a backpack for that.
---
Difficulty Level of Upper Mustang Trek
The mystical journey through the Upper Mustang, often referred to as the 'Last Forbidden Kingdom,' is an enthralling adventure waiting for every trekker. But how challenging is this expedition? Let's break down the intricacies of the trek's difficulty for adventurers considering this route with Luxury Holiday Nepal.
Trek Rating:
The Upper Mustang Trek is generally classified as having a moderate difficulty level. This implies that with adequate preparation and a reasonable fitness level, most trekkers can undertake this journey.
Physical Fitness and Age Limitations:
One of the unique aspects of the Upper Mustang trek is its versatility. It's accessible to a broad demographic, from seasoned trekkers to families with children and older adventurers. However, maintaining good physical health enhances the experience.
While the trek doesn't impose stringent age restrictions, it does demand a fair amount of endurance due to its elevation and the arid climate.
Trail Challenges:
The trek encompasses a variety of terrains. From steep ascents to equally demanding descents, the journey is sprinkled with challenges typical of the Nepal Himalayas.
Being located in the rain shadow area, Upper Mustang is less affected by monsoon rains, making it accessible for most parts of the year.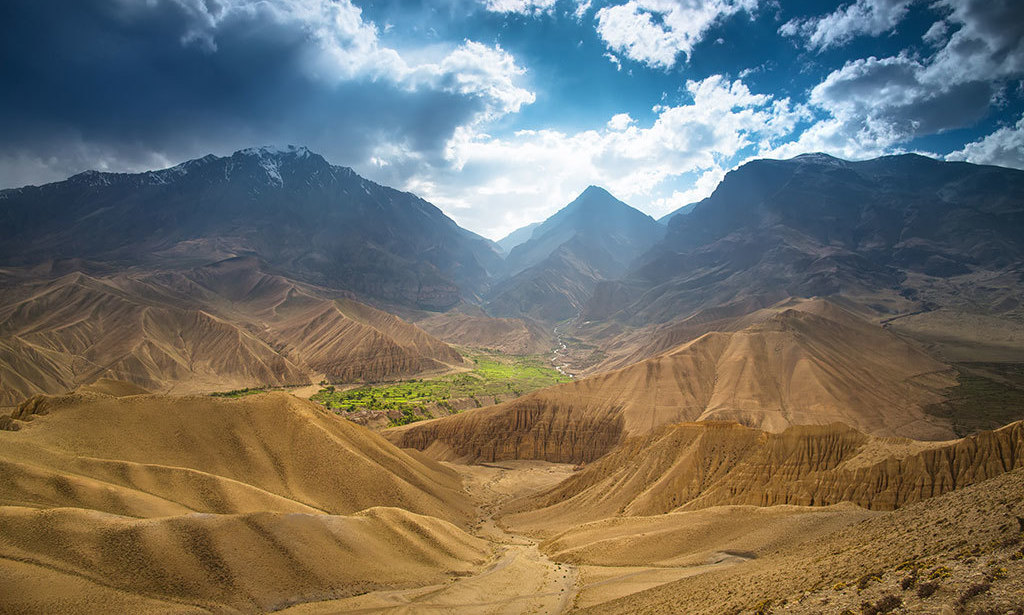 Trek Duration:
On average, trekkers can expect to walk for 6-7 hours daily. This requires stamina, especially when navigating through high passes.
Preparation and Acclimatization:
Both novice and experienced trekkers can embrace the beauty of Upper Mustang. However, pre-trek preparation plays a crucial role in determining the trek's overall experience.
Engaging in cardiovascular exercises and strength training, focusing on the legs and core, can be beneficial. Remember, the heart needs as much training as the legs do for this adventure.
The Upper Mustang Trek, while categorized as moderate, offers its own set of challenges and rewards. The key lies in preparation and understanding the terrain. With Luxury Holiday Nepal as your travel partner, every step in the mystical land of Upper Mustang becomes a memory etched in time.
---
Upper Mustang Trek Backpack Tips
The journey through the mesmerizing Upper Mustang demands precise preparation, especially when it comes to packing. To ensure that trekkers have a hassle-free experience, Luxury Holiday Nepal has curated a comprehensive list of backpack essentials:
Clothing and Gear:
Full-sleeve shirts, ankle boots, trek pants, and waterproof trousers: These are vital for protection against the unpredictable mountain weather.
Jumpers, hyper jackets, thick socks, and fleece woolen hats: To keep you warm during those chilly mountain nights.
Waterproof hats and gloves: To protect against sunburn and cold, respectively.
Accessories and Utilities:
Watches, walking poles, belts, knives, and flip-flops: For convenience and functionality during the trek.
Passports, guidebooks, trekking maps, notes, and pens: Essential for documentation and navigation.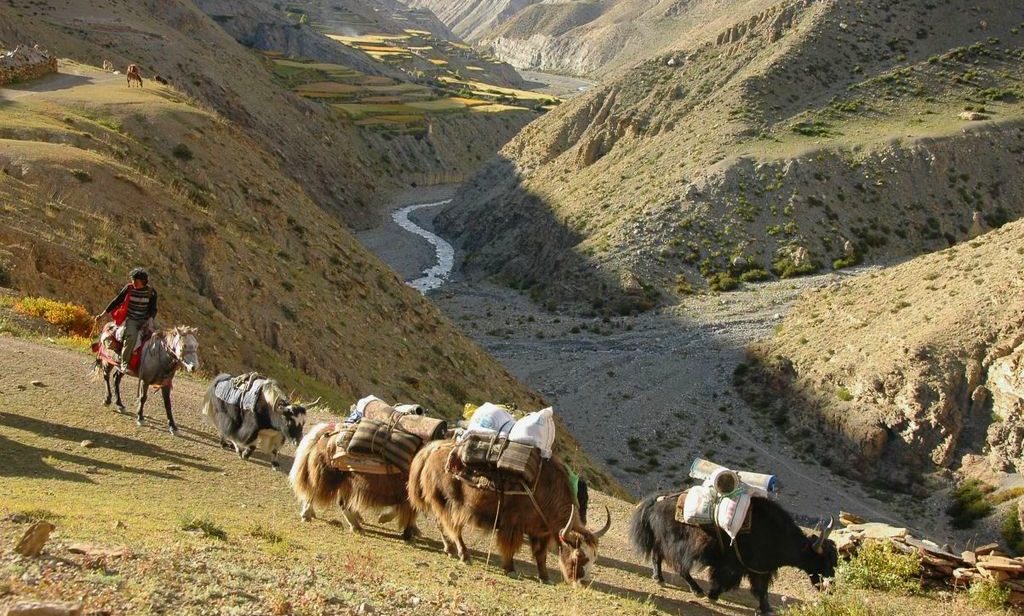 Personal Hygiene and Health:
Toilet bag (including comb, toothbrush, face wash, dental floss): For maintaining personal hygiene.
First aid kit box and sleeping bags: For safety and comfort during the journey.
Food and Hydration:
Water bottles: Staying hydrated is paramount.
Bag Weight Consideration:
It's crucial to strike a balance when packing. Aiming for a backpack weight between 8000 to 9000 grams can significantly enhance your trekking experience. Remember, excess weight can lead to increased fatigue.
Trek Varieties:
The Upper Mustang Trek offers diverse experiences, be it camping or teahouse excursions. It's essential to pack according to your chosen itinerary.
Proper packing is the key to a successful and enjoyable trek. At Luxury Holiday Nepal, we're dedicated to ensuring that your Upper Mustang adventure is memorable. For detailed insights into the Upper Mustang Trek, including costs, itinerary, permits, and more, don't hesitate to reach out to our dedicated team.
---
Food and Accommodation in Upper Mustang
Embarking on the journey through the culturally rich and naturally astounding trails of the Upper Mustang, travelers often find themselves enveloped in a world where traditional values meet the necessities of tourism. Luxury Holiday Nepal aims to offer insights into what one might expect in terms of accommodation and culinary experiences while traversing this magnificent region.
Accommodation During the Upper Mustang Trek
Meandering through the rugged trails, each village along the pathway brings forth welcoming tea houses and modest hotels, offering a snug place to rest after a day's trek. The majority of lodges and guesthouses sprinkled across the Upper Mustang region provide essentials to tourists with subtle nuances of comfort:
Basic Amenities: Expect clean rooms furnished with a cozy bed, a small side table, and a clothes hanger to keep your belongings in order.

Sanitation: Most accommodations feature western-style toilets, reflecting a blend of traditional hospitality with a touch of modern convenience.
Despite the seemingly rudimentary offerings, it's essential to note that lodging in the Upper Mustang comes with a higher price tag, attributed to the region's low population density, the high cost of transportation, and its secluded nature, which all contribute to the overall costs of amenities.
Food During the Upper Mustang
The trek through the Upper Mustang is not merely a feast for the eyes but also a unique culinary journey where travelers get to immerse themselves in an array of local foods offered at various lodges en route.
Meals on the Journey: Breakfast, lunch, and dinner in the lodges and guesthouses encompass a blend of local and international cuisine, ensuring that meals are not only hearty and warm but also familiar to the diverse palette of global travelers.

Energetic and Wholesome: Engaging in a journey through the rugged terrains requires nourishment, and the food provided is not only flavorsome but also packed with the necessary nutrients to replenish your energy for the adventures ahead.
Venturing into the heart of the Upper Mustang with Luxury Holiday Nepal, you're not merely exploring the landscapes but also diving into a world where every meal and every night's stay becomes an integral part of your Nepalese adventure, blending warm hospitality with the ancient traditions and magnificent sceneries of the region.
---
The Upper Mustang, often referred to as Nepal's hidden gem, offers more than just scenic landscapes and rugged terrains. It's a journey through time, where each step echoes tales of ancient traditions, and every meal is a testament to the rich culinary heritage of the region. With its unique blend of natural beauty, historical significance, and cultural richness, this trek becomes a transformative experience. The ever-changing hues of the landscapes, the warm smiles of the locals, and the comforting embrace of traditional lodges make every moment memorable. Choosing to embark on this journey with Luxury Holiday Nepal ensures not just a trek, but a holistic experience, seamlessly merging adventure with cultural immersion. As you trace back your steps from this mesmerizing expedition, you don't just carry memories but a piece of the Upper Mustang in your heart, waiting to beckon you again.
---
Here is the Mustang Tour & Trek packages in Nepal
Upper Mustang Heli Trek with Luxury Accommodations in Kathmandu and Pokhara
If you are looking for some more options for treks & tours please, click here.
If you need any further information, please contact us, Email: [email protected], Phone: +977- 985 100 5129 (WhatsApp)