Nepal is one of the richest countries in the world in terms of biodiversity due to its unique geographical position and latitudinal variation. The wild variation in biodiversity fosters an incredible variety of hiking trails. Hiking is one of the best ways to feel all the incredible nature in Nepal who is craving fresh air, worth watching views, and great work to have a good sweat is to go out for a walk in the wilderness, to stay away from the city's hustle and bustle. Nepal consists of thousands of amazing hiking trails, each has its own unique features based on ecosystems, mountain ranges, forests with a variety of herbs, shrubs, wildlife, water resources, hills and valleys, and religious and pilgrimage sites.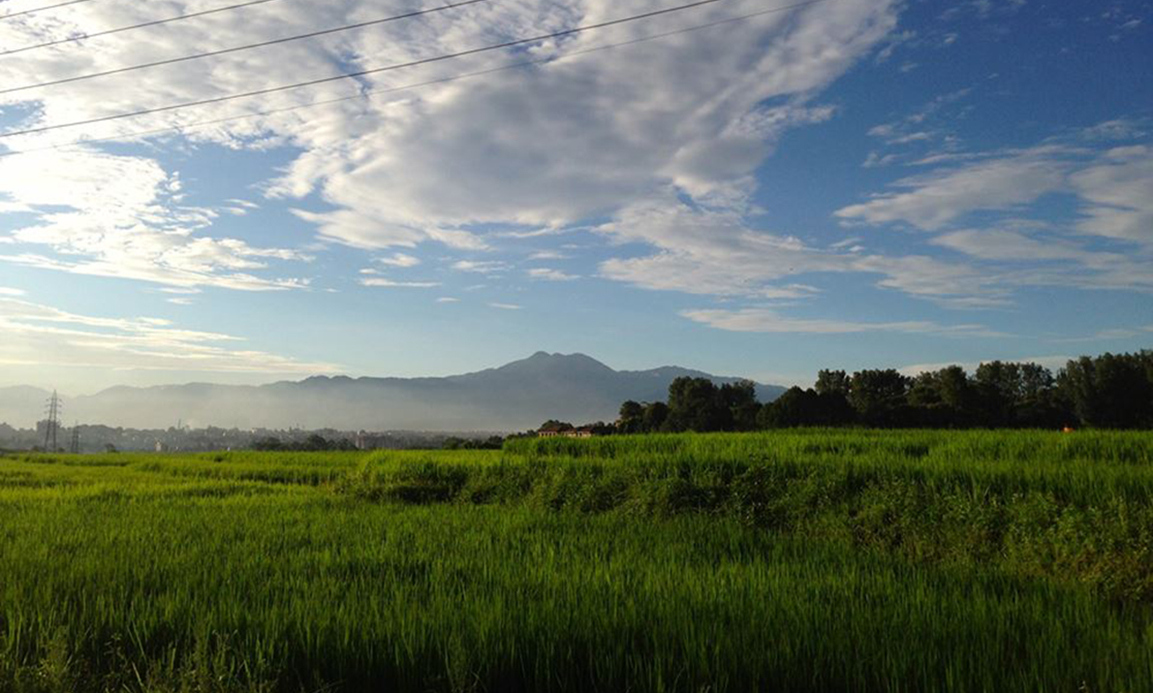 Kathmandu valley, a cup-shaped valley, that lies in the central part of Nepal, is the home of the three largest cities in Nepal; Kathmandu (Capital City of Nepal), Bhaktapur(Locally known as Khwopa), and Lalitpur(Patan- Artistic town). Kathmandu valley, besides being one of the richest tapestries of the cultural heritage of Nepal, is surrounded by beautiful hills and is a paradise for hiking.
Generally, Hiking involves long strong walks through hiking trails or normal paths taken in a natural environment for a day or overnight which is cheap and is very beneficial for both physical and mental health. Whereas, Trekking involves an energetic hike for multiple days. If you are here in Kathmandu city for a few days, however, you want peace of mind and to enjoy nature, a hike would be the best venture.
People love to visit the top or best places, so here we have tried our best to enlist the top 6 hiking trails around Kathmandu valley.
1. Shivapuri Hike
Starting/Ending Point: Kathmandu/ Shivapuri National Park
Distance: 18 Kilometres
Duration: Minimum 5 hours
Altitude: 2732m/8963ft.
Highlights: Shivapuri National Park and conservation area, Budhanilkantha temple, Nagi Gompa, pink and oak forest, mild weather, greenery, fresh air, etc.
The Shivapuri peak, Shivapuri hike's final destination is located at the elevation of 2732m, inside the Shivapuri National park, and is located on the Northside of Kathmandu Valley. The National Park was established in 2002, covers Kathmandu, Sindhupalchowk, and Nuwakot districts, and on the western side, it extends up to Dhading district. The hiking distance covers nearly 18 Kilometres and has a minimum duration of 5 hours.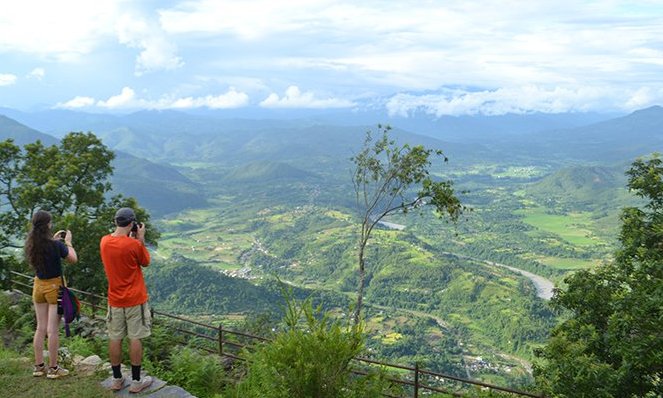 The journey to the Shivapuri trail begins from Kathmandu (Budhanilkantha), nature walks during hiking consist of stairs and stone steps. Since the park includes one fish species, five hereto, 33 mammals, and 208 bird species. Also, 16 species of Indigenous flowering plants and 160 vascular plants are recorded. During the hike, you will observe the mesmerizing surrounding views with some of these species and feel the beauty of nature. Along with these natural sites, Budhanilkantha temple, Nagi Gomba is also the main attraction center there. From the final destination i.e., from the Shivapuri peak, you can see the mesmerizing view of Langtang Mountain Range along with the below Kathmandu valley. Spring and autumn are the best seasons for hiking over there.
2. Kakani Hike
Starting/Ending Point: Kathmandu/Kakani
Distance: 25 Kilometres
Duration: Minimum 5 hours
Altitude: 2000m/6561ft.
Highlights: Trout fish, Strawberry farm, Rock climbing, Wild grasslands, Fantastic mountain views, View tower, Local cuisine, Unique irrigation system, Rhododendron flowers, Local monastery
The journey to the Kakani hike begins from Kathmandu, located 26km northwest of Kathmandu at an elevation of 2000m/6561ft. The hiking distance covers nearly 25Kilometres and a duration of a minimum of 4 hours. The fabulous hiking area of Kakani attractions ranges from pleasant subalpine forest scenery full of pine, rhododendron trees, and oak, along with beautiful views of hills and valleys and to the magnificent panoramic view of the Himalayan, especially of Ganesh Himal massif. Gaurishankhar, Choba Bhamre, Manasalu, Himalchuli, Annapurna, and other several peaks can also be seen closely from there.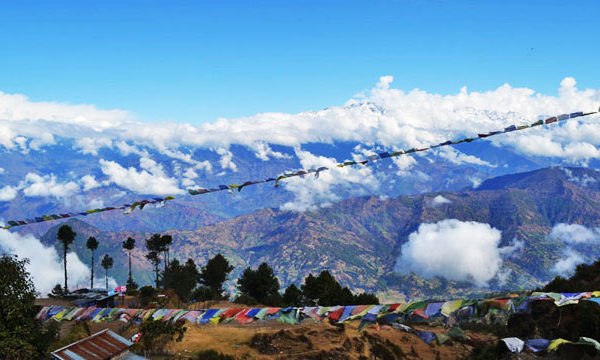 The place is very famous for walking and overnight stands. Basically, January to May and September to December is considered favorable time for hiking over there. This place is also famous for camping, hotel and lodge are also there for the night.
Also Read: Camping Destinations near Kathmandu Valley.
3. Nagarkot Hike
Starting/Ending Point: Sakhu/Nagarkot
Distance: 28 Kilometres
Duration: Minimum 5 hours
Altitude: 2175m/7135ft.
Highlights: View several mountain ranges including Annapurna, Ganesh Himal, Langtang, and Everest, peaceful atmosphere, and witness the Sunrise and sunset from Nagarkot.
Nagarkot, one of the most popular tourist areas of Nepal, is situated 32km east of Kathmandu at an elevation of 2175m. The hiking distance covers nearly 25Km, duration of a minimum of 5 hours and the journey to Nagarkot begins from Nagarkot Natural trails around Newari village of Sakhu having amazing refreshing natural trails filled with pine trees, after this, you will walk through Newari Kartik village, where you can explore their culture, can see beautiful terrace farmlands and on clear weather, you will be able to catch a glimpse of stunning Himalayan views and then you will walk through the panoramic trail with 180-degree views of breathtaking landscapes with luxuriant greenery. Nagarkot hiking is very safe and satisfying.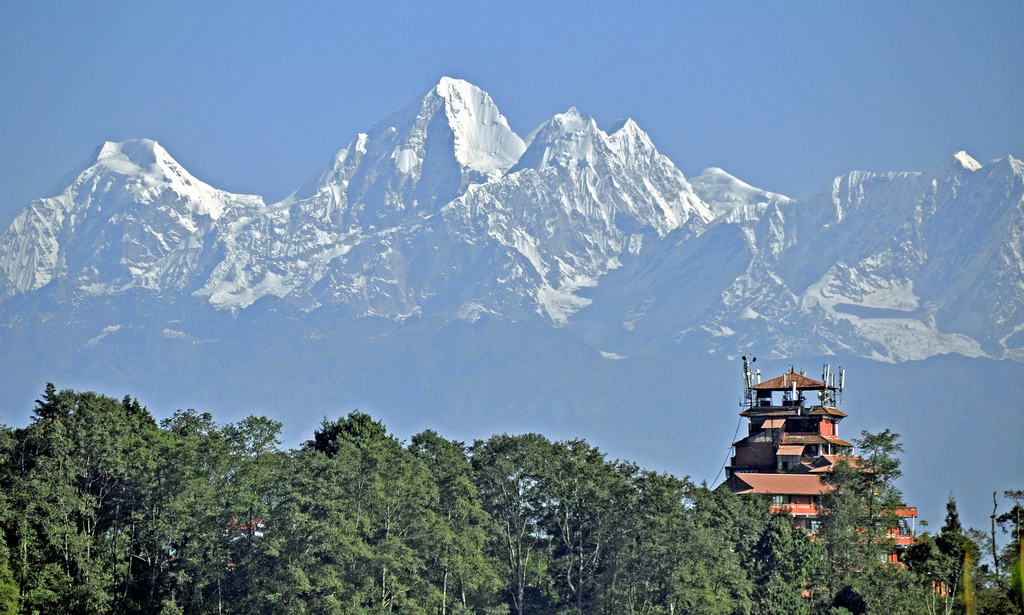 Nagarkot is famous for sunrise and sunset viewing. You have an option of night camping out or you can stay in a designated hotel there.
4. Sundarijal Hike
Starting/Ending Point: Budhanilkantha/Sundarijal
Distance: 22 Kilometres
Duration: Minimum 5 hours
Altitude: 1350m/4429ft.
Highlights: Lush Green Forests, Beautiful waterfalls, and rivers, Water dams, Kathmandu Valley View, Sundarimai temple, Tamang village Mulkharka, and Canoeing.
Sundarijal is famous for its scenic beauty and is situated about 15km northeast of Kathmandu. The Sundarijal hiking journey begins from Budhanilkantha, situated at an elevation of 1350m. The hiking distance covers nearly 22km and has a minimum duration of 5 hours. The journey to Sundarijal hike begins from pilgrimage sites- Budhanilkantha temple, after this you will walk through Shivapuri National Parks conservation areas where sometimes luck by chance you get to see some of the animal species, and also during the walk, you will see the magnificent waterfalls, cataracts, and rock formation.
You can take a walk from Sundarijal to Chisapani settlement too, which is the best hiking destination, where you can explore the community culture. An overnight stay would be the best idea, to view the beautiful sunrise the next day. You can stay in hotels, as a lot of hotels are there. Also, if you would love to enjoy it in your own way, camping can be done.
4. Champadevi Hiking
Starting/Ending Point: Hattiban, Lalitpur/ Pharping
Distance: 20 Kilometres
Duration: Minimum of 4.5 hours
Altitude: 2249m/ 7379 ft.
Highlights: Stupas and shrines, monasteries, walk in the pine forests, Magical view of Langtang and Annapurna range.
The Champadevi is one of the best-hiking destinations, the hiking journey begins from Hattiban, which lies in the South-Western part of Kathmandu valley, at the elevation of 2249m. The hiking distance covers nearly 20 Km and a duration of a minimum of 4.5 hours. The amazing refreshing Champadevi hiking journey ranges near Hattiban resort, a walk through dense forest mainly consisting of pine trees, bamboo, rhododendron, and many more herbs and shrubs.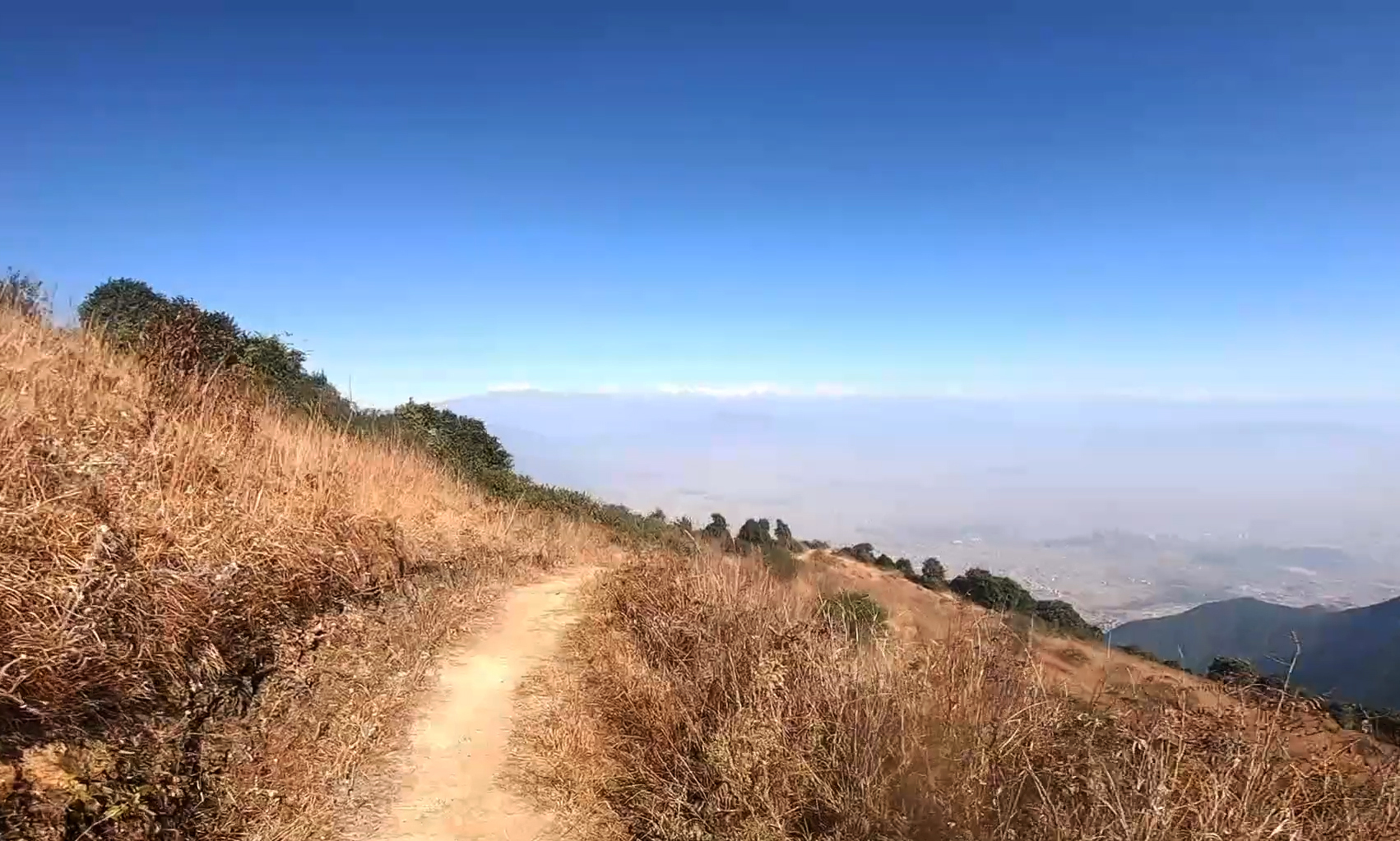 The trail consists of grasslands too where you can take a rest and feel the environment and enjoy the spectacular mountain views from there. A monastery is there at the end of the destination, where you can take a rest and enjoy the quaint mesmerizing panoramic view of Mt. Everest, Mt. Ganesh, Mt.Langtang Lirung, and Mt.Gaurishankar too. Champadevi hills, being the third highest hill, you can see the amazing view of Kathmandu valley on one side and Pharping, Manjushree on the other side. It would be the best one-day hiking trail, to see the compelling views from the trail and feel the joy of nature.
Also Read: 7 Most Popular Viewpoints near Kathmandu Valley.
6. Phulchowki Hiking
Starting/Ending Point: Kathmandu/ Godawari
Distance: 19 Kilometres
Duration: Minimum of 3.5 hours
Altitude: 2782m/9127ft.
Highlights: picture-perfect views of Kathmandu valley, View of Annapurna and Gaurishankar mountains, Mt Everest, Mt Manaslu, Botanical garden, and Diverse flora and fauna, especially birds, orchids, butterflies, and rhododendrons.
Phulchowki hills, a good spot for hiking, is the highest peak of Kathmandu valley and is situated on the Southern side, at an elevation of 2782m. The hiking journey begins from Godawari Kathmandu, covering a distance of nearly 19 Kilometres and a minimum time of 4hrs. At the foothills of Phulchowki, situated a Royal Botanical Garden has splendid natural beauty. You can take a walk to visit the garden too. The hiking journey begins near the garden, ranging from a mysterious forest walk containing fresh air, faunas, diverse herbs and shrubs like Rhododendron, magnolia, pine, and oak trees, and some of the small village farms and Being the highest peak of the valley, the panoramic views of High Himalayan Snow-capped Mt. Annapurna, Mt. Manasalu, Mt. Manasalu, and Mt. Ganesh, Mt. Jugal, Mt. Gaurishakhar, and Mt. Everest, and besides, a marvelous view of the below Kathmandu valley can also be seen during the walk and from the top. A Buddhist shrine is situated on the top. If you like to stay overnight, you can stay in designated hotels around there.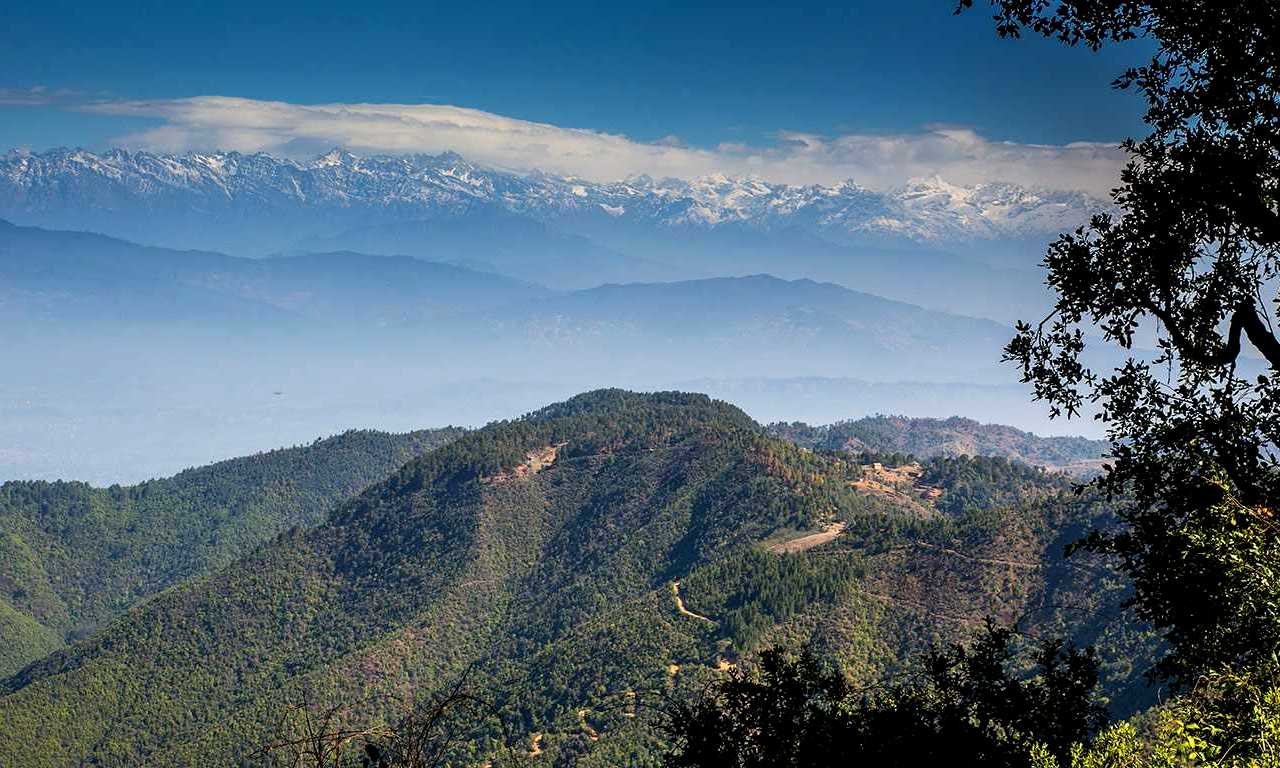 Nepal is truly a paradise for wanderlust, travel seekers who have a strong desire to visit new places and explore nature, and culture over there. Nepal having altitude variation has so many beautiful travel destinations worth hiking, trekking, touring, and peak climbing to peace your mind and heal your soul. Hiking refreshes you both physically and mentally, also it is cheaper, easier, and glorious. So when you are here in Kathmandu, and you want to take adventurous natural walks, and want to be rewarded with beautiful mountain views, which spots would you choose? Let us know, and let's wander and view the best.
If you are looking for packages for Day Activities in Nepal, please click here.
If you need any further information, please contact us, Email: [email protected], Phone: +977- 985 100 5129 (WhatsApp)