Nepal, a land of soaring peaks and rich cultural heritage, offers a myriad of trekking opportunities, and among them, the Annapurna Trekking experience stands out as both renowned and classic. It is not only a playground for seasoned travelers but also one of the finest high-altitude trekking trails, perfect for beginners seeking an exhilarating adventure.
Nepal proudly boasts the world's tallest mountains, including the formidable Annapurna massif. At the pinnacle of this majestic massif stands Annapurna I (8,091 meters), a peak notorious as one of the most treacherous mountains to climb globally. This massif is an awe-inspiring ensemble of six distinct peaks that together form a formidable natural wonder. These peaks are Annapurna I (8,091m), Annapurna II (7,937m), Annapurna III (7,555m), Annapurna IV (7,525m), Gangapurna (7,455m), and Annapurna South (7,219m). Safeguarding this pristine marvel is the colossal Annapurna Conservation Area, spanning an impressive 7,629 square kilometers.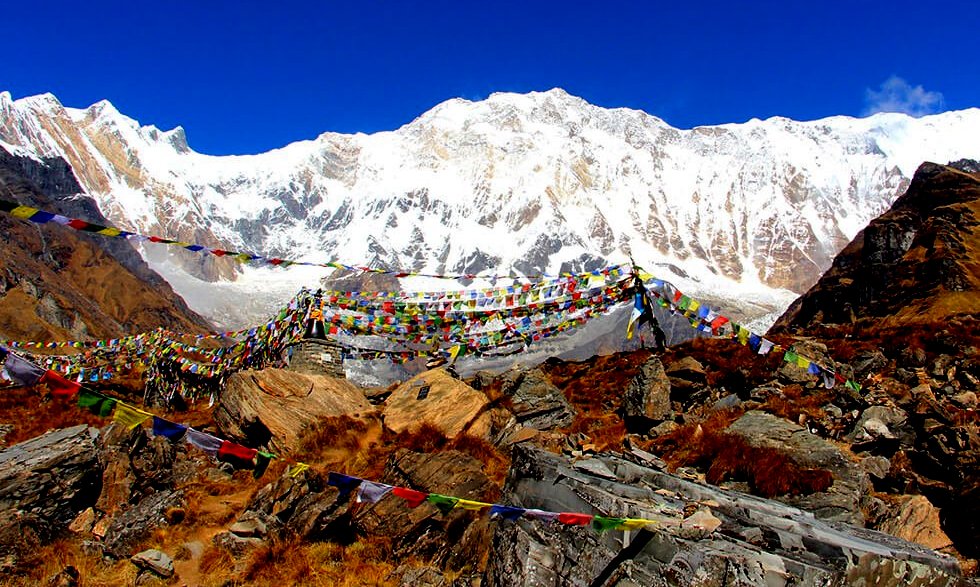 Nestled within the embrace of the Annapurna massif lies a treasure trove of natural wonders, cultural riches, and breathtaking landscapes—the complete Annapurna trek. This journey not only leads you to the base camp of Annapurna but also offers enchanting vistas from the iconic vantage point of Poonhill and a multitude of other stunning destinations. As you traverse this diverse terrain, you'll encounter expansive landscapes, terraced fields, lush rhododendron forests, meandering rivers, and a backdrop of awe-inspiring mountain ranges.
The Annapurna region is also a tapestry of human culture, with a dense population of Gurung and Magar ethnic groups. These communities, known for their warm hospitality, add a unique dimension to your trekking experience. It's worth noting that the very name Annapurna draws inspiration from Hindu mythology, signifying the goddess of abundance and sustenance, reflecting the region's role as a provider of nourishment.
Annapurna Trekking is an enticing journey into the heart of the Himalayas, offering an unparalleled blend of natural beauty, cultural richness, and adventure. Whether you're a seasoned explorer or a novice adventurer, this trek promises an experience that will stay with you for a lifetime.
---
Annapurna Base Camp Trek: Quick Summary
For those seeking a memorable trekking adventure amidst the stunning Annapurna Massif, the Annapurna Base Camp Trek is an excellent choice. Here's a concise summary of this captivating journey:
Maximum Elevation: Reach a breathtaking height of 4,130 meters at Annapurna Base Camp.
Trekking Grade: Considered easy to moderate, making it suitable for a wide range of trekkers, including beginners.
Duration: Plan for a total of 12 days to complete the trek, allowing ample time for exploration and acclimatization.
Best Season for Trekking: Choose between March to May for lush landscapes and blooming rhododendrons, or September to December for clear skies and post-monsoon freshness.
Food & Accommodation: Twin-sharing accommodation in standard hotels or guesthouses with a bed and breakfast arrangement is the norm. Alternatively, there's an option for luxury accommodation with a BLD (Breakfast, Lunch, Dinner) plan.
Transportation: Enjoy the convenience of luxury tourist vehicles for the Kathmandu to Pokhara and Pokhara to Kathmandu legs of your journey. For a quicker option, flights are available (additional charges apply). For the Pokhara to Nayapul and return journey, Jeep transport is typically used.
Permit & Entrance: Ensure you have the required permits, including TIMS (Trekkers' Information Management System) and fees for the Annapurna Conservation Area Project. Note that entrance fees for heritage sites and city tours are not included.
Total Trekking Distance: Cover a total of approximately 115 kilometers during this memorable trek.
With its blend of natural beauty, cultural richness, and trekking convenience, the Annapurna Base Camp Trek offers an unforgettable experience in the heart of the Himalayas.
---
Major Highlights Annapurna Base Camp Trek Trekking
The Annapurna Base Camp Trek is a journey through the heart of the Himalayas, offering an array of breathtaking highlights and unique experiences. Here are the major attractions and reasons why this trek is a must-do:
Pokhara Entry Point: Your adventure begins in the enchanting city of Pokhara, often referred to as the tourism capital of Nepal. This lakeside city serves as the gateway to the Annapurna region.
Stunning Mountain Views: Revel in awe-inspiring vistas of the Annapurna Massif, Machhapuchre, Himchuli, Dhaulagiri, and many other majestic peaks. These views are a constant companion throughout your journey.
Natural Wonders: Traverse a diverse range of landscapes, from cascading waterfalls to lush rhododendron forests, enchanting bamboo groves, and pristine natural beauty at every turn.
Flora and Fauna: Experience the rich biodiversity of the region as you ascend through various altitudes. The trek showcases diverse flora and fauna, making it a nature lover's paradise.
Cultural Immersion: Encounter the unique cultures, traditions, lifestyles, and practices of ethnic groups along the trail, particularly the Gurung and Magar communities.
Architectural Delights: Explore traditional architecture, local houses, ancient inscriptions, and immerse yourself in the authentic local environment, providing a glimpse into Nepal's rich heritage.
Poon Hill Panorama: Ascend to Poon Hill, a renowned vantage point, to witness breathtaking panoramic views of the mountains and a spectacular sunrise—a photographer's dream.
Landscape Diversity: Experience the rarity of a trek that combines the grandeur of high mountains and the charm of low hills in one comprehensive journey—a unique feature rarely found elsewhere.
Abundant Accommodation: Benefit from the convenience of numerous guesthouses, lodges, teahouses, and small hotels scattered along the entire trekking route. The local inhabitants warmly welcome trekkers.
Jhinu Danda Hot Spring: Soothe your tired muscles and relax in the famous hot spring at Jhinu Danda, a perfect way to unwind after the trekking adventure.
Why the Annapurna Base Camp Trek: Reasons to Embark on This Journey
The Annapurna Base Camp Trek is more than just a trekking experience; it's a captivating journey that offers a blend of natural beauty, cultural immersion, and adventure. Here are compelling reasons to choose this trek:
Witness some of the world's most iconic mountain vistas.
Explore diverse landscapes in a single trekking journey.
Immerse yourself in the rich cultural tapestry of Nepal.
Enjoy the convenience of readily available accommodations and teahouses.
Soak in natural hot springs to rejuvenate your body.
Revel in the sense of accomplishment as you reach Annapurna Base Camp.
The Annapurna Base Camp Trek promises an unforgettable adventure that showcases the best of Nepal's Himalayan wonders and cultural treasures.
---
Food & Accommodation on Annapurna Base Camp Trek
The Annapurna Base Camp Trek not only offers breathtaking natural beauty and cultural experiences but also provides a variety of dining and lodging options along the route. Here's what you can expect in terms of food and accommodation during your trek: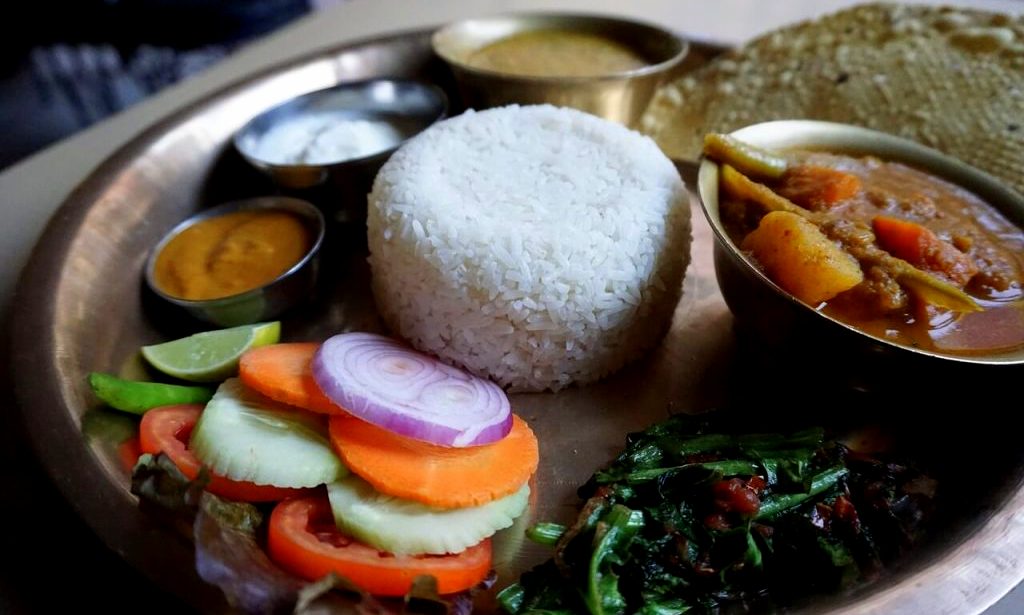 Food:
Teahouses and Lodge Dining: The trekking trail is dotted with teahouses and lodges, offering meals to trekkers. You'll find a range of food options, including Nepali, Tibetan, Indian, and Western cuisines. The menu typically includes dishes like dal bhat (a traditional Nepali meal of rice and lentil soup), momo (dumplings), noodles, pasta, soups, vegetables, and various meat options.

Hygiene: While teahouse food is generally safe and delicious, it's essential to maintain good hygiene practices. Stick to cooked meals, avoid raw vegetables, and drink purified water or carry water purification tablets. It's advisable to bring some energy bars, snacks, and your favorite beverages to supplement your diet.

Meals for Special Diets: Teahouses can accommodate dietary preferences to some extent. If you have special dietary requirements or restrictions, it's a good idea to inform your guide or teahouse staff in advance, although options may be limited.
Accommodation:
Teahouses: The most common form of accommodation on the Annapurna Base Camp Trek is teahouses or guesthouses. These are basic yet comfortable lodgings offering twin-sharing rooms with twin beds, blankets, and pillows. Toilet facilities are shared and may be basic, with squat toilets in many places.

Heating: At higher altitudes, teahouses provide heated common areas, but heating in bedrooms is rare. Be prepared for colder nights, especially during the colder months.

Luxury Options: If you prefer more luxurious accommodations, there are now some upscale lodges and resorts available in certain parts of the Annapurna region. These offer private rooms with attached bathrooms, hot showers, and better heating facilities.

Reservations: During the peak trekking seasons (spring and autumn), it's advisable to make reservations in advance, as teahouses can fill up quickly. Your guide or trekking agency can assist with booking accommodations.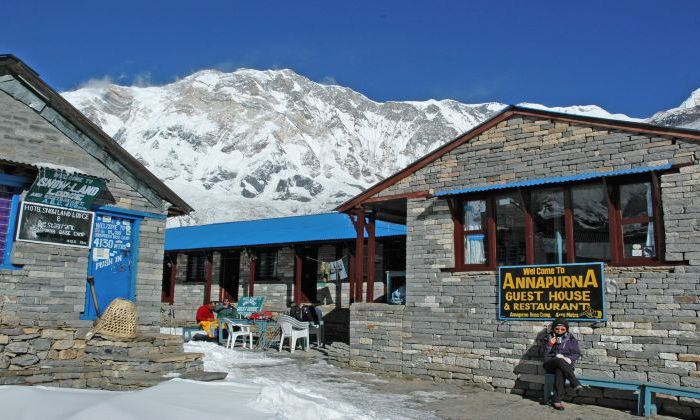 Drinking Water:
Purified Water: Avoid drinking tap water on the trek. Teahouses and lodges offer safe purified water, which you can purchase in reusable bottles or by using your water purification system.

Water Purification: Carrying water purification tablets, a filter, or a UV sterilizer is an excellent way to ensure a constant supply of safe drinking water throughout the trek.
While the Annapurna Base Camp Trek offers basic accommodation and a variety of meal options, it's advisable to be prepared, maintain good hygiene practices, and carry essential items to enhance your comfort during this remarkable journey.
---
Flight & Transportation on Annapurna Base Camp Trek
Embarking on the Annapurna Base Camp Trek requires careful planning for transportation. Here's an overview of the flight and transportation options you can expect:
Starting Point - Nayapul: Nayapul serves as the typical starting point for the Annapurna Base Camp trek.
Kathmandu to Pokhara: To reach Pokhara, the city often considered the gateway to the Annapurna region, you have two main options:
Flight: You can opt for a 30-minute flight from Kathmandu to Pokhara. The cost of this flight is approximately $120. It offers a quick and convenient way to reach Pokhara while enjoying stunning aerial views of Nepal's landscapes.
Luxury Tourist Bus: Another option is a luxury tourist bus that operates from Kathmandu to Pokhara. This option is more economical, with fares typically around $15. The journey by bus takes approximately 7 to 8 hours, offering a chance to see the countryside along the way.
Pokhara to Nayapul: Once you arrive in Pokhara, you'll need to continue your journey to Nayapul, the starting point of the trek. You have a couple of transportation choices:
Local Bus: You can take a local bus from Pokhara to Nayapul. This option is budget-friendly but may take approximately 3 hours to reach Nayapul, depending on traffic and road conditions.

Private Cars/Jeeps: For a more comfortable and faster option, you can book a private car or jeep from Pokhara to Nayapul. This journey typically takes around 2 hours and is a popular choice among trekkers.
Your choice of transportation will depend on your budget, time constraints, and personal preferences. Regardless of the option you choose, the journey to Nayapul marks the beginning of your memorable Annapurna Base Camp trekking adventure.
---
Permits for Annapurna Base Camp Trek
The Annapurna Base Camp (ABC) Trek takes you into the heart of the Annapurna Conservation Area, Nepal. To embark on this trek, trekkers are required to obtain necessary permits. Here's a breakdown of the required permits and how to acquire them:
Trekkers' Information Management System (TIMS) Card
The TIMS card was developed to record trekkers' details and track their movement for safety purposes.
How to obtain:
Head to the Nepal Tourism Board Office in Kathmandu or Pokhara.
Fill out the TIMS application form with details such as your itinerary and provide two passport-sized photos.
Pay the fee.
Annapurna Conservation Area Permit (ACAP)
ACAP was initiated to conserve the environment of the Annapurna region and support local communities.
How to obtain:
Visit the Nepal Tourism Board Office or the ACAP entry permit counter in Kathmandu or Pokhara.
Fill in the application form and provide two passport-sized photos.
Pay the fee.
Note: For SAARC nationalities, the permit cost is different and generally cheaper.
Things to Remember:
Carry Original Documents: Always have your original passport with you when applying for permits. Some checkpoints along the trek may also request to see your original passport along with the permits.

Photocopies: Make multiple copies of each permit. Checkpoints along the trek will ask to see your permits and some may want to keep a copy.

Visibility: Always keep your permits accessible. It's a good idea to have them in a waterproof bag or pouch.

Validity: Remember that these permits are valid only for a single entry. If you're considering side treks and will exit and then re-enter the Annapurna Conservation Area, you'll need a new permit.

Extension: If you plan to stay longer than the duration stated in your application, ensure you extend your permit.
The permit process for the ABC Trek is straightforward. Always check for any changes or updates in regulations before your trip, as policies can change. Securing your permits is not just a regulatory requirement but also a contribution to the conservation of the pristine environment of the Annapurna region and support for local communities.
---
Trekking Grade on Annapurna Base Camp Trek
The Annapurna Base Camp Trek is renowned for being accessible to a wide range of trekkers, from beginners to experienced hikers. Here's a breakdown of the trekking grade and what you can expect:
Trekking Grade: The Annapurna Base Camp trek is generally considered to be of easy to moderate difficulty. It is well-suited for individuals with varying levels of trekking experience.

Suitable for Beginners: This trek is particularly popular among beginners and domestic trekkers. You'll find a mix of both Nepalese and foreign trekkers on the trail, making it a welcoming and inclusive experience.

Altitude Considerations: High-altitude sickness is relatively rare on this trek because the maximum elevation you'll reach is 4,130 meters, which is the Annapurna Base Camp itself. This altitude is well within a safe range for most trekkers, and the gradual ascent allows for proper acclimatization.

Physical Requirements: To undertake the Annapurna Base Camp Trek, you should be in good overall health, have reasonable stamina, and be able to walk for 6 to 8 hours daily, as required by the trekking itinerary.

Moderate Challenge: While it's considered easy to moderate, the trek still presents some challenges, including uphill and downhill sections, as well as varying terrain. Trekkers should be prepared for these elements.

Pleasant Experience: The Annapurna Base Camp Trek is often recommended to beginners because it provides a highly enjoyable trekking experience without requiring excessive physical exertion.

Experienced Trekkers: Even experienced trekkers will find this trail rewarding due to its stunning scenery and cultural interactions, making it a pleasant choice for those who want to enjoy the journey without an overly strenuous effort.
The Annapurna Base Camp Trek offers a trekking grade that is well-balanced, making it accessible to a broad spectrum of trekkers. Whether you're a novice seeking your first trekking adventure or an experienced hiker looking for a captivating and less challenging journey, this trek has something to offer to everyone.
---
Best time to trek in Annapurna Region & Annapurna Base Camp Trek
The Annapurna Base Camp (ABC) Trek is an evergreen destination for trekkers globally. However, the experience can vary dramatically depending on the time of year. Here's a comprehensive seasonal breakdown to help you decide the best time for your ABC trek.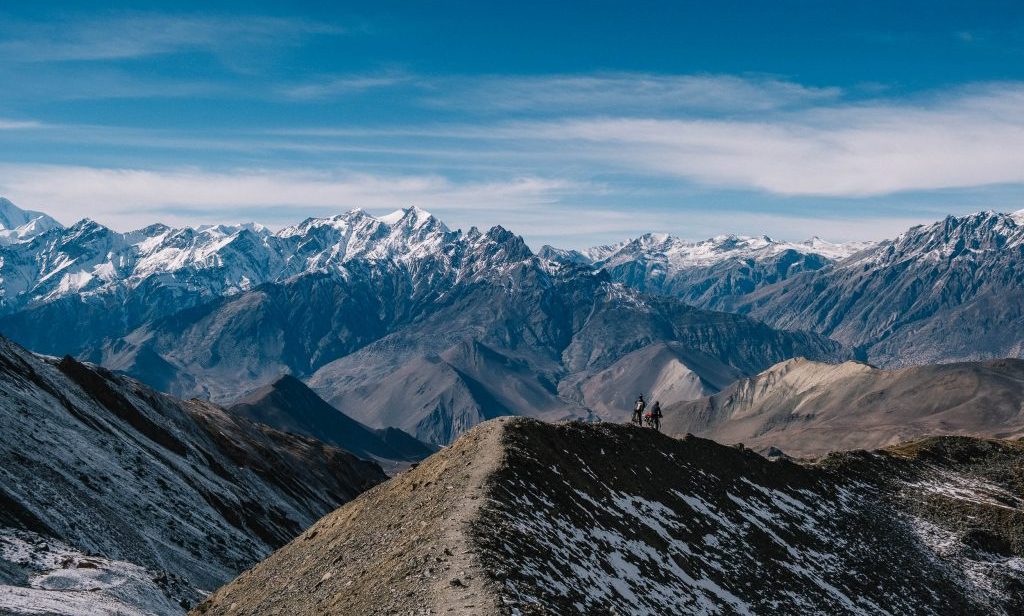 Spring: Pre-monsoon (March to May)
Weather: Temperatures are moderate with daytime temperatures at lower elevations ranging from 10°C to 20°C. As you ascend, it can drop to 0°C or slightly below during the night.
Highlights: This is the second-most popular time for the trek. The forests come alive with blooming rhododendrons and other flowers, painting the trails in vibrant colors. Visibility is generally clear, offering splendid views of the Annapurna range.
Considerations: As it's a popular season, expect crowded trails, especially in April.
Summer: Monsoon (June to August)
Weather: Warm and wet. Temperatures at lower elevations can go up to 25°C during the day and remain above 10°C at night.
Highlights: The landscape is lush and green. Waterfalls and rivers are at their peak flow, making the surroundings even more picturesque.
Considerations: This period sees the highest rainfall, leading to slippery trails and a risk of landslides. Leeches can be common. The mountains might often be obscured by clouds, reducing visibility.
Autumn: Post-monsoon (September to November)
Weather: Clear and cool. Daytime temperatures at lower elevations range between 10°C and 20°C. Nights can get chilly, dropping close to or below freezing as you get higher.
Highlights: Regarded as the best time to trek in Nepal, the skies are crystal clear, offering majestic views of the Himalayas. The landscape is still lush from the monsoons but without the rain's inconvenience.
Considerations: Being the peak trekking season, expect crowded trails and teahouses. It's recommended to book accommodations in advance.
Winter (December to February)
Weather: Cold, especially at higher altitudes. Daytime temperatures at lower elevations are around 5°C to 10°C, but as you ascend, temperatures can plummet to -10°C or lower at night.
Highlights: The trails are quieter, giving a more solitary trekking experience. The snow-covered landscape and mountains create a serene, wintry wonderland.
Considerations: Heavy snowfall can block some trails, and extreme cold can make the journey challenging. It's essential to be adequately prepared with gear and information on weather conditions.
The best time to undertake the Annapurna Base Camp Trek largely depends on personal preferences and how one weighs the factors of weather, trail conditions, and crowd density. While Spring and Autumn are the most popular times, each season offers its unique experience, allowing the trekkers to choose as per their desires. Remember, a well-prepared trek is always a successful and enjoyable one, regardless of the season!
Also Read Best Time to Visit Nepal.
---
Guides & Porters on Annapurna Base Camp Trek
Trekking amidst the majestic mountains of the Annapurna region is a thrilling adventure, but it's not without its challenges. To ensure a safe, enjoyable, and memorable journey, having an experienced team, proper provisions, and acclimatization is essential. When you book your trip through a reputable tour and trekking company like Luxury Holiday Nepal, you'll benefit from the support of guides and porters who play crucial roles in making your trek exceptional.
Guides: Our knowledgeable guides are your invaluable companions throughout the trek. They are not only well-trained but also highly experienced, ensuring you have the best trekking experience possible. Here's what our guides do:
Comprehensive Information: Guides provide you with vital information about the entire trek, including its challenges, highlights, and safety measures.

Logistical Support: They take care of arranging your accommodations and meals, ensuring you have a comfortable and nourishing stay.

Permits and Tickets: Guides handle all the necessary permits and flight tickets, simplifying the administrative aspects of your journey.

English Proficiency: Our guides are fluent in English, facilitating effective communication and enriching your understanding of the region's culture and landscapes.
Your journey begins with our guide meeting you in Kathmandu, and from that moment, they take on the responsibility of making your trek a success.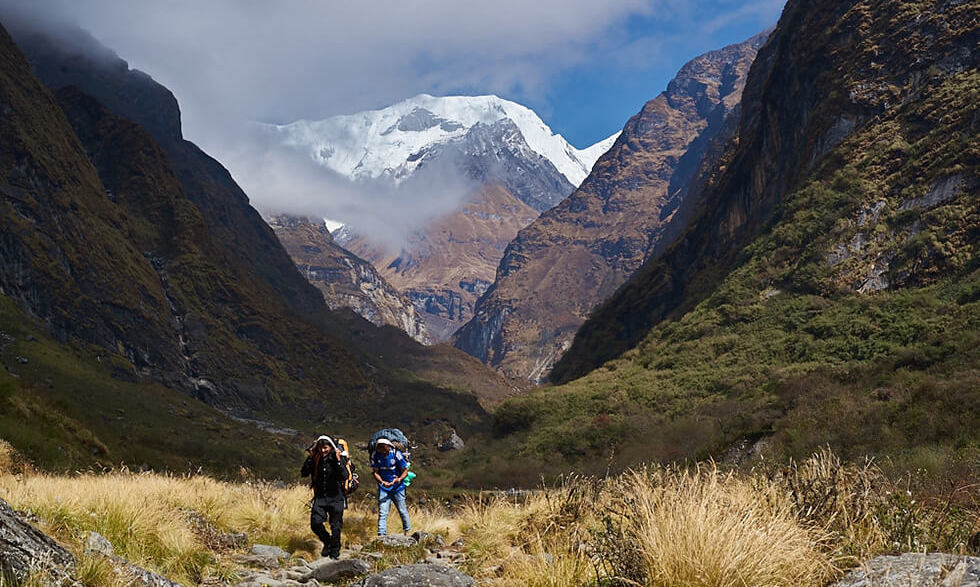 Porters: Porters are the unsung heroes of trekking, easing your burden and enhancing your experience:
Luggage Carriers: Porters shoulder the weight of your luggage, allowing you to focus on enjoying the trek without the physical strain of carrying heavy bags.

Hardworking Individuals: These dedicated individuals work tirelessly to transport your gear through the challenging mountain terrain.
Tipping: At the conclusion of your trek, it's customary to provide a gratuity to your guide and porter. These hardworking individuals put in tremendous effort to ensure you reach your dream destinations in the rugged mountain environment.
Luxury Holiday Nepal is committed to ensuring that your Annapurna Base Camp Trek is not only an adventure but also a comfortable and well-supported journey. Our guides and porters are here to make your trekking experience safe, enjoyable, and memorable.
---
Travel Insurance for Annapurna Base Camp Trek
When embarking on the Annapurna Base Camp Trek, it's essential to have comprehensive travel insurance that provides coverage for the duration and nature of your trek. Here's why travel insurance is a crucial aspect of your trekking preparation:
1. Medical Coverage:
Altitude Sickness: Trekking to higher altitudes, as you will on the Annapurna Base Camp Trek, carries a risk of altitude sickness. Your insurance should cover medical expenses related to altitude sickness, including evacuation if necessary.
Other Medical Needs: Insurance should also cover general medical expenses, injuries, and illnesses that may occur during the trek.
2. Emergency Evacuation: Ensure that your insurance covers emergency helicopter evacuation if you face a severe medical emergency or altitude sickness that requires immediate evacuation to a medical facility.
3. Trip Cancellation or Interruption: In case your trip is canceled or interrupted due to unforeseen circumstances like personal emergencies, natural disasters, or flight cancellations, insurance can help cover non-refundable expenses.
4. Travel Delays: Flight delays and cancellations are not uncommon in mountainous regions. Travel insurance can provide compensation for additional accommodation and meal expenses incurred due to such delays.
5. Lost or Delayed Baggage: Trekking gear is essential for your journey, and lost or delayed baggage can be a significant inconvenience. Travel insurance can reimburse you for the cost of replacing essential items.
6. Personal Liability: In case you unintentionally cause harm to someone or damage property during your trek, personal liability coverage can protect you from legal and financial liabilities.
7. Adventure Sports Coverage: Ensure that your insurance covers adventure sports and activities like trekking, as some standard policies may exclude such activities.
8. Pre-existing Conditions: If you have pre-existing medical conditions, disclose them to your insurer and confirm that they are covered during your trek.
9. Check Coverage Limits: Review the coverage limits of your insurance policy to ensure they are sufficient for potential expenses in a remote mountain environment.
10. Documentation: Carry a copy of your travel insurance policy and emergency contact information with you during the trek.
Before purchasing insurance, carefully read the policy documents, understand the coverage details, and verify that the insurance provider has a reliable emergency response and evacuation plan in the Annapurna region.
Travel insurance is an investment in your safety and peace of mind during your Annapurna Base Camp Trek. While trekking in this breathtaking but challenging terrain, having the right insurance can make all the difference in case of unexpected situations.
Also, Read Travel Insurance for Trekking in Nepal.
---
Altitude Sickness & Measures on Annapurna Base Camp Trek
What is Altitude Sickness?
Altitude sickness, also known as acute mountain sickness (AMS), is a condition caused by exposure to low amounts of oxygen at high altitudes, typically above 2,500 meters (8,200 feet). As one ascends to higher altitudes, the atmospheric pressure decreases, leading to a reduced oxygen level, which can cause the body to react adversely.
Symptoms
There are three recognized stages of altitude sickness, each with its symptoms:
Mild Altitude Sickness (AMS)
Headache
Fatigue
Dizziness or lightheadedness
Difficulty sleeping
Loss of appetite
Nausea or vomiting
Moderate Altitude Sickness
Severe headache
Increased vomiting
Breathlessness at rest
Coordination problems
Severe Altitude Sickness (HAPE - High Altitude Pulmonary Edema & HACE - High Altitude Cerebral Edema)
Persistent dry cough
Fever
Shortness of breath even when resting
Blue skin coloration
Confusion or hallucinations
Preventive Measures
Gradual Ascent: Ascend slowly, allowing your body time to acclimatize. It's recommended to climb no more than 300-500 meters (1,000-1,600 feet) a day after reaching 3,000 meters (10,000 feet).
Stay Hydrated: Drink at least 3-4 liters of water per day. Staying hydrated can help reduce the symptoms.
Avoid Alcohol and Smoking: Both can exacerbate the effects of altitude sickness.
Carbohydrates: Consuming a diet rich in carbohydrates can help. It's recommended to intake foods like rice, pasta, and bread.
Acclimatization Days: It's crucial to include acclimatization days in your trekking itinerary. During these days, you can practice the "climb high, sleep low" method, which means you can hike to a higher altitude during the day and return to a lower altitude to sleep.
Medications: Acetazolamide (Diamox) can be taken as a preventive measure. It aids in acclimatization but is not a guarantee against getting AMS. Always consult a doctor before taking any medication.
Treatment Measures
Descend: The most effective treatment for altitude sickness is to descend to a lower altitude immediately. Even descending by just a few hundred meters can make a significant difference.

Oxygen: Providing supplemental oxygen can help alleviate symptoms.

Medication: In addition to Diamox, other medications like dexamethasone and nifedipine can be used to treat severe AMS and its complications. Always take it under medical supervision.

Pressure Bags: These are portable sealed bags in which the patient is placed. A foot pump increases the pressure inside, simulating a descent to lower altitudes. It provides temporary relief and can be a lifesaver when immediate descent isn't feasible.

Stay Warm: Keeping the body warm can help counteract some of the symptoms. Use blankets or sleeping bags.
Awareness and preparedness are crucial. Altitude sickness should never be taken lightly, as it can be life-threatening if it progresses to its more severe forms. Always listen to your body, and if you or a companion begin to show signs of altitude sickness, take action immediately.
---
Pre-trekking Preparation for Annapurna Base Camp Trek
Annapurna Base Camp trekking is not that easy either. You need some warm-up, a little practice, discipline, early preparation, and the best guidance that can easily take you to the most beautiful base camp in Nepal. It means not that you have to work on it like a professional trekker. Anyone can go on this trekking but, good health, physical fitness, and self-motivation are indeed required. There are a few things that you can do as naive trekkers before the commencement of the trek:
Do some short hikes and walk around 6-8 hours a day both uphill and downhill.
If you have no habit of doing exercise, restart that habit at least a month before the trek.
Running, Summing, Cycling, and some other cardio exercises can boost your stamina. Which helps you during your trekking.
Try some Yoga steps that directly help in your respiration drink more water and keep your body hydrated even before the trek.
Another important and essential thing is your trekking equipment and gear. Proper equipment includes a sleeping bag, a pair of high mountain trekking boots, poles, a duffle bag, essential warm and hiking comfortable clothes, warm socks, gloves, sunglasses, sunscreen, and so on. Another major thing that we should keep in mind is, that comfortable and warm but light things are best for high mountain trekking. Make sure all the necessary papers, documents, and ideas about restricted and non-restricted things are in that zone.
---
Itinerary of Annapurna Base Camp Trek
Normally, our trekking journey starts from the 7-8hr drive or 30min flight to Pokhara. From Pokhara, a 2-hour drive can take us to the hiking place called Nayapool. The landscape, terrain, people, culture, and everything look so different from Kathmandu. Dense rhododendron forest, wide range valley, diverse terrain, rich Gurung and Magar culture, waterfalls, and rivers are the major attractions on the way. Including sky-touching mountains, fancy and classy markets, and a number of trekkers on the way make your trekking more awesome.
Day1: Drive to Pokhara
Day2: Drive to Nayapool and hike to Ulleri
Day3: Hike to Ghorepani
Day4: Hike to Poonhill and trek to Tadapani
Day5: Trek to Chhomrong
Day6: Trek to Dovan
Day7: Trek to Machhapuchhre Base Camp and Annapurna Base Camp
Day8: Trek to Bamboo
Day9: Trek to Chhomrong
Day10: Trek to Ghandruk
Day11: Trek to Nayapool and drive to Pokhara
Day12: Drive to Kathmandu
Annapurna Base Camp Trek is not just about embracing nature's grandeur but also respecting the regulations and contributions toward the conservation of this majestic region. Securing the necessary permits ensures that trekkers contribute directly to the preservation of the local environment and the well-being of indigenous communities. Such practices reflect responsible tourism, ensuring that the beauty and heritage of the Annapurna region remain unspoiled for future generations.
Furthermore, being well-prepared with the requisite permits ensures a smooth journey, devoid of administrative hitches. It symbolizes a trekker's commitment to responsible travel, paving the way for a richer, more immersive experience in the heart of the Himalayas. Every step taken with care and responsibility brings trekkers closer to the true essence of the Annapurna's majestic beauty and cultural wealth.
---
Frequently Asked Questions (FAQs): Annapurna Base Camp Trek
Q: How challenging is the Annapurna Base Camp (ABC) Trek?
A: The ABC Trek is considered moderate. While it doesn't demand advanced mountaineering skills, it's essential to be in good physical condition. The trek involves walking for several days in high-altitude areas, which can be demanding for those not acclimatized.
---
Q: How long does the trek take?
A: Typically, the ABC Trek takes 7-12 days, depending on the route chosen and the pace of the trekker.
---
Q: Is there a risk of altitude sickness?
A: Yes, as with any high-altitude trek, there's a risk of altitude sickness. It's essential to acclimatize properly and be aware of the symptoms. If symptoms are noticed, it's crucial to descend to a lower altitude immediately.
---
Q: What's the best time to trek?
A: The most popular times are during the pre-monsoon (March to May) and post-monsoon (September to November) seasons. During these periods, the weather is relatively stable, and views are clear.
---
Q: Do I need a guide?
A: While it's possible to trek independently, having a guide can enhance the experience. Our experienced guides offer local knowledge, can help with logistics, and provide a safety net in case of emergencies.
---
Q: What kind of accommodation is available?
A: Along the trail, there are teahouses that provide comfortable accommodation and meals. It's advisable to book in advance during peak seasons.
---
Q: Can I get Internet and phone connectivity on the trek?
A: In most villages along the trek, there's mobile phone coverage. Some teahouses offer Wi-Fi services, but connectivity might be sporadic as you move higher.
---
Q: What should I pack for the trek?
A: Essential items include comfortable trekking boots, thermal clothing, rain gear, sleeping bags, and personal medication. It's also recommended to bring water purification tablets or filters and some energy snacks.
---
Q: Do I need travel insurance?
A: Absolutely! Comprehensive travel insurance that covers high-altitude trekking, medical evacuation, and unexpected trip disruptions is a must.
---
Q: How do I prepare for the trek?
A: Engage in cardiovascular exercises like running, swimming, or cycling a few months before the trek. Also, consider doing some shorter treks or long walks to get used to trekking dynamics.
---
For a detailed Itinerary, Check the Packages:
Annapurna Base Camp 10 Days trek
Annapurna Base Camp Trek, 15 Days
Please, click here for the various other options for Annapurna Region Trekking Packages.
If you need any further information, please contact us, Email: at [email protected], Phone: +977- 985 100 5129 (WhatsApp)