Located on the lap of high mountains, in the Southern part of Asia, Nepal is the biggest natural museum in the World. The altitude variation of 60m in the southern part called the Terai region and to the 8848m (Mt. Everest Height) on the Northern side called the Himalayan Region above mean sea level, have contributed Nepal to have diverse flora and fauna. Despite small areas, it is divided into three geographical regions based on climate and altitudinal variation, Himalayan Region on the Northern side has a cold climate above 3300m of elevation, the Hilly region on the middle side has a mild climate, and the Terai region on the southern side has a hot climate.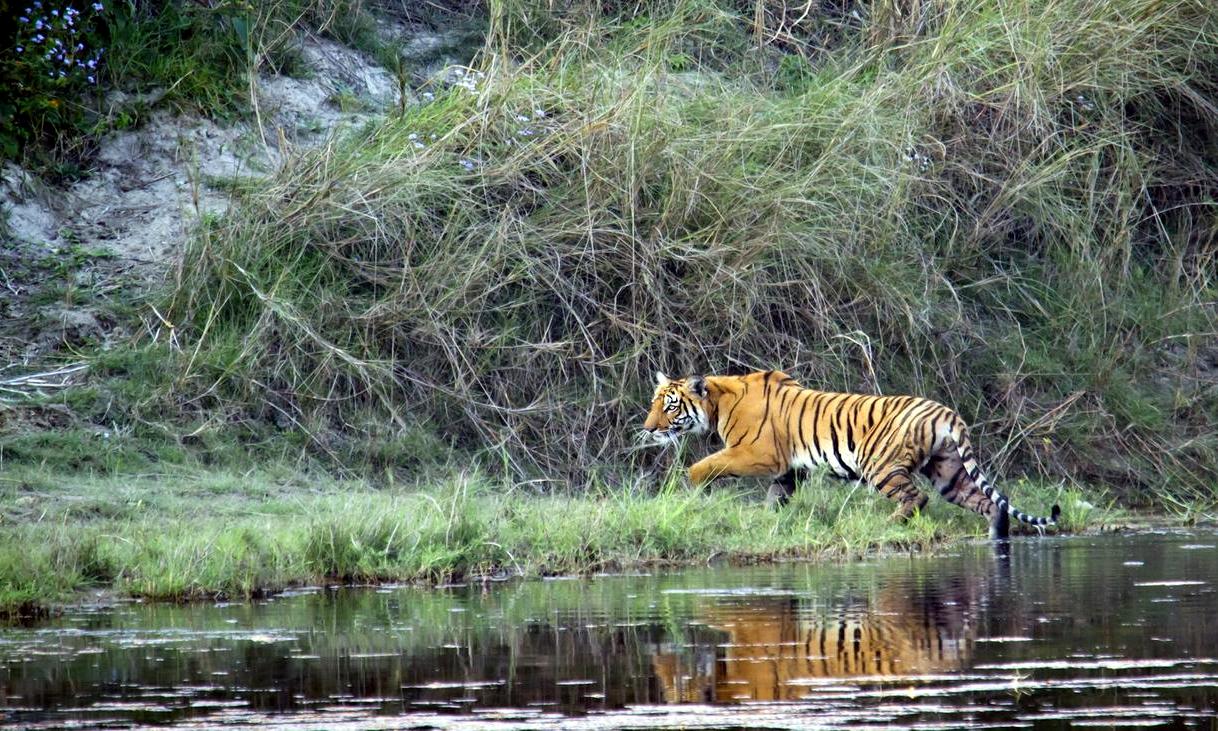 This geographical structure has contributed to Nepal, on its biodiversity and wildlife richness. Besides, realizing its importance in management and conservation, the Department of National Park and Wildlife Reserve was established in 2037 BS, and several Protected areas, such as Wildlife reserves, National parks, and conservation areas are established. It has also established a hunting reserve. These all protected areas have a beautifully wide range of trekking trails, holy places, heritage sites, diverse flora, and faunal species, including diverse culture, where you can get warm hospitality from local people. The amazing landscapes, beautifully designed natural forests, high mountain range, and perfectly made weather pattern is simply the best thing you would love in Nepal. Here we have tried to describe short about the conservation areas, wildlife reserves, and hunting reserves in Nepal which are heavenly designed and worth visiting in your lifetime.
Please, click here for the Golden Triangle Tour in Nepal.
Conservation Areas
A conservation area is an area having a special geographical structure, ecosystem, and special architectural or historic interest. It is established to manage and conserve the natural, and cultural resources there and is designated to a particular organization community. In the context of Nepal, the Government of Nepal also established 6 conservation areas to date, all of which are named after particular/respective mountains or the region or the main species to be protected. The detail about the conservation areas are described below;
Annapurna Conservation Areas
Area: 7, 629 sq.km.
Altitude Range: 790m to 8091m (Mt. Annapurna I Summit Point)
Best time to travel: Autumn and Spring season
Highlights
The largest protected area of Nepal
Annapurna Massif
Adventurous Trekking Routes
The deepest gorge of Kali Gandaki River
Diverse flora and fauna, especially endemic flowers
Annapurna Conservation Area was established in 1985, named after Mt. Annapurna (8091m ), covering an area of Lamjung, Kaski, Myagdi, Manang, and Mustang districts. Large Altitudinal variation in this area has contributed to a wide range of climatic conditions, also the habitat constitutes trans-mountain and Himalayan ecosystems that have diverse flora and faunal species, including the deepest Kali Gandaki's gorge. Along with that, it constitutes both the highest and lowest rainfall area in Nepal. The Annapurna is prime habitat for the Musk deer, Snow Leopard, and pheasants.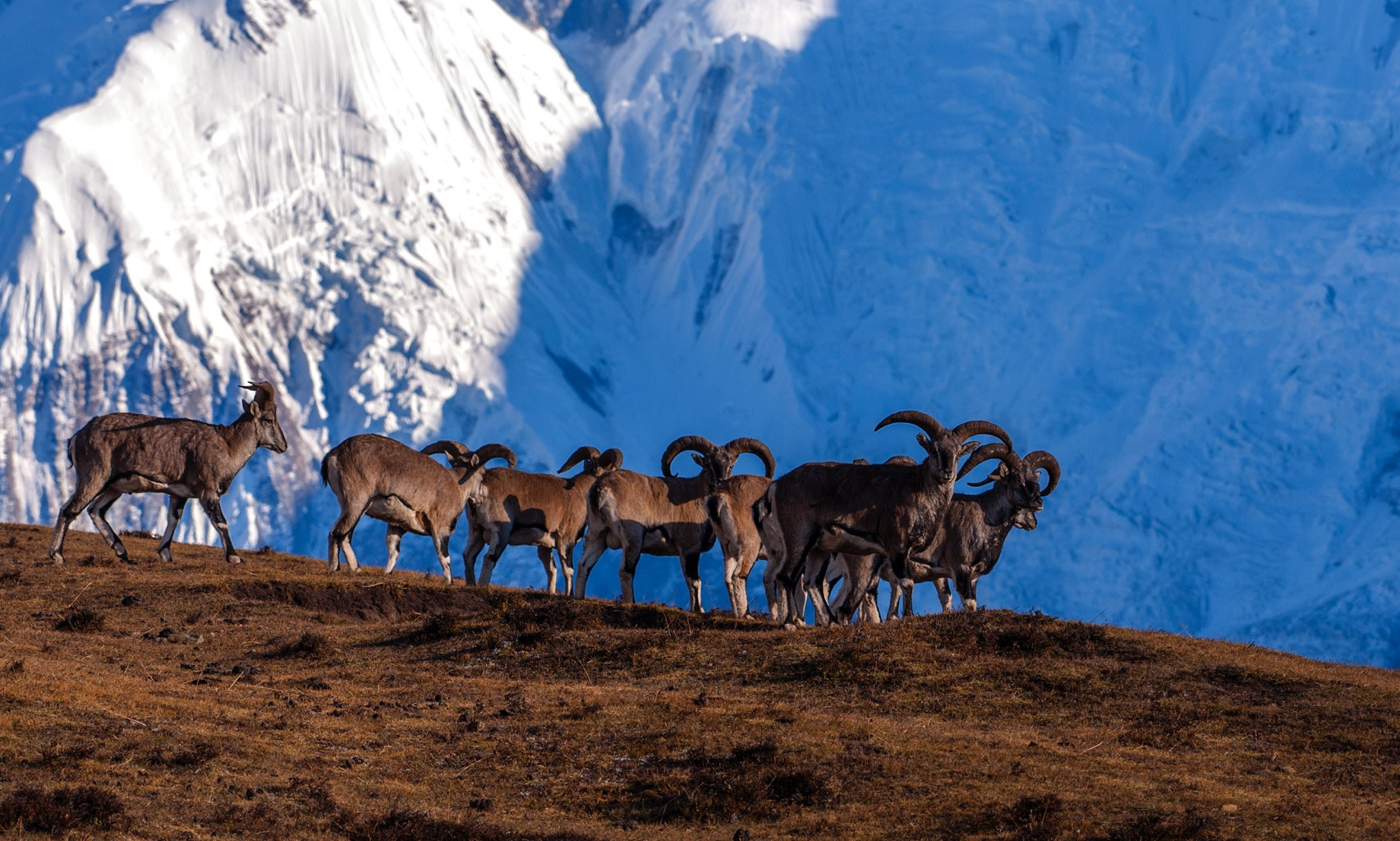 Besides, it contains nearly 500 bird species, nearly 100 mammals, and many other hereto, fish species, vascular, and endemic flower plants as per record. Majestic and gorgeous views of mountains can be seen from certain Annapurna circuits routes, all the above features have contributed to Annapurna conservation areas having the best, most adventurous, and incredible trekking routes and destinations. Also, this place is famous for many holy places, Muktinath, Hinduism pilgrimage sites, many Buddhist pilgrimage sites, and ancient monasteries are present there.
Kanchenjunga Conservation Area
Area: 2035 sq.km.
Altitude Range: 1200m to 8586m (Mt. Kanchenjunga Summit Point)
Best time to travel: Autumn and Spring season
Highlights
Tri-Nation peak park
Diverse flora and fauna, water resources, forests, glaciers, and snow-capped mountains.
Sacred Himalayan Range
Kanchenjunga conservation area was first established in March 1997, covering a certain area of the Taplejung district. It is also part of the sacred Himalayan range. Kanchenjunga is also linked with Qomolangma National Nature preserve in Tibet, China, and Khangchendzonga National park in Sikkim, India on the easter side. As per the record of numerous floral and faunal species, this area is mainly inhabited by mammal species such as Musk deer, Asian black bears, Snow Leopard, red panda, and bird species like blood pheasant, snow cock, golden-breasted Fulvetta, and red-billed chough. During the spring season Rhododendron, lilies, orchids, and many other flowering flower blooms, provide a magnificent view to visitors. Tropical hardwoods in the lower region which is replaced by pine and oaks in the higher region. Also, it contains the world's largest glaciers.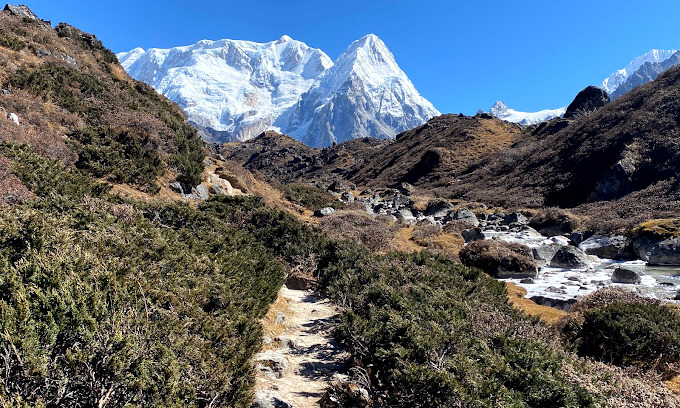 For its good management, in support of WWF, Kanchenjunga Conservation Area Management Council was established in April 2003 and was handed by the Government of Nepal to it for management in August 2006. Also, this region was declared a Gift to the Earth by the Government of Nepal as part of the 2020 campaign for WWF's living planet. It comprises magnificent water sources, forests, cultivated lands, pastures, lakes, and glaciers in the higher region. These all above features have contributed to the Kanchanjunga area as one of the best places for wanderlust, and adventure seekers as it provides the ultimate pan-Himalayan view along with glaciers, water resources, and many above-mentioned natural resources.
Manaslu Conservation Areas
Area: 1663 sq.km.
Altitude Range: 1400 to 8156m ( Mt. Manasalu Summit Point)
Best time to travel: Autumn and Spring Season
Manaslu conservation areas consisting of famous trekking, and tour routes, were established in 1998, covering a certain area of the Gorkha district. Numerous flower species (above 1000), birds (above 100), butterflies, mammals, and reptile species are recorded in this region. Mainly mammals like musk deer, snow leopard, blue sheep, and Himalayan tahr, and frog species like Amolops Formosus, Ombrana Sikkimensis, Nanorana Liebigii, and Duttaphyrunus Himalayans are found. The presence of watercourses, glaciers, mountains, and diverse ecosystems in this region have contributed to popularizing this area as the best travel destination, where we can see majestic views of mountains like Manasalu and many others, enjoy nature, and also we can explore the community culture around there.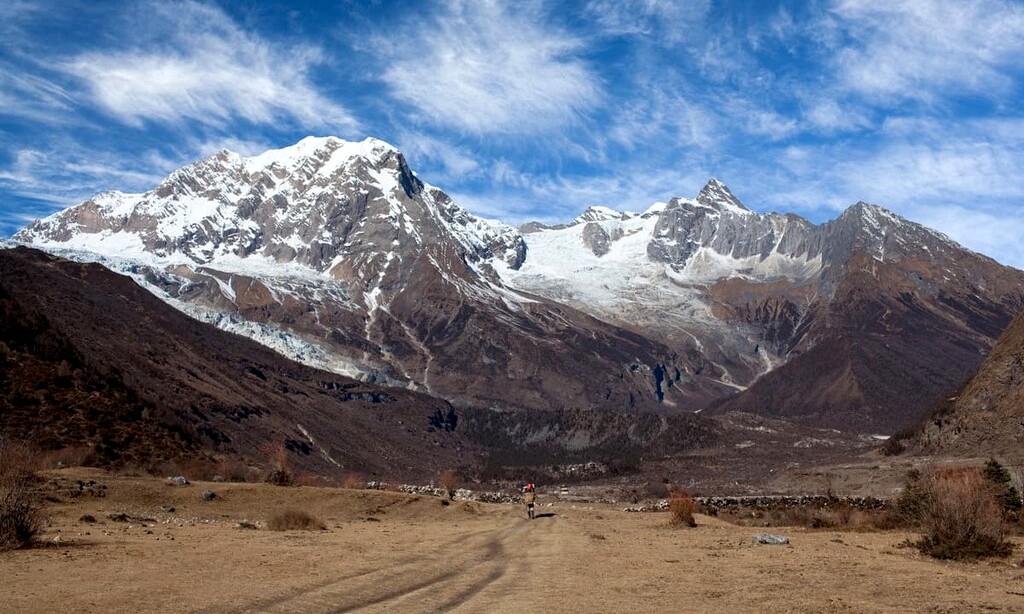 Gaurishankar Conservation Area
Area: 2,179 sq.km
Altitude Range: 968m to 7,181m
Best time to travel: Autumn and Spring season
Highlights
Gaurishankar Himal Trek
Diverse landscapes, floral and faunal species
Main habitat for Endangered Red Panda
Gaurishankar Conservation area was established in January 2010 and handed for 20 years to National Trust for Conservation (NTNC) for its management by the Government of Nepal. It covers certain areas of Ramechhap, Dolakha, and Sindhupalchok. It is adjoined by Tibet, in the North. It lies in the Sacred Himalayan range. It also connects Sagarmatha and Langtang National Park. This area comprises Gaurishankar Himal, including many water resources, and landscapes with diverse ecosystems. Numerous plant species, mammals, birds, snakes, amphibians, and fish species have been recorded in this region. Mainly this area is inhabited by plant species like Pinus Wallichiana, Pinus roxburghii, Querous Lanata, Pinus Patula, Alnus, and Temperate Oak forest. In 2019, Assam macaque, Himalayan goral, Indian muntjac, masked palm civet along golden cat were recorded in this conservation area and also the main habitat for the endangered Red Panda. All features, the magnificent Himalayan range, including the diverse culture of peoples out there, have contributed to this region being one of the paradises for adventure seekers and wanderlust.
Api Nampa Conservation Area
Area: 1,903 sq.km
Altitude Range: 518 to 7,132m
Best times to travel: Autumn, March, and May
Highlights
Major peaks, Api, Nampa including Byas (6670m).
Religious places in the Byas region.
Extreme variation in climate and geography
Home for famous rare medicinal plants like yarshagompa (Cordyceps sinensis), panchaule (Dactylorhiza hatagirea), and jatamansi (Nardostachys jatamansi) plants.
Api Nampa Conservation Area, Nepal's youngest conservation area was established on 12th July 2010, named after 2 famous peaks Api (7,1 32m) and Nampa (6,757 m), located in the Darchula district. Extreme altitudinal variation in this region has contributed to climatic as well as species variation. The climate is featured by heavy rainfall and humidity. The northern part is entirely covered with snow, throughout the year as it has an alpine climate. Perhaps, the southern part and valley side has a subtropical climate and the mid-hills have a Temperate climate. The presence of numerous plants, mammals, and birds species in this region as recorded, mainly this region is inhabited by plant species like Yarsagumpa, Talis Patra, kutki, Sugandhwal, Jatamansi, Panchaule, and many others, and birds like Danphe ( Impeyan pheasant), Monal, Yellow-billed chough, red-billed chough, snow cock, blood pheasant and many others, endangered mammal species like red panda, blue sheep, Himalayan tahr, snow leopard and Musk Deer, other mammal species like the jackal, grey wolf, goral, Himalayan black bear, common langur, and many others, and Bird species mainly include Snowcock, Himalayan Monal, and blood pheasant.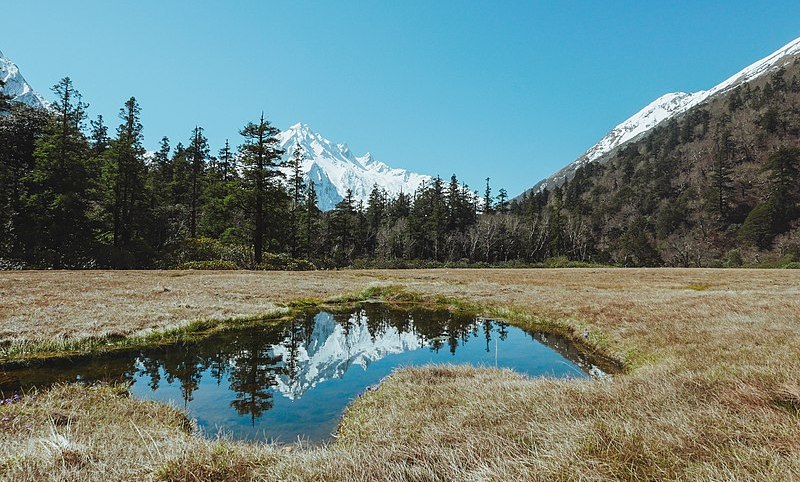 The constituents of the above features i.e., diverse flora and faunal species, being the prime habitat of many endangered medicinal plants, mountains, and cultural diversity in this region, it has been one of the best places to visit, and tourism in this region has flourished in this area.
Blackbuck Conservation Area
Area: 6.54 sq.km.
Altitude Range: 142m to 152m
Best time to travel: Autumn and Spring season
Highlights
Blackbuck sightseeing
Famous for photography and filming
This conservation area was first established in 2009 and is the smallest conservation area of Nepal, located in Bardiya district, near Bardia National Park, Bardia. It is named after the name of an endangered animal "Blackbuck". In 1975 almost the extinction of the black Buck in Nepal was held, however, a small group of Nine Blackbuck was found in the Bardia. Since then, Black Buck was specially protected and in 2009, Nepal Government established the reservation area in the name which it conserves. Now the number of Black Buck in Nepal is more than 293.
Blackbuck is a small herd, which was first spotted in Bardia in 1975, realizing the importance of endangered blackbuck species along with the natural resources around the Bardia conservation area region, the Blackbuck Conservation area was established. 281 Blackbuck species, including 14 mammals, 12 reptiles, and 64 bird species are recorded. Along with beautiful forest areas, water resources, and unique cultural heritage sites, there have been added to the beauty of this conservation area, which has made this area one of the most interesting and beautiful places for visiting, also has been famous for filming and photography.
Wildlife Reserve
Wildlife Reserves comprise an area for the management and conservation of Wild animals and their habitats.
There were three wildlife reserves in Nepal; Koshi Tappu Wildlife reserves, Parsa Wildlife Reserve, and Shuklaphanta Wildlife Reserve back in 2017. In 2017, the status of two reserve areas; Parsa and Shuklaphanta was changed into National parks. so, for now, there is only one wildlife reserve in Nepal i.e. Koshi Tappu Wildlife Reserve.
Koshi Tappu Wildlife Reserve
Area: 175 sq.km
Altitude Range: 75m to 81m
Best time to travel: Throughout the Year Season
Highlights
Watching rare birds, some aquatic animals, and wild water buffaloes.
Captivating walk
Interesting museum
Koshi Tappu Wildlife reserve was declared a wildlife reserve in 1976 and was selected as Ramsar Site in December 1987. , is located on the eastern side, on the bank of the Koshi river, which occupies certain parts of Sunsari, Udayapur, and Saptari districts that lie in the lower lands Terai region of Nepal.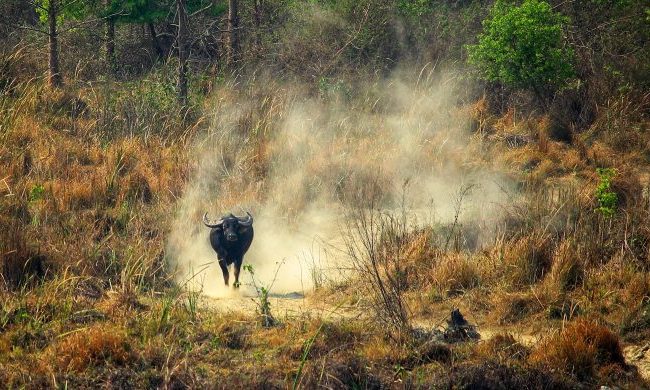 As per record 485 bird species, 514 plant species, 31 mammal species, and 200 fish species are found here. Wild animals mainly wild water Buffaloes are the main attraction there, also a paradise for watching rare birds like fowl, flamingos, two species of ducks, storks, and two kinds of Lalsar, and is the first Nepal's Ramsar site. Also, Aquatic animals such as alligators, a diverse variety of fishes, and crocodiles can be seen on coral reefs here. The ideal mix of wetlands, rivers, ponds, and paddies is there in the park. During the walk, you can explore grasslands, wetlands, and woodlands. These all above floral and faunal constituents offer you a fascinating glimpse because of which a captivating walk in Koshi Tappu is appreciable. In Kusaha, at park headquarters, there is an interesting museum where you can get information about the park, with exhibits of wild buffalo, elephant, and deer skulls, also with a desiccated gharial. You can also explore the community culture in the Buffer zone.
Hunting Reserve
A hunting reserve is a given land area where hunting of some species is allowed for hunting to the visitors in a controlled environment following certain hunting laws, where hunters pay a certain fee for hunting. Nepal has only one Hunting reserve named Dhorpatan Hunting Reserve.
Dhorpatan Hunting Reserve
Area: 1325 sq. km.
Altitude Range: 2, 850 to 5,500m
Best time to travel: March to April, the autumn season
Highlights
Hunting of mammals like Blue sheep, black bear, Himalayan tahr, etc.
Marshy Land " Dhor"
Experience hunting in deep forest
Witness the beauty of nature.
Dhorpatan Hunting reserve is the only hunting reserve in the nation, was established in 1987, and covers around 1325 square kilometers in certain areas of Myagdi, Baglung, and Rukum districts, in the Dhaulagiri Himal of Western Nepal. Its elevation ranges from 2850 meters to 5500 meters, and its climatic zones include temperate, alpine, and snowline.
The reserve features both flat meadows and deep forests, which both serve as homes for various animals and bird species. The hunting reserve consists of 137 bird species, 58 vascular plants, 36 endemic species of flowering plants, 18 mammal species, etc as per record. It is the prime habitat for mammals like blue sheep, serow, Ghadial, black bear, Himalayan tahr, partridge, pheasant, and black bear, and these mammals are also the main target of hunters. Among them, black bears are the highest prized animals for hunting.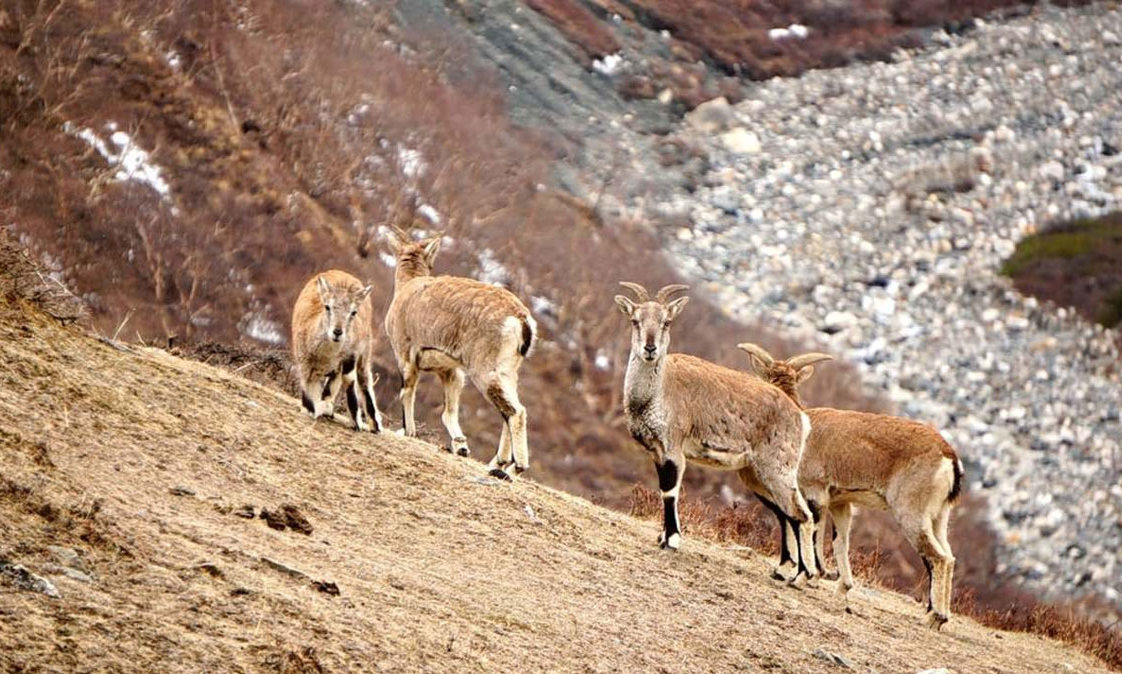 The landscapes in this area are filled with Marsland and meadows, characterized by highly developed mixed-hardwood vegetation at a lower altitude and numerous species of plants of drier climate on the Northern side. Numerous species of trees include pine, fir, hemlock, rhododendron, oak, birch, spruce, and juniper. Endangered species such as Musk deer, Red pandas, Danphe, and Cheer pheasant are protected in this area. The higher region is covered with snow throughout the year. Constituents of all these above species, along with many small water resources, lush green grasslands, and altitudinal variation provides attractive scenic beauty. Hunting in this area is the main attraction for visitors. Also, you can explore the culture of the nearer village community.
For hunting games, a license is issued from the Department of National park and Wildlife Conservation located in Kathmandu. Hunting is seasonal, besides hunting you can see the protected animals and plants out there.
If you are looking for Jungle safari tour packages in Nepal, please click here.
If you need any further information, please contact us, Email: [email protected], Phone: +977- 985 100 5129 (WhatsApp)