A private Everest Base Camp (EBC) landing helicopter tour is an exclusive and luxurious way to experience the majestic Everest region. This tour typically starts from Kathmandu and takes you to EBC, with a stop at Kala Patthar for an up-close view of Mount Everest and the surrounding peaks.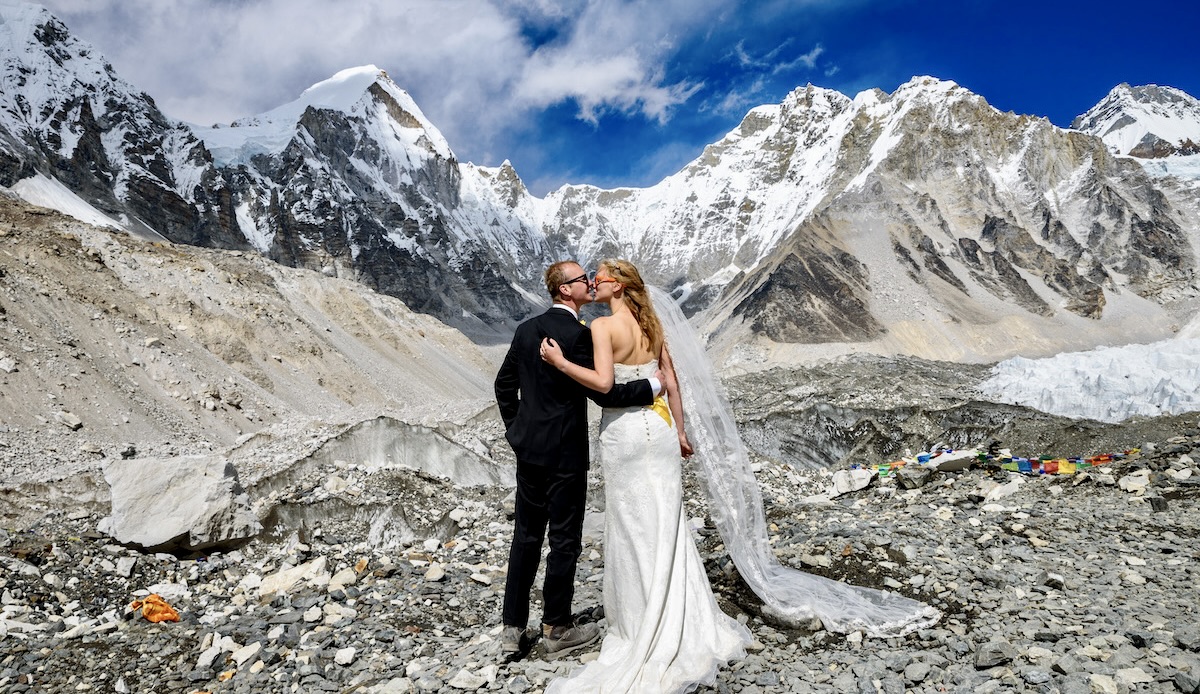 Here is a comprehensive overview of the tour:
Itinerary
Departure from Kathmandu: Your private helicopter tour will begin with a flight from Kathmandu towards the Everest region. The flight duration is approximately 45 minutes to 1 hour before reaching the first stop, Lukla.
Refueling at Lukla: A brief stop at Lukla, the gateway to the Everest region, will be made for refueling the helicopter. This stop usually lasts around 10-15 minutes.
Flying to Everest Base Camp/Kala Patthar: After refueling, the helicopter will fly towards EBC and Kala Patthar. Kala Patthar, at an elevation of 5,643 meters (18,513 feet), offers breathtaking panoramic views of Mount Everest and the neighboring peaks.
Landing at Kala Patthar: Due to environmental concerns and regulations, helicopters are generally not allowed to land directly at EBC. Instead, they land at Kala Patthar, where you'll have around 10-15 minutes to take pictures and enjoy the views. Keep in mind that the time spent here is limited due to the high altitude and thin air.
Breakfast with a view (optional): After Kala Patthar, the helicopter may fly to a luxury hotel, such as Hotel Everest View in Syangboche or Yeti Mountain Home in Kongde, where you can enjoy breakfast with a stunning view of Everest (additional cost may apply).
Return to Kathmandu: After the breakfast stop or directly from Kala Patthar, the helicopter will fly back to Kathmandu, concluding your private Everest Base Camp landing helicopter tour.
Cost
The cost of a private EBC helicopter tour can range between USD 4,000 and USD 5,500, depending on the helicopter's capacity, and additional services included. The cost typically covers the helicopter flight, fuel costs, an experienced pilot, and oxygen support if required.
Duration
A private Everest Base Camp landing helicopter tour usually takes around 4-5 hours, including stops at Lukla for refueling, Kala Patthar for panoramic views, and an optional breakfast stop.
Best Time
The best time for a private EBC helicopter tour is during the spring (March-May) and autumn (September-November) seasons when the weather is stable, and visibility is optimal. However, with careful planning and flexibility, helicopter tours may still be possible during the winter and summer months.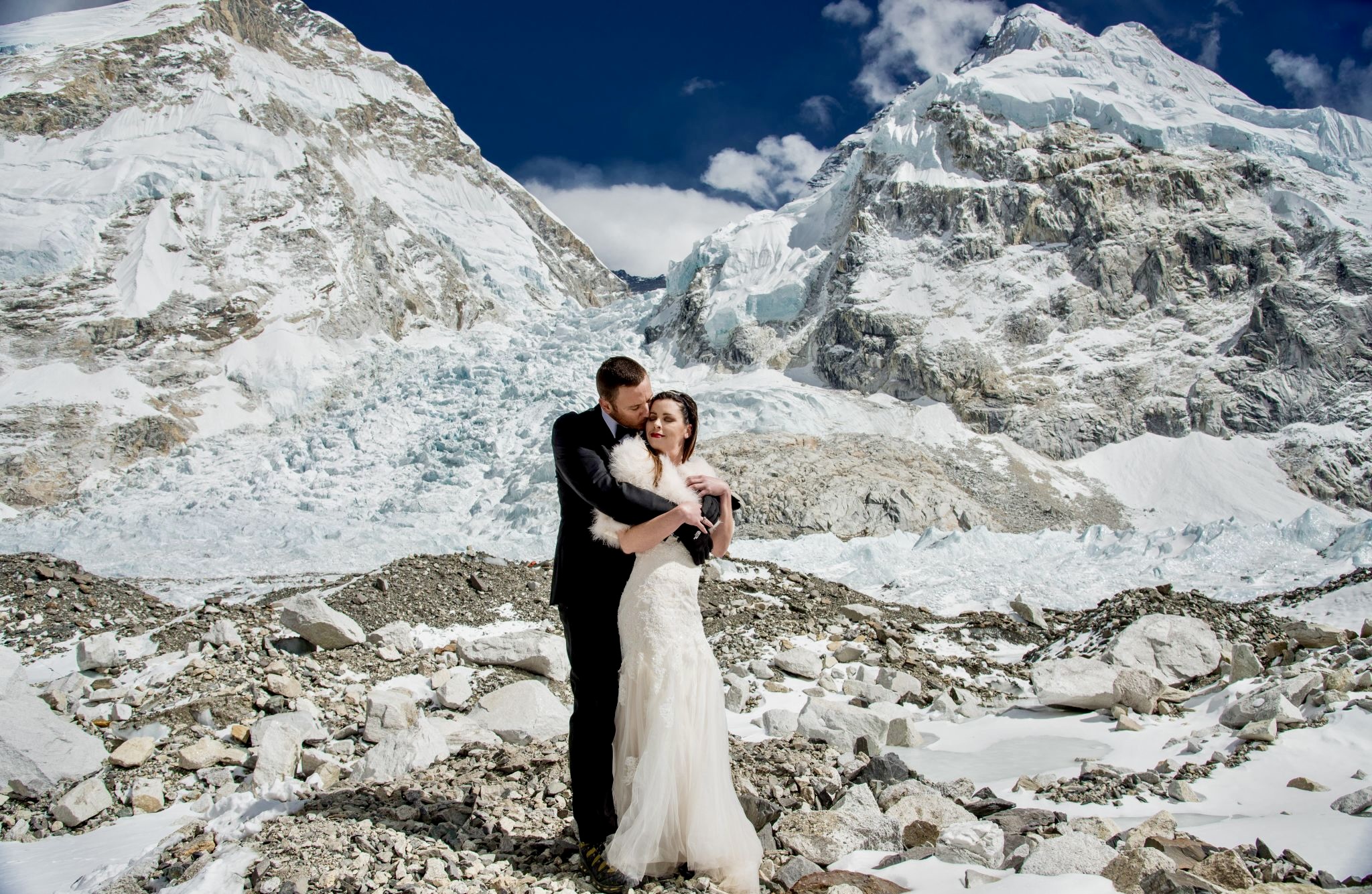 Important Considerations
Ensure that you choose a reputable tour operator like Luxury Holidays Nepal that follows strict safety guidelines and employs experienced pilots.
Due to the high altitude, there is a risk of altitude sickness. It's essential to stay hydrated, move slowly, and follow the advice of the pilot.
Dress in layers, as temperatures can vary throughout the journey. Wear comfortable shoes and bring sunglasses, sunscreen, and a hat to protect yourself from the sun.
Keep in mind that mountain weather can be unpredictable, and the tour may be delayed or canceled due to adverse weather conditions.
A private helicopter landing tour to Mount Everest is becoming increasingly well-known and nowadays people booked for some of the big events as well, which are listed below:
Surprising their family, friends or a group of the co-workers
Proposing their other half (Girlfriend/Boyfriend)
Celebrating the Wedding Anniversary in the Everest by Helicopter
Surprising BFF on her special day (Birthday) or an adventure trip with BFF
Important Articles regarding Everest Landing Helicopter Tour
We Offer the Following Helicopter Tour Services in Everest Region
1. Everest Base Camp Landing Helicopter Tour - 5 Hours, Starting at USD 800 BOOK NOW
2. Lukla to Everest base camp & flight back to Kathmandu
3. Hotel Everest View to Everest base camp Heli back to Kathmandu
4. Namche Bazaar to Everest Base Camp Heli ride Back to Kathmandu
5. Gokyo and Everest Base Camp Landing Helicopter Tour - 6 Hours, starting at USD 1200 BOOK NOW
Cost of Private Everest Helicopter Landing Tour
The cost detail, helicopter tour duration, number of people and the tour routes for the Private Everest Base Camp Landing Helicopter Tour are given below:
Everest Heli Tour and Gokyo - Everest Base Camp Heli Tour are popular helicopter tours in the Everest Region.
If you need any further information, please contact us, Email: at [email protected], Phone: at +977- 985 100 5129 (WhatsApp)