Pokalde Peak, nestled in the Khumbu region of the Himalayas in Nepal, stands as a testament to the majestic beauty that this mountain range has to offer. With an elevation of 5,806 meters (19,048 ft) above sea level, it might not share the dizzying heights of global fame of its neighboring giant, Mount Everest, but it boasts a unique allure for adventurers and mountaineers alike.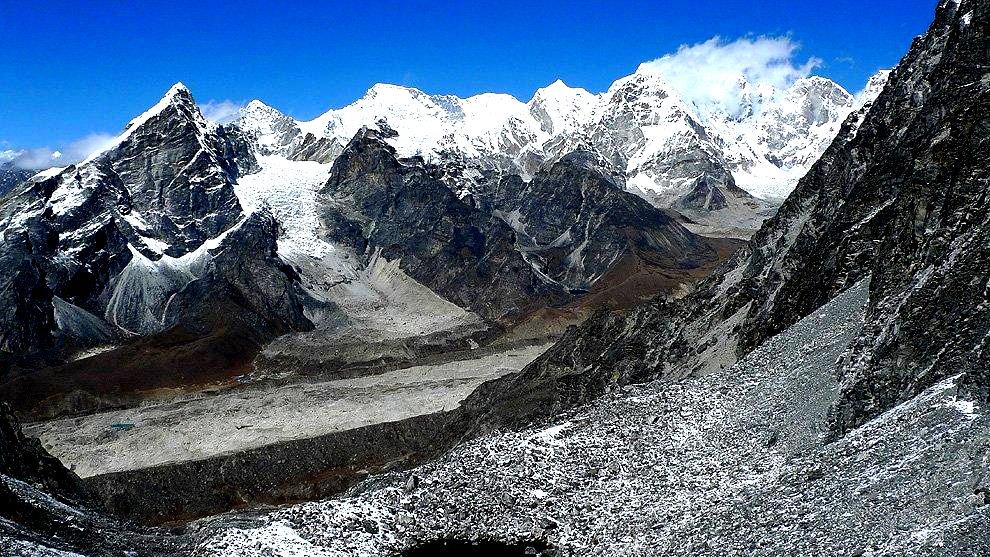 The peak's location, about 12 km southwest of Mount Everest, ensures that trekkers and climbers are treated to panoramic vistas of some of the world's highest mountains, including Makalu, Ama Dablam, and Pumori. These views, combined with the relatively simpler climb Pokalde offers, make it an enticing prospect for both novice and experienced mountaineers.
Often dubbed as one of the "easier" climbing peaks in the Himalayas, Pokalde provides a perfect balance of challenge and accessibility. While it doesn't demand the technical prowess required for higher peaks, the climb does involve basic scrambling and navigating rocky terrains, offering an authentic Himalayan climbing experience.
The base camp of Pokalde, cradled near a serene lake, is as picturesque as the summit journey. The tranquility of this setting, combined with the cultural richness of the Khumbu region and its Sherpa inhabitants, enriches the Pokalde expedition. With their traditions deeply rooted in Tibetan Buddhism, the Sherpa community adds a spiritual dimension to the trek.
Pokalde Peak is not just another mountain in the vast Himalayan range. It is a blend of natural splendor, adventure, and cultural immersion, promising an experience that resonates deeply with those who embark on its journey. Whether one seeks the thrill of summiting a Himalayan peak or the joy of being enveloped in nature's grandeur, Pokalde delivers on all fronts.
History of Pokalde Peak
Pokalde Peak, located in the renowned Khumbu region of Nepal, was first scaled in 1953 during a route reconnaissance of Mount Everest by a British team. Though not as towering or famed as its neighboring peaks, its prominence in the annals of mountaineering history is tied to its first ascent, which occurred in the same year Sir Edmund Hillary and Tenzing Norgay famously reached the summit of Everest. Since then, Pokalde has become a favored destination for trekkers and climbers, offering a comparatively less challenging but equally rewarding Himalayan experience amidst the giants of the world's highest mountain range.
Highlights: Pokalde Peak
Majestic Elevation: Standing at 5,806 meters (19,048 ft), Pokalde Peak is a respectable altitude, offering climbers a genuine high-altitude Himalayan experience.
Panoramic Vistas: The summit treats climbers to breathtaking views of Himalayan giants, including Makalu, Ama Dablam, Pumori, and a distant view of Mount Everest.
Less Technical Climb: Unlike some of its neighbors, Pokalde Peak is considered one of the more accessible trekking peaks, making it suitable for both novices and experienced mountaineers.
Cultural Richness: The Khumbu region is home to the Sherpa community, known for its rich cultural heritage deeply influenced by Tibetan Buddhism. This cultural immersion adds a unique dimension to the trek.
Historical Significance: First scaled in 1953 by a British team during a reconnaissance of Mount Everest, Pokalde shares a slice of Everest's iconic history.
Picturesque Base Camp: The base camp, nestled near a tranquil lake, offers climbers a serene environment to acclimatize and prepare, surrounded by the towering Himalayas.
Diverse Flora and Fauna: As trekkers approach Pokalde, they traverse through diverse ecosystems, ranging from verdant forests to alpine landscapes, housing various species unique to the Himalayas.
Gateway to Everest: Located close to the classic Everest Base Camp trail, Pokalde can be incorporated into a more extensive Himalayan adventure, providing an added summit experience.
Authentic Climbing Experience: Despite its relative accessibility, the journey to Pokalde's summit involves navigating rocky terrains and basic scrambling, ensuring a genuine mountaineering experience.
Sustainable Tourism: With the Khumbu region emphasizing eco-friendly trekking practices, climbers can experience Pokalde Peak while ensuring minimal environmental impact.
Climbing and Trekking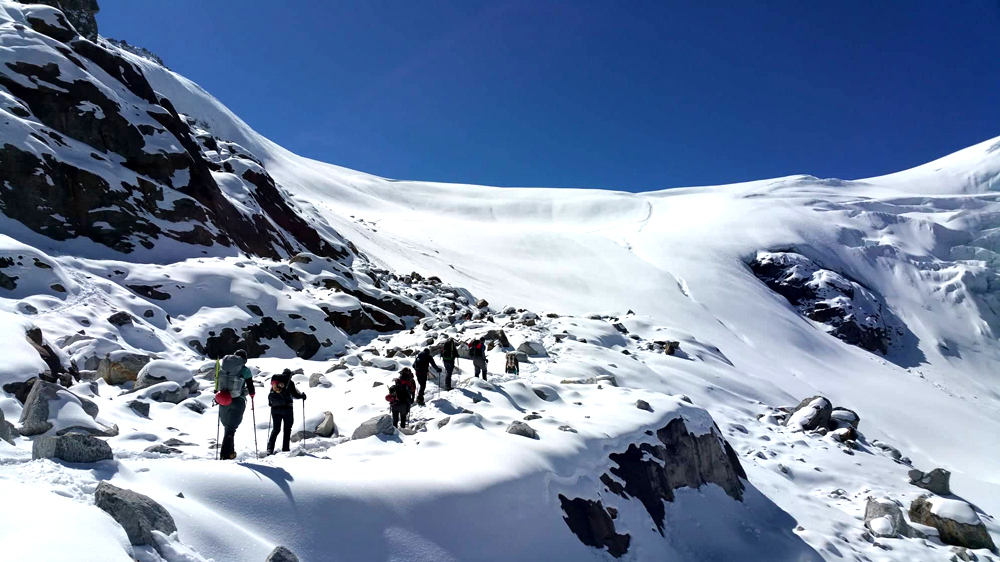 Starting Point: Lukla
The typical journey to Pokalde Peak begins from the Lukla airport, the main entry point to the Khumbu region. After landing at one of the world's most challenging airports, trekkers usually start their journey towards the heart of the Himalayas.
Trekking Route:
Lukla to Namche Bazaar: After acclimatizing for a day in Lukla, trekkers generally head to Phakding, followed by a challenging hike to the bustling Sherpa town of Namche Bazaar.
Namche Bazaar to Tengboche: This segment treats trekkers to their first clear views of Everest and introduces them to the rich Buddhist culture of the region by passing through the Tengboche Monastery.
Tengboche to Dingboche: The path moves through the Imja Valley, offering trekkers spectacular landscapes and the chance to acclimatize in the village of Dingboche.
Dingboche to Pokalde Base Camp: From Dingboche, the trail diverts from the classic Everest Base Camp route, leading to the Pokalde Base Camp near a serene high-altitude lake.
Climbing Pokalde Peak:
Base Camp to Summit: The climb from the base camp to the summit is relatively non-technical. The initial part involves trekking over rocky terrains. As one approaches the summit, there's a need for basic scrambling over rocks. While ropes might be used in certain sections for safety, it lacks the glacial traverses and technical climbs found in higher peaks of the region.
Descent: After soaking in the panoramic views from the summit, climbers typically follow the same route for descent, ensuring a safe return to the base camp.
Duration: Pokalde Peak
Climbing Pokalde Peak, nestled in the Khumbu region, is an exciting venture that allows trekkers and mountaineers to experience the grandeur of the Himalayas without spending an extensive amount of time. The duration of the trip varies depending on the specific route chosen, the pace of the trekking group, and the necessary acclimatization days. Here are the details concerning the duration for climbing Pokalde Peak:
Standard Duration:
On average, a round trip to Pokalde Peak, starting and ending in Kathmandu, generally takes between 12 to 16 days. This duration includes both the trek to the peak's base camp and the ascent to its summit.
Breakdown of the Journey:
Kathmandu to Lukla: A flight of approximately 30 minutes, followed by preparations in Lukla.
Lukla to Namche Bazaar: Usually takes 2 days, with an overnight halt in Phakding.
Namche Bazaar to Tengboche: 1 day of trekking through scenic landscapes and the famous Tengboche Monastery.
Tengboche to Dingboche: Another day's journey, bringing trekkers into the higher altitudes of the region.
Acclimatization in Dingboche: 1 day is typically allocated for acclimatization in Dingboche to ensure safe altitude adaptation.
Dingboche to Pokalde Base Camp: Trekking to the base camp can take up to 2 days, depending on the exact location of the camp and the group's pace.
Summit Day: The ascent from the base camp to Pokalde's summit and back is generally completed in a single, albeit long, day.
Descent to Lukla: Typically takes 3 to 4 days, retracing the steps back through Dingboche, Tengboche, and Namche Bazaar.
Lukla to Kathmandu: Another quick flight, approximately 30 minutes, to return to the capital.
Additional Considerations:
Acclimatization Days: It's essential to note that the body's reaction to altitude can be unpredictable. Thus, trekkers might require additional acclimatization days, especially if symptoms of altitude sickness appear.
Weather Delays: Flights to and from Lukla are notorious for getting delayed or even canceled due to unpredictable weather conditions. It's wise to factor in 1 or 2 buffer days in case of such eventualities.
Extension to Everest Base Camp: If adventurers choose to combine their Pokalde Peak climb with a visit to Everest Base Camp, the trip duration can be extended by an additional 4 to 6 days.
While the typical duration for a Pokalde Peak expedition ranges from 12 to 16 days, it's always prudent to account for unforeseen delays and challenges that might arise in the dynamic environment of the Himalayas. Proper planning, with a buffer for potential delays, ensures a memorable and safe Himalayan adventure.
Temperature and Weather
Situated in the Khumbu region of the Himalayas, the temperature and weather around Pokalde Peak are influenced by its altitude and the season. As with many high-altitude environments, the weather can be quite variable, and sudden changes are not uncommon. Here's a detailed look at the temperature and weather conditions one can expect: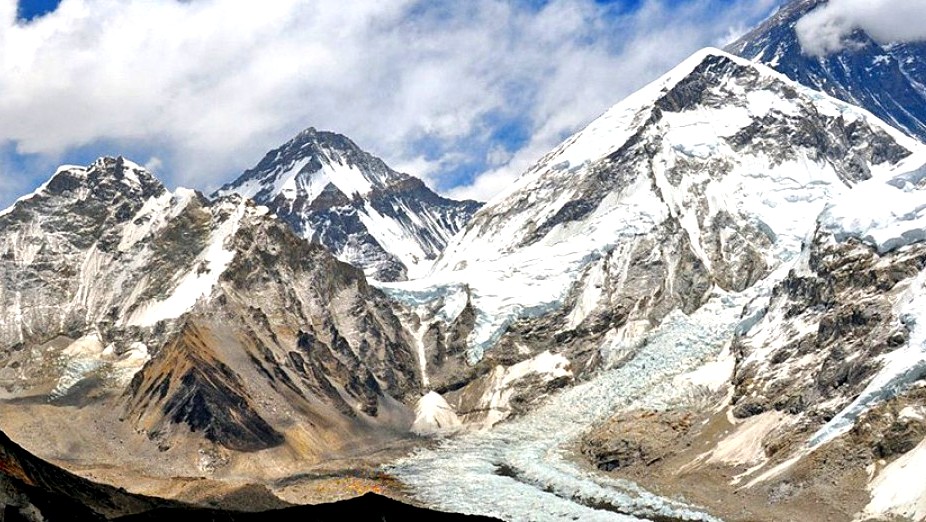 Spring (March to May):
Weather & Climate: Mild and warming as the season progresses.
Temperature: Varies between -5°C to 10°C at intermediary altitudes. Near the peak, temperatures can go down to -15°C or even lower, especially early in the season.
Visibility: Generally clear, especially in the latter part of the season.
Conditions: Snow from winter starts melting, making paths clearer. However, some sections might still be covered in snow early in the season.
Advantages: Popular time for climbing due to moderate temperatures and clearer trails. Flora begins to bloom at lower elevations, adding to the scenic beauty.
Monsoon (June to August):
Weather & Climate: Wet and humid at lower altitudes, with frequent rain. Cold and snowy at higher elevations.
Temperature: Ranges widely based on altitude. While it's warmer than other seasons, rain and snow can bring down temperatures significantly.
Visibility: Often poor due to frequent rain and cloud cover.
Conditions: Slippery trails and potential avalanche risks at higher altitudes because of fresh snowfall.
Advantages: Less crowded. The rain brings out lush greenery in lower forested areas, making the landscapes particularly vibrant. It's, however, less recommended for climbing.
Autumn (September to November):
Weather & Climate: Cool and gets colder as winter approaches.
Temperature: Similar to spring with daytime temperatures at intermediary altitudes ranging from 0°C to 10°C. Nights become colder as the season progresses.
Visibility: Generally clear, especially in early autumn. It's one of the best times for mountain views.
Conditions: Stable weather with clear trails. Snowfall is less frequent than in the monsoon but starts increasing as winter nears.
Advantages: One of the best times for mountain expeditions due to clear skies and stable weather. The forests showcase autumnal colors, especially at lower altitudes.
Winter (December to February):
Weather & Climate: Cold and dry.
Temperature: Daytime temperatures at intermediary altitudes might hover around -5°C to 5°C. At higher elevations and during the night, it can plummet to -20°C or lower.
Visibility: Generally clear, with deep blue skies. However, shorter days mean fewer daylight hours.
Conditions: Snow-covered trails, especially at higher altitudes. Increased risks of avalanches or ice-covered paths.
Advantages: Fewer trekkers and climbers, offering a more solitary experience. The snow-covered landscape is breathtakingly pristine. However, the harsh conditions require extra preparedness.
Each season offers unique challenges and advantages. The choice of when to trek or climb depends on individual preferences and preparedness. While spring and autumn are the most popular for high-altitude expeditions due to their favorable conditions and visibility, winter and monsoon offer their own unique beauty and solitude. Always check the specific weather forecasts and consult with a tour and trekking company such as Luxury Holidays Nepal before embarking on an expedition.
Accommodations and Facilities
The journey to Pokalde Peak, like many treks in the Khumbu region, offers a mix of accommodations and facilities that range from basic to moderately comfortable. As one progresses towards higher altitudes, the amenities tend to become more basic. Here's a comprehensive look at what one can expect:
Lukla to Namche Bazaar:
Lukla: Being the gateway to the Everest region, Lukla has a good number of lodges and teahouses. These establishments offer basic to mid-range facilities, with options for hot showers, charging electronic devices, and Wi-Fi (often at an extra cost).
Phakding: Slightly more rustic than Lukla, Phakding still offers decent teahouse accommodations with basic facilities. Warm beds, meals, and shared restrooms are standard.
Namche Bazaar: As the major trading hub of the Khumbu region, Namche boasts a range of accommodations, from basic teahouses to more upscale lodges. Many places offer hot showers, western toilets, and Wi-Fi. The town also has cafes, bakeries, gear shops, and even a few bars.
Namche Bazaar to Dingboche:
Tengboche: While the number of teahouses is limited, Tengboche offers basic lodging facilities. The highlight here is the famous Tengboche Monastery. Accommodations are straightforward, with shared restrooms and basic dining facilities.
Dingboche: As a common acclimatization stop, Dingboche has a decent selection of teahouses. Facilities are basic to moderate, with some teahouses providing attached bathrooms, charging facilities, and hot showers at an added cost.
Dingboche to Pokalde Base Camp:
Chhukung: Located en route, Chhukung offers limited teahouse accommodations. While still providing essentials like warm meals and beds, facilities are more basic due to the higher altitude and remoteness.
Pokalde Base Camp: Unlike the villages, the base camp doesn't have permanent teahouse facilities. Climbers usually stay in tents pitched by the expedition team. Essential camping equipment, including sleeping bags, foam mats, and dining tents, is set up by the crew. Meals are prepared by the expedition cook.
General Considerations:
Meals: Most teahouses provide a menu with a variety of dishes, ranging from traditional Nepali food like 'dal bhat' to popular international cuisines such as pasta and pizza. However, as one ascends in altitude, menu options might become limited.
Drinking Water: While bottled water is available throughout the trek, it's more sustainable and often cheaper to use water purification methods like tablets or UV pens.
Communication: Cell reception can be patchy, but many teahouses offer Wi-Fi services, often at an extra cost.
Electricity: Charging facilities are available at most teahouses, especially at lower altitudes. However, due to the remote nature of the region, there's often a fee for charging devices.
The accommodation and facilities en route to Pokalde Peak provide necessary comforts to trekkers and climbers. While not luxurious, they offer a warm, hospitable environment that adds to the authentic mountain experience. It's always advisable to carry some cash, as ATMs are scarce, and not all places accept cards.
Permits and Regulations
Embarking on a climbing expedition to Pokalde Peak, like other peaks in the Khumbu region of Nepal, requires adhering to certain permits and regulations. These measures ensure that the treks and climbs are organized, environmentally conscious, and respectful to the local communities. Here's an overview of the required permits and related regulations:
Trekkers' Information Management System (TIMS) Card:
Before setting out on any trek in Nepal, it's mandatory to obtain a TIMS card. This card keeps a record of trekkers in the region and ensures their safety.
Fee: The fee varies based on the group. Individual trekkers pay a different fee compared to those trekking with organized groups.
Where to Obtain: TIMS cards can be procured from the Nepal Tourism Board Office in Kathmandu or the TIMS counter in Lukla.
Sagarmatha National Park Entry Permit:
Since Pokalde Peak lies within the boundaries of Sagarmatha National Park, trekkers and climbers need this permit.
Fee: There's a set fee for foreigners, a different fee for SAARC nationals, and another for locals.
Where to Obtain: This permit can be secured either at the Nepal Tourism Board Office in Kathmandu or at the park's entrance in Monjo.
Peak Climbing Permit:
Given that Pokalde Peak is classified as a "Trekking Peak" by Nepal's Ministry of Culture, Tourism and Civil Aviation, climbers need a special climbing permit.
Fee: The fee is determined by the season—spring, autumn, summer, or winter. Spring often has the highest fee as it's the most popular climbing season.
Where to Obtain: This permit is issued by the Nepal Mountaineering Association (NMA) in Kathmandu.
Local Area Permit:
For certain areas beyond Lukla, trekkers might need a local area permit, which has replaced the need for a separate TIMS card in some instances.
Regulations and Best Practices:
Guide Requirement: As of recent regulations, solo trekking without a registered guide or porter has been discouraged in certain areas. However, rules can change, so it's essential to check the latest requirements before planning.
Environmental Consciousness: All climbers and trekkers are urged to follow Leave No Trace principles. Given the environmental pressures in the region, it's crucial to minimize the impact by disposing of waste properly, avoiding single-use plastics, and not disturbing local flora and fauna.
Respect Local Culture: The Khumbu region is rich in cultural heritage. Trekkers and climbers should be respectful of local customs and traditions, which includes dressing modestly and seeking permission before photographing people or ceremonies.
General Considerations:
Always keep original permits and multiple photocopies with you. Checkpoints are scattered throughout the trek where officials might ask to see your permits.
The process might seem intricate, but obtaining the necessary permits for Pokalde Peak ensures a safe and respectful journey. Being aware of and adhering to the associated regulations guarantees a harmonious experience, both with nature and the local communities.
Insurance for Pokalde Peak
Climbing and trekking in high-altitude areas, such as Pokalde Peak, come with inherent risks. From altitude sickness to unexpected accidents, many factors can turn a dream adventure into a challenging situation. That's why obtaining appropriate travel insurance is a must. Here's a detailed overview of considerations regarding insurance for Pokalde Peak:
Coverage for High Altitude Trekking and Climbing:
Altitude Limit: Many standard travel insurance policies have altitude limits, which might not cover activities above certain elevations. Pokalde Peak stands at 5,806 meters, so ensure your policy covers up to this altitude or higher.
Climbing & Trekking Activities: Check that the policy covers both trekking and peak climbing, as some might only cover trekking.
Emergency Evacuation and Helicopter Rescue:
Helicopter Evacuation: In the event of serious illness or injury, especially in remote areas, helicopter evacuation might be the only viable option. Ensure your policy covers this, as these evacuations can be extremely costly.
Transport to a Reliable Hospital: Coverage should include transportation to a reputable medical facility, preferably one that specializes in altitude-related conditions.
Medical Coverage:
Comprehensive Medical: Ensure the policy covers hospitalization, medication, and other potential medical treatments you might require.
Pre-existing Conditions: If you have any pre-existing medical conditions, make sure they are covered in the event they lead to complications while on the trek.
Trip Cancellations and Delays:
The unpredictable mountain weather can lead to flight cancellations or delays, especially concerning the Lukla flight, the main gateway to the Everest region. Ensure your insurance covers such eventualities, which might mean added accommodation and meal costs.
Gear and Equipment Coverage:
If you're carrying expensive gear, like high-end cameras or specialized climbing equipment, consider insurance that covers theft, loss, or damage to personal belongings.
Repatriation:
In extreme cases, where severe health complications or even fatalities occur, repatriation coverage will ensure that costs associated with returning the body or the individual back home are taken care of.
Additional Considerations:
Duration: Ensure that the insurance covers the entire duration of your trip, including any extra days you might spend for acclimatization or unexpected delays.
Claim Procedures: Familiarize yourself with the claims procedure, especially regarding upfront payments and reimbursements.
Trekking and climbing in the Himalayas, particularly peaks like Pokalde, are adventures of a lifetime. While the risks are part of the thrill, it's crucial to be prepared for all contingencies. Adequate insurance ensures peace of mind, allowing you to focus on the beauty and challenges of the journey, knowing you're protected against unforeseen mishaps. Always read the policy's fine print and consult with the provider for any clarifications before embarking on your journey.
Preparing for Pokalde Peak
Taking on a trek and climbing expedition like Pokalde Peak demands thorough preparation. From physical training to gathering essential equipment, there's much to consider to ensure your trip is both enjoyable and safe. Here's a comprehensive guide to help you prepare for your adventure:
Physical Preparation:
Cardio Training: Begin with cardiovascular exercises like running, cycling, or swimming to improve stamina. Aim for at least 30 minutes, 4-5 times a week.
Strength Training: Focus on strengthening core muscles, legs, and back. Exercises like squats, lunges, planks, and deadlifts can be beneficial.
Altitude Training: If possible, include some high-altitude hikes in your regimen. This helps in acclimatization and familiarizes you with the challenges of trekking at higher elevations.
Flexibility: Incorporate stretching exercises to improve flexibility and reduce the risk of injuries.
Mental Preparation:
Research: Familiarize yourself with the trek and climb itinerary. Knowing the daily challenges can mentally prepare you for what lies ahead.
Positive Mindset: Mental resilience is as essential as physical strength. Stay positive, and when challenges arise, focus on the bigger picture and the sense of accomplishment awaiting you.
Practice Treks: Engage in multi-day treks to get a feel of the routine, which can also help in testing out your equipment.
Gear and Equipment:
Footwear: Invest in quality trekking boots. For the climbing segment, you'll need climbing boots suitable for high-altitude conditions.
Clothing: Layering is key. It has a combination of base layers, insulation layers, and an outer waterproof layer. Don't forget thermal inners, gloves, and a warm hat.
Climbing Gear: This includes crampons, ice axes, harnesses, carabiners, and ropes. If you're joining an organized expedition, they might provide some of this gear.
Backpack: A sturdy backpack with multiple compartments and good back support is essential. You'll also need a day-pack for daily essentials.
sleeping: A good quality sleeping bag suitable for low temperatures and an insulating sleeping mat are crucial.
Health and Nutrition:
Diet: Prioritize a balanced diet rich in proteins, carbohydrates, and healthy fats. This will aid in muscle recovery and energy sustenance.
Hydration: Drink plenty of water during your training and the trek. Hydration aids in altitude acclimatization.
Vaccinations: Consult with your doctor about recommended vaccinations for Nepal.
Altitude Sickness Medication: Discuss preventive medications like Diamox with your healthcare provider.
Miscellaneous:
Map & Compass: While most people trek with guides, having a map and compass can be helpful.
Solar Chargers: With limited charging facilities as you ascend, a solar charger can be invaluable to keep your devices charged.
First Aid Kit: Include essentials like band-aids, antiseptic creams, pain relievers, and any personal medications.
Sunglasses & Sunscreen: High-altitude UV exposure is intense. A good pair of UV-protected sunglasses and high-SPF sunscreen are must-haves.
Local Customs and Etiquette:
Culture Research: Understand the local customs, especially when visiting monasteries or other religious sites.
Language: Learning a few basic Nepali phrases can enhance your experience and create a bond with the locals.
Preparing for Pokalde Peak is a commitment that requires dedication and meticulous planning. But with the right preparation, you'll not only ensure your safety but also significantly enhance your overall experience. Remember that the journey is as enriching as the destination, so savor every moment, every challenge, and every breathtaking view along the way.
Pokalde Peak, nestled in the Everest region, offers climbers a distinct challenge distinct from the towering giants of the Himalayas. While it may not possess the daunting altitudes of its illustrious neighbors, its elevation of 5,806 meters still presents climbers with the unique trials of high-altitude trekking. The ascent, marked by rocky terrains and alpine surroundings, serves as both an introduction for novices to the world of mountaineering and a refreshing climb for seasoned enthusiasts.
The journey to Pokalde is not just about the summit. It's a holistic Himalayan experience, taking trekkers through vibrant Sherpa villages, past ancient monasteries, and offering panoramic vistas of the world's tallest peaks. The ever-changing landscape, cultural interactions, and the thrill of ascent blend to create a memorable expedition, making it evident why the Everest region remains an enduring attraction for adventurers worldwide.
Pokalde Peak, though often overshadowed by higher peaks, stands as a testament to the diverse range of adventures the Himalayas offer. Whether you're a mountaineering rookie looking for a stepping stone to bigger challenges or an experienced climber seeking a less-trodden path, Pokalde awaits with open arms, ready to offer an unforgettable experience.
Frequently Asked Questions (FAQs): Pokalde Peak
Q: How high is Pokalde Peak?
A: Pokalde Peak stands at an altitude of 5,806 meters (19,048 feet) above sea level. It is considered one of the "trekking peaks" in the Everest region of Nepal.
Q: How difficult is the climb?
A: While Pokalde Peak is not as technically challenging as some other peaks in the Himalayas, climbers will encounter steep sections, loose rocks, and some alpine challenges. The difficulty also increases with altitude, and the effects of reduced oxygen levels can be challenging for many.
Q: Do I need previous mountaineering experience?
A: While having prior mountaineering experience is beneficial, particularly with basic ice and rock climbing techniques, it isn't strictly necessary for Pokalde. You should be in good physical shape and have some high-altitude trekking experience.
Q: What kind of gear do I need for the climb?
A: Key gear includes sturdy trekking boots, a climbing harness, crampons, an ice axe, ropes, and other standard mountaineering equipment. Warm, layered clothing, a good quality sleeping bag, and UV protection are also essential.
Q: How long does the expedition typically take?
A: The expedition, including acclimatization and the trek in and out, usually takes around 18-20 days. This includes time in Kathmandu, trekking to and from the base camp, acclimatization hikes, and the climb itself.
Q: What is the best time to climb Pokalde Peak?
A: The most favorable times to climb Pokalde Peak are during the pre-monsoon (spring) and post-monsoon (autumn) periods. March to May and September to November offer the best weather conditions and visibility.
Q: Do I need a permit to climb Pokalde Peak?
A: Yes, a climbing permit is required to climb Pokalde Peak. Additionally, you'll need a TIMS card (Trekkers' Information Management Systems) and a Sagarmatha National Park permit.
Q: Is it mandatory to have a guide for the climb?
A: While it's not legally mandatory, it's highly recommended. Our guides are familiar with the terrain, and weather patterns, and can significantly enhance the safety and experience of your expedition.
Q: How do I handle altitude sickness?
A: Acclimatization is essential. Most itineraries are designed with acclimatization days. Recognizing the symptoms of altitude sickness and responding promptly is vital. Always consult with your guide and consider carrying medications like Diamox, after consulting with a healthcare professional.
Q: Are there accommodation facilities during the trek?
A: Yes, during the trek to and from Pokalde Base Camp, there are tea houses and lodges where you can rest, eat, and sleep. Once the climb begins, you'll be camping.
Q: How is the mobile network and internet connectivity?
A: While major towns like Namche Bazaar offer decent mobile network coverage and internet cafes, as you move higher up, connectivity becomes sporadic or non-existent.
Q: What about emergency evacuation?
A: It's crucial to have travel insurance that covers emergency evacuation. In case of severe altitude sickness or other emergencies, helicopter evacuations can be arranged, but they are expensive.
Alternative 8000m Mountain Expeditions
We Offer the Following similar 8000m Mountain Expedition in Nepal
Mt Everest Expedition (8848.86 m)
Manaslu Expedition (8,163 m)
Makalu Expedition (8,463m)
Kanchenjunga Expedition (8,586 m)
Lhotse Expedition (8,516 m)
We also offer peak climbing expeditions in Nepal at altitudes of 7000 and 6000 meters.
7000 M Peaks for Climbing and Expedition
Gangapurna Expedition (7,455 m)
Pumori Expedition (7,145 m)
Tilicho Peak Expedition (7,134 m)
Annapurna South Expedition (7,219 m)
6000 M Peaks for Climbing and Expedition in Nepal
Mt Ama Dablam Expedition (6,812 m)
Island Peak Expedition (6,160 m)
Mera Peak Climbing (6,476 m)
Chulu West Peak Climbing (6,419 m)
Pisang Peak Climbing (6,091 m)
Singu Chuli Peak Climbing (6,501 m)
Island Peak Climbing with Everest Base Camp Trek
Lobuche Peak Climbing with Everest Base Camp
If you need any further information, please contact us, Email: [email protected], Phone: +977- 985 100 5129 (WhatsApp)