Luxury lodges in Nepal offer travelers a unique and indulgent way to experience the natural beauty and cultural richness of this beautiful country. From the stunning Himalayan mountain ranges to the lush green jungles of the Terai, Nepal is full of breathtaking landscapes and cultural treasures waiting to be explored. Luxury lodges provide a comfortable and stylish way to explore these wonders, while also supporting local communities and minimizing environmental impact.
Luxury lodges in Nepal range from intimate, boutique properties to larger, full-service resorts. Many of these lodges are located in remote and pristine wilderness areas, offering guests a chance to disconnect from the world and immerse themselves in nature. Others are situated in or near popular tourist destinations, offering easy access to cultural landmarks, restaurants, and shopping.
Many luxury lodges in Nepal feature luxurious amenities such as spas, gourmet dining, and infinity pools with stunning mountain views. Others focus on sustainability, using eco-friendly materials and practices to minimize their impact on the environment.
Luxury Lodges in Annapurna Region
Himalaya Lodge
Himalaya Lodge is a popular accommodation option located in the village of Ghandruk, which is situated in the Annapurna Conservation Area of Nepal. The lodge offers breathtaking Himalayan vistas as well as a rare chance for visitors to learn about the customs and culture of the Gurung population in the area. The lodge offers cozy accommodations with contemporary conveniences like free Wi-Fi and hot showers. Also, there is a restaurant there that provides delectable Western and Nepalese food. Due to its convenient proximity to well-known paths like the Poon Hill Trek and the Annapurna Base Camp Trek, the lodge serves as a great starting point for mountain hiking and trekking.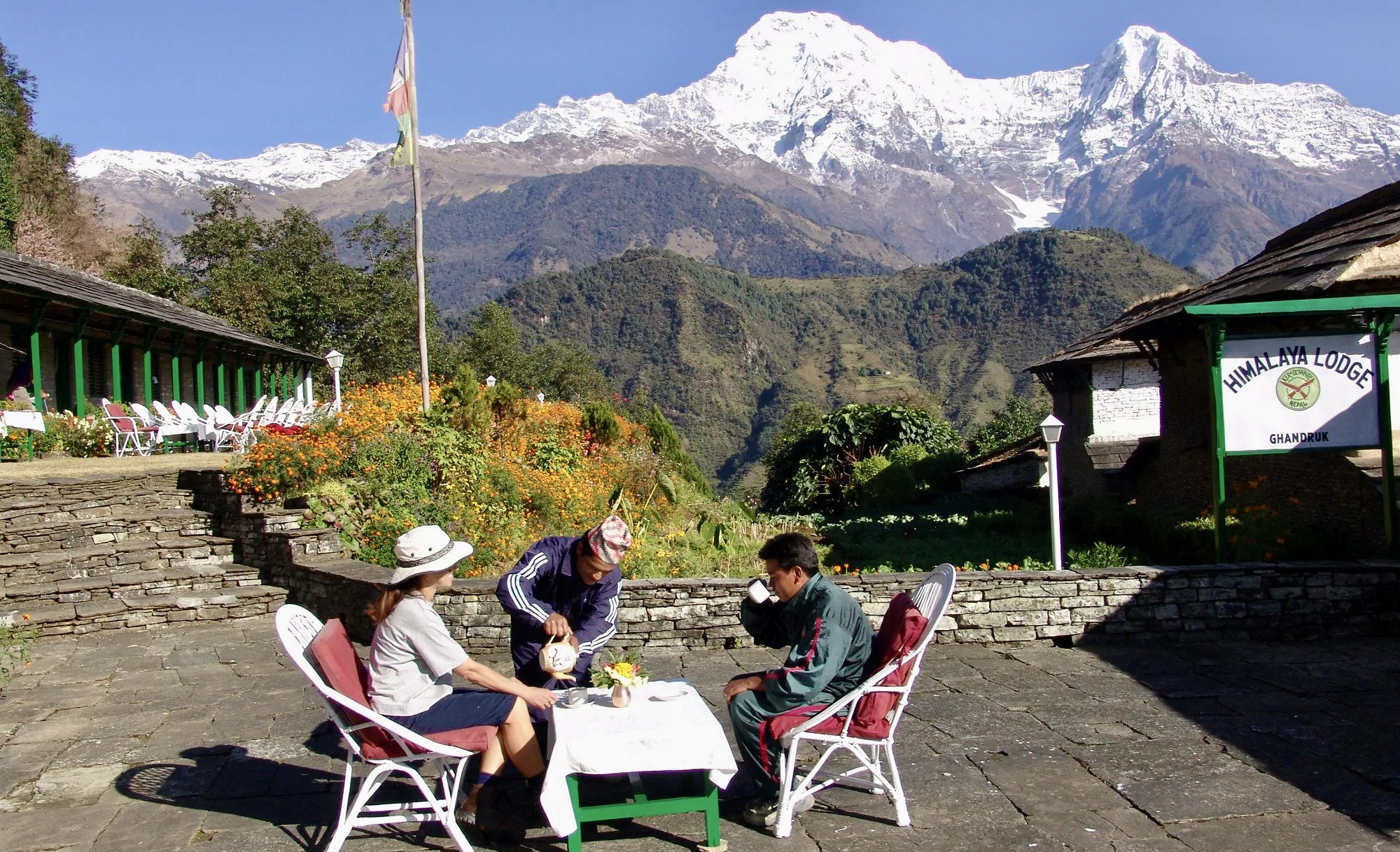 Fishtail Lodge
Fishtail Lodge is a hotel located in Pokhara, Nepal, at the foot of the Himalayas. The lodge was established in 1996 and is known for its beautiful surroundings and stunning views of the nearby mountain ranges, including Machhapuchhre (also known as Fishtail mountain). The lodge offers a variety of accommodations, including deluxe rooms, garden rooms, and suites, all of which are designed with traditional Nepali architecture and equipped with modern amenities. Additionally, the lodge has a restaurant that serves Nepali, Indian, and international cuisine, as well as a bar that offers a selection of local and imported drinks.
Tiger Mountain Lodge
Tiger Mountain Lodge is a boutique hotel located in the foothills of the Annapurna mountain range in Pokhara, Nepal. The lodge is situated on a hilltop, providing stunning views of the Himalayas and the Pokhara Valley. The lodge is known for its rustic charm and serene ambiance, offering a peaceful escape from bustling city life. The lodge provides luxurious rooms, which are designed with traditional Nepalese architecture and are equipped with modern amenities, including comfortable beds, en-suite bathrooms, Wi-Fi, a spa, and a restaurant serving delicious Nepalese and continental cuisine made with fresh local ingredients.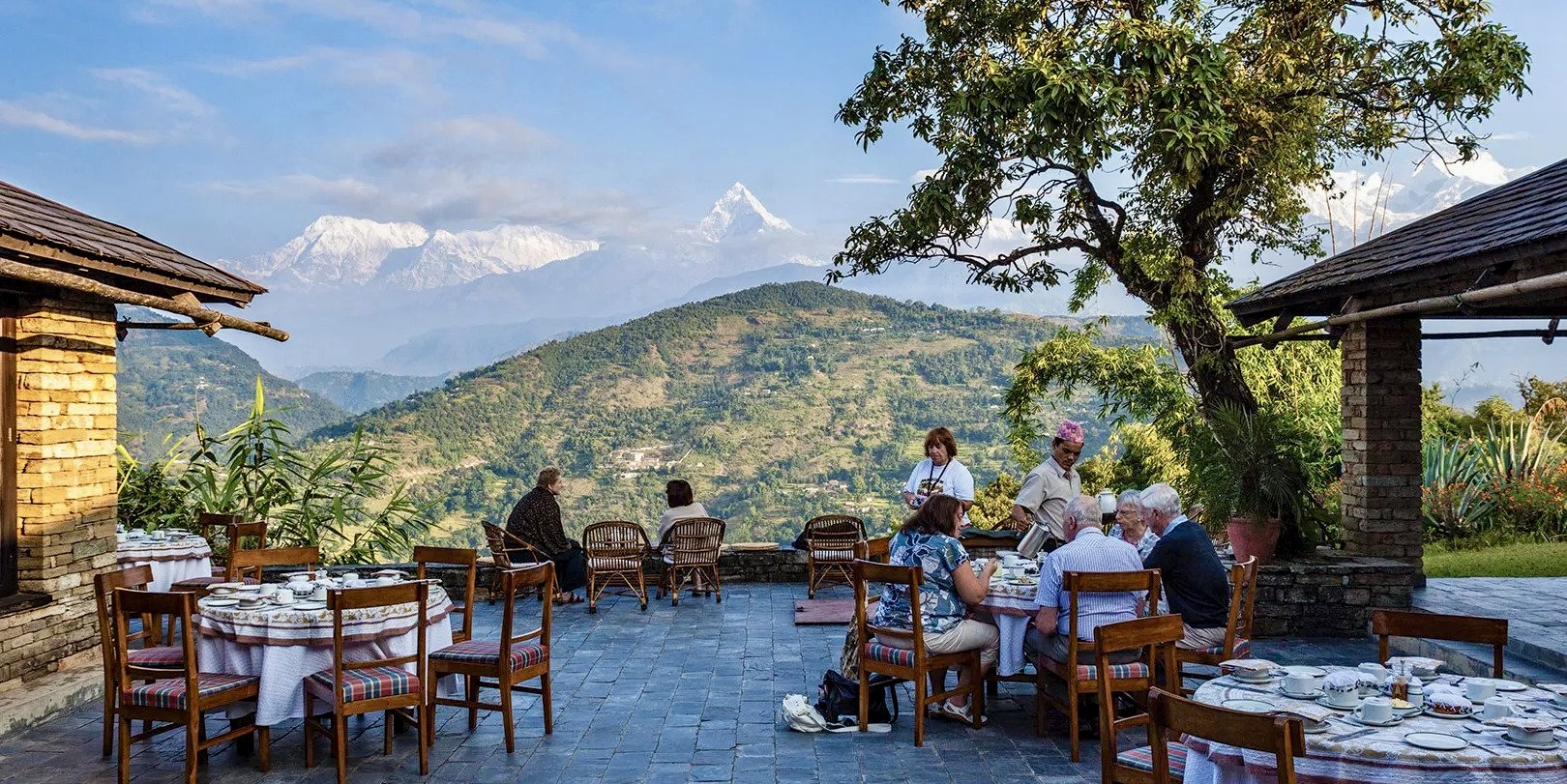 Dhampus Lodge
The Dhampus Lodge in the Annapurna Region provided exceptional service for a tranquil stay. The closest and most magnificent mountain in the range, Machapuchare, or Fishtail Mountain, can be seen along with the Phedi and Mardi Valleys, Annapurna 1, 2, 3, and South. There are eight roomy apartments that are arranged in a row and offer breathtaking views of the Annapurna Range. On the stone flooring are rugs, blankets, and works of art from Nepal. The smartly designed en suite bathroom has hot running water that is supplied by solar energy. Basanta Lodge, which offers accommodations, a dining room, a bar, and a wonderful garden patio, has a mountainous secret feel to it. Simple joys and the natural beauty of the area are focused on here. When the sun sets over the mountains, visitors congregate on the grassy terrace for beverages and foot massages during happy hour. The quaint dining area, complete with a blazing fire and mini bar, is where dinner is served.
Club ES Deurali Resort
Situated in the most breathtaking setting of the Annapurna range, the club ES Deurali Resort guesthouse is a destination unto itself. It offers spacious, comfortable rooms with every convenience, such as hot showers and electric blankets to keep out of the cold. Each and every visitor to this guesthouse is treated warmly and hospitably by the owner and employees. They offer all the wonderful amenities in a serene setting. Every meal, from breakfast to dinner, is excellent. Here, you can taste Tibetan, Nepali, and other cuisines, along with some fantastic beverages. It is quite comfy to stay here.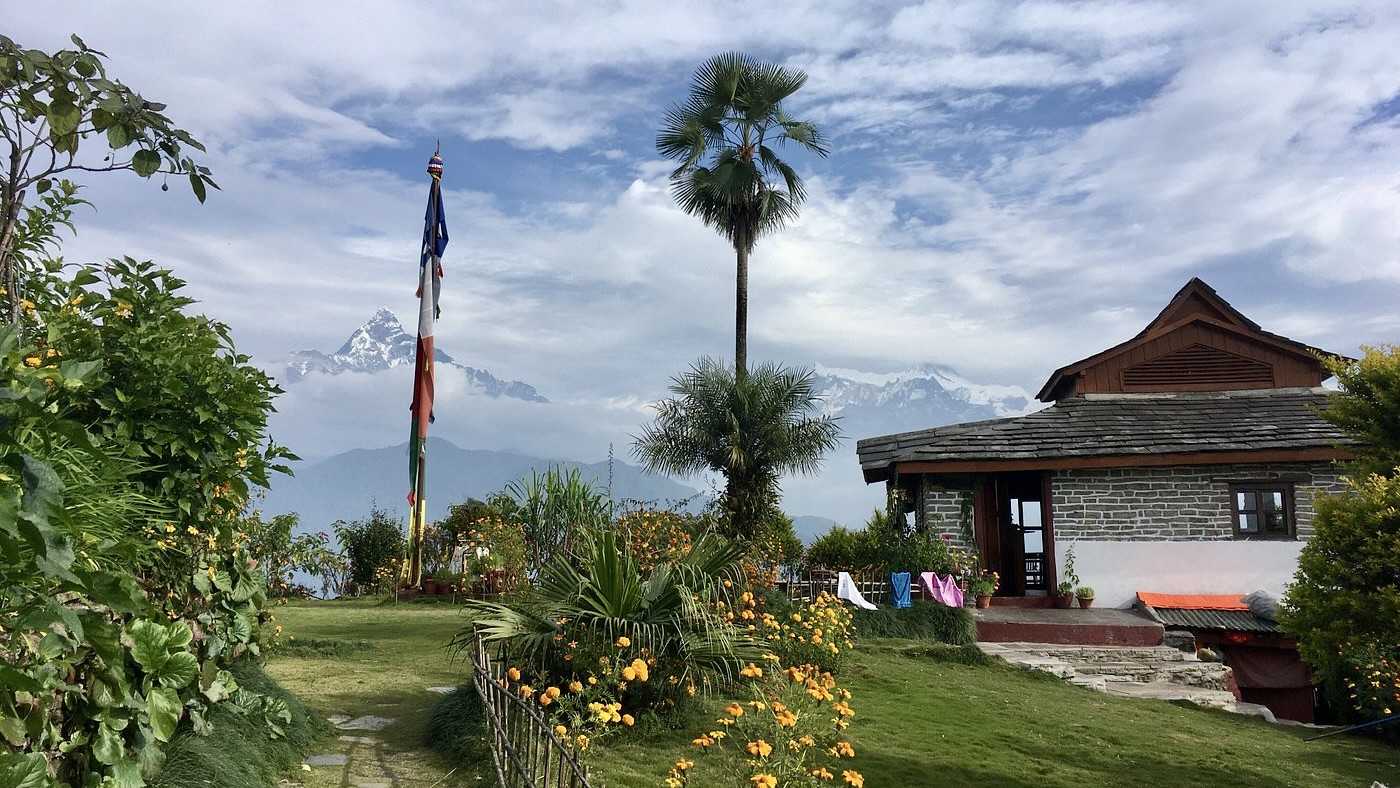 Ker and Downey Nepal
Ker & Downey Nepal Mountain Lodges is a luxury lodge chain located in the Annapurna region of Nepal. It is a joint venture between Ker & Downey, a leading luxury travel company, and a group of Nepalese entrepreneurs. The lodges offer a comfortable and luxurious trekking experience in the Annapurna region, which is known for its stunning mountain views and diverse cultural experiences.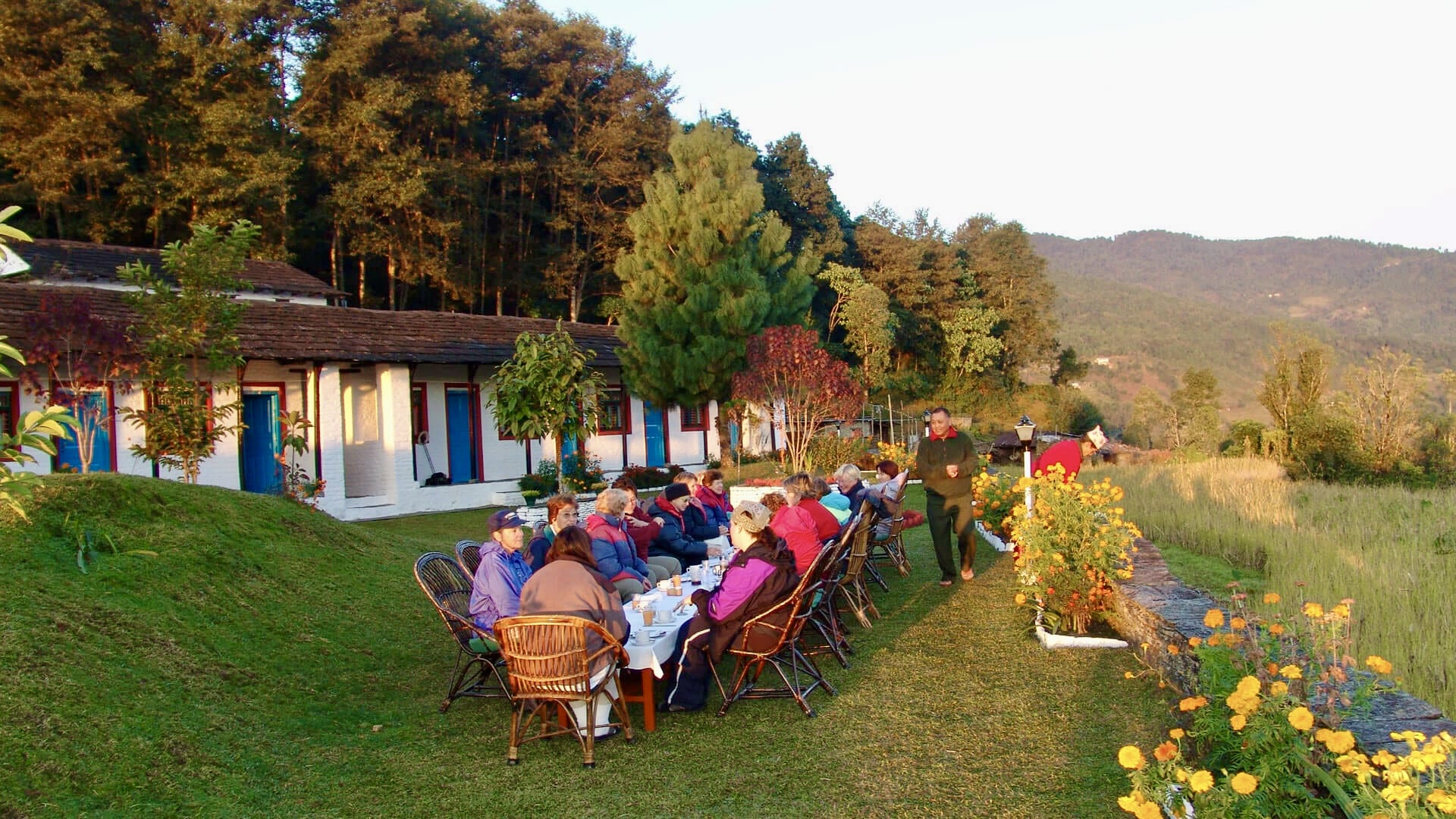 Luxury Lodges in Everest Region
Hotel Bright Star
One of the beautiful tea houses to stay in the Everest region is Hotel Bright Star in Dingboche. The hotel is somewhat spacious and attractive. The guest house's rooms are warm and cozy, and the bed linens are tidy. On their journey to Everest Base Camp Trekking, the majority of trekkers and tourists acclimate here. You can eat in the dining room in the comfort of the heat and enjoy some decent food at this hotel. The hotel offers hot showers and clean restrooms. There is a vital ATM right at the door if you need money right away. Staying here provides you with an incredible experience and a surreal view of the Everest region's mountain ranges.
Namche Hilltop Lodge & Restaurant
The Sherpa capital town Namche is situated on the upper slopes of the city, adjacent to the administrative center of the Sagarmatha National Park, and just five minutes on distance from the Sherpa Cultural Museum. The perfect acclimatization station, a base camp for cultural outings, and a spot for spa treatments, this quaint, family-friendly locale. both composed and active. All of the rooms and the lounge have unobstructed views of the town's famous C-shaped layout and the frighteningly close Kongde Mountain across the valley thanks to the lodge's elevated elevation. Clouds may surround the bazaar in the late mornings and early evenings during practically any season. The mornings and evenings, on the other hand, are frequently clear and great for sightseeing.
Everest View Hotel
Due to its unique location, the Everest View Hotel, which is 3,962 meters (13,000 feet) above sea level, is one of the most popular lodging options in this region. A panoramic view of the majestic peaks is available from the Everest View hotel. Every hotel offers guests a glimpse of Mt. Everest so they can indulgently take in this enticing environment. The Hotel Everest View is the prime illustration of the Mountains' audacious character. You may easily travel to the adjacent towns and take in the stunning scenery, which is studded with fir trees, bushes, and rhododendron woodlands. Your visit will be cherished for a lifetime thanks to the welcome and committed staff members' first-rate service and mouthwatering cuisine.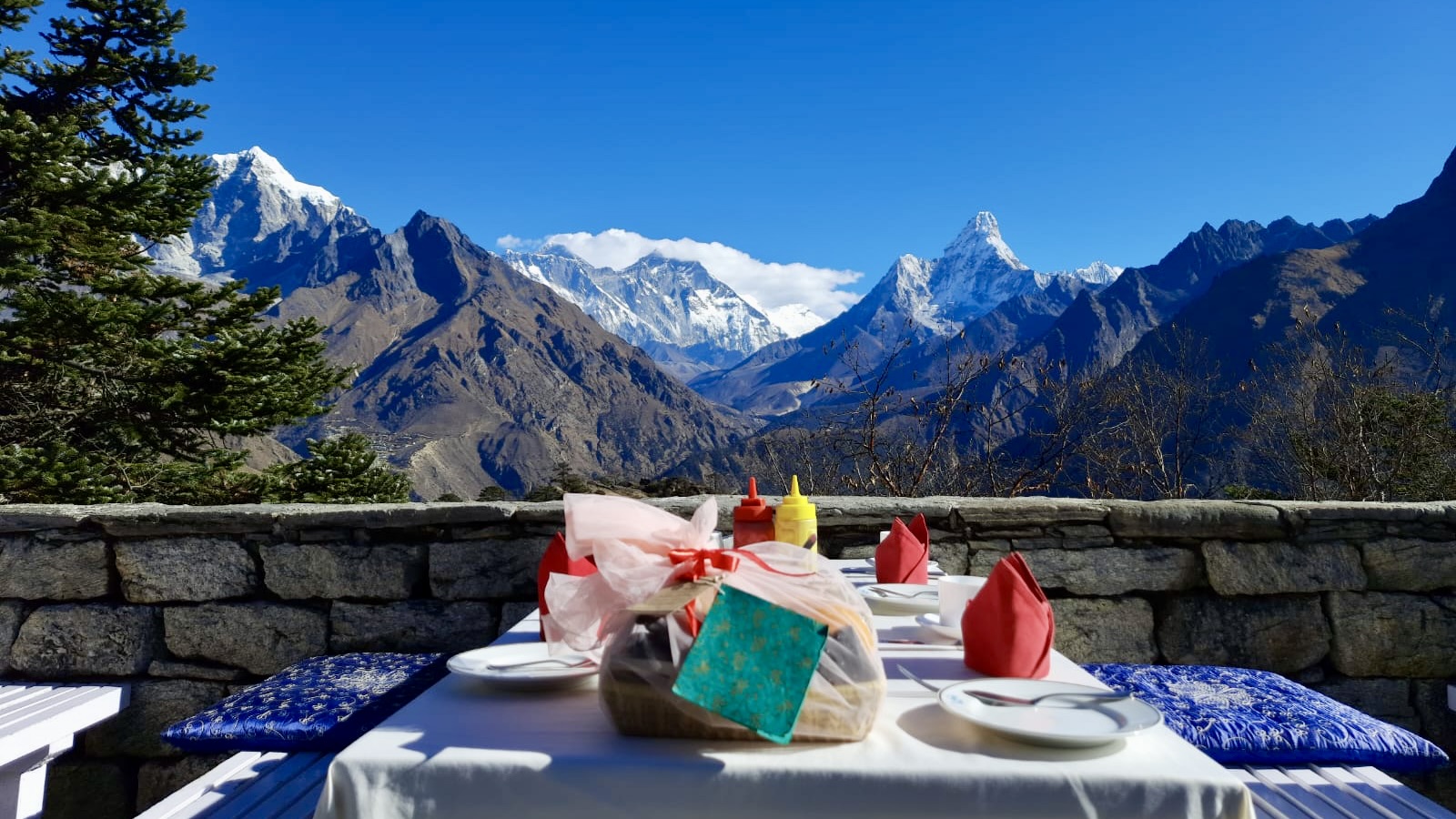 Everest Summit Lodges
Everest Summit Lodge has three luxury lodges located in Tashinga, Trashinga, and Kongde. The lodges are owned and operated by a Nepalese company called Yeti Mountain Home, and they are designed to provide visitors with a comfortable and authentic Nepalese experience. Each lodge is constructed using traditional building materials and techniques, and they offer a range of amenities such as hot showers, comfortable beds, and tasty Nepalese cuisine. Everest Summit Lodge is also environmentally friendly, using solar power and other sustainable practices to reduce their impact on the natural surroundings. Additionally, Everest Summit Lodge supports local communities through its hiring practices and by sourcing food and supplies from local vendors.
Yeti Mountain Home (Mountain Lodges of Nepal)
Yeti Mountain Home is a chain of luxury lodges located in the mountains of Nepal, near the base of Mount Everest. The lodges are designed to provide visitors with a comfortable and relaxing stay in the midst of some of the world's most breathtaking scenery. The first Yeti Mountain Home was opened in 2006 in the village of Lukla, and since then, several more lodges have been built in locations such as Namche Bazaar, Monjo, and Kongde. Each lodge features a variety of amenities, including comfortable rooms, hot showers, and restaurants serving both Nepali and international cuisine.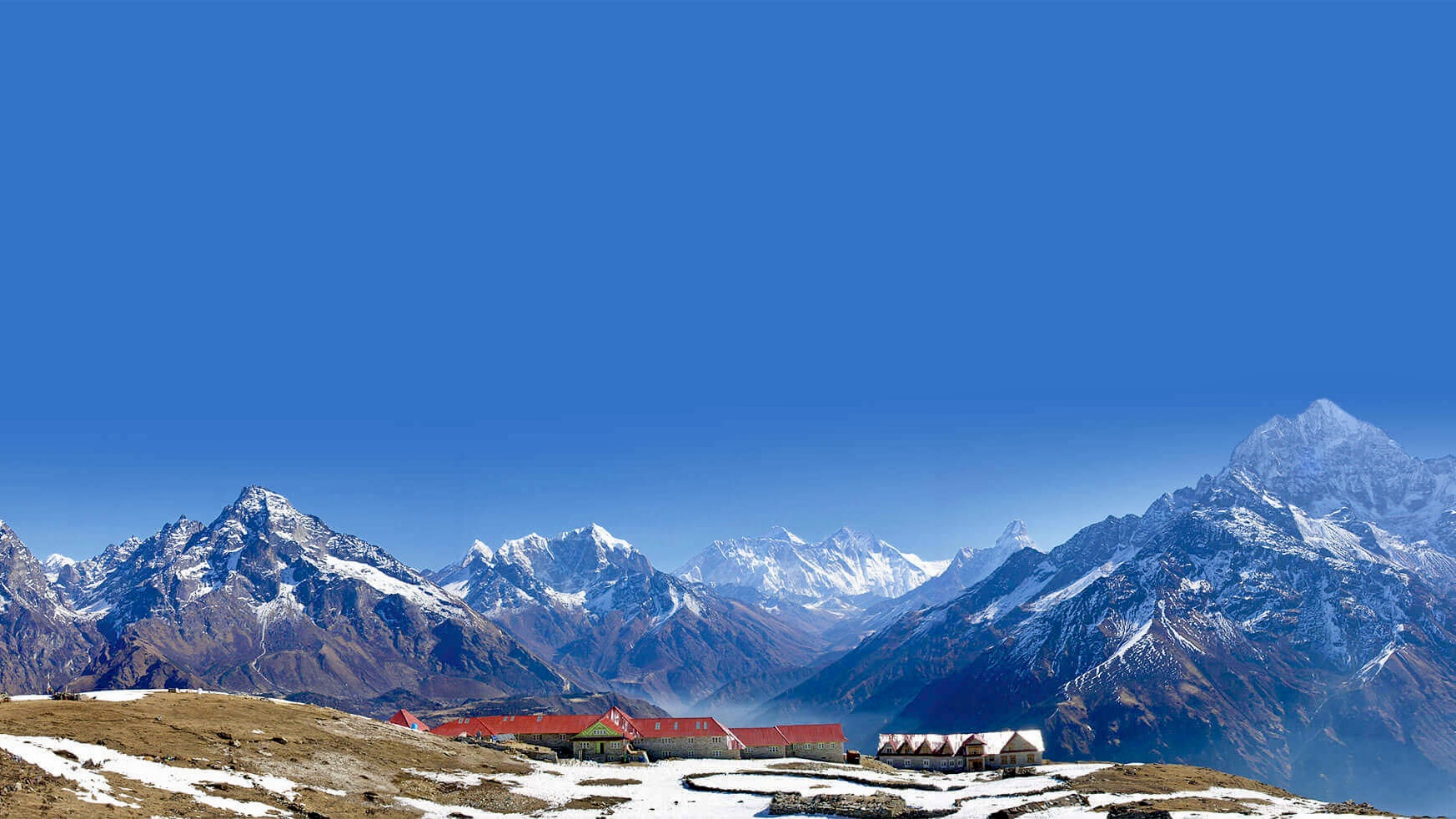 Khumbu Lodge
The Khumbu Lodge is a popular lodge located in the Everest region of Nepal, near the village of Namche Bazaar. It is a comfortable and cozy place for trekkers and mountaineers to rest and acclimatize before continuing on their journey to the Everest Base Camp or other high-altitude destinations in the region. The lodge offers basic amenities like comfortable beds, hot showers, and hearty meals to visitors. It is managed by a friendly staff that is always willing to assist guests with their needs. The lodge also has a cozy dining area where guests can enjoy a warm meal and a cup of hot tea while admiring the beautiful views of the surrounding mountains.
Sherpa Village Lodge
The Sherpa Village Lodge is a popular accommodation option in the Everest region of Nepal, located in the village of Namche Bazaar. This lodge is owned and operated by Sherpa people who are renowned for their hospitality and mountaineering skills.
The Sherpa Village lodge provides comfortable and cozy accommodations to trekkers and mountaineers exploring the Khumbu region, including those on their way to Everest Base Camp. The rooms are basic but comfortable, with wooden furnishings, warm blankets, and breathtaking views of the surrounding Himalayan mountains. The lodge also has hot showers and internet access, which are a welcome luxury in the remote mountains. The also serves delicious and wholesome meals, with a menu that includes Nepalese, Tibetan, and Western dishes. The lodge also has a cozy dining area where trekkers can relax, socialize and share their experiences with other travelers.
Mustang (Lower Mustang & Upper Mustang)
Hotel Royal Mustang (Ghami)
The Hotel Royal Mustang is a brand-new landmark, an opulent resort with first-rate amenities and comfortable guest suites. It is a chic establishment with excellent hospitality ratings. The resort is a high-end hotel that has all the newest features to provide luxurious hospitality. A soothing atmosphere is created by the blending of modern, contemporary, and ancient art, providing visitors with a large, pleasant setting. The resort, located amidst the valleys of Mustangs, offers accommodations, dining, and entertainment all under one roof to help you rediscover yourself. You might not want to return to the city and its responsibilities because of the resort's distinctive stone and wood architecture and the tranquil mountain scenery of the Land of Peace.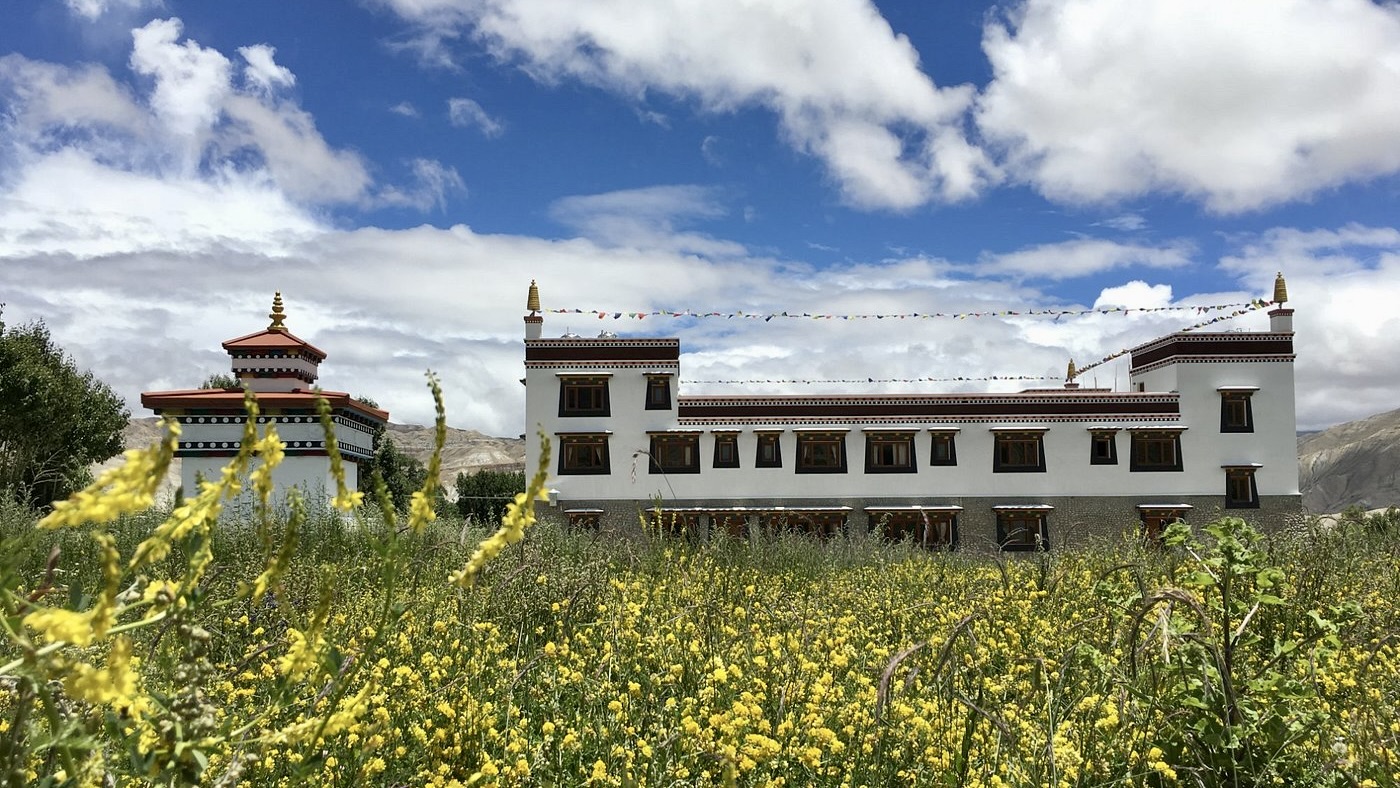 Lo-Manthang guest house
The Mustang is one of the best areas to go on a trek or tour if you want to visit the desert region of Nepal. While exploring the area, you can stay at the Lo-Manthang guest house, which provides each and every visitor with outstanding service. The lodging at this inn is well-equipped, offering clean, comfortable rooms, round-the-clock hot showers, a horse for rent, laundry service, ISTD phone service, as well as camping. The owner and employees of the guest home are both exceedingly gracious and welcoming. They give us scrumptious meals with a regional flair. At such a remote location, you will receive incredible amenities and services.
Moksha Mustang
Moksha Mustang is a luxury lodge and spa located in the Mustang region of Nepal. It is situated in the ancient kingdom of Lo Manthang, a remote and isolated region that was closed off to foreigners until 1992. The lodge offers a luxurious and comfortable experience for travelers looking to explore the unique culture and landscape of the Mustang.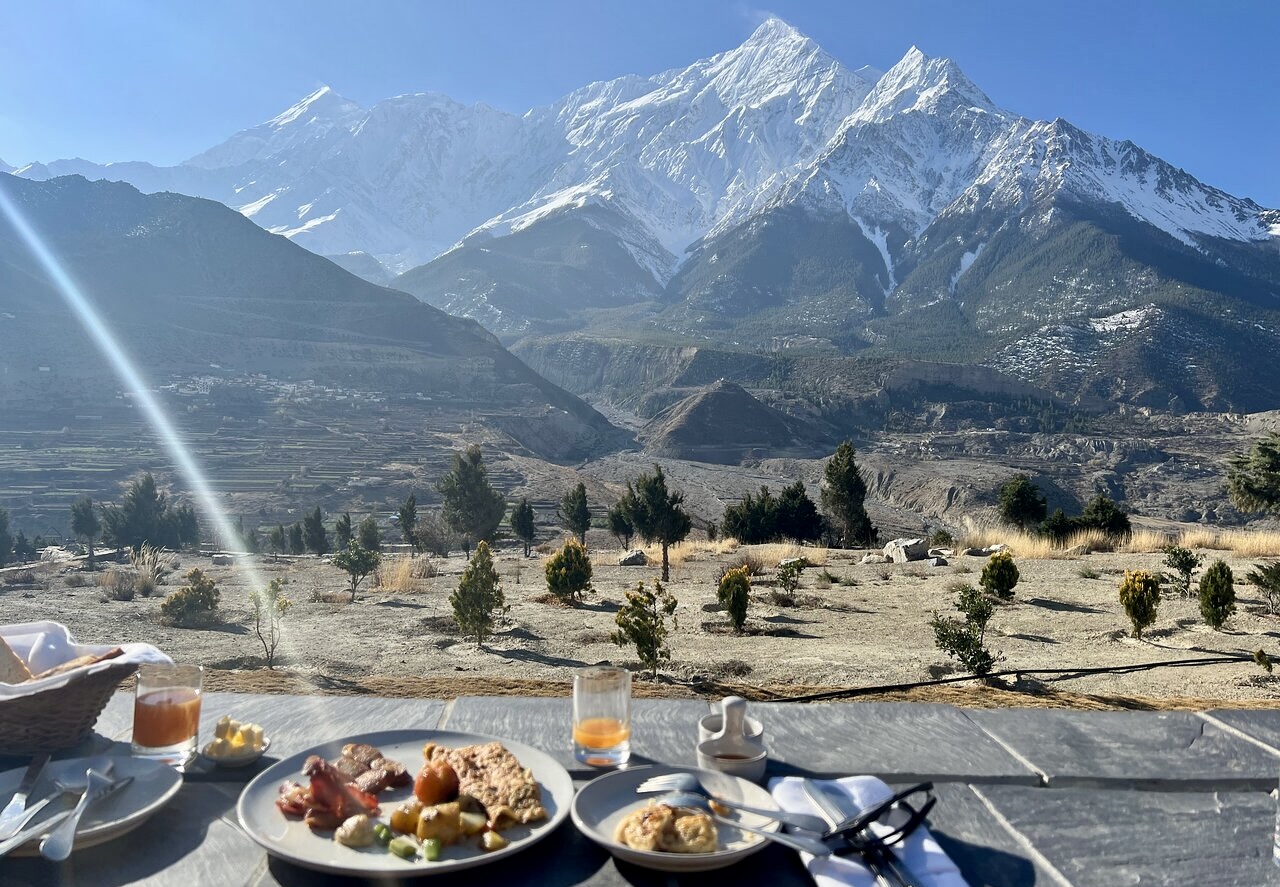 Braga Manang
Braga Manang is a luxury lodge and spa located in the village of Braga, near the town of Manang in the Annapurna region of Nepal. The lodge is situated on a hillside with stunning views of the surrounding mountains, and it offers a comfortable and luxurious retreat for travelers exploring the Annapurna region.
Mala Lodge
Mala Lodge, which is located near the village of Chele, is a fantastic place for tourists looking to explore the unique culture and breathtaking landscapes of the Mustang region. Its combination of traditional architecture, modern amenities, and warm hospitality makes it an ideal base for exploring this fascinating part of Nepal. This lodge offers comfortable rooms with modern amenities, hot showers, and a restaurant serving Nepalese and continental cuisine. It also has a garden and a terrace with views of the surrounding mountains.
Note: In addition to all of this, Nepal offers a wide range of alternative lodging options, all of which provide outstanding hospitality and customer service.
By choosing to stay at a luxury lodge in Nepal, guests can enjoy a truly indulgent travel experience while also supporting local communities and preserving the natural beauty of this remarkable country.