Kathmandu Airport Helipad(1,340 Meters)
At the airport can expect a check-up and queue. Our staff will ask for passport copies, as well as weighing the body weight which is most important for Everest Landing Helicopter Tours.
After getting the boarding pass & security check and then entering the main waiting hall, need to wait for some time.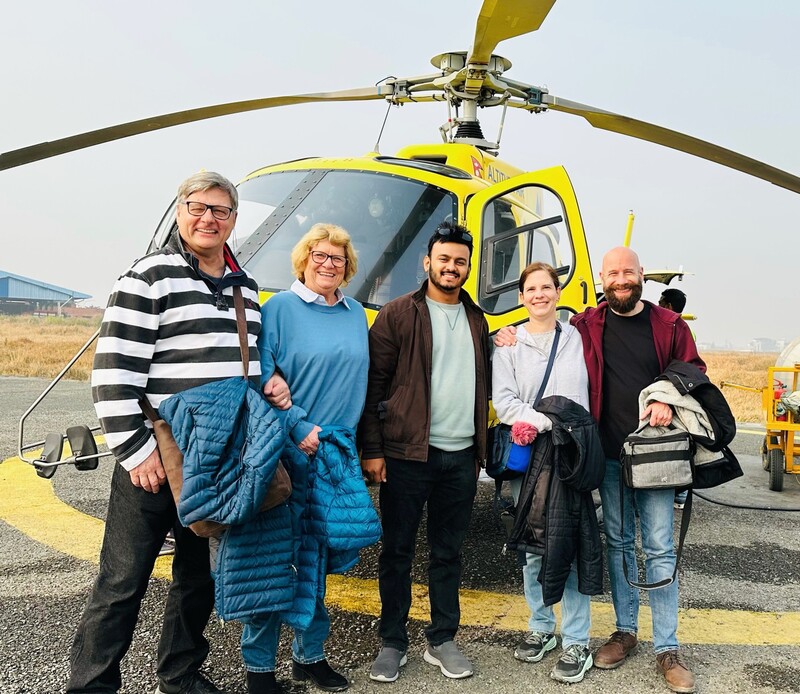 As the airlines announce the time for the flight and then proceed towards the helipad. At the Helipad the captain will provide a safety briefing of the Helicopter flight.
Learn to handle the doors, and how to get in and out of the helicopter. Always use the front part of the helicopter for exiting and entering but Never go towards the tail of the chopper. When stopping at high altitude the captain does not turn off the engines, the seat arrangements keep changing taking turns to catch the best views. If you need oxygen ask our captain for emergency use.
Lukla Airport - Helipad (2,846 meters) - 10/10 Minutes
The Lukla Airport Helipad (Tenzing Hillary Airport), which is the first place for landing in the Everest region Helicopter Tour, is located at an elevation of 2,846 meters above sea level. In 2008, the airport was renamed Tenzing Hillary Airport/Helipad in honor of Sir Edmund Hilary and Tenzin Norgay Sherpa, the first climbers to reach the peak of Mount Everest. It will take 30 to 35 minutes to travel by helicopter from Kathmandu to this location, where we will spend 10 to 15 minutes filling the helicopter with fuel.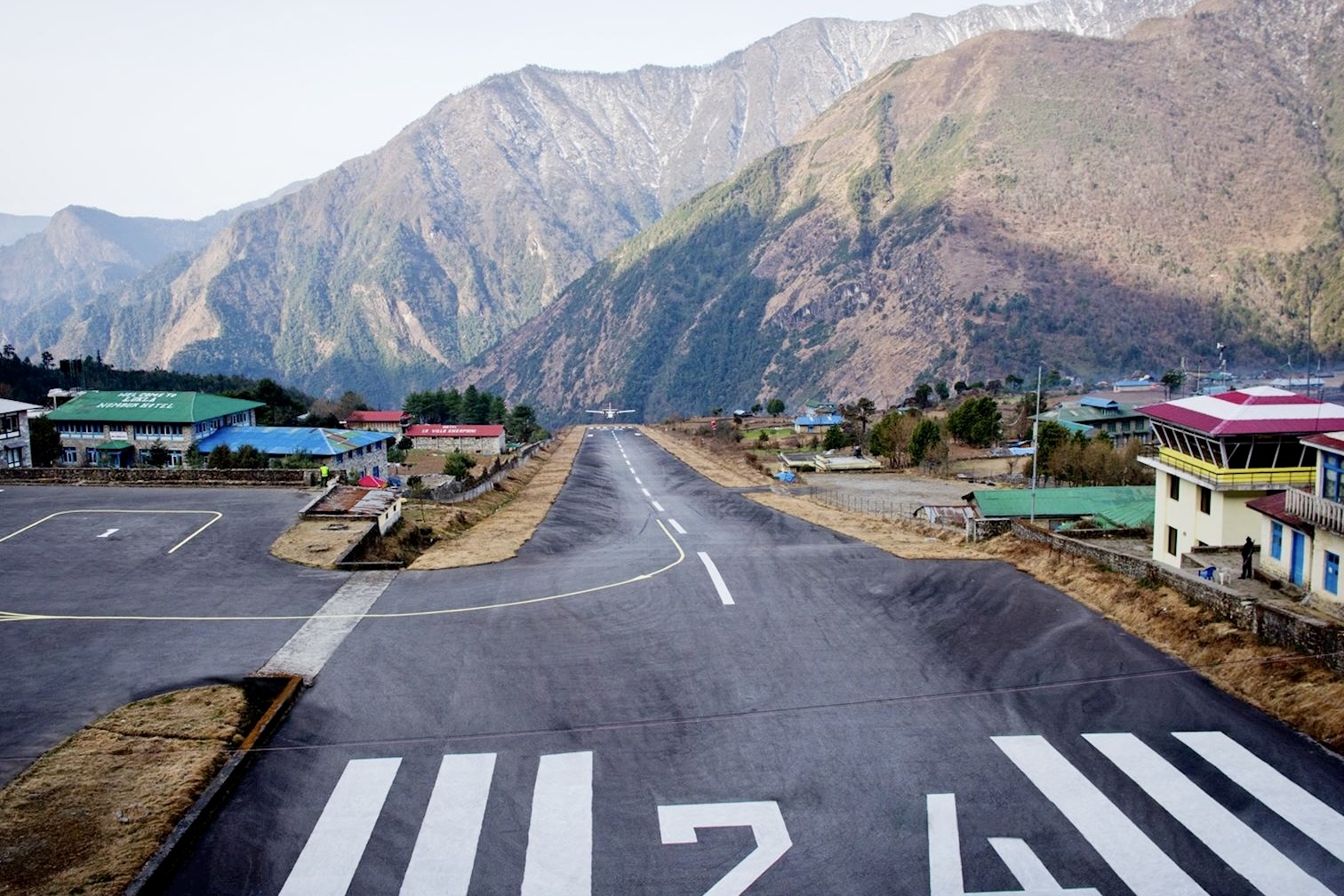 Landing at Pheriche (4,371 meters) - 30 Minutes
The Everest Region Helicopter Tour also has another landing spot at Pheriche, which is 4,371 meters above sea level. In order to take advantage of the breathtaking views of the Himalayan range, glaciers, and lowlands that may be viewed during the helicopter journey from Pheriche to Everest base camp and Kalapatther, we will now divide into two groups and fly to Kalapatther alternately. From Pheriche, views of the Himalayas can be breathtaking, including the summits of Mt. Everest, Cho Oyu, Lhotse, Ama Dablam, and Nuptse.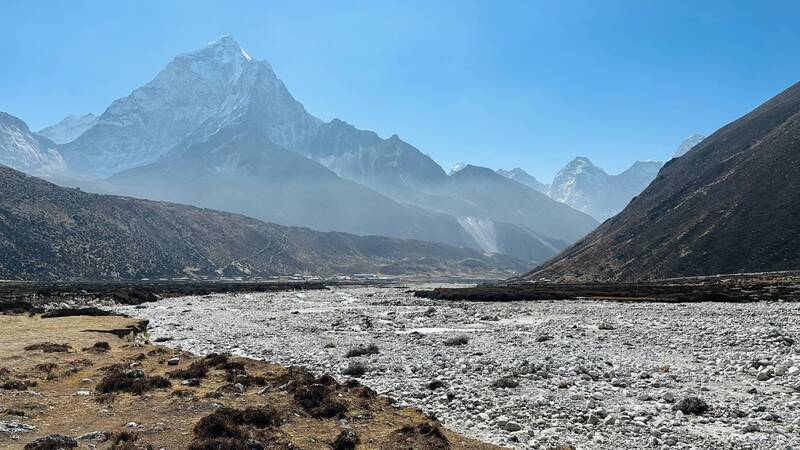 Kalapatthar(5,555 m/18,225 ft) - 10 Minutes
Heli tour to Everest base camp is a high-altitude day tour that starts from Kathmandu (1400 meters) to the Everest base camp (5364 meters) and Kalapatthar(5,555 meters). Located in the south of Mt. Pumori. Kalapatthar is one of the incredible landmark stopovers for the magnificent Khumbu region which provides amazing panoramic views of the Himalayas. Kalapatthar is the world's highest mountain view of the mighty Mt. Everest and of course, the world's highest point to hold a Webcam- Mount Everest Webcam capturing the summit of Mount Everest.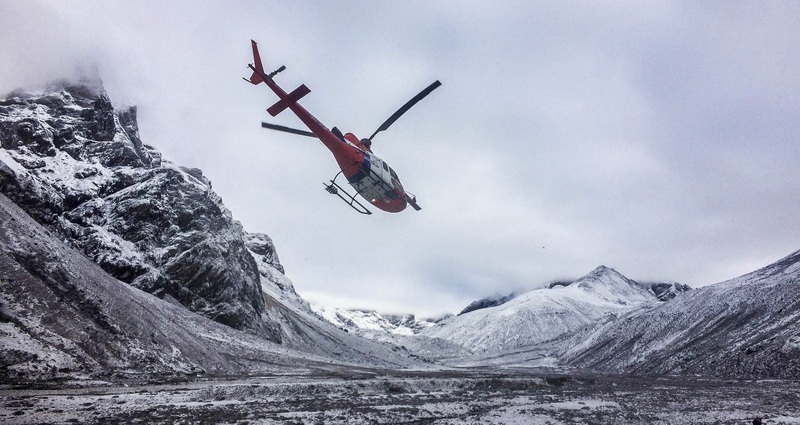 Everest View Hotel (3,962 meters) - 1 Hour for Breakfast
Everest Base Camp Heli tour offers Breakfast at the world's Highest Hotel. After the Helicopter flight to Everest Base Camp and Kalapathher, the helicopter takes you back to the Everest View Hotel. In Everest View Hotel, you will be served a hot and delicious breakfast with a great hour and hospitality from the Sherpa of the Khumbu region. While having breakfast, you will be amazed by the majestic views of giant snow-capped mountains just before your breakfast.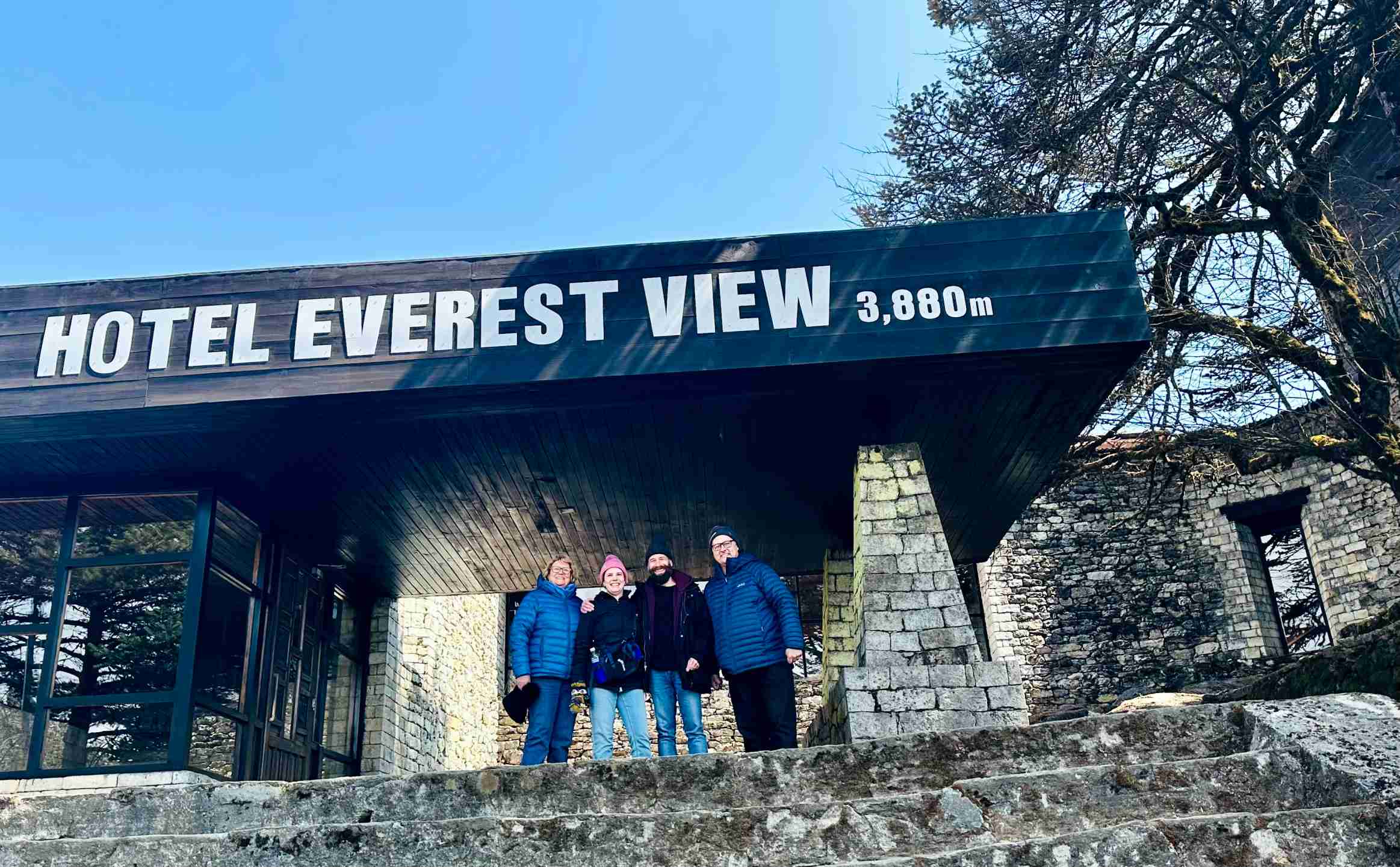 Gokyo Lakes (4,700–5,000 meters) and Gokyo Ri (5,357 meters) - 10 Minutes
Kathmandu to Gokyo Lake helicopter tour provides a breathtaking view of snow-capped mountains and surrounding peaks, allowing you to experience the serenity and freedom of the Himalayas. Gokyo Lakes are oligotrophic lakes located at an altitude of 4,700–5,000m above sea level in Nepal's Sagarmatha National Park. These lakes are the world's highest freshwater lake system. The sparkling, pristine blue and green waters of the Gokyo Lakes are a memorable sight. Most visitors hike to Gokyo Lake from Namche Bazaar.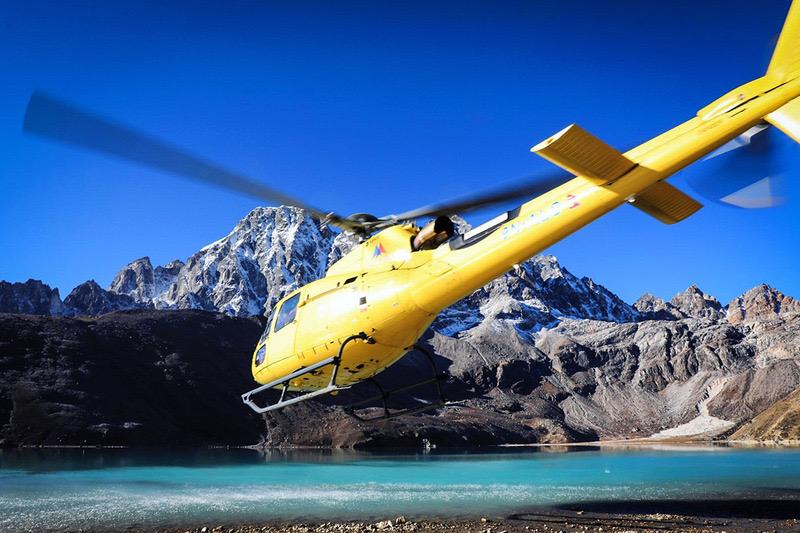 Heli tour to Gokyo Lake and Gokyo Ri is a high-altitude day tour that starts from Kathmandu (1400 meters) to the Gokyo Lakes (4,700–5,000 meters) and Gokyo Ri (5,357 meters). Gokyo Ri standing at an elevation of 5,357 meters gives rise to a calm, peaceful, and silent lake Gokyo. The base to witness beautiful Gokyo Ri with its specialty in itself Gokyo Lake is a perfect destination to wander and explore the electrifying nature of the large mountains.
Important Articles regarding Everest Landing Helicopter Tour
We Offer the Following Helicopter Tour Services in Everest Region
1. Everest Base Camp Landing Helicopter Tour - 5 Hours, Starting at USD 800 BOOK NOW
2. Lukla to Everest base camp & flight back to Kathmandu
3. Hotel Everest View to Everest base camp Heli back to Kathmandu
4. Namche Bazaar to Everest Base Camp Heli ride Back to Kathmandu
5. Gokyo and Everest Base Camp Landing Helicopter Tour - 6 Hours, starting at USD 1200 BOOK NOW
Cost of Everest Helicopter Tour
Everest Helicopter tour cost varies with locations, number of pax and duration.
| | | | | | |
| --- | --- | --- | --- | --- | --- |
| Helicopter Tours in Everest Region | Duration | Persons | Route | Private Prices | Sharing Basis |
| | 4-5 hrs. | 1-3 pax | Kathmandu-Lukla-EBC-Kalapathher-Lukla-Kathmandu | $3600 | $ 900 - $ 1100 Per Person |
| | 4-5 hrs. | 5 pax | Kathmandu-Lukla-EBC-Kalapathher-Lukla-Kathmandu | $4000 | $ 800 - $1100 Per Person |
| Gokyo Helicopter Tour | 4-5 hrs. | 1-4 pax | Kathmandu-Lukla-Gokyo-Lukla-Kathmandu | $4000 | $ 800 - $1100 Per Person |
| | 5-6 hrs. | 1-4 pax | Kathmandu-Lukla-EBC-Kalapathher-Gokyo-Lukla-Kathmandu | $4700 | $ 1100 - $ 1400 Per Person |
Everest Heli Tour and Gokyo - Everest Base Camp Heli Tour are popular helicopter tours in the Everest Region.
If you need any further information, please contact us, Email: [email protected], Phone: +977- 985 100 5129 (WhatsApp)