Since Nepal is a physically demanding and geographically diverse country, air travel is a lot easier means of travel. Anyone flying through the air can enjoy breathtaking top-angle views of Nepal's exquisite beauty and Himalayan splendor. Air travel in Nepal is one of the most remarkable due to the stunning surroundings, including the grasslands, hills, lower plain valley, and the skyline dominating the Himalayas, all in one flight.
The best approach to evaluate and locate the hidden jewels and treasures scattered throughout Nepal is via a helicopter tour. Many visitors to Nepal prefer helicopter excursions since they are convenient, uncommon, offer the best experience of a lifetime, and take little time.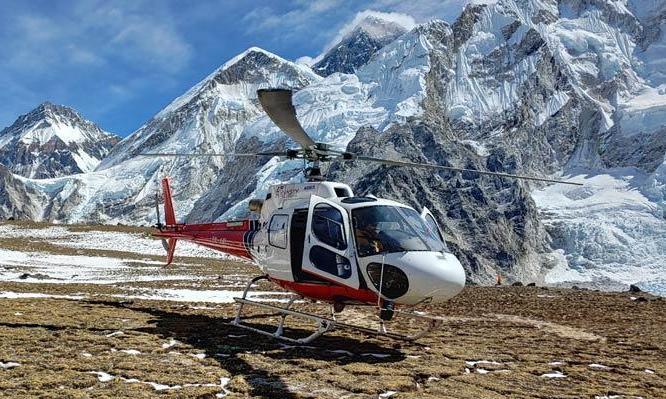 A helicopter tour is an exceptional way of admiring the Himalayas and the stunning chameleonic color of the astounding landscapes and the low plain land of Terai. Helicopter Tour in Nepal is not just only a natural exploration but it is also an exploration of the cultural blessing of Nepal. Helicopter tours in Nepal also provide the best experience of the visit to some religious places like Muktinath, Mansarovar, Mt. Kailash, Lumbini, Gosaikunda Damodhar Kunda, etc. these are some spiritual-religious places and the center of people's values and faith. Every year, lots of tourists complete copper tours to those holy and sacred shrine places to make their lifetime dream.
What is the Helicopter Tour?
Helicopter tour is one of the popular worldwide tour styles. In the Helicopter tour, tourists are taken from one point through the scenic views and the exceptional experience of the top angle views of the land and land in incredible mind-blowing places. After a while of flight, the helicopter will land at the most popular destination that the tourists desire to visit. After landing at the point, the tourists explore the surrounding areas and enjoy the beautiful nature and culture as well. After spending a few moments there again the helicopter takes the tourist back to Kathmandu.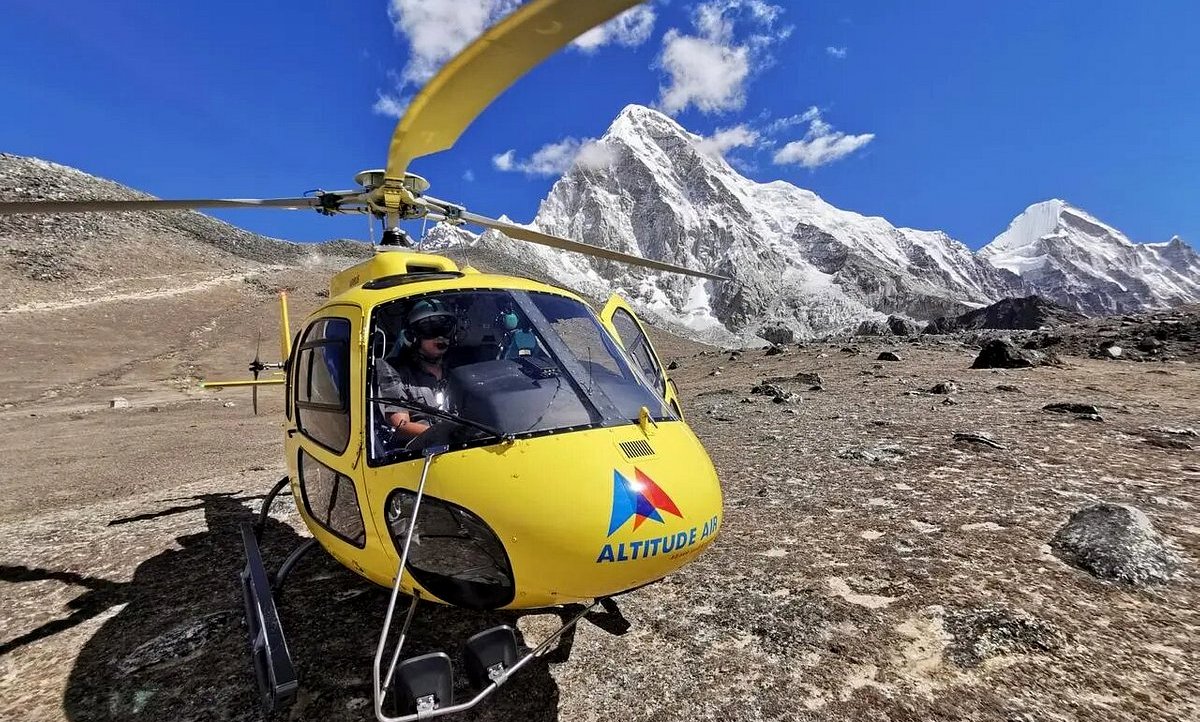 Highlights of Helicopter Tour in Nepal
Helicopter tours are one of most rewarding and quickest trips anyone can do. The mesmerizing views of beautiful stuff and the stunning experience of exploring those from a top angle is the best thing any tourist gets on the Heli tour. The major attraction and main highlights of the Helicopter Tour are as bellows:
Shortest and quickest trip and much better for those who do have not many days to make treks, an overland tour
Beautiful views of colorful landscapes; mind-blowing flight offering stunning scenes of green hills and vegetation, grasslands, blooming lush forest, cultivated farmland, terrains, and terraced field, rivers spearing the jungles, beautiful waterfalls, villages and settlements, snow peaks and mountains, etc. making an incredible and astounding glimpses
Wonderful mountains panoramas and vistas
A better way to observe the geographically diverse Nepal
Close-up views of the skyline dominating the Himalayas
Easy appearance to the most difficult area, for example, reaching Everest Base Camp or Kalapatther is very difficult as it requires long trekking in the cold environment
No risk of High altitude sickness or AMS as of Everest Trek, Kanchenjunga Trek, and other high elevation trekking, etc.
Best Helicopter tour in Nepal
Because of geographic diversity, Nepal is one most popular destinations for making Helicopter tours. The highlands and the difficulty of the overland tour give lots of potentiality for Helicopter tours and mountain flight tours and it is equally rewarding. Most of the Helicopter tours in Nepal are focused on physically challenging areas or some high altitude areas and prestigious pristine holy or spiritual places. Annapurna Region, Everest Region, Ghosaikunda Region, etc. are some most popular areas for helicopter tours. Here are some most popular and best helicopter tours in Nepal that you can enjoy easily but with lots of rewards:
EBC Helicopter Tour
Annapurna Helicopter tour
Everest Kalapattar Helicopter Tour
Gosaikunda Helicopter Tour
Kailash Mansarovar Helicopter Tour
Langtang Helicopter tour
Muktinath Helicopter Tour
Rara Helicopter tour
Lumbini Religious Helicopter Tour
Mardi Himal Helicopter Tour
Kathmandu Sightseeing tour by Helicopter
Upper Mustang Helicopter Tour, etc.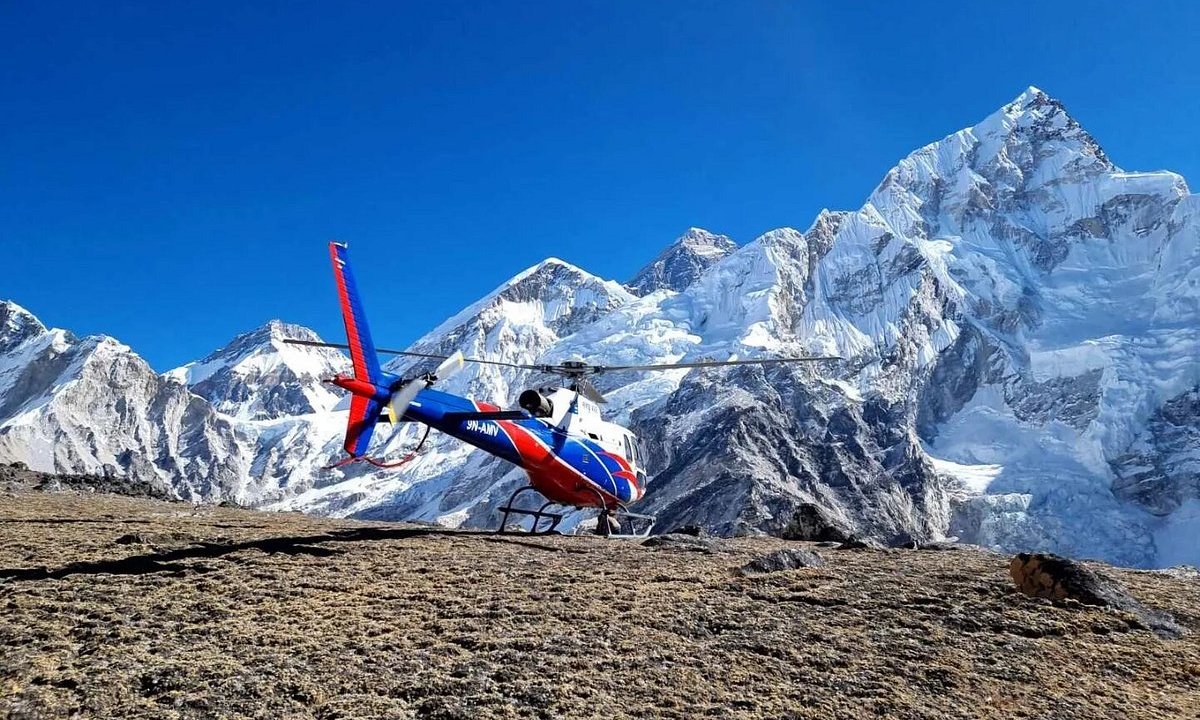 Gathering all things, it is clear that Nepal is one of the most popular destinations with lots of the best things to do. And Helicopter tour is one of the most popular and best things to do while spending your vacation in Nepal. The diversity of culture and nature of Nepal is not a challenge but it is the very potential for tourism and its possibility.
If you are looking for the best helicopter tour in Nepal, please click here.
If you need any further information, please contact us, Email: [email protected], Phone: +977- 985 100 5129 (WhatsApp)