The Everest Helicopter Tour takes you to see Mount Everest, which rises to a height of 88.48.86 meters above sea level and is the tallest mountain in the world.
Difficulty and Grades for Everest Helicopter Tour
Everest Helicopter Tour is graded as a gentle and pleasant tour of the Everest region. The probability of getting altitude sickness during the helicopter flight is quite minimal because we only stay for 20 to 30 minutes or 10 to 15 minutes at each landing location. Despite being in the location with the highest altitude. People must travel for many days, often up to seven or eight hours each day, to witness the breathtaking vista of Everest and other magnificent mountain peaks, but helicopter trips make it easy for everyone. You won't need to exert much exertion because the Everest Helicopter Tour makes the trip to Everest far too convenient and comfortable.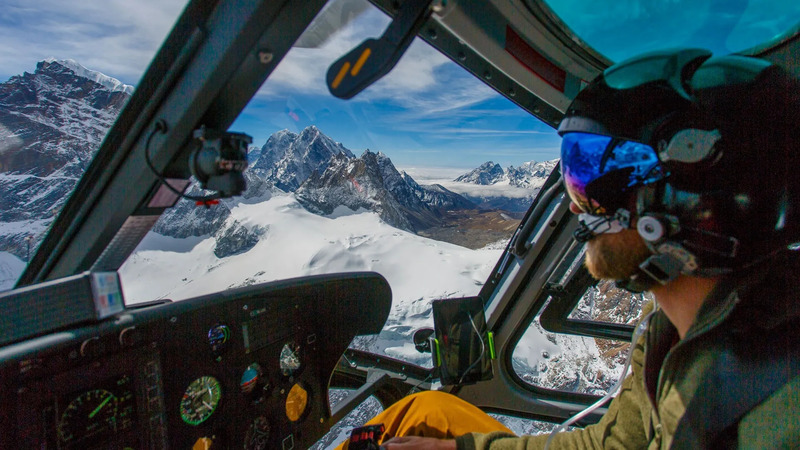 During the helicopter journey, you will land a few times, and each one will have a different atmosphere and altitude.
Kalapatthar Landing (5,555 m/18,225 ft)
Kalapatther is the highest point, where you will be landing during the Everest Helicopter Tour in Khumbu Region. The altitude of Kalapatther is 5,555 meters & 18,225 ft. This is the best viewpoint in the Everest region to witness the magical view of the mountain peaks with a beautiful sunrise and sunset rays such as Mt.Everest, Mt. Lhotse, Mt. Nuptse, changtse, and many others mountain peaks as well.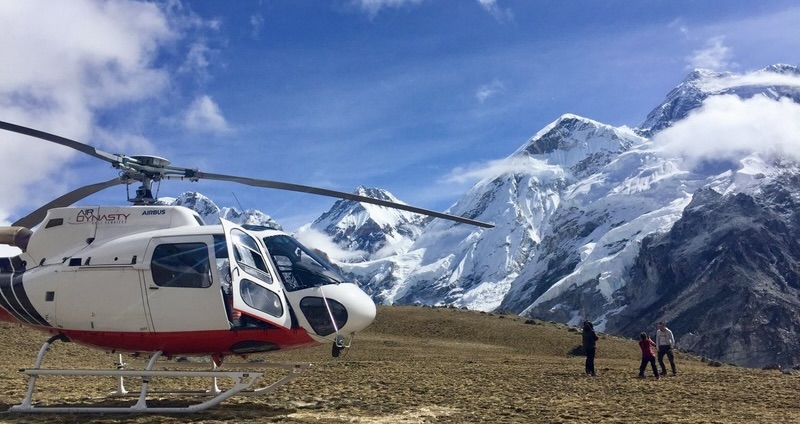 Gokyo Lake Landing (4,700-5,000 meters)
The world's highest freshwater lake system lies in the Everest region, so you can visit it by taking an Everest helicopter tour. The helicopter makes a stop during the journey close to the immaculate, emerald-colored Gokyo lakes, which are located at a height of 4,700–5,000 meters above sea level. The Gokyo Lake's brilliant, immaculate blue and green water is a magnificent sight. From this vantage point, you can see the Gokyo Ri (5,357 meters)and other majestic mountain summits.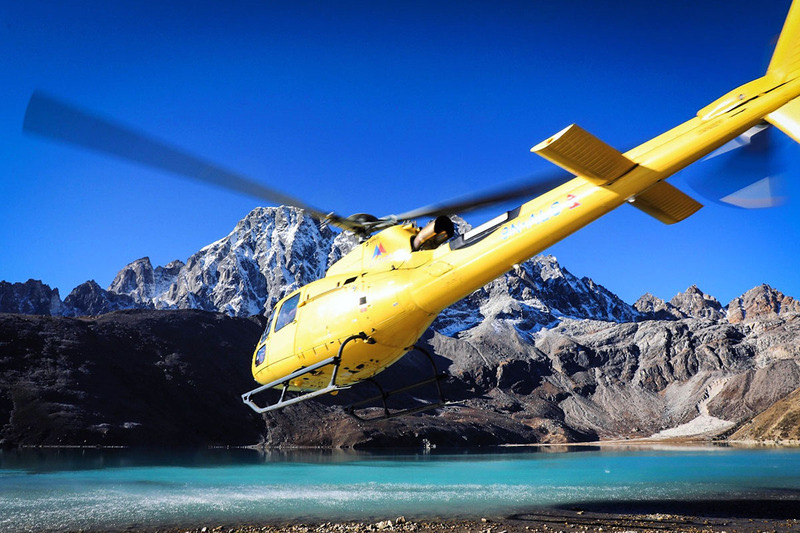 Pheriche Landing (4,371 meters)
A helicopter ride from Pheriche to Everest base camp & to Kalapatther is an amazing experience that provides beautiful views of the Himalayan range, glaciers, and lowlands. It is located at an altitude of 4,371 meters (14, 340 feet) in the Everest Region another place, where the helicopter will land and from here the passenger will divide into two groups to visit the Kalapatther. From Pheriche Views of the Himalayas, including Mt. Everest, Cho Oyu, Lhotse, Ama Dablam, and Nuptse peaks, can be fascinating.
Everest view hotel Landing (3,962 meters)
The Everest View Hotel is one of the probably highest deluxe and luxury hotels in the world at a height of 3,962 meters. A Japanese man built this hotel 50 years ago because he cherished the location's commanding view of Mount Everest.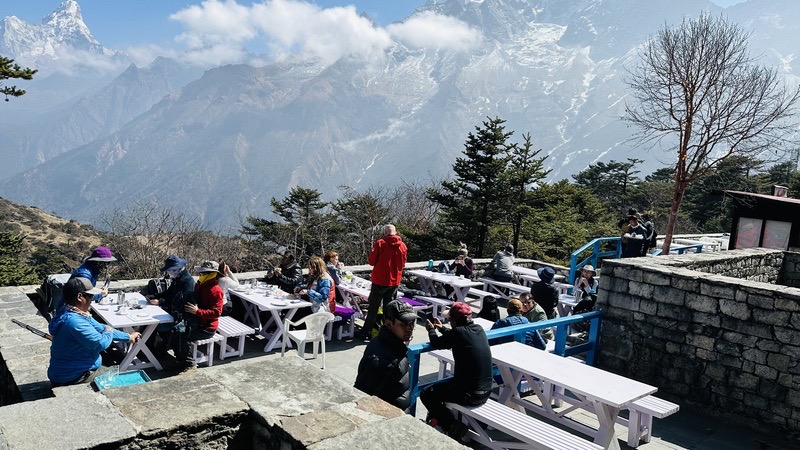 For breakfast, the helicopter will fly to Hotel Everest View (3,962 meters), where the restaurant and rooms have mountain views. The majority of trekkers and helicopter riders eat breakfast on the terrace, which offers a stunning view of Mount Everest, Ama Dablam, Lhotse, Tawache, and Thamserku. The hotel is a great location for helicopter trips that provide a distinctive perspective of the region's challenging and beautiful surroundings.
Important Articles regarding Everest Landing Helicopter Tour
We Offer the Following Helicopter Tour Services in Everest Region
1. Everest Base Camp Landing Helicopter Tour - 5 Hours, Starting at USD 800 BOOK NOW
2. Lukla to Everest base camp & flight back to Kathmandu
3. Hotel Everest View to Everest base camp Heli back to Kathmandu
4. Namche Bazaar to Everest Base Camp Heli ride Back to Kathmandu
5. Gokyo and Everest Base Camp Landing Helicopter Tour - 6 Hours, starting at USD 1200 BOOK NOW
Cost of Everest Helicopter Tour
Everest Helicopter tour cost varies with locations, number of pax and duration.
| | | | | | |
| --- | --- | --- | --- | --- | --- |
| Helicopter Tours in Everest Region | Duration | Persons | Route | Private Prices | Sharing Basis |
| | 4-5 hrs. | 1-3 pax | Kathmandu-Lukla-EBC-Kalapathher-Lukla-Kathmandu | $3600 | $ 900 - $ 1100 Per Person |
| | 4-5 hrs. | 5 pax | Kathmandu-Lukla-EBC-Kalapathher-Lukla-Kathmandu | $4000 | $ 900 - $1100 Per Person |
| Gokyo Helicopter Tour | 4-5 hrs. | 1-4 pax | Kathmandu-Lukla-Gokyo-Lukla-Kathmandu | $4000 | $ 900 - $1100 Per Person |
| | 5-6 hrs. | 1-4 pax | Kathmandu-Lukla-EBC-Kalapathher-Gokyo-Lukla-Kathmandu | $4700 | $ 1200 - $ 1400 Per Person |
Everest Heli Tour and Gokyo - Everest Base Camp Heli Tour are popular helicopter tours in the Everest Region.
If you need any further information, please contact us, Email: [email protected], Phone: +977- 985 100 5129 (WhatsApp)