If you're embarking on a luxury tour in Nepal, you can expect to enjoy a range of delicious and authentic Nepalese foods during your trip.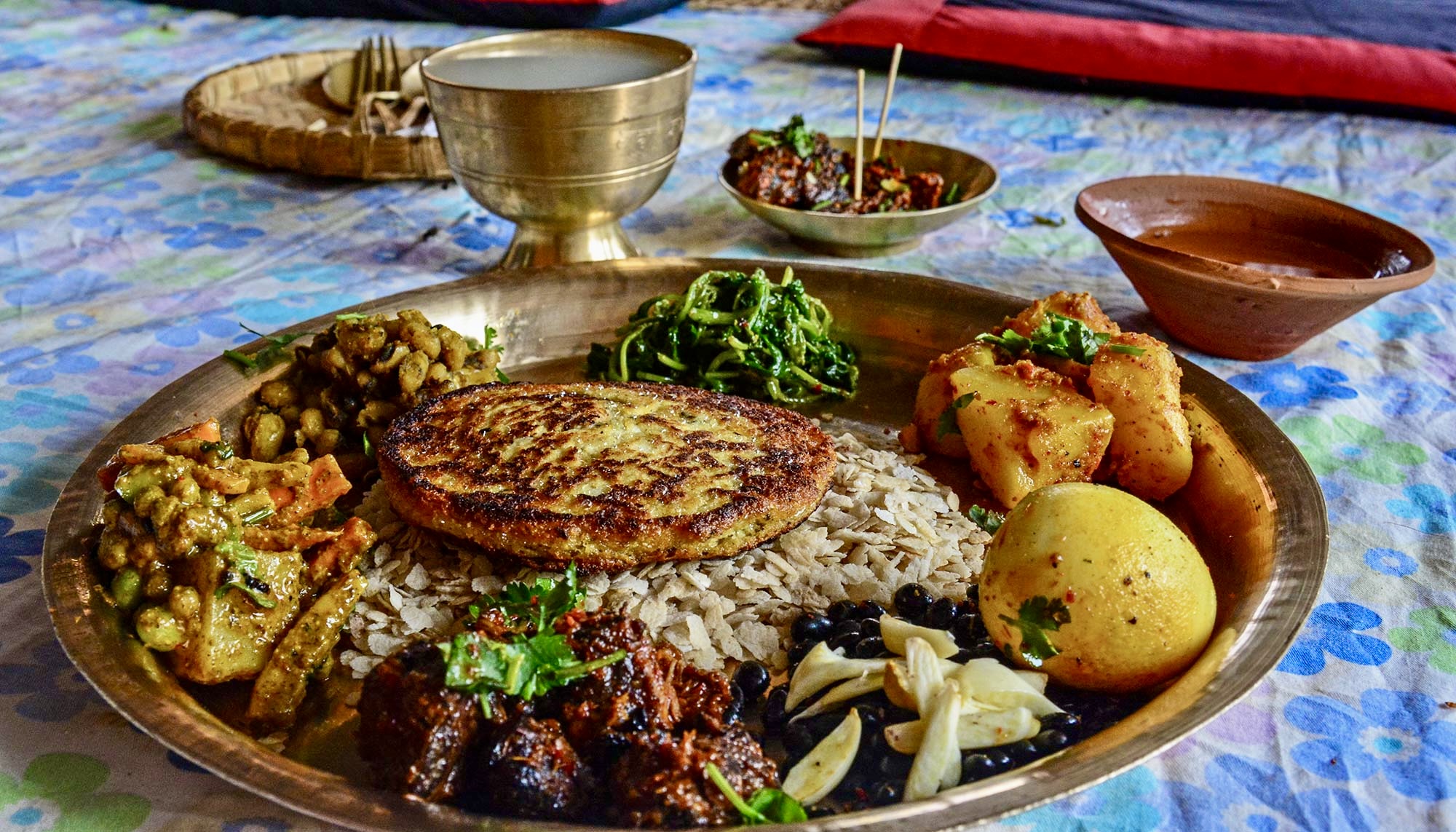 Here are some of the foods you might encounter:
Dal Bhat: This is the staple food of Nepal, consisting of rice and lentil soup (dal), served with a vegetable curry and often accompanied by pickles, chutney, and yogurt.

Momos: These are Nepalese-style dumplings that can be filled with meat, vegetables, or cheese, and are usually steamed or fried.

Thukpa: This is a hearty soup made with noodles, vegetables, and meat or tofu, and is a popular dish in the Himalayan regions of Nepal.

Chana Masala: This is a spicy vegetarian dish made with chickpeas and a range of spices, often served with rice or naan bread.

Newari Cuisine: Newari cuisine is a unique culinary tradition that originates from the Kathmandu Valley. It includes dishes like Choila (spiced meat or fish), Bara (a fried lentil patty), and Chatamari (a rice flour crepe).

Juju Dhau: Also known as "King Curd," Juju Dhau is a creamy and sweet yogurt that is a specialty of the Bhaktapur region.

Lassi: Lassi is a yogurt-based drink that is often flavored with fruit or spices and is a refreshing way to cool down during your tour.
Overall, Nepal offers a rich culinary experience that is sure to satisfy any food lover. From spicy curries to sweet desserts, you'll have plenty of opportunities to sample the delicious flavors of this beautiful country during your luxury tour.
Important Articles regarding Luxury travel in Nepal
Best Selling Luxury Tour and Trekking in Nepal
Luxury Everest View Trek- 8 Days: Starting Price - USD 2399
Kathmandu Tour with the sunrise view from Nagarkot - 5 Days: Starting Price - USD 349
Luxury Nepal Tour with Everest Scenic Flight - 5 Days: Starting Price - USD 1399
Nepal Luxury Tour with Everest flight and birthplace of Buddha - 9 Days: Starting Price - USD 1599
Everest Base Camp Helicopter with Kathmandu and Pokhara Luxury Tour - 6 Days: Starting Price - USD 1899
Everest Helicopter with Luxury Nepal Tour - 5 Days: Starting Price - USD 2199
Luxury Nepal Tour with Everest Scenic flight - 6 Days: Starting Price - USD 1299
Luxury Nepal Tour with Everest Landing Helicopter tour - 9 Days: Starting Price - USD 3599
Everest Heli with Luxury Kathmandu, Pokhara and the birthplace of Buddha - 8 Days: Starting Price - USD 2299
Kathmandu and Chitwan Luxury Tour with Dhulikhel - 7 Days: Starting Price - USD 4499
Annapurna in Luxury - 11 Days: Starting Price - USD 2199
Luxury Everest Base Camp Trek - 15 Days: Starting Price - USD 2999
Luxury Everest Base Camp Heli Trek - 9 Days: Starting Price - USD 2999
Luxury Nepal Tour with Dhampus Sarangkot Trek - 10 Days: Starting Price - USD 1599
Upper Mustang Heli Trek with Luxury Accommodations in Kathmandu and Pokhara - 14 Days: Starting Price - USD 3899
VVIP Everest Base Camp Luxury Trek - 10 Days: Starting Price - USD 5900
Luxury Nepal Tour with optional Chitwan, Pokhara and Lumbini - 5/9 Days: Starting Price - USD 1180