The height of Nepal's 6000-meter peaks ranges from (6000m/6999m) to (19,685ft/22,962ft). There are 297 peaks in Nepal that are 6000 meters or higher and are open for climbing, both climbed and unclimbed peaks. Of the 297 summits, 270 are owned by the Department of Tourism and 27 by the Nepal Mountaineering Association (NMA). It is also possible to add trekking peaks that drop to a height of 5500m (18,044ft) in this category.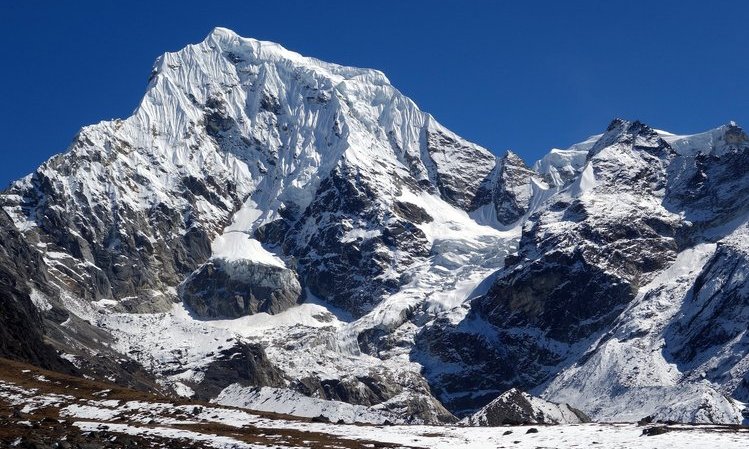 The "Trekking Peaks" of Nepal enable amateur and novice climbers to attempt a high Himalayan mountain without having to make extensive travel arrangements. You experience high-altitude climbing without the time and expense commitments involved in expeditions between 7000m and 8000m.6000m summits provide a launching point and prerequisite for 7000m ascents. Many of the climbs are equally as difficult and thrilling as the 7000- to 8000-meter summits. They are formidable challenges that call for substantial training and planning and shouldn't be taken lightly.
Table of Contents
Chulu Far East Peak (6059m/19,878ft)
Bokta Peak (6114m/20,060ft)
Naya Kanga Peak(5844m/19,160ft)
Tharpu Chuli Peak(Tent Peak) (5663m/18,579ft)
Yala Peak(5732m/18,790ft)
Mardi Himal Peak (5587m/18,330ft)
Chhukung Ri Peak (5550m/18208ft)
Preparation for a 6000m Peak Climbing
As stated earlier, not all peaks over 6000 meters are created equal. More technical than others are some of them. Some require difficult glacier crossings, snow/ice climbing, or even brief sections of technical rock climbing. Two easy 6000-meter summits will have you ready for a simple 7000-meter peak, according to a traditional rule of progression in the Himalayas.
Step 1: Consider the technical challenges your climb will present. Given the abundance of information available online in the modern age, you shouldn't be surprised by what you discover when you arrive at your location. You'll succeed if you complete your assignment.
Step 2: Prepare for the climb by ascending at least 10–15 times to the height of your intended base camp. However, the majority of climbers from the United States and Europe do not have the luxury of frequently ascending higher than 5000m. Fortunately, the base camp will be located between 4000 m and 5000 m for the majority of summits over 6000 m.
Step 3: As your training cycle advances, build up to more exercises that are specialized to your chosen sport from somewhat generic training at the beginning of your routine.
Step 4: You should have completed at least 120 hours of aerobic base training in Zone 1 for slightly less difficult 6000m peaks. (Between 55% and 75% of your maximal heart rate.) This training load/frequency needs to be dispersed over at least 25–30 days. The level of physical fitness you have when you start training will have a significant impact on these training periods.
Step 5: Some of the skills you'll need include climbing self-rescue, training in crevasse rescue, general mountaineering techniques (using an ice axe, crampons, and crossing a glacier), and wilderness medical training.
Chulu Far East Peak (6584m/21,601ft)
The Chulu East Peak Ascending (6584m/21,601ft), which is just north of the Annapurna massif, is located at 28°44'09"N and 84°02'10"E. Because of its stunning surroundings, difficult features, breathtaking 900-meter ascending route, and easy access to the top, this target climbing is unmatched in Nepal. Chulu East 6429, Chulu Far East 6029, and Chulu West 6584 are all members of the Chulurange. From Peak Chulu East, one may see the Annapurnas (I, II, III, and IV), Gangapurna, Glacier Dome, Dhaulagiri, Tilicho Peak, and Mt. Manaslu. The Northeast Ridge was initially used by a German team to climb Chulu Far East in 1955.In 1979, Dick Isherwood and John Noble made the first ascent of Chulu East using the Northeast Ridge. Chulu East Peak is a part of Manang Himal, which also consists of Chulu West Peak.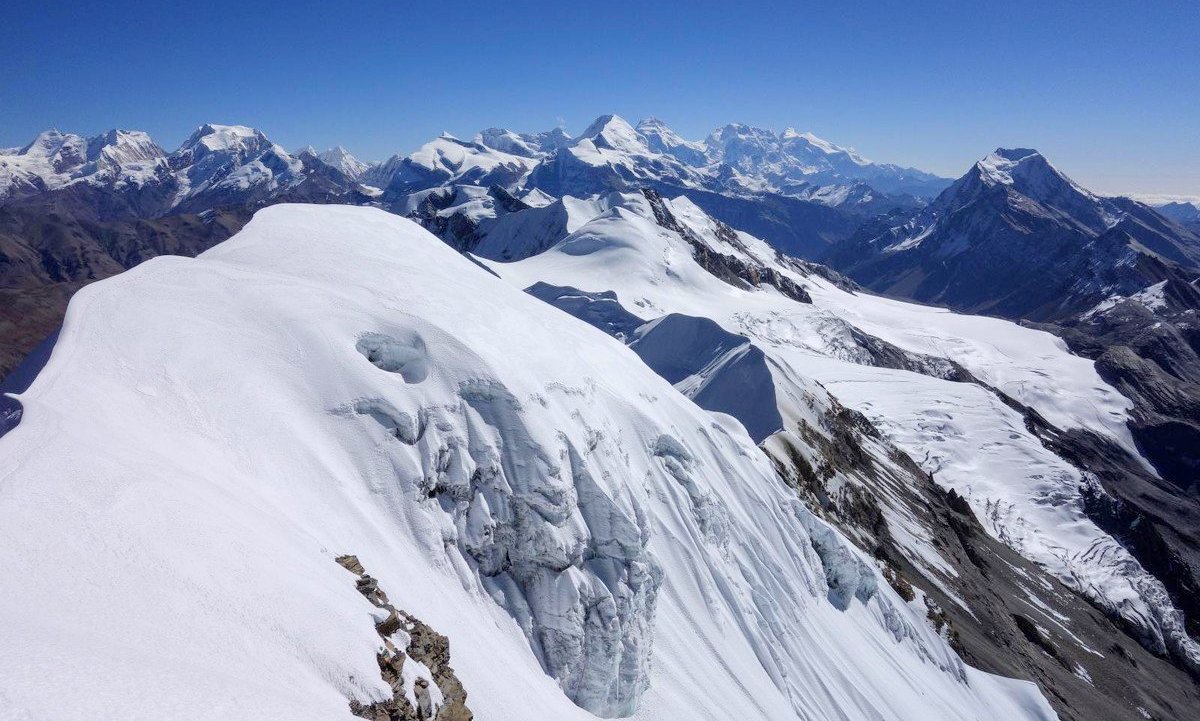 You must go overland in private transportation to reach Chulu East Peak's base camp. After reaching the town of Besisahar, your journey begins, taking you first through the Marsyangdi Valley. Amazing diversity may be found in the plants and animals along the route to Chulu East Peak Climbing. The journey through the Annapurna Circuit from Annapurna Base Camp to Chulu Peak Base Camp will take roughly a week.
Evolution - (6584m/21,601ft)
Location - Annapurna Region
Grade - Peu difficile + (PD+)
Best Time - Autumn (October-November) and Spring (April-May)
Coordinates - 28°44'09'' N / 84°02'10''E
Himalayan View - Annapurna Massif, Gangapurna and Macchapucchre (Fishtail)
Bokta Peak (6114m/20,060ft)
One of the most distant areas of the Kanchenjunga South base camp is home to Bokta Peak (6114m/20,060ft). Before trying Kanchenjunga from its South East Ridge in the spring of 1991, a Slovenian expedition team climbed Boktoh hiking peak as an acclimatization mountain. One of Nepal's most stunning trekking routes leads to the Kanchenjunga South Base Camp. Climbers looking for a challenging 6000-meter mountain should aim for it. It is advised that climbers have prior 6000m climbing experience, have crossed many high passes, and have experience on British hills. The permit system has only been in place under the Nepal Mountaineering Association's license since 2002, and the mountain is rarely scaled (NMA). Licenses for the peak have already been approved by the Department of Tourism.While climbing excursions have been taking place in the region since the turn of the century, this trail was first made available to trekkers in 1988.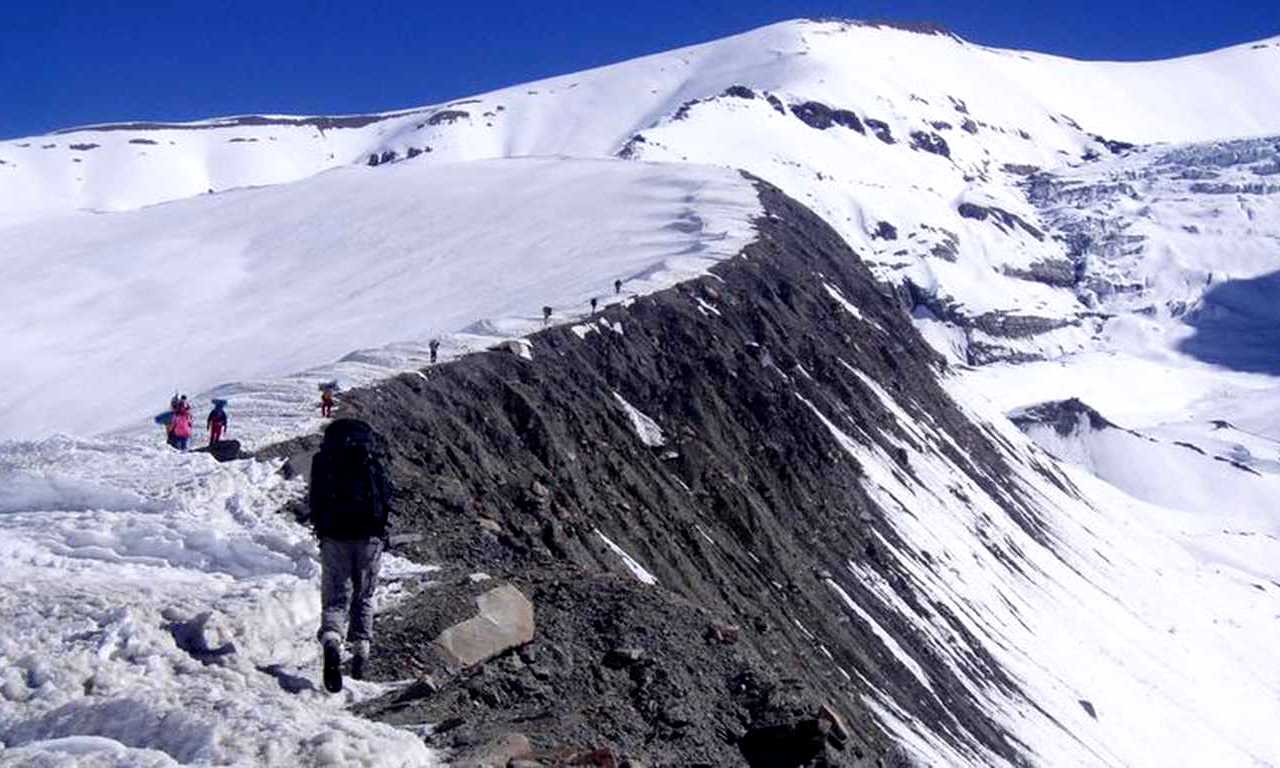 Bokta, also known as Boktoh by locals, is a moderate mountain that requires route-finding skills due to its deceptively convoluted structure. The Boktoh trekking track shares the approach to Mt. Kanchenjunga, which is in its natural state. By continuing up the caravan path past Bokta summit, you can get to the South Base Camp of Kanchenjunga. The Kanchenjunga region is distinctive in that it is more remote and receives fewer trekkers. The Himalayas, including Mt. Kanchenjunga (8586m/28,169ft), Kumbhakarna (7710m/25,595ft), and Dhormo Peak (6850m/22,473ft), are visible from the peak of Bokta.
Evolution - (6114m/20,060ft)
Location - Kanchenjunga Region
Grade - Peu difficile + (PD+)
Best Time - Autumn (October-November) and Spring (April-May)
Coordinates - 27°37'15'' N / 88°00'25''E
Himalayan View - Kanchenjunga Massif
Please, click here for the 6000 meters peak climbing & expeditions in Nepal.
Naya Kanga Peak(5844m/19,160ft)
Naya Kanga Mountain, at 5844 meters (19,160 feet), is a fascinating and appropriate Himalayan peak for a first ascent in Nepal. The peak is an excellent choice for a guided novice climb because it is reachable to a wide range of climbers, appealing visually, and straightforward yet challenging. In Nepal's Langtang area is where you'll find the Naya Kanga trekking peak. The peak's coordinates are 28°10'06"N and 85°32'56"E. The bulk of climbers takes the Northeast ridge, which is regarded as the common climbing route. The best times to climb Naya Kanga are in the spring (April, and May) and fall (October, and November). This excursion is suitable for hikers with little expertise, limited time for climbing, and a tight budget.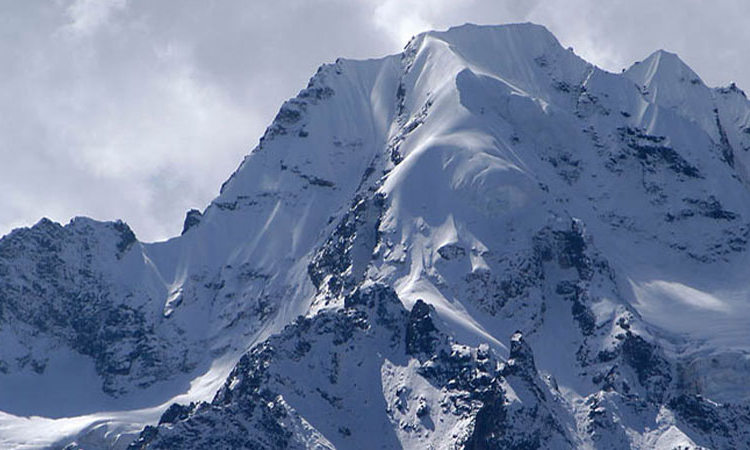 The Langtang valley, which British mountaineers have dubbed "the most beautiful valley in the world," will be available for you to explore during the journey. The second-largest national park in Nepal is Langtang, which has numerous fir, blue pine, and birch trees as well as rich rhododendron orchards. Leopards, musk deer, Himalayan black bears, rhesus and langur monkeys, and the critically endangered red panda are just a few of the numerous species found in the park. The appeal of Naya Kanga Peak is due to its low goal climbing risk, fairly steep terrain, navigable paths, and remarkably straightforward and attractive access through the Langtang Region. If our clients want it, we can include Yala Peak to your Naya Kanga trip. We advise Yala peak as part of our acclimatization strategy because there are no permit fees for it.
The most popular way to ascend Naya Kanga is through the Northeast Ridge (5844m). Kyangjin Gumba (3830 m), Naya Kanga Base Camp (4300 m), and Naya Kanga High Camp (4600 m) are all along this route (4950m). A 2.4-kilometer snow-ice ridge with 900 meters of height gain and a slope that typically varies from 25 to 55 degrees make up the climb from the high camp. The ground will be at a 45-degree angle once you leave the slope and enter the ridge. Summiting Naya Khanga Peak rewards climbers with breathtaking vistas of the mountains in Nepal and Tibet. The peaks that can be seen are Shishapangma (8027m), Lenpo Gang (7083m), Dorje Lakpa (6990m), and Langtang Lirung (7246m).
Evolution - (5844m/19,160ft)
Location - Langtang / Helambu
Grade - Peu difficile (PD)
Best Time - Autumn (October-November) and Spring (April-May)
Coordinates - 28°10'06'' N / 85°33'05''E
Himalayan View - Langtang, Shishapangma, Ganesh Himal
Tharpu Chuli Peak(Tent Peak) (5663m/18,579ft)
In Nepal, the Tharpu Chuli Peak (5663m/18,563ft) is also known as Tent Peak. The entire trip might be finished in 18 days. One of the simpler trekking peaks in the entire Annapurna Mountain Massif is Tharpu Chuli. The ascent requires the use of ice and rock climbing gear in addition to previous climbing knowledge. Try tent peak climbing if you wish to advance from high-pass trekking to amateur mountaineering. You'll be climbing the usual Northwest Ridge, which is the gradient at Peu Difficult (PD). Certain vertical and ridge climbing components make this trip highly interesting and challenging for those making their first try to climb a trekking mountain. The Tharpu Chuli expedition is not as challenging as climbing another trekking peak because of its height and the presence of snow.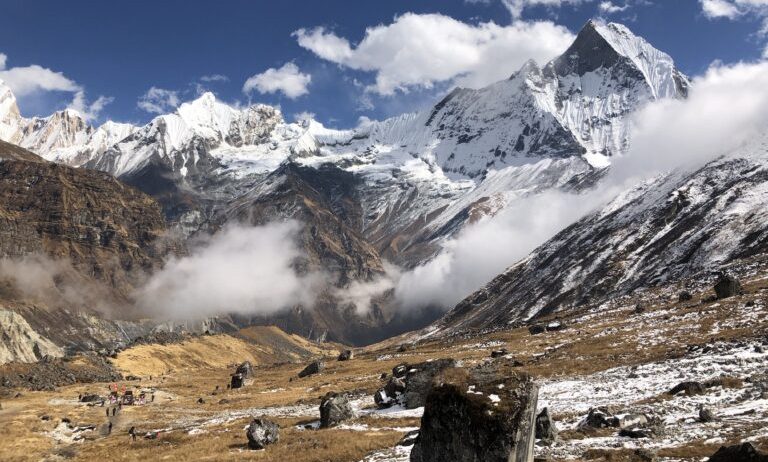 Jimmy Roberts scaled a tent peak in 1956 by ascending the Southeast Ridge. On Tharpu Chuli, the Southwest Ridge often referred to as the West Face Ridge, is accessible and has grown in popularity as a climbing route. The spring (April, May) and fall are the ideal seasons to climb Tent Peak (September, October, and November). With an assessed Alpine climbing grade of PD+, Tent Peak's climbing is rather simple. The majority of the ascent is made up of exposed ridge climbing on 35 to 40-degree snow slopes. To make sure that no areas are overlooked, fixed lines are employed.
Tent Peak's peak offers stunning 360-degree views of the magnificent snow-capped mountains in the Annapurna region. The breathtaking beauty that can be viewed while trekking is another reason to schedule a trip to this magnificent peak. One of the most well-known trekking routes in the Annapurna region combines both natural and cultural splendor: the vast Modi River belt. The Himalayan flora, luxuriant forests, vibrant flowers, culturally diverse locals, and snow-capped trekking peaks will fascinate you. Once you have traveled 45 kilometers along the Seti River from Pokhara to Nayapul, you will start your walk up to Poonhill. From Poonhill, one can see the Dhaulagiri and Annapurna mountain ranges clearly.
Evolution - (5663m/18,579ft)
Location - Annapurna Region
Grade - Peu difficile (PD)
Best Time - Autumn (October-November) and Spring (April-May)
Coordinates - 28°35'05'' N / 83°55'50''E
Himalayan View - Annapurna Massif, Gandarva Chuli, and Macchapucchre (Fishtail)
Also Read: Best Time to Visit Nepal.
Yala Peak(5732m/18,790ft)
With a height of (5732m/18,790ft), Yala Peak is one of the most straightforward and straightforward peaks to climb. It is situated in the Langtang region. If you're new to the area, Yala Peak is an excellent first Himalayan peak to climb. Yala Peak is a great place to practice using an ice axe, and crampons, climbing fixed ropes, and doing crevasse rescue. Yala Peak is a straightforward, non-technical climb. The mountain is situated at 28°14'24"N and 85°37'32"E close to Ruswa. April, May, September, October, and November are the best months for climbing Yala Peak in the spring and fall. However, it is possible to reach this top during the winter. It is well known that the Yala summit offers a fantastic view of Shishapangma (8013m). Shishapangma is the smallest and tallest of Tibet's 14 8,000-meter summits, as well as its holiest mountain.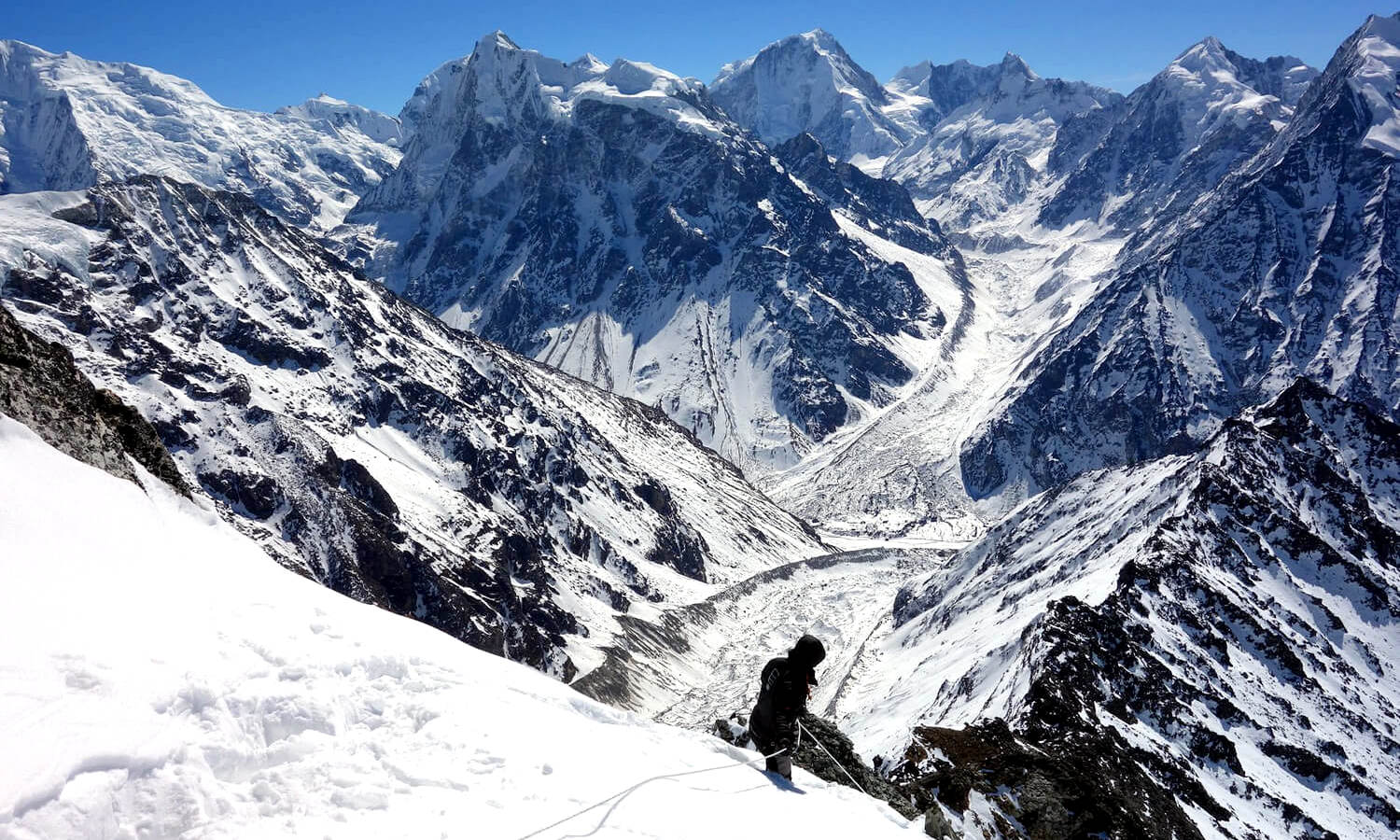 Yala Peak's approach passes by farms, towns, villages, forests, and rivers. Your journey will take you past stunning rhododendron, pine, and bamboo woods as well as a number of rare flower species. After traversing this breath-taking landscape, you'll enter the confined gorge of the Langtang River and quickly climb to the Kyanjin Gumba (3800m/11,467ft) and Langtang (3500m/11,483ft) alpine grasslands. At this point, the glacier and the meadow merge. Yaks are seen grazing in the foreground, with the snow-capped peaks of the Dorjee Lakpa, Langtang Ri, and many other climbed and unnamed mountains in the backdrop.
On your trip up to Yala Peak, you can stop by the Langtang National Park, which is home to several Tamang tribes. After adjusting to the altitude in Tserko-re and viewing the glacier, you will climb to the Base Camp (4800m/15,748ft) from there. There will be a wide variety of breathtaking peaks visible, such as Langtang Lirung (7246m/23,772ft), Lenpo Gang (7083m/23,238ft), and Dorje Lakpa (6990m/22,933ft). For hikers and climbers who want to reach the top of a Himalayan peak but are short on time or are novices to mountaineering, ascending Yala peak is suggested.
Evolution - (5732m/18,790ft)
Location - Langtang Region
Grade - Easy Climb (PD)
Best Time - Autumn (October-November) and Spring (April-May)
Coordinates - 28°14'0924'' N / 85°37'33''E
Himalayan View - Langtang-re, Luri Himal, Langtang Lirung and Shishapangma
Mardi Himal Peak (5587m/18,330ft)
Mardi Himal, which rises to a height of 5587m (18,330ft) in the Annapurna region, is situated next to Fishtail, or Mt. Machhapuchhre, a revered mountain. The crow flies only around fifteen miles north of Pokhara. It is the most southern mountain in the Annapurna range. It is the lowest and, possibly, the least climbed and traveled to trekking peak in Nepal. An undiscovered jewel in the Annapurna region is the Mardi Himal Trek, which was recently inaugurated. In order to reach a col at 5200 meters, the main route climbs the East Face via icy terrain.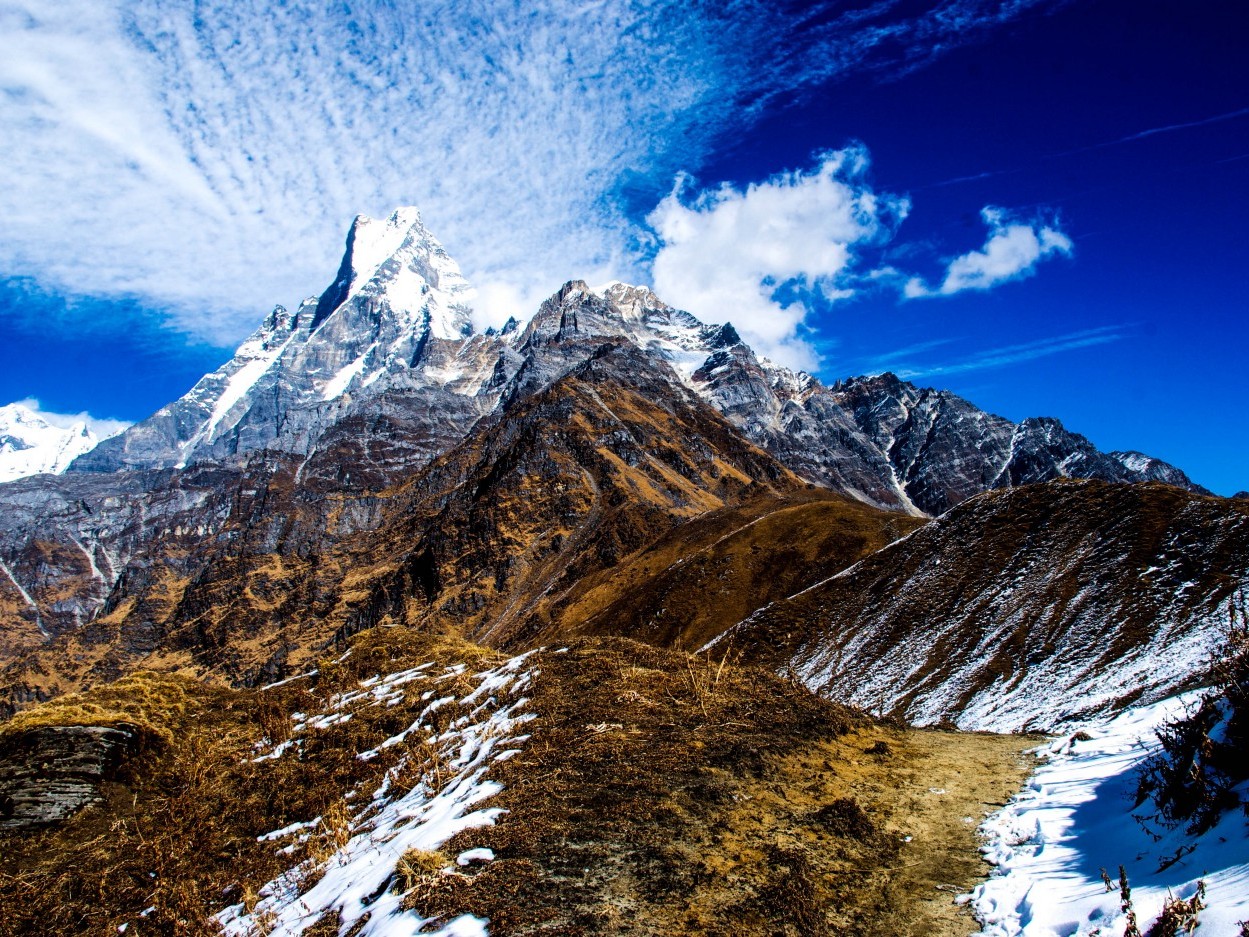 If you took the caravan route, you would go from Kathmandu (1400m/4600ft) to Lukla (827m/2713ft), Potana (1950m), Forest Camp (2500m/8202ft), Low Camp (2990m/9809ft), High Camp (3580m/11,745ft), and base camp (4450m/14,599ft).
Evolution - (5587m/18,330ft)
Location - Annapurna Region/ Himal
Grade - AD. Assez Difficile
Best Time - Autumn (October-November) and Spring (April-May)
Coordinates - 27°59'17'' N / 86°55'31''E
Himalayan View - Annapurna I, Hiunchuli, and Macchapucchre (Fishtail)
Please, click here for Mardi Himal Trek in Nepal.
Chhukung Ri Peak (5550m/18208ft)
Chukkung Ri (5550m/18,208ft), a rocky mountain above the village of Chhukung, is equivalent to Kala Pattar. Groups intending to climb Imja Tse use this peak as an acclimatization ascent, especially if they haven't been to Kala Pattar or Everest Base Camp. By Himalayan standards, the summit is small and doesn't need technical proficiency; only endurance is needed.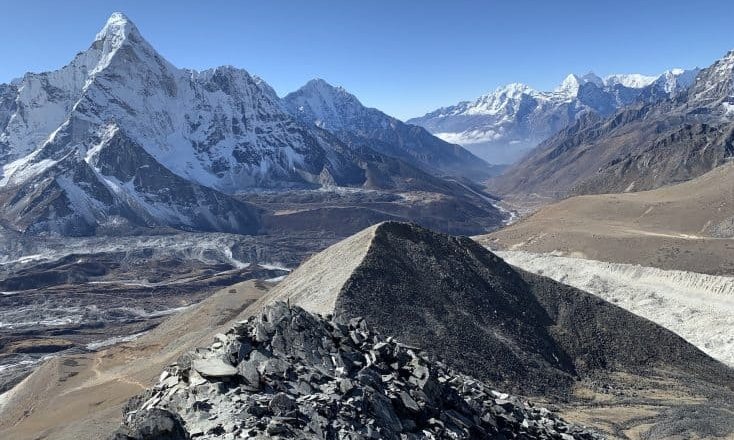 The flight from Kathmandu (1400 meters/4600 feet) to Lukla (2860 meters/9383 feet) is the first leg of the caravan's journey. (8,562 ft/2610 m) Two nights are spent at Namche Bazaar (3440m/11,286ft). The highest point in Tibet is Tengboche (3250m/10,660ft). The highest peak in Tibet is Pangboche (3985 m/13,074 ft). (14,340 ft/4371 m) Pheriche Dingboche (14,468 ft/4410 m) (2 nights)
It only takes 2 to 5 hours to complete the ascent from Chhukung village. It takes approximately 2 hours to get to the saddle from the town using clearly signposted, cairn-marked routes. When you get to the saddle, turn left and follow a straight trail to the lower top. Turn right and traverse along the ridge, which is covered with loose scree and broken rocks, to reach the main panel. The trail is fairly steep and occasionally may be challenging to find. Allow 45 to an hour to get from the saddle to the peak.
Evolution - (5550m/18208ft)
Location - Khumbu Region
Grade - Easy trekking peak
Best Time - Autumn (October-November) and Spring (April-May)
Coordinates - 27°56'20'' N / 86°52'38''E
Himalayan View - Mount Lhotse, Mount Pumori, and Mount Ama Dablam
If you are looking for various trekking options in Nepal please, click here.
If you need any further information, please contact us, Email: [email protected], Phone: +977- 985 100 5129 (WhatsApp)