Nepal lies in the southern part of Asia and is one of the richest countries in the world in terms of biodiversity and culture. Land of the highest peak of the world i.e., Mt. Everest, the birthplace of Sidhartha Gautam Budha, and a land rich in cultural diversity and biodiversity and the land of much other untouched beauty.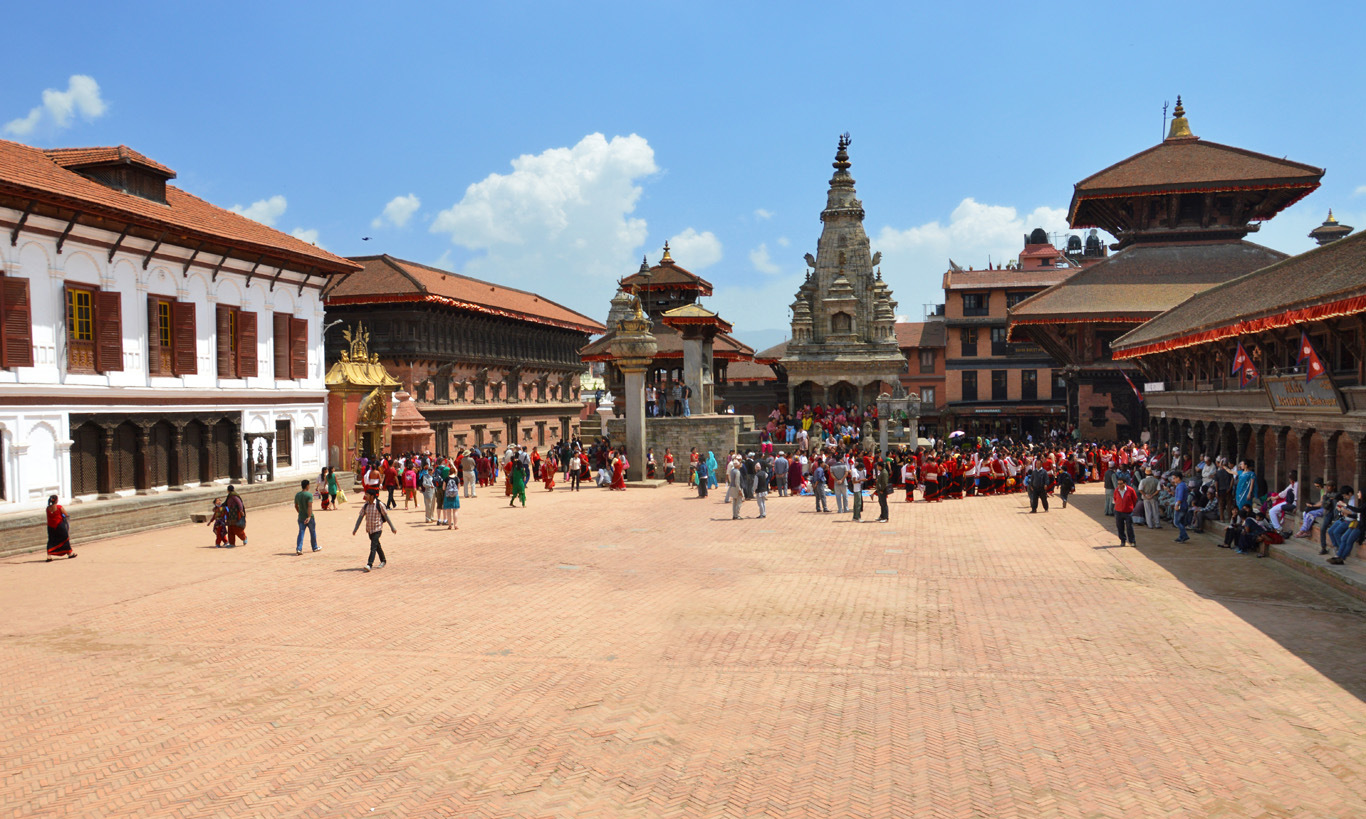 Kathmandu valley is the oldest town in Nepal, consisting of Kathmandu ( Capital City of Nepal), Bhaktapur, and Lalitpur districts. Kathmandu valley is also called a temple town, consisting of Seven UNESCO-World Heritage Sites, numerous pagodas, and Shikhar-style temples and stupas. The rich tapestry of the cultural heritage is found in Kathmandu valley, the home of ancient and developed Newari culture. The three famous old palaces around the valley; Kathmandu, Bhaktapur, and Patan Durbar Square, are skillfully built. It has a number of temples, stone, and wooden carved images, courtyards, pillars, and chaityas, all of these stands as testimonies to the Newar's artistic achievements. Kathmandu city consists of numerous hidden places to explore, the Bhaktapur Durbar Square area is one of them.
Where is Bhaktapur Durbar Square?
Bhaktapur Durbar Square is situated in the central part of the Bhaktapur district, is 13 km east of Kathmandu, and it takes about an hour to reach. You can get to Bhaktapur through public vehicles, but it is time-consuming. Also, you can catch a taxi, which you can easily find roadside. But a better, safe, and more comfortable way to explore the Bhaktapur Durbar area would be taking a ride through private vehicle drivers. You can Contact Luxury Holidays Nepal for a private tourist vehicle with a driver.
Bhaktapur Durbar Square Entry Fee
The entry fees for visiting the old famous heritage site Bhaktapur Durbar Square for Foreign Nations including China, SAARC Nations, Nepalese, and children below 10 are listed in the below table:-
| | |
| --- | --- |
| Site | Bhaktapur Durbar Square |
| Foreign Nations Including China | NPR 1,500 |
| SAARC nationals | NPR 500 |
| Nepalese | Free |
| Below 10 years | Free |
About Bhaktapur Durbar Square
Bhaktapur city is a museum of ancient art and culture with fine examples of stone and wood carving, sculpture, monuments, courtyards, great pagoda and shikhara-style temples dedicated to different gods and goddesses, and a 55-window palace of wood and brick. It has the most ancient charming architectural showpieces in the valley.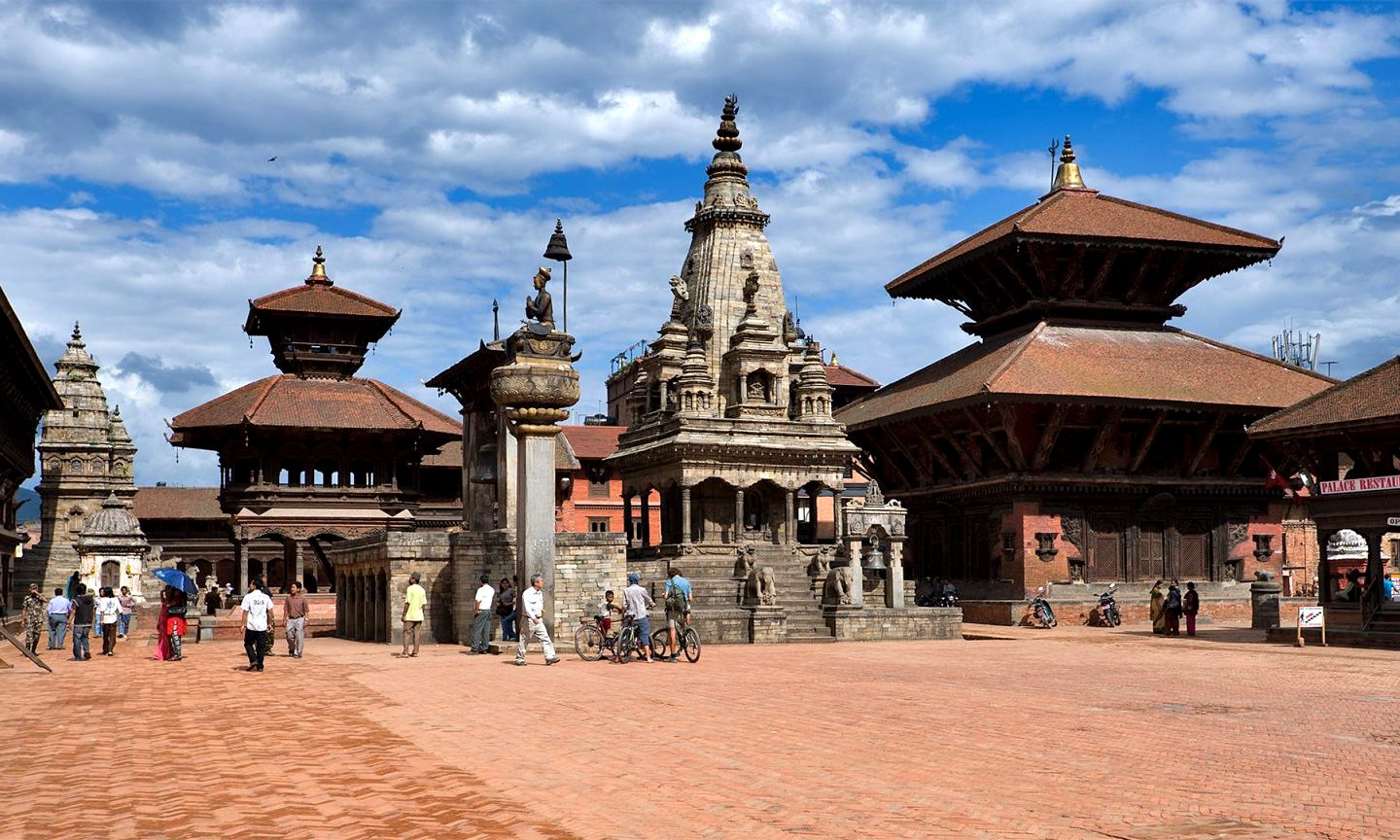 Bhaktapur is the oldest city and is the smallest district among the 77 districts of Nepal. Also called 'Bhadgaon or Khwopa', in the Newari language. The city is 1,402metres above sea level, thus has had mild pleasant weather all over the years. Bhaktapur is not an ordinary city, it translates to a "City of Devotes" and is inhabited by a large number of indigenous Newari people. Thus, this place would be one of the best places to explore the religions, cultures, and traditions of people around it. The weaving and pottery industries are their major traditional industries. Besides this Juju Dhau ( Yoghurt), Haku Patasi ( Black saree with red border), Bhadgaon topi ( Black Cap), and Handicrafts visiting the Bhaktapur Durbar Square, by foot, and with a guide would be the best way to explore all Durbar square areas, along with the local culture and traditions.
History Behind Bhaktapur Durbar Square
All traditions, art and cultures, palaces, temples, and courtyards of Bhaktapur Durbar Square carry a long history and many more stories. It was once the royal palace of the Bhaktapur kingdom. The old artistic works refer to their establishment in the 12th century by the Malla king, Ananda Malla. Bhaktapur was the palace of power, for the Malla reign until the 15th century AD, the last stretch. It always succeeded in trading between Tibet, China, and India. Bhaktapur Durbar Square is a UNESCO World Heritage Site.
Renovation in Bhaktapur Durbar Square after the Earthquake in 2015
Earthquakes in 2015, also called a Gorkha Earthquake, damaged many old temples, monuments, palaces of Bhaktapur Durbar Square, and houses around it. When you take a walk around the Bhaktapur Durbar square areas, you will see many buildings which were affected by Earthquake 2015, have been renovated and restored already and some are still in the renovation, also you can see some monuments, temples which are fine as they were not much affected by earthquake 2015. Those houses of locals around the palace are already being restored. Despite the damages done by Earthquake 2015, the palaces, temples, images, and old houses in Bhaktapur Durbar Square still provide beautiful attractions, which create excitement within you.
Major Attraction/ Highlights of Bhaktapur Durbar Square
Below I have enlisted the places of the major attraction in the Bhaktapur Durbar Square area, which are highly rated and worth visiting:
The Lion Gate
The majestic and elegant gate-guarded on either side by two huge lion statues was dated far back as A.D. 1696. The craftsman who designed this gate was cut by as reported by Bhadgaon king per report upon the completion so that the craftsman could replicate this masterpiece anymore. Alongside there are two stone images of Bhairav (the dreadful aspect of Shiva) and Ugrachandi ( the consort of Shiva in her fearful manifestation), they are garlanded with the human head necklace. Ugrachandi consists of eighteen arms carrying firearms and Bhairav bears twelve swords.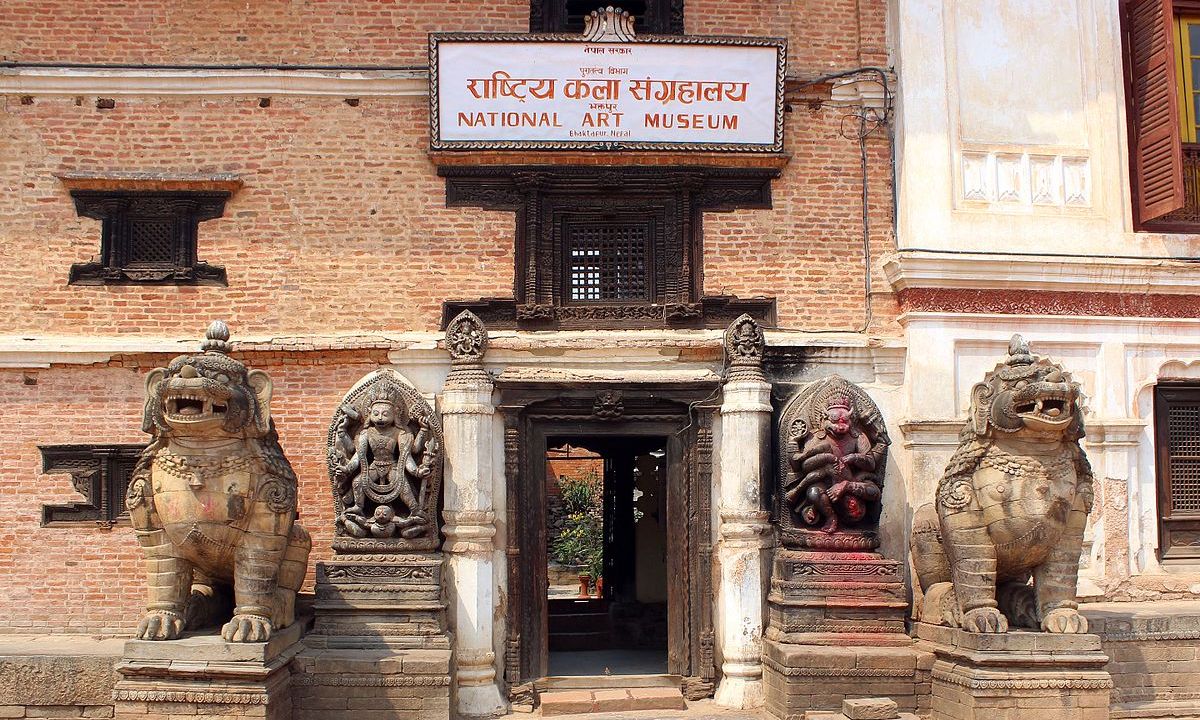 The Golden Gate
The Golden Gate is the main entrance of the fifty-five windows palace and was erected by King Ranjit Malla. The Golden Gate is said to be the most beautiful and Richy molded specimen of its kind in the entire world. The door is attended by two large nymphs, and surrounded by the image of the Goddess Garuda (the mythical man bird) and Kali. The gate is also decorated with mythical creatures of astounding intricacy. In the words of an eminent English art critic, archeologist, and historian, Percy Brown, the Golden Gate is the most lovely piece in the whole kingdom: it is set up like a jewel, flashing numerous facets in the attractive setting of its surroundings.
The Palace of Fifty-Five Windows
The prominent Golden Gate leads to a stunning fifty-five windows palace (Pachpanna Jhyale Durbar). The magnificent Palace was built during the reign of King Yakshya Malla in 1427 A.D. and later was redesigned in the 17th century by King Bhupatindra Malla. This palace has a gracious setting of brick walls and magnificent sculptural design, has a balcony with 55-windows, and is considered to be a distinctive masterpiece of woodcarving.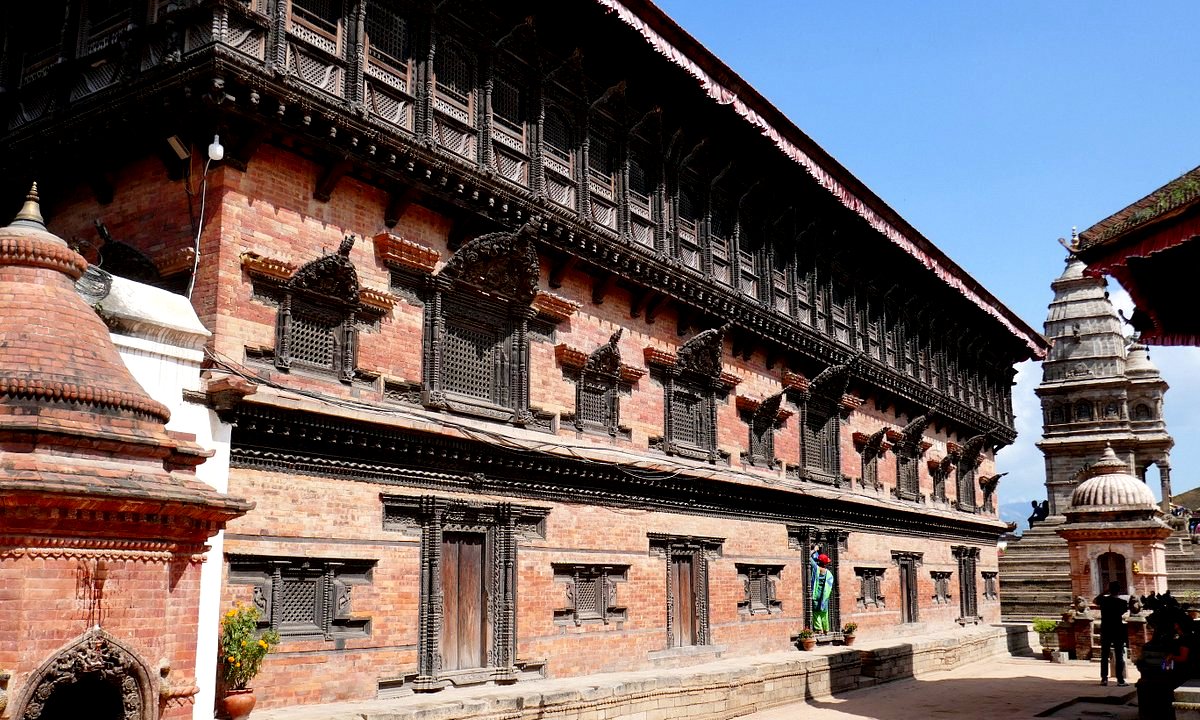 The Picture Gallery/ National Art Museum
The National Art Museum in Bhaktapur Durbar Square is next to the Golden Gate in Fifty-five windows Palace and is open to all. It contains different statues, ancient art, and antiques found in Durbar Square. There is a rare form of Hanuman Statue, right outside the Museum.
The Statue of King Bhupatindra Malla
Of the square's many statues, The Statue of King Bhupatindra Malla is considered to be the most magnificent, facing the Palace. This statue is a tribute to King Bhupatindra Malla, for the credit of those beautifully made magnificent monuments in Basanta Durbar Square.
Batala Temple
The Shikhar-style Batsala temple is made from stone and was constructed back in the Malla regime, located in front of the Royal Palace. The intricate carving and bronze bell are very famous, the bell is known to residents as the 'bell of barking dogs" as all the dogs in the residents bark and howl when it is rung.
Mini Pashupati Temple
The temple is a copy of the famous old Hindu Temple i.e., Pashupatinath Temple on the Bagmati river in Kathmandu, but comparatively small and is famous for its erotic carving in the struts. It was built in the 1840s, by Yakshya Malla, also taken as one of the oldest temples in Bhaktapur.
Nyatapola Temple
This 5-story pagoda was built by King Bhupatindra in 1702. The magnificent temple is famous for its massive structure and subtle workmanship and is the tallest pagoda-style temple in the country ever built with that architectural appearance. The temple is dedicated to Goddess Siddhi Lakshmi ( an incarnation of Goddess Parvati) and stands on 5 terraces, with a pair of figures on each squat: two famous wrestlers, two elephants, two lions, two griffins, and Baghini and Singhini- the tiger and the lion goddesses.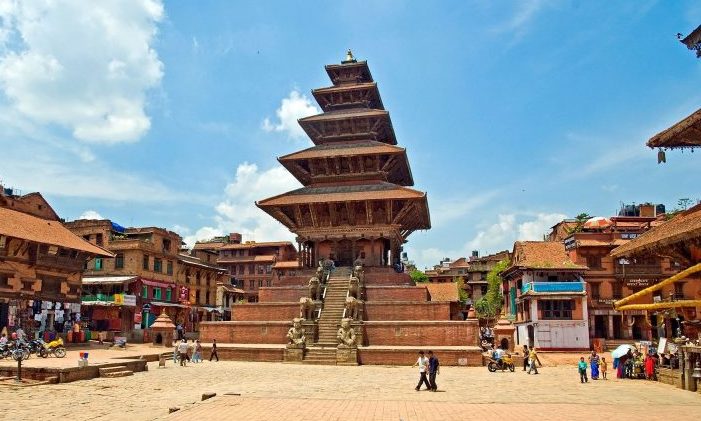 Bhairav Nath Temple
The Pagoda-style Bhairavnath temple is dedicated to Lord Bhairav, who is thought to be Lord Shiva's fiercest manifestation. The temple was initially only one level tall and was constructed by King Jagat Jyoti Malla. But King Bhupatindra Malla erected two more stories to this temple in 1717.
One of the largest statues in the Kathmandu Valley is the statue of Lord Bhairav, which is around 12 feet long. During the religious celebrations of Bhairav Ashtami and Bhairav Jayanthi, thousands of people go to the Bhairavnath temple. The temple still has most of its original structure, despite the earthquake that occurred in November 2015.
Dattatreya Temple
The temple is old, as the 55-Windows palace, constructed by King Yakshya Malla in 1427 A.D. This temple is three-storied and is believed to be constructed from a single tree trunk.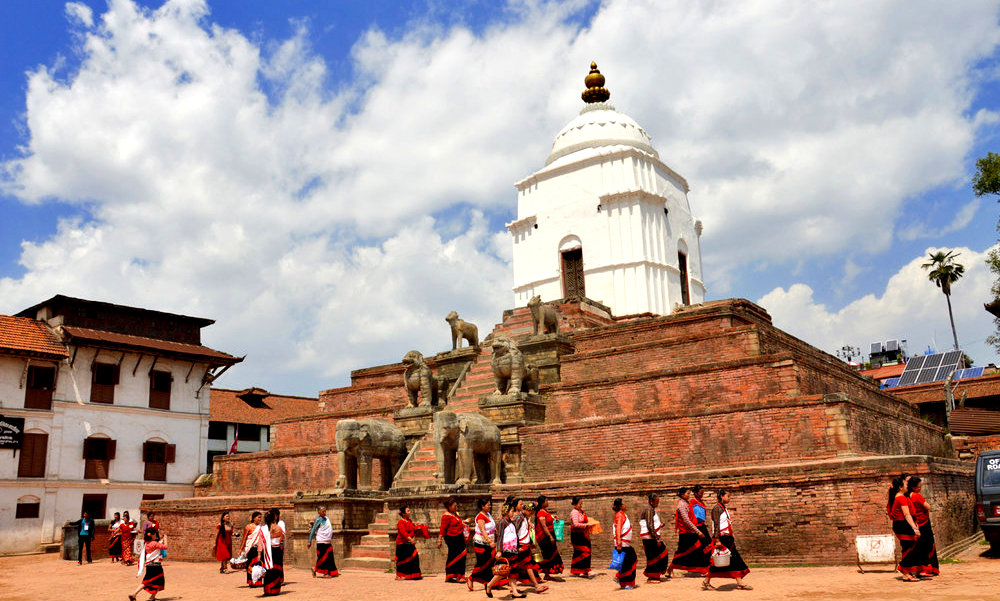 Siddha Pokhari
A man-made rectangular pond called Siddha Pokhari can be seen close to Bhaktapur Durbar Square's main gate. It is one of Nepal's ancient and traditional ponds. King Yakshya Malla had it constructed in the fifteenth century. Ta-Pukhu is another name for Siddha Pokhari. Although there are buildings all around the pond, on a clear day it is possible to see snow-capped mountain peaks. Both locals and tourists frequent Ta Pukhu, where they are frequently seen giving the fish food they have purchased from neighboring stalls.
Indra Daha is another name for Siddha Pokhari. Every year, on the day of Ashwin Krishna Dwithiya, a sizable fair is held. The pilgrims gather here to worship goddess Indrayani and take a plunge in the sacred water. They think that doing this will bring them health and pleasure. On this day, lighting will be placed all around the pond. Near the pond, there will be statues of the Buddha, Baishanv, Shakti, Shaiva, and Shakti.
Kedarnath Temple
The Kedarnath temple is brick paved and shikhara styled, which is a shiva temple dedicated to Kedareshwar. The temple is an elegant piece of terra-cotta art. The five pinnacles on it turn in four directions and have added more beauty to this temple.
Erotic Elephant's Temple
The small roofed Shiva Parvati temple with some erotic elephant carving on its struts is also known as Erotic Elephant's temple.
Taumadhi Square
While visiting Bhaktapur, visitors frequently overlook Taumadhi Square, which is located next to the well-known Durbar Square. However, in order to learn about ancient legends and appreciate historical architecture, one must explore this area. Because of the exquisitely carved wood and nicely arranged stones, the square is particularly well-liked by tourists.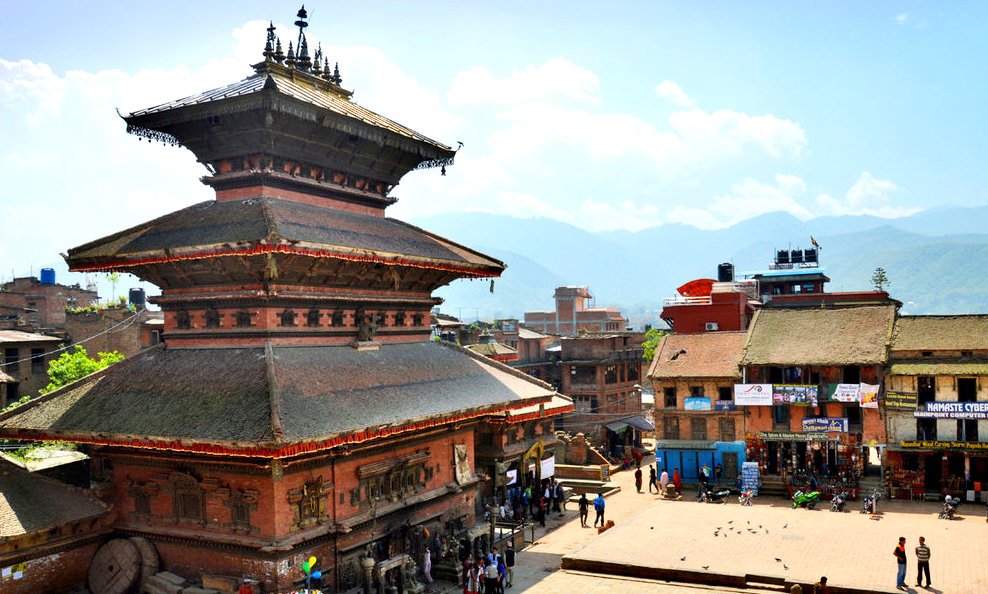 The stone sculptures in this square are the main draw. It serves as a reminder of Bhaktapur's earlier days. It is also known as Taumadi Tole, and most of its fame comes from being the home of the 30 meter-tall Nyatapola Temple, the tallest temple in all of Nepal.
Tips While Visiting Bhaktapur Durbar Square
Four wheels are not allowed inside Durbar Square.
Bhaktapur Durbar Square lies at the heart of the Bhaktapur districts and is near the famous city of Kathmandu and Patan, is quite crowded with pedestrians, and local people, and busy with traffic. So you should be careful while walking.
The streets are filled with beautiful souvenir shops ranging from crafted masks, singing bowls, mandala paintings, jewelry, ceramic pottery, and cultural clothes. So you can take a walk around the stress and buy goods, where you can also ask for some discounts.
The unmissable thing I can assure you would love to have in Bhaktapur is JuJu Dhau, a famous yogurt prepared by Newars, especially in Bhaktapur Nepal. Besides this, you can enjoy different kinds of Newari foods, along with normal foods, and drinks in and around the restaurants in the Durbar Square area.
You should spend some time on each of the temples, shrines, palaces, and other structures around Durbar square to explore it nicely.
To visit at a suitable temperature, both morning and evening time would be suitable.
Conclusion
The above article about the Bhaktapur Durbar Square would not be enough to describe its splendid looks and its phenomena. Those erotic sculptures which depict lifecycle, creation, and destruction give you goosebumps, alongside temples, shrines, palaces, courtyards, etc all magnificent ancient structure in Bhaktapur Durbar Square areas provides visitors the best feelings while visiting. The city has a lot to offer for those who have a good cultural taste. And the people around the palace areas are so affectionate, they provide warm greetings and hospitality to the guests. Also, if you want to explore the culture and tradition around Bhaktapur nicely, I would recommend you to spend a night at Bhaktapur.
Strongly recommended you, you would love to explore the ancient culture and tradition, you must go sightseeing while you are here in Kathmandu, for this Bhaktapur Durbar square, Alongside Kathmandu Durbar Square, Patan Durbar Square, Swayambhunath stupa and I Boudhanath I stupa I, I, etc would be the best places. Also, there are many beautiful hiking spots and many other best places for Hiking and Excursions near Kathmandu valley.
If you are looking for a tour packages in Nepal, please click here.
If you need any further information, please contact us, Email: [email protected], Phone: +977- 985 100 5129 (WhatsApp)