When you hear about Nepal you already think about the Himalayas. Nepal and the Himalayas have a deep relationship. Nepal is a mountainous country covering most of the Himalayan. Versatile Nepal offers various things to do while rounding Nepal. Trekking in Nepal, Nepal tours, Adventure sports in Nepal, cultural tours, some short treks, hiking and excursion, natural tour, and many more things are so much exciting to do in Nepal.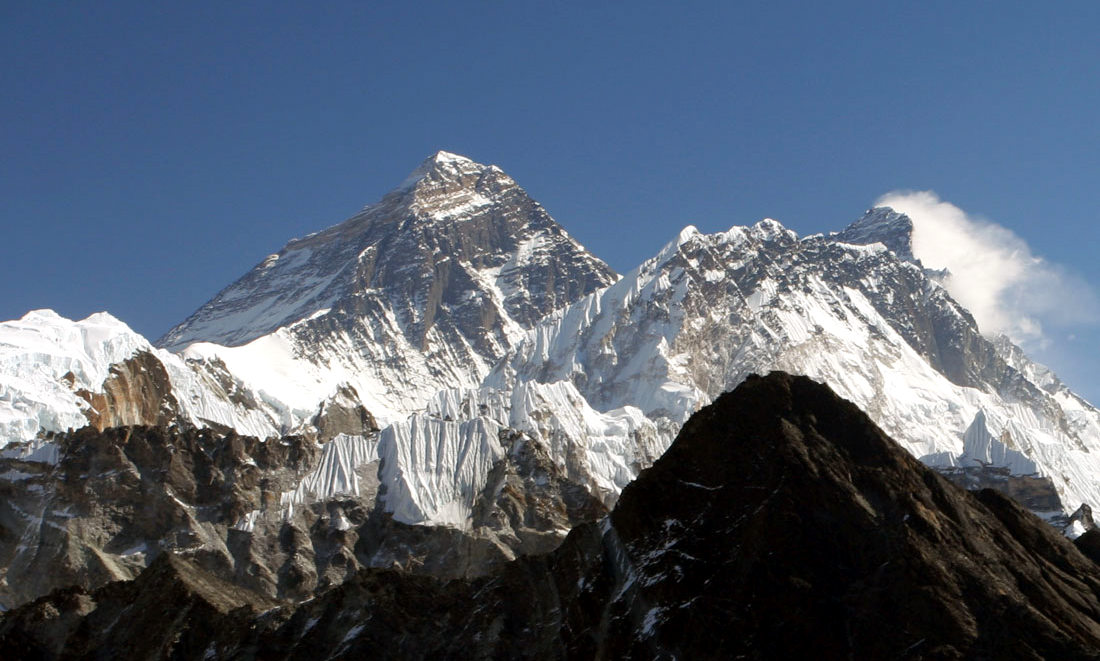 Every adventure seeker looking for the best trekking trails in the Himalayas should head to Everest. Everest trekking is not only popular in Nepal or the Himalayan but also one of the best trekking regions in the entire world. Trekking in the Everest region is the best way to erase the thirst to visit the Himalayan region and admire Everest.
Everest trekking passes through several villages and locations presenting amazing cultural and natural beauties. Some villages with typical Himalayan cultures and traditions, extreme nature and wildlife, diverse climates,s and green scenery landscapes all offer an amazing lifelong experience for every visitor.
Best places to explore during Everest Trekking
Lukla
Lukla is the entrance to Everest Region. Lukla is popular due to the Lukla Airport- Tenzing Hillary airport, the world's most extreme airport. Every visit to the Everest region, either trekking or climbing, the expedition starts from a scenery landscape glimpsing flight from Kathmandu to Lukla. Every trip is started with a few pre-trekking preparations in Lukla. When after landing in Lukla, you will shock at the altitudes and can't believe the establishment of the airport.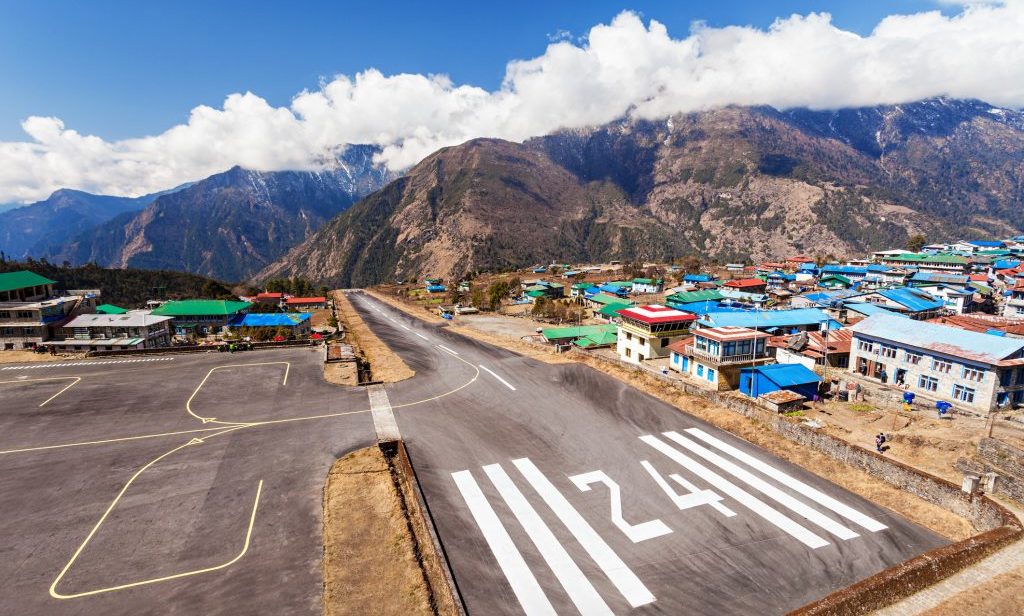 Namche Bazaar
Namche Bazaar is the best location for altitude acclimatization. Manche Bazaar is the best attraction in the entire Sagarmatha National Park. Namche is settled with several lodges, guesthouses, teahouses, internet cafes, and ATMs. This is the trade hub where several Tibetan traders come to sell their products and handicrafts. Till Namche, you can find electricity.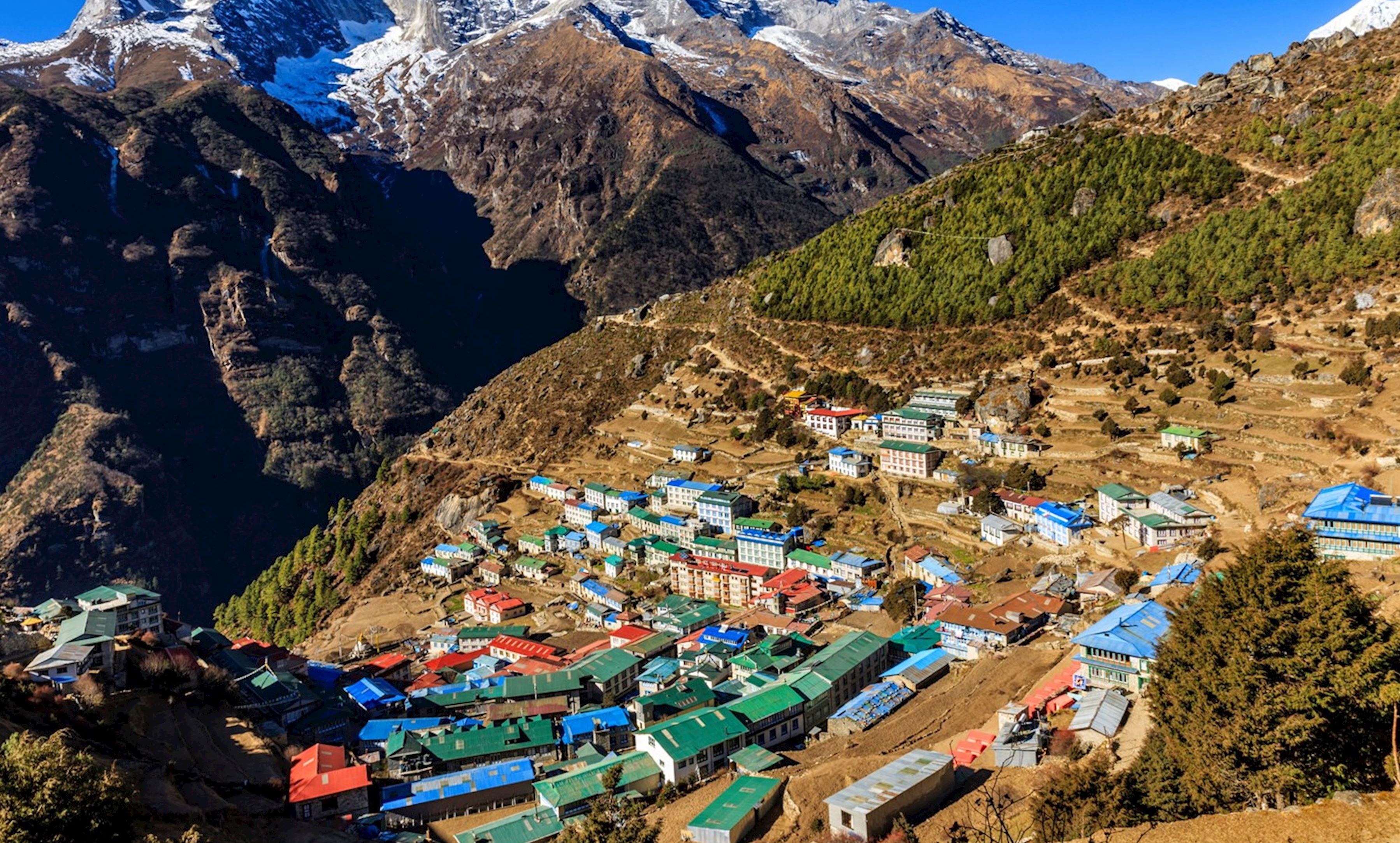 Every trekker spends a whole day in Namche for acclimatizing. You can either reach there through a day trek from Lukla or by stopping on the way to Phakding and reaching Namche by another short trek. You start to get a view of the Himalayas from close.
Tengboche
Tengboche is the best stopover for every trekker looking for cultural exploration in the Khumbu region. Tengboche is renowned for its cultural heritage. The land beholds the largest monastery in the entire Khumbu region Tengboche Monastery. Tengboche Monastery/Gumba is the best attraction before reaching the upper foothills. It is best to visit the area and explore the ancient history of the Sherpa people and their values.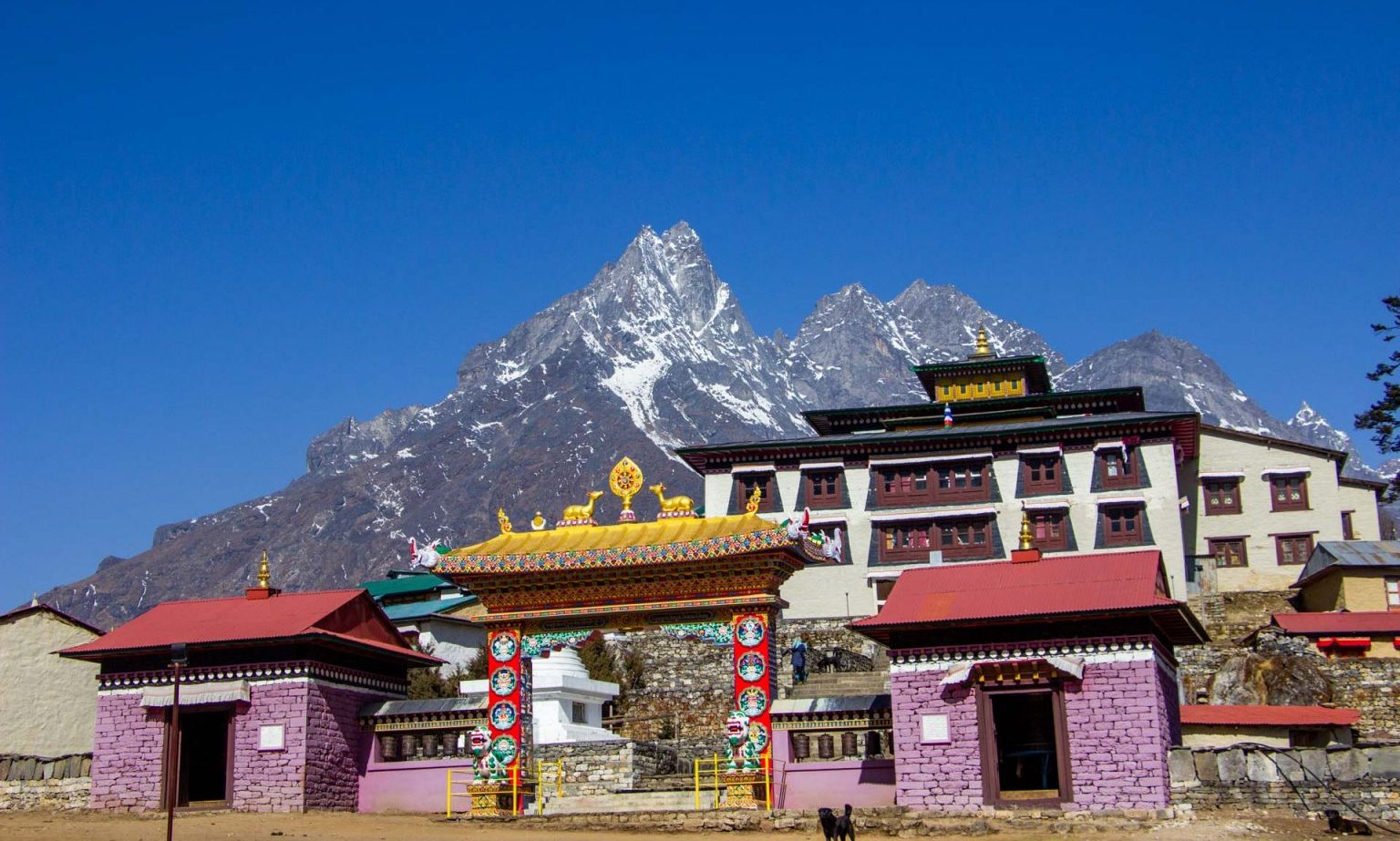 One can reach Tengboche one day by walking from Namche Bazaar.
Tengboche is also the best viewpoint for astounding views of Mt. Everest, Ama Dablam, and other peaks of the Everest range.
Khumjung Valley
In the Khumbu subregion, Khumjung Valley is one of the best locations to visit in Sagarmatha National Park and one most attractive places too. This is a green valley and the baseline for Khumbila Mountain. At the same time, this village has a modern communication system such as Mobiles and telephones, the internet, and more. Khumjung Valley is the largest Sherpa village in the region. Surrounded by mountains on all three sides, Khumjung Valley is the best place for admiring the amazing views of the almighty Himalayas.
There is also one small hospital called Kunde Hospital and Hillary School too.
Dingboche
With a few ascents and descents from Tengboche, you reach another amazing place, Dingboche. This is another popular station for trekkers and a necessary final acclimatization place before the attempt. This is a land for some cultivation and yak rearing. Long stone walls are built for protecting crops from chilly windy and grazing yaks. Dingboche is also the best place for experiencing Himalayan Sherpa's life in more distinct ways.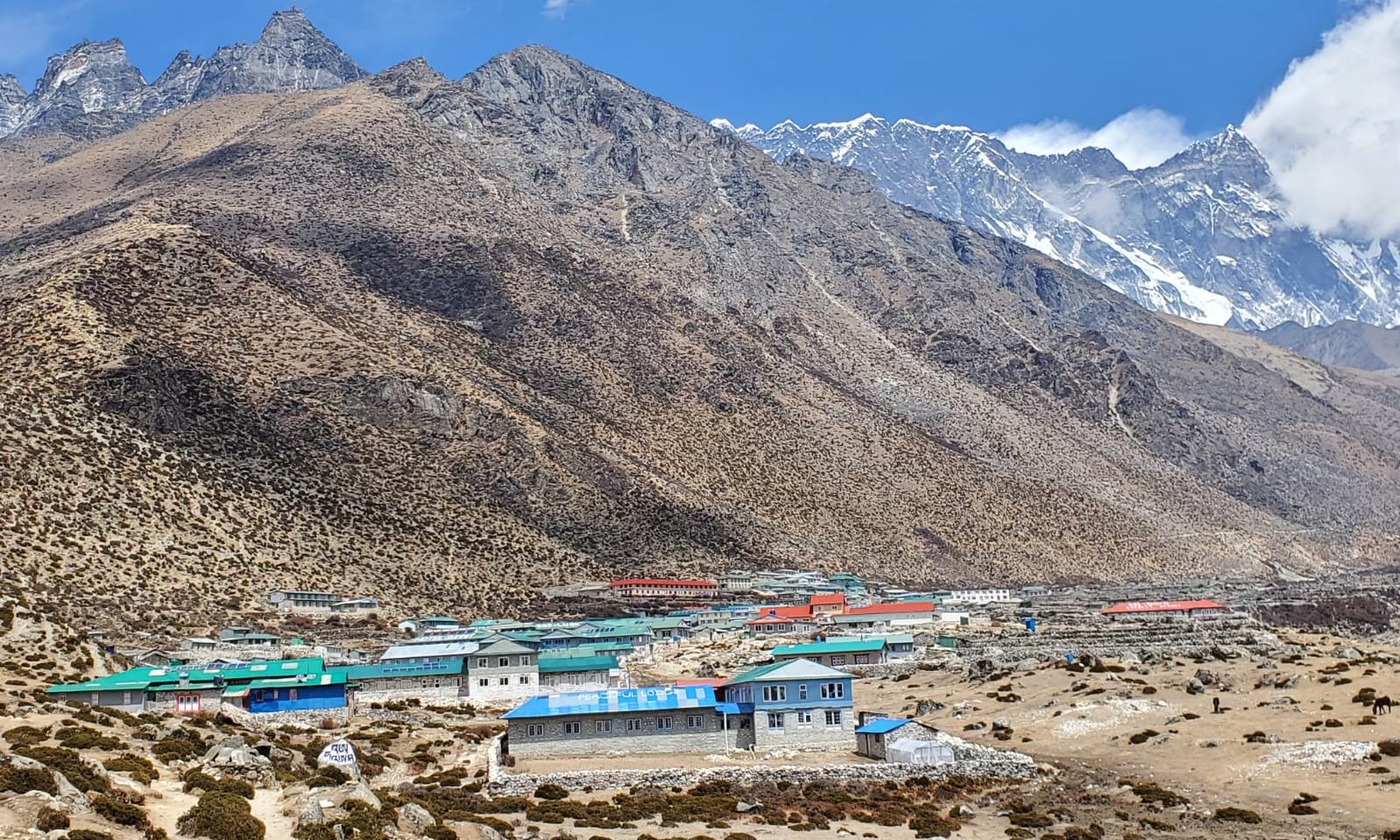 Gorakshep
Gorakshep is the last stop before reaching the Everest base camp. Gorakshep- 5,164 m is also known as dead ravens because of the no sign of green vegetation in the area. Gorakshep is the corner for trekking toward either Everest Base Camp or Kalapatthar. With a few hour's treks from Gorakshep, one fit person can reach to Everest base camp trek. The way also heads towards Kalapatther too.
Kala Patthar
Kalapathhar gives meaning Black stone is the 5643 m altitude land giving the amazing views of Mt. Everest and other several peaks. It is an amazing place to get amazing sunsets and sunrise in the Himalayan atmosphere. Kalapatther is also recognized as the best attraction of Everest View Trek. Several trekkers, climbers, and expeditors do the summit of Kala Patthar for amazing views of the magnificent mighty Himalayas and its giant peaks. The last and highest point of Everest trekking is Kalapathher.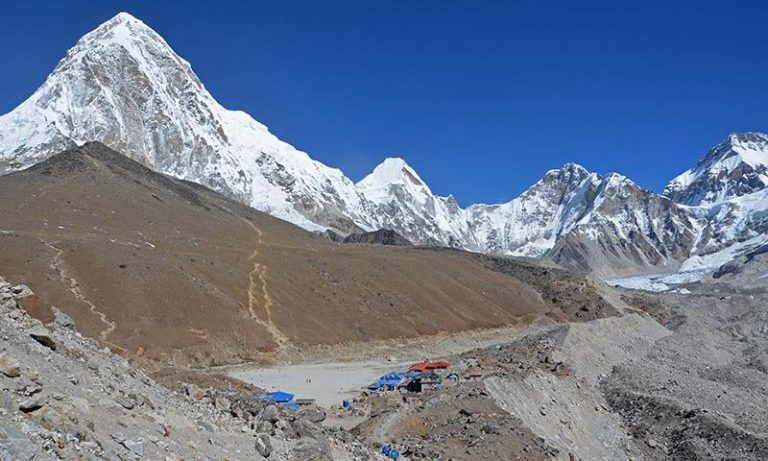 From then trekkers start to little bite descent and get to Cho la pass. Cho la pass is amazing for a perfect exciting view of the mountain range and picturesque scenery. Passing this pass is one tough challenge. Cho la pass is one point for Gokyo trekking. It joins the Gokyo trek to the east and the EBC trek to the west.
Please, click here for the Everest Heli Trek with Kalapatthar Landing.
Gokyo Lake
Gokyo Lake is the highest freshwater lake in the entire Everest region. And it is considered a sacred pond by both Hindus and Buddhists. The six lakes with ice edges, tantalizing mountain ranges, and the highest settlements all make a dream-like moment to experience. Gokyo Everest Base Camp Trek is the best choice to explore Gokyo Valley with more time.
Please, click here for Gokyo Lake and Everest Base Camp Trek.
Gokyo Ri
This is the hilltop providing a wandering glimpse of the astounding mountain range and the entire Khumbu valley. This is also best for the amazing views of Nepal's biggest glacier called Ngozumpa Glacier. At the base of the peak(RI) behold the small settlements.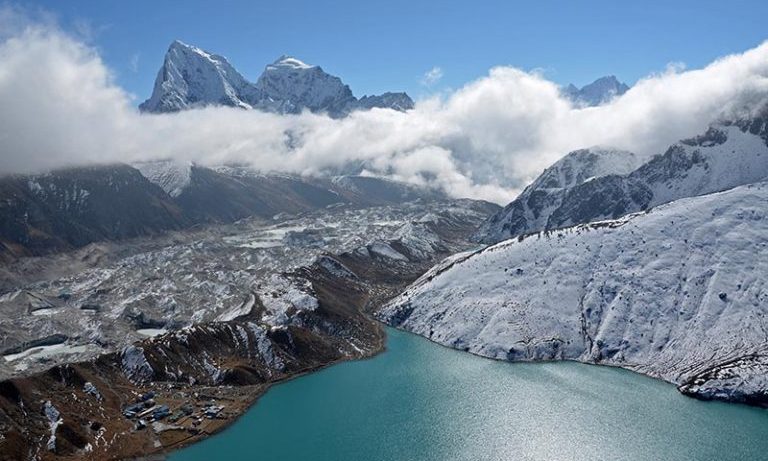 These are the most famous places and destinations to enjoy while trekking to Everest base camp. Individually these are so awesome so think, how awesome can be if all of these are blended into packages. There are many things to do during your Everest Base Camp Trek. Everest Base Camp trek is the most wonderful and most done trekking trail for those seeking thrill and adventures with culture and nature exploration. Everest trekking is strenuous and hard trekking.
Luxury Everest View Trek - 8 Days
Gokyo Lakes and Everest Base Camp Trek - 16 Days
Everest Heli Trek with Kalapatther Landing - 9 Days
Gokyo Lakes and Gokyo Ri Trek - 14 Days
VVIP Everest Base Camp Luxury Trek - 10 Days
Luxury Everest Base Camp Heli Trek - 9 Days
Everest Base Camp Trek with Helicopter flight from Kalapatther to Lukla - 12 Days
For a complete guide to Everest Region Trek, please click here.
If you need any further information, please contact us, Email: at [email protected], Phone: at +977- 985 100 5129 (WhatsApp)